Top 6 Towing Service Companies in Ottawa
Car accidents and emergencies can happen at any time. Luckily, you can rely on the top towing service in Ottawa should this become a reality for you.
Today, we're listing down and reviewing different towing companies and the various services they offer. But first, let's investigate how much it would cost you should your car ever need to be towed out of a bad situation.
How Much Does Towing Service in Ottawa Cost?
By looking at national averages, basic car towing services can be between $60 and $70. The rates can still go up depending on the distance, added labour, and the time it would take to complete a service.
To protect motorists from having to pay ostentatious amounts for basic towing services, the Ontario government launched the Fighting Fraud and Reducing Automobile Insurance Rates Act.
This came into effect at the start of 2017 and it states that motorists must first authorize the towing company before their vehicle is towed. More importantly, it requires towing service providers to give an initial quote to motorists so there won't be any surprise fees suddenly tacked on.
Towing rites vary per city, as well. This means that if the site of a car accident is in Ottawa and the reporting centre is in another city, their respective taxes and towing rates will apply.
To get an idea of the towing service rates in Ottawa, here's a table with their estimated costs.
| | |
| --- | --- |
| SERVICE | ESTIMATED COST |
| Emergency heavy towing service | $350 up |
| Long-distancing or local towing | $180 per hour |
| Vehicle unlocking | $140 per hour |
| Accident towing (flatbed) | $550 per hour |
| Additional labour (on top of primary service required) | $150 per hour |
Please note that other factors like fines, inter-city towing fees, and even car accident rates could add up to what you have to pay for in the end. It's best to err on the side of caution and ask for a free estimate first.
The Top Towing Services in Ottawa
With the estimated costs in mind, it's time to take a look at the top towing service providers in Ottawa. We included those with 24-hour emergency accommodations and a good range of roadside services under one roof.
1. Ottawa Towing Company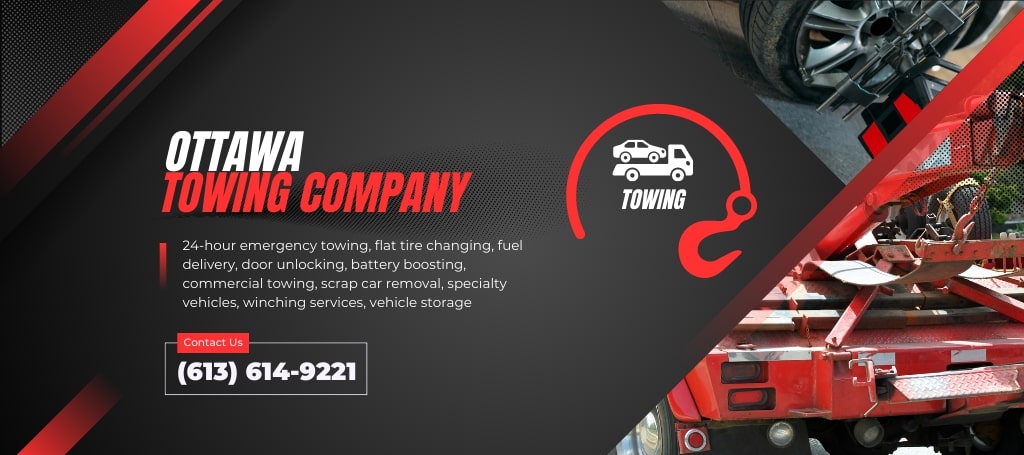 SERVICES
24-hour emergency towing, flat tire changing, fuel delivery, door unlocking, battery boosting, commercial towing, scrap car removal, specialty vehicles, winching services, vehicle storage
ADDRESS
290 Picton Avenue, Suite 104 Ottawa, ON K1Z 8P8
CONTACT NUMBER
(613) 614-9221


[email protected]

WEBSITE
http://www.ottawatowingcompany.ca
OPERATING HOURS
Available 24 hours 7 days a week
The Ottawa Towing Company is a Better Business Bureau-accredited roadside assistance provider. It's an impressive feat for a company that's only been around for six years so far.
As with the others featured in today's listicle, this one offers 24/7 emergency towing services, as well. It has performed plenty of roadside-related services in the past, including flat tire changing, refuelling, and — surprisingly enough — even rescuing a couple of cats!
The Ottawa Towing Company aims to deliver its services in an honest, speedy, and reliable manner. Above all else, its pricing methods promise to be upfront and fair with no surprise fees sneakily inserted to scam clients.
There's a direct line to call up the company for any roadside assistance service. Clients can also email or send a message via its official website and social media accounts.
BBB-accredited, Aᐩ rating
Comprehensive roadside assistance services
Open 24/7 and available for emergencies
No discernible pricing matrix
No live chat service
Doesn't indicate average response times
Customer Reviews
See how past clients liked the Ottawa Towing Company's services:
"Very professional and fast service. I appreciated the pleasant manner of the person I spoke to and how accurate they were. Would absolutely use them again." – Jessica M.
"Best service and aftercare. Small issue promptly resolved with a smile. Highly recommend.them." – Rob Kleins
2. Canadian Towing Ottawa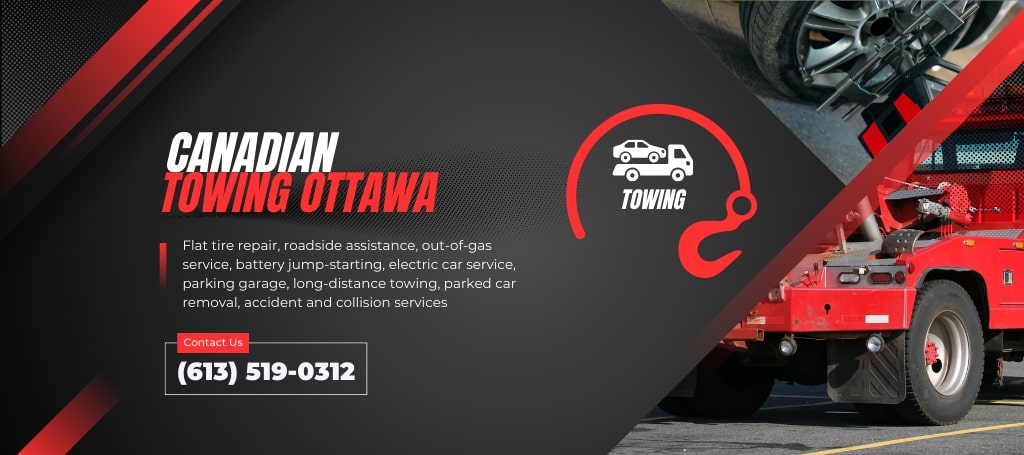 SERVICES
Flat tire repair, roadside assistance, out-of-gas service, battery jump-starting, electric car service, parking garage, long-distance towing, parked car removal, accident and collision services
ADDRESS
1601 Michael St #B, Ottawa, ON K1B 3T5
CONTACT NUMBER
613-519-0312


[email protected]

WEBSITE
https://canadiantowingottawa.com/
OPERATING HOURS
Available 24 hours 7 days a week
Canadian Towing Ottawa claims to be the city's "fastest towing service". While this can't easily be proven, the company also promises to be "ready to get to you as soon as you call".
Superlatives aside, this towing company admittedly has a good range of roadside services ranging from flat tire repairs to specialty towing. The services are available every single day of the week, too, with a 24-hour hotline ready to accept emergency calls.
Right off the bat, Canadian Towing Ottawa lists some of its basic services' rates so clients don't have to wonder about its pricing scheme. Towing begins at just $80 while unlocking services start from $60 (but that's about it; the other services require an estimate).
Of course, as previously mentioned, these rates are just base prices. Still, they're quite affordable and lower than the average towing service in Ottawa.
Open 24/7 and available for emergencies
Good range of roadside assistance services
Reasonable starting rates for towing and unlocking services
The website could use some updating
No BBB accreditation
Doesn't indicate average response times
Customer Reviews
Read the following feedback on Canadian Towing Ottawa:
"Excellent service. My car broke down on the 31st of December!! I called Canadian Towing and they arrived in no time. They were very polite and professional. They placed the towing mechanism with a lot of care. I recommend this company." – Leopoldo J.
"Joshua was very helpful and kind for taking time out of his busy day to help my stranded grandma today. She had been waiting a long time for someone to stop as she had no way to contact CAA. Luckily Joshua stopped and called CAA for her and got a truck arranged to come to pick up the vehicle… Great job guys!! Thanks for helping out and being so kind to my Grandma." – JW Martineau
3. Ottawa Metro Towing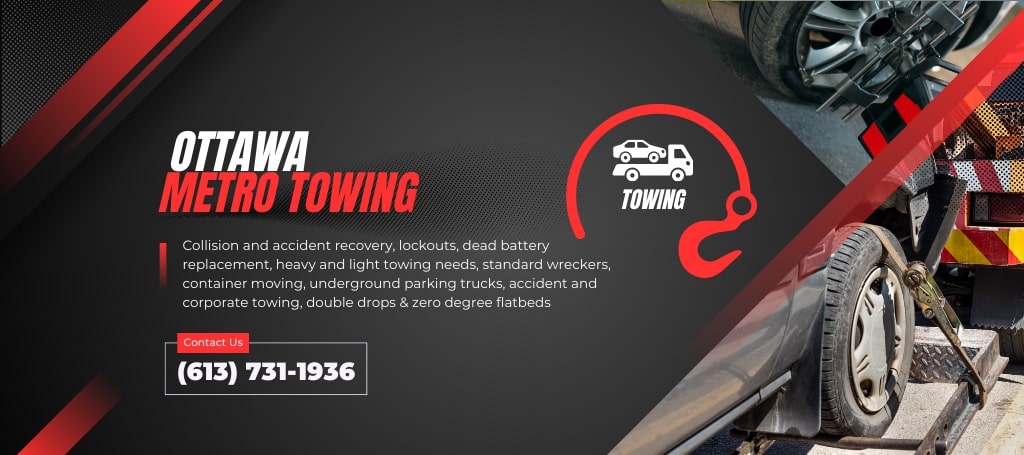 SERVICES
Collision and accident recovery, lockouts, dead battery replacement, heavy and light towing needs, standard wreckers, container moving, underground parking trucks, accident and corporate towing, double drops & zero degree flatbeds
ADDRESS
2759 Lancaster Road, Ottawa, Ontario K1B 4V8
CONTACT NUMBER
(613) 731-1936


[email protected]

WEBSITE
http://www.gometrotowing.com/
OPERATING HOURS
Available 24 hours 7 days a week
The usual range of towing services is available at Ottawa Metro Towing and Recovery. It also has several recovery services for anything from cars that skidded in ditches to heavy tractors that rolled over highways.
Its main offering is really about towing services available 24 hours a day with an average arrival time of 14 minutes on-site. As an added convenience, the company has partnered with various insurance companies, law enforcement, local, and city government offices for better efficiency.
The company is upfront about how it makes its profits. By describing the volume of towing it does on a daily basis, Ottawa Metro Towing underlines its fair rates and the absence of overcharging when it bills customers.
There's a dispatch number available 24/7 for emergency calls. Clients can also call via the toll-free number, send a fax, or email [email protected] for other concerns.
Open 24/7 and available for emergencies
Speedy average arrival time
Insurance company-approved
No BBB accreditation
No discernible pricing matrix
No live chat service
Customer Reviews
These clients have positive things to say about Ottawa Metro Towing:
"Thank you for taking care of my mother after her accident. Your drive was very kind to her, I really appreciate it." – Ben Cooper
"Pulled me out of a ditch right quick, can't beat the price." – Ahmed S.
4. Ontario Towing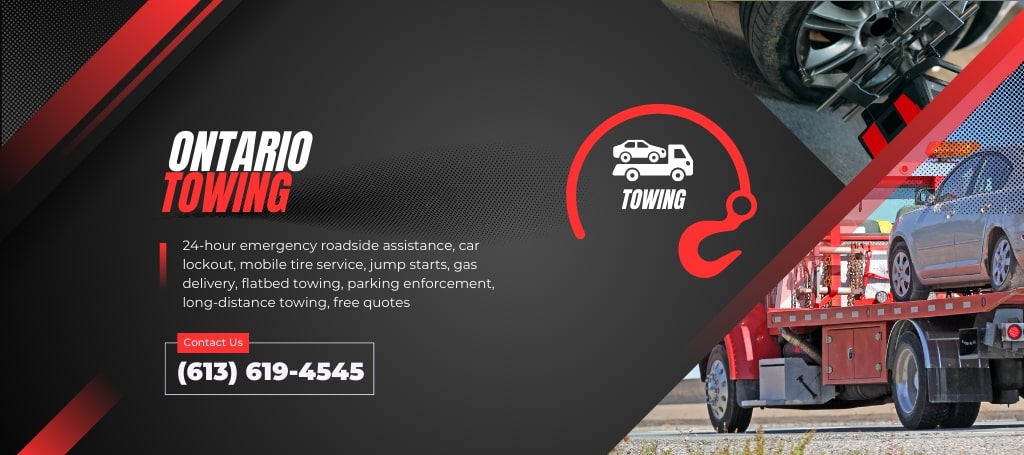 SERVICES
24-hour emergency roadside assistance, car lockout, mobile tire service, jump starts, gas delivery, flatbed towing, parking enforcement, long-distance towing, free quotes
ADDRESS
3275 Riverside Drive Ottawa Ontario K1V 8N9
CONTACT NUMBER
613-619-4545


[email protected]

WEBSITE
https://www.ontowing.com/
OPERATING HOURS
Available 24 hours 7 days a week
This Better Business Bureau-accredited company has 24/7 towing services for towing and recovering vehicles. It's been around for 20 years and hasn't had a single complaint on the BBB site.
Ontario Towing has a comprehensive menu of towing and emergency services. Each one is carefully explained and described on the site with a free, no-obligation quote thrown in for good measure.
The company promises to use environmentally friendly means to discard scrap vehicles for its clients. Thanks to its fleet of vehicles, Ontario Towing does both local and long-distance towing, as well.
The company also offers various roadside assistance services. So if you accidentally lock yourself out of your car, need a tire replaced, or run out of gas, you can call Ontario Towing for help.
Clients can call the company number or send an email. There's also an online form on the website for estimates and other concerns.
BBB-accredited, Aᐩ rating
Free quotes
Extensive range of towing and emergency services
Open 24/7 and available for emergencies
No discernible pricing matrix
No live chat service
Doesn't indicate average response times
Customer Reviews
Find out what Ontario Towing clients think about the company:
"I called Ontario Towing, first thing in the morning because my car wouldn't start. Adel was super courteous and professional during the call. Upon arrival, he was quick, efficient, and I was super impressed with the knowledge and future preventive tips he was giving me. The service was cost-effective and I super appreciated that he was available and very professional. Later on that same day, my right tired exploded on the highway and I didn't have a charged cell phone or charger. I took the first exit and parked. Called Ontario Towing with my last remaining minute. He was super attentive and took down the details to find me once again. Within moments, he was there and prepared to help. He quickly changed my tired and waited to make sure I could take off without further issues. The last thing I was expecting today was battery issues and a destroyed tire, but these things happen when you least expect it. I was happy to know that Ontario Towing was here to save me twice today. Adel was completely reliable and professional and highly efficient. I am relieved to know they offer other services like fuel delivery, the auto locksmith. I would highly recommend Ontario Towing to anyone!" – Elsa Joseph
"My car wouldn't start anymore. I had issues with my battery. I was stuck at St-Laurent Shopping Center during traffic hours and within 20 minutes Ontario Towing was there. He helped me twice actually. I got stuck again in Gatineau and he came and turns out it was my battery bolts that needed to be tightened." – Danielle D.
5. 24/7 Towing Ottawa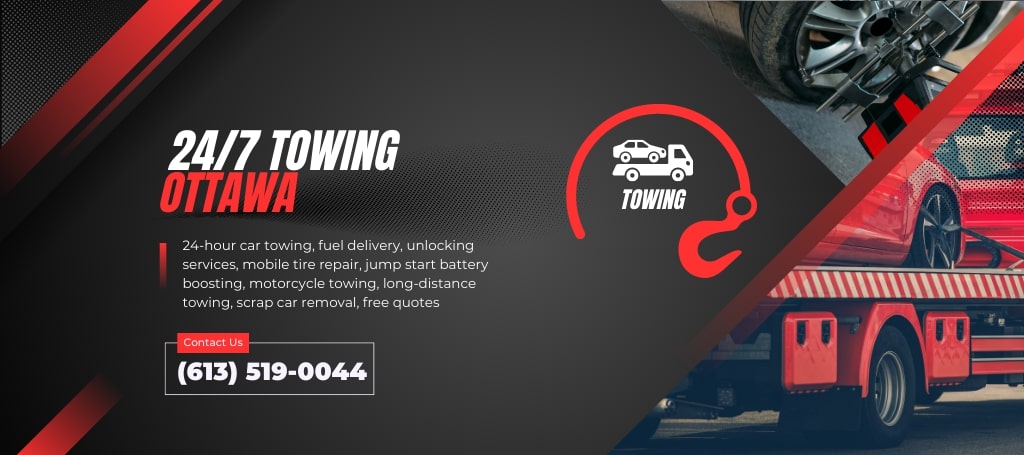 | | |
| --- | --- |
| SERVICES | 24-hour car towing, fuel delivery, unlocking services, mobile tire repair, jump start battery boosting, motorcycle towing, long-distance towing, scrap car removal, free quotes |
| ADDRESS | 2420 Bank St. Unit 26 Ottawa, ON K1V 8S1 |
| CONTACT NUMBER | 613-519-0044 |
| WEBSITE | http://www.ottawa247towing.com/ |
| OPERATING HOURS | Available 24 hours 7 days a week |
24/7 Towing Ottawa vows to take great care in handling its 24-hour emergency towing services. The company always has its clients' safety and peace of mind even after an accident has occurred.
Its office accepts calls at any hour of the day or night because accidents can happen any time. And because vehicular and transportation technology and laws change over time, the team at 24/7 Towing Ottawa makes it a point to keep abreast of new challenges in the industry.
The company also places special emphasis on proper hooking up of vehicles to its tow trucks. This is to avoid even more damage to a car that's already in an accident and to ensure proper and effortless towing.
There's a 24-hour hotline available for any kind of roadside emergency. Clients can also request a free quote by filling up the online form found on the website.
Free quotes
Comprehensive towing and roadside assistance services
Open 24/7 and available for emergencies
No BBB accreditation
No discernible pricing matrix
Doesn't indicate average response times
Customer Reviews
Thinking of saving 24/7 Towing Ottawa's emergency hotline? Read the following client feedback first:
"I used their towing service. Great service at a fair price. The driver showed up on time with the appropriate equipment. I strongly recommend this company." – Clifford Jones
"They were very helpful, respectful, and professional. Would use them for a tow over anyone in Ottawa area." – Wilson Leticia
6. Alliance Towing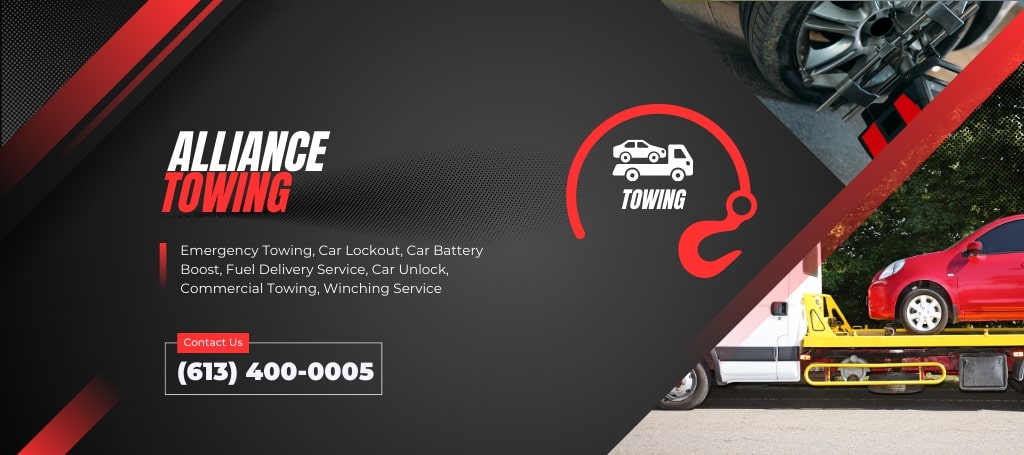 Are you encountering vehicle troubles? Did you perhaps lock yourself out of your car, or maybe it broke down while you're on the road?
No matter your troubles, Alliance Towing can be of help in handling the situation.
Alliance Towing is one of the longest-running towing companies on our list, known for catering to the people of Ottawa every day of the week, month, and year.
Given their 24/7 service hours, Alliance Towing makes an excellent choice for emergency services. But it doesn't stop there, no.
Another reason to choose Alliance Towing is its range of services, which include car battery boost, fuel delivery service, car unlock, winching services, collision reporting, junk car removal, and towing for commercial and private vehicles as well as motorcycles.
Each and every service offered by Alliance Towing is provided by trained and skilled professionals. Aside from their knowledge of the trade, these individuals also have access to top-of-the-line equipment, helping ensure that every client they take on will result in resounding success.
For further inquiries, Alliance Towing can be contacted via phone. The company is open 24/7, so clients can expect quick responses.
Operates 24/7
Tows private and commercial vehicles, and motorcycles
Offers car unlocking services
Offers junk car removal services
No discernible pricing matrix
FAQs About Towing Service in Ottawa
---
We hope you found some reliable resources on roadside emergency services after reading about the top towing service in Ottawa.
If you think we missed some good towing service providers, send us a message so we can review them.
And in case your windshield was damaged during an accident, we got you covered. Read about the top windshield replacement shops in Ottawa so you'll know where to get help.