14 Best Dog Training Centres in Ottawa
Are you welcoming a new puppy into your home or is your current dog driving you crazy with its misbehaviour? There's no need to start howling in frustration because today's listicle is for you and your pooch!
We're going to be reviewing the best dog training centres in Ottawa along with their pros and cons. In the next section, we'll also be taking a look at how much certain dog training services will cost you.
Is Dog Training Costly in Ottawa?
The price you pay for an obedient and socialized dog will depend on several factors. Some charge by how large the dog is, its breed, or whether it's semi-trained or totally undisciplined.
Some also bundle their services to accommodate training, boarding, and even grooming and socializing with other dogs. The table below reflects some of the rates that are also considered typical among dog training centres in Ottawa.
| | |
| --- | --- |
| DOG TRAINING SERVICE | ESTIMATED COST |
| Foundational training (leash walking, play and engagement, potty training, house manners, etc.) | $200 for one lesson |
| Hybrid training (leash skills, marker training, engagement, crate training, remote collar) | $3,800 |
| Board and training (4 – 6 weeks socialization training in boarding location) | $3,800 – $4,600 depending on training goals |
| Virtual training lessons (reliable commands, loose leash walking, engagements, rewards, markers, off-leash) | $95 up per lesson |
These estimated costs are taken from national averages and do not include HSTs and other fees yet. Prices are subject to change depending on the dog training centre's policies, as well.
The Best Dog Training Centres in Ottawa
Next up, we're going to take a closer look at the best dog training centres in Ottawa and what quality services they could offer your beloved pooch.
And make sure to stick around until the end of this listicle for some handy FAQs!
1. Bark Busters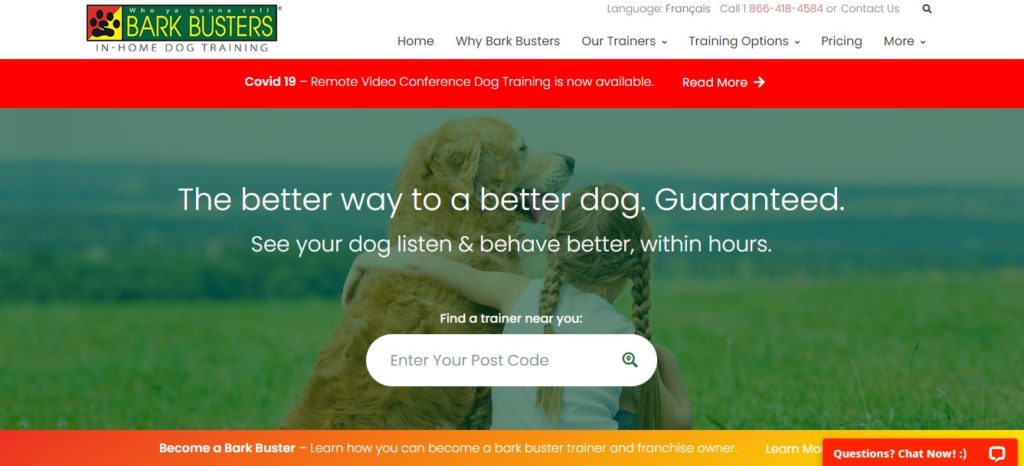 Dogs with behavioral problems are not that appealing to people. With Bark Busters, your dog will be well behaved in just a few hours of training.
Unlike other businesses, they have numerous trainers in Ontario, some are solo trainers while the others do it by pair. Given their team with over 30 years of experience, you will get exactly what you and your dog needs.
What's great about their in-home training is that you do not need to travel and your dog will be in an environment where they are already familiar. Another great thing about them is that the training they will do to your dog is fully customized.
With a thorough question and answer with you and a detailed review of your dog's history, they will create a unique program just for your fur baby.
Their rates are not really available on their website but they will quote immediately after having a short phone conversation with you. They did add to their site that the range is typically between $695 and $1495 for their service, but can still vary in special circumstances.
24/7 Live Chat Support
Video Conference Dog Training is available
Only quotes a one-time flat fee
Operating hours are unavailable
Customer Reviews
Here are reviews from their previous clients:
"Monica from Bark Busters is incredible!! We had our first training session with her the second day we had our puppy (a Golden Doodle) and bringing her on when the puppy was 8 weeks was the smartest decision we could have made! The first session was more to train my husband and I how to become successful dog parents, which was such a great way to start the process because it established the building blocks for proper training. The few (small) issues we were having with our new puppy (crying in her crate, nipping hands and feet) were immediately corrected within 30 minutes of Monica arriving for the first session. We had a second training session 10 days after, but Monica made sure to stay in contact with us between the 2 sessions in case we had any questions or concerns. Our second training session helped us get set up with training basic commands like sit and stay, which our puppy is doing great with! I have to say that knowing we have Monica and her support for the life of our dog is incredibly comforting. We have the ability to call or email Monica anytime we need her and she'll be there to provide assistance. The Bark Busters training model isn't rocket science. In fact, it's so simple it's a wonder more people haven't adopted it. I wouldn't hesitate for a moment to recommend Monica or Bark Busters, and we know our puppy is going to develop wonderfully thanks to these guys!"
"Barkbusters changed my life. Andrew transformed my two champion barkers into well behaved and respectful dogs (who don't even sit on the couch or beg anymore). I wish I had done this years ago (and I'm sure my neighbours do too). Andrew genuinely cared for the dogs and his techniques had magical results. Highly recommended."
2. Best Friends Dog Training
SERVICES
Group and private dog training classes, private online coaching, obedience, scent, agility, behavioural counselling, pet tricks, therapy dog school
ADDRESS
2413-7 Stevenage Dr. Ottawa, ON K1G 3W1
CONTACT NUMBER
613-667-9948


[email protected]

WEBSITE
https://bfdogtraining.ca/
OPERATING HOURS
Monday to Thursday 12 PM – 9.30 PM
Closed on Fridays
Saturdays 9.30 AM – 1 PM
Sundays 10 AM – 1.30 PM
Since 1994, Best Friends Dog Training has been proudly using motivational, rewards-based techniques for its canine clients. It also emphasizes fun for both the dog and dog owner during its training sessions.
The centre believes that reinforcing good behaviour will bring out a dog's different abilities with confidence and with the absence of fear. Beyond training a dog, Best Friends Dog Training wants the owners to actually feel joy in the training process.
There are over a dozen dog training instructors on the roster. They represent a wide range of experience, accomplishments, backgrounds, and specializations such as agility, tracking, therapy animals, scent detection, obedience, and tactical communication.
The Tracking class has a waitlist capped at just a hundred names, so dog owners would be wise to put in their dog's names earlier than the scheduled date.
This is the downside for the centre: that the demand for the centre's training services typically exceeds its normal capacity. This means there's a delay of around three months for a grouped class and five to six months for in-person training.
Uses motivational, rewards-based techniques
Over a dozen dog trainers on staff
Good range of dog training specializations
Open six days a week
The waitlist for Tracking class is capped at 100 names
Some delay for in-person and group class bookings
No BBB accreditation
Customer Reviews
Each canine sport is taken to the next level
"I've been very impressed by the level of professionalism and dedication of all the instructors I've had thus far at Best Friends, these have included Catherine for dog therapy, Maggie for Rally-O, Heather for Obedience, Jill for agility, and a gentleman whose name I can't recall for Scent Detection. I particularly like that each canine sport or activity is taken to the next level while ensuring it remains fun for the dog and the handler, working as a team. I look forward to more learning at Best Friends." – Alexandra Wood
Helped improve confidence and overall behaviour
"Thank you to Best Friends Dog Training (especially Chantal) for an awesome experience! We enrolled our dog Gusto in Beginner's Obedience (he's 3, but we had only recently adopted him) and we are so pleased! Love that they teach you how to train your dog. Not only was it helpful, but it was also fun and it helped improve our Gusto's confidence and overall behaviour.
Now on to the next level…and maybe some Flyball!" – Shaily Allison
3. The Canine School
SERVICES
Online dog training, private training, separation anxiety program, puppy kindergarten
ADDRESS
401 B St. Laurent Blvd, Ottawa, ON K1K 2Z8, Canada
CONTACT NUMBER

[email protected]

WEBSITE
https://www.ottawak9school.com/
OPERATING HOURS
Virtual office hours: Sunday to Thursday
By appointment only
This centre believes that kindness is the most effective training method for dogs. Its certified trainers distance themselves from using pain, fear, coercion, and other negative techniques to make a dog obedient and better-behaved.
The centre offers both one-on-one private training sessions and online training so dog owners can have lessons anywhere that's convenient for them. Training plans are also customizable according to the dog's needs with reasonably-priced virtual sessions at $90 per hour.
And while other dog trainers only concentrate on obedience, agility, and socialization, the Ottawa Canine School spotlights an important issue with dogs: separation anxiety.
So if you've ever gotten home from work to find little toilet accidents, chewed-up furniture or objects, and a depressed-looking pooch waiting, you can find help here. The lessons will be taught by a Certified Separation Anxiety Trainer over a four-week minimum commitment period.
Addresses dog separation anxiety
Offers both one-on-one and online sessions
Uses force-free training techniques
Reasonable hourly rates
Anxiety program has a four-week minimum commitment
Could get fully booked quickly
Open for only five days a week
No BBB accreditation
Customer Reviews
Knowledgeable, patient, and offered helpful advice
"The course (Basic Good Manners Online) covers some very important fundamentals and is taught in a way that empowers the dog owner to think like a trainer and offer meaningful challenges that build their dog's confidence. Chantal was knowledgeable, patient and offered helpful advice and modifications that met the needs of each individual dog." – Danielle
Compassionate, flexible, and fun instructors
"A wonderful group of incredibly knowledgeable, compassionate, flexible and fun instructors. There is absolutely a class for you and your dog here. No matter your skill level or goals." – Claire S.
4. Awesome K9
SERVICES
Dog and puppy training, online training, pack walk registration, pre-puppy house consultation
ADDRESS
904 Winnington Ave. Ottawa Ont. K2B 5C7
CONTACT NUMBER
(613) 797-4454


[email protected]

WEBSITE
https://awesomek9.com/
OPERATING HOURS
Monday to Friday 8 AM – 5 PM
Closed on Saturdays and Sundays
Most dog training centres in Ottawa focus on juvenile or adult dog behaviour when it should all start at puppyhood. That's why Awesome K9 takes pride in its puppy course which is now being offered via virtual classes.
However, the centre's operating hours are only on weekdays. This kind of doesn't make a lot of sense if online classes are now available.
There are also downloadable resources on the website for new puppy owners to use for free. But this offer is for a limited time only so make sure to access it as quickly as you can.
Awesome K9 offers both online and virtual dog training sessions. Either one starts with an hour and a half-long assessment (for $105 plus tax) so the trainer can thoroughly gauge your dog's temperament, exercise routine, habits, skills, and potential issues.
After that, the trainer can customize the program that will work best for your dog. The centre promises to work on any problem your dog could have by "undoing its past" and giving it a fresh start with tried and tested techniques.
Offers online puppy training
In-person and online sessions are available
Customizable program per dog
Free downloadable resources
Resources available for a limited time only
Open on weekdays only
No BBB accreditation
Customer Reviews
Supports in-person sessions with online resources
"We highly recommend Nancy Lynn. She is an experienced dog trainer who makes learning fun for puppies and parents! She supports the in-person sessions with online resources, and she is available to answer questions and offer support. She leads well-organized "pack walks" with other dogs and their owners – these are a huge bonus because lots of the training happens there. Our dog Felix (almost 1-year-old) is now a joy to be with – we are all happier!" – J. Butler
In-depth, friendly training service for furry friends
"Awesome doesn't even begin to explain how wonderful of an experience we've had at awesome K9 Inc! As the parents of two young stubborn Frenchies, it's been an incredible journey from 2 boys who could barely stand to be in the same room together to a couple of loving, very well-behaved brothers! 10/10 recommend to any and all looking for a very in-depth, friendly training service for your furry friends." – Jami Whetter
5. Keshet Kennels
SERVICES
Dog boarding and daycare facility, dog training, large breed rescue, training and seminars
ADDRESS
6157 Russell Road Ottawa, ON K0A 1K0
CONTACT NUMBER
613-850-6212


[email protected]

WEBSITE
https://www.keshetkennels.com/
OPERATING HOURS
Monday to Sunday 8 AM – 8 PM
Aside from dog training, Keshet Kennels also offers boarding and daycare and facilities rentals for clients. Even more importantly, it's a rescue and adoption centre for large breed dogs who are in need of safe and loving forever homes.
It focuses on large dogs because its owners believe they are more at risk of getting surrendered by former owners. The rescue and adoption centre is its way of providing a more compassionate alternative to euthanasia and homelessness.
The centre occasionally offers microchipping and animal blood bank services by appointment, as well. Other standalone services include light grooming and per-session puppy training.
Keshet Kennels' training sessions include recreational agility which involves obstacle courses, walking and pausing, and other activities to boost a dog's confidence. There's also an introduction to canine sports and play and learn classes being offered in the spring and fall seasons.
Please note that some training sessions are only done seasonally, specifically in the spring and summer months. And while we understand that the centre wants to protect pets from colder weather, it could at least offer virtual training sessions during winter, as well.
Rescue and adoption centre for large breed dogs
Open seven days a week
Occasionally offers microchip and blood bank services
Reasonable boarding and facilities rental rates
Some training sessions are seasonal only
No virtual training sessions offered
No BBB accreditation
Customer Reviews
Took such great care
"Just a quick note to thank you for taking such great care of our fur baby. He seemed to have had an absolute blast, was happy and tired to be home … and probably bored with a lot less excitement! Your care made us leaving him much easier and thanks again for the postcard." – Randy Reynoso
Wouldn't hesitate to rent outdoor spaces again at Keshet
"We rented the Habitat outdoor space for our reactive dog, so she could run around and play with a doggie friend. It was perfect for what we needed and it was very secure. I wouldn't hesitate to rent outdoor spaces again at Keshet, and will probably try Timberland next time! Absolutely perfect for reactive dogs, dogs who like their own space, or dogs that have no recall/high prey drive." – Jen Collard
6. Carolark
SERVICES
Puppy training classes, private lessons, workshops and events
ADDRESS
5933 Hazeldean Road, Stittsville, ON K2S 1B9
CONTACT NUMBER

[email protected]


613-591-3277
WEBSITE
https://www.carolark.com/
OPERATING HOURS
Monday to Thursday 12 noon – 8.30 PM
Saturdays and Sundays 9.30 AM – 5 PM
Closed on Fridays
Carolark has been around since 1992 with the mission to help dog owners understand how their beloved canines think and learn. The centre uses positive training methods that take both human and canine considerations in mind.
It offers puppy training classes apart from its sports, good manners, and specialty obedience lessons. There's also a brain and bodywork program that promises fun classes full of puzzle-solving and scent/shape/colour distinguishing sessions.
There are both group and private classes offered at Carolark. The puppy private classes come with packaged services including a stay-at-home package for families who recently acquired a puppy.
The hourly rates of $113 an hour are under than the national average and they offer a good range of lessons per session. For instance, its Dog Gym program involves both strengthening exercises and following body language and unspoken cues to learn how to focus more intently on the tasks at hand.
Private and group sessions offered
Uses positive training methods
Open six days a week
Stay-at-home online puppy training available
Cash payment not accepted for registration

No BBB accreditation
Customer Reviews
Instructors have good knowledge of training and canine behaviour
"Loved my experience at Carolark! I am a veterinary technician with a special interest in behaviour. The instructors have good knowledge of training and canine behaviour which is a relief to see nowadays. We always recommend Carolark to our clients!" – Meghan Foubert
Great place for puppy training
"Great place for puppy training. It's really a must if you wish to understand what makes a dog act, in positive ways which fit into the family and home life, and more importantly to avoid unwanted behaviours which sour the bond and the experience." – Rod Windover
7. Calm & Collected Canine
Calm & Collected Canine was founded by Sarah Blanchette, inspired by her personal experience with her dog that needed behavior modification lessons. Today, she aspires to help other people gain a better understanding of their dogs and help them change what is needed.
As a professional dog trainer, Sarah's motto isto "Train, Rehabilitate, and Succeed," and from what we've seen thus far, she has a track record of doing just that. Along with her staff, Calm & Collected Canine offers services that make it one of the top dog training centers in Ottawa.
They offer private lessons, structured boarding and training sessions that can help modify your dog's common behaviors. While we would have liked it much better if single lessons could be purchased, this center nonetheless offers a great range of choices.
So whether you need help with your dog pulling on their leash, a history of biting, not responding when called and more, Calm & Collected Canine is an option worth considering. Their rates are quite affordable and we like that they offer structured boarding for when you need help in a pinch.
Offers structured boarding
Open 24 hours

Affordable rates
Can't purchase single lessons; minimum required
8. The Canine Clubhouse
SERVICES
Boarding, Daycamp, Training
ADDRESS
261 McArthur Avenue, Vanier, Ottawa. Ontario K1L 6P3
CONTACT NUMBER
Phone: 613-319-0527
Email: [email protected]
WEBSITE
http://thecanineclubhouse.ca/
OPERATING HOURS
Monday to Friday: 6:30AM–6PM
If you're looking for a safe place for your dog to run, play and learn, The Canine Clubhouse is one of our top choices. We like it here because they provide mentally stimulating activities and plenty of socializing through supervised playtime.
The Canine Clubhouse, in a nutshell, is a day camp that likewise offers boarding and training. Guests and clients may also purchase all-natural pet products on-site, such as locally produced handmade treats.
We particularly like that their play area is covered with rubber mats ingeniously made of recycled tires. This helps reduce the stress on the legs and paws of your dog as it runs around and plays with other furry friends.
Although they're a small group of professionals, they have extensive experience with dogs. The Canine Clubhouse's founder is a certified dog trainer, manages all aspects of the business, and is also the principal dog handler.
They use only positive reinforcement-based techniques and facilities in the area, so you can rest assured your dog will be safe and secure. Each new pup undergoes behavior assessments as well, to ensure that all dogs are a good fit for The Canine Clubhouse.
Owner is member of member of the Pet Professional Guild

Large play area built with recycled tires
Only two trainers and handlers on the team
9. Kat, Behaviour Tech
SERVICE
Provides training for puppies, house soiling, foundations, fear, aggression and cooperative care
ADDRESS
Ottawa, ON, Canada
CONTACT DETAIL

[email protected]

WEBSITE
https://katbehaviourtech.com/
OPERATING HOURS
Monday to Wednesday: 9:00 AM – 4:00 PM
Thursday: 9:00 AM – 12:00 PM
Friday, Saturday and Sunday: CLOSED
Katharine, admits to being a behavior nerd. She enjoys talking about animals all day and would be delighted to assist you with any of your behavior or training issues.
Using science-based positive reinforcement strategies, she can assist you in hearing and communicating with your pet.
As an RVT, Katharine has the nursing abilities to assist you with numerous at-home treatments, as well as the ability to teach your pet new skills as a certified trainer. She's also been working with Colleen Wilson, a Board-Certified Veterinary Behaviourist, for the past three years.
We are also amazed that she is thorough in getting to know your pets as she has a canine questionnaire and feline questionnaire on the website that you must answer.
Aside from that, prior to your initial session with her, each client who wishes to schedule a behavior consult must have their veterinarian sign out a recommendation form on her veterinary referral from.
In-person services is offered after an initial consult
Online booking
Prices can be found on booking page
Provides behaviour consultaiton
Mentored by Dr. Colleen Wilson, BSc, DVM, DACVB
Certified Training Partner, Karen Pryor Academy
Multiple courses from the Karen Pryor Academy such as Dog Trainer Foundations, Puppy Start Right and The Ranch Experience with Ken Ramirez
Elite Fear Free Certified Professional
Registered Veterinary Technician
Limited in-person consultation is offered after initial online consultation
No contact number to call
No specific address found online
Limited hours of operation
Customer Reviews
"Experienced, knowledgeable and professional, Katharine Schawrz's nuanced and compassionate approach to animal behaviour is both insightful and effective. You couldn't ask for a more caring or qualified person to help support your pets behaviour needs!" – Valerie Fenske
"Kat is THE person to see if you're looking for a trainer! For me, positive reinforcement based training is the most important thing to look for in a trainer because I want my pets to feel safe and show enthusiasm during our sessions – and in life in general! Kat is so committed to this position that she is a certified Fear Free Elite Professional. Her dedication to continuing her education assures me that I'm getting the latest in evidence-based training. What sets Kat apart is that not only is she an RVT, but she is also mentored by and works with a Veterinary Behaviourist, giving her a unique perspective. Lastly, Kat has a calm, judgement-free presence, making sessions with her a true joy. Thank you Kat!" – Alessia Cosentino
"Katherine is amazing with all animals. She is extremely patient and gentle. She is very successful with her training methods and using only positive reinforcement techniques. There is no one else that I would trust my animals with!" – Christine
"Katharine is one of the most compassionate and gentle people I have ever met. Her knowledge and ability to convey the much needed support is incredibly helpful. She truly lives and breathes Fear Free. It is not just her job, it's her life style. I fully recommend her services. She cares." – Jennifer Shea
10. Pet Counsellor
SERVICE
Behavioral training for dogs of all ages, cats, and horses
ADDRESS
865 Berry Side Rd, Dunrobin, ON K0A 1T0, Canada
CONTACT DETAIL

[email protected]


+1 613 697 4350
WEBSITE
https://www.petcounsellor.ca/
OPERATING HOURS
By Appointment
Pet Counsellor offers behavior modification through positive training. Ingrid Van Overbeke, the woman behind Pet Counsellor believes that positive training techniques are great behavior changers that maintain the welfare of your beloved pet.
She specializes in identifying and remedying the underlying cause of the problem behavior that you may have with your pet. Pet Counsellor also has special programs for aggression and separation anxiety.
So if you're looking for a trainer who will handle your dog's separation anxiety when you go back to work after working from home for 2 years, she is a good choice to consider.
She also covers other behaviors such as house-soiling, marking, destructive behavior among others. Pet Counsellor's services are also available for cats and horses.
You can trust that your furbaby is in good hands since she is a member of several associations, including the International Association of Animal Behavior Consultants (IAABC) and the American Veterinary Society of Animal Behavior (AVSAB).
She is also a PhD holder in Veterinary Science as well as partners with other behavior counselors. All in all, she's a good choice, especially if you're looking for someone who will train your dog in the comfort of your home.
Trainings done at your home
Puppy training available
Zoom calls available for minor issues
Online booking available
Customer Reviews
"Wonderful trainer in the greater Ottawa area-be sure to keep her details in your pocket if you have clients in need! All of my referred clients have been extremely happy with Ingrid and what she has done for them." –Tracey Young
"Hiring Ingrid the Pet Counsellor to help us with our German shepherd-border collie as a puppy and young adult was the best decision we made for us and our beloved dog.
She trains us and our dog through the positive reinforcement approach, which has worked (and continues to work) spectacularly with our dog who has resource guarding. As a puppy, he had viciously bitten my partner and I on numerous occasions for what seemed to be nothing, was aggressive with the vet, and was unfriendly towards visitors. After hiring Ingrid, its hard to believe he is the same dog at all – he will drop & back off anything we ask him to, shares his toys with us and other dogs, is very good at the vet, and is only friendly towards visitors.
– She understands our dog better than any trainer we've had (and our dog loves her for that). This enables her to make it crystal clear what is going on from our dog's perspective, and allows us to understand and act appropriately. After learning from her, we've become very good at reading our dog, the situation, and know how to approach and handle it confidently.
– She travels to our home and the places we go with our dog, to provide a training experience that can't be matched by dog schools because she observes the problems in context.
– During our first two (extremely thorough) consultations, she worked hard to understand our situation. She is a very good listener and never jumps to premature conclusions or be biased by our non-professional opinions on the scenario.
– She provided us with numerous invaluable resources that were specific to our dog and situation.
– Although dog schools were helpful, we opted to go only with her because her help was much better value for our money and time compared to classes with many dogs at the same time. She's also far more qualified and experienced than any trainers you'll find in a dog school.
In conclusion, we highly, highly recommend her to anyone with a pet looking to change their behaviours, especially if you are a first time pet owner or even if your pet behavioural issues are minor. It is a sound investment for your pet, and possibly even more for yourself to improve your ability to train and interact with animals in the future. Thank you so much for your work, Ingrid. Don't hesitate to give her a call!" –Victor Chan
11. Paola Hoger + Shake-a-Paw Dog Training
SERVICES
Puppy Packages, Dog Sports, Reactivity Training, Local Dog Training, and Dog Sports
ADDRESS
3400 Wallace Road, South Mountain, Ontario
South Mountain Fairgrounds, 2967 Lough Road
CONTACT DETAILS
Phone: (613) 989-3647
Email:

[email protected]

WEBSITE
https://dogtraining.ca/
OPERATING HOURS
Monday to Friday: 9:00 AM – 5:00 PM
Saturday & Sunday: CLOSED
With more than 20 years of experience in the dog training industry, Paola Hoger has been providing dog training online and in-person for 1:1 training or video training courses to help you achieve the dog of your dreams.
Her years of experience with her dogs -Akitas, Siberian Huskies, Chesapeake Bay Retrievers, and now Border Collies, and positive reinforcement methods paved way to assisting her clients in achieving their dream dog through private training and step-by-step guidance.
A glimpse of the training she was able to provide is from being off leash, walking nicely on leash, and behaving calmly in public.
These struggles motivated her to continue learning, to seek out better training methods, and to expand her knowledge of what Ian Dunbar, Chris Bach, Susan Garrett, Terry Simons, Terry Arnold, Janet Lewis, Turid Rutgas, Carolyn Clark, Justine Davenport, Jessica Patterson, and many others have taught her.
We are impressed that she's competed in Obedience, Agility, and Scent Work with her dogs. Competing in any sport pushes your training to new heights. It forces you out of your comfort zone and into the zone where anything is possible. Skills must improve; now that you are performing, the training will progress to new levels as you and your dogs strive for more.
Because she strongly believe that one of the most important qualities in a canine companion is that they are well-mannered and well-tempered, she also became a certified Temperament Test (TT) and Canine Good Neighbour (CGN) tester. She is also a member of the Canadian Kennel Club, the Ottawa Kennel Club, and the Ottawa Valley Border Collie Club.
Free dog training resources
Trainings done online and 1:1 in person
Puppy training available
Dog sports available
Online booking available
Closed on weekends
By appointment only
Customer Reviews
"Paola gives thorough training that I can understand to help me with my dogs. She offers puppy training, agility, and scent training.
Her puppy training is a complete program. She's awesome with many years of experience. No harsh words, force-free methods." – Julie Prusila
"Paola is amazing and so patient with me. I definitely need a lot of training! So far Zoe is responding well to Paola's suggestions. I have a complicated living situation and she is great at coming up with ideas that will work for Zoe with my life and that of my 4 kids (one with special needs). I highly recommend giving her a try." – Christine Ann Derrick Sanchez
12. Sunny Dog Training Ottawa
SERVICES
Puppy Training Ottawa Program
Private Dog Training Ottawa Program
Board & Train Ottawa Program
Come When Called Program

ADDRESS
814 Riddell Ave N, Ottawa, ON K2A 2V9
CONTACT NUMBER
613-981-1903 / [email protected]
WEBSITE
https://sunnydogtrainingottawa.com/
OPERATING HOURS
Sunny Dog Training Ottawa is a company that is led and operated by Belen Rodriquez who has undergone a wide range of studies such as Neuroscience, animal behavior science, and psychology among many others to better back her approaches to training dogs. Established back in 2018, she has since then been offering personalized dog training programs to transform canines that listen.
We like that the whole approach is founded on the rapport of the dog and the owner to better establish and communicate with the dog without risking the well-being of both at the cost of obedience.
She is aware of the factors to consider when it comes to training dogs and in order to minimize both the hassle and the stress of the dog – conducts her sessions at the very homes of their clients.
Each training session she does is private, comprehensive, and personalized according to what the client intends to achieve and the behavior and condition of the said dog to be trained as well.
Overall, with numerous success stories readily available on the website and bonus materials with valuable resources that can be availed of, we highly recommend her for clients looking for dog training in the Ottawa area.
Personalized programs given to each dog
Conducts session at the client's homes
Additional resources available
Customer Reviews
Here are some reviews from their clients:
"We started using just one of your techniques from this method and it helped us to stop our dog from jumping up on people. It has been a relief!"
"Belen has a lot of knowledge. She helped me with my foster dog. Now it has way more confidence and it´s more relax around people and other dogs!"
13. T&T Dogs Unleashed
SERVICES
In-Home Training, Puppy Socialization, Community Interaction, K9 Gym
ADDRESS
3 Industrial Road, Units 3/4, Kemptville, ON. K0G 1J0
CONTACT DETAILS
Phone: (613) 258-0072
Email:

[email protected]

WEBSITE
https://ttdogsunleashed.com
OPERATING HOURS
Monday to Friday: 6 AM – 6 PM
If you're looking for a balanced training philosophy for your dog, look no further away from T&T Dog Training, wherein they ensure that your dogs remain happy, healthy, and stress free-throughout the training period.
They put into consideration a number of different aspects throughout the training program, including diet, behavior, communication, and playtime. We're really amazed with how holistic their programs are.
We also highly recommend them if you're looking for a rescue rehabilitation for your dog. They're particularly good at this program, and you can rest assured that your dog is in safe and professional hands.
Their puppy management and socialization program is also noteworthy. They teach a lot of foundational and advanced skills that you'll want your puppy to learn.
However, you need to devote time during weekdays as they're closed on weekends. But after taking a look at everything they have to offer, we think that it's really worth getting your dog trained by them.
Holistic training program
Offers rescue rehabilitation
14. Your Dog's Best Friend
Your Dog's Best Friend is a dog care service company that was founded back in 2020 and has since then been offering daycare and grooming services that guarantee that they will have a good time during their stay at their facilities.
We like that their playtime packages are comprehensive and have a good balance for dogs to have both outdoor and indoor experiences since each package includes both.
Aside from this, the clients' dogs also get unlimited access to different amenities such as their private park and swimming in a filtered stream as well.
Furthermore, clients are regularly updated on the status of their pets since they get both digital and video updates for their owners to enjoy and have peace of mind as well.
Though note that their rates are quite expensive and clients may need to also schedule in advance should they want assurance of their slot during their intended day.
Unlimited food and water supply
Various amenities available
Balance of dog activities
Operating hours are unavailable
Customer Reviews
Here are some reviews from their clients:
"We are so lucky we found you! Miller always returns looking amazing. Fluffy, soft and so happy. The fact that you pick him up and drop him off is such a bonus!"
"Oscar is a new dog since meeting Hannah and his friends. He comes home from playtime ready for a nap and always with a smile on his face after grooming."
FAQs About Dog Training in Ottawa
---
The best dog training in Ottawa is one that will bring out your dog's confidence and best behaviour.
Send us a message if you have a good dog training centre to recommend to our readers.
And just in case you need to be somewhere you can't bring dogs, you can learn where the best dog daycare centres in Ottawa are to ensure their safety and security.