5 Best Sandwich Shops in Ottawa
Because we sometimes sleep in more than we should or get too busy that we can't find enough time to prepare food, we resort to readily available options. And over the years, sandwiches have always been the first on our list.
So, if you're famished and looking for a good place to get a quick bite, below is the list of the best sandwich shops in Ottawa we personally love.
Specialties of the Best Sandwich Shops in Ottawa
To give you a glimpse of what each entry in our list has to offer, below is a table that shows their respective specialties:
| Sandwich Shops | House Specialties |
| --- | --- |
| Gooney's | Arepas, Cuban Sandwiches |
| Sanguiccio Deli-Cafe | Italian Sandwiches, Tomato Salad |
| The Sandwich Stop | Beef Brisket Sandwich, Pulled Pork Sandwich |
| Subito Sandwich | Italian Ham and Turkey Sandwich, Cannolis |
| Roberto's Corner | Italian Sandwiches |
How We Picked the Best Sandwich Shops in Ottawa
To narrow down our choices, we used the following criteria in our selection process:
1. Gooney's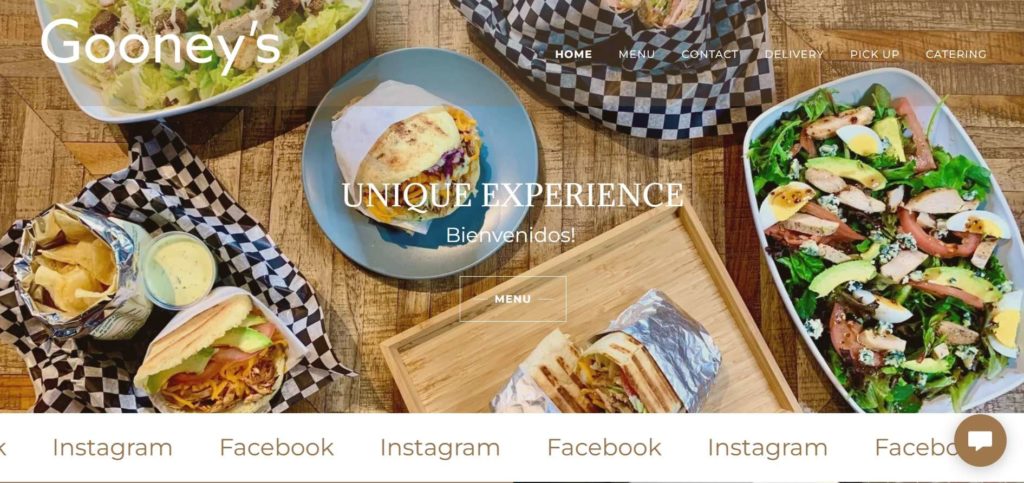 Test
Info
PRODUCTS
Sandwiches, Breakfast/Lunch/Dinner Arepas

Latin Bowls, Salad Bowls

South American Desserts

WEBSITE
https://gooneysottawa.ca/
ADDRESS
360 Laurier Ave W, Ottawa, ON K1P 1C8, Canada
CONTACT DETAILS
+1 613-233-2460
OPERATING HOURS
Monday 9:30 AM - 7 PM

Tuesday to Thursday 8:30 AM - 8 PM

Friday 8:30 AM - 5 PM

Saturday 9:30 AM - 5 PM
| | |
| --- | --- |
| Criteria | Ratings |
| Menu Options | ★★★★★ (5/5) |
| Affordability | ★★★★★ (5/5) |
| Dining Options | ★★★★★ (5/5) |
| General Feedback | ★★★★✩ (4/5) |
Gooney's is definitely one of the best spots for sandwiches. It has been around for 11 years and has remained passionate about its food and valued customers.
Looking at its menu, we like that there are a lot of options you can choose from. There are great sandwiches, arepas, Latin bowls, and some South American desserts, too, like Alfajores.
For breakfast, we personally love the arepas, which are constants in its all-day breakfast. If you visit here for either lunch or dinner, we suggest trying out the Pernil, which is super yummy.
If you're a vegetarian like one of our good friends who joined us on one of my visits, worry no more as there are also options for you. For starters, you might want to try the Vegetarian Arepa, which comes with grilled mushrooms, avocado, and black beans.
But apart from getting large portions that will surely get you full, the superb service is yet another reason we keep coming back. The people here are super friendly and work fast.
We remember getting in and out in less than 10 minutes despite all the people. What's more is that they are also good at keeping the place spotless no matter how busy things get.
If you're busy, you may pick up your orders at a later time of the day or have everything else delivered. With reasonably priced food, delivery charges won't be a problem at all.
It is just sad, though, that the sandwich shop is closed on Sundays. You might also want to consider paying a visit or placing orders earlier on Fridays and Saturdays as it closes at 5 PM.
11 years in business
A variety of options
Multiple dining options
Quick service
Closed on Sundays
Relatively shorter hours on Fridays and Saturdays
Customer Reviews
The best
"The best! I've been coming here since they opened and they have never once dropped in quality or taste. Their arepas are amazing, but don't sleep on their sandwiches! Their chicken salad is so tasty and the portion size is substantial. I will be a customer here for a long time :)" — Jo O'Connor, Google Reviews
Unbelievably delicious
"Unbelievably delicious 😋 Fresh fresh fresh and while a little messy worth every penny. Honestly it is so hard to find lunch under $15 downtown anymore. This was a mere $9 and tax. Service was fast and the staff are friendly. Place was spotless despite being very busy. Despite the line I was in and out in under 10 minutes. Great lunch place will be back to check out there breakfast. I had a vegetarian arepa." — Tanya Ancestry, Google Reviews
2. Sanguiccio Deli-Cafe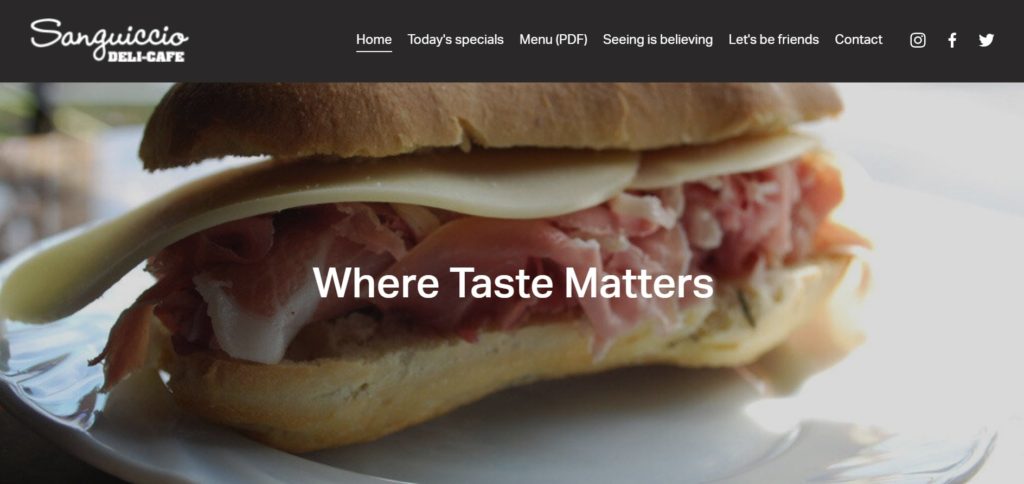 Test
Info
PRODUCTS
Sandwiches, Tomato Salad, Antipasto, Cold and Hot Beverages
WEBSITE
https://www.sanguiccio.ca/
ADDRESS
183 Preston St, Ottawa, ON K1R 7P8, Canada
CONTACT DETAILS
+1 613-569-0456
OPERATING HOURS
Tuesday to Friday 11 AM - 6 PM

Saturday 11:30 AM - 5 PM
| | |
| --- | --- |
| Criteria | Ratings |
| Menu Options | ★★★★★ (5/5) |
| Affordability | ★★★★★ (5/5) |
| Dining Options | ★★★★★ (5/5) |
| General Feedback | ★★★★✩ (4/5) |
When it comes to sandwiches, Sanguiccio Deli-Cafe remains one of our favorite places to go. There are multiple options you can choose from, and the sandwiches, we must say, are made to perfectly match some of the cold and hot beverages available.
The tomato salad as a little side, by the way, is also something to crave for. The espresso here is top-notch as well.
Getting welcomed with a super old-school vibe as you enter the shop makes it more than just a place for good bites. Although giving the place a bit of renovation won't hurt, the fresh aroma upon entering is both inviting and relaxing.
If you happen to be around the area and decide to give this shop a shot, we strongly suggest trying out the beef arrosto, which will literally melt in your mouth. If you're with someone, the antipasto plate for two is worth a try.
While it might take more than 20 minutes for your sandwich to arrive, the satisfaction that awaits will make it all worth it. So if you don't have much time, we recommend calling in to have things prepared ahead.
But apart from seeing a place filled with fresh, high-quality ingredients, we appreciate that the owner himself is the one who serves the sandwiches. We just love his genuine passion for preparing authentic food and his wonderful chats.
With great, affordable food and commendable customer service, you ought to visit this place. However, you might want to remember that the shop is closed on Sundays and Mondays.
An array of choices
Various dining options
Great old-school atmosphere
Closed on Sundays and Mondays
Slower service as everything is made fresh
Customer Reviews
Amazing sandwiches
"Amazing sandwiches, and Genio is a super guy. Everything is fresh and he really cares about the food he's preparing for you! You have to stop if you're in the area." — Manuela Boeira, Google Reviews
Extremely tasty and fresh
"Very delicious sandwiches! We went to Ottawa from Toronto for a weekend only, the sandwich we tried at this place in the first day was so good, so we didn't think twice before returning second time next day. Extremely tasty and fresh. We'll definitely visit Sanguiccio Deli again once in Ottawa to enjoy these sandwiches one more time 🙂 Highly recommend!" — Irina Utkina, Google Reviews
3. The Sandwich Stop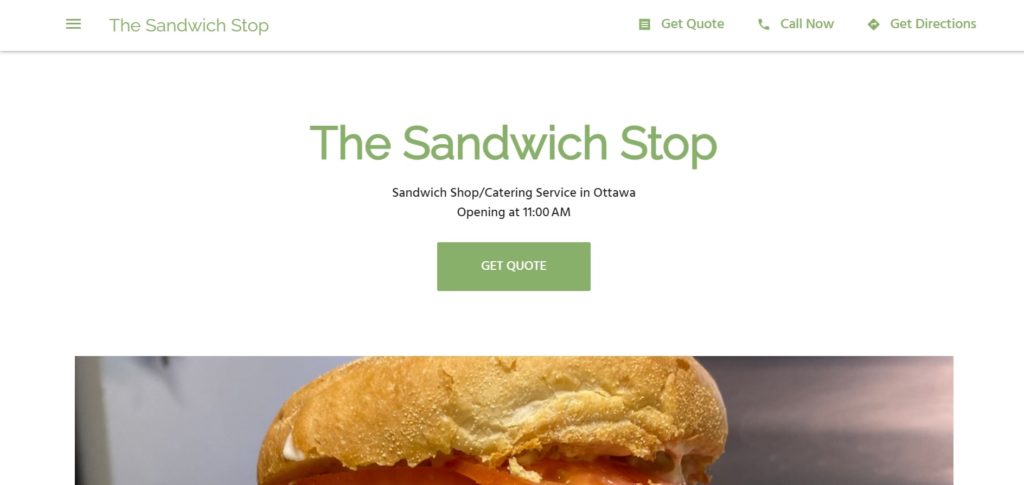 Test
Info
PRODUCTS
Sandwiches, Soups and chili

Salads, Beverages, Desserts, Fries and Poutines

WEBSITE
http://www.sandwichstop.ca/
ADDRESS
2285 St. Laurent Blvd Building C #10, Ottawa, ON K1G 4Z6, Canada
CONTACT DETAILS
+1 613-680-6844
OPERATING HOURS
Monday to Friday 11 AM - 3 PM
| | |
| --- | --- |
| Criteria | Ratings |
| Menu Options | ★★★★★ (5/5) |
| Affordability | ★★★★★ (5/5) |
| Dining Options | ★★★★✩ (4/5) |
| General Feedback | ★★★★✩ (4/5) |
If you're looking for some large yet affordable sandwiches, the Sandwich Stop is the place for you. Because aside from the different tasty sauces, the big sandwiches here will make you think that you're getting two meals out of one.
There are salads, some poutines, and delightful desserts that you can enjoy, too. The cookies that taste like what mom used to make are also great.
If you're unsure of what to get on your first visit, you'll never regret getting the brisket sandwich. With a bun and veggies so fresh and crunchy, this one is sure to satisfy.
If you're more of a pork person, the pulled pork sandwich might just be what you are looking for. There are still more choices available and we are guessing that they are equally appetizing with generous toppings as well.
But above everything else, what we love most about this shop is its staff, who is incredibly friendly and polite. Their attention to detail is superb, ensuring that we get the best sandwiches — always.
Should you decide to visit The Sandwich Stop, parking will not be an issue as there is a vast area made available for customers.
Unfortunately, it only offers take-out, pick-up, and delivery options. The shop is also closed on weekends, which can be a real bummer for some.
Offers a lot of choices
Affordable rates
Lots of parking available
No dine-in option
Closed on weekends
Customer Reviews
I love this place
"Delicious and always fresh food. I love this place for the large sizes of sandwiches, the incredible sauces (especially chipotle) and for the friendly company of Tom and Manny." — Anastasia Seitaj, Google Reviews
A classic deli sandwich shop
"Went to try the sandwiches here for the first time and I was definitely not disappointed. There were a lot of sandwich options but I settled on the Manny and was very happy with my decision. The sauces are made in house and you can definitely tell the ingredients are fresh. I was a big fan of the spicy eggplant as well. Portion sizes are filling but you're gonna wish you got two because of how tasty it is. This is a classic deli sandwich shop and I will be recommending this place to my family and friends. Thanks Manny and the Sandwich stop!" — Sam Ghafari, Google Reviews
4. Subito Sandwich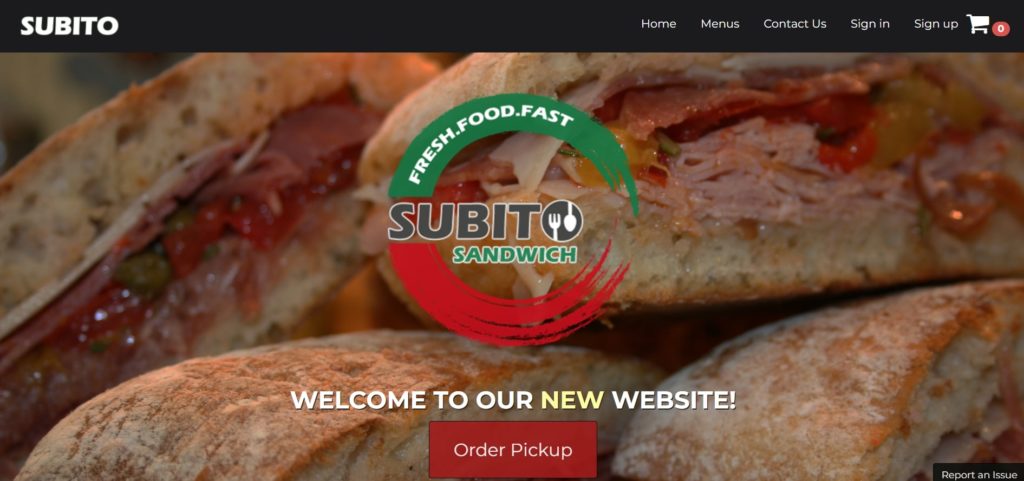 Test
Info
PRODUCTS
Cold Sandwiches, Hot Sandwiches, Pastas

Salads, Italian Desserts, Beverages, Soups

WEBSITE
https://subitosandwich.com/home
ADDRESS
389 Gladstone Ave, Ottawa, ON K2P 0Y9, Canada
CONTACT DETAILS
+1 613-699-5008
OPERATING HOURS
Monday to Friday 9:30 AM - 6 PM

Saturday 10 AM - 5 PM
| | |
| --- | --- |
| Criteria | Ratings |
| Menu Options | ★★★★★ (5/5) |
| Affordability | ★★★★★ (5/5) |
| Dining Options | ★★★★★ (5/5) |
| General Feedback | ★★★★✩ (4/5) |
For authentic Italian sandwich lovers, this spot is for you. Although the place might be a little small with only a few seats, the atmosphere is quite cozy.
When we first came, we just couldn't pass up on its Italian Ham and Turkey Sandwich and Cannolis, which are now our personal favorites. It would have been better, though, if the sandwiches were made in front of us instead of serving us with pre-made ones.
If you like spicy stuff, the spicy samosa is at the top of our list. Made with some homemade spicy mayo, it would be a great option if you prefer a meatier one that's less spicy.
Offering a variety of appetizing options, you can also get some soup and Italian beverages. All at fair prices and large portions, you'll definitely get your money's worth.
Apart from its delicious, fresh sandwiches, we also appreciate that the owner gives out samples. At one point, the staff members gave us some free soup and a cookie.
But more than giving away some nice treats, what we really like about these people is that they always make us smile. Alongside great conversations is the genuine goal to provide customer satisfaction.
If you're trying the sandwiches here soon, don't forget to prepare some extra napkins as things could get a little messy.
An array of options
Specializes in Italian sandwiches
Offers free samples
Has a relatively small space
Closed on Sundays
Customer Reviews
Would give 6 stars, even 7
"My experiences here were so exceptional I can barely put them into words. Staff always made me smile and food always satisfied me, for a good price. Easily the best meats I ever tasted. If I could, I would give 6 stars, even 7." — Tomáš Mráz, Google Reviews
Will absolutely be back
"If I could give bonus points, I would! What a delicious sandwich spot, with even better service. Johnny and Emma were getting my TooGoodToGo order ready and it was such a pleasant experience. I've had their sandwiches before – they are hefty and superbly delicious, but let me shine some light on the amazing customer service. Both were all smiles, we had some great conversations, I got some samples to try out and a cookie for my walk back home. 10/10, will absolutely be back!" — Preethi Ledchumykanthan, Google Reviews
5. Roberto's Corner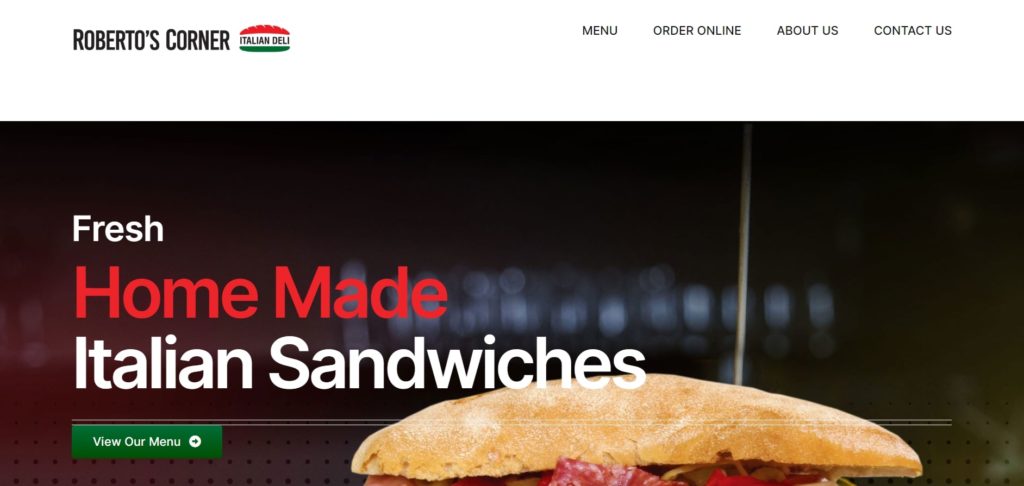 Test
Info
PRODUCTS
Sandwiches, Pasta, Entrées, Soups and Salads

Sides, Desserts, Snacks, Beverages

WEBSITE
https://robertoscorner.ca/
ADDRESS
1034 Pleasant Park Rd, Ottawa, ON K1G 2A1, Canada
CONTACT DETAILS
+1 613-799-0195
OPERATING HOURS
Monday to Friday 10 AM - 9 PM

Saturday 10 AM - 8 PM

Sunday 11 AM - 5 PM
| | |
| --- | --- |
| Criteria | Ratings |
| Menu Options | ★★★★★ (5/5) |
| Affordability | ★★★★★ (5/5) |
| Dining Options | ★★★★★ (5/5) |
| General Feedback | ★★★★✩ (4/5) |
Roberto's Corner is another Italian sandwich shop you must consider. It offers a wide array of options that extends from sandwiches and plates of pasta to some nice snacks and desserts.
There are homemade frozen Italian dinners, too, if you happen to drop by the shop at night. If you're busy like us, you can have things delivered via SkipTheDishes, Uber Eats, or DoorDash.
But if you have time, we recommend paying the shop a visit to see how your delicious sandwiches are prepared. The best part is that the staff doesn't skimp on the toppings and you end up devouring super-packed sandwiches.
Finding it, however, can be a little tricky as it is hidden in a gas station. Parking can also be tough as it has a very small lot to accommodate cars.
On a different note, while prices are great, it is how Roberto and his staff ensure that we get the best-tasting treats that keep us coming back. Apart from getting your sandwich toasted, you can also have them customized.
The person behind the counter was also great at giving recommendations during our first visit. His decisiveness was truly helpful in experiencing flavors that partied in our mouths.
With amazing food that's matched with unbeatable prices, this place has become a favorite go-to. Literally, a hidden gem you ought to find and visit.
Specializes in Italian sandwiches
A variety of options
Can customize sandwiches
Location can be tricky
Parking can be problematic
Customer Reviews
Will definitely be returning
"I live out of town and had an appointment at CHEO to attend. Decided to look online for somewhere to grab lunch after our appointment. So glad we stumbled upon Roberto's Corner. Hidden inside a gas station I never would have found it on my own. Our sandwiches were amazing and the cannoli was so yummy! Great service, quick, and amazing prices. We will definitely be returning when we're in town." — Stacey Doggett, Google Reviews
Best sandwich I've ever had
"Best sandwich I've ever had – not exaggerating. Delicious toppings and sauces like pickled eggplant and pesto. Great service (I asked a bunch of questions and they were friendly and helpful). I drove from out of town and wasn't disappointed." — Karolyn Xie, Google Reviews
FAQs about Sandwich Shops
---
With this list of the top sandwich shops in the area, we hope that you find the ones that will satisfy both your hunger and cravings!
Looking for other places to get some good bites? The following articles might interest you: