Planning the big move to your new home can be stressful and time-consuming. But with the help of the best movers in Ottawa, it might just prove to be an enjoyable, hassle-free experience.
We'll be taking a closer look at some of the top options for moving services in the city. To guide you further, we also provided some FAQs toward the end of this listicle.
How Much Do Movers Charge in Ottawa?
Of course, movers will cost money. Exactly how much is what we'll be discussing in this section.
Most movers give a general time and cost estimate per move in accordance with locations, distances, how much stuff will be moved, and the type of house the client has. Activities like loading, unloading, packing and a flat travel time (typically one hour) will have to be factored in, as well.
As seen in the table below, estimated costs per hour can depend on bundled services with both truck and movers included. Additional services like professional packing can also be charged per hour.
MOVERS SERVICE
ESTIMATED COST
Local moving service (with a truck and movers)
Minimum of 3 hours with 2 movers: $135 up per hour for a 1-bedroom apartment
Minimum of 5 hours with 3 movers: $160 up per hour for 2 – 3 bedroom apartment
Minimum of 5 hours with 3 movers: $175 up per hour for 3 – 4 bedroom house
Moving labour only (no truck, with movers)
Minimum of 4 hours with 2 movers: $100 up per hour
Minimum of five hours with 3 movers: $125 up per hour
Professional packing service (materials not included)
Two packers, minimum 4 hours: $120 per hour
Three packers, minimum 4 hours: $150 per hour
Long-distance moving service
With 17-foot box:
Moving from Ottawa, Ontario to Montreal, Quebec: $1050 up
Moving from Ottawa, Ontario to Toronto, Ontario: $1,750 up
Moving from Montreal, Quebec to Toronto, Ontario: $1,975 up

With 24-foot box:
Moving from Ottawa, Ontario to Montreal, Quebec:$1,750 up
Moving from Ottawa, Ontario to Toronto, Ontario:$3,200 up
Please note that these estimated rates were taken from some of the companies we're reviewing today as well as from national averages.
That's why if a moving company offers a free estimate, it's best to take them up on it for a more accurate cost.
The Best Movers in Ottawa
Now that you have an idea of the costs involved, it's time to see what the best movers in Ottawa can do to make the experience less stressful.
For this listicle, we selected movers who have:
Competitive rates for local and long-distance moves with reasonable provisions for distance, location, number of movers, and type of house;
Wide range of services that include storage and packing; and
Helpful customer support with reliable communication tools or systems in place.
1. High Level Movers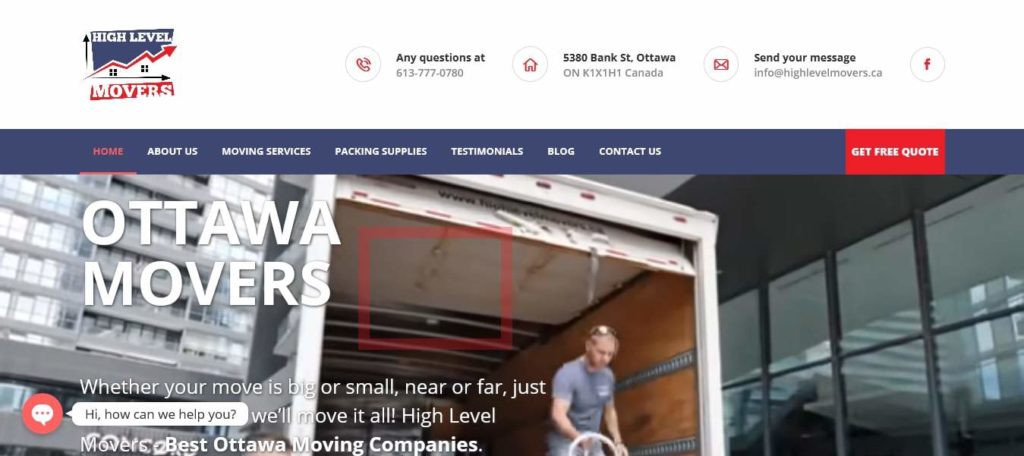 SERVICES
Local and long-distance moving, residential moving, storage services, commercial moving, garbage removal, cleaning services, packing supplies
ADDRESS
5380 Bank St, Ottawa ON K1X1H1 Canada
CONTACT NUMBER

[email protected]


6137911266
WEBSITE
https://highlevelmoversottawa.ca/
OPERATING HOURS
24/7
A decade ago, High Level Movers started with just one truck and a couple of movers. Today, it has expanded its operations to help commercial and residential clients move their stuff locally or over long distances to Canada's major cities.
The company also offers storage services in case clients have to be somewhere temporarily and don't have enough room for excess stuff. It's also ideal for last-minute moves that are time-sensitive and when clients can't pack and haul everything at once.
But what's unique about High Level Movers is how it can also help customers clean the space they vacated and dispose of the garbage left behind. Its versatile garbage removal options cover landscaping and yard waste, residential and commercial waste, and storage waste.
The company also offers packing supplies and professional packing services. There's a box calculator on the website so clients can gauge how many they need for packing, and the rates are quite reasonable (complete studio apartment moving supplies are under $125).
There's a free quote for moving, storage, and other services though it would be helpful to have some base pricing to get an idea of their costs.
Offers garbage removal and cleaning services
Last-minute moves accommodated
Free estimate
Open 24/7
Customer Reviews
Worked quickly and efficiently
"Oto and Gio did a wonderful job helping me move to a new apartment. They worked quickly and efficiently and handled all my items with utmost care. Nothing was broken or scratched, and the move only took 2 hours. Would highly recommend it!" – Ilona L.
Stuff was moved pretty quickly and safely
"Oto and Igor – Very professional, efficient and quick. Our stuff was moved pretty quickly and safely. Very cooperative and friendly people, making the moving day a lot easier. Would highly recommend their services!" – Maulik Shah
2. Ottawa Pro Movers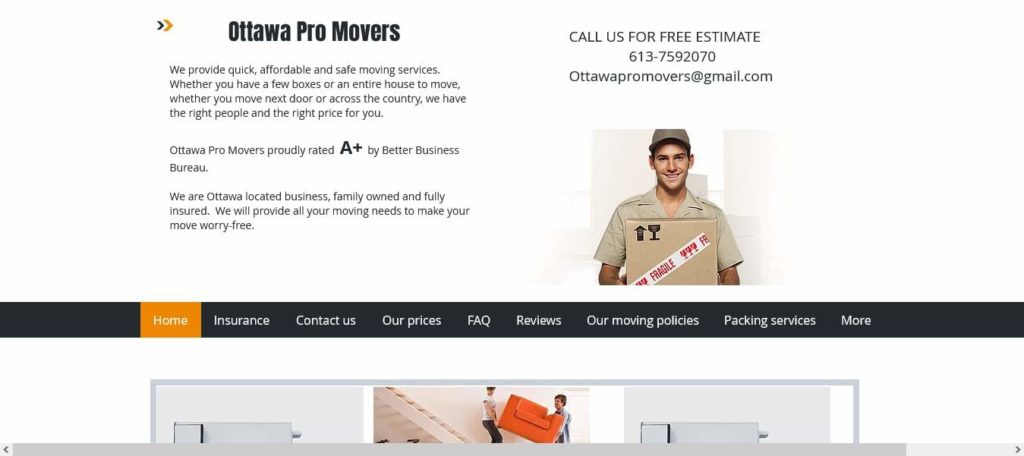 SERVICES
Professional moving and packing for Ottawa-Gatineau and Quebec and Ontario provinces, personalized packing
ADDRESS
250 City Centre K1R6K7 Ottawa
CONTACT NUMBER
613-7592070​

[email protected]

WEBSITE
https://www.ottawapromovers.ca/
OPERATING HOURS
By appointment
Ottawa Pro Movers offers its customers the kind of flexibility that will suit their budget, moving requirements, and lifestyles.
Clients can opt to get a truck (14, 20, or 26-foot) with movers for a minimum number of hours, or opt for a labour-only moving option if they already have their own vehicle.
The company promises to be consistently upfront about its rates with no hidden charges in its written and personalized quotes. It accepts both cash and credit card payments.
Its rates are quite competitive, too. Labour-only rates start at $109 per hour for two movers in attendance, and a "best value" offer for bigger hauls (two 20 and 14-foot trucks with three movers) at just $229 per hour.
There is a disclaimer about moving rates being subject to change during in-demand seasons, weekends, and every end-of-the-month, though. But since it offers free estimates, clients can get the closest quotes for peace of mind.
Free estimate
Reasonable local moving rates
No hidden fees
Offers monthly discount specials
Moving rates could change according to demand
No fixed operating hours
No BBB accreditation
Customer Reviews
Movers did a fantastic job
"Fantastic experience! Booking was easy thanks to the responsiveness of their coordinator. Movers arrived on time and started working right away. We had quite a few things to move and the movers did a fantastic job in using every inch of their truck to load as much as possible. Zero damages to our furniture thanks to exceptional care during loading and transport. Movers were very professional, had a great attitude, relaxed and easy to talk to. Truly a fantastic experience. Highly recommended! A++++" – Denis T.
Friendly, experienced, very professional
"**** *** ***** are both friendly, experienced and very professional. Communication was excellent. Our big and long move from Ottawa to Peterborough was close to stress-free. We would definitely recommend them to our friends." – Siok L.
3. A Mile Above Moving & Delivery Services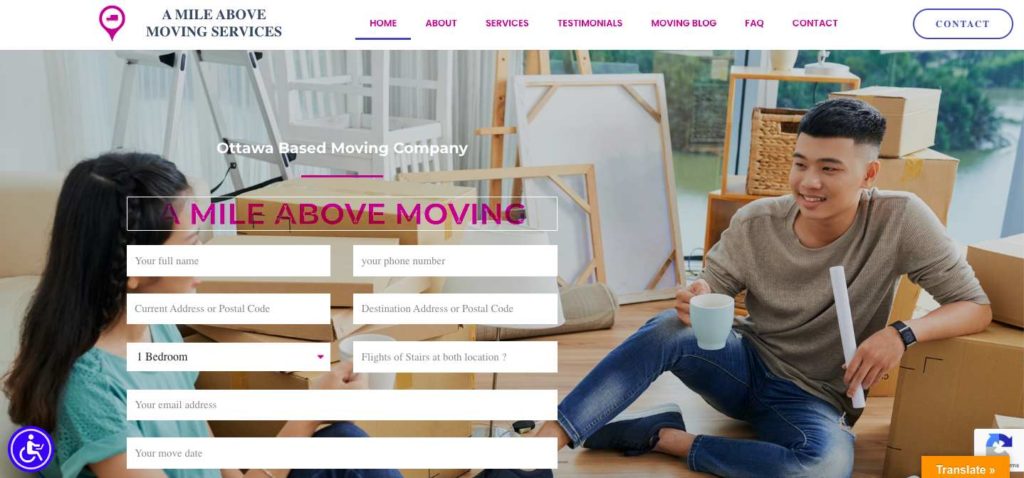 SERVICES
Residential and commercial moving, packing and unpacking services, delivery services
ADDRESS
Ottawa, ON
CONTACT NUMBER
(613) 302 – 4691


[email protected]

WEBSITE
https://amileabovemoving.ca/
OPERATING HOURS
Mon – Sun 9AM – 7PM
Another one in our list is A Mile Above Moving & Delivery Services.
Despite being relatively new to the scene, only entering the industry for a little more than 6 years, they're already one of the best that we can recommend.
We like that their fees are affordable and their services are priced competitively.
Compared to other companies that offer many services, we don't necessarily see it as a con that they only have three services. While they're not as many as others, we think that they're essential ones when it comes to moving.
Although, this may be a con for others who would also need storage services, for example.
What we also like about them is that they're open daily, so no matter the day of the week that you need their service, they'll be there.
Free Estimate
Fully Insured
Highly rated online and competitive pricing
Professional and responsive
Pet friendly
No storefront location
Less moving-related services compared to others
Doesn't sell moving boxes
Customer Reviews
"From the consultation to the move to the follow-up, the team at A Mile Above Moving were absolutely outstanding. They are clearly experts in the moving industry, and it was not hard to see why. D. and J. were kind, diligent, efficient, and incredibly clever and my moving day would not have been the success it was without them. I will 100% be calling them for my next move, and I will be recommending them to anyone in the Ottawa area. 5/5! 🙂"
4. Big Steel Box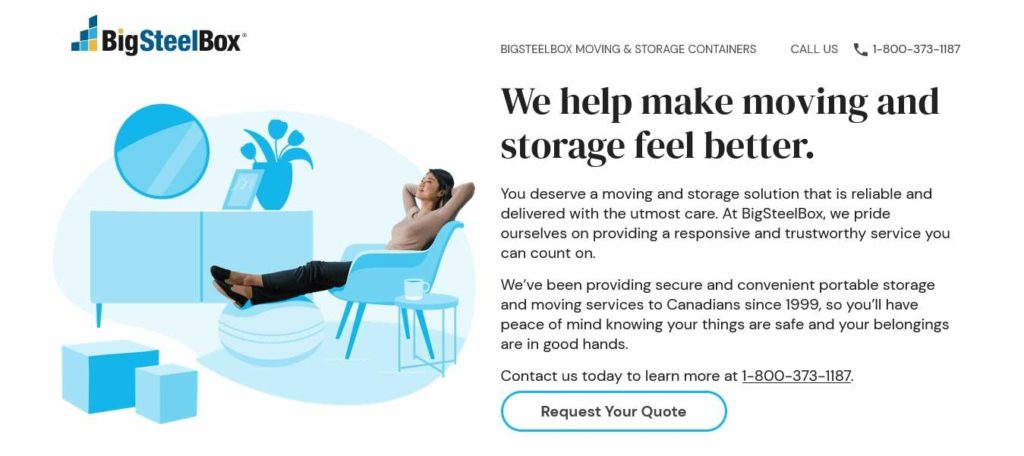 SERVICES
Local and long-distance movers, storage solutions, commercial moving and storage
ADDRESS
107 Walgreen Road, Carp, ON K0A 1L0
CONTACT NUMBER
1-800-373-1187
613-706-6398


[email protected]

WEBSITE
https://www.bigsteelbox.com/
OPERATING HOURS
Store and office hours:
Monday to Friday 8 AM – 5 PM
Closed on Saturdays and Sundays
Call centre hours:
Monday to Friday 8 AM – 9 PM
Saturdays 10 AM – 9 PM
Closed on Sundays
BigSteelBox is a moving and storage company that's been around since 1999. The company wants its clients to think of it as "travel agents for their stuff".
It's a Better Business Bureau-accredited company that promises customers tailor-made storage solutions for clients who are in-between homes or have emergency storage needs. It understands that everyone's moving situation is different so its main goal is to reduce the stress, effort, and costs that come with it.
And since packing is an integral (and often stressful) part of moving, BigSteelBox's monthly rental scheme allows clients to pack at leisure. However, if you need help with packing and loading, those services will come at an additional cost.
The company serves the entire Ottawa area, as well as Alberta, Saskatchewan, British Columbia, and Manitoba. There's currently a total of 23 full-service BigSteelBox stores across Canada so clients can be moved to any city or province.
The downside is that its stores and offices are open only on weekdays. But for added convenience, the company has its own call centre to accommodate local and long-distance moving requests.
Gives free quotes
BBB-accredited, A+ rating
Has a call centre
Has 23 stores all over Canada
Office and store are open only on weekdays
Separate packing and loading service fees
The call centre is closed on Sundays
Customer Reviews
Took so much of the stress off
"Highly recommend for any move! we moved within the same city and using BigSteelBox took so much of the stress off! We were able to pack at our leisure and have the bin brought over to our new home." – Kelsey Bos
Easy payments and great staff
"Been with them since May 2020. Easy payments and great staff ready to answer questions and help. Prices are great too!" – Shawna Lynne Denning
5. Move-Ottawa Movers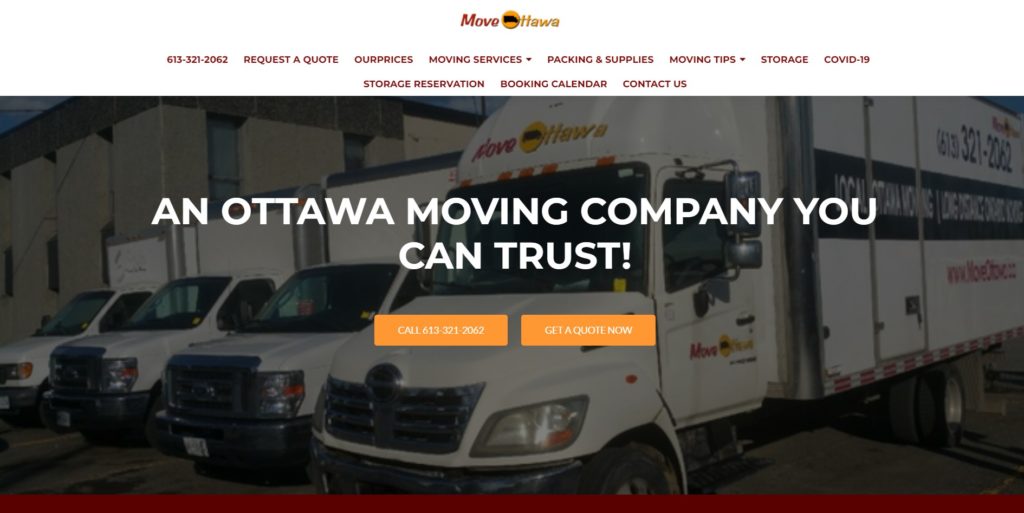 SERVICES
Residential and commercial moving services, long distance moving services, labor only moving help, piano moving services, storage reservation
ADDRESS
70 Bentley Ave #207, Nepean, ON K2E 6T8, Canada
CONTACT NUMBER
+1 613 321 2062
WEBSITE
https://moveottawa.ca
OPERATING HOURS
Monday – Friday, 8:30 AM – 6 PM
Saturday, 9 AM – 4 PM
Ever since starting its moving operations in 2005, Move-Ottawa Movers has grown to be one of the best moving companies in Ottawa.
The company offers its services to residential and commercial clients alike. If you're also looking for labor only moving help, then they'd be more than willing to help you with that.
We also love their packing services, which you can also avail for $140 per hour for two professional packers. However, you still need to provide your own packing materials as it is not included in the package.
If you're also planning to move out on a Sunday, then you're out of luck since Move-Ottawa doesn't operate on Sundays.
Another thing we love about Move-Ottawa is their competitive and reasonable rates, all of which you can find in great detail on their website.
We also recommend trying out their storage reservation services if you ever need to store some items before moving to your new place.
Serves residential and commercial clients
Packing services available
Offers storage reservation
Reasonable moving prices
Closed on Sundays
Packing materials are not included in hourly rate for packing services
Customer Reviews
Took so much of the stress off
Extremely responsive and helpful
"Very Highly Recommended. We wanted to move several items from Ottawa to Toronto. Mo gave us a very fair deal on a consolidated move, which was perfect for us. The whole team was extremely responsive and helpful. Mo responded to any questions almost instantly and when I wanted to add an additional item, he let me do so without additional charge. We were delighted with the company and highly recommend." – Alex Myers
Treated our belongings with care
"We were very happy with Move-Ottawa and in particular Pat and Jeff. They treated our belongings with care and listened to what we needed. Having hired a terrible moving company in the past, we found Move-Ottawa to be highly professional and skilled." – Christopher Regimbal
6. First Rate Movers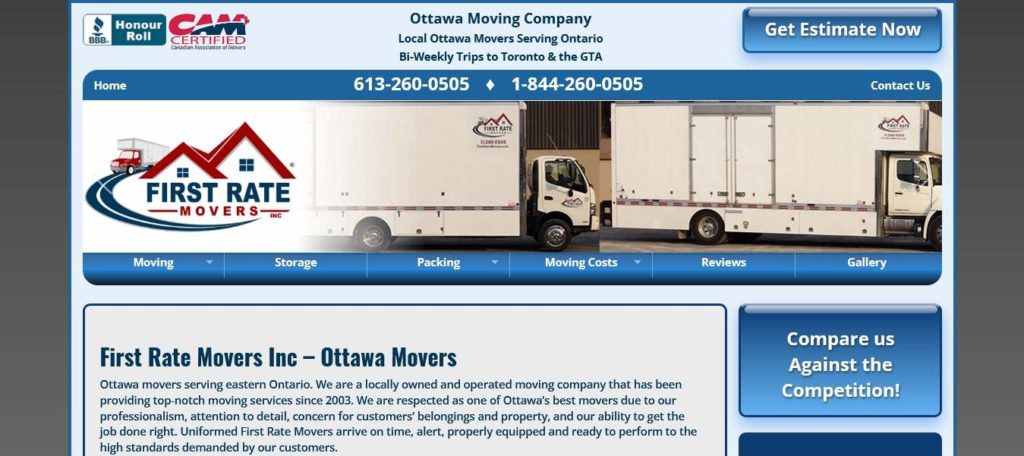 SERVICES
Local moving, Ontario-wide movers, consolidated moves, Ottawa-Toronto movers, furniture hoisting, piano moving, furniture donation and disposal, storage solutions, packing services and supplies
ADDRESS
995 Moodie Dr #6, Nepean, ON K2R 1H4
CONTACT NUMBER
(613) 260-0505
WEBSITE
https://www.firstratemovers.com/
OPERATING HOURS
Monday to Friday 8.30 AM – 5 PM
Saturdays 9 AM – 4 PM
Closed on Sundays
As its name implies, First Rate Movers aims to meet high demands from discerning clients. It's got a Better Business Bureau accreditation and offers a $1,000,000 full replacement value insurance for all of its full-service moves.
It also takes pride in having full-time employees instead of contractual staff members. This makes them more focused on their work and assured of decent pay, benefits, and WSIB coverage for their protection and safety.
First Rate Movers also offers moving clients free short-term storage for up to ten days, with an option of continued storage for up to 90 days at discounted rates. But this offer is not for self-storage so customers won't be able to access their belongings anytime they want during the contract.
The company mentions its local moving rates on the website. The hourly rates are a bit steeper than most companies at $160 per hour for a minimum of three hours for apartments with 1.5 bedrooms or less.
Rate increases are also to be expected during peak periods including month's end, Fridays, and Saturdays.
First Rate Movers doesn't accept cash and prefers debit or credit card payments, instead.
$1,000,000 full replacement value insurance for full-service moves
Hires full-time employees
Free short-term storage
BBB-accredited, Aᐩ rating
Slightly higher local moving rates
Rate increases for peak periods
Free storage isn't self-storage
Doesn't accept cash payments
Customer Reviews
Cost less than expected
"Moved with these guys twice in the last three years. They were careful and fast. It cost less than what I expected so I tipped the boys the difference. Just bought a house and I am planning to use them again." – Victor Chang
Transparent about pricing and logistics challenges
"This company is excellent. We've done two moves with them now; both were done smoothly and very close to the estimated cost. Matt Guest is transparent about the pricing and any logistics challenges that may come up so you can prepare for your move accordingly. The movers take great care to ensure all furniture is handled carefully and clearly take pride in doing the job right. If we move again, it will be with these guys." – Arbab Ahmed
7. Discount Moving Ottawa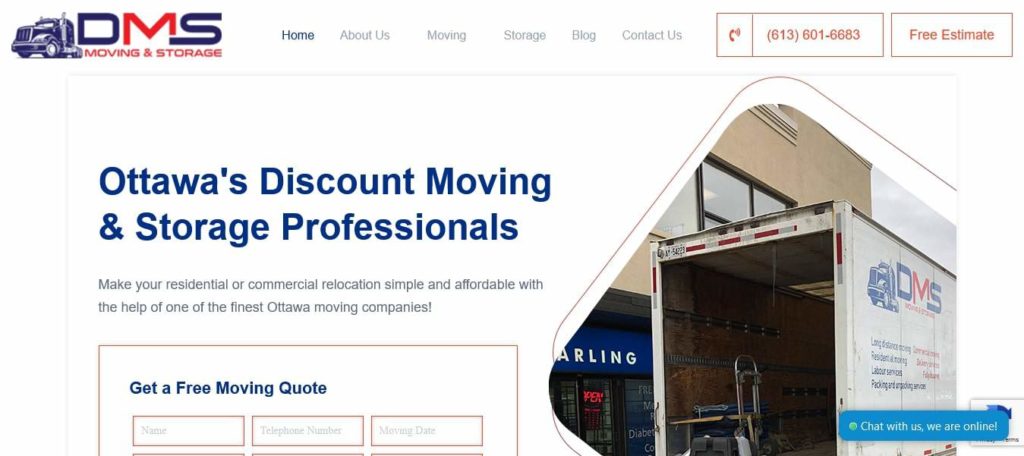 SERVICES
Residential and commercial relocation, long-distance and local movers, furniture movers, storage solutions
ADDRESS
2285 St Laurent Blvd, Ottawa, ON K1G 4Z7
CONTACT NUMBER

[email protected]


+1 613-601-6683
WEBSITE
https://discountmovingottawa.com
OPERATING HOURS
Monday to Sunday 9 AM – 8 PM
By appointment
Discount Moving and Storage is another Aᐩ rated, Better Business Bureau accredited company that makes it to this listicle. Aside from commercial and residential long-distance and local moving services, it also does professional furniture moving with liability insurance for every move.
It provides a helpful moving checklist on the website with practical suggestions like checking dimensions of doors and entryways and advance-booking parking spaces for rental vans.
The company also offers packing services so clients can have the convenience of preparing for other important moving-day things. And if some stuff can't be moved over to a new place, there are also storage solutions that are clean, supervised, and secure for short or long-term storage needs.
There's no information on the website about Discount Moving and Storage's rates for its different services, which we would've liked to see. But it does provide a moving quote calculator for potential clients to fill up, free or charge.
Offers liability insurance for furniture moving
Free estimate
BBB-accredited, Aᐩ rating
Offers packing services
Doesn't accept cash payments
No base pricing information provided
No storage calculator or matrix provided
Customer Reviews
Not one item was damaged or dinged
"Tony and his crew were the best right from the start. Tony answered my emailed questions in a reasonable amount of time and showed up on time for a walk-through estimate because we had a bit more than the average couple. Fairly priced. He and his team were professional, pleasant, hardworking and mannerly. On-time and on par with an estimate. Not one item was damaged or dinged. Not one scrape on any walls and the floors were protected with runners. We hope not to move again anytime soon, but if we do we'd hire them again for sure. Many thanks!" – Sandra Ingram
Very accommodating and reassuring
"Discount Moving is amazing! I hired them to help move my 67-year-old mom from Barrhaven to Rockland. I had to book them last minute as my last mover had been cancelled. Tony was very accommodating and reassuring over the phone. On the day of, 3 movers arrived right on time! Gavasta, Kyle and Abdallah were very professional and did great, fast work! I highly recommend Discount Moving, especially if you're worried about getting taken advantage of by a less-reputable mover." – David Szonyi
8. Top Notch Moving & Storage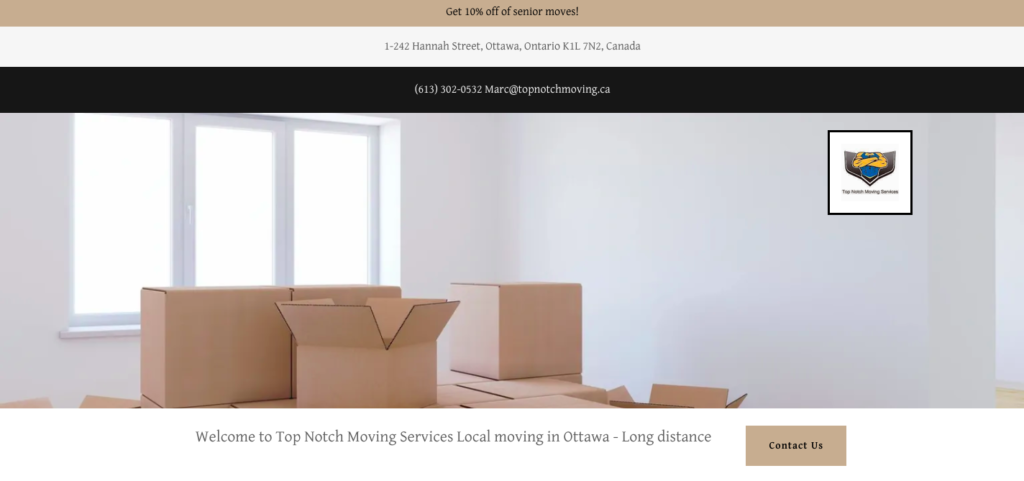 SERVICES
Residential & Commercial Moves
ADDRESS
1-242 Hannah Street, Ottawa, Ontario K1L 7N2, Canada
CONTACT NUMBER
Phone: (613) 302-0532
Email: [email protected]
WEBSITE
https://topnotchmoving.ca/
OPERATING HOURS
Monday to Friday: 9 AM – 5 PM
Saturday to Sunday: 9 AM – 12 NN
Top Notch Moving was founded almost nine years ago by Marc Lavergne, a certified professional packer. He also serves as the company's President and CEO and has years of experience in the industry.
This locally owned and operated business has built a reputation for their shipping and logistics services, offering professional moves from load to unload. They employ only qualified and experienced moving experts to ensure they're clients a hassle-free and efficient move.
Offering fast and safe transport, they ensure that they comply with all safety and government guidelines. Whether it's moving your furniture or priceless treasures, Top Notch Moving has got it covered.
They offer free estimates and will even provide a logistics strategy to ensure that your cargo gets to its destination safely and on time. Their fleet of trucks are can service Ottawa/Gatineau, Nova Scotia – British Columbia, and surrounding areas.
Owner is a professional packer
Offers free estimates and logistics strategy
Experienced team
Website isn't informative; need to contact directly for any questions
No pricing information provided
9. Parkview Moving Co.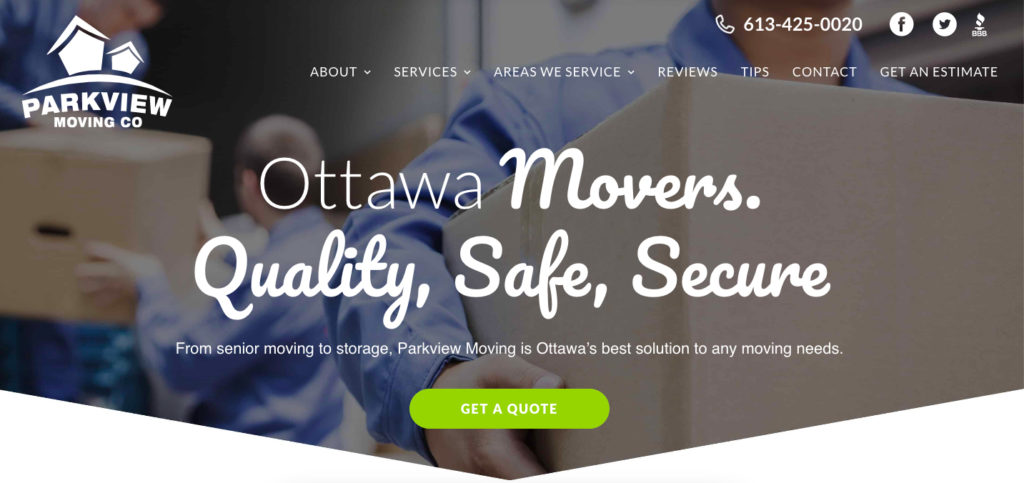 SERVICES
Residential Moving, Senior Moving, Long Distance Moving, Packing Services, Piano Moving, Storage Services
ADDRESS
3326 Limebank Rd. Ottawa, ON
K1V 1H2, Canada
CONTACT NUMBER
Phone: 613-425-0020
Email: [email protected]
WEBSITE
https://www.parkviewmoving.com/
OPERATING HOURS
Contact for more information
If you'd like to have a stress-free moving process, we recommend Parkview Moving Co.
What we like about them is that they're a full service moving company, so they can offer different types of moving services.
When it comes to residential moves, they can help you pack and unpack, furniture placement and other packing services. We love that they also offer a free in-home estimate for it.
We like that they have a senior moving service, and that they also work closely with charities and donation groups for any items that are unwanted!
If you only need packing services, they've also got you. What's great is that they have long distance moving services as well.
They even have a service especially for piano moving, so if you're a musician, we think they're perfect for you.
Parkview Moving Co. is licensed and insured, so you can count on having a protected moving process.
Looking for more reasons to trust them? They have an average of 4.9 stars on Google Reviews and Facebook, and 5 stars on Endorsal! Many of their past customers have had a great experience with them.
Experienced team
Free in-home estimate
Wide range of moving services
Operating hours unavailble on website
No pricing information provided
Customer Reviews
"We used Parkview Movers for our move last week and the team was amazing. The movers were all very professional and extremely hard working. They completed our move much more quickly than expected and with no issues. Overall I can't say enough about how good the team was." – Maxwell Robb
"I am late in posting this review, but Parkview moving are amazing! John was very professional and went above and beyond to make a Christmas miracle happen for us! He made sure he had guys available last minute on Christmas Eve eve, they were fast and efficient, friendly and respectful of our things. Can't recommend them enough. Because of Parkview we became two very happy newcomers to Ottawa enjoying xmas with our belongings 🙂" – Sofie Gallagher
FAQs About Movers in Ottawa
---
The best movers in Ottawa can make your relocation a hassle-free and convenient one.
If you have other superb movers to recommend, we're all ears. Please send us a message about them.
For other moving or storage concerns, the following resources have been thoroughly reviewed to serve as your guide: