Top 5 RV Dealers in Ottawa
It is no doubt that RV trips are on the rise in Canada. Nothing beats going on a trip while having the modern conveniences of a home.
If you're interested in getting your own RV or want to rent one, we got your back! Here are the top RV dealers in Ottawa just for you.
How Much Does An RV Cost in Ottawa
Whether you're renting or buying your own recreational vehicle (RV), there are things to consider. You need to know where and how long you're planning to travel to know the type of RV best for you.
You can categorize RVs from Class A to C plus a whole lot of different types like towable RVs, fifth wheelers, pop-up trailers, and travel trailers. Here's their average estimated cost from the best RV dealers here in Ottawa:
| Type | Description | Costs |
| --- | --- | --- |
| Class A | Largest vehicle, very spacious with full kitchens to upscale bathrooms | $70,000-$500,000 ($1 Million+ for ultra-luxurious kind) |
| Class B | Compact but with kitchen, bathroom, and bedroom, best for small groups | $70,000 -$200,000 |
| Class C | More living space than Class B Motorhomes but are smaller in size and can offer better gas mileage than Class A | $80,000-$200,000 |
| Super C | Utilizes the same type of engine that is seen in 18-wheelers | $200,000+ |
| Travel trailer | Have more than one room in them and with multiple beds | $18,000-$100,000 |
| Fifth wheel trailer: | Towable RV best for truck owners | $25,000-$200,000 |
We understand how expensive owning an RV is and the price above doesn't even include its maintenance fees. Luckily for you, RV dealers in Ottawa offer rental deals too:
| Type | Average Cost per Night |
| --- | --- |
| Class A | $230-$350 |
| Class B | $150 -$250 |
| Class C | $100 -$200 |
| Trailers, Haulers, Campers | $80 - $250 |
Top RV Dealers in Ottawa
These are the following standards we used in choosing the top RV dealers on this list.
1. Camp Town RV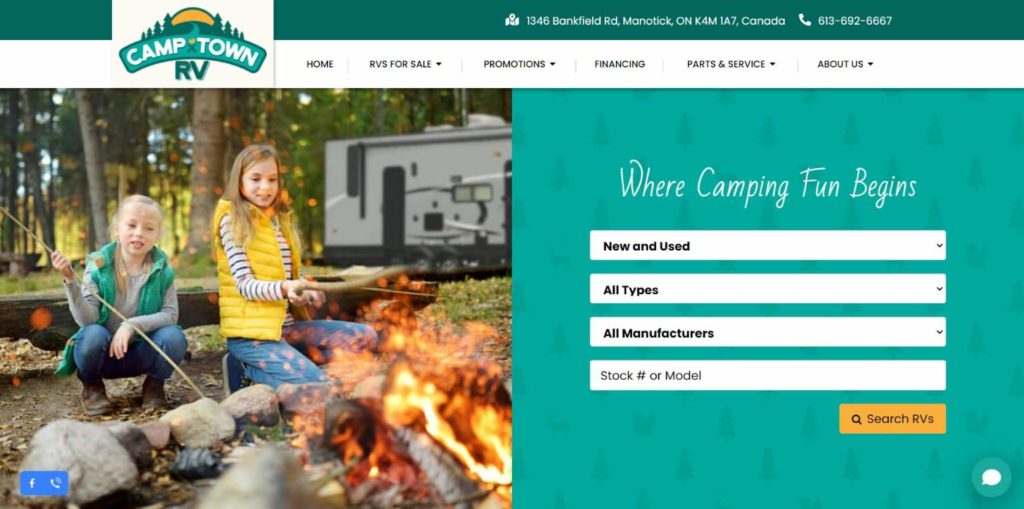 Test
Info
SERVICES
RV Service, RV Parts, RV for Sale, RV Financing
WEBSITE
https://www.camptownrv.ca/
ADDRESS
1346 Bankfield Rd, Manotick, ON K4M 1A7, Canada
CONTACT DETAILS
Phone: 613-692-6667
OPERATING HOURS
Monday to Saturday: 9:00 AM - 5:00 PM

Sunday: 10:00 AM - 5:00 PM
| | |
| --- | --- |
| Criteria | Ratings |
| Range of Services | ★★★★☆ (4/5) |
| Service and Convenience | ★★★★★ (5/5) |
| Customer Support | ★★★★★ (5/5) |
What customers love the most about Camp Town RV is their pressure-free sales. Their staff ensures to make your experience with them as smooth and stress-free as possible.
Camp Town RV has a wide selection of new and used Travel Trailers, Motorhomes, 5th Wheels, Truck Campers, and Tent Trailers on their website and in-store. If you can't afford your ideal RV yet, you can get a quote for free and apply for credit in-house.
We love how Camp Town RV provides financing options with no-force deals to their customers. Their finance managers explain the available options clearly and the process is quick and easy too.
Whenever Camp Town RV has a surplus or a new inventory coming, they transfer some RVs in a special category. They boast of offering it at a price you won't find anywhere else so you can enjoy outstanding savings.
Despite reports of having lesser freebies for RV sales, Camp Town RV offers a discount on overnight camping at Happy Green Acres Campground. They also provide service and parts promotions.
We also find Camp Town RV to be in a strategic location. Interested buyers around the surrounding areas of Ottawa, Barrhaven, Stittsville, Kanata, or Orleans can easily find them in Hwy-416, in Manotick, Ontario.
Buys and sells used RVs
Quick and easy financing options
Reports of more expensive rates
Lesser freebies
Customer Reviews
No Pressure Sales
"Excellent customer service from the sales staff. Easy to deal with and very attentive and helpful without sales pressure. I would buy here again and recommend Camp Town Rv to others." – Don Desormeaux
Best Prices!
"Lucked out driving by this dealership, they ended up having exactly what we wanted for substantially less than other dealers we'd been to! Our salesman went above and beyond to get us the best price possible. All around great experience." – Chuck Bell
2. Ottawa Camping Trailers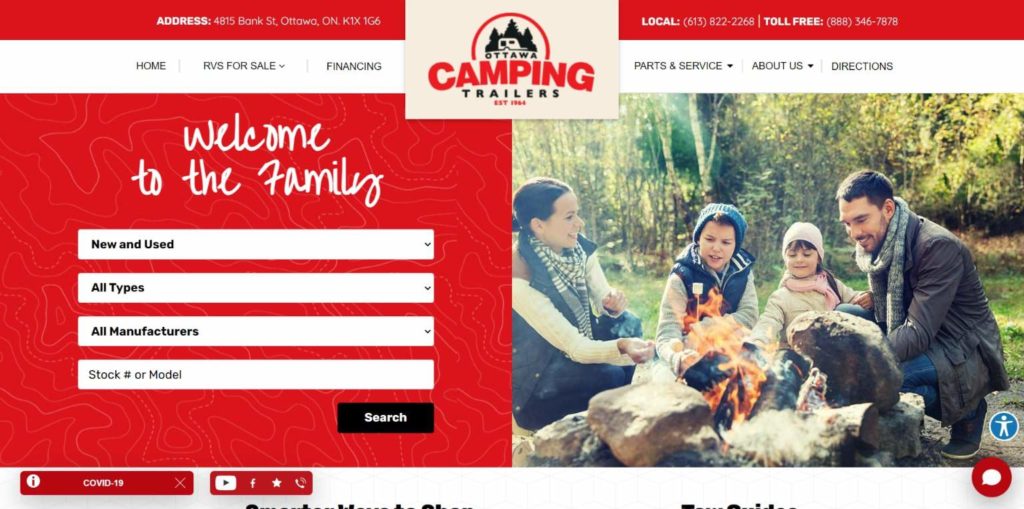 Test
Info
SERVICES
RV Service, RV Parts, RV for Sale
WEBSITE
https://www.ottawacamping.ca/
ADDRESS
4815 Bank St, Ottawa, ON. K1X 1G6
CONTACT DETAILS
Phone: (613) 822-2268

Toll-Free: (888) 346-7878

OPERATING HOURS
Monday to Friday: 9:00 AM - 7:00 PM

Saturday: 9:00 AM - 6:00 PM

Sunday: 10:00 AM - 5:00 PM
| | |
| --- | --- |
| Criteria | Ratings |
| Range of Services | ★★★★☆ (4/5) |
| Service and Convenience | ★★★★★ (5/5) |
| Customer Support | ★★★★★ (5/5) |
Ottawa Camping Trailer caught our eyes with their 53rd year in the industry. Their RV services boast over 100 years of experience with their competent factory-trained technicians.
We appreciate Ottawa Camping Trailer's family-minded dealership. They always encourage you to take your time in choosing an RV and give you recommendations on what might suit you.
Ottawa Camping Trailer's RV parts store is also popular with experienced campers due to the wide range of parts and accessories they offer. Beginner campers would love their staff as well, who always take time to walk them through what they might need without pressure.
We see Ottawa Camping Trailer as beginner-friendly for those who want to go RVing. They have a special category for used trailers and RV below $15,000 since they understand how most might not afford a brand new vehicle.
Ottawa Camping Trailer's service center bears complaints about unresponsiveness for its RV service, but it boasts a team of qualified technicians dedicated to keeping your trailers at their best.
Proud of their diverse inventory of these stylish, premier models, Ottawa Camping Trailer made it to our list as an official Gold Dealer for Forest River Cherokee travel trailers. We're impressed with their varied sleep capacities, kitchen, and booth dinettes.
Huge discounts and savings from promotions
Play area for kids
Recurring complaints on unresponsiveness for their RV maintenance/repair
Ordered RV parts take longer to arrive
Customer Reviews
Stress-free
Excellent service, honest and no sales pressure made buying our first travel trailer from Ottawa Camping Trailers a really stress-free pleasant experience. It's our first purchase from them but definitely won't be our last. – Victor Hotte
Great experience
Thank you to Filomena and Adam for their amazing service. Great experience and over-the-top customer service. What I liked most was Filomena listened to what we were looking for and found us the perfect camper. Adam was down-to-earth and extremely knowledgeable. We never felt pressured or that we were being given a sales pitch. Old fashion customer service. Thank you, Ottawa camping for making this experience such a great one! – Nicole Turcotte
3. Primo RV Centre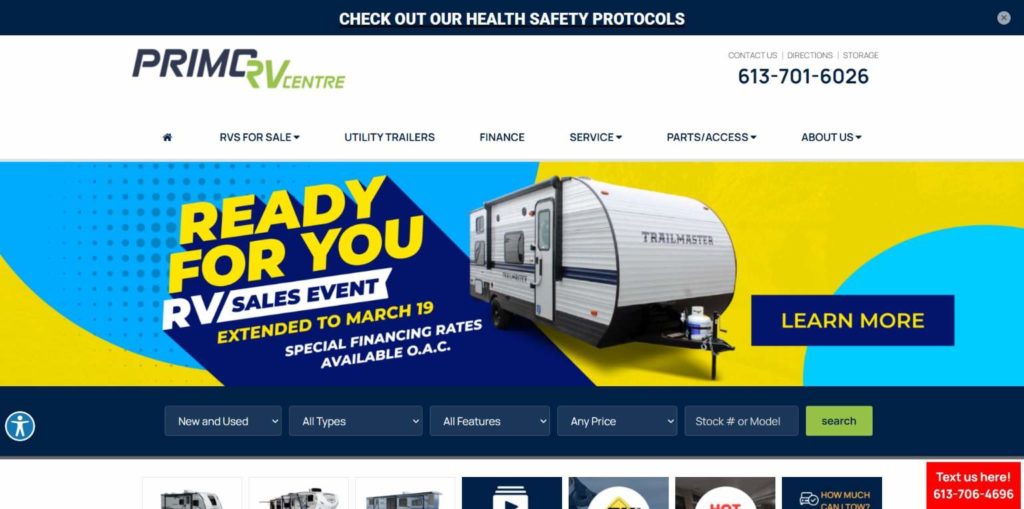 Test
Info
SERVICES
RV Service and Care Maintenance, RV Parts, RV for Sale, RV Storage
WEBSITE
https://www.primorvcentre.ca/
ADDRESS
995 Moodie Dr. S, Ottawa, ON K2R 1H4
CONTACT DETAILS
Phone: (613) 706-3765

(866) 734-2970

OPERATING HOURS
Sales

Monday to Friday: 9 AM - 5 PM

Saturday: 9 AM - 4 PM

Sunday: CLOSED

Parts and Services

Monday to Friday: 8 AM - 5 PM

Saturday and Sunday: CLOSED
| | |
| --- | --- |
| Criteria | Ratings |
| Range of Services | ★★★★☆ (4/5) |
| Service and Convenience | ★★★★★ (5/5) |
| Customer Support | ★★★★★ (5/5) |
Primo RV Centre caught our attention with their long-standing service since 1992. They have a more than a two-decade oath to help their customers maximize their enjoyment with the RV lifestyle.
Despite not having the largest sales volume as an RV dealer, Primo RV Centre has a long list of positive testimonials in their Google reviews for first-time and experienced RVers alike. They aim to let you have a bang for your buck for your choice of RV.
Primo RV Centre boasts of maintaining an A+ rating with the Better Business Bureau. They also strive to improve their relations with their customers and suppliers.
We are really impressed with Primo RV Centre's staff. We're impressed that they are knowledgeable and always take their time to answer inquiries in a no-pressure sale experience.
Parents that want to take their time in choosing an RV can bring their kids too. Primo RV Centre has a nice play area for them and parents may have more time to think things through for their RV choices.
We absolutely love their handy RV finder even though it has a limited selection. However, they can help you find the RV of your choice using their RVCare membership and connections with the RVDA of Canada.
RV Care membership
Open to all "new vehicle walkthrough"
No pricing guide for parts and outdoor gears
No full selection list for parts and outdoor gears
Customer Reviews
Professional and friendly
"My husband and I bought our Northern Spirit couples RV in April 2021. I can honestly say the buying experience at Primo is second to none. From our initial contact with Michel, his service was impeccable. He was very professional and friendly and provided us with a no-pressure sales experience. His coworker Dave (I hope we have his name right) also provided exceptional service when Michel was not available to answer our questions – and we had many. When it came time to pick up our Northern Spirit, which Michel worked extra hard to have ready for the first camping trip that we had already planned, we were greeted by a gentleman from the service department, whose name escapes me. He spent almost two hours in the extreme heat showing us every function, giving advice, explaining the mechanics. There were a few items that required service at the end of the season which were promptly repaired prior to storage. We literally took almost three years to find and purchase the perfect RV for our lifestyle. Although we decided the Northern Spirit would be our first and only RV, we are already thinking of upgrading as we approach retirement. If and when we do, Primo will definitely be our go-to. We are lifetime customers for sure. Thank you!!" – Paddle Partners
Excellent briefing
"Awesome experience buying our first travel trailer. Our salesman, Michel, a seasoned RVer, gave us an excellent briefing on everything about our trailer. Lots of 'how-to information. When we came to pick up the trailer, we got a second in-depth briefing by James, one of the mechanics about everything the trailer had and how to use, maintain, winterize and de-winterize the systems. We were extremely happy with the entire process and left the dealership with confidence in our ability to RV. Thank you both for the attention you gave us." – Paul O'Connor
4. 417rv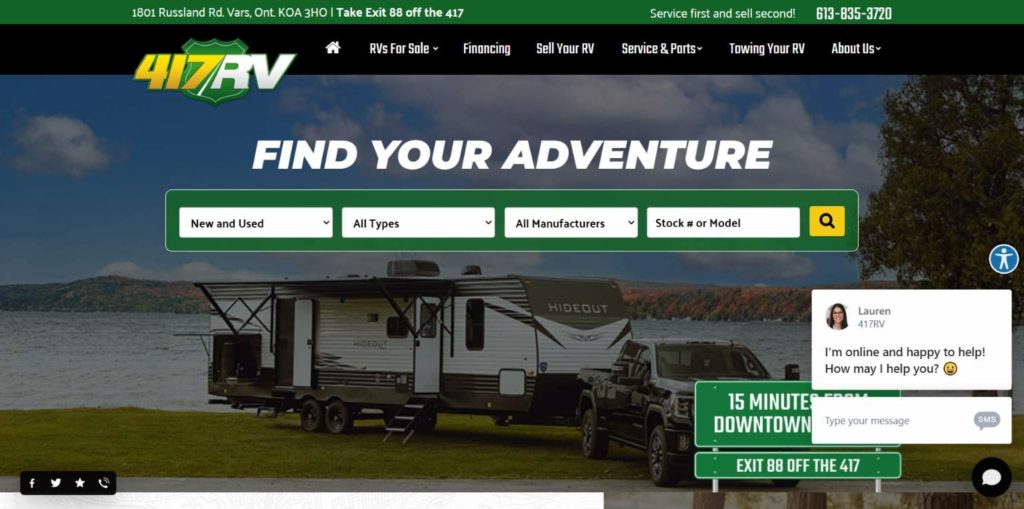 Test
Info
SERVICES
RV Service, RV Parts, RV for Sale, RV Financing
WEBSITE
https://www.417rv.ca/
ADDRESS
1801 Russland Rd, Vars, ON K0A 3H0, Canada
CONTACT DETAILS
Phone: (613) 835 3720
OPERATING HOURS
Sales

Monday to Saturday: 9:00 AM - 5:00 PM

Sunday: 11:00 AM - 4:00 PM

Parts and Services

Monday to Friday: 9:00 AM - 4:00 PM

Saturday and Sunday: CLOSED
| | |
| --- | --- |
| Criteria | Ratings |
| Range of Services | ★★★★☆ (4/5) |
| Service and Convenience | ★★★★★ (5/5) |
| Customer Support | ★★★★★ (5/5) |
Just 15 minutes from downtown Ottawa, 417rv caught our attention and is ready to offer you the RV of your dreams. They impressed us with their customer-friendly website equipped with a customer service chat box and RV finding feature.
What we truly appreciate about 417rv is their online shop catalog for RVs, RV parts, and accessories. They don't provide specific prices for the parts and accessories but you can call them and pick them up from their shop.
We love the wide selections of that 417rv has to offer. They have a portfolio of new RVs from big brands, RVs under $15,000, and used RVs.
Customers can take advantage of their financing services to purchase their dream vehicle here. You just need to fill out the credit application and they'll take care of the rest.
Despite not having service hours during weekends, 417rv has an amazing RV mechanic team that can repair and replace any faulty parts almost immediately. They boast an efficient, precise, and timely maintenance and repair service.
First-time owners of RVs would appreciate 417rv's online guide to towing the vehicle. They provide an in-depth guide plus an acronym guide to help you with the jargon.
Full parts and accessories catalog
Free trade appraisal
No pricing guide for parts and outdoor gears in catalog
No service hours during weekends
Customer Reviews
Great customer service experience
"We purchased a 2022 RV from 417RV and had a great customer service experience! Mirel (sales rep) was amazing and really took the time to address all of our questions. Kevin (finance rep) was so great. He went above and beyond our expectations. We would recommend this place to anyone who is starting out with a camper or even wanting to trade in their camper. Excellent customer service!!" – Chantal Guilbeault
Very knowledgeable and honest
"Very friendly staff. Answered all our questions and made our experience pleasant. We had a lot of questions, and wanted to be sure we were getting the best deal since buying an RV is a huge purchase and commitment. They helped us find the best trailer for our family and budget. They are very knowledgeable and honest. The manager is unlike any other salesman I've ever met. He was fair, upfront, and honest. Would definitely recommend coming here for your RV needs." – Katrina Powers
5. Camp Mart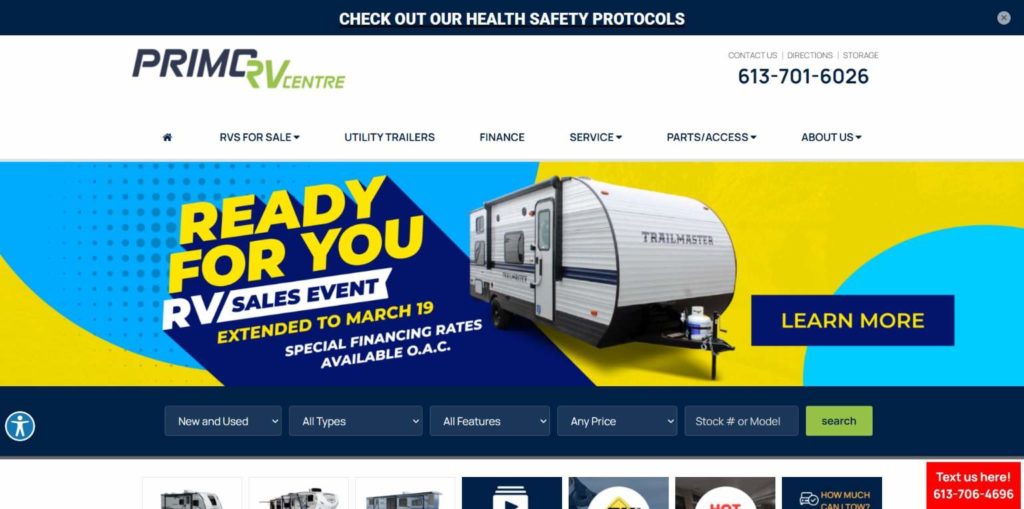 Test
Info
SERVICES
RV Service, RV Parts, RV for Sale
WEBSITE
https://www.campmart.ca/
ADDRESS
20 Frank Nighbor Pl, Kanata, ON K2V 1B9
CONTACT DETAILS
Phone: 1 (877) 401-3423
OPERATING HOURS
Sales

Monday to Saturday: 8:30 AM - 5:00 PM

Sunday: CLOSED

Service

Monday to Friday: 8:00 AM - 5:00 PM

Saturday and Sunday: CLOSED
Camp Mart stole our attention with their beautiful showroom and 8 locations in Ontario. They are proud of being one of Canada's largest and fastest-growing RV dealership groups.
We love Camp Mart's specialization in getting their customer's the right RV that will fit their lifestyle and budget. They have a wide selection of RVs ranging from the cheapest deals to the super luxurious ones.
Customers can enjoy Camp Mart's affordable financing options. They have an on-the-spot RV financing for qualified buyers where weekly payments can start as low as $19.
Experienced RVers that are looking for an upgrade would love Camp Mart's trade-in services. Customers just need to fill out the form online to get a quote
Despite recurring complaints of higher pricing than others, you can still get the value of your money from Camp Mart. They strictly inspect their used RVs before selling them and provide quick repairs and replacements for faulty parts of their new ones.
Unfortunately, Camp Mart does not have a pricing guide for their RVs and requires you to send a quote request. However, they do provide a pricing guide for their mobile repair and maintenance service where they will go to you for convenience.
They buy and sell used RVs
Mobile repair and maintenance service
No pricing guide for RVs
Recurring complaints of higher pricing
Customer Reviews
Exemplary salesmen
"We are so happy. The staff were patient and explained in a way you can understand without talking down to you! We are getting our Pop Up Tent in a couple of weeks… pictured is the model! We are 1st time Tent Trailer owners. Can't wait to hit the road. They treat you like a person. Not like the one in Stittsville on Carp Road who looked at my wife and I turned then walked away. Just cause in jeans and t-shirts. We tried to get his attention, just kept walking away. These salesmen are normal but, the ones at Campmart are exemplary!
If you are looking for an RV, tent trailer, etc, these are the people who will do whatever it takes to get you approved and what you want. They do Auto Loans also. Look online or call them in Kanata! It will be the best couple of minutes you would have in a long, long time!" – Gary Latendresse
Clean beautiful showroom
"I visited the camp mart location in Kanata as a first stop before shopping around Ottawa, Stittsville, and Perth region for trailers. The first thing I want to point out is what a clean beautiful showroom they have full of trailers. I did not buy during my first visit as I was new to the whole trailer industry and wanted to do some homework, I later returned with some comparables and was able to work out a fair deal for both sides, thank you to the whole team including Firas and the delivery staff who brought our trailer to us directly." – Sleiman Karaky

FAQs about RV Dealers in Ottawa
---
No matter how big or small, vehicles take us to places we need. If you're looking for more vehicle-related guides in Ottawa, check out our blogs below: