Top 7 Holistic Medicine Services in Ottawa
Holistic medicine is a type of healing that takes into account a person's body, mind, emotions, and spirit to achieve optimal health.
If you're interested in this form of healing, this list of the top holistic medicine services is for you!
But before we move on to the list, let's first discuss how much such services would cost you.
How much do holistic medicine services cost in Ottawa?
Also known as Complementary and Alternative Medicine (CAM), holistic medicine involves various kinds of treatments. These include acupuncture, massage, reiki, and hypnosis, among others.
These days, most people pay between $15 to $600 for holistic care, but the actual cost will still depend primarily on the type of treatment you choose.
Below is a table showing the average costs of some of the most common types of holistic medicine. Please take note that prices can also be affected by other factors like location and the practitioner's experience.
| Types of  Holistic Medicine | Average Cost (per visit) |
| --- | --- |
| Acupuncture | $15 - $400 |
| Chiropractic treatment | $30 - $300 |
| Massage | $130 |
| Reiki | $60 - $90 |
| Hypnosis | $65 - $250 |
| Homeopathy | $50 - $600 |
Top Holistic Medicine Services in Ottawa
To narrow down our choices and get the best in the business, we used the following criteria in our selection process:
1. Revivelife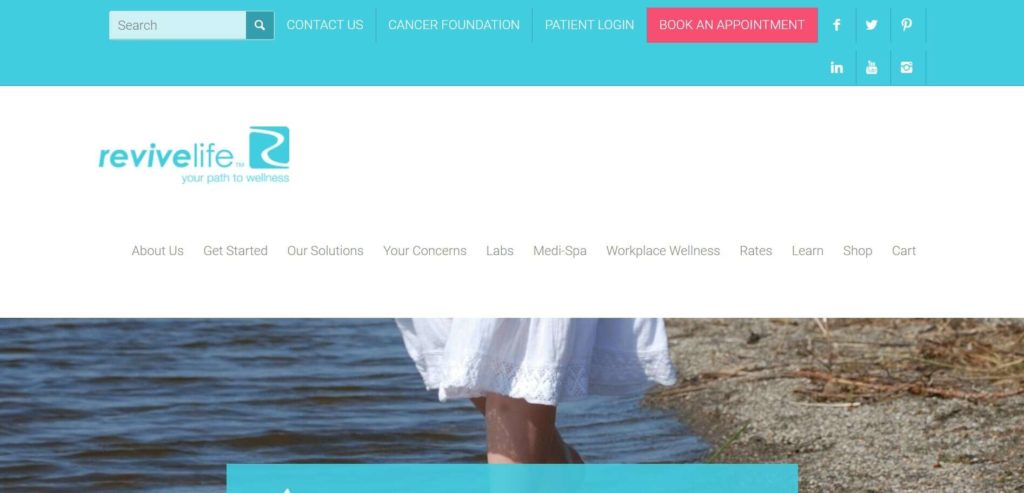 Test
Info
PRODUCTS & SERVICES
Acupuncture, Bowen Therapy, Chiropractic Care, Counseling, Craniosacral Therapy, Naturopathic Medicine Treatment, Custom Nutrition, Osteopathic, Power Hormones, Vitamin Lounge, Hypnosis, Natural Medi-Spa, Revivelife Health Bar Programs
WEBSITE
https://revivelifeclinic.com/
ADDRESS
69 Kempster Ave, Ottawa, ON K2B 6M2, Canada
CONTACT DETAILS
+1 613-829-7100
OPERATING HOURS
Monday to Thursday 9 AM - 5 PM

Friday 9 AM - 3 PM
| | |
| --- | --- |
| Criteria | Ratings |
| Experience | ★★★★✩ (4/5) |
| Competitive Rates | ★★★★★ (5/5) |
| Variety of Treatment Options | ★★★★★ (5/5) |
| Customer Feedback | ★★★★★ (5/5) |
As one of Ottawa's biggest providers of premium natural health care and wellness services, Revivelife is one of our choices for holistic medicine needs.
We like that it has a team of board-certified health professionals with varying expertise.
For over 20 years, it has been providing services that include naturopathic medicine treatment, acupuncture, and chiropractic care, to mention a few. Adding convenience is its laboratory, which is capable of running diagnostic procedures.
We like that the doctors in this clinic are dedicated to collaborating with you to promote true wellness. We appreciate that they take the time to listen and work tirelessly to get to the root of your health issues.
Employing the use of both scientific technology and natural medicine, the doctors will provide you with a personalized plan that is geared towards long-term solutions for your problems.
It's great to know that Revivelife offers a complimentary discovery telephone call that you can take advantage of if you're considering getting treatments from the clinic.
There's also an online store where you can conveniently purchase the supplements you'll need.
The only downside we found is that setting an appointment would require a 48-hour notice. Communication can also be improved, especially with new clients.
Nevertheless, we think that Revivelife is a nice option when looking for holistic care services.
A variety of treatment options
A team of certified professionals
Clinic laboratory
Online shop
Complimentary telephone call
Requires a 48-hour notice for appointments
Closed on weekends
Customer Reviews
Cares about your overall well-being
"I have just finished my eighth session with Dr.Diana for cosmetic facial acupuncture and I highly recommend!!! Seeing a positive difference in how my skin looks and how I feel in general. Diana is professional, kind, passionate and always going the extra mile to make sure I get the best out of my treatment. It really does feel like going to the spa, but with the bonus of someone really caring about your overall well-being!" — Nathalie Doyle, Google Reviews
Feels like a family
"I started seeing Dr Villeneuve in 2018 while going through some life changing problems. She is/was genuinely concerned, empathetic, and caring. She's definitely in this because she really wants to help people get better, providing numerous treatment plans and working out alternatives. I have never felt rushed during any of my appointments. Jessica and Kevin are super fantastic and have always accommodated me or provided info in any way they can as well. The whole office feels like a family (even though I am not related)." — Monica, Google Reviews
2. Somerset Health & Wellness Centre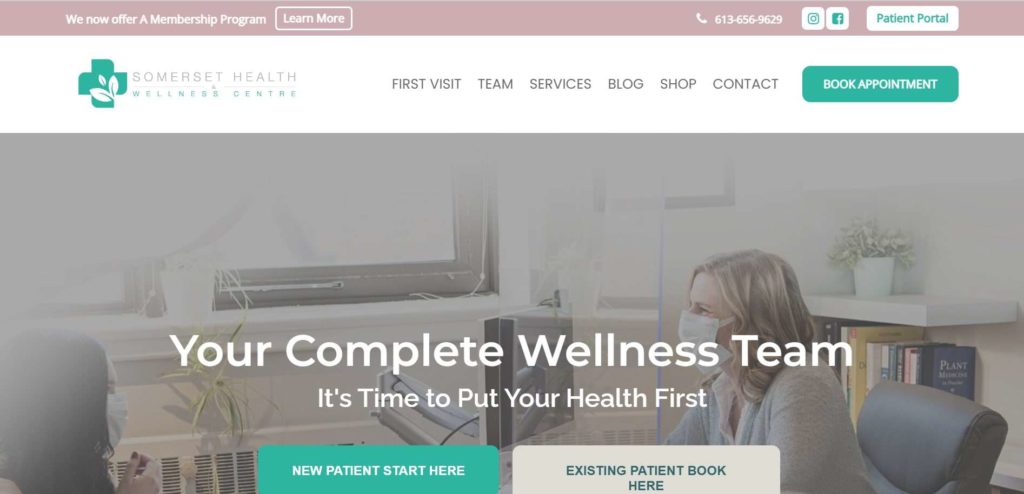 | Test | Info |
| --- | --- |
| PRODUCTS & SERVICES | Botanical/Herbal Medicine, Food Sensitivity Testing, Homeopathy, Hypnotherapy, Intravenous Therapy (IV), Laboratory Testing, Lifestyle Counseling, Naturopathic Medicine, Nutritional Counseling, Traditional Chinese Medicine |
| WEBSITE | https://somersethealth.ca/ |
| ADDRESS | 190 Somerset St W #210, Ottawa, ON K2P 0J4, Canada |
| CONTACT DETAILS | +1 613-656-9629 |
| OPERATING HOURS | Monday to Friday 8:30 AM - 7 PM |
| | |
| --- | --- |
| Criteria | Ratings |
| Experience | ★★★★✩ (4/5) |
| Competitive Rates | ★★★★★ (5/5) |
| Variety of Treatment Options | ★★★★★ (5/5) |
| Customer Feedback | ★★★★★ (5/5) |
Led by a team of licensed practitioners, Somerset Health & Wellness Centre is one of the best choices when searching for holistic medical care.
Its services extend from botanical and naturopathic medicine to nutritional counseling and traditional Chinese medicine.
First visits with the clinic begin with a thorough discussion of your health concerns. If time permits, necessary physical examinations and diagnostic procedures will be conducted in its laboratory.
We appreciate that the doctors in this clinic take the time to know you and listen to your needs and concerns. They will be actively involved in your treatment plan and provide valuable feedback to help you achieve optimal health.
Its THRIVE method of care, which involves several stages that begin with telling your story to thriving with good health at the end, is also commendable. We think that this treatment outline helps everyone realize the collaborative goal.
There are group programs, too, which can help you heal with others. There's even a virtual cooking workshop, which can be useful when preparing recipes that are in line with your holistic care needs.
Apart from offering multiple payment methods, it's also nice to know that it has a shop where you can conveniently get your needed supplements. You may opt to get your supplies directly from its dispensary or online via full script.
Although there might be instances when its team fails to promptly respond to client inquiries regarding ongoing treatments, Somerset Health & Wellness Centre remains one of our top choices for holistic medicine.
An array of services
A team of professionals
Own laboratory
Group programs
Complimentary discovery call
Multiple payment methods
Online store
Communication can be improved
Closed on weekends
Customer Reviews
Exceeded my expectations
"Dr. Luck has exceeded my expectations in every way possible. She has been so supportive and found answers for me when no one else could. I am so grateful for the amazing treatment that I have received over the last 5+ years. I highly recommend Dr. Luck and the Somerset Health & Wellness Centre!" — Gini Okroy, Google Reviews
Thoroughly pleased with this company
"Dr Erin Kasparek is a true pleasure to work with. She listens to her clients needs and concerns, offers valuable feedback and helps guide towards a healthy and natural lifestyle. I would and have recommended her to family and friends." — Carol Spain, Google Review
3. Holistic Clinic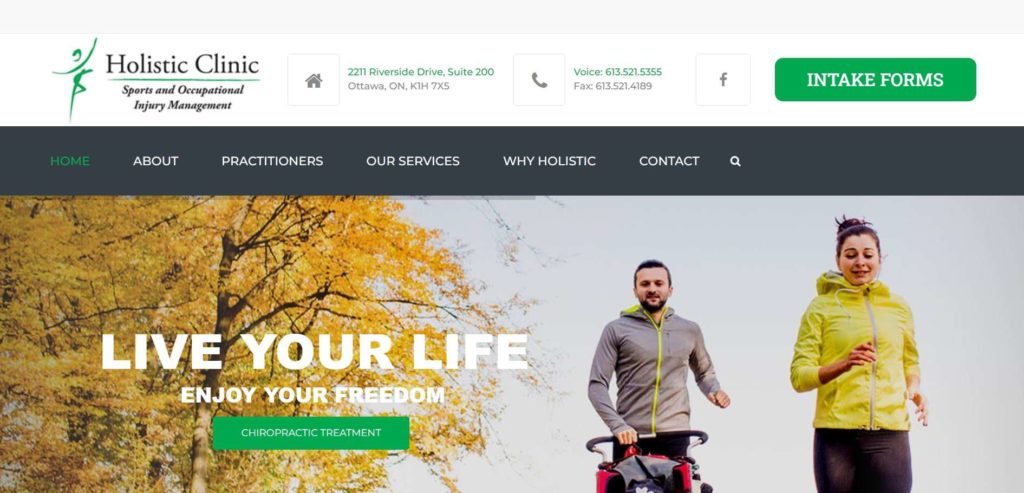 | Test | Info |
| --- | --- |
| PRODUCTS & SERVICES | Naturopathic Medicine, Massage Therapy, Chiropractic |
| WEBSITE | https://holisticclinic.ca/ |
| ADDRESS | 2211 Riverside Dr. #200, Ottawa, ON K1H 7X5, Canada |
| CONTACT DETAILS | +1 613-521-5355 |
| OPERATING HOURS | Monday to Sunday 7 AM - 6 PM |
| | |
| --- | --- |
| Criteria | Ratings |
| Experience | ★★★★✩ (4/5) |
| Competitive Rates | ★★★★★ (5/5) |
| Variety of Treatment Options | ★★★★★ (5/5) |
| Customer Feedback | ★★★★★ (5/5) |
We trust Holistic Clinic because it has been in business for many years now. Since its inception in 1978, it has been offering various holistic medicine treatments that include naturopathic medicine, massage therapy, and chiropractic care.
We like that its holistic care gives emphasis on lifestyle and appropriate supplementation. Among the treatments used include lifestyle counseling, clinical nutrition, acupuncture, and Chinese medicine.
However, as it's more focused on sports and occupational injury management, its relatively fewer treatment options might not sit well with others.
So if you're into other forms of holistic care or have other needs, this might not work for you.
A proud member of the Ontario Association of Naturopathic Doctors (OAND), Holistic Clinic takes pride in its team of licensed professionals, which includes naturopaths and chiropractors. We like that it stays committed to providing quality, individualized health care.
We also appreciate that its team continuously participates in research and professional development to better provide treatments to clients. It's great that it strives to contribute to the advancement of health care practices.
Although doctors sometimes run late for appointments, we still trust Holistic Clinic's people and services. With knowledgeable and friendly staff, every clinic visit becomes a worthwhile health investment.
Specializes in sports and occupational injury management
Certified team of professionals
Testing services
Relatively fewer treatment options
Closed on weekends
Customer Reviews
A lifesaver
"I highly recommend the Holistic Clinic! As a Health and Fitness professional, I have very high standards for all services in my related field. Dr.Todd Norton has been a life saver! His knowledge and expertise is second to none and his treatment of a long-time issue has made it a short-term fix. Also, the staff are all beautiful people who always greet you with a smile!" — Richard Luczak, Google Reviews
Could feel the result on the same day
"I had severe back and neck pain but was in great hands when Dr. Yannick Schultz saw me for a treatment. He immediately identified the issue, answered all my questions, and gave me an appropriate treatment – and I could feel the result on the same day. I would definitely recommend!" — Philipp Knoll, Google Reviews
4. Healing House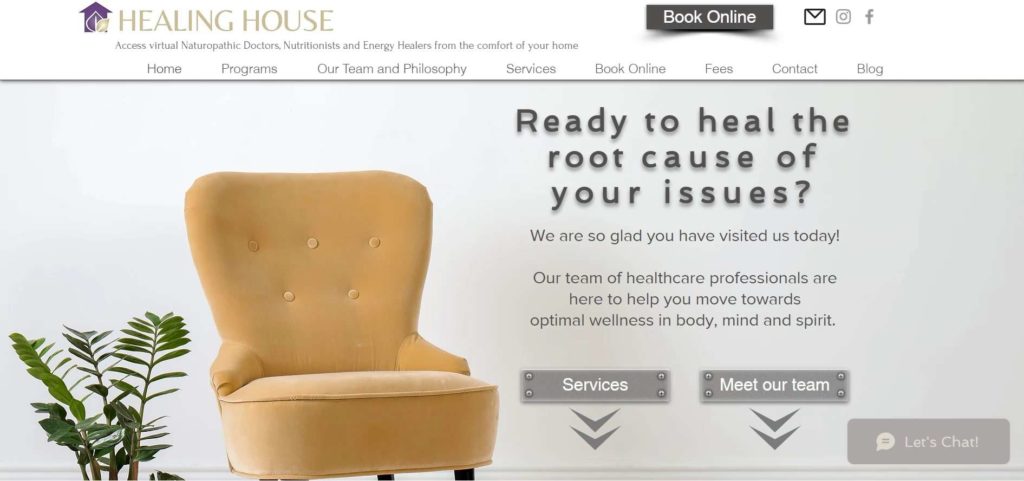 Test
Info
PRODUCTS & SERVICES
Naturopathic Medicine, Wise Woman Program, Natural Fertility Treatments, Energy Healing, Birth Doula, Immune Health, Women's Health, Lab Testing, Digestion, Reiki, Holistic Nutrition
WEBSITE
https://www.healinghouse.ca/
ADDRESS
164 Second Ave, Ottawa, ON K1S 3V3, Canada
CONTACT DETAILS
+1 613-688-9898
OPERATING HOURS
Monday 8 AM - 6 PM

Tuesday 12 AM - 6 PM

Wednesday to Friday 8 AM - 6 PM
| | |
| --- | --- |
| Criteria | Ratings |
| Experience | ★★★★✩ (4/5) |
| Competitive Rates | ★★★★★ (5/5) |
| Variety of Treatment Options | ★★★★★ (5/5) |
| Customer Feedback | ★★★★★ (5/5) |
With a team of licensed professionals, we believe that Healing House is one of the best options for holistic medicine needs. Among its services include naturopathic medicine, energy healing, reiki, and holistic nutrition, among many others.
Its holistic care involves various natural treatments, which include acupuncture, herbal medicine, nutrition, and lifestyle counseling.
Should the need arise, there's also a team of Shamanic energy healers to help you restore your balance.
We like that treatments begin with a thorough history-taking and review of your body's major systems. But since the doctors specialize more in women's health and mind-body medicine, most of their services might not be appropriate for some clients.
One of the things that caught our attention is the clinic's Wise Woman Program, which is an integrated wellness program for women.
We believe that this comprehensive program will help women better understand their bodies and their needs.
It also offers virtual consultations, which are perfect for busy individuals. The clinic has already established partnerships with reliable diagnostic laboratories like Gamma Dynacare to make things more convenient for you.
Overall, with licensed doctors and friendly staff, we trust that Healing House is a good start towards optimal wellness in body, mind, and spirit.
A team of licensed professionals
Clinic laboratory
Wise Woman Program
Virtual consultations
Specializes in women's health
Closed on weekends
Customer Reviews
Knowledgeable and effective
"Jada has been supporting my health and well-being for almost a decade. I trust her completely and am so thankful to have such a knowledgeable and effective naturopath as my primary care provider." — Niki Beamish, Google Reviews
Made a very positive impact on my life
"Dr Jada MacLeod has made very positive impacts on my life. I trust her to provide honest and thoughtful advice that she develops through holistic thinking. Her vast knowledge of women's health and naturopathy makes her my primary source of healthcare." — Kathleen Tiernan, Google Reviews
5. Sequence Wellness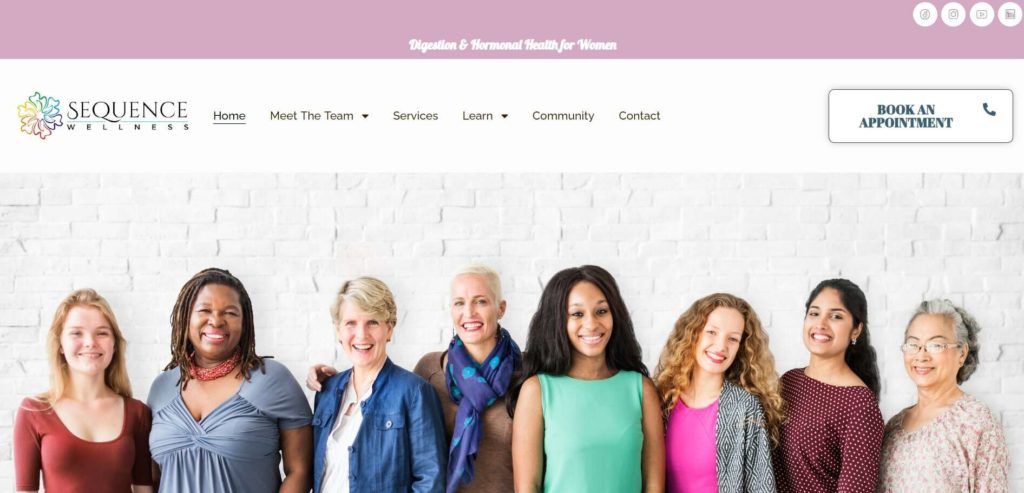 Test
Info
PRODUCTS & SERVICES
Naturopathic Medicine, Counseling, Holistic Nutrition, Personal Training and Health Coaching, Nutrition Re-Fresh Program, Estrogen Reboot Program, Stress Resilience Program, Women's Health Reset
WEBSITE
https://www.sequencewellness.com/
ADDRESS
35 Beechwood Ave. 3rd Floor, Ottawa, ON K1M 1M1, Canada
CONTACT DETAILS
+1 613-806-2068
OPERATING HOURS
Monday 10 AM - 5 PM

Tuesday 10 AM - 4 PM

Wednesday 10 AM - 6 PM

Thursday 10 AM - 4 PM

Friday 8 AM - 4 PM
| | |
| --- | --- |
| Criteria | Ratings |
| Experience | ★★★★✩ (4/5) |
| Competitive Rates | ★★★★★ (5/5) |
| Variety of Treatment Options | ★★★★★ (5/5) |
| Customer Feedback | ★★★★★ (5/5) |
For holistic medicine needs, Sequence Wellness is one of the options to consider. This is because its team of licensed professionals provides focused and coordinated end-to-end healthcare to its clients.
Currently, this clinic offers services that range from naturopathic medicine and holistic nutrition to personal training and stress resilience programs.
We like that it is led by Dr. Sarah Goulding, who has over a decade of clinical experience. Although Dr. Goulding specializes in women's health and digestion, the other members' expertise is apt for other concerns.
We like that their process kicks off with a comprehensive assessment to get to the root cause. This is then followed by a personalized holistic care plan that involves the use of various strategies like nutrition and lifestyle modifications.
We appreciate that all treatments begin with gentle, natural therapies. But when necessary, more aggressive ones like bioidentical hormones and IV therapies are employed.
It's nice to know that some of the clinic's services may be covered by your extended health care benefits. This will help you with the billing and save you from having to pay out of pocket.
The only downside we found is that there were no price guides that customers could use as reference when preparing their budget. Despite this, Sequence Wellness remains one of our best choices for holistic care needs.
Various services offered
A team of licensed professionals
Group programs
Multiple payment methods
No price guides provided
Closed on weekends
Customer Reviews
A rare gem
"Dr. Goulding is a rare gem! She has helped restore balance and health back into my life. She is caring, thorough, reassuring, knowledgeable and decisive in providing a followup plan. She takes a whole person approach and a full medical history when recommending diet and lifestyle changes. She has made such a difference in my health and well being. After many months of not feeling well nor myself, under her care I am so much better. I only wish I had found her much sooner. I highly recommend Dr. Sarah Goulding and a Naturopathic approach. Thank you for all that you do!" — Chris Payant, Google Reviews
Concerns were taken seriously
"Sarah is an excellent naturopath with huge knowledge of herbal medicines and their importance in everyday life. She takes thorough notes during the visit and clearly explains what are the possible causes of your symptoms. She did a deep research to find out what caused my discomfort and provided several options how to overcome it. She always sent a follow up notes and if there were some questions she could not answer during the session, she would get back to me at later point via email. I felt that my problems and concerns were taken seriously and I would definitely recommend Sarah to anyone who is looking for a great naturopath." — Zuzana, Google Reviews
6. Harmony Innervation Hypnosis & Spirituality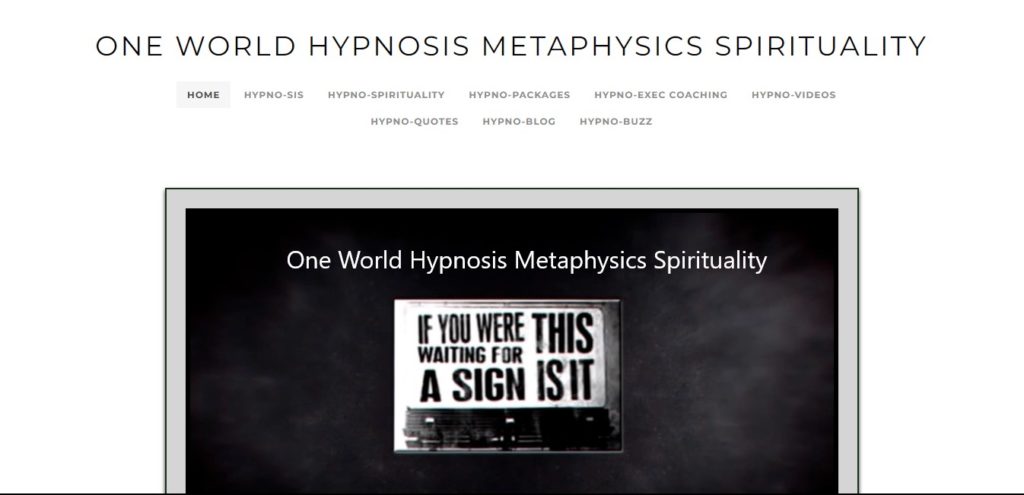 Test
Info
PRODUCTS & SERVICES
Hypnosis, hypnotherapy, life coaching and spiritual guidance
WEBSITE
https://www.harmonyhypnosis.ca/
ADDRESS
Contact for more information
CONTACT DETAILS

[email protected]


(Payment for sessions can be made via e-transfer here)
OPERATING HOURS
Contact for more information
| | |
| --- | --- |
| Criteria | Ratings |
| Experience | ★★★★✩ (4/5) |
| Competitive Rates | ★★★★✩ (4/5) |
| Variety of Treatment Options | ★★★✩✩ (3/5) |
| Customer Feedback | ★★★★✩ (4/5) |
Harmony Innervation Hypnosis & Spirituality is another place to go to for holistic and alternative medicine.
They offer hypnosis, hypnotherapy, life coaching and spiritual guidance to help better the lives of those who walk through their doors.
What we like about their approach is that they see their clients as co-participants during the sessions and not as patients.
We've heard about many clients coming in and being helped. They've got many people to get over trauma, fears, and the like in just a few sessions.
We find that they've changed the lives of many and we think they can help even more people.
Do remember that results may vary from client to client as it depends on the client's efforts, motivation, commitment, and follow-through.
However, some cons we've found are that one, clients must pay in advance. In line with this, unused session have an expiration. We're not the biggest fans of sessions having expirations because we understand how busy some people can be.
Other than this, we think it's a good option if you need alternative methods for healing.
Offers packages
Variety of spiritual and hypnosis healing services
Helpful services
Great customer service
Very limited information available
Unused sessions have expiration
Have to pay in advance
Customer Reviews
A rare gem
"This has been my first experience with hypnosis, but have extensive experience in psychotherapy and other types of care. I was initially a bit skeptical of hypnosis, but entered with an open mind, and I can that I'm glad I did! I have had a great experience with Chris – I'm very much impressed by the results of his' practice. Chris is very knowledgable and incredibly generous with his time. He took the time to build a real rapport in order to properly identify core areas that require work, tailoring our sessions to my needs. He immediately established a judgement-free environment in which I felt comfortable sharing very personal issues. I can attest to the fact that Chris truly wants to see his clients succeed and is committed to helping us develop the tools needed to do so. I would very much recommend Chris, as I will continue to work with him. I'm excited to see what else we'll be able to tackle!" — Christopher Kelly, Google Reviews
7. NutriChem Personalized Health Solutions
SERVICES
Naturopathic Medicine
Clinical Pharmacy
Medical Cannabis
Custom Vitamins
Body Chemistry Balancing
IV Therapy
WEBSITE
nutrichemclinic.com
ADDRESS
2599 Carling AvenueOttawa, Ontario K2B 7H7
CONTACT DETAILS
613-721-3669
[email protected]
OPERATING HOURS
Monday – Friday, 9:00 AM – 5 PM
| | |
| --- | --- |
| Criteria | Ratings |
| Experience | ★★★★✩ (4/5) |
| Competitive Rates | ★★★★✩ (4/5) |
| Variety of Treatment Options | ★★★★★ (5/5) |
| Customer Feedback | ★★★★✩ (4/5) |
NutriChem is an Ottawa-based naturopathic clinic that has been providing holistic medicine services since 1981. With a team of experienced health professionals, NutriChem offers personalized and individualized naturopathic services rooted in science and backed by four decades of proven results.
The clinic's approach to healthcare aims to address the root cause of health issues rather than just treating symptoms. They blend modern scientific knowledge with traditional and natural therapeutics to provide effective and efficient solutions. The team includes naturopathic doctors, clinical pharmacists, and registered holistic nutritionists, who work collaboratively to deliver the best outcomes for patients.
NutriChem emphasizes the importance of education, empowering patients to take an active role in their own health. They believe in providing individualized treatments tailored to each patient's specific needs. The clinic offers a range of services, including naturopathic medicine, holistic nutrition, clinical pharmacy, custom vitamins, and the BCB test for deciphering complex afflictions.
One notable aspect of NutriChem's approach is their focus on hormonal imbalances. Their naturopathic doctors can prescribe bio-identical hormone replacement therapy (BHRT) customized to each patient's needs. They also offer personalized treatments for anxiety, IBS, insomnia, high blood pressure, vertigo, eczema, and heart disease.
Blending science with natural therapeutics for effective solutions.
Specializing in hormonal imbalances and individualized treatments.
Excellent customer service
FAQs about Holistic Medicine
---
There you have it! We hope that our list has led you to the best people for your holistic care needs!
Since you're on this list, you might also find the following related articles interesting: