5 Top Van Rental Services in Ottawa
Looking for the right insurance or even the perfect room for your travels may sound like a lot of work. For some, finding the top van rental services in Ottawa can even be worse.
We understand that this problem can be frustrating. That is why we amassed some of the best van rental companies in Ottawa just for you!
Before we take a look at our list, let's first check the average daily rates.
How Much Do Vehicle Rentals Cost in Ottawa
People choose the vehicles they rent based on several factors. Among these considerations are the number of passengers that will be traveling and the level of comfort.
While some people choose on the perks, others decide on price. With that, below is a table showing the average daily rates of rented vehicles:
| Vehicle categories | Seating capacities | Average daily rates |
| --- | --- | --- |
| Small | Up to 4 | $54 |
| Medium | Up to 5 | $56 |
| Large | Up to 5 | $74 |
| SUV | Up to 5 | $69 |
| Van | Up to 5 | $93 |
| Luxury | Depends on the model | $81 |
| Convertible | Depends on the model | $114 |
Seating capacity can vary depending on your definition of comfort. The mini type, for example, has an ideal maximum capacity of 2.
Although you can choose to squeeze 1 or 2 more in, that will be at the expense of having a comfortable journey.
Seasons can also affect prices. For example, those who love convertibles can end up paying $82 instead of $114 in September.
Also, it would be wise to remember that availability also relies on supply and vehicle popularity. So be sure to always plan.
Finding the Best Van Rental Services in Ottawa
To narrow down our choices for this list, we used the following criteria in our selection process:
1. Avis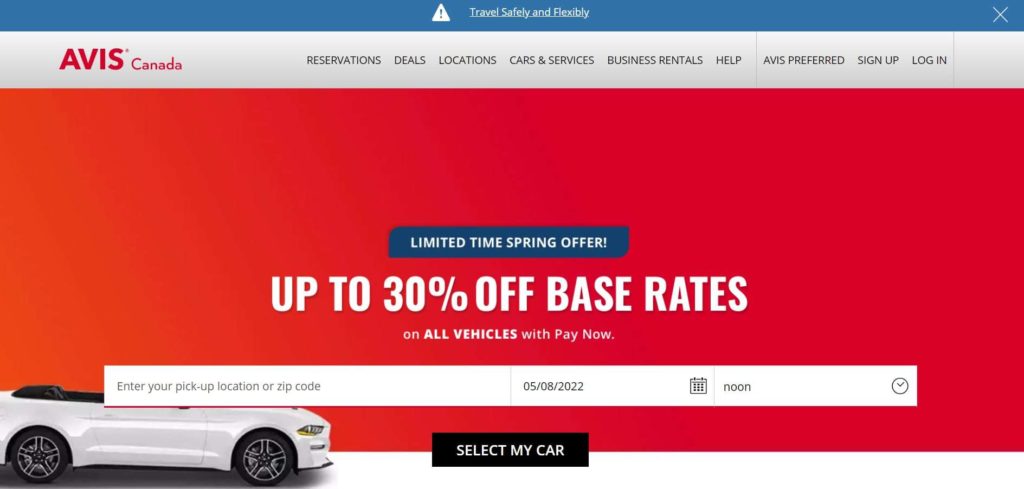 Test
Info
PRODUCTS AND SERVICES
Small To Full Size, Luxury And Convertibles, SUVs And Wagons, Trucks And Vans, Car Rental Products And Services, Protections And Coverages, Avis App, Long-Term Car Rental, Meetings And Groups Rentals
WEBSITE
https://www.avis.ca/en/locations/ca/on/ottawa
ADDRESS
345 Slater St., Ottawa, ON K1R 7X7, Canada
CONTACT DETAILS
+1 613-232-2847
OPERATING HOURS
Monday to Wednesday 7:30 AM - 4:30 PM

Thursday to Friday 7:30 AM - 6:00 PM

Saturday to Sunday 8:00 AM - 1:00 PM
| | |
| --- | --- |
| Criteria | Ratings |
| Promos and Discounts | ★★★★★ (5/5) |
| Number of Locations | ★★★★★ (5/5) |
| Fleet Size | ★★★★★(5/5) |
| Loyalty Program | ★★★★★(5/5) |
| Customer Feedback | ★★★★✩(4/5) |
The first to provide vehicle rental services from airport locations, Avis has now become one of the best companies in the business. Over the years, it has earned a lot of awards and recognition like the "World's Leading Business Car Rental Company" from the World Travel Awards in 2012.
Among their lineup of vehicles are minivans like the Dodge Grand Caravan. These smoke-free, 7-seater vehicles are equipped with air conditioning to always keep you cool and comfy.
While the power steering reduces a driver's fatigue, the folding seats allow more space for additional luggage. The remote/central locking system and anti-lock brakes, on the other hand, provide extra convenience and better safety.
Although their base rates might be higher than others, they have a lot of discount offers. One of these is getting up to 30% off the standard fee when you pay in advance.
While this is great because it allows you to save more, be certain before booking as cancellation fees can be steep.
Canceling your reservation after more than 24 hours will cost you $50. Less than 24 hours would mean a staggering $150 cancellation fee.
However, other than that, Avis provides more for its customers to enjoy. On top of a 10% discount on base rates on monthly rentals, there are also countless promo codes and special offers that can help ease budget constraints.
Since Avis values their customers, members can avail of their Avis Preferred Loyalty Program. This special loyalty program lets you earn points that can be used to reduce rental charges or enjoy upgrades and accessories.
They also have TripIt services which provide additional convenience for its clients. With TripIt, all your itineraries will be organized in one place – all for hassle-free holidays.
Booking a reservation with them is also made easy with their mobile app. With 7 locations in Ottawa, the pick-up and return process will be a breeze.

5 different van models to choose from
Advanced payment discounts
Offers a lot of promo codes and coupons
Avis Preferred Loyalty Program
Competitive personal accident insurance
Has 7 locations within the city
More expensive base rates
Heavy cancellation charges
Customer Reviews
The best car rental service
"The best car rental service in downtown Ottawa. I have rented a car several times from this location and I am always very happy with the service. Staff is very kind, knowledgable and flexible. Recently I had family visit and they were able to accommodate a minivan rental last minute." — Pauline Karwowski, Google Reviews
Excellent work at a very fair price
"I rent a car about once every 1-2 months, and I have tried a few different places, but always come back to this place. The service is always helpful and top notch, the cars are well taken care of, always clean, no hassles ever. Highly recommended." — Beth Ayres, Google Reviews
2. Budget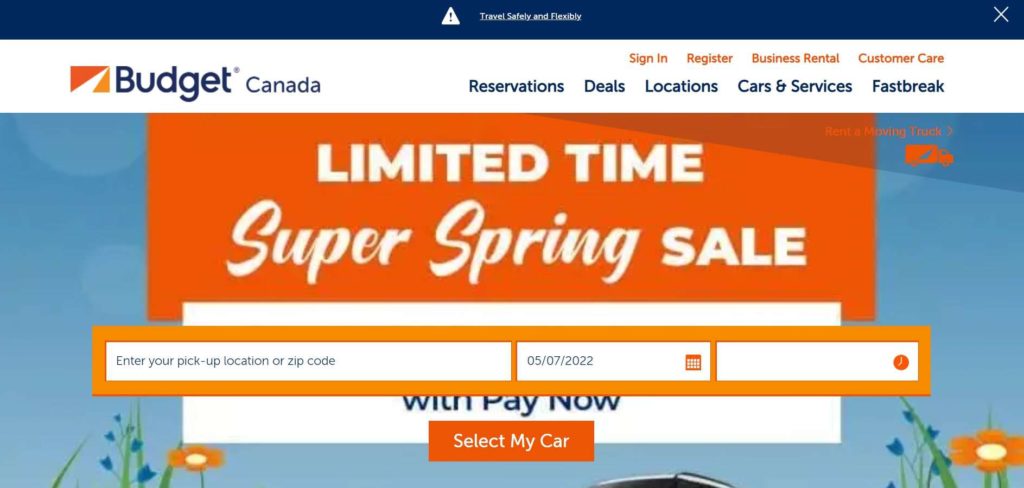 Test
Info
PRODUCTS AND SERVICES
Luxury Car Rental, Economy Car Rental, Exotic Car Rental, SUV Rental, Van Rental, One-Way Car Rental, Long-Term Car Rental, Military Discount Car Rental, Car Rental Deals, Rental Car Insurance
WEBSITE
https://www.budget.ca/en/home
ADDRESS
443 Somerset St W, Ottawa, ON K1R 5J7, Canada
CONTACT DETAILS
+1 613-232-1527
OPERATING HOURS
Monday to Wednesday 7:30 AM - 4:30 PM

Thursday to Friday 7:30 AM - 6:00 PM

Saturday to Sunday 8:00 AM - 1:00 PM
| | |
| --- | --- |
| Criteria | Ratings |
| Promos and discounts | ★★★★★ (5/5) |
| Number of locations | ★★★★★ (5/5) |
| Fleet size | ★★★★★(5/5) |
| Loyalty program | ★★★★★(5/5) |
| Customer feedback | ★★★★✩(4/5) |
As a part of the Avis group, Budget shares almost similar policies and promos. The only difference they have is that it has relatively cheaper base rates.
Having several models such as the Ford Flex and Chrysler Pacifica gives you the chance to choose what suits you better. Regardless of what you choose, these roomy vehicles will make you forget packing light.
On top of being smoke-free and spacious enough for luggage, their air-conditioning and automatic transmission make travel extra light and cool. The anti-lock brakes and remote central locking system, on the side, enhance security and safety.
For their prepaid payments, one can save up to 35%. This huge amount of savings can provide you with some extra travel budget.
However, just like Avis, cancellation fees are too heavy. Just the same, cancellation can cost you from $50 to $150, depending on when the notice was given.
For couples or groups having at least 2 members who can drive, their free additional driver offer is for you! This additional cut can probably take you and your partner on a date in a fine dining restaurant in the area!
If you hate long lines and waiting, then their Fastbreak Loyalty Program will be perfect for you. As the name suggests, everything else will be fast-tracked – from pick-up your keys to dropping the car off at the designated area.
As a way to give back to their valued customers, Budget also sends in an exclusive deal. One, among many others, is sending members $25 Budget Bucks, which can be used on your next rental.
Currently, Budget can be found in 7 different locations in the city. So finding them will be the least of your worries.
Offers several van models
Up to 35% discount on prepaid transactions
Fastbreak Loyalty Program
Free additional driver
Can be found in 7 areas in the city
The long wait during peak seasons
Pricey cancellation fees
Customer Reviews
Very happy with my choice
"Great customer service. Always have their vehicles clean, tuned up, and ready to go. Very nice selection of vehicles. Friendly staff, good prices. Very happy with my choice in choosing Budget Car Rental. God Bless You. Cheers. 🙏👍👍😀" — Gregory Saygon, Google Reviews
Love this place
"Adding 5 more stars to this place. Excellent customer service. I had booked a car but unfortunately I had to cancel due to weather conditions. They understood the problem and cancelled without any further questions or penalties. This is how loyal customers are made.
Love this place. They always give me good deal. I have rented for weeks on multiple occasions. Well maintained cars. Awesome staff" — Anish Joy, Google Reviews
3. Enterprise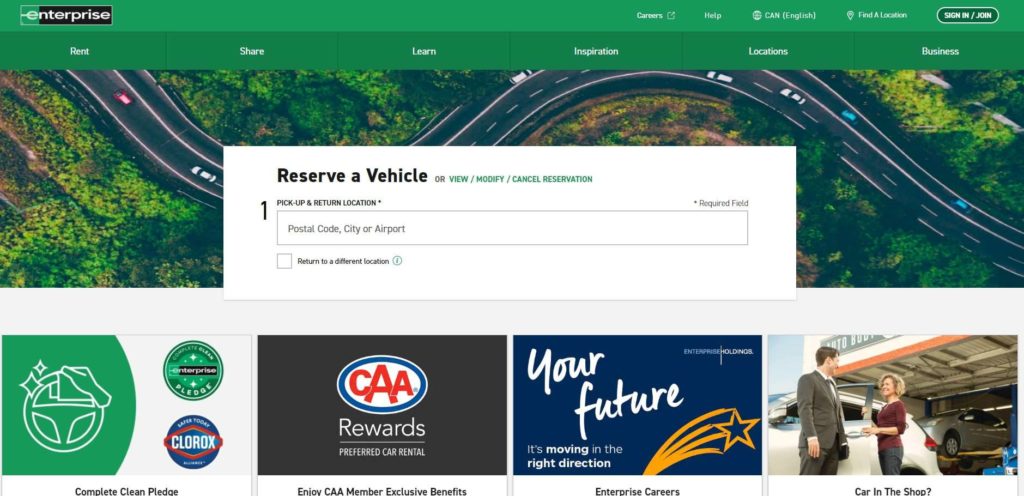 Test
Info
PRODUCTS AND SERVICES
Cars, SUVs, Trucks, Vans, Moving Trucks And Vans, Exotic Cars, One-Way Car Rentals, Long-Term Rentals, Commercial Truck And Van Rentals
WEBSITE
https://www.enterprise.ca/en/home.html
ADDRESS
1615 Laperriere Ave, Ottawa, ON K1Z 8S7, Canada
CONTACT DETAILS
+1 613-729-4009
OPERATING HOURS
Monday to Friday 8:00 AM - 5:30 PM

Saturday 9:00 AM - 12:00 PM
| | |
| --- | --- |
| Criteria | Ratings |
| Promos and Discounts | ★★★★★ (5/5) |
| Number of Locations | ★★★★★ (5/5) |
| Fleet Size | ★★★★★(5/5) |
| Loyalty Program | ★★★★✩(4/5) |
| Customer Feedback | ★★★★✩(4/5) |
Founded in 1957, Enterprise is one of the success stories in the field of car rental services. Today, they operate in more than 85 countries with over 7,000 locations across the globe.
Perhaps one of the key factors behind this success is how they strive to provide competitive rates. They may not be the lowest but relatively cheaper than others.
Enterprise currently offers 2 types of vans – minivans or cargo vans. While the 7-seater minivans like the Dodge Grand Caravan are ideal for family getaways, cargo vans such as the Ford Transit Cargo are perfect for small moves.
One nice thing about their minivans is that they come with cruise controls that let you maintain constant speed hassle-free. Their cargo vans with automatic transmission, air conditioning, and AM/FM stereo will meet your demand with less stress.
If your needs require some professional touches, you may choose to avail of their commercial truck and van rental services. With reasonable rates and low mileage charges, you can meet your needs in a cost-effective way.
Although their rates may not be ideal for most, their optional extras such as GPS service and child seats cost less compared to their competitors. So for those who are new in the area or traveling with small kids, these additional services just might work for you.
Like many others, Enterprise also has a loyalty program called "Enterprise Plus." One nice thing about this is that it has various tiers – the higher the tier, the more bonus points you receive.
Also worth noting is their CarShare, which lets you rent a car within the area 24/7. The best part about CarShare is that it has a wide variety of vehicles to choose from and is an automated way of providing access to parked cars in your community.
Enterprise is located in over 15 areas within the city so they are easy to find. So if you're planning on going for long-term rentals, their unlimited mileage will be a perfect deal.
Offer mini and cargo vans
Provides commercial truck and van rentals
Enterprise Plus Loyalty Program
CarShare provides 24/7 rental access
Offer lower charges for extras
With over 15 locations in Ottawa
Earning points is dependent on the tier
Closed on Sundays
Customer Reviews
An amazing experience
"I had an amazing experience renting a car at this location. Their cars are clean and very new. You can even see them cleaning the cars on site so that's very reassuring. I hope that they will open on Sundays too in the future so as to expand my rental options.
Special thanks for Gurvit and Liam who went out of their way to fulfill my requests." — M T, Google Reviews
Thank you for raising the bar in the industry
"I have rented here several times this summer, the cars are always in excellent condition, at reasonable rates, and the service is speedy, reliable and professional. After several horrible experiences at other car rental companies, I will never rent from anywhere else than Enterprise. Thank you so much for raising the bar in the industry!" — Sundeep Virdi, Google Reviews
4. Hertz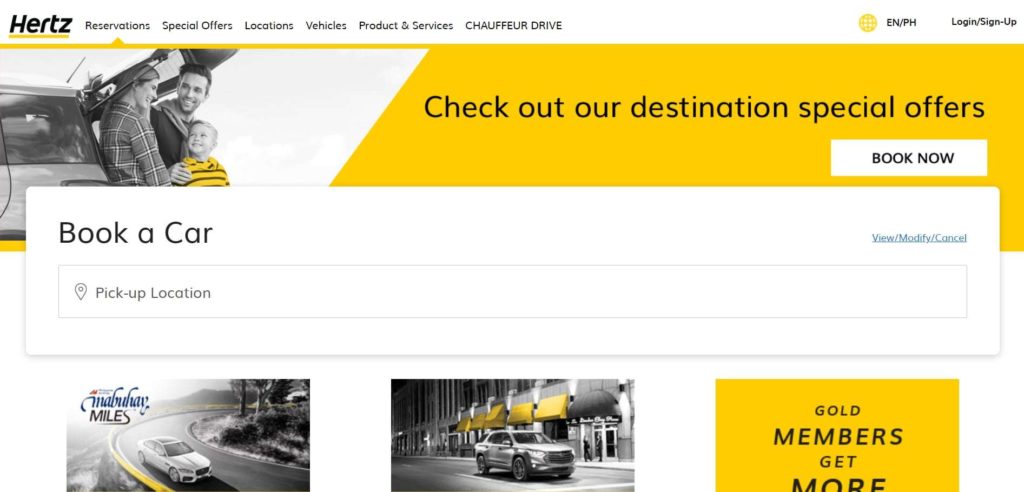 Test
Info
PRODUCTS AND SERVICES
Card/Sedan, SUV/Minivan/4x4, Commercial Van/Truck, Hybrid/Electric Cars, Luxury Vehicles, Chauffeur Drive, Additional Drivers, One-Way Rentals, Services For Physically Challenged, Refueling Options
WEBSITE
https://www.hertz.com/rentacar/reservation/
ADDRESS
1160 Newmarket St, Ottawa, ON K1B 1A6, Canada
CONTACT DETAILS
+1 613-745-1396
OPERATING HOURS
Monday to Friday 7:00 AM - 5:00 PM

Saturday to Sunday 8:00 AM - 12:00 PM
| | |
| --- | --- |
| Criteria | Ratings |
| Promos and Discounts | ★★★★✩ (4/5) |
| Number of Locations | ★★★★★ (5/5) |
| Fleet Size | ★★★★★(5/5) |
| Loyalty Program | ★★★★✩(4/5) |
| Customer Feedback | ★★★★✩(4/5) |
Hertz has earned its good reputation through reasonable rates and outstanding customer service. It is now one of the biggest rental services with over 3000 locations in the US alone.
As a rental service, it boasts a wide array of vehicles that could match your preference and budget. They also have their "Hertz Dream Collection" which is perfect for Lamborghini lovers!

For vans, you can choose from models like Dodge Grand Caravan or Chrysler Pacifica. If you need a more spacious one, their 12-seater Ford Transit 350 XLT will be a better option.
All of these vans are designed for easy and comfortable trips. Besides having comfort and safety features like power steering and anti-skid devices, these vehicles are also assembled with V6 engines for optimal performance.
Aside from having cool vehicles, they also do price matching! Yes, they will even provide you with a 10% discount once the required conditions have been verified.
Another notable thing about their services is the Hertz Instant Return. This lets you drop off your rented vehicle and move on to your destination without the hassle.
This quick and convenient drop-off service is complemented by their Hertz Gold Plus Rewards®. Skipping counter check-in and being able to use their e-returns option for faster processing saves you more time for your next adventure.
Aside from convenience, members of their loyalty program are also awarded 1 point for every dollar spent. This very generous point system is another reason for customers to keep coming and earning points!
Earned points for a free, full-day rental can be redeemed anytime with no blackout periods. The only downside is that you might first need to accumulate at least 750 points because you could drive one of their cars cost-free.
Hertz is easy to find with its 8 branches in the city. With great cars and customer service, we won't be surprised if you phone them a call one of these days.
Several van options to choose from
Price matching with 10% discount for reservations
Generous point reward system
With 8 locations within the city
High cancellation fees for prepaid reservations
Relatively higher redemption rates
Customer Reviews
The best decision I could have made
"Calling Hertz was the best decision I could have made! Phil took my call and immediately went to work and got me a van for a last minute move for a client. Unbelieveable service, and with a great positive energy too. Thanks Phil!!!" — Lisa Ann Robinson, Google Reviews
Simple, quick, and easy
"The staff was great and very good environment. It was simple, quick and easy. Just the way I like it. They also were able to save me a couple of bucks which was the cherry on top of the cake. Really appreciate it guys! Great work and keep going!" — Pedro Goncalves, Google Reviews
5. National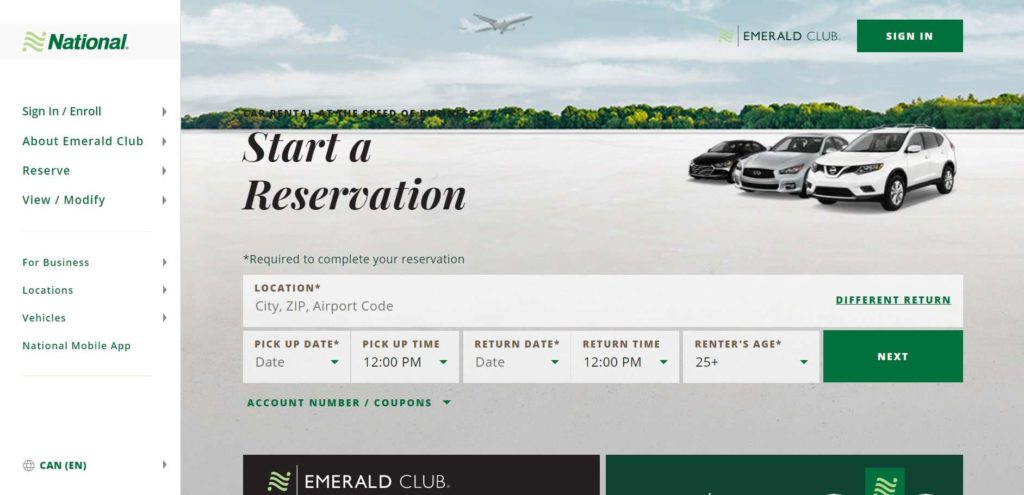 | Test | Info |
| --- | --- |
| PRODUCTS AND SERVICES | Cars, Trucks, SUVs, Vans |
| WEBSITE | https://www.nationalcar.ca/en/home.html |
| ADDRESS | 1003 Airport Parkway Private, Ottawa, ON K1V 2C1, Canada |
| CONTACT DETAILS | +1 613-232-3536 |
| OPERATING HOURS | Monday to Sunday 7:30 AM - 11:00 PM |
| | |
| --- | --- |
| Criteria | Ratings |
| Promos and Discounts | ★★★★★(5/5) |
| Number of Locations | ★★★✩✩ (3/5) |
| Fleet Size | ★★★★✩(4/5) |
| Loyalty Program | ★★★★✩(4/5) |
| Customer Feedback | ★★★★✩(4/5) |
National currently has over 330 offices in the US. But despite its relatively fewer locations, many regard it because of its great customer service.
However, customer service is not the only thing that makes it stand out among others. It is also very popular among its frequent clients because of its wide array of vehicles to choose from.
Apart from cars, trucks, and SUVs, National also offers vans that come in 3 different classes. While their minivans like the 8-passenger Toyota Sienna are ideal for long travels with family, their Ford Transit Cargo vans are great for small moves.
All the passenger vans are automatic, air-conditioned, and with nice features like cruise control and power lock doors. Their decent and spacious cargo vans, on the other hand, let you choose between diesel or gas.
National also boasts a loyalty program called Emerald Club. Unlike other loyalty programs offered, every rental of an eligible vehicle will earn you 1 credit rental.
The best part is that you'll only need 7 to enjoy 1 free rental day!
Things will get better as you climb up the tiers. While Executive members will be required 6 for the same benefit, Executive Elite members will only need 5.
If you often need to rent cars because of personal travels or work, their loyalty program is perfect for you. It will earn you free rentals and huge savings in no time!
Another nice thing about this program is gaining access to Emerald Aisle. Apart from experiencing a hassle-free checkout process, members get to choose from any midsize or higher models for a midsize rate.
Booking with National lets you enjoy CAA perks, which include discounted GPS and 2 free additional drivers, among others. Their partnerships with some airlines and hotels will boost your points and make you a happier customer.
Offers 3 types of vans
Free additional drivers for Emerald Club members
Partnerships with various companies earn points and perks
Relatively smaller fleet
Higher base rates
With only 2 locations in Ottawa
Customer Reviews
Service is always perfect
"I continue to use National Exclusively as the service is always perfect. My cars are always on time and the check in/out process is very quick. I especially enjoy the Emerald Aisle when it is available. Great offers are presented for luxury cars when they are available as well. Thank You for all you do, Highly Recommended." — Wayne Orlick, Google Reviews
Great service and car selection
"Great service and car selection. Easy pick up and quick drop off (he met us at the car when we pulled in). Great staff, very professional and helpful, another great experience, thank you." — Bob Matevia, Google Reviews
FAQs About Van Rentals in Ottawa
---
We hope that our list has helped you learn more about the leading van rental companies in your area. So, make good choices and have fun on your next adventure!
For other rental needs, you might find these related articles useful: