The 5 Best Masonry Contractors in Ottawa
Masonry contractors are easy to find in the city. It's determining which is the best for you that's tricky.
In this article, we listed down the best masonry contractors in the area so you can easily look for one suited to your needs.
How much do masonry contractors charge in Ottawa?
Masonry contractors in Ottawa typically charge around $28 – $30 per hour. In the table below, you'll see a more specific price range of the services they usually offer:
| Masonry Materials | Average Estimated Costs |
| --- | --- |
| Brick Veneer | $38 to $60 per square foot |
| Solid Brick | $14 to $30 per square foot |
| Stone Wall | $25 to $80 per square foot |
| Masonry Mortar | $10 to $20 per square foot |
The Best Masonry Contractors in Ottawa
We wanted to find the right masonry contractor for you. There are numerous options in the city, but we based our entries on these criteria:
1. Canadian Masonry Services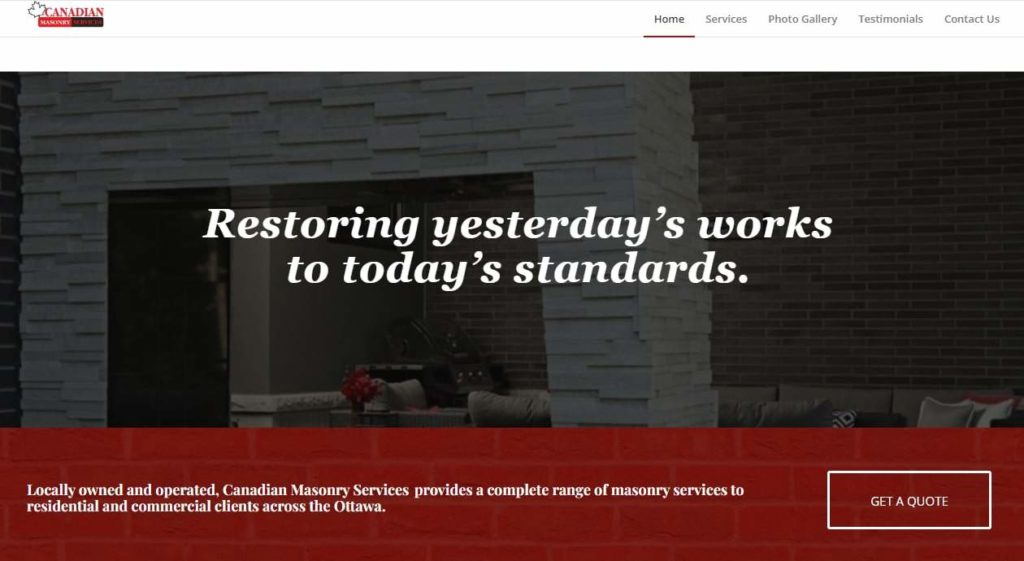 | Test | Info |
| --- | --- |
| SERVICES | Chimney Repair, Garage Floors, Window Sills, Stonework, Spalling Bricks & Efflorescence, Foundations, Brick Repointing, Steps & Landings |
| WEBSITE | https://canadianmasonryservices.com/ |
| ADDRESS | 100 Metcalfe St #200, Ottawa, ON K1P 5M1, Canada |
| CONTACT DETAILS | 613-286-1113 |
| OPERATING HOURS | Mondays to Sundays: 7:00 AM – 8:00 PM |
| | |
| --- | --- |
| Criteria | Ratings |
| Services | ★★★★★(5/5) |
| Rates | ★★★★ (4/5) |
| Portfolio | ★★★★★(5/5) |
| Location | ★★★★★(5/5) |
Canadian Masonry Services has a very good range of offerings for both residential and commercial clients.
Being locally owned, it has already made a name for itself in Ottawa. It provides masonry services to numerous citizens and we especially like how the company gives advice on how to maintain said masonry.
Masonry is designed to withstand harsh weather conditions, however, it does have its own difficulties. Being a piece-by-piece construction, a foundation and a good mix of mortar are essential.
The Canadian Masonry Services is able to provide this with ease and also teaches its clients how to keep their masonry walls and fireplaces well-maintained.
Sometimes, unwanted accidents or damages may happen, so we like that this company provides warranty and insurance so the ordeal becomes much easier for the clients.
It's also appreciated that the company doesn't ask for a first deposit before doing the job. The management is willing to trust their clients and do the work first before asking for payment.
This attention to detail, especially in this type of field, is very important and we appreciate it a lot.
Overall, this company is definitely among the best masonry options in the city. Of course, this type of service will cost you, but we believe the benefits outweigh the costs.
Open everyday
Over 50 years of experience
Customer Reviews
Done fast and properly
"Mitch and his crew provided an excellent result on my heritage building downtown. The location is difficult to work with and everyone at Canadian Masonry Services was polite and professional with the neighbour's – having to set up on the property next door to access my building's repair.They finished the job promptly despite bad weather and the result looks fantastic and is of great quality. Set up and clean up were flawless." – Patrick Brandon
Easy to talk to

"A very professional crew, good communication and attention to detail. We had a leak through our chimney and Mitch identified the issue and prioritized the fix. Thank you! – Matt Lewis
2. Stonehenge Masonry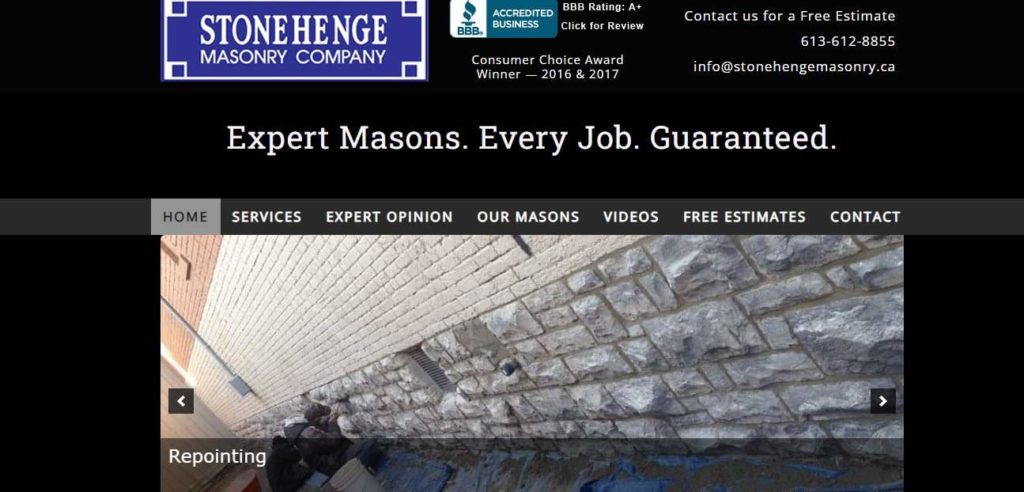 Test
Info
SERVICES
Custom Sills, Brickwork, Chimneys, Natural Stone Placement, Foundation, Stairs & Steps, Fireplace
WEBSITE
http://stonehengemasonry.ca/
ADDRESS
17 Glencairn Ave, Ottawa, ON K1S 1M5, Canada
CONTACT DETAILS
613-612-8855
OPERATING HOURS
Mondays to Fridays: 8:30 AM – 5:00 PM

Closed on Weekends
| | |
| --- | --- |
| Criteria | Ratings |
| Services | ★★★★ (4/5) |
| Rates | ★★★★★(5/5) |
| Portfolio | ★★★★★(5/5) |
| Location | ★★★★★(5/5) |
Stonehenge Masonry, a family-owned masonry business in Ottawa, is also another name to watch out for. It's well known for having a team that's been with the company for a long time.
This provider is a really good pick, especially for your brick, stone, and concrete needs. Its team of experts is able to do repairs, rebuilding, repointing, and even restoring old masonry projects of yours.
They also work on interior masonries, such as fireplaces and chimneys, which is very important, especially for homeowners with bigger houses. Another specialty of theirs is house foundation and strengthening its integrity.
We also appreciate Stonehenge's free estimates. If you're still unsure or relatively unfamiliar with masonry, Stonehenge's team of experts is willing to give you a short crash course on which stones are best suited for your home — to boot, they are transparent on the pricing.
For other constructions, the company also works on window sills and stone placement. With the numerous services it offers, it's understandable why it has been getting lots of good reception from homeowners and business owners alike.
Overall, Stonehenge Masonry is a solid choice for your masonry contractor needs. It's a shame that it isn't open on the weekends.
After all, most homeowners usually like to do their renovations and construction projects during days when they don't have to be at the office.
Free estimate
Experienced company
Customer Reviews
Professional and excellent

"Stonehenge Masonry did an amazing job on our fireplace project. Quality of the work was excellent and they were very professional. This was indoor masonry work and they took great care to minimize the mess and cleaned up the work site. We would not hesitate to work with Stonehenge Masonry again and recommended them to anyone needing to have stone work done." – Shawn Riel
Above and beyond
"Dan, the owner, went above and beyond with my fireplace modification project. Issues arose and the scope of the project changed yet he came up with creative solutions and the results look fantastic. I can't help but think that others would have given up or cut corners. Very grateful for Dan and his awesome work." – Louis Racine
3. Integrity Masonry Inc.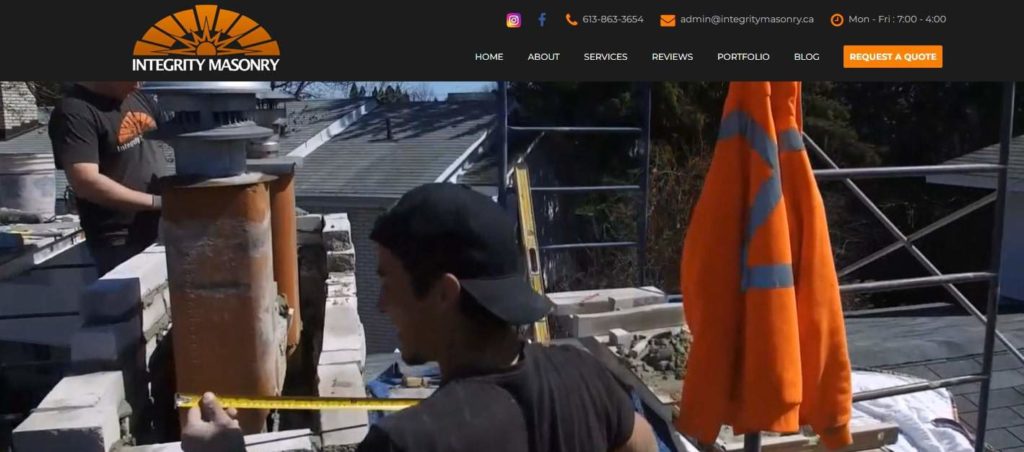 Test
Info
SERVICES
Residential Masonry, Commercial Masonry, Interior Masonry, Fireplaces, Outdoor Kitchens, Brick & Stone Veneer, Repairs & Restoration, Exterior Masonry
WEBSITE
http://www.integritymasonry.ca/
ADDRESS
1830 Walkley Rd #38, Ottawa, ON K1H 8K3, Canada
CONTACT DETAILS
613-863-3654
OPERATING HOURS
Mondays to Fridays: 7:00 AM – 4:00 PM

Closed on Weekends
| | |
| --- | --- |
| Criteria | Ratings |
| Services | ★★★★★(5/5) |
| Rates | ★★★★ (4/5) |
| Portfolio | ★★★★★(5/5) |
| Location | ★★★★ (4/5) |
Integrity Masonry is another good choice for your masonry needs. Located on Walkley road, it has been serving the Ottawa area for a long time.

Integrity Masonry is known for its award-winning services, getting an A+ grade from the Better Business Bureau. It was also given the Torch Award for Marketplace Trust because of the customer service it offers.
These awards aren't just given to any random company. They were earned by Integrity through its way of handling its clients.
The company specializes in both bricklaying and stone masonry. It has worked with numerous homeowners all over Ottawa and has virtually gotten all positive reception from them.
What we really noticed with Integrity, besides its awards, are the options it provides for masonry. It has special veneer brick and stone options that are quite unique and should give your home an interesting aesthetic.
It also works on foundations and fireplaces, having very good materials such as limestone. And as it says in its name, its number one priority is your home's integrity.
When the company does construction work, it's not just about finishing the project, it's about making sure that it lasts.
Integrity's prices do need a little work. Some of the stones it has can be expensive — which is a dealbreaker for many homeowners.
But overall, the company is a good and trustworthy choice for your masonry needs.
Award-winning services
Good portfolio
Customer Reviews
Highly recommended

"Integrity Masonry did an excellent job installing our limestone fireplace. Tessa was so professional and easy to communicate with for the quote and the installation. Her and Conner did a beautiful job installing it and left our site spotless. I would highly recommend them." – Kate Penny

Superstars

"Nick, Tessa and the whole team at Integrity Masonry are true superstars. They recut our drip edges, repointed several sections, and even reconstructed a water-damaged section of wall altogether (pictured). This section was in a very narrow 15" gap, but they ultimately devised a safe way to reach and repair it. Nick came by at the start and end of the project to ensure we knew exactly what was happening. Their professionalism, responsiveness and craftsmanship were evident and very appreciated. We recommend them highly and look forward to working with them again in future." – Derek de Jong
4. Bol-Dan Foundation & Masonry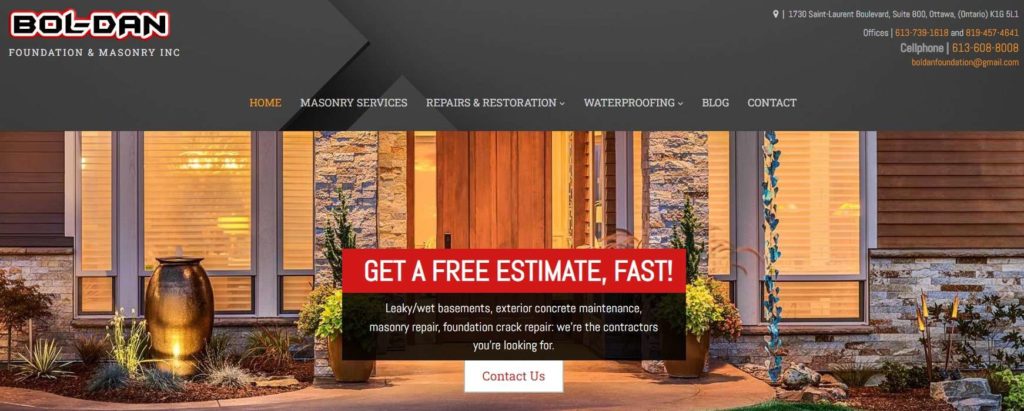 Test
Info
SERVICES
Masonry Repair, Foundation Repair, Foundation Waterproofing, Crack Injection, Windows, Group Pumping, Vacuum Excavation, Waterproofing, Humidex Installation
WEBSITE
https://www.bol-dan.ca/
ADDRESS
1730 St. Laurent Blvd Suite 800, Ottawa, ON K1G 5L1, Canada
CONTACT DETAILS
613-608-8008

613-739-1618

OPERATING HOURS
Open 24/7
| | |
| --- | --- |
| Criteria | Ratings |
| Services | ★★★★★(5/5) |
| Rates | ★★★★ (4/5) |
| Portfolio | ★★★★ (4/5) |
| Location | ★★★★★(5/5) |
Bol-Dan has been working on masonry construction since 1994. With over 25 years of experience in masonry construction, repair, and foundation integrity, it is apparent why it has lasted so long.
Regarding its process, Bol-Dan's contractors make sure that they complete each building efficiently and ensure a sturdy foundation. They do this by strengthening and waterproofing the masonry, which is a service that isn't readily available from other companies.
Bol-Dan also works on restoration projects for old masonry construction. It does this by repointing the mortar used in the bricklaying process and renewing the old structures.
From what we've seen, durability is very important to Bol-Dan's contractors. They are willing to stay a little longer just to make sure that the foundation is done properly.
For that, we give them points for good customer service.
The provider also works on uneven floors, brick cracks, leaks, and windows. Usually, you have to hire a different contractor to do this type of work, but Bol-dan has multiple services to offer.
That is another reason we think it deserves to be on this list.
The downside to its services, however, is their prices. The rates can be quite expensive, especially for new homeowners.
Good range of services
Open 24/7
Free estimates
Customer Reviews:
Quick and professional

"Had two cracks in our foundation which they fixed via injections from the inside (winter). Came very quickly to provide an estimate. Responded immediately to texts and emails.
On the day of the job, another employee came to repair the foundation, but Gaetan (the owner who did the estimate) came by to check in, which we appreciated. – James Allan
Happy with the results

"Very happy with the work that the Bol-Dan team did to fix our foundation. Fair pricing and great work. I particularly loved how much clean-up they did at the end to make my yard look good. He even came back and helped fix the pathway to the front door. I highly recommend." — Vicky Marrac
5. Ottawa Masonry & Parging Contractors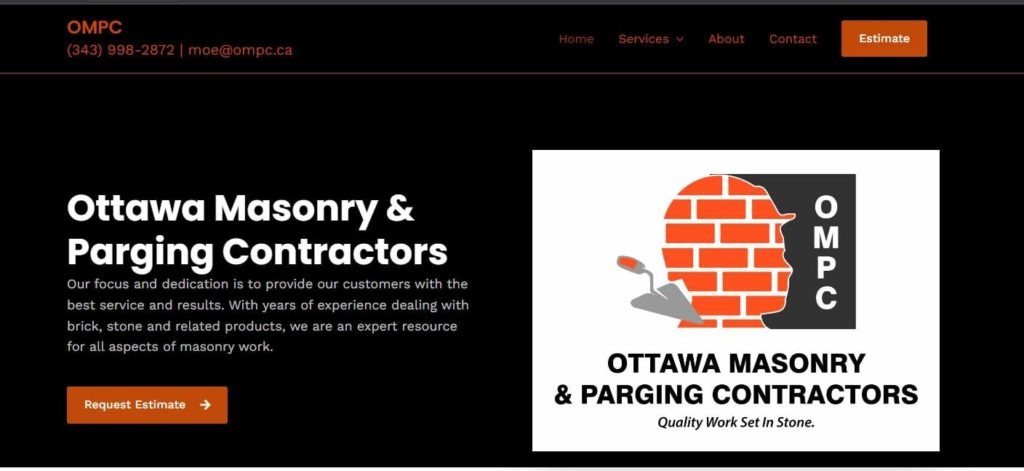 Test
Info
SERVICES
Stone Masonry, Brick Work, Parging, Chimney Repairs, Window Sills, Brick Repointing, Garage Resurfacing
WEBSITE
https://www.ompc.ca/
ADDRESS
3800 Leitrim Rd, Ottawa, ON K1G 3N4, Canada
CONTACT DETAILS
+1 343-998-2872
OPERATING HOURS
Mondays to Fridays: 7:00 AM – 5:00 PM

Saturdays: 7:00 AM - 12:30 PM

Closed on Sundays
| | |
| --- | --- |
| Criteria | Ratings |
| Services | ★★★★★(5/5) |
| Rates | ★★★★ (4/5) |
| Portfolio | ★★★★★(5/5) |
| Location | ★★★★★(5/5) |
The Ottawa Masonry & Parging Contractors or OMPC has earned a reputation for its high-tech methods and tools.
With years of experience under its belt, it's understood why OMPC has received numerous good reviews. Aside from masonry, it is also specializing in parging, which is the process of coating your home's foundation walls.
Like any masonry contractor, OMPC gives importance to the foundation. It's one of the most important details it needs to cover when it is talking to a client.
Clients usually don't know the whole process, so OMPC experts explain the details in a way that they can understand.
We really appreciate this, especially since there are new homeowners in Ottawa that need help understanding how to make their homes a good place to live in.
The company also works on masonry for chimneys and window sills and offers repointing services for mortar that needs restoration.
The choices of stones it has available for masonry work aren't that vast, but it does have the basics, such as the usual bricks we commonly see in construction.
OMPC may not have the best design options, but it has the right technology to make things easier for its employees and clients. We commend it for that.
Open even on a Saturday
Great portfolio
Informative contractors
Uses advanced technology
Hard to contact
Limited stone selection
Customer Reviews:
Fantastic results

"This company is fantastic. The owner Moe and his crew a true professionals and a pleasure to work with. They focus on good quality service and customer satisfaction. They completed parging working around the perimeter of my house and for a new basement entrance that another company botched badly. They made the area look clean and like new. Highly recommend this company. I will be definitely working with them in the future." – Fady Gayed
Very respectful crew! Good job!

"Now and his crew (Sam) are very good. I highly recommend them as they are honest and very respectful.It was such a good job that I will be asking them to do more masonry work for my house in the future" – Joey Duhaime
FAQs about Masonry Contractors in Ottawa
---
Finding yourself a good contractor, especially for the first time, is quite difficult. Our list of the best ones in the city should make it more convenient for you.
Need more help designing your home? Check out the best architects in Ottawa!