The 6 Best Shed Movers in Ottawa
Relocating your shed is not an easy task and will require complicated equipment and a professional team.
We listed down the best shed movers in Ottawa so you can find the perfect shed moving company that matches your needs.
How much do shed movers charge in Ottawa?
Hiring someone to move a medium-sized shed can cost between $200 and $500. The cost will be higher if you have a larger shed.
The table below gives a more detailed look at these prices.
| Shed Size | Estimated Cost |
| --- | --- |
| 8x8 ft | $200 - $500 |
| 8x10 ft | $500 - $800 |
| 8x12 ft | $800 - $1000 |
| 10x10 ft | $1000 - $1500 |
The Best Shed Movers in Ottawa
Our goal is to put you in touch with the best shed movers in the area. Our list of companies is based on the following criteria:
1. Summit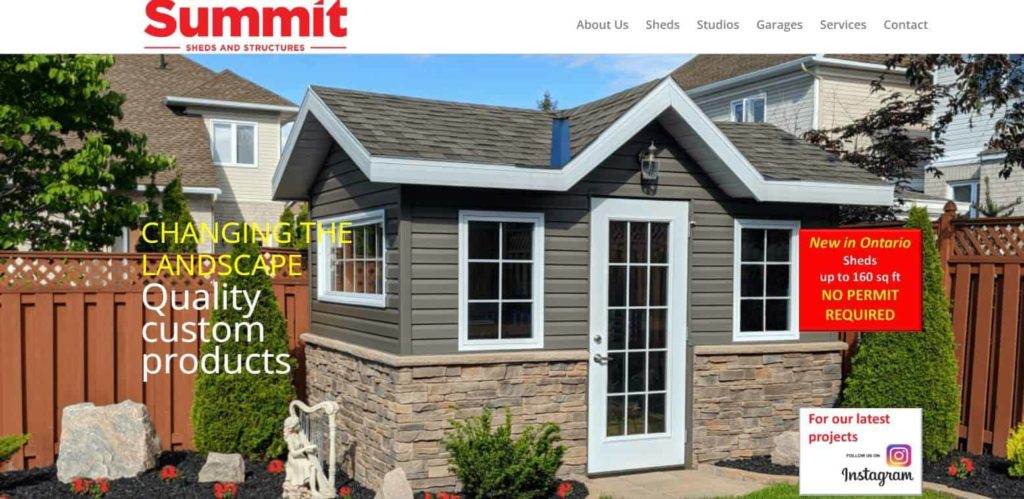 Test
Info
SERVICES
Shed Moving, Shed Building, Shed Design, Shed Repair, Shed Demolition
WEBSITE
https://summitsheds.com/
ADDRESS
Appointment only
CONTACT DETAILS
613-795-7433
OPERATING HOURS
Monday 8AM–5PM

Tuesday 8AM–5PM

Wednesday 8AM–5PM

Thursday 8AM–5PM

Friday 8AM–5PM

Saturday 9AM–5PM

Sunday 10AM–5PM
| | |
| --- | --- |
| Criteria | Ratings |
| Rates | ★★★★(4/5) |
| Booking Convenience | ★★★★(4/5) |
| Customer Support | ★★★★★(5/5) |
| Delivery Speed | ★★★★★(5/5) |
Summit is a good option not just for shed moving but also for repairs and even construction from scratch. As a company, it is able to produce permits and other documents needed for big moves that require large vehicles.
Permits can be difficult to come by. But with the Summit's help, the process becomes much faster.
We also like its strict treatment when it comes to time. Its workers arrive as scheduled and they do their best to finish the move before the day ends.
Some moves can take longer than a day but only if you are asking them to move more than a few sheds. There's also the option to have your shed cleaned up after the move to make sure that no debris and items inside are broken.
The company is also very strict when it comes to caution. Its employees undergo regular training to make sure they know the safety procedures needed when a move occurs.
Overall, the only shortcoming that this company has is the fact that it's appointment-based. You have to wait a day or two before getting your move schedule, which can be a hassle for anyone who's in a rush.
If you're fine with that and don't mind the slightly expensive service fees, this company is definitely a good choice for you.
Prioritizes caution
Assists on permits
Most moves can be done in a day
Appointment only
Pricey
No online booking
Customer Reviews
The best!
"Summits Sheds is literally the best company I have ever dealt with! They just have it all! Great ideas for design, excellent products, transparent and congenial approach, exemplary professionalism at every level, reasonable pricing, I could go on and on!! My experience with Paula, Eric, and Joe has been most enjoyable and stress-free. They will bend over backwards to realize your dream structure. This is a gem of a company, a rare find in the business world. Thank you so much everyone! So glad there are still people like you out there!!" – Lucie
Fast services
"I am extremely happy with this company and would recommend them to anyone. They are professional, responsive, knowledgeable, and do everything on time with a smile. The shed is gorgeous, it was built in one day and the crew were outstanding, they are experts who really seem to love what they do. Paula is your first and last point of contact and is fantastic to work with; she answers all questions immediately and follows through exactly as promised. You cannot go wrong with Summit." – Karina Korchinski
2. Crawford Sheds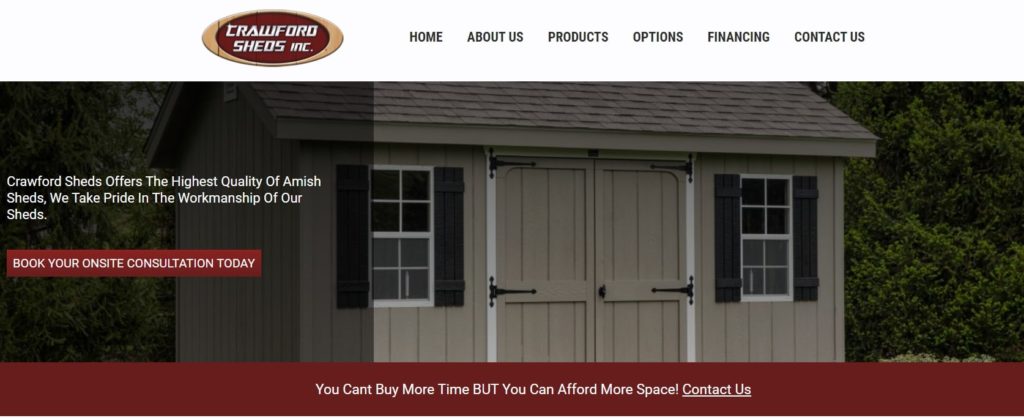 | Test | Info |
| --- | --- |
| SERVICES | Shed Moving, Shed Construction, Custom, Gazebos, Doubles, Bukies, Garages |
| WEBSITE | http://www.crawfordsheds.com/ |
| ADDRESS | 4083 Prince of Wales Dr, Ottawa, ON K2C 3H2, Canada |
| CONTACT DETAILS | 613-816-7888 |
| OPERATING HOURS | Open 24/7 |
| | |
| --- | --- |
| Criteria | Ratings |
| Rates | ★★★★★(5/5) |
| Booking Convenience | ★★★★★(5/5) |
| Customer Support | ★★★★(4/5) |
| Delivery Speed | ★★★★(4/5) |
Located in Prince of Wales Drive is Crawford Sheds, which is another great option for your shed moving needs.
One of the first things we noticed about the company is the fact that it's open 24 hours every day, allowing it to cater to customers who are only available during weekends or late at night.
Crawford Sheds also has its own financing options that are connected to Canada's well-known insurance companies.
This is good news if you don't have the budget for your shed moving needs but are already in a rush to have it done.
The company also has its own trucks for long-distance moves, although there's no clear indication of how it deals with the required paperwork. We suggest asking about this before confirming a schedule.
It's also nice that Crawford Sheds gives the option to book online instead of dialing a number and waiting for someone to answer.
Overall, the only issue we have with this company is its many clients, which can be a reason for your move schedule being delayed.
It's also worth noting that its services can be pricey, especially for long-distance moves.
With all that said, Crawford is still a solid option for your shed moving needs, so don't be afraid to consider it.
Open 24 hours
Financing options
Available for long-distance moving
Online booking available
Can be pricey
Has many clients, may be difficult to schedule an appointment
Customer Reviews
Highly recommend
"Bought a 12 x 32 shed in the fall and very pleased. Only downfall was the 3 months delivery time. Drove by their yard today and was amazed at how many sheds are now in stock and ready for sale at the end of January. There must be about 40 sheds on their expanded lot (about 3 times bigger lot than in fall). Lots of different styles that I have not seen or dreamt about. Maybe I need a second shed? – Jim Hird
Amazing
"There is no level to how amazing this company is. We ordered a custom design/build pool bar and the end result exceeded our expectations by miles. Lisa, Kathy and team were so easy to work with and extremely responsive to our wants and needs. The communication between all involved in our project was exceptional. Very friendly and very professional. If you're looking outside Crawford Sheds for your needs, you're making a big mistake." – Gerald Nelson
3. Garden Shed Ottawa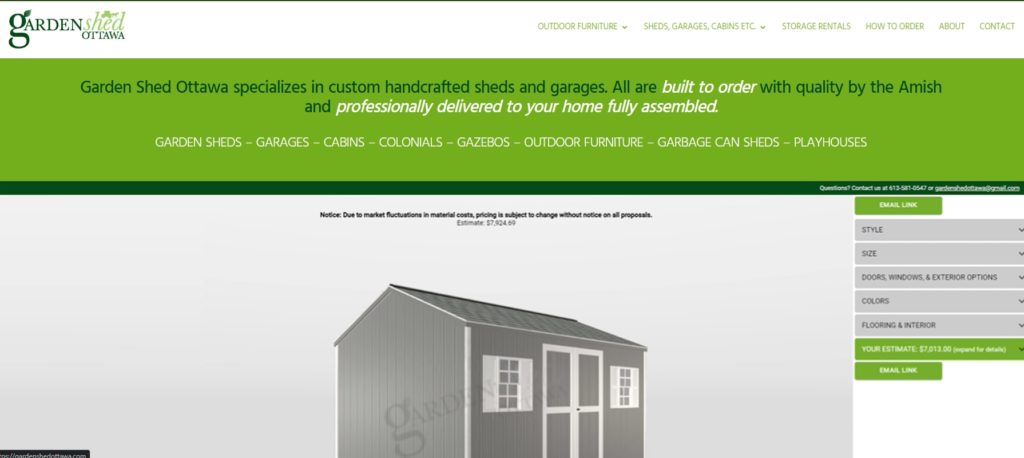 Test
Info
SERVICES
Shed Moving, Garden Shed, Shed Construction
WEBSITE
https://gardenshedottawa.com/
ADDRESS
6500 Mitch Owens Rd, Gloucester, Ottawa, ON K1X 1A9, Canada
CONTACT DETAILS
613-581-0547
OPERATING HOURS
Monday 9AM–5PM

Tuesday 9AM–5PM

Wednesday 9AM–5PM

Thursday 9AM–5PM

Friday 9AM–5PM

Saturday 9AM–5PM

Sunday Closed
| | |
| --- | --- |
| Criteria | Ratings |
| Rates | ★★★★ (4/5) |
| Booking Convenience | ★★★★(4/5) |
| Customer Support | ★★★★(4/5) |
| Delivery Speed | ★★★★★(5/5) |
One of the best things about Garden Shed Ottawa is it's able to provide services for different kinds of sheds; wood, metal, and more.
We also appreciate that it is able to do rush jobs for most of its clients. It will still depend on how many clients the company has on a particular day, but it's mostly available for moving sheds quickly.
Aside from sheds, the company is also able to work on treehouses and playhouses. This is because it has a dedicated team of professional movers that can take care of any type of shed or similar construction.
For the shed moving process, it transports the shed in its own trucks, unless the customer is only asking for a move within the parameters of their own home.
It's also great that Garden Shed has a specific service for the items inside your shed. Customers have the option to have their shed furniture nailed down or moved separately, which is very convenient.
Overall, the only issue we have with this company is the fact that its website doesn't have an online booking section. The website is also hard to navigate around its outdated design.
With that said, it's still a great option for your shed moving needs and should definitely be on your list.
Works on different sheds
Able to do rush moves
Able to move playhouses as well
Also has services for shed furniture
Pricey services
Outdated website
Hard to contact
No online booking
Customer Reviews
Great work
"I had the pleasure of renting a storage shed from Keith in between moves in Ottawa Ontario. While popping in and out as well as working on a couple woodworking projects, I couldn't help but observe the level of quality of not only of my rental, (which was by far the most Impressive storage I've ever had) but also, getting to see lots of his incredibly well made, top of the line studio, cabin, bunkies, cape cods, etc of these tasteful and well made backyard garden sheds. Most Importantly, the level of professionalism, level of commitment, from uniquely tailoring your dream garden shed or garage with their shed builder rendering software to delivery (these guys are like surgeons) This 5 Star review wasn't given, it was earned by Keith, Travis and team's locally owned and operated business!" – Mike Plume
Excellent
"Bought a new garden shed. Designed it on their great website which gives a good idea of the price for different options. Worked with Travis. Very well built, best price AND best price that I could find. The shed looks great and more like a small house than a shed. I live in Quebec, and they delivered – on time." – Barbara Olejnik
4. G B Pre-Fab Garden Sheds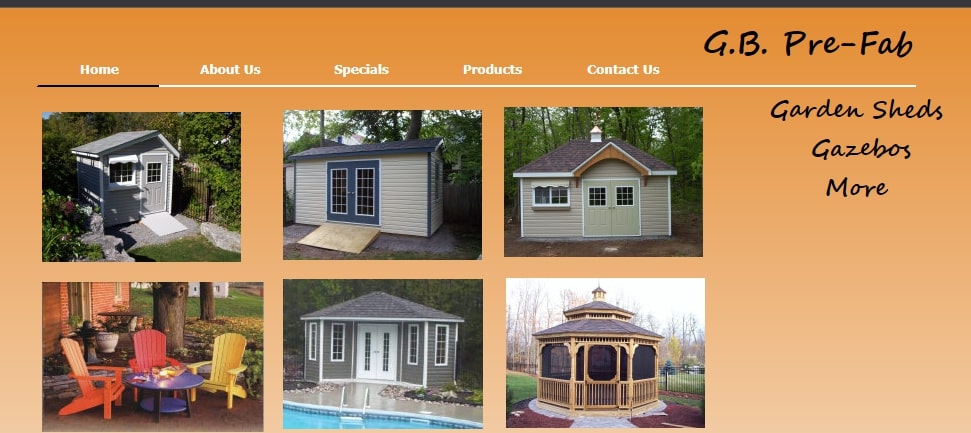 Test
Info
SERVICES
Shed Moving, Garden Shed, Shed Construction, Custom Designs
WEBSITE
http://www.gardensheds.ca/
ADDRESS
2491 Carp Rd, Carp, ON, Ottawa K0A 1L0, Canada
CONTACT DETAILS
613-831-1294
OPERATING HOURS
Monday 9AM–4PM

Tuesday 9AM–4PM

Wednesday 9AM–4PM

Thursday 9AM–4PM

Friday 9AM–3PM

Saturday Closed

Sunday Closed
| | |
| --- | --- |
| Criteria | Ratings |
| Rates | ★★★★★(5/5) |
| Booking Convenience | ★★★★(4/5) |
| Customer Support | ★★★★ (4/5) |
| Delivery Speed | ★★★★★(5/5) |
For over 25 years, G.B. Pre-Fab Garden Sheds has been serving the Ottawa area. Its team of experts is very capable when it comes to building sheds, repairing them, and of course, moving them from one place to another.
Sheds are complicated, especially if they are made of wood. Luckily, G.B. has a very specific method when it comes to wooden sheds, minimizing the risk of breaking their base.
For any problems with the move, the company is able to repair any damages while also re-designing and customizing your shed. G.B. also has its own truck services, making everything convenient for the customer.
Speaking of customer convenience, we are also happy with how G.B is able to provide specific details about the shed moving process through the phone. It's a good way to make up for the fact that it doesn't have an online booking option.
Unfortunately, despite its age, the company is still quite small and will have a hard time moving multiple sheds. Luckily, most residents have only one or two sheds at home, so it shouldn't be a big problem.
Overall, G.B Pre-Fab Garden Sheds is a great company for moving sheds and other similar services.
Active customer service
Custom designs
Fast moving services
Small business, will have a hard time with multiple sheds
Outdated website
No online booking
Customer Reviews
Nice job
"We got a nice 7×7 corner shed done within a couple of weeks and installed in one day. The carpenter that installed the shed was skillful and knowledgeable. The process and the owner were extremely efficient. There are also certain customization option offered such as moving the door the side if we so wish." – Ha Pham
Good choice
"I had GB Pre-Fab build a 16 x 21 garage on my property in Kanata. From the initial consultation right down to the final finished product – I have been nothing but impressed and delighted. I had gotten quotes from several contractors to have the same garage built and G B Pre-Fab was by far the better value and given the final product I cannot imagine that anyone else could have provided me with anything better. The crew was great, right from the pouring of the concrete to the assembly of the garage. I was able to select finishes that matched my existing home/garage quite well. I could not be happier! Quality, value and an overall excellent experience." – Derek Dedman
5. North Country Sheds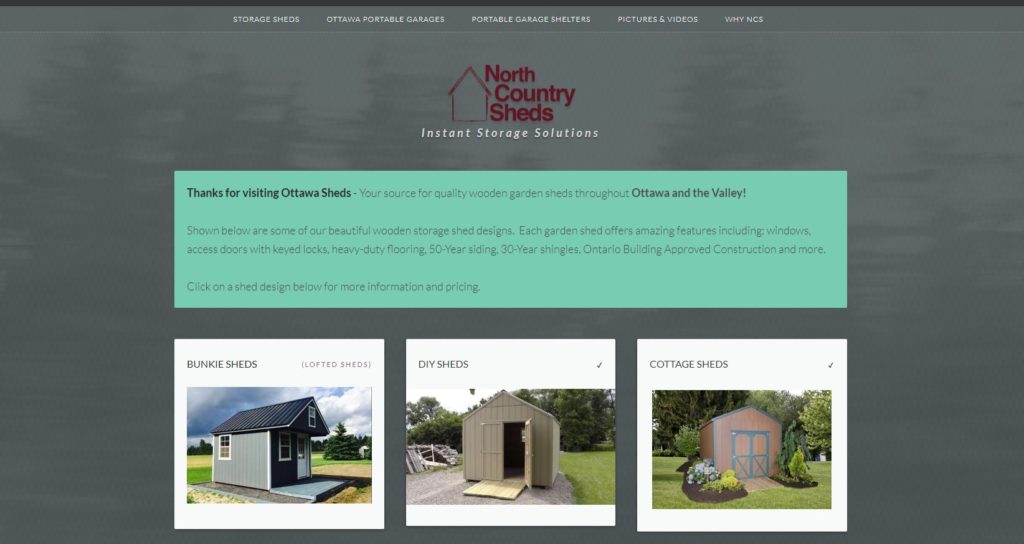 Test
Info
SERVICES
Shed Moving, 5 Sided Shed, Shed Roofing, Shed Repair, Shed Construction
WEBSITE
https://northcountrysheds.com/
ADDRESS
14 Victoria Ave, Smiths Falls, ON K7A 2P1, Canada
CONTACT DETAILS
613-489-7333
OPERATING HOURS
Monday 8:30AM–5PM

Tuesday 8:30AM–5PM

Wednesday 8:30AM–5PM

Thursday 8:30AM–5PM

Friday 8:30AM–5PM

Saturday 8AM–4PM

Sunday Closed
| | |
| --- | --- |
| Criteria | Ratings |
| Rates | ★★★★ (4/5) |
| Booking Convenience | ★★★★(4/5) |
| Customer Support | ★★★★★(5/5) |
| Delivery Speed | ★★★★ (4/5) |
Since 1998, North Country Sheds has been serving residential clients who opt to have their sheds built and repaired. The company also offers a moving service for those who want their sheds transported to a different lot or home.
It has a team of experts in engineering to make sure that every move is safe for your shed. However, if there are unavoidable damages, North Country Sheds is also a good option for shed repairs.
It specializes in wood, metal, and hard plastic sheds.
Aside from its long experience in the industry, we also like how the company offers free estimation for quotes. It's a great way to attract customers and let them know that they are in good hands.
The only real issue here is its pricey services. Potential customers who are on a strict budget may have to look elsewhere if they want to save money.
It is also worth noting that there have been reports of late transports during moving day. If you are in a rush to have your shed delivered immediately from a different location, this could be an issue.
Overall, the company is still great because of its experience and the multiple services it offers.
Repair options
Experienced movers
Free quotes
Pricey services
Late transports can sometimes happen
No online booking
Customer Reviews
You won't be disappointed
"We haven't received our garage yet, however everything leading up to this so far has been outstanding. They are so accommodating. Willing to answer all questions, explain everything in detail. Tasha was willing to send progress photos, so we can see how it's all coming along. We are so excited!! If you are thinking of dealing with North Country Sheds, do it! You won't be disappointed." – Erika Morden
Couldn't be more pleased
"Really happy with my experience purchasing a Garage from North Country Sheds. Very professional and easy to deal with. The provided drawings and plans made getting my building permit really simple. Garage was delivered yesterday, here in Haliburton Ontario. The guys delivering it were professional, friendly and efficient. I was so impressed with the care they took installing and setting it up. The build quality on the shed looks great! Couldn't be more pleased with my purchase." – Dan
6. Professional Moving Canada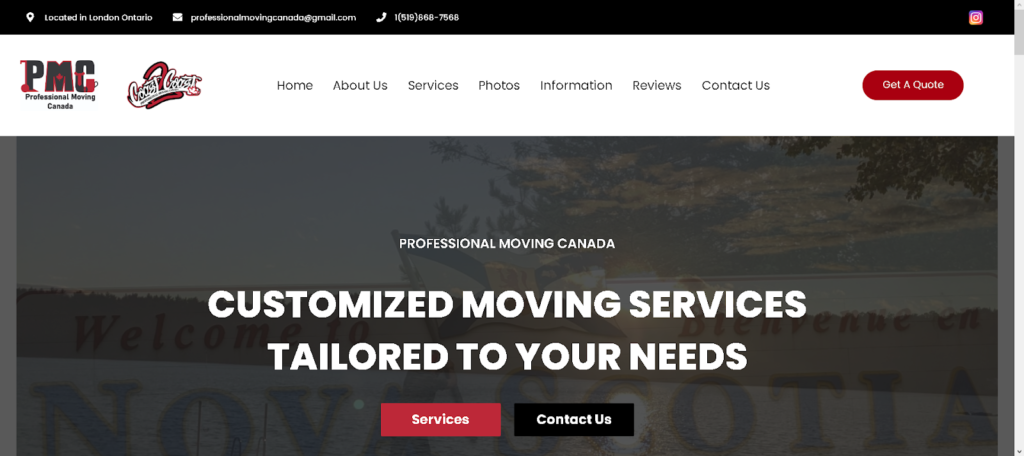 SERVICES
Local moves, long distance moving, junk removal, packing & unpacking, furniture assembly, and coast2coast moving.
WEBSITE
professionalmoving.ca
ADDRESS
CONTACT DETAILS
[email protected]
1(519)868-7568
OPERATING HOURS
Monday – Sunday, 24 hours
| | |
| --- | --- |
| Criteria | Ratings |
| Rates | ★★★★ (4/5) |
| Booking Convenience | ★★★★★(5/5) |
| Customer Support | ★★★★★(5/5) |
| Delivery Speed | ★★★★ (4/5) |
If you're looking for one of the best moving companies in Ottawa, then look no further away from Professional Moving Canada. Their business is headquartered in London, Ontario, and the surrounding areas.. Prior to satisfying your moving needs, they will always take the time to visit with you in person.
Among the services they provide, they particularly excel on their shed moving services and coast2coast long distance moving wherein they have a separate division of staff for that. Coast2Coast has over 200,000 kilometers of long-distance moving expertise and offers specialized bespoke long distance moving services across Canada. Coast2Coast was founded so that clients may feel confidence moving their prized possessions across the nation with a service that genuinely cares.
They provide free in-home estimates to ensure that they are well-prepared while also forming a friendly relationship with their clientele, ultimately resulting in confidence. Client happiness is their first priority, so that you have a positive experience with the service. Their clientele find them dependable and easy to work with because of their expertise, strength, and work ethic. Their firm is a household name to which you can confidently refer your relatives and friends.
Available seven days a week
Experienced staff
Great attention to detail
Customer Reviews
They did all the work very carefully and without damaging my items
"Nick and Matt both guys are friendly and they are so accurate that they came before time and did very well job, I will surely recommend them while moving. They did all work very carefully and without damaging my items." – Ravi Patel
Kind, polite, and accommodating to my moving
"Nick and Luke were my movers. They were very kind, polite and accommodating to my moving needs and took care of items that needed extra protection treatment when moving like mirrors, paintings, etc. I have some home decor items that had loose elements like painted clothes pegs (it was a large collage board) and they didn't lose a single item on it. The made the move easy and positive. I even asked them if they could move a heavy table that was already at my new place upstairs for me and they happily obliged. Which was good because there was no way I could move it myself. They have plenty of moving supplies in their truck as I saw to make sure that your items are protected and stable on the drive. They came on time as well. Overall great job! 😁Thanks Nick and Luke!" – Brooke Johanna
FAQs about Shed Moving
---
That concludes our list of the best shed movers in the city. We hope it was helpful to you and your family.
If you're looking for other shed-related services, check out our article on the best shed builders in Ottawa!