The 5 Best Pre-Purchase Car Inspection Services in Ottawa
When you purchase a used car, you should always make sure you're buying something worth every penny you spend. If you're not an expert, you might miss some issues that will cost you more than what you paid for.
That's why hiring a professional car inspector is important! In this review, we checked out and listed the best pre-purchase car inspection services in Ottawa to help you make the right choice.
The Cost of Hiring a Pre-Purchase Car Inspection Service in Ottawa
The pricing for car inspections can change depending on how thorough you want your inspector to be and the actual service center you're planning on hiring. Some services also charge by the hour.
The table below shows the estimated costs of pre-purchase inspection services in Ottawa:
| Services | Average cost |
| --- | --- |
| Hourly Rate | $90-$120 |
| Level of Detail | $100-$200 |
Top Pre-Purchase Car Inspectors in Ottawa
We assessed the car inspectors based on the following criteria:
1. Doug's Auto Repair

Test
Info
SERVICES
Pre-purchase car inspections, automotive repairs including battery replacement, brake repair, tire service including rotation, balancing, tire repair, and TPMS repair
WEBSITE
https://www.dougsautorepair.com/
ADDRESS
6 Bexley Pl #108, Nepean, ON K2H 8W2, Canada
CONTACT DETAILS
613-820-4810
OPERATING HOURS
Monday – Friday: 7:30 AM – 5:00 PM

Saturday & Sunday: Closed
| | |
| --- | --- |
| Rates | ★★★★★ (5/5) |
| Communicativeness | ★★★★☆ (4/5) |
| Available services | ★★★★★ (5/5) |
| Customer satisfaction | ★★★★☆ (4/5) |
We're starting this list with Doug's Auto Repair, a family-owned and operated business since its incorporation in 1988. It's been serving the communities of Nepean, ON, Ottawa, ON, Kanata, ON, and surrounding areas for many years.
Even before using the internet became a thing, it relied on word-of-mouth advertisements to grow its customer base into what it is today. Doug's Auto Repair is a staple in its community, having served generations of families to this day.
As we've said before, it's a household name at this point, so that should give you a good idea of how trusted it is. Aside from repairs and diagnostics, it also offers tires and even wheels for sale.
Doug's Auto Repair has a wide selection of tires and wheels for sale. Additionally, it even has a buyer's guide on its webpage to help you in your selection if you're only just canvassing at the moment.
Its web page also has an online diagnostic center to help you gain a better understanding of what problem your car might be having. When you've narrowed it down, you can then contact its technicians to verify the problem.
A word of caution, however, some of the past clients we interviewed expressed their dissatisfaction due to incidents of unprofessional staff and miscommunications. If that's a deal breaker for you, then you might want to check out the other services on this list.
Has been operating for decades
Serves multiple areas
Community staple
Wide selection of services & products
Offers online diagnostics
Unprofessional staff
Possible miscommunication/s
Customer Reviews
Communication was great
"I had my car serviced at Doug's for the first time this week and I was really happy with the whole experience. Communication was great. No pressure to get extra work done, just informed of the option. Prices were fair. And the car was ready when they said it would be. I used to go to another garage that was nearer my office, but with being home all the time I needed a new and closer alternative. I'm really happy to have found Doug's — highly recommended!" -William Brown
Extremely helpful and friendly
"When I was shopping for my first car, I didn't really know what to expect. I spoke to Tom and Pepper about a used car pre-purchase inspection and they gave me free advice while I was shopping before I even stepped in the shop and gave them any business. They were extremely helpful and friendly.
I ended up going forward with the safety and found them to be very thorough! They checked everything they needed for the safety and even did a generic service/maintenance per my request – but didn't charge me for it. They just let me know what they found and never tried to upsell me anything.
1. Road tested the car
2. Checked engine coolant
3. Checked brake fluids/pads/rotors
4. Checked for tire wear – advice on alignment/balance
5. Checked transmission fluid
6. Timing belt/chain
7. Spark plugs
I'd recommend this shop to anybody. Looking forward to continue doing business with them." – Brandon Tran
2. Takaki Automotive

Test
Info
SERVICES
Pre-purchase & safety inspections, maintenance, advanced diagnostics, test & repairs, tire storage
WEBSITE
http://takakiauto.com/
ADDRESS
47 Hintonburg Pl, Ottawa, ON K1Y 2H4, Canada
CONTACT DETAILS
613-728-7529
OPERATING HOURS
Monday – Friday: 7:30 AM – 5:30 PM

Saturday & Sunday: Closed
| | |
| --- | --- |
| Rates | ★★★★★ (5/5) |
| Communicativeness | ★★★★★ (5/5) |
| Available services | ★★★★☆ (4/5) |
| Customer satisfaction | ★★★★★ (5/5) |
Like the previous listing, Takaki Automotive is another family-owned business that's been running for a few decades already. It's made up of a multicultural cast of professionals who seamlessly work together to give the best service they can.
One of its core values is its care and concern for the environment. Its employees make sure to consider what methods leave the least amount of 'carbon footprints' while conducting any service.
Aside from helping the environment, Takaki Automotive's environment-friendly methods also help keep rates low, such as its use of recycled antifreeze or used oil. These fluids are collected and processed carefully before being reused.
Clients who brought vehicles in for pre-purchase and safety inspections revealed their appreciation for the team's professional quality of work for affordable rates. Especially when employees were kind enough to give money-saving advice.
Takaki Automotive also has an impressive portfolio of past work posted publicly on its official website if you're still skeptical.
Our only concern with it is that because it specializes in Japanese import vehicles, it might not be the best place for you if your car is from a different manufacturer. In these cases, a different servicer might be a much better fit.
Family business
Environmentally-conscious
Value for money
Professional staff
Primarily specializes in Japanese import vehicles
Customer Reviews
Fair price for what they did
"My daughter's car (Suzuki SX4) had a problem with CEL (ABS sensor in the wheel) and I phoned them from out of town to ask for help. Not easy to pick a garage blindly in a city where you don't even live. The service we got from Lyle and staff was outstanding. Clear, prompt and honest communication. Fair price for what they did. Worked extra on unrelated matters (fixed windshield wiper arm temporarily). Too many people get treated poorly by garages and are understandably afraid. Most of us know next to nothing about our cars and they are only getting more and more complex to fix. The garage made the effort to phone me, ask questions, listen to my comments and answer clearly. This garage seems like one of those local businesses that is trying to make a living, not make a killing. There are fewer and fewer of these left. 5 stars and my sincere thanks." – paulmszabo
Thorough, professional, and punctual
"Brought a 2005 Toyota Corolla XRS in for a pre-purchase inspection and safety. The team was thorough, professional, and punctual. They also helped be out big time when I ran into some practical roadblocks in registration due to COVID delays. Thanks again guys!" – Jamie Pudwell
3. Ottawa Easy Wheels Inc. | Orleans Mechanic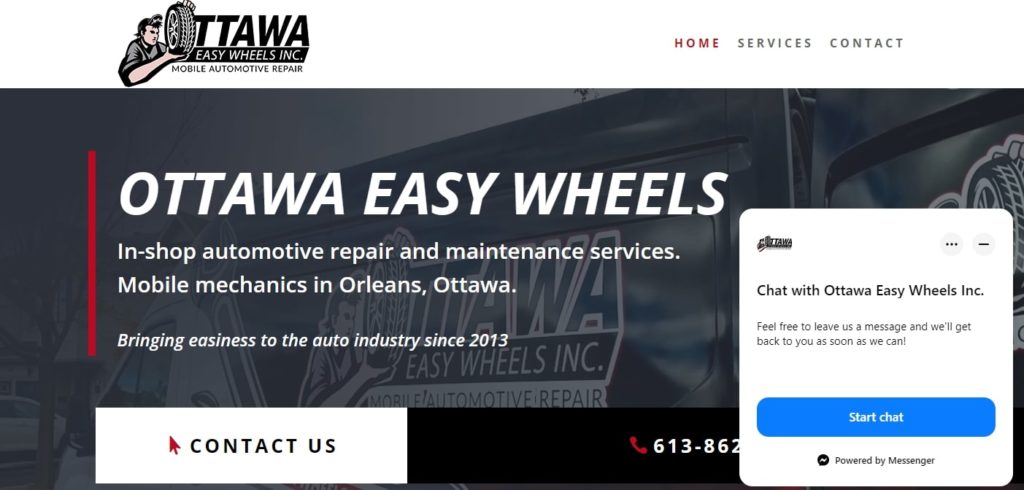 Test
Info
SERVICES
Safety inspections, seasonal inspections,  mobile auto repairs, tire installation, general & major repairs, tire sales, fleet service
WEBSITE
https://ottawaeasywheels.com/
ADDRESS
2141 St Joseph Blvd, Orléans, ON K1C 1E7, Canada
CONTACT DETAILS
613-862-0793
OPERATING HOURS
Monday – Friday: 10:00 AM – 7:00 PM

Saturday: by Appointment
| | |
| --- | --- |
| Rates | ★★★★★ (5/5) |
| Communicativeness | ★★★★☆ (4/5) |
| Available services | ★★★★★ (5/5) |
| Customer satisfaction | ★★★★★ (5/5) |
The first thing that stood out to us about Ottawa Easy Wheels is that it's a recipient of Ottawa's Best Customer Service Award 2022. It's a locally-owned mobile automotive repair service provider that's been in the business since 2013.
It offers customers a wide range of services like mobile servicing & repairs, a full-service repair facility, and even digital service inspections. This means when you get your vehicle inspected, you'll receive a detailed online report on the findings.
Based on what its past clients had to say about it, the Ottawa Easy Wheels team seems to be experts when it comes to car inspections in particular. Its former customers raved about its affordable prices and super convenient modes of payment.
Speaking of prices, we can't get over how reasonable its prices are for its services! Not only is it cheaper than going to a dealership, but it's also way easier because it's a mobile service that can travel to your driveway instead.
That means you can save yourself the trouble of not only traveling to its location but you don't have to sit down and wait while another client is being served. The time and effort you'll save from hiring Ottawa Easy Wheels are almost too good to be true.
With that said, being a mobile service also comes with a disadvantage, which is it might take a while to schedule an appointment. Since its team travels around to each client's location, the waiting list might take a while to get to you.
Ottawa's Best Customer Service Award 2022
Locally-owned
Offers digital service inspections
Thorough inspections at affordable rates
Online payments
Mobile service
Customer Reviews
Very reasonable price
"My fiancé took my Mazda to get a safety today, since the car is being sold. They were incredibly thorough and straightforward. The customer service was unmatched by any other mechanic we've used.
I ended up needing the front rotors replaced, which they did for a very reasonable price. The whole inspection and payment was done online, which was super convenient. To top it all off there was a personalized video thanking us for using their company. If you are considering getting your car serviced in orleans, this is the place to go." – Michelle Bonsall
No waiting, no shuttles, no wasted time
"What great service! Alex did a great and thorough job swapping the tires on my truck, fixing a flat on my wife's summer tire set and popping some mushroomed lug nuts out of my wrench sockets. All for great price and the convenience of mobile service in my driveway. No waiting, no shuttles, no wasted time. It's cheaper than a dealership and way easier. 30 minutes and the job was done, including a detailed inspection and advice to stay safe on the road. If you have space to store your tires at home, save your time and money, get Ottawa Easy Wheels to get the job done right and fast, right at home!" – Simon Boutin
4. Pierre's Auto Care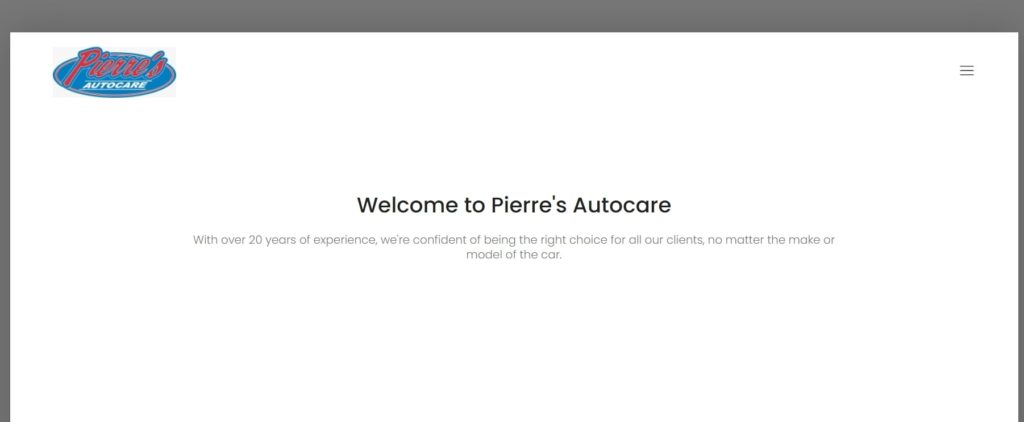 Test
Info
SERVICES
Pre-purchase & pre-trip inspections, oil changes, maintenance service, tune-up, wheel alignment, wheel balance, coolant flush
WEBSITE
http://www.mymechanic.ca/
ADDRESS
19 Caesar Ave, Nepean, ON K2G 4B2, Canada
CONTACT DETAILS
613-228-7458​
OPERATING HOURS
Monday – Friday: 8:00 AM – 6:00 PM

Saturday & Sunday: Closed
| | |
| --- | --- |
| Rates | ★★★★☆ (4/5) |
| Communicativeness | ★★★★★ (5/5) |
| Available services | ★★★★★ (5/5) |
| Customer satisfaction | ★★★★☆ (4/5) |
Pierre's Auto Care is an auto repair shop that has over 20 years of experience. Regardless of the model or manufacturer, it's confident in its own ability to be the right choice for every client.
It's not just bragging, because we almost immediately found out that, unlike some services, it's very transparent and honest with its pricing. This is such a relief because it's a nightmare to look at a bill that goes above your budget after the service is done.
Pierre's Auto Care also follows this up with its great communication with clients, going as far as explaining the problem and the repairs needed to fix it so you know exactly what's going to happen.
As for its services, it offers pre-purchase inspections and also regular safety inspections. Whether you're about to buy a used car or sell your old one, Pierre's Auto Care will gladly do a comprehensive assessment to check for any issues.
If you're about to go on a road trip, consider availing of its pre-trip inspections for a quick yet thorough safety inspection to prevent any mishaps on the road. You wouldn't want to experience having your car break down in the middle of a highway after all.
While there's nothing wrong if you're looking to get a pre-purchase inspection in a rush, Pierre's Auto Care values the time of its current clients so you might not be able to squeeze in.
Decades of experience
Transparent and honest pricing
Good communication
Offers pre-purchase and safety inspections
Can't accommodate walk-ins in a rush
Customer Reviews
Takes time to educate the customer
Pierre's Auto Care has been my mechanic for over 20 years. The service and quality are well documented in these Google reviews and should be trusted. Pierre and his staff especially Catherine will always take the time to educate the consumer on vehicle issues with a strong emphasis on driver safety. He will always let you know what must be fixed now and what can wait or is not necessary. One service that is greatly appreciated is the inspection Pierre offers on pre-owned vehicles that I am interested in buying. This gives me a confidence in buying a used car from a garage or a private sale and he has never "steered" me wrong." – Karen Jones
Honest assessments, fair prices, and quality work
"My mistrust for mechanics runs deep. I've been driving for 34 years and dealt with many shops and many mechanics. Scores of incidents have led to my wariness and because of this, anything I am able to do myself, I do. Pierre is the only mechanic I truly trust. I have been going to Pierre's since I found him ~fifteen years ago. Honest assessments, fair prices, and quality work. If you're looking for a new garage, this is the place." – Rob Smith
5. SMRO Auto Repair And Service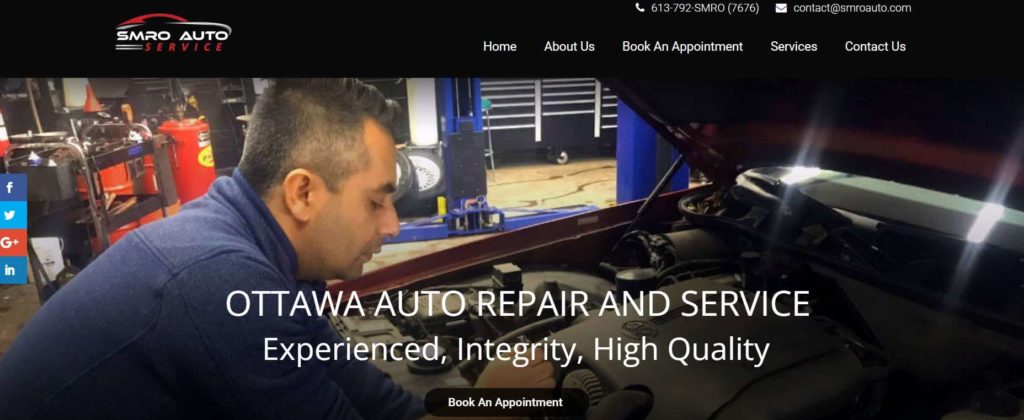 Test
Info
SERVICES
All mechanic services
WEBSITE
https://www.smroauto.com/
ADDRESS
849 Boyd Ave, Ottawa, ON K2A 2C9, Canada
CONTACT DETAILS
613-792-7676
OPERATING HOURS
Monday – Friday: 8:00 AM – 5:00 PM

Saturday & Sunday: Closed
| | |
| --- | --- |
| Rates | ★★★★★ (5/5) |
| Communicativeness | ★★★★☆ (4/5) |
| Available services | ★★★★★ (5/5) |
| Customer satisfaction | ★★★★☆ (4/5) |
SMRO Auto Service is a family business that claims to be everyone's one-stop shop because its whole team specializes in all auto service and repair needs. Whether you're bringing in a passenger car, an SUV, or even a medium-sized truck, it welcomes all.
Its same-day service is a lifesaver if anyone's having an emergency because most other auto shops don't easily accept new clients, especially if they're in a hurry. SMRO Auto Service is ready for most repairs and maintenance services ASAP.
We listened in on what some of its clients had to say and what they love about it is that it's very straightforward and doesn't sell them anything they don't need. They said the staff was very good at listening to them and their needs as customers.
In terms of available services, SMRO Auto Service has most other services beat because it pretty much offers anything and everything under the sun when it comes to service and repair needs.
What's more, it doesn't just do mediocre jobs for any of its services, going above and beyond instead. Clients raved about the team's amazing communication skills and thoroughness when they availed of a car inspection service.
Fair warning though, if you're particular about services having more than one low review despite the overwhelming amount of good reviews, then this company may not be right for you.
Offers all kinds of mechanic services
Same-day service
Services many kinds of vehicles
Straightforward & good listener
Customer Reviews
Quality work for fair prices
"I highly recommend this shop! Robin and his team provide quality work for fair prices. I had my vehicle safetied here when I first moved to the province. Robin clearly and easily explains each issue by showing you the different parts of your vehicle and why there may be a problem. I very much appreciate the time taken to show and explain each issue as it helps me to fully understand the problems with my vehicle and the importance of each part. Stephanie at the front desk is so nice and knowledgeable and I recommend setting up an appointment as the shop is very busy. Overall great all around service! I come here for all my vehicle needs." – Taylor Biccum
They are highly equipped
"My car didn't start working one day. Had it towed to this dealership that specializes in my kind of car. For over 10 weeks it stayed there. About 6 weeks were needed to order the parts and the rest was mainly to diagnose the problem of my car. Their mechanic was not able to diagnose my car problem at all. At some point, they asked for more hours to diagnose it even further – nothing happened. I had to pull it out and have it towed to SMRO because of a friend's recommendation. Dropped my car at SMRO on September 16. Robin gave me an assurance that he can fix it with his team. They have my full trust, as the recommendation came from a very reliable person in the industry. At that time he was working on cars that were there ahead of mine. Came Thursday, September 22 he called and said that my car has started and that he knew what the problems are and what caused it. I was able to get my car back last Tuesday. September 27. And by the way, the part that was ordered at the dealership was not even needed but Robin had to put it on anyway as it was already married or paired with my car-such a waste. Robin and his team at SMRO are very professional, true to their words and price wise-reasonable considering that they spent hours working on my vehicle. They are highly equipped with the knowledge and skills needed for the kind of job that they do. I highly recommend this shop." – Teezel Soringa
FAQs about Pre-Purchase Car Inspections in Ottawa
---
If you want to find more auto repair-related services, you can check out our reviews of the best auto body shops in Ottawa to learn more!