Top 5 Moving Boxes Suppliers in Ottawa
Moving is always a hectic experience with all the organizing and packing involved. But with suppliers of moving boxes in Ottawa to help out, it could become easier to manage.
We've put together a listicle of some of the top companies that offer moving boxes and other supplies and services today. There are also some FAQs at the end of this post for other moving-related concerns you might have.
How Much Do Moving Boxes Cost in Ottawa?
Companies that supply moving boxes in Ottawa have pretty similar costs because they typically follow standard measurements by cubic feet. For comparison, we've put together some of the suppliers on review and their more popular products in the table below.
MOVING BOXES COMPANY
RATES
Cassidy's Moving and Storage Ltd.
2 cu. ft. Carton – $2.05

4 cu. ft. Carton – $3.96

5 cu. ft Carton – $4.44

China Carton – $6.14

Wardrobe Carton with Hanger Bar – $15.00

Large Mirror Carton (top and bottom) – $14.24

Moving Boxes Ottawa
Archive File Box $2.29

Small Moving Boxes $1.97

Popular Moving Boxes $2.27

Wardrobe Boxes $19.99

China Boxes $7.57

Bankers Boxes (10 pack) $59.99

Boyd's Moving and Storage Ltd.
Carton 6 cu. ft. $9.96

Chandelier Bar $7.42

Carton Bicycle $41.52

Carton C08 SET $150.26

Carton C07 SET $330.00

Carton Grandfather Clock $95.58

Carton IATA $45.58

Carton Flat Screen TV 60″ x 60" $41.96

Carton Chandelier $5.54

Carton Wardrobe Mini $19.72

DYMON Storage
Dymon Box 4.0 Cube $3.48

Dymon Box Large TV Up To 55in $22.98

Dymon Box China Barrel $7.78

Dymon Box Business Records $2.98

60 Litre Heavy Duty Storage Box with Lid $24.98
Please note that some moving boxes can be bought as bundles at a discounted rate.
There are also custom-sized boxes and containers that can accommodate items and objects that are breakable or have unusual dimensions, so those could be priced differently.
The Top Moving Boxes in Ottawa
Now that you have an idea of how much moving boxes in Ottawa cost, let's take a closer look at the best suppliers in the city.
We used the following factors for our review criteria:
1. Cassidy's Moving and Storage Ltd.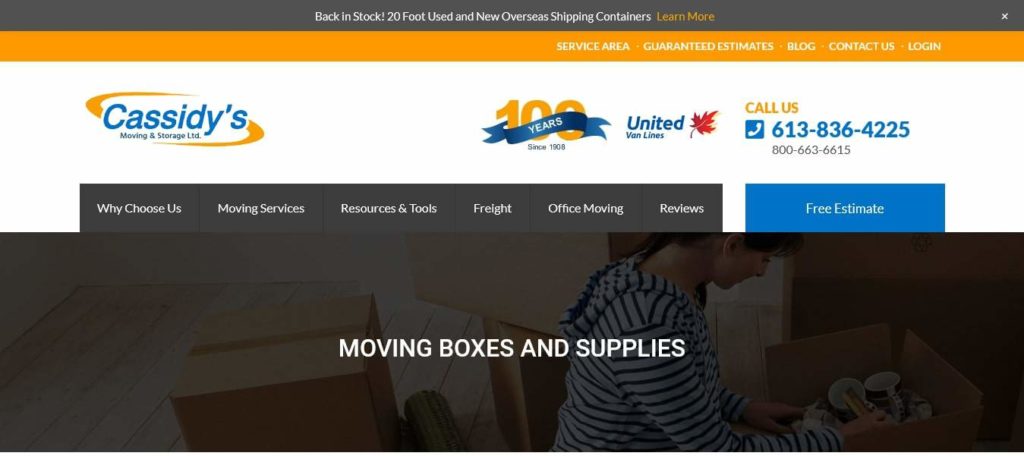 Test
Info
SERVICES
Local and long-distance moving, moving boxes, self-storage containers, used shipping containers for sale, packing services
ADDRESS
128 Willowlea Rd. Ottawa, ON K0A 1L0
CONTACT NUMBER
613-836-4225 |

[email protected]

WEBSITE
https://wemovetheworld.com/moving/ottawa-moving-boxes/
OPERATING HOURS
Monday to Friday 8 AM - 5 PM

Closed on Saturdays and Sundays
Cassidy's Moving and Storage Ltd. was founded way back in 1908 and has the Better Business Bureau accreditation to show for it. The company specializes in comprehensive residential and office moving and freight services.
It can do both local and long-distance moving, packing services, storage, and freight services for homeowners and business owners alike. There's a nifty corporate relocation moving service that enables business owners to simplify the relocation of both their office spaces and employees.
Cassidy's offers clients something called "valuation protection" which is similar to being insured. However, this only covers items the team itself has packed as self-packed boxes are beyond their control.
We appreciate Cassidy's company Environmental Policy that ensures packing materials are reused and recycled, and that its cartons and boxes are bought only within a 150-mile radius of Ottawa. Despite having cheaper prices abroad, this ensures less carbon footprint and environmental impact.
But while its moving supplies come with price tags, the other services require a customized quote because base prices aren't indicated. Still, the offer of free estimates sort of makes up for this.
Comprehensive moving services and supplies
Has an Environmental Policy within the company
Serves residential and business clients
Offers free estimates
BBB-accredited, Aᐩ rating
Open on weekdays only
No pricing guide for services
No insurance coverage for self-packed boxes
Customer Reviews
Amazing planning, concentration, calmness
"A big shout out to Sunny and his amazing team from Cassidy's Ottawa for loading up what Kevin and crew packed yesterday. Amazing planning, concentration, calmness, stamina, and leadership. Well done Cassidy's and your team!" – Michael Gagne
The movers who arrived were very friendly
"My wife and I moved from Ottawa to BC and Scott gave us timely and supportive feedback about quotes, timelines, and storage. The movers who arrived the first day were very friendly and took all of our belongings with great care. Fantastic service and very happy with our move! They made a very stressful process seem easy!" – Jordan Shipley
2. Moving Boxes Ottawa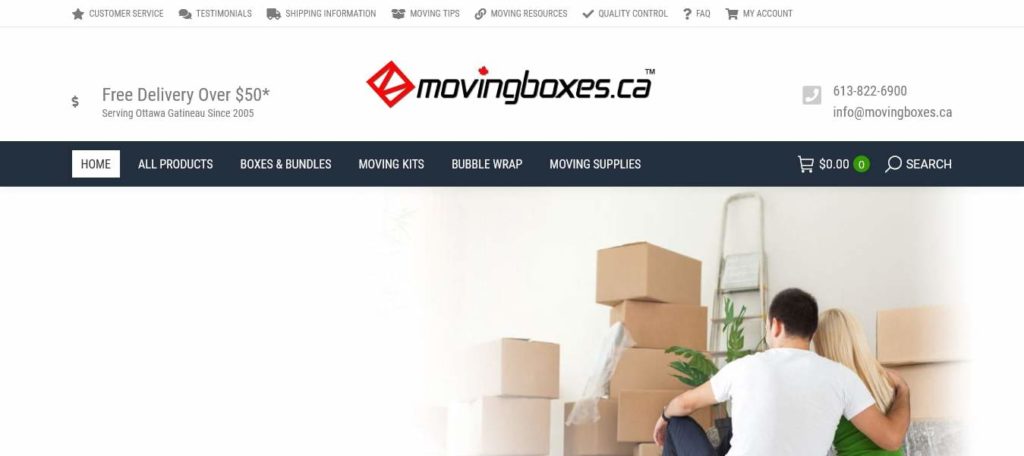 Moving Boxes Ottawa is a home-grown Canadian business that's been around since 2005. It serves the greater Ottawa area, Toronto, Montreal, and other cities and suburbs in-between.
It's a bit of a letdown that the company doesn't offer other moving-related services, but we're still glad that it supplies a pretty comprehensive range of packing and moving items.
Customers can expect same-day delivery services seven days a week between 9 AM to 9 PM, though items are still subject to availability. Some items like packing tape and certain boxes can get sold out pretty quickly.
Moving Boxes Ottawa takes care to notify customers that its peak packing and moving season is between March and September. Demands are higher during this time which could affect same-day deliveries, items on stock, and shipping.
Purchases totalling $50 (before taxes) and up come with free delivery. There's a $12 minimum delivery fee for items less than $50, but since many items are on sale in the catalogue, it's easy enough to meet the required total.
Free delivery for purchases over $50
Same-day deliveries available
Many items are on sale
Open seven days a week
Doesn't offer other moving-related services
Some items are out of stock
No BBB accreditation
Customer Reviews
Conveniently order the proper sizes
"Great experience! Needed boxes to ship a few packages and being able to conveniently order the proper sizes and have them delivered to my doorstep made things super easy!" – Mark Parent
Ordered online at 8 am Wed and the order was delivered by 11:30 am the same day!
"Thanks for making this the easiest time getting moving boxes. I still can't believe that I ordered online at 8 am Wed morning and my order was delivered by 11:30 am the same day! Great quality boxes and tape. Highly recommended! FANTASTIC service you provided! Thanks again." – Brain Wall
3. Frogbox Ottawa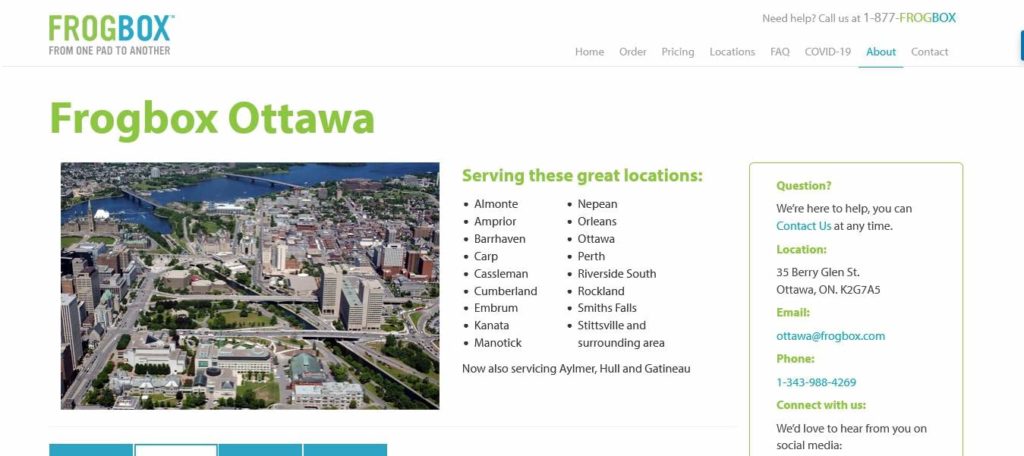 Test
Info
SERVICES
Provides eco-friendly alternatives to cardboard moving boxes, delivery to over 140 Canadian and US cities
ADDRESS
35 Berry Glen St. Ottawa, ON. K2G7A5
CONTACT NUMBER
+1 877-376-4269 |

[email protected]

WEBSITE
https://www.frogbox.com/Ottawa/
OPERATING HOURS
Monday to Friday 8 AM - 8 PM

Saturdays 9 AM - 5 PM

Closed on Sundays
Frogbox offers a unique way for people to relocate while helping to reduce waste and saving the environment in the process. It does away with cardboard boxes and packing tape and instead offers reusable plastic crates for moving and storage rentals!
Clients can sign up to have their Frogboxes delivered to their desired location. It offers free local delivery that includes one delivery and one pick-up, plus free labels.
Frogbox also carries other recyclable and biodegradable moving items like furniture covers, dollies, zip ties, and more. There's a handy price guide that helps customers determine the number and sizes of Frogboxes they'll need along with packing supplies according to the number of rooms they have.
There's also a handy video that illustrates what kind of items fit in particular Frogbox sizes. It's a practical way to store items in-between moves with standard pricing available for up to six weeks rental and an additional weekly charge for longer-term rentals.
Unfortunately, the company doesn't offer any other moving-related services aside from its reusable box rentals.
A practical and eco-friendly way to pack and store
Free local delivery
Accommodates long-term box rentals
No other moving-related services offered
Closed on Sundays
No BBB accreditation
Customer Reviews
Very communicative, helpful, and upbeat

"Pretty convenient that you deliver the boxes to where I'm moving from and pick them up from where I moved to. You also were very communicative, helpful, and upbeat. So, good job on that. " – Grant
Frogbox arrived exactly on time (minimal/no waiting around)
"The staff were fantastic – called us back immediately, promptly dropped everything off and picked it up on time! Usually, I find things with delivery times end up being a 2-hour window and you have no idea when they'll actually come – Frogbox arrived exactly when we wanted them to (minimal/no waiting around). We were also able to extend the order by 1 week, for a very minimal fee, which really helped us with the whole moving experience. Thanks!" – Elizabeth
4. Boyd Moving and Storage LTD.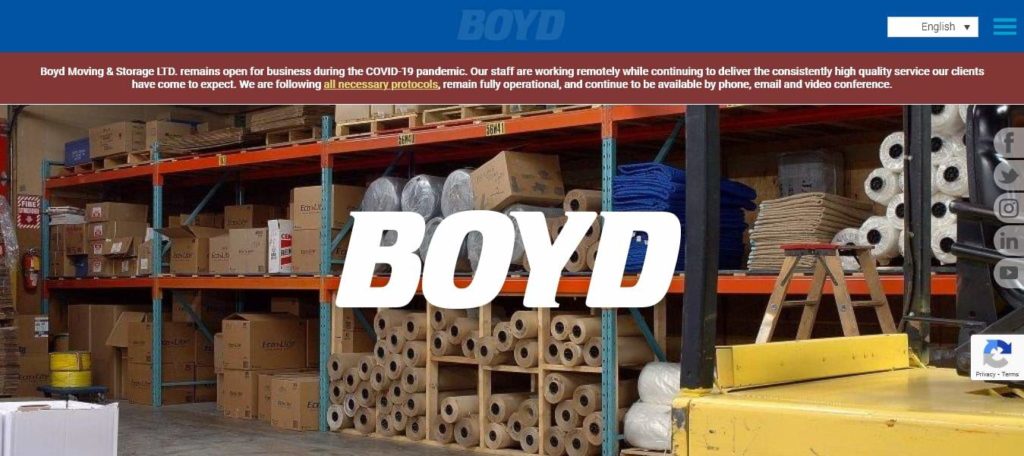 Test
Info
SERVICES
Residential and commercial moving services, long-distance moving, packing and crating, executive relocation services, vehicle storage, weighing scale, shipping containers for DIY storage
ADDRESS
1255 Humber Pl, Ottawa, ON K1B 3W2
CONTACT NUMBER
613-244-4444 |

[email protected]

WEBSITE
https://boydmoving.com/equipment-supplies/
OPERATING HOURS
Monday to Friday 8 AM - 4.30 PM

Closed on Saturdays and Sundays
Boyd Moving and Storage Ltd. is a BBB-accredited company that offers commercial and residential relocation services. It's been serving clients in the Ottawa-Gatineau area since 1947.
Some of its employees have been with the company for over two decades which is always a good thing to look for in family-owned and operated businesses. It offers bilingual services (French and English) and customer service, as well.
Its comprehensive range of moving and storage services includes DIY storage in shipping containers and even vehicle storage. The latter is available via 100,000 square feet of climate-controlled indoor space for cars and motorcycles and is available for short or long-term rates.
Aside from that, Boyd Moving and Storage also offers packing and crating solutions and moving boxes and supplies. We're glad to see that the catalogue has moving boxes to accommodate even oddly-shaped furniture and items like grandfather clocks and chandeliers.
We just wish that the other moving services also have pricing guides or calculators to estimate the rates involved.
Comprehensive moving and storage services
Free delivery to most of Ottawa
Bilingual service
BBB-accredited, Aᐩ rating
No price guide provided
Open on weekdays only
Customer Reviews
Fast, courteous, on-time
"Three separate moves with Boyd Ottawa this month. PEI, Kingston and Ottawa. Josh, Jake and Phil are on the truck and Bonnie and Darrel are on packing. I would have this team back every time. Fast, courteous, on-time and not one item damaged." – Peter
Took great care packing belongings, professional and attentive
"I just wanted to let you know that the crew was amazing! They took great care packing my belongings and were incredibly professional and attentive! They were courteous, careful, hardworking and attentive to the contents of my furniture and effects while wrapping and loading!" – Roberta Billingsley
5. DYMON Storage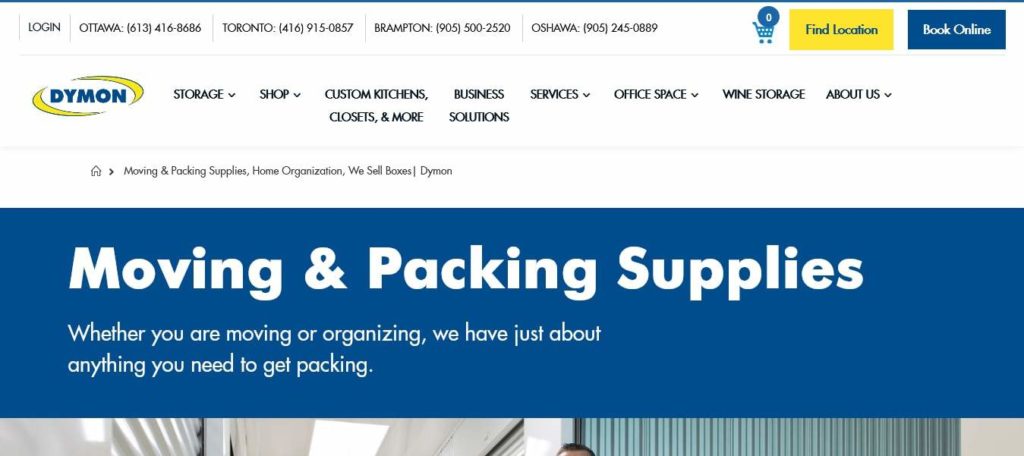 Test
Info
SERVICES
Shredding, mailboxes, safety deposit boxes, moving services, DYMON Eco-Box, boardroom rentals, document storage
ADDRESS
2 – 1830 Walkley Road Ottawa, ON K1H 8K3
CONTACT NUMBER
(613) 416-8686 |

[email protected]

WEBSITE
https://dymon.ca/moving-packing-supplies/
OPERATING HOURS
Monday to Friday 8 AM - 9 PM

Saturdays and Sundays 9 AM - 6 PM
DYMON is first and foremost a storage facility for personal and business items. It was founded in 1995 and has since evolved into providing a full range of moving services and business solutions to clients.
Its moving services include a fleet of differently-sized trucks that are fully equipped with protective runners, blankets, and other tools for a safe move. It employs actual staff members and movers, not third-party handlers so there's an element of trust with every transaction.
Its online shop carries a full range of moving boxes from ones that can hold business documents to 60-litre heavy-duty storage crates with lids. We appreciate that DYMON also offers eco-boxes that are reusable and available for either purchase or long-term rental.
The DYMON eco-boxes are also free for pick up and delivery for rentals or purchases of 25 or more units. Other supplies are also free for local delivery but only for purchases worth $75 and above.
A comprehensive range of moving and logistics services
Free local delivery for orders $75 and up
Staff are fully employed, not contractual
Open seven days a week
Free delivery of DYMON eco-boxes only for 25 units or more
Doesn't provide a price guide for storage units
No BBB accreditation
Customer Reviews
Location is clean, well-lit, and secure
"I have a storage unit with Dymon and I haven't regretted it. The location that I'm at is clean, well-lit, and secure. At times when there is no staff available, you need a passcode just to enter the facility. Then you need a passcode to get to your floor. Then obviously you need your key to access your unit. There are cameras in the hallways as well. It's nice to know that you can move some valuable stuff without having to worry too much about safety and security." – Michael S.
Will provide bungees and blankets should you need them
"The driver showed up about 15 minutes early and was super helpful. I didn't have a lot of stuff, so it went really quickly but they also provide you with bungees and blankets should you need them." – Andrea B.
FAQs About Moving Boxes in Ottawa
---
The top suppliers of moving boxes in Ottawa can help make your move a more organized and less hectic one. If you have other companies to recommend, please send us a message so we can review them.
We have other published posts that can serve as handy resources in case you're planning to move soon: