Top 8 Drywall Services in Ottawa
Been wanting to upgrade the look of your ceiling or walls? You're in luck because today we're reviewing the top drywall contractors in Ottawa and what makes them the best in the biz.
To guide you further, we're also going to provide some helpful information in our FAQs section at the end of this listicle.
How Much Does Drywall Service Cost in Ottawa?
Drywall installation in Ottawa is typically charged by the square foot (averaging around $1.50 – $3.50). However, other factors like ceiling height, type of drywall, the kind of finish it has can also affect the final cost.
You'll also have to consider the labour fee which could be anywhere between a dollar and $3 per square foot.
But on average, homeowners will spend around $1,000 to $3,000 for drywall projects and renovations. To give you an idea, here's a table with some common drywall-related residential installations along with their estimated costs.
DRYWALL INSTALLATION
ESTIMATED COST
Garage (20 by 20 feet)
$1,000 – $4,000
Master bedroom (12 by 20 feet)
$750 – $2,500
Bedroom (12 by 12 feet)
$550 – $1,800
Drywall finishing
Simple hanging (no tape, finish, or mud) $0.85 – $2 per square foot
In concealed areas or attics $1.15 – $2.15 per square foot
Medium to heavily textured walls $1.50 – $2.75 per square foot
Smooth-finished walls with satin paint $1.75 – $3.50 per square foot
Larger and more complex projects can have higher price ranges, though. Luckily, most drywall contractors give free estimates so that's the best time to get some evaluations and quotes.
The Top Drywall Companies in Ottawa
Now it's time to see what the top drywall companies in Ottawa can do for your home or workplace renovation. We came up with the following criteria for this particle listicle:
1. Ottawa Drywall Guys
SERVICES
New build homes, full residences, (houses, condos, apartments), installing drywall ceilings, drywall taping and mudding, developer services
ADDRESS
107 Country Meadow Dr, Carp, ON K0A 1L0, Canada
CONTACT NUMBER
613-889-5909


[email protected]

WEBSITE
https://www.ottawadrywallguys.com/
OPERATING HOURS
Monday to Friday 8 AM – 5 PM
Closed on Saturdays and Sundays

Ottawa Drywall Guys has been around for at least a decade and proudly serves Kanata, Stittsville, Nepean, South Keys, and surrounding areas.
Its founder Nick Saloman understands that there's no room for error when it comes to renovation projects. That's why he passes on his home-building and renovation skills to his team members to ensure that every drywall taping job meets his company's exacting standards.
Its team also does cleanups after every job. Perhaps the only thing lacking in its list of services for residential and development clients would be small repair jobs.
The company has a wide clientele that includes general contractors, builders, private homeowners, and renovation companies. There's a photo gallery of recent projects for perusal, though they could do with some captioning and more detailed information.
It promises potential clients free estimates even for large-scale projects, as well. This is the next best thing to having some base pricing information on the website (which it doesn't have).
Serves both homeowners and developers
Does post-job cleanups
Gives free quotes even for large jobs
Doesn't do small repairs
The photo gallery needs captions
Open only on weekdays
No BBB accreditation
Customer Reviews
Exemplary communication
"Quality of Work: outstanding, beyond our expectations
Communication: exemplary
Friendly and Courteous: absolutely!
Recommendation: yes, without hesitation!" – Tanya K. Williamson
The quote was prepared quickly
"I have referred the Ottawa Drywall guys to multiple clients since 2011, most recently clients looking to complete their unfinished basement. The quote was prepared quickly and work was underway the following week, they were very happy with how professional, friendly and clean the entire team was. We will continue to recommend them in the future." – Trevor Clark
2. DG Pro Drywall
SERVICES
Ceiling and custom ceiling details, unfinished basement to a new living space, family room, kitchen, entrance, washroom and bathroom renovations, create an office space, drywall repairing or replacing
ADDRESS
Serves Ottawa and nearby areas
CONTACT NUMBER
6134-06-5762


[email protected]

WEBSITE
https://www.dgprodrywall.com
OPERATING HOURS
Monday to Friday 9 AM – 5 PM
Saturdays 9 AM – 3 PM
Closed on Sundays
DG Pro Drywall is a family-owned business that's been around since 1988. It's run by owners and officers who have extensive backgrounds in welding, drywall installation, furniture making, marketing, communication, and management.
The company offers free consultations and estimates for all of its services. It can do custom work, drywall contractor projects, and renovation jobs.
For private homeowners, the company offers full-house drywall installation or a la carte services per area or room. The team can create new home office spaces, make new custom ceiling details, create a new living space from unfinished basements, and do general drywall repair or replacement.
To give potential clients an idea of the quality of its works, there's a portfolio with clear images of drywall installation projects.
And while some captions and more information would be nicer, the quality of the pictures does speak about the kind of careful, meticulous craft which the DG Pro Drywall team employs with each project.
Serves homeowners and contractors
Gives free consultations and estimates
Clear gallery images
Offers full-home and per-area drywalling
Portfolio has no photo captions/descriptions
Doesn't provide base pricing info
No BBB accreditation
Customer Reviews
Professional and punctual
"Highly recommended. Had them do the taping and sanding in my basement reno. Fantastic work. Very professional and punctual. Will 100% use them again." – Jon G.
The final cost was as expected
"We have used DG Pro Drywall on 2 occasions: drywall repair and to finish our basement. They were professional, efficient and completed the work in a timely fashion. They cleaned up after themselves and the final cost was as expected/estimated. DG Pro Drywall offers French services as well, which is great in the Ottawa area. We would not hesitate to hire them again & have been recommending them to friends & family. Thanks again!" – Veronick Hough
3. Ottawa's Best Drywall Contractors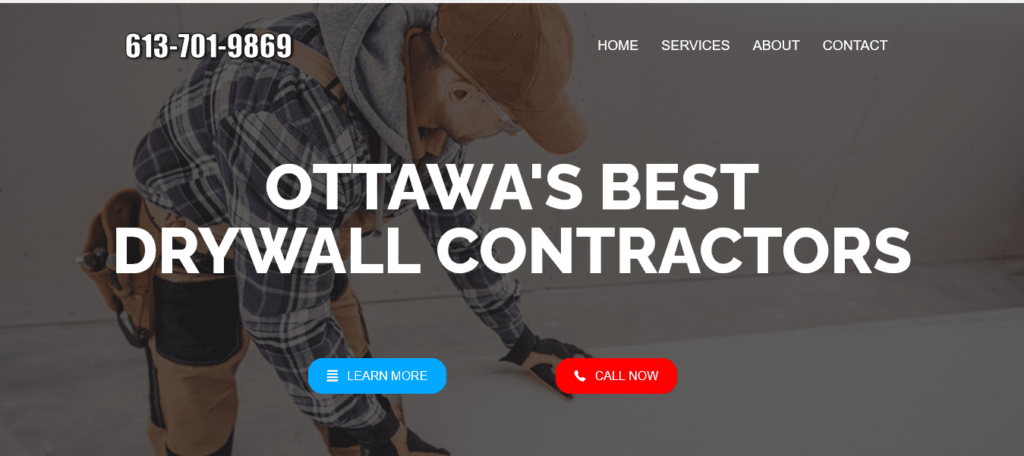 | | |
| --- | --- |
| SERVICES | Drywall installation, patch and painting, insulation, stipple/popcorn ceiling removal, commercial drywall |
| ADDRESS | Serves Ottawa clients |
| CONTACT NUMBER | 613-701-9869 |
| WEBSITE | https://ottawabestdrywallcontractor.ca/ |
| OPERATING HOURS | Open 24 hours |
It's a bit on the nose to call a company Ottawa's Best Drywall Contractors, but this one does back it up with the promise of a stress-free experience for its clients. The company also provides free quotes for its range of services, which is always a good thing.
Its clients are made up of residential and commercial owners. Aside from drywall installation, its team can do patch and painting services, insulation, removal of stipple or popcorn ceilings, and install drywall in commercial establishments and developments.
The company also does drywall repairs for homeowners and business owners. To make spaces soundproof, and flame-proof, it can also install acoustic ceilings and provide drywall fireproofing services to commercial properties.
There are no fixed operating hours, brick-and-mortar location, or information on its rates, though. We aren't sure if this is because of the bare-bones look and functionality of its website or if the company simply relies on other means of communication to provide these kinds of information.
Gives free quotes
Serves residential and commercial clients
Provides soundproofing and fire-proofing drywall services
Doesn't give any pricing information
Website look and functionality needs updating
No fixed operating hours
No BBB accreditation
Customer Reviews
Couldn't be happier with the work
"Ottawa's Best Drywall Contractors are amazing. The team helped to remove my popcorn ceiling and I couldn't be happier with their work. They were easy to book an appointment with and quick to complete the removal. I would highly recommend their services to anyone looking for an Ottawa company that they can trust." – Steve M.
Impressed with the speed, ease, and affordability of the service
"I used Ottawa's Best Drywall Contractors insulation installation service. My home was becoming more and more expensive to heat and I decided that I needed to invest in some new insulation. I was very impressed with the speed, ease, and affordability of the service that was provided and have noticed a big difference in the cost of heating my home." Sarah I.
4. Splash of Colour Painting and Design
SERVICES
Interior painting and remodelling, dust-free stipple/popcorn ceiling removal, kitchen cabinet refinishing, on-site spraying
ADDRESS
Ottawa, ON K1L 7S3
CONTACT NUMBER
+1 613-701-0606


[email protected]

WEBSITE
https://www.splashofcolourottawa.com/
OPERATING HOURS
Monday to Friday 8 AM – 7 PM
Closed on Saturdays and Sundays
Splash of Colour is a Better Business Bureau accredited painting and design company. While its focus is mainly on providing professional interior painting, it also accommodates cabinet refinishing projects and the removal and renovation of stippled ceilings.
It takes pride in its dust-free sanding technique that promises to catch 99% of ceiling and stipple dust before it even hits the ground. After carefully sanding, giving the ceiling two coats of drywall compound and a coat of primer, a thorough inspection is conducted to ensure a really smooth, stipple-free ceiling.
That's when Splash of Colour adds another layer of primer followed by two coats of premium ceiling paint. Potential clients can see the quality of the work by viewing the clear images and videos on the site's project gallery.
So for perfectly flat drywall ceilings that are finished off by professional premium paint, this might be the company you need. Otherwise, other drywall specialists are perhaps more apt for renovation jobs requiring more drywall installation by square footage.
Dust-free ceiling renovation technique
BBB-accredited, Aᐩ rating
Free estimates
Gives two coats of premium ceiling paint per job
More focused on professional paint jobs
No other drywall installation services offered
Open only on weekdays
Customer Reviews
Always punctual, paying attention to details
"Splash of Colour painters recently repainted our home. They did an excellent job, always punctual, paying attention to details, tidying up at the end of the day. They were personable and wore their masks at all times. The job was completed in the time promised. I highly recommend Splash of Colour." – Patricia Montreuil
Professional, efficient, complete satisfaction
"We had our kitchen tired, solid oak cabinets painted white during this difficult time and I must say, Krys was always professional, efficient while ensuring our complete satisfaction. Looking amazing, I now love my kitchen again. Thank you. I would recommend this company without hesitation." – Monique Blake
5. Groupe Tre-Per, Inc.
SERVICES
Residential and commercial interior and drywall services, insulation and vapour barrier, plaster, renovation, steel framing
ADDRESS
2295 Stevenage Dr. Unit 10 Ottawa, Ontario K1G 3W1
CONTACT NUMBER
613-247-0008


[email protected]

WEBSITE
https://groupetre-per.com
OPERATING HOURS
By appointment
Groupe Tre-Per provides commercial and residential clients with drywall services and interior and exterior wall insulation. Its team can install drywall efficiently on nearly all types of surfaces, including wood, steel, and concrete.
It's a relatively new company that was only established in early 2020. Jonathan Perras, one of its founders, has amassed over 15 years of experience in the industry which he shared with his partner Zacharie Trépanier.
The company can also do plaster finishing on both drywall and concrete surfaces whether it's ready-to-paint-on smooth or stippled. As well, it can do larger drywall installation for commercial properties that need to hide the ductwork from their ceiling or just want a smoother, more polished look.
This Better Business Bureau accredited company takes pride in providing full interior services that include drywall installation and vapour barrier insulation. It also offers free quotes for potential customers.
We would've liked to see their pricing information or at least their operating hours on their website, though.
Gives free quotes
Accommodates larger commercial projects
Can work on all types of surfaces
BBB-accredited, A-rating
No fixed operating hours
Doesn't give pricing information
Relatively new company
6. Renos Solutions
SERVICES
Drywall Repair Contractor
Basement Finishing
Suspended Ceiling
Drywall Framing
Drywall Taping And Mudding
WEBSITE
https://renos.solutions
CONTACT DETAILS
613-913-8471
[email protected]
OPERATING HOURS
Monday – Friday, 9:00 AM – 5 PM
Saturday, 7:00 AM – 3 PM
Renos Solutions is one of the leading drywall framing contractors in Ottawa. With over 30 years of experience, they have delivered quality and affordable works from full basement framing, drywalling & finishing, and plumbing to electrical installation.
With the promise of full transparency, no hidden costs will be done and a full consultation will be provided to explain the available options so that clients can choose the services that suit their property's needs. This is done to enforce mutual trust and not only to meet your project's needs but also to prevent potential problems in the future.
Among the services they provide, their drywall framing is particularly top-rated due to the variety of products they can offer including sheetrock hanging, fire-stopping, and ceiling tile installation for the interior and exterior walls.
We highly recommend Renos Solutions. Their reputation is built on years worth of quality sheetrock framing and suspended drywall ceiling framing. Today they are one of the most trusted companies dedicated to providing safe, reliable, and quality drywall and Drywall Framing in Ottawa.
High-quality products are used in their drywalling
Experienced and professional crew
Affordable rates
Customer Reviews
Very efficient and effective
"Jean was very helpful in our home renovations. He is very efficient and effective in delivering a quality service. He did our basement unit from start to finish. From framing, drywall, tape to carpentry and paint. All done in a good time frame. All while delivering a quality product/service. Not like many problematic contractor." – Patrick Coronel
We got the most practicality and efficiency out of our budget
"I highly recommended bringing in Jean from the beginning of your planning process for your next renovation project. The suggestions he made really built on our existing ideas and we would have never thought to configure things in that way without him. Do not underestimate the benefit of having an expertly trained eye help you plan your project. With his ideas Jean ensured we got the most practicality and efficiency out of our budget and ultimately the investment into the value of our home. Now we are enjoying the benefits of our new space for years to come!" – Alex Kennard
7. Three Steps Drywall
SERVICES
DRYWALL SERVICES: Drywall delivery/installation, three-step finish, drywall sanding, drywall repair, and prime check.
OTHER SERVICES: Stipple removal, plastering, and crown molding.
WEBSITE
https://threestepsdrywall.com/
ADDRESS
Millars Sound Way, Ottawa, ON K2J 0R5, Canada
CONTACT DETAILS
(613) 90[email protected]/ThreeStepsDrywall
OPERATING HOURS
Monday – Saturday, 7:00 AM – 8 PM
Three Steps Drywall is a family-owned drywall/taping crew with over 15 years of experience. They are perfect if you want to save money on a middleman while also getting quality work done to your house in a timely manner.
They offer several drywall services which include their well-known three-coat finish. It is said to eliminate future cracks in joints by applying Durabond90 on all gaps. Furthermore, other services are offered by their crew as well including stipple removal, plastering, and crown molding.
One of their main focuses is constant communication between client and contractor, being there with you to answer questions every step of the way. To top it all off, they also offer a 100% satisfaction guarantee where they will come back and fix any imperfections after the application of the primer, and they will only accept payments when the client is satisfied.
Valuing everyone's safety, each member is fully vaccinated and exercises COVID-19 protocols. They are also WSIB and Liability insured so they got it covered if anything happens. Try out their excellent service by clicking here.
WSIB and liability insured
100% satisfaction guarantee
Great attention to detail
Excellent customer communication
Customer Reviews
Delivered a seamless and perfect job
"These patch professionals made 75 HOLES disappear! We were a little naive about how many holes we would end up with when we decided to have our 1960s house completely rewired. Three Steps Drywall visited our house to thoroughly assess the situation in person. They counted 75 holes in our walls, said they would include all the smaller fixes around outlets and switches and emailed a quote a few days later. Drywalling is a mysterious trade and Daniel and David didn't skip any steps, delivering a seamless, perfect job. The end price was the price quoted. Trust the process and Three Steps Drywall will deliver. Highly recommend!" – Suzanne Nuttall
Looking forward to the next project with you
"We hired ThreeStepsDrywall to mud and tape for our basement renovation project. They were responsive, willing to come out and review the job, and provided a quote within the same week. The craftsmanship was excellent and the work was completed in the timeframe quoted. We will certainly be retaining ThreeStepsDrywall for our subsequent projects. Thank you again, Alex, Daniel, and Team. Superb work! Looking forward to the next project with you." – Steven Schuhmann
8. PatchBoyz
| | |
| --- | --- |
| SERVICES | Drywall repair, stipple removal, asbestos removal, and painting. |
| WEBSITE | https://www.patchboyz.ca/ |
| ADDRESS | 15-3 Hogan St.Ottawa, ON K2E 5E8Canada |
| CONTACT DETAILS | (613) 627-2592 |
| OPERATING HOURS | Monday – Saturday, 8:00 AM – 6:30 PM |
PatchBoyz was created due to the gap in the market for fixing drywalls since they are often overlooked or delayed. They promise to provide quick, efficient, and affordable drywall repair services in the areas of Ottawa and Toronto.
They have 4 main services however, they mainly focus on their drywall repair wherein they tape and apply 3 coats of mud, sand, prime, and paint in a matter of hours to improve its durability while keeping the aesthetic of the wall.
However, their other services are also continually becoming well-known since they are very common problems that we encounter including their stipple repair & removal. They exercise great attention to detail in removing and repairing stipples or what they call popcorn ceilings. Additionally, they also offer safe asbestos removal containment.
Being able to serve you in French, English, or Spanish, they have constantly proven to give great customer communication since it is one of the key factors in growing a business. Visit their website today to check out their high-quality work.
Speaks 3 languages
Simple pricing
Great attention to detail
Customer Reviews
Top notch, friendly, knowledgeable, and efficient
"After dealing with a few different quotes we ended up choosing Patchboyz and we are definitely glad we did. They accommodated our need for speedy repair due to other contractors coming to do other work, the work was done quickly and perfectly. The technician that helped us(Sean) was top notch, friendly, knowledgeable and efficient. We couldn't of asked for a better experience for our needs. I would highly recommend Patchboyz and will always use their services if we ever need any drywall work done in our home again!" – Frank Cousineau
Excellent workmanship and professionalism of a high standard
"All the repairs and finishing were done perfectly, on time and as explained. Communication was prompt and thorough, all questions clearly answered. Excellent workmanship and professionalism of a high standard. Jonathan and Phil were meticulous and attentive to detail, in addition to being personable. It was a pleasure working with them, and I had confidence in their competence. I will certainly recommend your services to others who may be in need of them. " – Lesya Lashuk
FAQs About Drywall in Ottawa
---
We hope to have given you enough resources to get the services of the top drywall services in Ottawa whenever you need them.
If you have other drywall experts to recommend, we'd love to hear all about them!
And if you need reliable contractors and professionals for your other home renovation needs, may we recommend the following published listicles?