5 Best Contractors in Ottawa
Isn't it about time your dwelling gets renovated or remodelled into your dream home? If so, you'll likely need the services of some of the best contractors in Ottawa to get things underway.
Unless you have ample construction supervision experience and knowledge, it's wiser to hire the services of professionals. They can see that the construction work goes within budget and according to plan so you won't have to worry about anything.
How Much Do Contractors in Ottawa Charge?
Regardless of the remodelling or renovation work you have in mind, a general contractor will expect to be paid a professional fee of 10% to 20% of the total project cost. The final price will rely a lot on the scope and complexity of your home or commercial job contract.
It's not as simple as picking out a service like remodelling your kitchen or getting your deck stained, either. Costs will add up because they'll want you to be as specific as possible with design, materials, finishes, additional features, and other details to ensure the process goes without a hitch.
A general contractor usually lumps all the services, subcontractors, and materials under one packaged price. But to keep tabs on expenses, you can always ask for a regular breakdown to determine which costs how much.
Here's a table of some popular services they offer to give you a general idea of current contractor rates in Ottawa. The prices beside them are average project costs or percentages.
| | |
| --- | --- |
| CONTRACTOR SERVICES | ESTIMATED COSTS |
| General contractor fee | 10% to 20% of total project cost |
| Bathroom remodelling | $10000 up (depending on the quality of fixtures or if total replacement) |
| Kitchen remodelling | $20000 up (depending on the quality of fixtures or if total replacement) |
| Drywall installation | $1500 up (depending on measurements) |
| Brick or stone wall construction | $4000 up |
| Garage building | $25000 up |
| Fence installation | $3000 up |
| Patio construction | $2000 up (depending on materials and dimensions) |
Note that these prices don't reflect additional costs like if you choose low, medium, or high-quality fixtures or finishes. The best practice is to ask for an estimate from your contractor.
The Best Contractors in Ottawa
Once you've made up your mind about the renovation or remodelling work for your home, it's time to get the services of only the best contractors in Ottawa.
1. OakWood Designers and Builders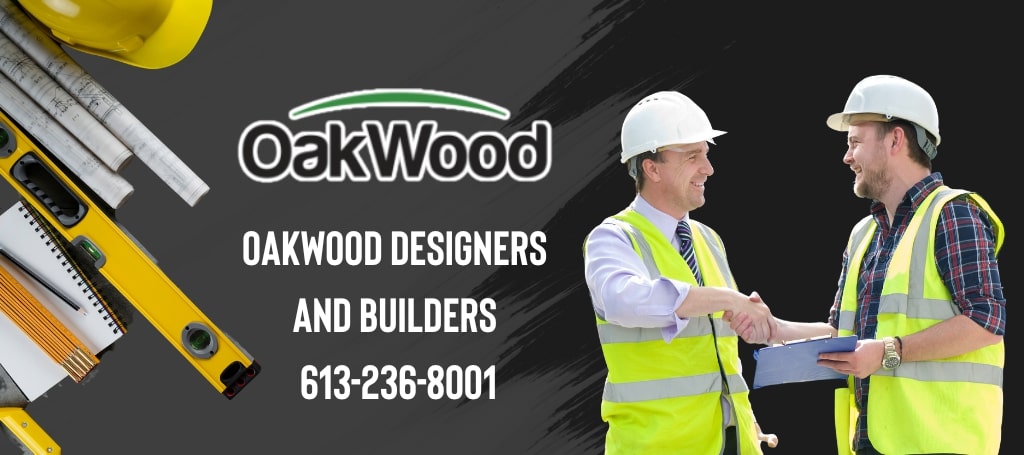 SERVICES
Architectural and concept design, renovations, custom homes, commercial services, investment properties, contractors, home fix-it projects, damage restoration, demolition services
ADDRESS
865 Taylor Creek Drive Ottawa, ON K4A 0Z9
CONTACT NUMBER
+1 613-236-8001


[email protected]

WEBSITE
https://www.oakwood.ca/
OPERATING HOURS
Monday to Thursday 7.30 AM – 5 PM
Fridays 7.30 AM – 4 PM
Saturdays 9 AM – 4 PM
Closed on Sundays
The family-owned OakWood Designer and Builders firm was founded in 1956. Since then, it's expanded its services to accommodate a Design Centre showcasing the company's most innovative architectural projects.
It takes pride in paying full attention to detail even in general contractor matters. OakWood claims there's no jack-of-all-trades team member and only experienced specialists like interior designers, project consultants, architectural technologists, and project managers are hired.
If you're worried about the construction process, the company gives the reassurance that all clients are aware of the full production timeline via a 24/7 VIP client portal. Pricing is also given as a final fixed price with no extras tacked on.
This thoughtful service-oriented vision mission has earned OakWood dozens of awards in the past decade alone. It's a company that truly aims to have everything building and renovation-related under one roof for its clients.
Wide range of residential and commercial contractor services
Houzz Best Design and Best Service awardee
Has its own design centre for innovative architectural projects
Shorter operating hours on Saturdays
No BBB accreditation
Customer Reviews
Read the following detailed customer feedback for OakWood Designers and Builders:
"My husband and I met with Oakwood's President/CEO, John Liptak, to explore the possibility of acquiring Oakwood's services to build our new home. Not only is John friendly and professional, but he is extremely knowledgeable in every step and detail required to build a high-quality custom home. He gave us a tour of the facility and introduced us to team members. His confidence in the quality of Oakwood homes and his team is evident and his honesty about pricing and add-ons was also much appreciated." – Carolyn B.
"Went into Oakwood to get information on a future new build. Was very impressed with everything they had to offer. The owner was very nice, gave us a tour and answered all of our questions. Definitely recommend them to anyone who is looking to build or renovate!" – Sarah W.
2. Murdock Construction, Inc.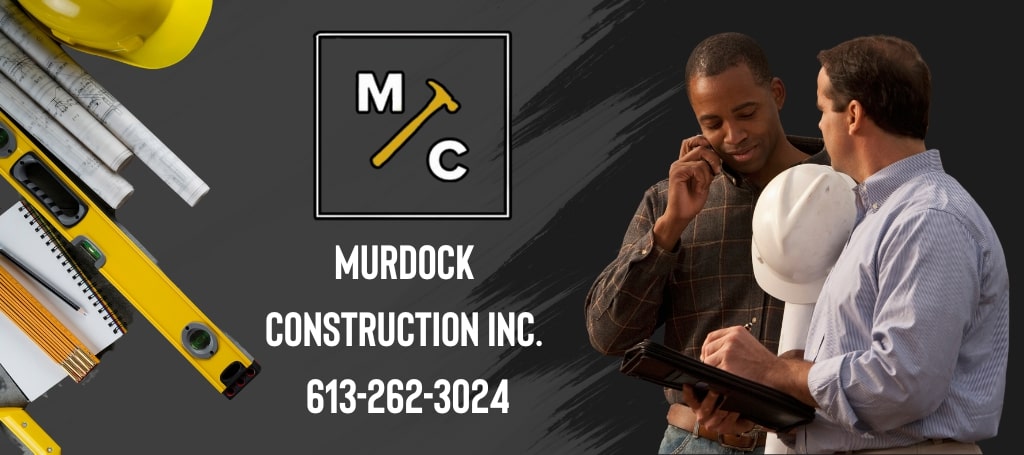 SERVICES
Barn design & construction, basement remodelling, bathroom remodelling, custom homes, garage building, general contracting, green building, guesthouse design & construction, home additions, home extensions, home remodelling, home restoration, kitchen remodelling, new home construction, porch design & construction, shower installation, tile installation, trim work, workshop design & construction, custom cabinets
ADDRESS
Ottawa, ON, Canada K1L 7E8
CONTACT NUMBER

[email protected]


+1 613-262-3024
WEBSITE
https://murdockconstruct.com/
OPERATING HOURS
Monday to Friday 8 AM – 5 PM
Closed on Saturdays and Sundays
Murdock Construction, Inc. is made up of a husband and wife renovation specialist team. Together, they handle all the processes involved in a construction project from design consultation to ensuring a clean building process throughout.
The small company does everything renovation-related. It specializes in kitchen and bathroom remodelling and renovation, as well as constructing additional buildings or fixtures like garages and new wings.
What makes the company stand out is its attention to using only hypoallergenic, kid and pet-safe processes and materials. For instance, the crew uses an Air Scrubber to clear the air of dust and debris during construction.
To put clients' minds at ease, Murdock Construction has a $2 million liability insurance for each project its team undertakes. All the tools used during construction are carefully inspected to make sure they're safe and in great working condition, as well.
Full contractor services and renovation needs
Comes with a $2 million liability insurance for each project
Hands-on service and attention to detail
Closed on weekends
No BBB accreditation
Customer Reviews
Read what the following Murdock Construction clients have to say about its services:
"We contracted Thomas to design and build a detached garage for us in 2019. Thomas and his crew did an amazing job of pricing out the project, communicating timelines, and managing the entire build. We are thrilled with the outcome and would highly recommend working with Thomas." – Alex Macdonnell
"We hired Murdock Construction to renovate our basement, laundry room and bathroom. Thomas was very easy to work with, he understood what we were looking for style-wise, and he and his crew were very hardworking. We plan on using Thomas and Josiah again in the future when we decide to tackle the rest of our house!" – Jessica F.
3. Cutting Edge Construction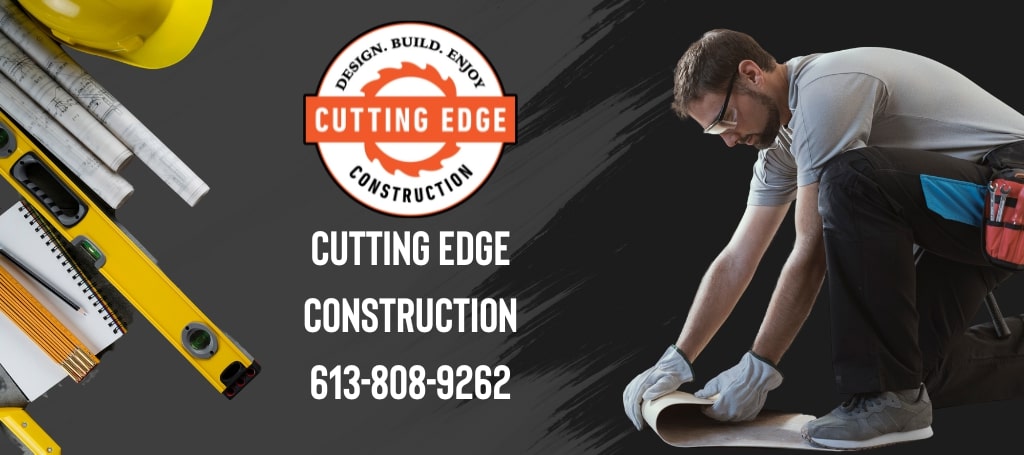 SERVICES
Accessory dwelling units (ADUs), baseboard installation, basement remodelling, bathroom remodelling, crown moulding installation, custom home bars, deck building, energy-efficient homes, garage building, general contracting, home additions, home extensions, home remodelling, home restoration, house framing, kitchen remodelling, multigenerational homes, new home construction, pool house design & construction, porch design & construction, project management, stair installation, custom homes, remodelling, additions
ADDRESS
Ottawa, Ontario K1V 7S8
CONTACT NUMBER

[email protected]


613-808-9262
WEBSITE
https://cuttingedgeconstruction.ca/en
OPERATING HOURS
By appointment only
There's a full range of contractor services at Cutting Edge Construction. The team can do everything from a simple baseboard installation to constructing an entire multigenerational home within a specified time frame.
Building custom homes is a specialty of the company. The (mostly) in-house team designs and does the construction work from scratch or with the client's vision as a reference.
It boasts of using only eco-friendly materials and employing trustworthy subcontractors along with its in-house carpenters for each construction job. Cutting Edge Construction has a strong portfolio of works from simple wing additions to luxury bathroom and kitchen remodels.
The company currently doesn't have a working website so its social media accounts have become more reliable references. Cutting Edge Construction doesn't appear to have fixed operating hours, either, so online or phone consultations are recommended.
Full range of contractor services
Bilingual staff
The new website still under construction (pun unintended)
No fixed operating hours
Customer Reviews
Want Cutting Edge Construction to build your dream home? See how its services fare according to these reviews:
"We hired Cutting Edge to renovate our main bathroom, during Covid. With work and school happening at home, in the middle of winter, I was worried about adding construction to the mix. Laurent was happy to work with an architect. He listened to our concerns, accommodated our schedule and kept us safe and informed. The crew and the tradesmen were punctual, efficient and always polite. My 100+-year-old house provided some unexpected challenges, but C.E.C. assessed each problem carefully and helped us solve some plumbing and electrical problems that we had been dealing with for years. Our new bathroom is gorgeous! And, I know that everything, down to the studs, has been done right! I enthusiastically recommend Cutting Edge Construction." – Clarice Kramer
"Cutting Edge Construction remodelled my entire basement in 2018 and I had them back to do hardwood this year. They are very good to work with. They kept things simple for me and are always upfront with costs and suggestions that came up. I would recommend them for any job, big or small." – Greg Yandt
4. Slate Interlock and Design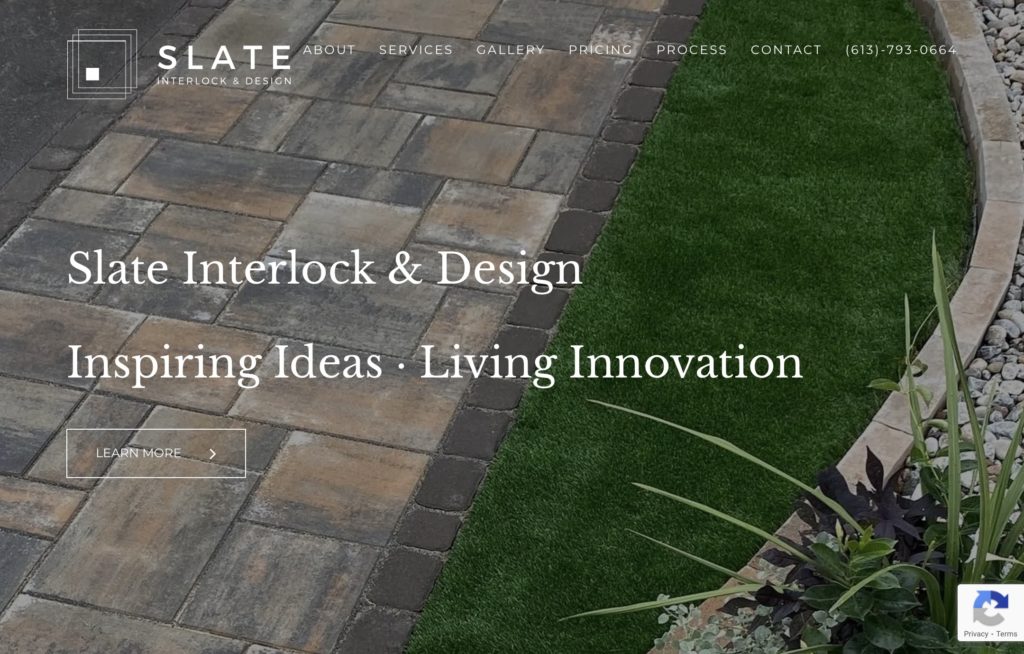 | | |
| --- | --- |
| SERVICES | Walkways, Drive Extension, Patio, and Retaining Walls |
| ADDRESS | Canada |
| CONTACT NUMBER | +(613)-793-0664 |
| WEBSITE | https://slateinterlock.ca/ |
| OPERATING HOURS | By appointment basis only |
At Slate Interlock & Design, our experience with this contractor has been nothing short of exceptional.
From the moment we engaged in their services, we were met with professionalism and a commitment to excellence that left an indelible impression.
When it comes to services, Slate Interlock & Design shines brightly. Our project, a complex interlocking stone driveway, was executed flawlessly.
The precision and craftsmanship displayed were truly remarkable. Their attention to detail is not just commendable; it's exemplary.
Convenience is often elusive in the world of contractors, but Slate Interlock & Design defies the norm.
Our project was completed ahead of schedule, a rarity in the construction industry. Their team's efficiency and dedication to meeting deadlines are qualities we greatly appreciated.
Reputation matters, and Slate Interlock & Design boasts an impeccable one.
Our decision to choose them was influenced by their sterling track record, and they didn't disappoint. Their consistent delivery of top-tier service aligns perfectly with their stellar reputation.
Cost is a crucial factor in any project, and Slate Interlock & Design offers tremendous value.
Our initial quote was transparent and competitive. Throughout the project, there were no hidden costs or surprises. We felt that every dollar spent was an investment in quality.
Sadly, they don't offer promos yet. We suggest checking their website for other affordable deals.
Expert craftsmanship
Punctual project completion
Stellar reputation
Competitive pricing
The new website still under construction (pun unintended)
No fixed operating hours
Customer Reviews
"Slate Interlock & Design turned our backyard dream into a reality. Impeccable work, on time, and on budget!"
"Choosing Slate Interlock & Design was the best decision we made for our home renovation. Their reputation is well-deserved, and the results speak for themselves."
5. HomeNplus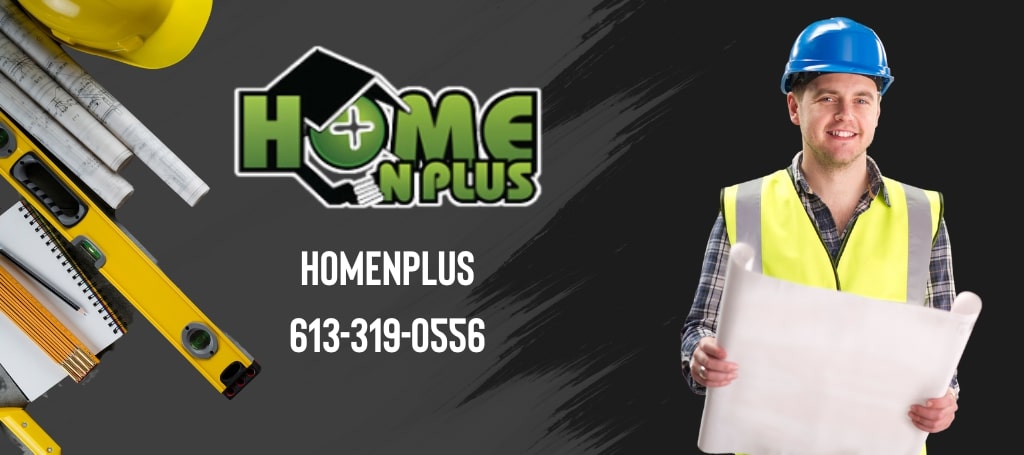 SERVICES
General contractors, landscaping, snow removal, renovations for home, kitchen, bathroom, basement, flooring, exterior work on interlock, asphalt, excavation
ADDRESS
Ottawa, ON K1C 4Y5
CONTACT NUMBER
1-613-319-0556


[email protected]

WEBSITE
http://www.homenplus.com/
OPERATING HOURS
Monday to Friday 8 AM – 5 PM
Saturdays 9 AM – 12 noon
Closed on Sundays
HomeNplus has been around for at least 20 years to provide general contractor services and most renovation needs. It also adds landscaping and snow removal — not your typical contractor services — to its menu.
This all-season BBB-accredited company takes pride in its professional standards of constantly communicating with clients and adhering to the agreed-on construction schedules. All services are properly insured, licensed, and bonded to protect both the clients and workers.
The company's portfolios showcase imaginative projects for just about every aspect of a home. Even full home renovations are served up along with roofing, landscaping, masonry work, and upgrades for windows and doors.
From standard kitchen or bathroom remodelling to full basement renovations, HomeNplus promises to do the job efficiently, cleanly, and always with the client's vision in mind. It aims to be a one-stop shop for everything home renovation-related.
BBB A+ Accredited Member
One-stop shop for all renovation-related jobs
Shortened hours on Saturdays
Closed on Sundays
Customer Reviews
See how past clients liked the projects HomeNplus did for them:
"I cannot say enough about the incredible deck that the Home Nplus team built for me! Working with Kenny was great, you can tell the level of care he puts into what he does and his skills in delivering modern, beautiful style. The carpentry team led by Kyle displayed incredible workmanship and the ability to generate ideas when changes to the plans occurred. My deck is gorgeous and is beyond what I could've imagined. Extra care was put into final finishes, my yard was left in better condition than it was. I would recommend these guys in a heartbeat!" – Stephanie F.
"I would like to tell you that this company is great. The work was done quickly and professionally. We saw one of our neighbours using Home NPlus Contracting for their backyard and they did an excellent job so we hired them to do interlock work. I would highly recommend this company for interlock or backyard contracting. High quality and excellence." – Mark L.
FAQs About Contractors in Ottawa
---
After reading about the best contractors in Ottawa, we hope you'll soon have your dream kitchen, bathroom, or even entire home come to life.
Do tell us if you think we've left out a contractor company you think needs to be reviewed, as well.
If you need more references, we've also listed and reviewed the best general contractor firms in Ottawa for you.