Top 7 Custom Decks in Ottawa
In this listicle, we'll discuss the makers of top custom decks in Ottawa and its surrounding areas. We selected the companies that have reasonable rates, impressive portfolios, fast turnaround times, and warranties that ensure a high quality of work.
But before we get down to the nitty-gritty, it's important to know how much deck-related services will cost so you can prepare for them.
Are Customized Decks in Ottawa Expensive?
There are three common types of deck materials you can base a project's average cost on. Though there are other materials offered by different deck builders, we'll focus on PVC, wood, and composite wood decks today.
We made a table below to show the price difference per square foot of each material. A quick look shows how PVC is the costliest material per square foot, followed by composite wood.
PVC is the most weather-resistant and the easiest to maintain among the three materials. It can also be made to look like wood without requiring regular staining or repainting.
The most affordable material is wood which comes in a wide variety of choices. Wood does require more upkeep so you may want to consider that in the long run.
| | |
| --- | --- |
| CUSTOMIZED DECK TYPE/SERVICE | ESTIMATED COST |
| Composite wood | $40 – $85 per square foot |
| PVC decking | $60 – $90 per square foot |
| Wood | $30 – $50 per square foot |
| Labour | $7 – $8 per square foot |
| Initial assessment | Usually free |
These average prices and fees are derived from the deck-building companies we're reviewing today. Note that additional fees and taxes aren't included yet.
The Top Custom Decks in Ottawa
Now that you have a general idea of the costs, it's time to get to know the builders of top customized decks in Ottawa.
1. Best At Home Construction Design-Build-Maintain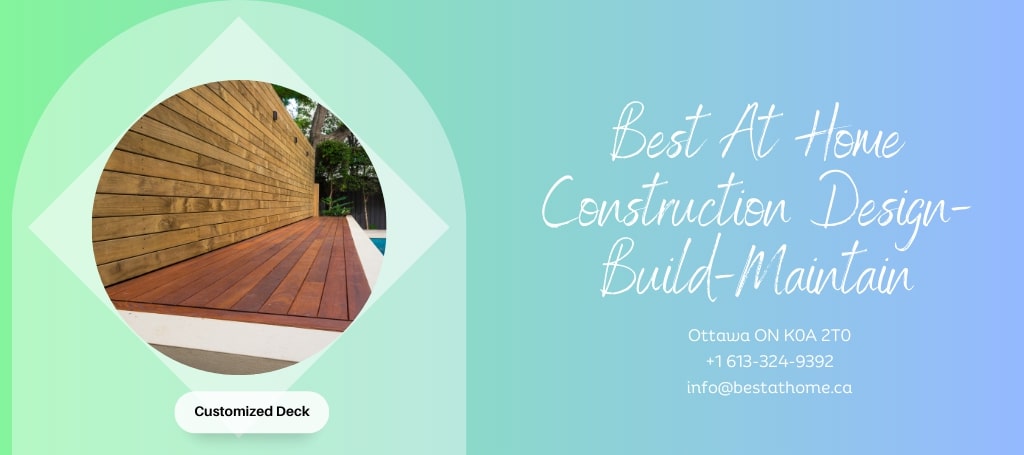 SERVICES
Commercial and residential renovations, deck and fencing, demolition work, concrete work, electrical, floor refinishing, insulation, tiling, shed construction, free estimates
ADDRESS
Ottawa ON K0A 2T0
CONTACT NUMBER
+1 613-324-9392


[email protected]

WEBSITE
https://www.facebook.com/bestathome.ca/
OPERATING HOURS
By appointment only
Best at Home Construction has been around for 30 years now. As its "real" name implies, the company offers services aiming to design, build, and maintain both residential or commercial properties.
While there's a range of general contractor services on its menu, the company also specializes in customized decks. Its proprietor Ralph Burwash takes pride in his team's wide knowledge of decking materials, design, construction, and maintenance.
There's no official website but potential customers can still go to Best at Home Construction's social media pages like Facebook and Instagram to look up its portfolio of works. There are clear pictures showing different projects and materials from the work-in-progress stages up to the final outcome.
Ralph Burwash offers free estimates to clients. You can call or email Best at Home Construction, or send a private message via its Facebook page.
Good range of general contractor services
Free estimates
Does both commercial and residential services
No official website
No fixed operating hours
No discernible warranties
Customer Reviews
Find out how past clients liked Best at Home Construction's services:
"Best at Home built a new deck for us. Ralph's visit to our home, subsequent quotes and construction were done in a timely manner. Ralph and his team did an exceptional job, meeting our design needs including creating a custom cedar grate for our window well. They were punctual, reliable, professional and were attentive to details." – Raj, Ottawa
"Ralph and his team and Best at home provide renovation at our lake house. Ralph was able to coordinate with the designer teams on architectural changes to the lake house in keeping with our objectives. The team "saw the vision" and was able to reduce time delays and costs by understanding the design elements and adding valuable feedback to the design team." – Richard, Ottawa
2. Ottawa Pro Landscape Design and Construction Ltd.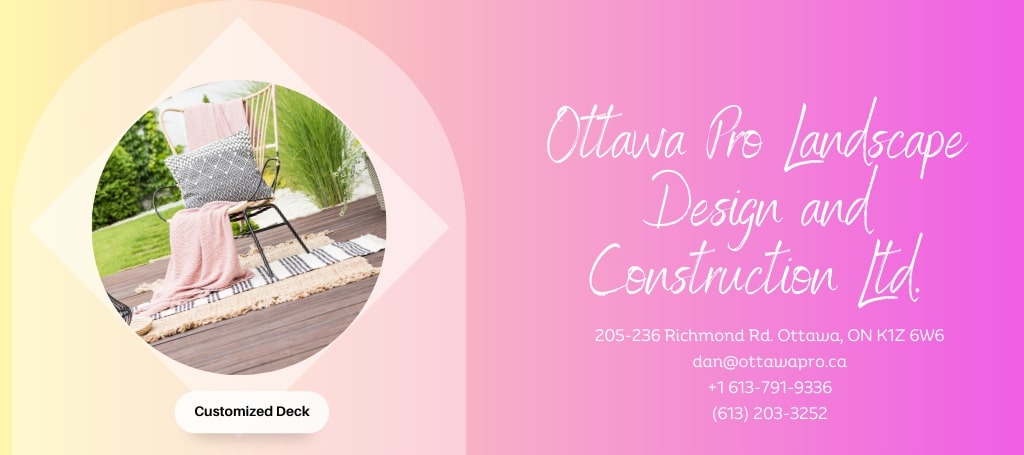 SERVICES
Residential and commercial general contractor work, landscape design, construction of patios, walkways, driveways, decks, fences, repairs, retaining walls, softscape, parking lot sweeping and cleanup services, garden weeding and mulching, hedge trimming and tree removal, asphalt patching and concrete curb repair, lawn maintenance and repair, free consultation
ADDRESS
205-236 Richmond Rd. Ottawa, ON K1Z 6W6
CONTACT NUMBER

[email protected]


+1 613-791-9336
(613) 203-3252
WEBSITE
https://www.ottawapro.ca/
OPERATING HOURS
By appointment only
This BBB-accredited company's name implies that its primary focus is on landscaping. However, Ottawa Pro Landscape also offers custom decks and fences on its menu of services for clients.
Aside from the usual pressure-treated and composite wood materials, the company gives clients options for cedar and IPE, too. This is applicable for both residential and commercial clients of any scope, design preference, and property size.
The team promises to work within a client's budget instead of pushing for any kind of material and design that's trendy. It also does deck repairs with a free initial consultation thrown in for good measure.
Interested clients can call the company's toll-free and office numbers or send an email. There's also an online contact form at the site to address any questions or concerns about Ottawa Pro Landscape's services and corresponding fees.
BBB accredited, Aᐩ rating
Free consultation
Does both commercial and residential services
No discernible pricing matrix
No fixed operating hours
No information on warranties
Customer Reviews
Read the following positive feedback from Ottawa Pro Landscape clients:
"I would highly recommend Ottawa PRO Landscape as being dependable and for doing the work meticulously as planned and as budgeted." – Brent G.
"I have been using Ottawa Pro Landscape for over 2 years now and I am always left completely satisfied when each project is complete. I am a Project Manager with a large residential and commercial portfolio and I would highly recommend them to any businesses or companies looking for landscaping contractors." – Minto Properties
3. Fish Renovations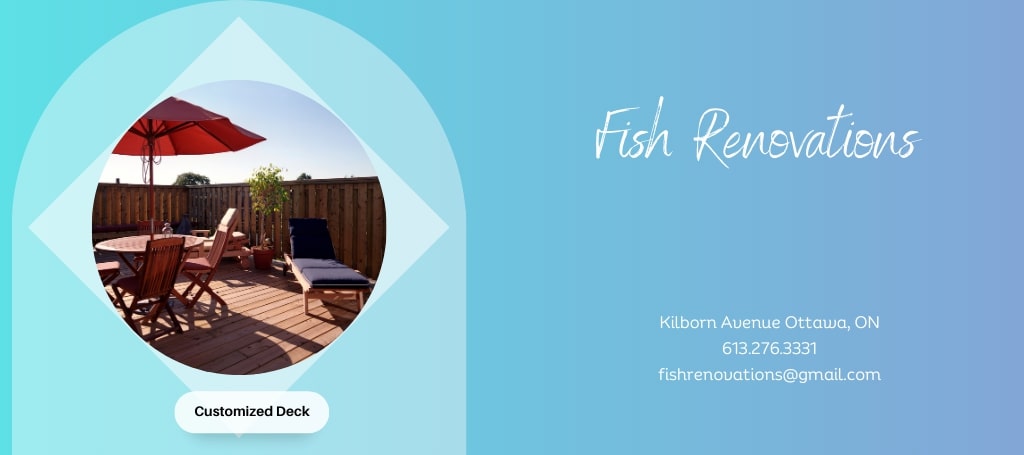 SERVICES
Decks and railing, fences, cabinetry, general contracting, flooring, kitchen and home remodelling, painting, carpentry, plaster and drywall services
ADDRESS
Kilborn Avenue Ottawa, ON K1H 6W1
CONTACT NUMBER
613.276.3331


[email protected]

WEBSITE
http://www.fishrenovations.com/
OPERATING HOURS
Monday to Friday 7 AM – 6 PM
Closed on Saturdays and Sundays
There's an entire photo gallery dedicated to Fish Renovations' decks, sheds, and fences projects. While lacking proper captions and descriptions, the images paint a good picture of the great quality and care the company puts into each one.
Its owner and operator Matthew Fish considers himself a third-generation carpenter and woodworker. His vast experience in the construction industry taught him precision focus on details for every project his company takes on.
Since custom woodwork is part of Fish Renovations' services, many of its clients also turn to the team for customized chairs, tables, and other furniture. While not claiming to be one, the company is a virtual one-stop shop for wood-based projects for the home.
The company can be reached for free estimates on any general contractor project. Clients can consult with Matthew Fish through email or by calling his office.
Free estimates
Good range of general contractor services
Impressive custom deck portfolio
No BBB accreditation
Closed on weekends
The website could do with updated information
4. Final Touch Decks and Fences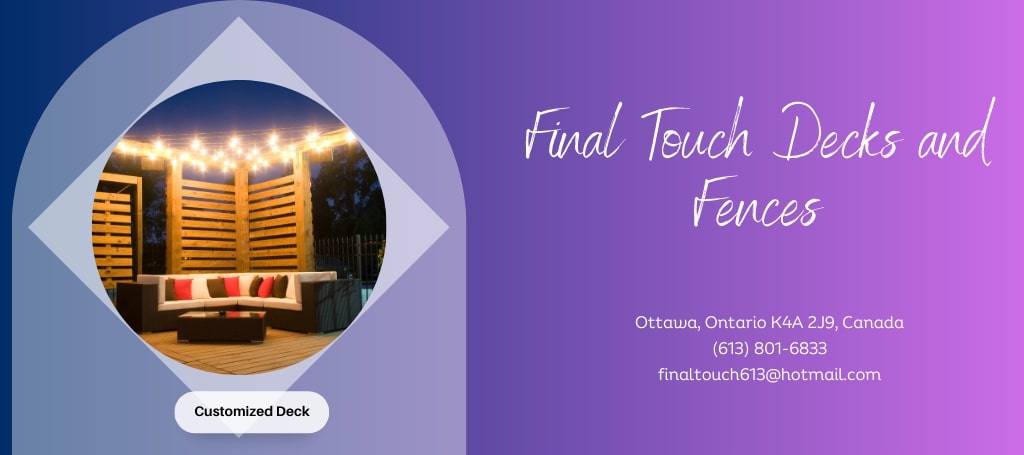 SERVICES
Awning installation, balcony design & construction, deck building, deck design, deck lighting installation, deck refinishing, deck repair, deck staining, gazebo design & construction, outdoor kitchen construction, patio construction, patio design, pergola construction, pool deck design & construction, porch design & construction, railing installation, railing repair, rooftop deck installation, shed design & construction, sunroom design & construction, trellis construction, fencing
ADDRESS
Ottawa, Ontario K4A 2J9, Canada
CONTACT NUMBER
(613) 801-6833


[email protected]

WEBSITE
https://finaltouchdecks.com/
OPERATING HOURS
By appointment only
Calling itself "Ottawa's deck and fence expert", Final Touch Decks and Fences takes pride in building quality custom decks for its clients. In fact, this family-run business has been doing so for over a decade now.
The company has an in-house team of skilled craftsmen and designers and promises never to outsource any of its work. It also vows to focus on one project at a time to meet every specification and detail required by each of its clients.
Since Final Touch also offers other general contractor services on its menu, clients can request transferable elements to other projects besides custom decks. For more information on this offer, the team encourages customers to contact them.
There are no fixed operating hours so calling and emailing are preferred. Final Touch also has an active Facebook page where private messages are usually acknowledged.
Works with an in-house team
Varied deck material options
Impressive-looking deck portfolio
No fixed operating hours
No BBB accreditation
No discernible pricing matrix
Customer Reviews
Read some happy customer feedback about Final Touch Decks and Fences:
"My wife and I hired final touch decks and fencing to complete a deck with enclosed storage. Ryan was knowledgeable and offered great advice on our project. He and his staff were always on time and completed the job in three days. The outcome was fantastic we were so pleased with his professionalism, pricing and expertise as well as his meticulous attention to detail. At the end of each day, a complete cleanup was performed. With no hesitation, I would rate his company as an A+ +!" – Andrew Prekob
"Ryan and his crew completed our large deck in just 4 days with skilled craftsmanship and professionalism. From beginning to end (from estimate, to permit application to completion) the entire process with Ryan was transparent and honest, delivering with quick turnarounds at every stage. He was here early every day and on-site every day all day. Once he started our job he stuck with it until completion rather than leaving behind crew members to do the work on their own. His communication on site was prompt and courteous and we were always consulted on unforeseen issues before decisions were taken. Best experience we have had as homeowners with any company doing work on our home. Highly recommend if you want a stress free experience and value for your money." – Patricia Alcalde
5. J. Chugg Construction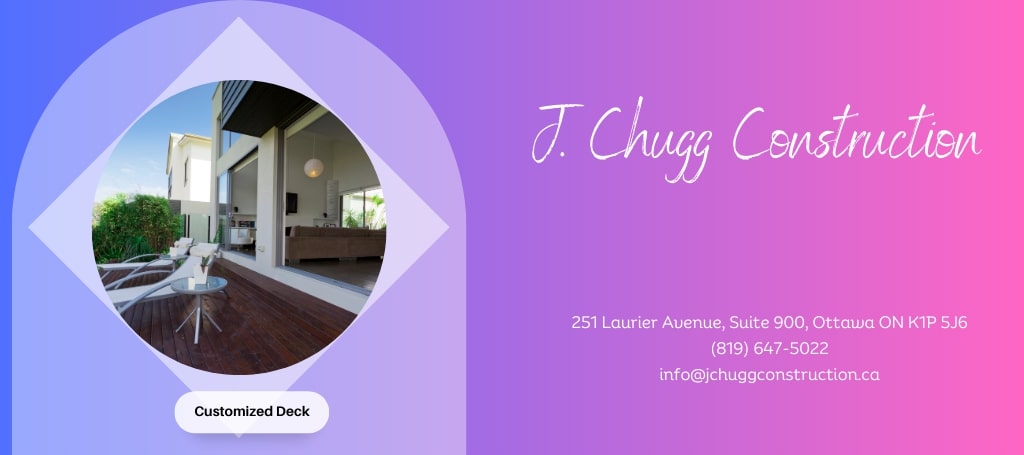 SERVICES
General commercial and residential construction and renovations, roofing repair, installation, maintenance, decks and railings building, tiling, stonework, demolition, electrical, plumbing, flooring, free estimates
ADDRESS
251 Laurier Avenue, Suite 900, Ottawa ON K1P 5J6
CONTACT NUMBER
(819) 647-5022


[email protected]

WEBSITE
http://www.jchuggconstruction.ca/
OPERATING HOURS
By appointment only
J. Chugg Construction has been a true one-stop shop for general and specialized contractor services for nearly 30 years. Everything — from the beginning stages of a project to finishing work — can be provided by the company.
At first glance, there seems to be no primary focus on decks at this company. However, slideshow galleries on the site show various wood-based projects the team has taken on from start to finish.
The J. Chugg team can accommodate custom decks and other exterior additions for both residential and commercial contracts. Masonry and woodwork are two of the biggest strengths the business puts forward to clients.
Since all other contractor jobs can be found here, it's a good place to consider other parts of the home that need renovation or remodelling, as well.
The company welcomes free estimates via phone or email (having a strictly by-appointment-only policy).
BBB accredited, Aᐩ rating
Free estimates
Does both commercial and residential services
No fixed operating hours
No discernible pricing matrix
Deck work is under a general contractor umbrella
Customer Reviews
Learn what past clients have to say about J. Chugg Construction:
"Jeff Chugg is without a doubt the best contractor I have ever worked with. I've known Jeff Chugg for over five years and I have depended on his skill and expertise in a number of projects. A kitchen reno in an older house presented a number of unforeseen problems with mould, asbestos insulation, rotting sill plate and some electrical and plumbing issues. "I can fix that" was always his response when faced with any difficult situation. And the job was done, quickly and expertly. I have had two roofs replaced, one after a catastrophic leak in December 2018. I've had a large two-storey front porch essentially rebuilt from the foundation and a number of other smaller jobs done by Jeff. He is professional, highly-skilled and dependable!" – Malcolm, Ottawa
"Work was done in 2 days, Jeff is professional, onsite, tells us exactly what needed to be done, and answered any questions or concerns we had. His crew was great, polite, and friendly. The work site was cleaned out with nothing left!" – Carmen, Kazabazua
6. Pro-Fence and Decks
If we're talking about quality fencing and decking services, then there is no forgetting Pro-Fence and Decks.
Pro-Fence and Desks is a family-owned and operated business that specialises in residential and commercial fencing, deck installations, and pergolas. The company caters to clients from all around the Ottawa region.
Now, the Pro-Fence and Desks team consists of skilled individuals whose years in the industry allow them to craft the some of the most creative and progressive fencing and decks Ottawa has ever seen.
Each and every project they take on features quality materials and equipment, and typically results in top-notch decks and fencing that last a long time.
Pro-Fence and Desks offers free estimates to those who are interested. Moreover, they're open for consultations so that clients have a better grasp of their process and pricing.
A+ BBB rating
Caters to residential and commercial clients
Offers free estimates and consultations
No fixed operating hours
No discernible pricing matrix
7. Ottawa's Finest Fences and Decks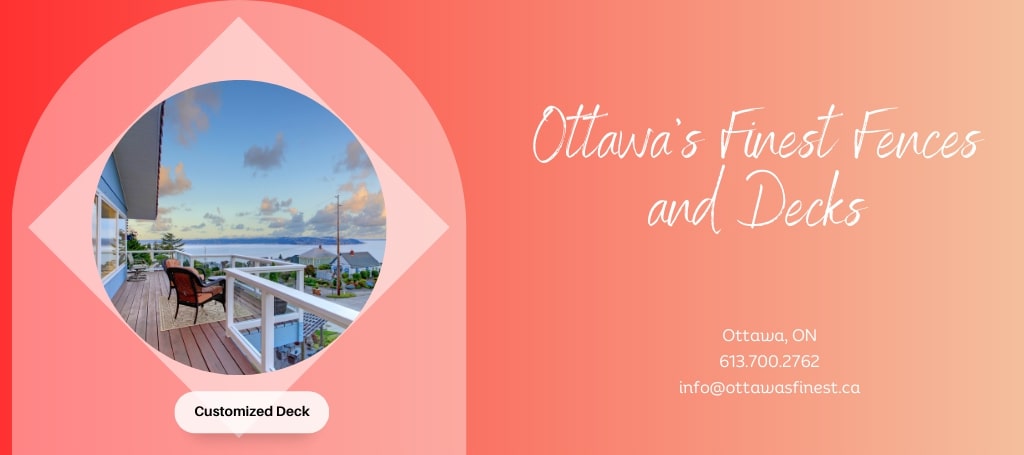 Ottawa's Finest Fences and Decks, as the company's name may suggest, specialises in the creation and installation of high-quality fences and decks in the Ottawa area.
There are many reasons why Ottawa's Finest Fences and Decks makes an excellent choice for fencing and decking needs.
For one, the company doesn't contract professionals to do the projects. Instead, Ottawa's Finest Fences and Decks has an in-house team that consists of building specialists, all of whom have undergone rigorous training, which allows Ottawa's Finest Fences and Decks the opportunity to maintain the highest level of craftsmanship.
Another reason we should note also has to do with the Ottawa's Finest Fences and Decks team. We've already mentioned that they have been trained and are skilled in their own rights, but we have yet to mention that they are some of the most professional builders we've seen so far.
These building specialists are polite, courteous, and prompt at all times. They take great care to finish the projects on time.
Lastly, Ottawa's Finest Fences and Decks' commitment to quality.
As a customer-centric business, Ottawa's Finest Fences and Decks endeavours to make every client happy. Aside from providing excellent customer service, the company also makes use of the finest materials available in every project they take on.
All in all, Ottawa's Finest Fences and Decks is a go-to for fencing and decking needs simply because the company provides excellent service with the help of a highly skilled team and top of the line equipment and materials.
Quality craftsmanship
Excellent customer service
Transparent work
No discernible pricing matrix
FAQs About Customized Decks in Ottawa
---
After reading about the top customized decks in Ottawa, we hope you'll get that beautiful deck you've always dreamed about.
Do you know any other custom deck builders you'd like us to review? Send us a message so we can look them up.
And if you're planning on getting other parts of your house remodelled, here's a good resource for you. We have a listicle on the best contractors in Ottawa to address all kinds of renovation needs.