Top 6 Alcohol Delivery Services in Ottawa
Sometimes, all you need at the end of a hectic workweek is a drink…or two. But if it's too tiring to get out and drive to the nearest shop, why not consider the top alcohol delivery services in Ottawa?
We're featuring some of the best ones that deliver on time, have a good range of products to choose from, and have reasonable rates, too.
Speaking of rates, we'll be discussing more of that in the next section.
How Much Does Alcohol Delivery Cost in Ottawa?
Most alcohol delivery services in Ottawa have a minimum delivery charge depending on the customer's location. Some have a fixed rate regardless of distance while others would calculate the cost at check out based on how near or far the delivery will be.
Others could throw in extra services like picking up convenience store items such as cigarettes, snacks, and other things for a nominal fee.
Some delivery services even offer the pickup of empty bottles at a minimal cost! However, this particular service often requires prior clearance from the driver.
Here's a table showing some common alcohol delivery services in Ottawa and their estimated costs.
| | |
| --- | --- |
| ALCOHOL DELIVERY SERVICE | ESTIMATED COST |
| Delivery fee | $8 up |
| Convenience store items | $1.50 up |
| Gift cards/gift drinks | $25 up |
| Empty bottle pickup | $0.08 – $0.16 per bottle |
Some of the fees above do not include HST or overhead costs yet.
It's also good to note that, because of the competitive nature of the industry, plenty of them offer discounts and free samples, too.
The Best Alcohol Delivery Services in Ottawa
Cheers! Here's to another weekend! To celebrate it, let's take a good look at what the best alcohol delivery services in Ottawa can drop off for you today.
Stick around at the end of the listicle for some informative FAQs, as well.
1. The Beer Guy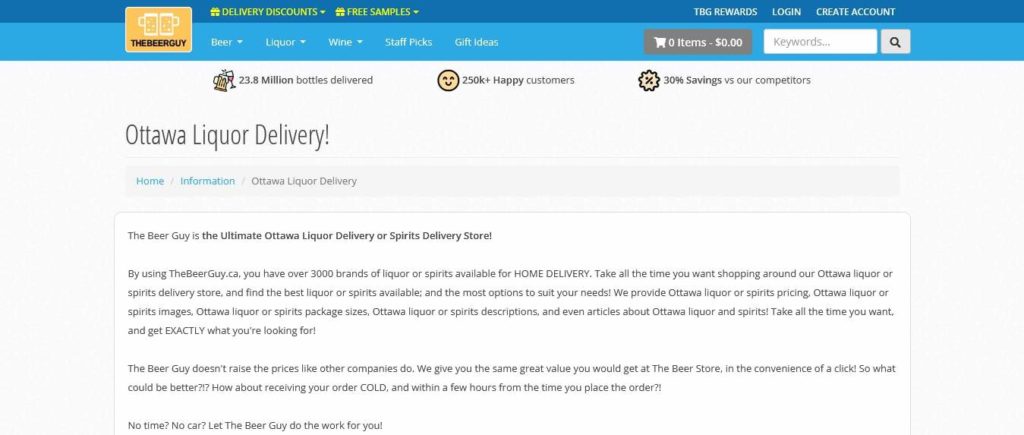 SERVICES
Home delivery for liquor, spirits, wine, and beer, same-day service
ADDRESS
Delivers in Ontario
CONTACT NUMBER
647-694-2244


[email protected]

WEBSITE
https://www.thebeerguy.ca
OPERATING HOURS
Monday to Saturday 9.30 AM – 9.30 PM
Sundays 11.30 AM – 4.30 PM
The Beer Guy has been delivering booze in Ontario since 2011. It boasts of having delivered 23.8 million bottles in the region since, and with 30% more savings made compared to its competitors.
What we can verify is that it does same-day service for tens of thousands of products that cover local and imported brands as well as obscure ones.
Also, The Beer Guy website helpfully categorizes its booze conveniently by the "cheapest", "on-sale", "top ten", "newest", staff picks, and by the type of beer, liquor, or wine.
There's no fixed delivery rate because it will depend on the client's location. The lowest delivery charge is $7 for places like Bealton, Bloomsburg, and Crescent Bay while those in Hamilton, Grimsby, and other farther places have to pay $10.62 for delivery.
And if you want to share the bubblies, you can opt for drinkable gifts for the special people in your life on any occasion. The downside is that the minimum gift certificate is $25 but we guess that should cover lots of special events.
Same-day service
Wide variety of beer and liquor
Helpful categorization of products
Open seven days a week
No fixed delivery rate
Gift certificates start at $25
No BBB accreditation
Customer Reviews
Prices are just right
"The variety is all there, the prices are just right, and the service is amazing!" – Amber
Lots of variety
"Great Site! Easy to find your favourite beer and lots of variety." – Cynthia
2. Dial a Bottle Ottawa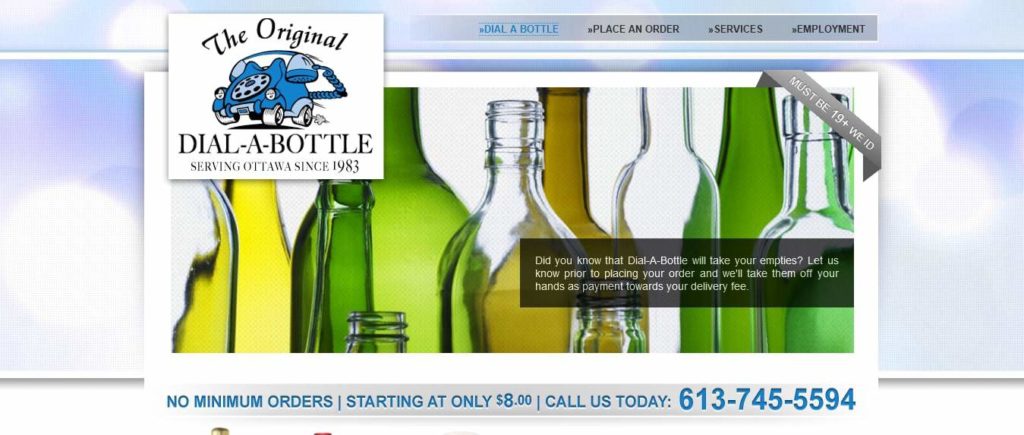 SERVICES
Delivery for Beer Store, groceries, liquor, and wine
ADDRESS
Serves the Ottawa area
CONTACT NUMBER
613-745-5594


[email protected]

WEBSITE
https://www.dialabottleottawa.com/
OPERATING HOURS
Mondays (Beer store only) 10.30 AM – 5 PM
Tuesday to Saturday 9.30 AM – 9 PM
Sundays 10.30 AM – 4.45 PM
Established in 1983, Dial A Bottle is an alcohol delivery service in Ottawa that doesn't require any minimum orders. It offers both Beer Store and LCBO deliveries, as well as corner store options.
The company promises to deliver orders within an hour. Customers can order from both The Beer Store and the LCBO but would have to pay a $2 surcharge for the second stop.
If you don't feel like drinking booze and just want a pack of chips or a stick of gum, Dial A Bottle can accommodate your orders, too. There's a $2 corner store surcharge applied on top of the delivery area rates, but we appreciate the convenience this service offers for those times we simply can't step out.
However, we find that the way it structures its operating hours is a bit inconvenient. On Mondays, customers can only order from the Beer Store with the rest of the week open for LCBO and other deliveries.
No minimum orders
Open seven days a week
Can do corner store deliveries without alcohol orders
Allows combined deliveries (LCBO, Beer Store, corner store)
Only Beer Store deliveries every Monday
Additional $2 charge for corner store deliveries
No fixed delivery rate
No BBB accreditation
Customer Reviews
Great service
"Delivery people have always been great. Great service. The only comment would be paying on the machine at the door, which normally isn't a problem, but in these times is a little riskier.
overall, love the service and will continue to use." – Josee McOrmond
Fast, professional, kind
I highly recommend Dial a Bottle. They are always fast, professional, kind! Le service est incroyable! Thank you! Merci!" – LadyAnnie Baril
3. Brewski Booze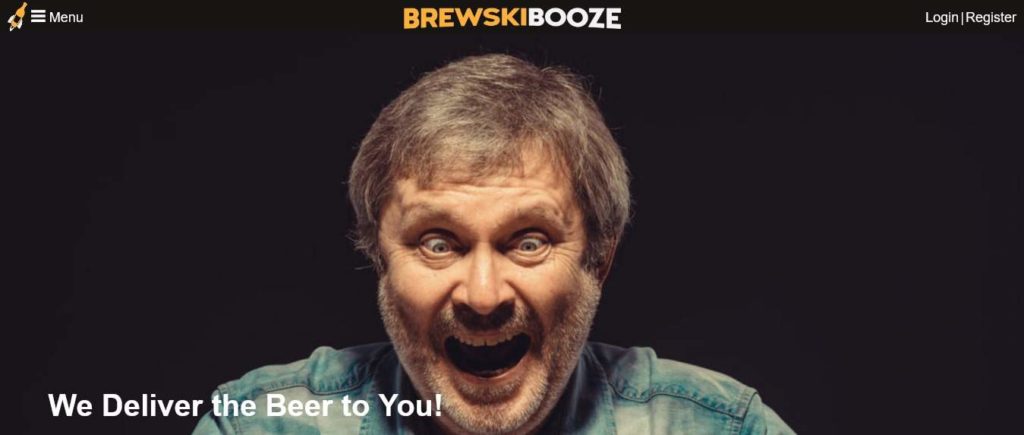 SERVICES
Beer Store, spirits, wine delivery, LCBO delivery
ADDRESS
Delivers within Ottawa
CONTACT NUMBER
613-695-9107
WEBSITE
http://brewskibooze.com/
OPERATING HOURS
Mondays 9.30 AM – 8 PM (Beer Store deliveries only)
Tuesday to Saturday 9.30 AM – 8 PM (Beer Store and LCBO deliveries)
Closed on Sundays and state holidays
Brewski Booze does both The Beer Store and LCBO deliveries with accommodations for convenience store items like cigarettes and snacks. However, it's closed every Sunday and on state holidays which could be a bummer for those who want to drink on those days.
There's a fixed delivery of $8 plus HST, with an added fee of $1.50 for corner store deliveries. You won't even need to order alcohol if you need something from the corner store, either!
An added convenience in Brewski Booze's menu of services is its Ontario bottle returns. The company can deduct the cost of the bottles from your final order fee, as well.
Customers are only allowed to return a maximum of two dozen wine bottles or not more than 72 beer bottles.
Don't worry about being judged because Brewski Booze promises utmost discretion during deliveries and pickups (its drivers and staff use unmarked vehicles and don't wear uniforms).
Fixed delivery (plus HST)
Accepts refund bottles
No alcohol orders required for corner store deliveries
Discreet deliveries and pickups
Only Beer Store deliveries every Monday
Extra delivery fee for convenience store items
Closed on Sundays and state holidays
No BBB accreditation
Customer Reviews
Can handle a volume of orders
"Very professional wears a mask. I think it's amazing that one man only can handle such a volume of orders on his own. Waits in several lines in this pandemic to serve his public. Gives precise eta's. Thanks, Bruce, truly!" – Brigitte Hamel
The delivery fee is great
"Super friendly and incredibly fast on a Saturday evening. The delivery fee is great! Definitely recommend and I will use this service again! Thanks." – Mike Fraser
4. Home Delivery Canada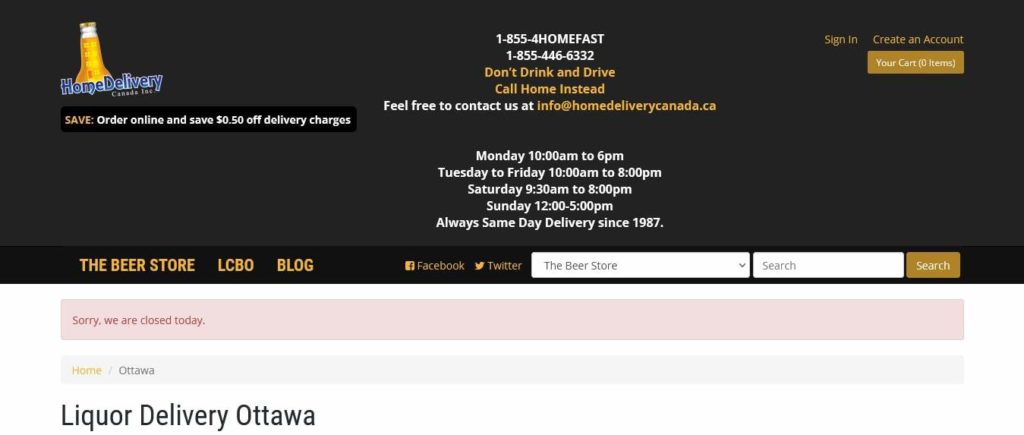 SERVICES
Same-day delivery for beer, wine, spirits, liquor, LCBO
ADDRESS
Serves Ottawa and nearby areas
CONTACT NUMBER
+1 855-446-6332


[email protected]

WEBSITE
https://www.homedeliverycanada.ca
OPERATING HOURS
Mondays 10 AM – 6 PM
Tuesday to Friday 10 AM – 8 PM
Saturdays 9.30 AM – 8 PM
Sundays 12 noon – 5 PM
Since 1987, Home Delivery Canada has been doing same-day delivery from The Beer Store and LCBO throughout Ontario. Customers can either call up the store or use the website for orders.
The delivery service charges by location so customers have to input their postal code on the website. Home Delivery Canada also offers $0.50 off if orders are placed online.
However, it would be more enticing to use the website to choose products and order from if it updates its user experience, categorization, and general navigability. As it is, it lets customers take several unnecessary steps to pick out a beer or alcoholic beverage with all the scrolling and clicking involved.
And other than products from The Beer Store and LCBO, no other services or smaller brewery beer are offered. It's too bad because the shop is open seven days a week and promises to deliver orders within an hour (with general feedback being that beer is always delivered cold!).
Open seven days a week
$0.50 off on online deliveries
Delivers throughout Ontario
Beer typically delivered cold
Deliveries limited to Beer Store and LCBO products only
Website information needs updating
No BBB accreditation
Customer Reviews
Great delivery services, fast and easy
"Got beer and liquor delivered to my home in Toronto. Great delivery service, fast and easy! Thank you, I'll be a many time return customer!" – Daniel
Order was here within the hour
"Ordered on Sunday at 4:30 (beer store closes at 5) and was here within the hour (and cold) as promised! Awesome." – Lauren
5. City Booze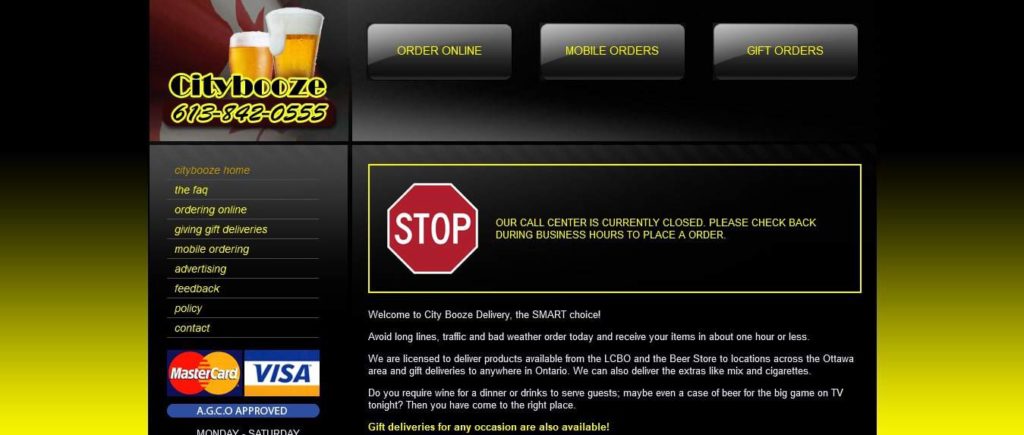 SERVICES
LCBO, Beer Store, gift, extras deliveries all over Ottawa
ADDRESS
P.O. BOX 83026 1830 Bank Street Ottawa, Ontario K1V 1A
CONTACT NUMBER
(613) 842-0555


[email protected]

WEBSITE
http://www.citybooze.com/
OPERATING HOURS
Monday to Saturday 9.30 AM – 9.45 PM
Sundays 11.30 AM – 4.45 PM
You can order your favourite drinks at Citybooze Delivery several ways: via an online form, through its mobile phone call centre, and by simply calling up the shop. Its mobile ordering option can only accept cash payments, though.
And while it's great that there's a call centre for mobile orders, it still follows regular business hours so it can't accommodate those who want to do some late-night or early-morning drinking.
There's also a gift delivery service for anywhere in Ontario. Customers can order gifts online any time (even beyond operating hours) and they will be processed the following business day.
All that convenience it offers can't beat an online catalogue, though, which Citybooze Delivery unfortunately doesn't have.
The drop-down menus for the alcohol type, category, and product name do help with the choices somewhat. But nothing is more enticing to a beer-drinker than the image of an ice-cold bottle of brewski right in front of their faces.
Open seven days a week
Several options for ordering
Gift delivery service throughout Ontario
Only cash payments accepted via mobile ordering
No convenience store service offered
No online catalogue or product images
No BBB accreditation
Customer Reviews
No better beer delivery
"No better beer or liquor delivery service in Kanata." – "Cyan Mouse"
Great service, smokes, mix, liquor and beer
"Great service, smokes, mix, liquor and beer all brought to my door. My guests arrived early, I found the citybooze.com website online and placed an order online. 45 minutes later the driver arrived and I was set to entertain." – "donremo"
6. Night Off Delivery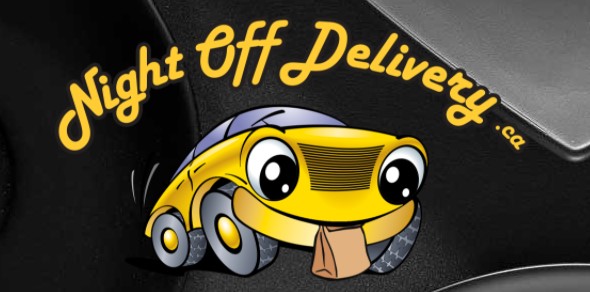 SERVICES
Liquor and Food Delivery Service
ADDRESS
1984 Laurier St, Rockland, ON K4K 1T9, Canada
CONTACT NUMBER
+1 613-406-4638
WEBSITE
http://nightoffdelivery.ca/
OPERATING HOURS
Monday to Thursday 11 AM – 9 PM
Friday & Saturday 11 AM – 10 PM
Sundays 4PM – 8 PM
If you're looking for a delivery service that picks up booze together with your favorite food items, Night Off Delivery is for you. They specialize deliveries beyond just alcoholic beverages.
What we like about Night Off Deliver services is that it has partner restaurants in Rockland and its surrounding areas. They offer discounts to their partners, so if your favorite store is a listed affiliate, it's worth your money to book their services.
You can order a wide selection of alcohol though calling their phone. Night Off Delivery also has minute stops for additional purchases for convenient stores.
Though we have to point out that their services open at 11 AM and close at 10PM. Therefore it's not really an ideal delivery service if you want to have an early morning or a late night drinking session.
In addition to this, the estimated delivery times are between 45-60 minutes, but some have complained to have waited longer. So if you're someone who's in a hurry, this service might not be for you.
Offers minute stops for purchases from convenient stores
Rockland's only fully licensed and insured alcohol and beer delivery company
Several options for ordering
Partnered with local restaurants that typically do not deliver
Not BBB accredited
Grocery deliveries are only between 1 and 4 PM
Delivers alcohol only when there are food orders
Texting and emailing not available when ordering alcohol
Customer Reviews
Love this service.
"Polite drivers, and they do their best to get what you are asking for. If an item is not available they let you know if you want something else. Love this service"
Will definitely use this service again.
It is very hard to find delivery sources in Hammond whose prices are not through the roof. I used Night Off Delivery for the first time tonight and was so pleased. They were quicker than the estimated time of delivery and very polite. Will definitely use this service again.
FAQs About Alcohol Delivery in Ottawa
---
The best alcohol delivery in Ottawa can help you relax and unwind or throw a memorable party without needing to go out. If you think we let out a good alcohol delivery from this listicle, please send us a message and we'll remedy that!
Meantime, you might also be interested to look up other delivery services we've written about. We reviewed the best gift basket deliveries and the best flowery delivery services in Ottawa, too!