Studios with the Best Yoga Classes in Ottawa
A lot of people have turned to yoga as a part of their fitness routines.
This is because, unlike the usual workout routines, doing yoga brings about benefits beyond physical fitness. It not only trains the body but also the mind.
Regardless of age, body type, or gender, you can enjoy the health benefits of this empowering practice.
For those who want to try out yoga for the first time or are just looking for a place to harness their inner yogi, we recommend you check out this list of the best studios that offer yoga classes in Ottawa.
How much does a yoga class cost?
Yoga classes are not for the thrifty, but it's worth it if you can find the right instructor and studio that will help you achieve your wellness goals.
Most single-class sessions may cost about $25 to $35 per hour.
It also depends if you are taking lessons in a class setup or if you are doing it one-on-one with your instructor. Private lessons may cost as much as $37 to $88.
To give you an idea, here's the average rate of a regular yoga class per length of a session:
| Yoga Class Length | Average Cost |
| --- | --- |
| 30 minutes | $15 |
| 45 minutes | $22.50 |
| 60 minutes | $30 |
Now these are just average rates and may vary depending on the yoga studio or instructor giving the lessons.
It's also worth considering memberships or applying to courses because these can save you costs if you want to do the lessons regularly for a long period of time.
Ultimately, the goal is to select a studio that will allow you to relax your mind while giving you the right kind of yoga training.
What You Need to Look For in a Yoga Class
Yoga is not a new concept to many. You have most likely seen people doing it in ads, movies, and Youtube videos. You also probably have your own notions of what it's all about.
But it may not be as simple as you think it is. Yoga is not just about executing poses as you do with exercises or breathing in and out.
Yoga is a discipline and thus, requires you to follow methods and routines that eventually will help harmonize your body, mind, and, spirit.
Some poses may also tend to be quite complicated, especially for first-timers. That's why it's important to attend lessons facilitated by professional yoga instructors who can teach you the right way to execute these poses and techniques.
Each yoga studio may have a different approach when it comes to teaching yoga. This is why it is important that you find which ones offer methods that suit your lifestyle and preferences to help you achieve that overall harmony that you've been looking for.
In this list, we selected different yoga studios in Ottawa that offer classes with these criteria in mind:
1. Modo Yoga Orleans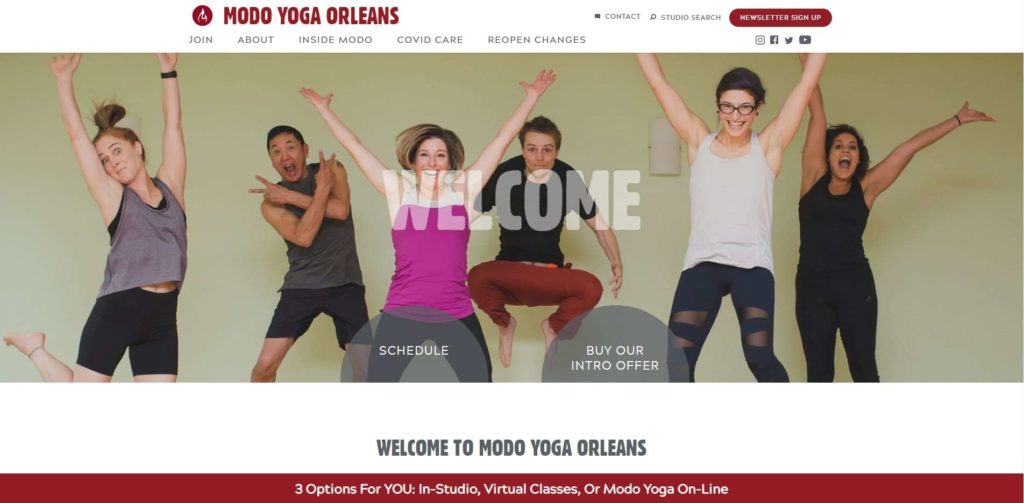 Test
Info
WEBSITE
https://modoyoga.com/orleans/
ADDRESS
2442 St. Joseph Blvd. Suite 101 Ottawa
CONTACT DETAILS
(613) 424-8221
OPERATING HOURS
Monday: 6:40 am to 8:30 pm

Tuesday: 9:40 am to 7:30 pm

Wednesday: 6:40 am to 9:00 pm

Thursday: 9:40 am to 9:00 pm

Friday: 6:40 am to 5:30 pm

Saturday and Sunday: 8:40 am to 12:30 pm
| | |
| --- | --- |
| Instructor's credentials | ★★★★★ (5/5) |
| Atmosphere | ★★★★★ (5/5) |
| Amenities | ★★★★☆ (4/5) |
| Convenient programs and schedules | ★★★★☆ (4/5) |
| Membership programs or session fees | ★★★★☆ (4/5) |
Modo Yoga offers one of the most unique yoga programs in town that will give you a good sweat!
Their Modo Series are classes designed for practising "Heat Yoga." All their Modo classes are done in hot temperatures where rooms are set to reach around 40° Celsius with 40% humidity.
If you are in for intensive yoga, then this is the place to go!
But do not fret, newbies! They do offer non-heated classes for beginners. Once you're accustomed to their yoga practices, then maybe you can jump into their literally hot classes.
Modo Yoga offers an extensive variety of different heated yoga classes that you can choose from. There's the regular Modo class where you can learn and practice standard yoga techniques in a hot room.
Then they also have other unique classes like the Modo flow, which is accompanied by music, and the warm yin where all poses are done in a reclined position to name a few.
Other interesting classes would be their kids' yoga, virtual yoga, and yoga in the park classes where their instructors hold lessons outdoors. This is open to anyone for just $10!
When it comes to their fees, they offer different unlimited yoga options like the annual membership or modified six-month memberships. But aside from that, they also offer other flexible options.
If you think you won't be able to fully maximize an unlimited type of membership, they do have a single class rate of only $25, but if you avail of their class cards, this can drop down to $18 per session only.
Another way for the yogi in you to participate would be to apply to their ambassador program. Here, you get to assist the classes by covering shifts, and you get to do all the yoga that you want for free!
There are just so many options to accommodate anyone who'd love to try out and practice yoga that you can work around depending on your schedule and budget. Plus, you can conveniently book classes via their Modo Yoga app too!
All students though are required to bring their own mats, and you need to come on time for your scheduled sessions! They don't allow latecomers to join the class to preserve the quality of sessions from any form of distractions.
Take note too that their operating schedules vary daily. You might want to make sure their schedules are aligned with yours if you want to drop by their studio.
If you are pregnant, this is not the studio for you because they don't offer prenatal classes so far.
They also follow strict COVID care protocols, but masks are not required during the session itself.
They have 10 in-house reputable yoga instructors with decades of professional yoga training in various yoga styles and disciplines. Most of them were also practitioners in health and fitness-related industries.
More than a yoga studio, they are more of a community of yoga practitioners, instructors, and students from different countries. This is why you can find a Modo Yoga studio across Canada, the US, and France.
One thing worth mentioning too is their karma classes. If you have the extra bucks to share, you can donate during the class, and all the profits gathered will benefit a non-profit organization.
We love the positive message they are promoting, however dreamy it may sound for the cynical. In achieving inner peace through yoga, they also aim for world peace and environmental sustainability.
Every April, their community would gather for their Grow Your Yoga event where they hold activities that help raise funds for the environment.
For them, yoga is not just about personal harmony but also about making the world a little better one stretch at a time.
Unlimited membership options
Flexible and accommodating ways to avail yoga classes
Ambassador programs for unlimited free yoga classes
Well-experienced instructors trained in various yoga disciplines
Offers various types of yoga classes
Good health and hygiene protocols
Limited number of students per session
Allows you to book classes through their mobile app
Virtual lessons are also available
A wonderful sense of community
Actively raises funds for charity through events and karma classes
Irregular daily operating hours
Does not entertain late comers
Does not offer pre-natal yoga programs
Customer Reviews
Great community vibe
Can't say enough good things about Modo Yoga. It's a very relaxed atmosphere, clean and spacious, and all of the instructors are great – very "community" vibe. I also really like the variety of classes and levels. Im so thankful hot yoga is available in a studio like this in Orleans. – Michelle Parisien
Home away from home
I have to say I was a bit skeptical going to a hot yoga class when I had barely any hot yoga experience. Ive always read that some yoga studios frown upon and judge newbies. This studio is NOTHING like that! They are so welcoming and friendly when I first walked in. The energy in there is just so calm and inviting. After doing one class, I was hooked. I have been going there for about 3 months now 3-4 times a week and Its starting to feel like a home away from home. Everyone is so accepting, friendly, and the instructors are so helpful in and out of class. As a bonus they put on work shops a few times a month which are very fun to attend. They also have beautiful live music in certain classes which make the yoga experience much more relaxing and the energy wonderful. I would HIGHLY recommend this studio to anyone even if you have no yoga experience to start with! Best yoga studio I have ever been to! – Taylor Whalen
2. Yogatown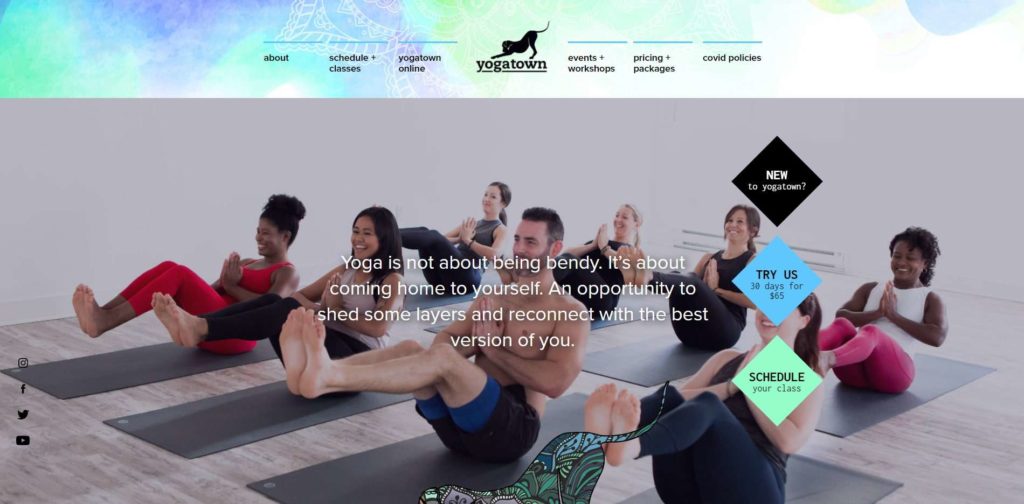 Test
Info
WEBSITE
https://myyogatown.com/
ADDRESS
300 Preston St, Ottawa
CONTACT DETAILS
(613) 234-9642
OPERATING HOURS
Monday, Tuesday, Thursday: 5:40 am to 7 am, 11 am to 9:30 pm

Wednesday: 5:40 am to 7 am, 11 am to 8 pm

Friday: 5:40 am to 7:30 am, 11 am to 9:30 pm

Saturday: 7:45 am to 12 pm

Sunday: 8:15 am to 2:30 pm
| | |
| --- | --- |
| Instructor's credentials | ★★★★☆ (4/5) |
| Atmosphere | ★★★★★ (5/5) |
| Amenities | ★★★★☆ (4.5/5) |
| Convenient programs and schedules | ★★★★☆ (4/5) |
| Membership programs or session fees | ★★★☆☆ (3.5/5) |
Yogatown boasts of having quite a number of in-house professional yoga teachers. They have roughly 40 instructors that offer classes among their 3 locations in the Greater Ottawa region—one in Preston and two others in Stittsville and Barrhaven.
They do not offer hot yoga classes but instead hold their classes in heated rooms with just the right amount of comfortable heat. If hot yoga sounds intimidating to you, then Yogatown might just be the right match for you.
They have various programs for first-timers and seasoned yogis alike. Newbies can get a good deal out of their trial membership where you get 30 days of unlimited classes for just $65.
Sometimes, it takes quite a while to really see if a program fits you, especially if you are new to yoga. And 30 days is a generous time for you to settle in and really see for yourself if you like it there.
After that, you can proceed to acquire their other membership packages should you decide to stick with them for the long haul.
Their rates and fees are actually a little more expensive. But that comes with a lot of privileges too like spacious amenities, changing rooms, and a relaxing spa-like lounge that comes with free servings of tea!
Their studios are actually quite luxurious, and that helps a lot in setting the right mood to meditate and relax.
Their single classes are at $35 per class, but you can get this at discounted rates if you avail of their class cards. The discounts come in tiers depending on what package you would choose.
Their unlimited memberships are also more pricey at $1,500 per year, but this comes with lots of perks like generous discounts on their retail store and even free workshops.
Their instructors are very much accomodating and are flexible to adjust their schedule for you if you need it. I guess that's a benefit you get for the price you pay too, so their expensive rates are relatively not a bad deal.
They also cater to pregnant women and will adjust the intensity of routines as needed. Just make sure you have your doctor's consent if you wish to do prenatal yoga.
No budget for yoga classes? Not a problem!
You can still enjoy their classes by applying for their Energy Exchange Program. Here, you'll be volunteering to help keep the studios neat and clean during a three-hour shift once a week, and you get to enjoy unlimited yoga classes for free!
No time to visit the studio? Not a problem too because they also offer virtual classes.
You may also access online yoga tutorials and videos when you sign up for a monthly subscription.
The best thing though about Yogatown is how they embrace and support diversity. Aside from their stance when it comes to inclusion, fair representation, and anti-racism, they actually offer opportunities for black, indigenous, and persons of colour (BIPOC) through diversity scholarships for aspiring yoga teachers.
Good karma certainly moves within their space, as they have already donated as much as $150,000 to charities through their karma classes.
If you decide to join their classes, just remember that their studio is kind of a stickler for rules. No latecomers, no kids allowed, and they have strict cancellation rules.
If you don't show up or cancel less than eight hours prior to your schedule, they will charge you a $20 cancellation fee—which they will donate in full to charity anyway, so there's that.
Remember to bring your own mat, but you can rent one from them if you don't have one in tow.
Good ambience, spacious and luxurious amenities
Comfortable heated rooms
Offers a 30-day trial membership program
Offers prenatal yoga
Access to online lessons and materials via subscription
Raises funds for charities through Karma classes
Offer Energy Exchange Program for free yoga classes
Diversity scholarships for BIPOCs
Adheres to health protocols
Expensive rates compared to competitors
Strict class rules
Strict cancellations with applicable penalty-fees
Customer Reviews
Luxurious experience
By far the best yoga studio in Ottawa. Feels like a truly luxurious experience with a spotless studio and spacious changerooms. Even before covid you could tell they took the cleanliness of the studio seriously, which makes me feel even more confident going in during a pandemic. On top of that, every instructor I've had is incredible and leads a truly enjoyable practice that always leaves me feeling happier, more relaxed and maybe a little sore (in the best way). You can tell how much heart and thought goes into making this studio the best it can possibly be, and how much they care about making it the best possible experience. Could not recommend enough. – Anjali Chander
Challenging and restorative
Yogatown is AWESOME! The facilities are spotless and cozy, the front desk staff are lovely, your teachers are the best in the city, and the classes are the perfect mix of challenging and restorative. My career life was turned upside down earlier this year, and regular practice at Yogatown saved my sanity and protected my self esteem during a really rough time. THANK YOU! Special mention to Maddie Rolfe and Dana Wemyss for guiding incredible yoga classes. – Laura Hamlin
3. Pure Yoga Ottawa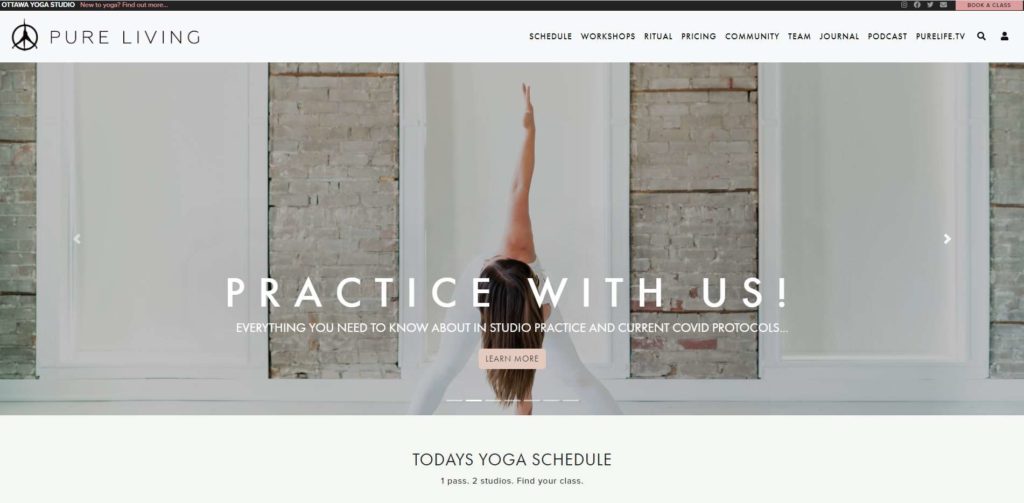 Test
Info
WEBSITE
https://www.pureyogaottawa.com/
ADDRESS
Westboro branch: 279 Richmond Rd, Ottawa

Centretown branch: 359 Bank St, Ottawa

CONTACT DETAILS
Westboro: (613) 680-7873

Centretown: (613) 695-7873

OPERATING HOURS

Westboro branch:

Monday to Wednesday: 6 am to 9 pm

Thursday: 6 am to 9:30 pm

Friday: 6 am to 8 pm

Saturday: 8 am to 5 pm

Sunday: 8 am to 6:30 pm




Centretown branch:

Monday to Wednesday: 6:30 am to 9 pm

Thursday: 6:30 am to 9 pm

Friday: 6:30 am to 8 pm
| | |
| --- | --- |
| Instructor's credentials | ★★★★★ (5/5) |
| Atmosphere | ★★★☆☆ (3.5/5) |
| Amenities | ★★★★★ (5/5) |
| Convenient programs and schedules | ★★★★☆ (4/5) |
| Membership programs or session fees | ★★★☆☆ (3.5/5) |
Pure Yoga is loved by many of its regulars because of their fantastic yoga instructors. Unlike most studios where the teachers are mainly female, they have a diverse pool of yoga teachers that specialize in varied yoga disciplines.
They do offer hot yoga classes but maintain the temperatures to a max of 30° Celsius to maintain a certain amount of comfort that's friendly for all, beginner or not.
All their classes are well suited for beginners. The teacher will provide you with extra guidance if you tell them that you are new to yoga.
Their rates may be a little pricey, but beginners will absolutely love the Intro Month rates where they can enjoy unlimited classes for a month for $65.
They do not have annual membership fees, which may or may not be a good thing. For one, you won't have to get tied to long commitments if you change your mind or get too busy to attend classes.
You can avail of their monthly memberships or class packages that can save you a few more bucks instead of taking single classes that cost $30.
The good thing here is that your membership pass is accepted in both studio locations they have in Ottawa. Drop in on any branch that's near you as you please.
Their class offerings and instructors are really in demand; in fact, their classes can sometimes be a bit more packed compared to other competitors. That's a compromise you'll have to make if you really get to like their instructors.
They're great at handling beginners and pregnant clients too, as their instructors are really flexible when it comes to their teaching approaches.
They also welcome clients as young as 14. However, students 17 years old and below are required to have parental consent before taking a class.
Pure Yoga also boasts beautiful amenities like shower facilities and gender-inclusive change rooms. Plus points for providing lockers during sessions too.
You might also find their retail shops interesting, as they offer yoga gear from different popular brands like Spiritual Gangster, Vuori, Lululemon, and more.
If you are into overall wellness, you might be interested to include their own food brands—the Pure Kitchen Vegetarian Food and Juice Bar—in your diet.
Pure Yoga is also one of the most active studios online with multiple platforms like PureTV (an online subscription channel) and The Pure Life Podcast, which you can listen to for free on their website.
These are also very convenient alternatives if you can't do drop-in sessions.
Plus they are also affiliated with the MindBody app that offers short online yoga courses. You can book your classes with them through this platform too, which is very convenient.
Like other yoga studios, Pure Yoga also offers clients a chance to join their lessons for free through their Karma Yoga Program. Just apply and if you are accepted, you'll simply need to help out with cleaning duties and studio assistance during a four-hour weekly shift.
Aesthetically pleasing amenities
Gender-inclusive change rooms and lockers
Experienced and in-demand diverse instructors
Active multiple online platforms
Open to pregnant women and teenagers
Offers the Karma Yoga Program for free yoga lessons
Flexible membership options
One pass/membership applies to both Ottawa locations
Classes have a tendency to be packed with students
Rates and packages are quite expensive
Customer Reviews
Most beautiful studio I have been to
Pure Yoga Ottawa is the cleanest, most beautiful studio I have been to. Warm colours, friendly staff and adjustment were received. Washrooms are spacious and a small waiting room between the washrooms and hot room make it a no stress wait for class which has been a huge issue for me at other studios. Also, they have the best instructors in town! They are more power oriented but have recently added an intro class to the schedule. All in all Excellent experience and a fantastic example of a leader in their industry. – Maegan McLaughlin
There is something for everyone
Pure Yoga Ottawa is by far the best hot yoga studio in the city. The studio itself is gorgeous, clean, and modern. The changerooms, showers, etc. are always perfectly clean and spacious. The staff and instructors are wonderful. Everyone is so friendly and welcoming, they will make you feel right at home! There are so many classes and times to choose from, there is something for everyone at every level. They sell amazing yoga clothes also. Super trendy leggings, crops, shorts, and tops. Both locations are amazing, and I highly recommend you check it out! – Megan Scott
4. PranaShanti Yoga Centre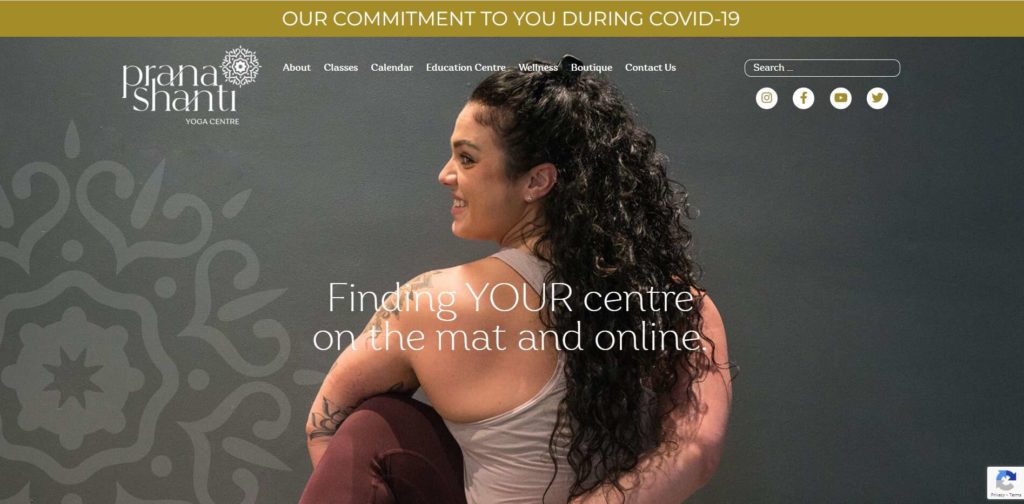 Test
Info
WEBSITE
https://pranashanti.com/
ADDRESS
950 Gladstone Ave, Ottawa
CONTACT DETAILS
(613) 761-9642
OPERATING HOURS
Monday: 9 am to 9 pm

Tuesday and Thursday: 7:30 am to 9 pm

Wednesday: 6:30 am to 9 pm

Friday and Sunday: 9 am to 7 pm

Saturday: 9 am to 5 pm
| | |
| --- | --- |
| Instructor's credentials | ★★★★★ (5/5) |
| Atmosphere | ★★★★★ (5/5) |
| Amenities | ★★★★★ (5/5) |
| Convenient programs and schedules | ★★★★☆ (4/5) |
| Membership programs or session fees | ★★★☆☆ (3/5) |
Recognized by Three Best Rated as one of the Top 3 Yoga Studios in Ottawa, Prana Shanti Yoga Centre is an institution that offers yoga and wellness programs that go beyond yoga classes.
They offer various types of yoga classes that are taught by seasoned male and female instructors specialising in various yoga disciplines.
Their classes and packages however are one of the priciest in town, but the quality of lessons you get are guaranteed top-notch.
Their single in-person class costs $33. But they do offer 10 or 20-class packages that do not expire no matter how long it takes for you to consume them.
Or you may opt for their monthly or annual unlimited yoga packages should you decide to stick and commit to attending their classes regularly.
However, their annual rates are probably the highest among the studios around Ottawa at $1,695. But if you're after quality and value, it's still something worth considering.
The good thing though is that just like the other yoga studios mentioned earlier, they also offer friendly packages for first-timers and those who'd like to avail the classes for free.
First-timers can avail of their 30-day unlimited intro classes for $70.
They also offer free unlimited classes for those who are accepted to their Energy Exchange (Seva) Program. From the program name itself, students are to share time and energy through simple tasks such as cleaning, flyer deliveries, and front desk duties in exchange for free lessons.
This sharing of good energy is also manifested as they hold a weekly class in which 100% of the proceeds are donated to charity.
But apart from their reputable yoga classes, they are also known for their multifaceted programs grounded on the practice and disciplines of yoga. Among these is their wellness services.
You can avail of various types of massage therapies and treatments such as lymphatic drainage massage, Thai yoga massage, and even a prenatal massage, to name a few. They also offer Reiki, energy healing sessions, and holistic nutrition consultations.
Likewise, another program unique to Prana Shanti is their Education Centre wherein they offer courses for those who are interested in becoming instructors and yoga therapists.
This makes their centre truly holistic when it comes to yoga-based principles.
Plus, they also have commendable amenities. In fact, with COVID happening, they re-designed their heating, ventilation, and air-conditioning systems to include air exchange and filtration technology.
Each room that they have are climate-controlled to provide the right amount of heat for a good yoga experience.
These programs and amenities indeed make them one of the best yoga studios in Ottawa, making their expensive rates justified.
Named as Top 3 Yoga Studios in Ottawa by Three Best Rated
Seasoned male and female instructors and therapists
Diverse yoga class programs
Offers therapeutic wellness services
Offers education and training for aspiring instructors and therapists
30-day unlimited trial classes
State-of-the-art heating and ventilation systems
Class proceeds are donated to charity
Has one of the most expensive rates
Special workshops attract too many people
Irregular operating hours
Customer Reviews
Nurturing for the body, mind, and soul
The PranaShanti Yoga Centre does wonders for the body, mind and soul. I only discovered this great spot about a year ago. I love that there are so many styles of yoga offered – a class for whatever mindset you are in that day. For the days I'm feeling strong, the hot yoga with Joa is amazing. For the days my body is feeling stiff, I like Laurie's yin yoga. For those times my nervous system needs extra attention, I take a Kundalini class with Devinder. The instructors are knowledgeable and attentive. I always feel nurtured after having been to the PranaShanti. I also like the small touches – like the fact that there's always tea brewing – a comfort in itself. Keep up the great work! – I T
Home for my soul
I was going to say that PranaShanti is my home away from home but it is more than that, it is a home for my soul. It is the kind of place that you can shed any particular persona at the door and commit to your personal practice. Although kundalini is my yoga of choice, I have participated in some blissful restorative and therapeutic classes as well had a ball in some tune up classes. PranaShanti has become a community of like-minded individuals sharing a practice of self-care and personal growth. Not only is there an abundance of workout options, there are regular workshops and advanced personal and teacher training not to mention the occasional concert. There is truly something for everyone to connect to. PranaShanti offers quality instruction whether you are new to yoga or a seasoned yogini. This is a place where I feel safe to be me while taking my personal and physical practice to the next level. Hope to see you there some time. Sat Nam! – Carol Brochu
5. Inner Soul Yoga & Cycle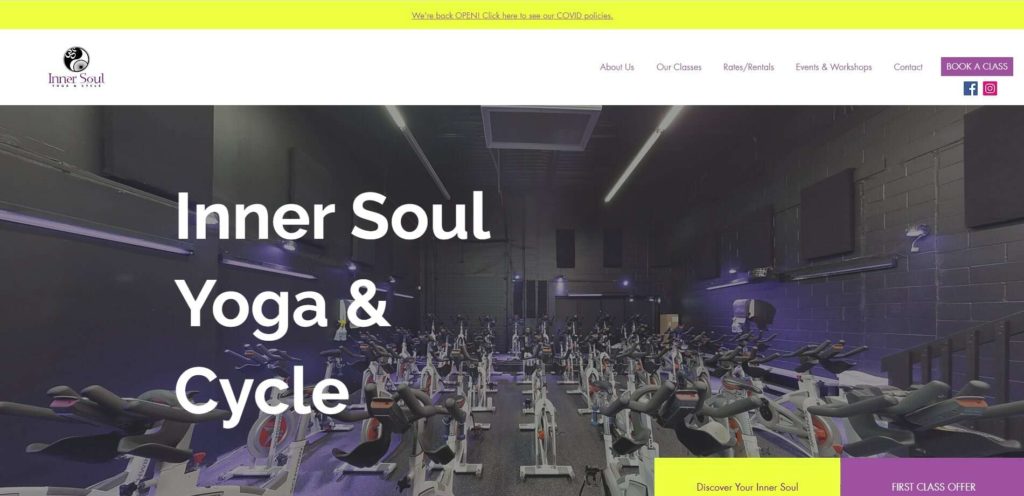 Test
Info
WEBSITE
https://www.innersoul.ca/
ADDRESS
190 Colonnade Rd S #19, Nepean
CONTACT DETAILS
(613) 226-9642
OPERATING HOURS
Monday: 10:15 am to 12:30 pm, 5:45 to 9:30 pm

Tuesday: 6 to 7 am, 10:30 to11:30 am, 5:15 to 9 pm

Wednesday: 6 to 7 am, 10:15 am to 12:30 pm, 5:15 to 9 pm

Thursday: 6 to 7 am, 10:15 am to 1 pm, 5:15 to 9:30 pm

Friday: 6 to 7 am, 10:15 am to 1 pm, 5:15 to 8:30 pm

Saturday: 8 am to 12 pm

Sunday: 9 am to 12 pm, 6 to 7:30 pm
| | |
| --- | --- |
| Instructor's credentials | ★★★★☆ (4/5) |
| Atmosphere | ★★★☆☆ (3/5) |
| Amenities | ★★★★☆ (4/5) |
| Convenient programs and schedules | ★★★★☆ (4/5) |
| Membership programs or session fees | ★★★★★ (5/5) |
If you are looking for a more practical yoga studio, Inner Soul Yoga & Cycle should definitely be on your must-try list.
Their rates are way cheaper and honestly, a whole lot more affordable than the other studios we mentioned here.
However, they are not entirely focused on just yoga. They also offer spin classes.
If you are not aware of what this is about, it's basically more of a cardio workout that involves a bike, hand positionings, sprints, and jumps.
You may still opt for regular yoga classes. Or you may want to try SPOGA—a mix of both spinning and yoga classes that has recently become quite a trend among fitness enthusiasts.
With that in mind, this is something we'd recommend for those who are looking to innovate the way they experience yoga.
Aside from that, they also offer other interesting forms of yoga, like their regular Hatha yoga classes, the Sleepwell yoga, hot yoga, and core yoga.
They also offer fitness classes and Zumba lessons. So if you also want to try out other forms of fitness routines, then Inner Soul Yoga & Cycle is the perfect spot for you.
Their rates are as low as $15 for every single class session and can even go lower to $10 on Fridays.
They don't have annual memberships, but their three-month unlimited program goes for only $119. That's just like spending $476 for the entire year.
Their intro package is quite higher compared to the other studios we mentioned here, but you get to do spin classes and yoga classes unlimited during the first month for $89. Considering that these are two different programs, it's definitely a good deal.
However cheaper their offers may be, it's worth keeping in mind that they are not your traditional yoga studio.
If you wish to have a deeper understanding of the disciplines and practices involved in yoga, you may want to consider more yoga-centric centres like the ones we mentioned previously.
Plus they are located in the Nepean area, although they do cater to those within the Greater Ottawa region and are practically very near if you are residing in Ottawa.
The ambience may also not be as serene as other yoga studios because they also offer other forms of fitness routines that do not require the meditative practices of yoga.
But if you just want to experience the basics of yoga as a form of your fitness plan or plainly just want to try something new, enrolling in their classes can be a very good deal.
Very cheap rates
Offers other fitness classes
Innovative and fun way to practice yoga
Yoga classes may not be as comprehensive as other yoga-centric studios
Ambiance may be distracting
Irregular operating schedules
Location is not within Ottawa
Customer Reviews
Great for beginners
I started doing yoga last year. Inner Soul is very clean and the instructors are very knowledgeable. I especially like Kerry's Core Power classes. I always feel like I have had a great workout. As well, Kerry walks around and helps you correct your form so that you get the most out of your practice and don't injure yourself. Maureen's Roll and Restore makes everything feel better and she asks everyone in the class what is hurting that week and then tailors the class to those areas. If you are a beginner, as I was, Shannon helps you with your technique so you improve quickly. Everyone is very friendly. – Dr. Valerie Archibald
Enjoyable variety of classes
I was introduced to Inner Soul Yoga & Cycle in 2019. Since then, I have had the opportunity to attended both types classes and I thoroughly enjoy the atmosphere and the variety of classes offered. The instructors are extremely kind and helpful and create a positive environment. No matter your age or if you are a beginner or more advanced they will help you strive.
Thank you very much to the owners Lindsay and Claudia for the dedication towards your clients. – Sylvie Campbell
FAQs about Yoga Classes in Ottawa
---
Do you know what's best after a good yoga session? A trip to the spa! Check out the best spas in Ottawa for that ultimate relaxation and unwinding experience!