The 5 Best Therapeutic Massage Services in Ottawa
A therapeutic massage can reach the deepest parts of our body and help alleviate our stress.
If you're looking for a clinic to get a well-deserved massage, you've come to the right place. In this article, we list and review the best therapeutic massage services in Ottawa.
How much does a therapeutic massage cost in Ottawa?
The typical price range of a therapeutic massage is around $60 – $80 for 30 minutes to an hour. A more specific price table can be seen below:
| Massage Duration | Average Starting Price |
| --- | --- |
| 30 minutes | $70 |
| 45 minutes | $100 |
| 1 hour | $120 |
| 1 hour and 15 minutes | $140 |
| 1 hour and 30 minutes | $160 |
| 2 hours | $200 - $250 |
| 2 hours (couples' massage) | $250 - $260 |
The Best Therapeutic Massage Services in Ottawa
Our goal was to provide you with the best therapeutic massage service options. Our selection is based on the following factors:
1. Healthy Choice Massage Therapy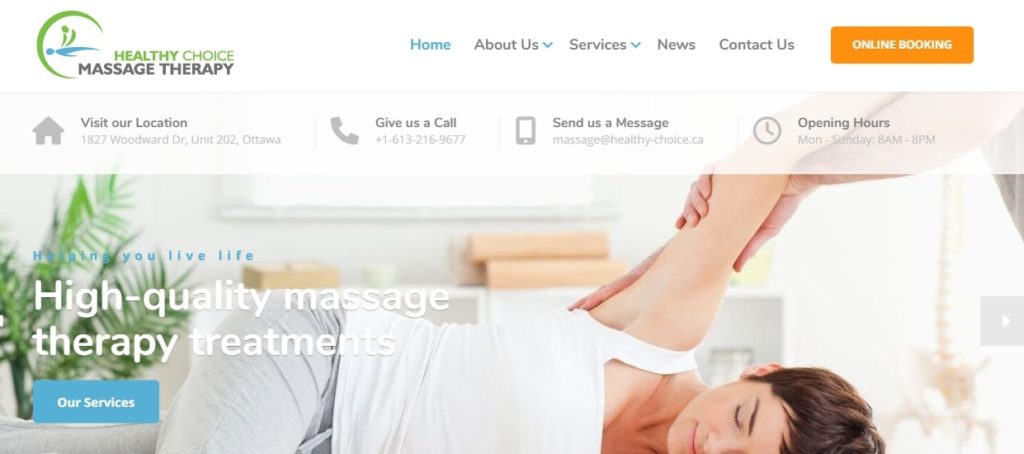 Test
Info
SERVICES
Therapeutic Massage, Motor Vehicle Accidents Treatment, Graston Technique, Sports Massage, Corporate Massage
WEBSITE
https://www.healthy-choice.ca/
ADDRESS
1827 Woodward Dr Unit 202, Ottawa, ON K2C 0P9, Canada
CONTACT DETAILS
613-216-9677
OPERATING HOURS
Monday 8AM–8PM

Tuesday 8AM–8PM

Wednesday 8AM–8PM

Thursday 8AM–8PM

Friday 8AM–8PM

Saturday 1–8PM

Sunday Closed
| | |
| --- | --- |
| Criteria | Ratings |
| Rates | ★★★★(4/5) |
| Location | ★★★★★(5/5) |
| Experience | ★★★★★(5/5) |
| Services | ★★★★★(5/5) |
Healthy Choice Massage Therapy is an Ottawa-based therapeutic massage parlor located in Woodward Drive.
What stands out about Health Choice is its massage options. The therapeutic massage is its most basic service, but the parlor also offers sports massages for athletes and corporate massages for those who sit in front of computers all day.
The massage center also offers relaxation massage options such as Swedish massage and hot stone massage for those who just need to unwind. There are also pregnancy & post-natal massages, as well as tailored massages for children who have smaller and softer bodies.
Another unique service the parlor offers is its motor vehicle accident treatment. This is a service that focuses on restoring body functions after a vehicle accident through massage.
This is a very useful service and can only be done by registered massage therapists.
We are impressed with Healthy Choice's versatility because it shows that the company has hired competent professionals. It has also received a lot of positive feedback from its customers.
The only downside is that its services can be pricey. But if you have the budget, it's a solid choice, especially if you're one with unique needs when it comes to massages.
Lots of massage options
Offers unique corporate massage
Also treats accident injuries
Customer Reviews
Outstanding
"I came to Healthy Choice Massage because I was experiencing really bad postpartum back pain. Tatiana gave me an outstanding consultation and a massage, understood in-depth the cause of my back pain (improper breastfeeding position), and gave me great advice on how to avoid re-triggering it in the future. Tatiana's professionalism and charisma are unrivalled, will definitely be back again!" – Alena L.
Great for athletes
"I saw Sarth today for my initial visit and I can confidently say that He is one of the best masseuse in Ottawa. I went to see him after a volleyball tournament, I was in pieces and everything hurt. He took his time to work on each and every one of my injuries. I've been to so many different clinics, in Orleans and in the West, I even worked with in home therapists and no one was able to help me the way Sarth did." – Regina
2. Massage At Home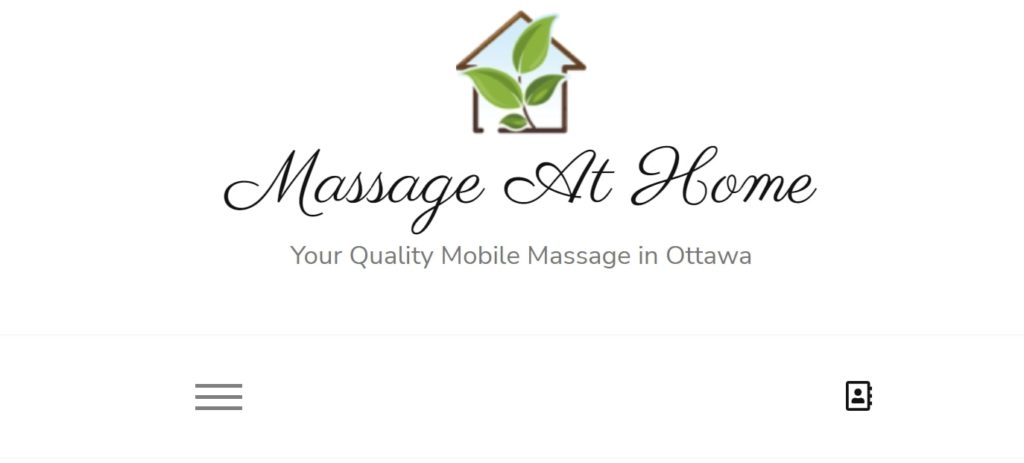 Test
Info
SERVICES
Therapeutic Massage, Couples Massage, Swedish
WEBSITE
http://massageathome.com/
ADDRESS
Home-service only
CONTACT DETAILS
613-808-9155
OPERATING HOURS
Monday 10AM–9PM

Tuesday 10AM–9PM

Wednesday 10AM–9PM

Thursday 10AM–9PM

Friday 10AM–9PM

Saturday 10AM–9PM

Sunday 10AM–9PM
| | |
| --- | --- |
| Criteria | Ratings |
| Rates | ★★★★★(5/5) |
| Location | ★★★★ (4/5) |
| Experience | ★★★★★(5/5) |
| Services | ★★★★★(5/5) |
Like its name says, Massage At Home is an appointment-based home massage service that caters to the residents of Ottawa and its surrounding areas. This is a great option for those who want to get a massage in the comfort of their homes.
Established in 2012, Massage At Home's goal is to bring the spa to you. The company has hired multiple massage therapists under its belt so that it can take on many clients at once.
Convenience is the priority here, so it's the perfect option for those who are too tired to drive to a massage parlor downtown.
One of its main mobile massage therapists is Judith, who has over 16 years of experience in the field. She has been a customer favorite because of her politeness and massage expertise.
As a mobile massage service, there are limits to what its therapists can do. But looking at the positive feedback from clients, the essence of the massage is there.
If you're looking for a fancy massage that requires hot stones and your own steam room, this may not be the right option for you.
However, if you just need a good old classic deep tissue and therapeutic massage that you can enjoy at home, this is the perfect option.
Accepts massage insurance
Home service
Open everyday
Customer Reviews
Positive energy
"Judith brings positive energy and care. She is very knowledgeable and intuitive. She provides extremely quality treatments that suit individual needs. Would highly recommend. And the convenience of getting your massage at the comfort of your own home is just a cherry on top. Perfect for busy families and anyone who doesn't like getting into a cold car after a relaxing massage." – Noth B.
Excellent
"Received an excellent massage from Judith. I like her massage style, she's very thorough. Very grateful for this service. As a new mom, it's not possible for me to go out for a massage, and I needed one really badly. It's so convenient that I can get a massage while my husband is watching the baby for an hour, and then he can get a massage right after me. Would definitely recommend!" – Astha Laplante
3. Carling Massage Therapy & Acupuncture Clinic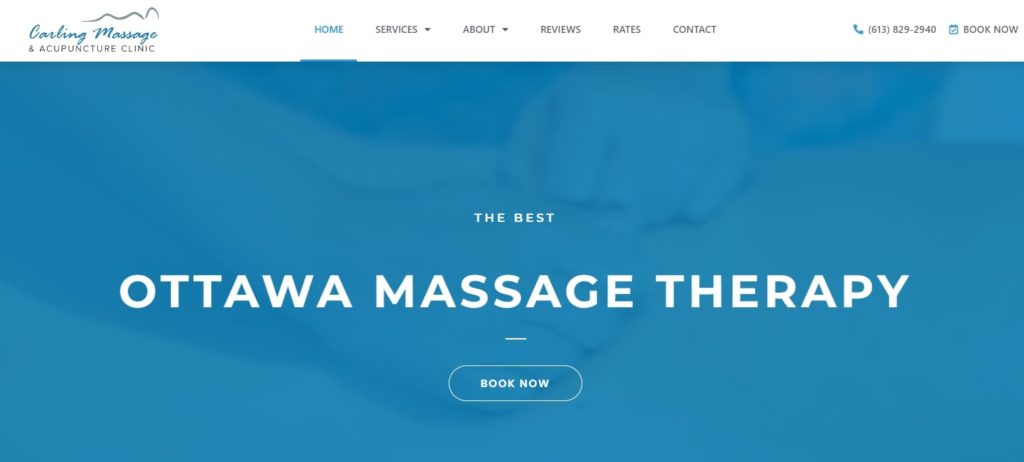 Test
Info
SERVICES
Therapeutic Massage, Deep Tissue Massage Therapy, LA Stone Therapy, Swedish Relaxation Massage, Trigger Point Massage, Prenatal Massage, Pregnancy Delivery, and Postpartum Massage
WEBSITE
https://carlingmassage.com/
ADDRESS
60 Farrow St, Ottawa, ON K2B 6E2, Canada
CONTACT DETAILS
613-829-2940
OPERATING HOURS
Monday 5:45AM–8PM

Tuesday 5:45AM–8PM

Wednesday 5:45AM–8PM

Thursday 5:45AM–8PM

Friday 5:45AM–8PM

Saturday 5:45AM–8PM

Sunday 5:45AM–8PM
| | |
| --- | --- |
| Criteria | Ratings |
| Rates | ★★★★ (4/5) |
| Location | ★★★★★(5/5) |
| Experience | ★★★★★(5/5) |
| Services | ★★★★(4/5) |
Established in 2002, Carling Massage & Acupuncture Clinic is not the oldest massage parlor in the city. But it does have many experienced therapists under its belt.
Its founder is Ingrid Viktorinova, who has been a registered massage therapist for more than 10 years.
The Carling Massage & Acupuncture Clinic specializes in different types of massages, such as therapeutic massage, deep tissue massage, and Swedish relaxation massage. It's also one of Ottawa's most popular acupuncture centers.
We really like CMAC's location, which is a 3-minute drive from Queensway Highway 417. It's easy to locate on navigational apps and has a good view of the Ottawa river, which makes the location all the more relaxing.
The experience in CMAC is almost like a spa where clients get to be pampered while being able to unwind. The massage options are also based on both eastern and western techniques, which grants customers the best of both worlds.
We are also glad to say that Ingrid's massage service can be booked online for convenience. For special services, the parlor offers massages for pregnant women.
Overall, the only true downsides with CMAC are its prices and the fact that Ingrid is the only therapist available most of the time. If you have the budget and can wait for a good schedule, this place is perfect for you.
Opens everyday
Accepts online booking
Has special massage for pregnant women
Has acupuncture services as well
Customer Reviews
Amazing
"Ingrid is amazing at what she does! I had really bad back pain before going to see her and a few visits later, I feel amazing! I would definitely recommend her. She is professional and very knowledgeable!" – Raissa Ali
Incredible
"Ingrid is incredible! I called her yesterday with a terrible headache that I could not get rid of for 3 days, and she was able to squeeze me in to a cancellation she had. Within the first 20 minutes of the session she was able to identify, and relieve majority of my headache. By the end of the 45 minutes I no longer had a headache. I have another appointment booked with her today." – Joey C
4. relax.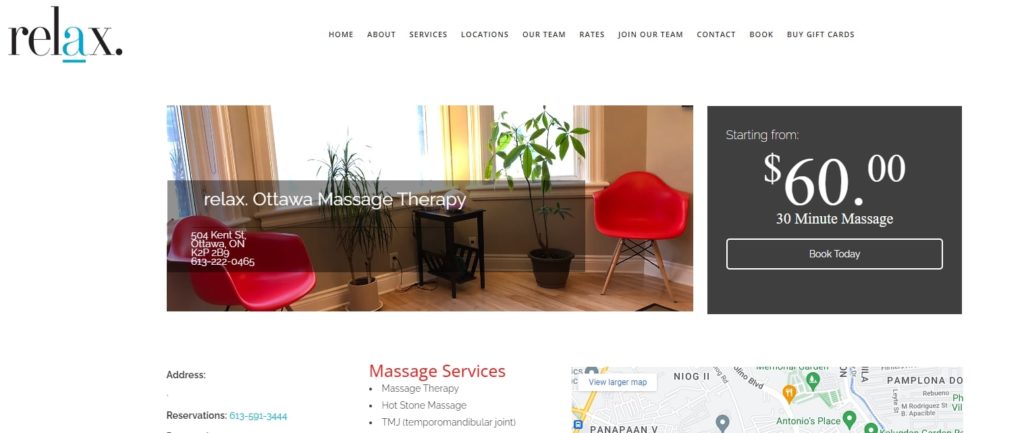 Test
Info
SERVICES
Therapeutic Massage, Swedish, Deep Tissue, Trigger Point Therapy, Pregnancy Massage, Sports Massage, Hot Stone, Functional Taping, Craniosacral Therapy, Cupping, TMJ, Ashiatsu Massage
WEBSITE
https://relaxmassagegroup.com/relax-ottawa/
ADDRESS
504 Kent St, Ottawa, ON K2P 2B9, Canada
CONTACT DETAILS
613-222-0465
OPERATING HOURS
Monday 9AM–8PM

Tuesday 8AM–8PM

Wednesday 8AM–8PM

Thursday 8AM–8PM

Friday 8AM–8PM

Saturday 9AM–5PM

Sunday 11AM–4:30PM
| | |
| --- | --- |
| Criteria | Ratings |
| Rates | ★★★★ (4/5) |
| Location | ★★★★ (4/5) |
| Experience | ★★★★★(5/5) |
| Services | ★★★★★(5/5) |
relax. is another great therapeutic massage service available in the city. Its main services are therapeutic massage, relaxation Swedish massage, trigger point massage, and deep tissue massage.
The parlor also has unique relaxation methods such as hot stone massage, functional taping, TMJ, and cupping. For those who don't know, cupping is an eastern massage method where cups are used to suck the cold out of your body to get rid of frozen muscles.
The mix of eastern and western techniques is what really makes relax. impressive, coupled with state-of-the-art technology for its functional taping and craniosacral therapy. We are quite amazed at the many services it has to offer.
Other than the multiple types of massages and relaxation methods, relax. also boasts a solid team of professional massage therapists. This means that the parlor can handle multiple clients without making them wait too much.
Being open every day means clients can visit the massage clinic during the weekends and still get great service. With that said, it should be worth noting that some of the services relax. has to offer are a bit expensive.
Overall, we believe everything, from the exceptional service to professional massage therapists, is worth the price.
Lots of massage options
Also offers cupping
Opens everyday
Customer Reviews
Fantastic
"Had a fantastic massage with Marcus Kelly! He was very knowledgeable and I could tell that he actually cared about my neck/back/shoulder issues. I really appreciated the stretches and advice he gave me – I will definitely be back soon to see him again! Would definitely recommend" – Olivia G.
Great
"Great experience. Lillian was great – she listened to my needs and worked on two different problem areas. I left pain-free and feeling 10lbs lighter. Will definitely be returning!" – E. Hud
5. Poised Massage Therapy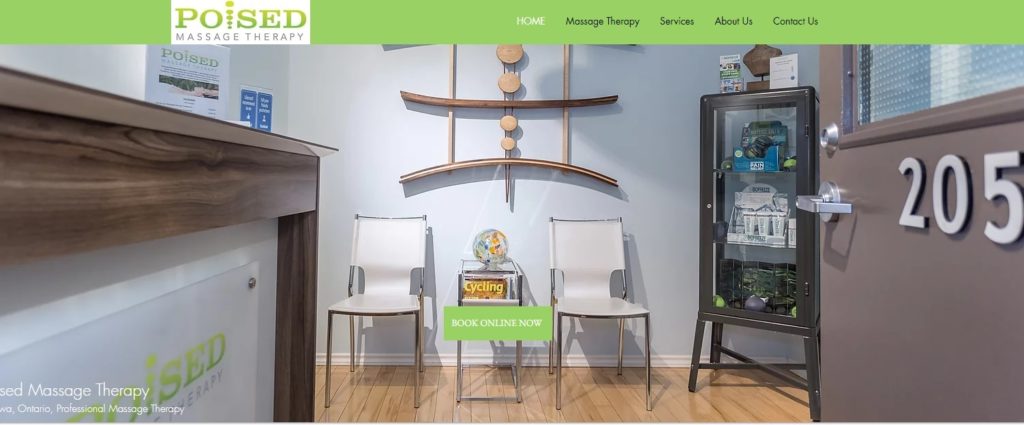 Test
Info
SERVICES
Therapeutic Massage, Swedish, Deep Tissue, Trigger Point T Therapy, Pregnancy Massage, Sports Massage, Hot Stone
WEBSITE
https://www.poisedmassagetherapy.com/
ADDRESS
346 Richmond Rd #205, Ottawa, ON K2A 0E8
CONTACT DETAILS
613-695-0400
OPERATING HOURS
Monday 8AM–7:30PM

Tuesday 10AM–7:30PM

Wednesday 10AM–6:30PM

Thursday 8AM–7:30PM

Friday 9:30AM–7:30PM

Saturday 9AM–3:30PM

Sunday 9AM–2:30PM
| | |
| --- | --- |
| Criteria | Ratings |
| Rates | ★★★★★(5/5) |
| Location | ★★★★ (4/5) |
| Experience | ★★★★★(5/5) |
| Services | ★★★★★(5/5) |
Diana Delisle's Poised Massage Therapy is a clinic located in Richmond Road, Ottawa. Her experience since graduating from the International Academy of Massage in 2008 can definitely be seen in how she treats her clients.
Diana is also an award-winning massage therapist with numerous honors from her school, so her experience is no question.
The amenities of the massage parlor are also impressive with lots of room to relax and a decent lounge area for clients who are waiting to be called for their appointment. There's complimentary cucumber water to keep them refreshed as well.
As a registered massage therapist, Diana made sure that all her clinic's therapists know what they are doing. Her parlor specializes in treating physical issues such as arthritis, tendonitis, back and neck pain, headache, and even post-surgical rehabilitation.
The massage clinic also helps alleviate pregnancy issues. All of these are done through therapeutic massage. The clinic's team really wants customers to know that massages are a good way to heal.
Overall, the only issue we found with Poised is its small office. Even with its own lounge, it's still quite small, making it prone to crowding during busy days.
Despite that, the services are still great. As long as you get a good schedule, you have nothing to worry about.
Lots of options for massages
Great location and amenities
Good feedback from previous clients
Customer Reviews
Very professional
"I have been seeing Diana regularly for more than 10 years. She is skilled at isolating the problem areas, giving relief and suggesting follow up treatments and exercises to do at home. She is great for deep tissue massage and provides amazing relief. The clinic is always clean and sanitized and has a great atmosphere. I recommend Poised to everyone!" – Allison
Quality service
"Definitely one of the best places in town to get a massage. I have been getting massages here for the past year and I have to say the therapists are extremely talented and friendly. They take their time to address your specific issues and the massage never feels rushed. The owner Diana does a great job of running the place. Also love that she is recruiting more therapists to work out of the space." – Astryl S.
FAQs about Therapeutic Massages
---
That concludes our reviews of the best therapeutic massage services in the city. Check out the best spas in Ottawa if you're looking for other ways to unwind.