The 5 Best Storage Space Providers in Ottawa
If you're having problems with storing your unused stuff in your home, you may need good storage space. In this article, we'll be discussing the best storage space providers in Ottawa so you can find the right one close to you and your family.
How much do storage space providers charge in Ottawa?
The average cost of storage space is around $1.75 per square foot. For a more specific price guide, check the table below:
| Types of Storage Unit | Estimated Price |
| --- | --- |
| Small Unit | $100 - $200 a day |
| Medium Unit | $300 - $400 a day |
| Large Unit | $400 - $550 a day |
| Vehicle Storage | $150 - $250 a day |
The Best Storage Space Providers in Ottawa
We looked for the best storage space providers in the city by looking at the following criterion:
1. Access Storage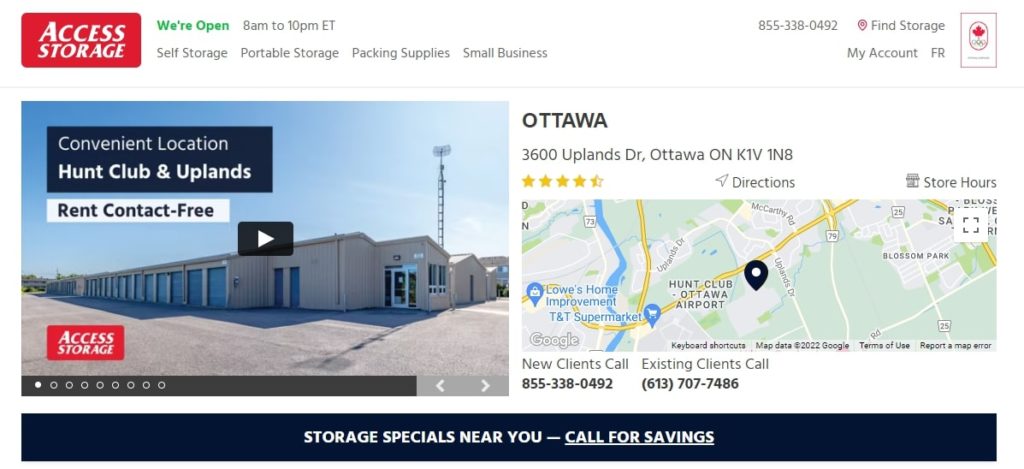 Test
Info
SERVICES
Self Storage, Portable Storage, Packing Services
WEBSITE
https://www.accessstorage.ca/
ADDRESS
3600 Uplands Dr, Ottawa, ON K1V 1N8, Canada
CONTACT DETAILS
613-707-7486
OPERATING HOURS
Monday to Friday: 8AM - 10PM

Saturday to Sunday: 9AM - 6PM
| | |
| --- | --- |
| Criteria | Ratings |
| Price | ★★★★ (4/5) |
| Distance | ★★★★★ (5/5) |
| Sizing | ★★★★★ (5/5) |
| Feedback | ★★★★ (4/5) |
Access Storage is a great facility located in Nepean, Ottawa. It has 24-hour security guards, as well as CCTVs installed all over the area so your items are properly guarded.
The reception is also staffed 24 hours a day so if you have to get an item from one of your storage rooms at an unusual hour, you won't have to worry. Someone will be there to assist you.
This storage space provider also offers its clients easy payment and booking options by adding an online payment system. If you're looking for a storage facility that prioritizes convenience and security, Access Storage is one of the best options.
For easy access, the company provides exterior lockers and storage rooms. In this area, you can park your car near your storage area to easily get to your stuff.
There is interior storage available and even climate-controlled storage options for more sensitive items.
Access Storage's facilities are high-end and may be too pricey for some potential customers. But if you have the budget, it's a great option to consider.
Overall, aside from being pricey, Access Storage is a viable option for your storage needs. It's secure and its facilities are well-maintained and state of the art.
24-hour security
Units are maintained regularly
Offers portable storage
Slightly far from the main city
Customer Reviews
Professional
"Access Storage is the place to be to store all your storage needs. I had a great experience with the company and received phenomenal customer service from Maia. She was on point and was able to ensure all my need were met.Thank you to team Access Storage and once again Maia for her awesome professionalism!" – Dimitry Cave
Super nice
"First time as an Access Storage client and I must say the customer service was exceptional. Maia was very helpful, professional and an overall super nice person! She was very efficient and knew exactly what I needed right away. The lockers are a great size and I haven't had any problems accessing my unit after hours. Would highly recommend!" – Ellie Nesrallah
2. Just Right Storage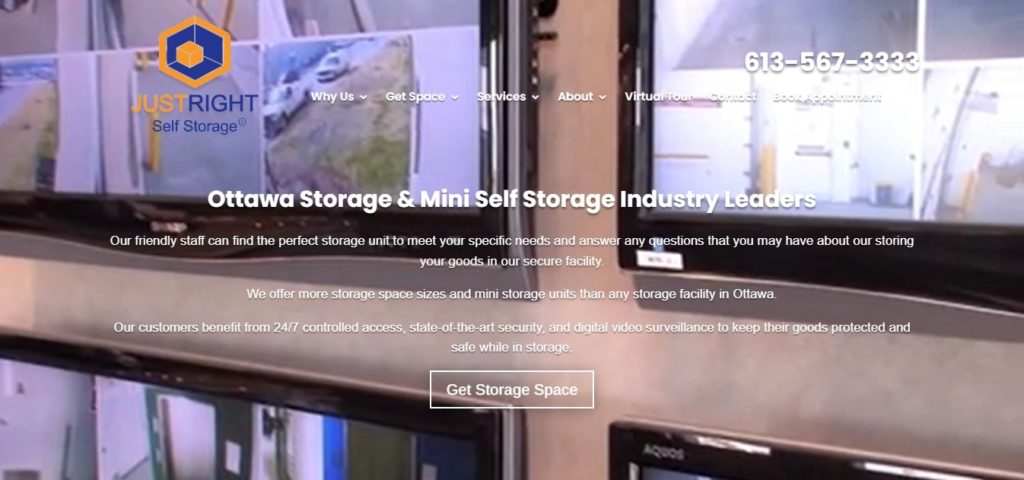 | Test | Info |
| --- | --- |
| SERVICES | Storage Units, Self-Storage, Student Storage, Government Storage, Military Storage |
| WEBSITE | https://justrightselfstorage.ca/ |
| ADDRESS | 255 City Centre Ave, Ottawa, ON K1R 7R7, Canada |
| CONTACT DETAILS | 613-567-3333 |
| OPERATING HOURS | Monday - Sunday: 8AM - 9PM |
| | |
| --- | --- |
| Criteria | Ratings |
| Price | ★★★★★ (5/5) |
| Distance | ★★★★ (4/5) |
| Sizing | ★★★★★ (5/5) |
| Feedback | ★★★★ (4/5) |
Just Right storage is actually more than 'just right.' It's a very good company that provides storage services in the Ottawa area.
What piqued our interest is its mini storage units that can be used to store valuable but smaller items like gadgets, consoles, computers, or other similar personal effects.
The company also has 24-hour video surveillance of its facility so you can rest assured that your items are well-guarded and safe during the period of storage. These storage areas are also guarded by professionals every day, so security is definitely no issue.
Just Right is also more affordable compared to some storage companies, so it's perfect for customers on a budget. The staff is polite and doesn't mind you coming in at ungodly hours in case of emergencies.
The facility also provides trucks for moving bigger stuff such as pianos, refrigerators, and other similar-sized items. These trucks are part of the package you can avail of and are very convenient, especially for those who have small vehicles.
The only downside with Just Right is the lack of online options and the fact that sometimes, it's at full capacity because of numerous clients.
With that said, if you're looking for a storage space provider but you're concerned about security, we think Just Right is the right company for you.
Mini storage for minimal items
Student storage
Free truck for moving items
Free lock for security
Open everyday
Storage can be at full capacity due to many clients
No online options
Customer Reviews
Excellent location
"Very clean, bright, and an excellent location." – Bernie Carroll
Clean
"Very clean units and buildings. Easy drive through access." – Dough Thomson
3. DYMON Storage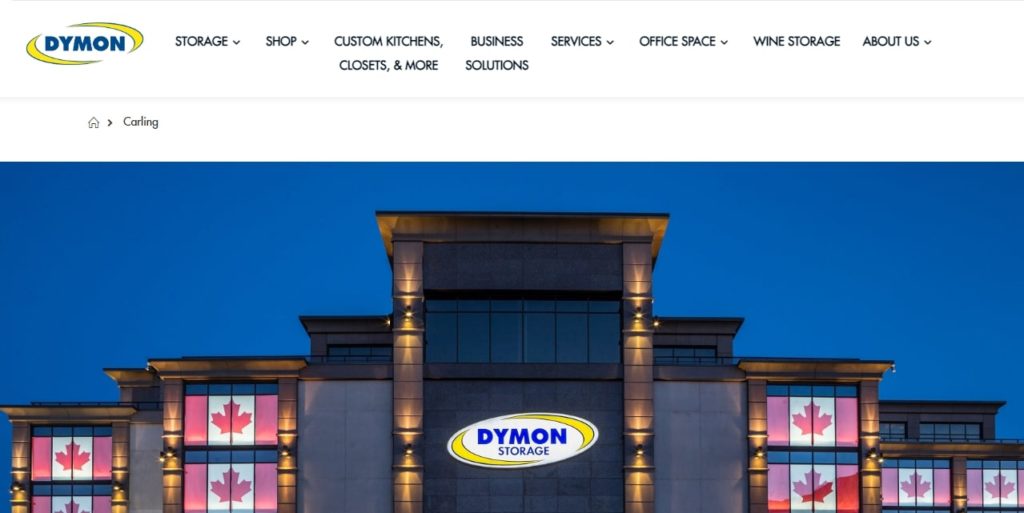 | Test | Info |
| --- | --- |
| SERVICES | Personal Storage, Short-Term Storage, Business Storage, Promotions, Wine Storage, Custom Kitchens, Closets, Office Space |
| WEBSITE | https://dymon.ca/location/carling |
| ADDRESS | 1554 Carling Ave, Ottawa, ON K1Z 7M4, Canada |
| CONTACT DETAILS | 613-321-1650 |
| OPERATING HOURS | Monday - Sunday: 8AM - 9PM |
| | |
| --- | --- |
| Criteria | Ratings |
| Price | ★★★★ (4/5) |
| Distance | ★★★★★ (5/5) |
| Sizing | ★★★★★ (5/5) |
| Feedback | ★★★★★(5/5) |
Dymon Storage is a great option for anyone needing storage for only a short amount of time. This is perfect for those who are doing deep cleaning at home and just need to find a temporary location for their stuff.
It's also quite unique that Dymon offers student storage options. These are less expensive and are also smaller in terms of storage size, perfect for college students who are probably looking for a place to stay and need a storage area for their luggage.
The company also offers special storage options for clothing and garment. If you're renting plenty of costumes or other clothing materials for a special event and need a place to store them, this is the option for you.
We also like that Dymon has an online presence. If you are in a rush and need a storage facility immediately, you can reach out to the company online or by calling its landline.
The only downside with Dymon is its pricing, which can be very expensive especially if you are trying to save money.
With that said, Dymon is still a solid company for your storage needs because of its unique storage options and the convenience it offers.
Offer lots of storage options
Short-term storage available for those doing renovations
Storage for valuables like wine
Customer Reviews
Clean and well kept
"A bit pricey for their storage units, however it's always clean and well kept. They offer truck services to bring your stuff on your initial visit. Which is a bonus." – Luis M.
Smooth operation
"An extremely well operated facility. The sign up was done over the phone with a very friendly associate, reserve a unit. When we came in personally to complete the paperwork, the formalities were smooth." – Ananth Koovappady
4. Public Storage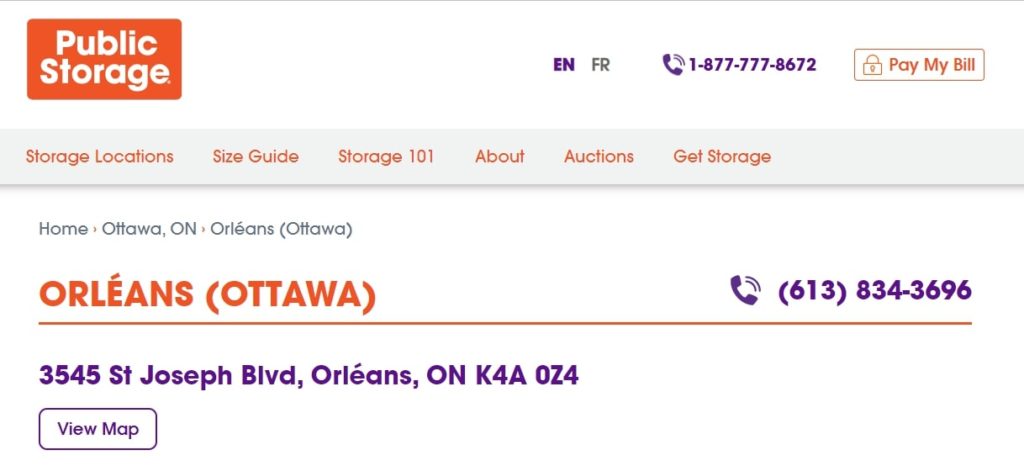 | | |
| --- | --- |
| Criteria | Ratings |
| Price | ★★★★★ (5/5) |
| Distance | ★★★★★ (5/5) |
| Sizing | ★★★★★ (5/5) |
| Feedback | ★★★★✩ (4/5) |
Public Storage Canada is a great option for storage and moving, which is a very common combination. The company has numerous locations all over the country, including Ottawa, so you'll be able to find one wherever your move.
For storage options, it offers personal storage, business storage, and short-term storage. The company's storage facilities are overall great with regular surveillance both from CCTV and the facility's security guards.
These storage areas are also climate-controlled, so if you have items that are in need of that, this is a good option albeit more expensive. For heavy items that need storage, the company offers free dolly carts so you can move your large items more easily.
The only downside with Public Storage is the fact that it is, of course, located in a public area. For those who are very particular about security, this may be a dealbreaker.
Rest assured, we have checked the Ottawa location properly and we've seen that it's pretty much secure despite being on the public scene.
If you are thinking of going with this company, you'll also be glad to know that it has easy payment options online. If you can get past the fact that its storage spaces are out in the open, this is a solid choice.
Fast payment options
Video surveillance
Free dollies for carrying heavy items
Online rental
Customer Reviews
Big storage
"From the minute I moved to Ottawa and had to store much of my two bedroom apartment, to changing & downsizings lockers, the staff here have been WONDERFUL! They're knowledgeable, friendly and extremely helpful!" – Kaitlyn Kennedy
Knowledgable staff
"Amazing place to do business with. Alex and Cameron where amazing at helping find exactly what I needed and provided me with options. Very knowledgeable staff and friendly! Would recommend for anyone looking for a storage unit." – Diego Lopez
5. Capital Storage
| Test | Info |
| --- | --- |
| SERVICES | Self Storage, Portable Storage, U-Haul trucks, Moving Supplies |
| WEBSITE | https://www.capitalstorage.ca/ |
| ADDRESS | 75 Breezehill Ave N, Ottawa, ON K1Y 2H6, Canada |
| CONTACT DETAILS | 613-728-0255 |
| OPERATING HOURS | Monday to Sunday: 9AM - 4PM |
| | |
| --- | --- |
| Criteria | Ratings |
| Price | ★★★★★ (5/5) |
| Distance | ★★★★★ (5/5) |
| Sizing | ★★★★★ (5/5) |
| Feedback | ★★★★✩ (4/5) |
Capital Self Storage is another awesome company in our list of storage space providers. It's located in Breezehill Avenue, near the residential areas but also close enough to the nearest commercial area.
What really interested us with Capital's storage units is how clean they all are. These units are well-maintained and the company offers great sizes for both small and larger items.
Capital is actually a family-owned business, so it's not the biggest option you can find. But the people behind it add a very personal touch to their service — one of the reasons many Ottawans choose to go with this company.
As a smaller business, Capital is also less expensive compared to huge storage companies. If you're saving up for something important, this storage provider might be the right one for you.
Other than the smaller facility, another downside is the lack of 24-hour in-person security. The business is still covered with CCTV cameras and you have the choice to put in your own locks so you can feel more secure about leaving your stuff inside the storage spaces.
Despite all of that, we are still very impressed with Capital because of its well-maintained storage solutions and affordable pricing. If you can get past the lack of 24-hour guards, this company is definitely a solid choice.
Offers truck rentals
Offers package assistance
Good centretown location, easily accessible
No specific storage options for valuable items
No 24-hour security besides the cameras
Customer Reviews
Helpful staff
"I stored some stuff here for a few months while moving and also rented a U-Haul van from here. The staff were always very helpful, friendly and reasonable. The storage facility is very secure. The hours are slightly inconvenient if you work in the day during the week, but they are open Saturdays so it's not a huge deal. I also had a great experience renting a U-Haul from here as they seem to be a lot less crowded than other locations." – Gregory Evans
Knowledgeable and professional
"I recently rented a cargo van to move my art studio and I can't tell you how grateful I am for the amazing service I got. But since this is a review I will tell you. The receiving clerk was very helpful, knowledgeable, friendly and professional. Thank you so much for the giggles too. The van was in immaculate shape and I was able to fit my entire studio in just one trip. This was the best move I have ever had to do." – Justy Dennis
FAQs about Storage Space Providers in Ottawa
---
Keeping your items safe, especially when you're not around, is very important. We've listed the best storage unit providers in the area so you can take care of your items even from afar.
If you're looking for vehicle storage, check out our article on the best car storage services in Ottawa!