Finding the Best Secondhand Clothing Stores in Ottawa
Shopping is always fun, but there's a special kind of charm when you find amazing clothes in secondhand clothing shops.
Aside from the joy of being able to save on money, you can have the chance to build a good wardrobe with tons of choices that regular clothing retail shops don't always have. If you're lucky you might just score a designer piece that could normally cost a fortune for only a few dollars.
If you haven't tried shopping secondhand yet, you're missing out on a lot. But we're here to fix that.
In this list, we sought out the best secondhand clothing stores in Ottawa where you can find a good selection of goods at the best prices.
So, get ready to enjoy the treasure trove of clothes in this list of stores. Who knows what gems you'll find?
How can I save when I buy from secondhand stores?
According to Statistics Canada, an average Canadian spends about $3,344 on clothing and accessories a year. That's not a small amount of money!
Shopping for pre-loved items is an ideal way to save on your expenses. Plus, it comes along with so much more benefits.
Of course, prices may vary when buying items from secondhand stores. But let us give you a little idea of how much cheaper usual clothing pieces can be in the table below:
| Type of Clothing | Average Price |
| --- | --- |
| Shirts | $5 or below |
| Skirts | $6-$9 |
| Dresses | $9 |
| Pants and jeans | $9 |
| Jackets and blazers | $9-$13 |
| Shoes | $9 |
Imagine how much you can save on a $7 pair of jeans when branded ones can cost as much as $73 on an average! Take note though that these prices are for regular pieces of clothing.
For high-end branded items, the prices could go higher but definitely would still be at least 30% to 40% cheaper than their original price. Some stores could even go for as much as 50% to 75% cheaper.
The condition of the clothes can also factor in pricing. Gently-used or never-been-used clothes may be priced higher.
Aside from saving on your own clothes, most secondhand clothing shops also offer consignor services too. This means you can also earn by selling your pre-loved items through their stores.
Now, let's get down to serious shopping business and check out these stores within the Ottawa area!
Finding the Best Secondhand Clothing Stores in Ottawa
Just as much as we want the best value for our money when we buy from secondhand or thrift shops, there are also other things that can make your shopping experience a good one aside from low prices.
To list the best secondhand clothing stores in Ottawa, we looked into which ones ticked the checks on the following criteria:
1. The Clothes Tree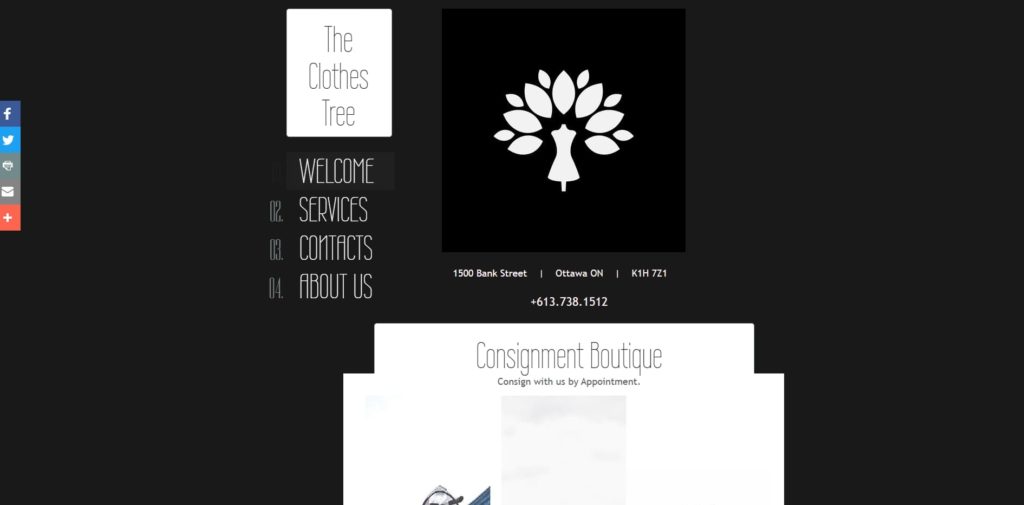 Test
Info
PRODUCTS
Secondhand branded clothes, shoes, and fashion accessories for men and women
WEBSITE
http://www.theclothestree.ca/
ADDRESS
1500 Bank Street, Ottawa
CONTACT DETAILS
(613) 738-1512
OPERATING HOURS
Monday: 10:30 am to 4 pm

Tuesday to Thursday: 10 am to 5 pm

Friday: 10:30 am to 5 pm

Saturday: 10 am to 5 pm

Closed on Sundays
| | |
| --- | --- |
| Wide selection of clothes | ★★★★☆ (4/5) |
| Quality of items | ★★★★★ (5/5) |
| Cleanliness and tidiness | ★★★★☆ (4/5) |
| Convenient location | ★★★★☆ (4/5) |
The Clothes Tree is a hidden gem in the heart of Ottawa, as their loyal customers would say. They have a good collection of fashion items and branded clothes for both men and women.
Judging by the pieces you find in their store, you'll know that the clothes they offer are well curated. Though a lot of them are obviously secondhand, they are in good shape, and you'll rarely find a bad item in their trove.
A family-owned business that's been running for 28 years now, their staff is very friendly and customer-oriented. They'd even remember you even if the last time you shopped from them was months ago.
As expected of thrift shops, they do offer reasonable costs, especially since they offer a lot of branded items.
The Clothes Tree is actually a favorite among consignors, too, if you are interested in selling your pre-loved pieces.
They also have live selling videos up on their social media pages from time to time, which helps regular customers spot what's in store before they even get there.
But since these are secondhand with only a limited number of pieces per design, expect great competition if you spot something you like.
They do offer clothes selections for men but not as much as the clothes they have for women.
What's nifty about them, though, is that items unsold for quite a period of time are regularly donated to a women's shelter.
The only thing you'll have to consider, though, is that the store is not very spacious and tends to be a little cluttered sometimes.
Nevertheless, their staff is required to follow health and safety protocols, so expect surfaces to be disinfected regularly.
Good assortment of clothes for women and men
Well-curated branded items
Reasonable prices
Friendly staff
Good health and safety in-store protocols
Live selling on their social media platforms
Clothes may be a little cluttered due to a huge volume of items in a small space
Closed on Sundays
Customer Reviews
Wonderful experience
If you haven't been to the Clothes Tree you are missing out on a wonderful consignment store. Gorgeous clothes, beautiful jewelry, shoes, purses, fabulous scarfs, hats, gloves, many with original tags, carefully curated and beautifully displayed. Their daily Facebook videos are a perfect way to check out what they have in store, they have fun and put outfits together from head to toe. I highly recommend the Clothes Tree. I buy and sell there and I am always happy with the personal attention they offer, in a safe environment with all the right protocols in place to enjoy the experience! – Pamela Booth
Lots of great finds!
An amazing store a lot of great finds a lot of high end stuff and very reasonably priced and the staff was so helpful and friendly such nice people would definitely recommend and will be shopping there more often. – Muna Shokri
2. The Clothes Secret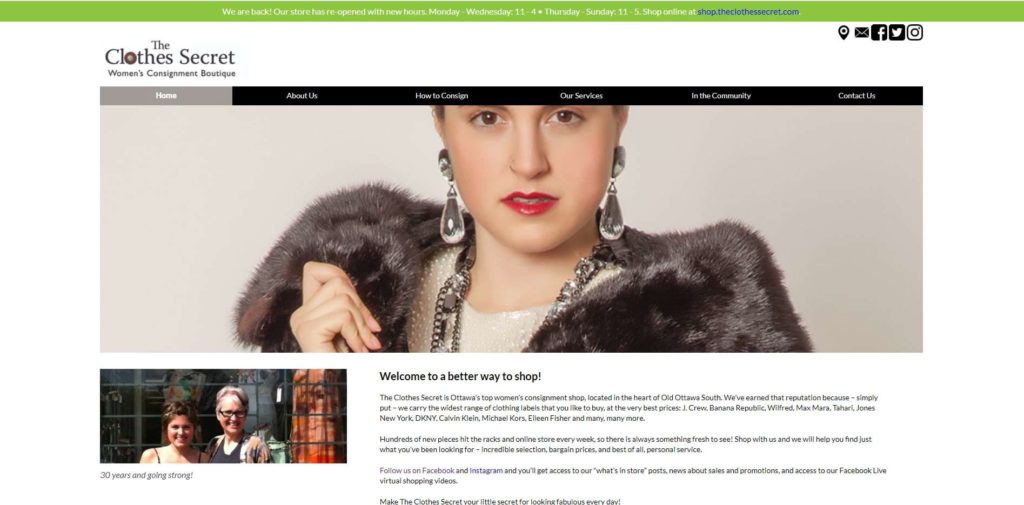 Test
Info
PRODUCTS
Secondhand branded clothes, shoes, and fashion accessories for women
WEBSITE
http://www.theclothessecret.com/
ADDRESS
1136 Bank Street Ottawa
CONTACT DETAILS
(613) 730-9039
OPERATING HOURS
Monday to Wednesday: 11 am to 4 pm

Thursday to Sunday: 11 am to 5 pm
| | |
| --- | --- |
| Wide selection of clothes | ★★★★☆ (4/5) |
| Quality of items | ★★★★★ (5/5) |
| Cleanliness and tidiness | ★★★★☆ (4/5) |
| Convenient location | ★★★★☆ (4/5) |
Running a family-owned business, the owner, Valerie Macintosh, has always had a knack for selling designer clothes.
When she realized her small business had potential, she opened The Clothes Secret in her own neighborhood—which, by the way, would be very convenient if you live around or near Bank Street.
Now, their store carries well-known high-end brands like the Banana Republic, DKNY, and Michael Kors but, of course, at bargain prices.
What's nice about their store is that they regularly update the pieces they offer weekly, so there's always something to look forward to on their racks. They livestream and update these "new" old finds on their social media platforms too if you prefer to shop online.
They are also open to consigners and have a very thorough curation process.
One cute service that you may want to try is their styling service where you can consult their sales associates to put together outfits for you.
Plus, we love that they are involved in their community. In November, for every coat that they sell, they donate it to Out-of-the-Cold Suppers, an initiative to care for homeless people.
They have a really good range of clothing selections for women. However, there are limited sizing options and very few for plus sizes.
They also don't offer clothes for men, so it's all about just the ladies here.
Nevertheless, if you are looking for good brands at cheap prices, the curated items on their racks are in mint condition. Plus, they also have other super thrifty options too for those who are really looking to save their bucks.
Good clothing selection for women
Good prices for branded items
Friendly and knowledgeable staff
Offers styling assistance while you shop
Live selling and new stock updates on social media
Open all seven days of the week
No selections for men
Limited sizing options
Customer Reviews
Staff really know their stock
My first stop for any event. Staff there are good at suggesting things appropriate for me; they really know their stock. Prices are excellent. The very best place for finding new jewelry; we all like jewelry, so why pay more for it when you can buy some pre-loved pieces? – Sarah Joanne Rhamey
Designer pieces at cheap prices
This is my absolute favourite place to shop. My Mom (when she lived in Ottawa) and I would often go here together, as she discovered the store. She was just recently here from New Brunswick and we went together and happened to hit during a huge sale. I got so many things at fantastic prices, high quality pieces of clothing, jewelry and shoes. Also bags, designer bags at cheap prices, I got one that is normally $200 for about $35. Staff and owner(whom my Mom is friends with) are absolutely friendly and helpful. Love you guys!!! – Angela Fallon
3. Clothes Encounters of A Second Time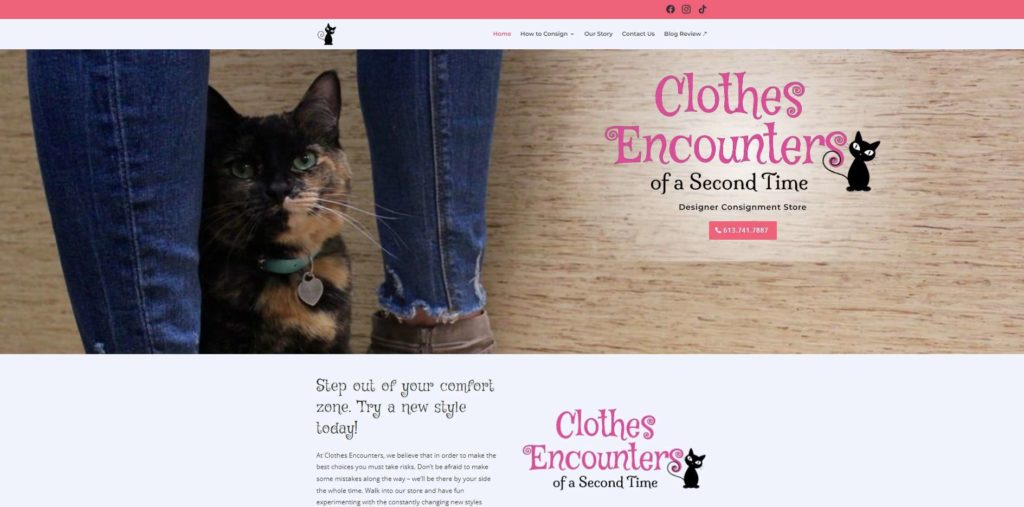 Test
Info
PRODUCTS
Secondhand branded clothes, bags, shoes, and accessories
WEBSITE
https://clothesencounters.ca/
ADDRESS
67 Beechwood Ave. Ottawa
CONTACT DETAILS
(613) 741 -7887
OPERATING HOURS
Tuesday to Friday: 1 pm to 6 pm

Saturday: 11 am to 6 pm

Sunday: 12 pm to 5 pm

Closed on Mondays
| | |
| --- | --- |
| Wide selection of clothes | ★★★★☆ (4/5) |
| Quality of items | ★★★★★ (5/5) |
| Cleanliness and tidiness | ★★★★★ (5/5) |
| Convenient location | ★★★★☆ (4/5) |
A really adorable store with cute interiors—you would think that they are not a secondhand shop at first glance.
They have well-curated items and only sell authentic secondhand branded clothes. This is because they are very keen on accepting only specific brands on their list for consignment.
A fun fact! Clothes Encounter originally started out in the 1980s with the goal of providing clothing for Vietnamese refugees on boats.
Since there were lots of extra clothes, they sold them and raised money for the refugees.
Since then they have been a fashion go-to shop for locals who want affordable clothing items. To this day, they still continue to donate clothes and raise funds for charity.
Nowadays, their wide selection of fashion items from clothes, bags, shoes, and accessories are all branded. But of course, you can get them at really good bargain prices.
Just take note though that they don't accept returns and refund requests. All their sales are considered final once sold.
You can check out all their "new" stocks on their social media or simply just give them a visit since their cute store is really worth checking out.
But make sure not to visit on a Monday because the store is closed on that day. Plus, they also open around noon time until around 5:00 pm only, so you have to manage your schedules accordingly if you plan to shop there.
Nevertheless, their offerings are of really good quality, so you'd really have no reason to return items unless you just changed your mind.
They do offer clothes unisex items as well, but the majority of their selections are for women.
Their staff and the owner, Monique, are super friendly and helpful—even their tortoiseshell store cat too! The staff are very knowledgeable and can help you find items if you are looking for particular styles or brands.
They know their stocks well. Plus, the store is very organized too, so it's not a chore to rummage through the clothes.
Well-curated branded items
Good range or fashion pieces
Bargain prices for well-known brands
Well-organized and neat store
Friendly and knowledgeable staff and owner
No returns policy
Very little selection for men
Closed on Mondays
Customer Reviews
I always shop here!
Awesome Shop. The selection is amazing!!! I'd need a few days to go through all their great selection. I'm always shopping here for all my wardrobe needs, from top to bottom and all the jewellery you'd ever want. If you can't find it here, you won't find it anywhere else!! Super staff!! They really care. I 100% recommend this shop for all your clothing needs. – Ava Ault.
Positive neighbourhood vibe
I was so happy to find xmas gifts for most of my family here at great prices! The staff is welcoming and warm and it's got a positive friendly neighbourhood vibe which I love!! – Sarah Read
4. The Recollective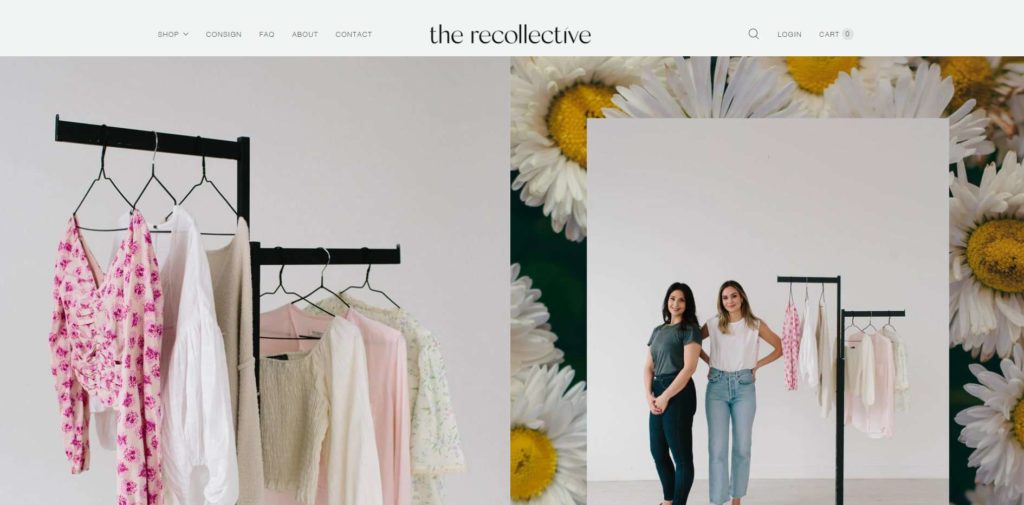 Test
Info
PRODUCTS
Secondhand clothes, bags, shoes, and accessories for women
WEBSITE
https://shoptherecollective.com/
ADDRESS
1281B Wellington Street West Ottawa
CONTACT DETAILS
(613) 738-2020
OPERATING HOURS
Tuesday to Friday: 11 am to 5 pm

Saturday: 11 am to 4 pm

Closed on Sundays and Mondays
| | |
| --- | --- |
| Wide selection of clothes | ★★★★☆ (4/5) |
| Quality of items | ★★★★★ (5/5) |
| Cleanliness and tidiness | ★★★★★ (5/5) |
| Convenient location | ★★★★☆ (4/5) |
Originally known as PreLoved Ottawa, they have rebranded recently into The Recollective.
Though fairly recent in the business compared to the other stores we mentioned here, their five years in consigning and selling secondhand clothes can be deemed pretty impressive.
Their store located on Wellington street looks posh and neat. But you definitely can find here bargain prices for expensive designer brands.
They also do have regular items if you just want to buy affordable gently-used clothing and accessories for women.
They are also very particular in the curation of their consigned items so shoppers can really enjoy good quality ones. Most of them even look as good as new!
They have a good selection of designer items, so you'll have tons of fun shopping here if you're into luxury brands. Consider them on the high-end spectrum of secondhand clothing when it comes to their selections.
You have to take note though that all sold items are final and cannot be returned. An alternative though is to consign with them any item that you are not satisfied with.
There's also a list of brands that they do not accept for consignments like Forever 21, Nine West, Coach, Michael Kors, and more. You may visit their website for more details about this or give them a call.
Speaking of their website, you can actually shop virtually. Conveniently pick items on their online shop, and just have them delivered to you.
You may also opt to pick them up within three weeks from the date of purchase.
To be honest, their items can be a bit pricey. Still, they're really such a bargain considering they are designer pieces. You can get Chanel clothes and bags at half the original price.
Just don't expect these items to go below $10. Nevertheless, half the price or more for high-end brands are really good deals!
Plus, the store and its services are pretty neat and convenient, so shopping here is such a joy.
Good selection of designer brands
Clothes are all in mint and slightly-used condition
Neat, organized, and classy store
Bargain prices for designer items
Friendly staff and owners
Has online shopping platform on their website
Selections are more of high-end items
Limited option for men's clothing
Closed on Sundays and Mondays
Customer Reviews
Shopping here is like shopping with a friend
I absolutely adore this place!! I have both consigned and shopped at The Recollective with Carla and Kelly and they are both amazing to deal with. Shopping here is like shopping with a friend! They are personable, welcoming and overall amazing owners! Their new location is bright and beautiful and their selection of pre loved items range in sizes and styles and the quality of the items they choose to consign are in impeccable condition. Could not recommend this place more!! – Alanna Godfrey
New life for used clothes
The store is great. They carefully select high quality items from their clients to sell second hand. Giving our gently used clothing a new life! The owners are a powerful sister duo and are incredibly kind and helpful 🙂 – becky naveda
5. The Salvation Army Thrift Store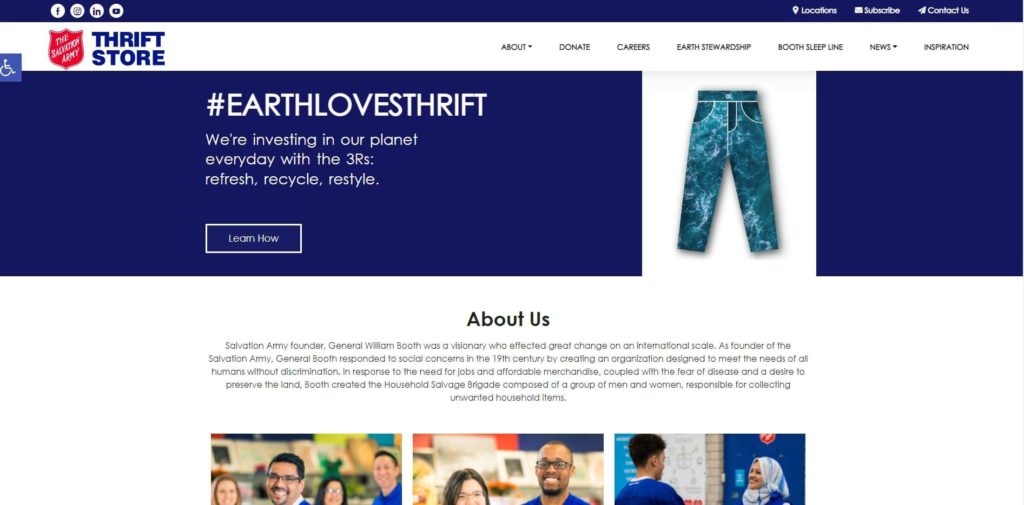 | | |
| --- | --- |
| Wide selection of clothes | ★★★★★ (5/5) |
| Quality of items | ★★★★☆ (4/5) |
| Cleanliness and tidiness | ★★★★☆ (4/5) |
| Convenient location | ★★★★☆ (4/5) |
Now when we talk about secondhand we think of really cheap items, and that's exactly what you get at The Salvation Army Thrift Store.
Some people may be wary of purchasing in thrift shops since they have a reputation to be dingy and unorganized, but not this one. The Salvation Army Thrift Store is pretty spacious and is decently organized.
The best part here is that prices can be absolutely so much more cheaper, even compared to the secondhand stores we mentioned earlier.
The variety of clothes you can find here can be bonkers. You really need to take your time to grab items that you like because there can be way too many.
You can get clothes for everyone; women's, men's, and children's items are available. You can even shop for items other than clothes like electronics, housewares, etc.
Just keep in mind though that this is a thrift store where items aren't as thoroughly curated as compared to pre-loved clothing stores.
Nevertheless, their staffs and volunteers are very helpful and kind and will help you navigate through their goods if you need help.
You may find bad ones and good ones too. It's all just a matter of how good you are at finding them.
Best of all, The Salvation Army Thrift Store is non-profit. The proceeds they raise go to charity.
You get to save on clothing. Plus, you get to help others too.
Wide range of clothing selections for men, women, and children
Spacious and organized store
Very cheap prices
Also offers other thrift items aside from clothes
Friendly and honest staff and volunteers
Proceeds go to charity
Items are not as thoroughly curated compared to consignment stores
You may need to spend a lot of time finding goods
Closed on Sundays
Customer Reviews
One of the best stores to go to
I've been going to this store for years and I never have seen it better than now. It's one of the the best stores to go to. Prices are amazing, store looks great, the staff are all friendly and the manager is so nice and sweet, she is always smiling no matter what. You have to respect the staff, they work so hard running around cleaning up after customers and putting out new stuff all day, everyday.
Thank you so much for what you are doing. – A. A.
Wonderful safe place to thrift
THANK YOU SO MUCH to the store stuff and the store Manager who kept me out of troubles a couple of weeks ago when I thrifted in the store and I forgot my purse with documents and a cash in the fitting room…The angel Manager came to me with my purse and gave it to me back with a big smile! I was on the seven clouds!!! SO thankful!!! What a wonderful, safe place to thrift!!! Honest, caring people working for us in this store!!! 🙂 – Liudmila Popova
FAQs about Secondhand Clothing Stores in Ottawa
---
So that wraps up our quick list of where you can find the best secondhand clothing in Ottawa. Shopping is fun, but just as we hope you encounter great clothing finds, we also hope you find other quite interesting activities too!
In case you need something else to do after, maybe check out our interesting list of weirdly fun things to do in Ottawa and try them out for yourself too!