The Best Salvage Yards in Ottawa
A broken vehicle accumulating dust in your garage can serve a greater purpose if you bring it to a salvage yard. That's because a yard will dismantle your unusable car and recycle all its metal parts.
Recycling the said parts means manufacturers of auto and other industries will be able to reuse the metals. The main objective is for them to reduce sourcing their materials from mining.
And that also means you are contributing to sustainability while earning some bucks.
To get you started, here is a list of the best salvage yards in Ottawa you can visit. We picked companies that quote the best prices in town and go above and beyond when it comes to customer service.
How much do salvage yard services cost in Ottawa?
Surrendering your car to a salvage yard will virtually cost you nothing. In contrast, it will earn you some dollars and a more spacious garage or yard.
The nationwide payout estimate for junk cars goes between $100 to $600 and may go higher depending on your choice of service. The exact cost will also depend on the make, model, age, condition of your car, and the number of its reusable parts.
Aside from car parts, most salvage yards also buy other scrap metals. Here is data from some scrap companies in Ottawa to give you an idea of the possible earnings you can raise from your junk.
Company
Estimated Cost
CFT Recycling
Aluminum: $0.10 - $0.75 (per pound)

Brass: $0.10 - $2.05 (per pound)

Copper and wiring: $0.03 - $2.70 (per pound)

Lead and batteries: $0.15 - $0.50 (per pound)

Ferrous metals: $120 - $210 (per metric tonne)

Scrap My Car Ottawa
Junk car payout by estimate
Palmer Recycling
Aluminum: $0.10 - $1.35 (per pound)

No. 1-3 copper: $2.70 - $3.45 (per pound)

Brass: $1.70 - $2.05 (per pound)

Ferrous metals: $120 - $160 (per metric tonne)

Greely Auto Recycling
Junk car: up to $1,500
Metro Scrap Metal Inc.
Aluminum: $0.10 - $0.80 (per pound)

No. 1-3 copper: $2.65 - $3.30 (per pound)

Auto bodies: $120 (per metric tonne)

Auto cast (rotors): $210 (per metric tonne)
Know that prices of parts vary depending on their current market value. We recommend calling the company you choose to confirm the costs.
Best Salvage Yards in Ottawa
We generally love salvage yards because they help sustainably dispose of unwanted vehicles. Of course, there will be standouts, and we picked them based on the following criteria.
1. CFT Recycling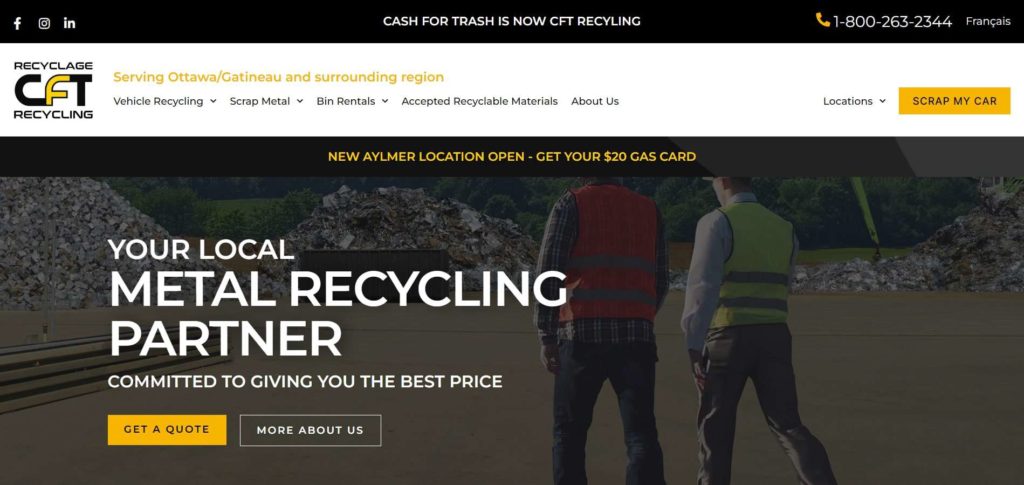 Test
Info
SERVICES
- Vehicle recycling

- Scrap car removal

- Scrap metal recycling

- Bin rental

WEBSITE
https://cftrecycling.com/
ADDRESS
7628 Flewellyn Rd., Stittsville, ON K2S 1B6
CONTACT DETAILS
(800) 263-2344
OPERATING HOURS
Monday to Friday: 8:00 AM - 5:00 PM

Saturday: 9:00 AM - 4:00 PM
| | |
| --- | --- |
| Criteria | Rating |
| Range of services | ★★★★★ (5/5) |
| Efficiency | ★★★★☆ (4.5/5) |
| Processing time | ★★★★☆ (4/5) |
| Knowledge | ★★★★★ (5/5) |
| Customer service | ★★★★☆ (4.5/5) |
| Responsiveness | ★★★★☆ (4/5) |
| Helpfulness | ★★★★★ (5/5) |
Disposing of your vehicle is not going to be a stressful task if your recycling company is with you throughout the process. Fortunately, CFT Recycling is one of those yards that can help you.
The notable company, formerly known as Cash for Trash, has been serving Ottawa for ten years while observing the sustainable disposal of unwanted vehicles. You can also rest assured that your scrap will be handled by deft hands, as CFT employs licensed and insured recyclers.
We are impressed by CFT's efforts to make things more convenient for their customers. For instance, they provide an easy-to-follow online request form that you can use to ask for estimates.
If their price offer satisfies you and you accept it, they will tow your unusable car for free.
Know that CFT primarily caters to end-of-life vehicles. They do accept cars that still run, but you get more cash if your vehicle is can't hit the road again.
You'll also have a little difficulty if your scrap car is parked in a small garage, as the company's towing truck might struggle to pull the vehicle out.
Notwithstanding these minor issues, CFT remains a popular scrap destination for many people in Ottawa because of its stellar customer service.
Accredited by the Better Business Bureau
Competitive prices for end-of-life cars
Also accepts non-ferrous metals to accommodate your other scraps
Free pick-up of scrap cars
Might not pay as much if your vehicle still runs
Located in the suburbs
Customer Reviews
Customer service warrants a review
"Highly recommend – Worked with Jessica and Fawzi. Quick communication, fair pricing, and very professional. So much so that I had to leave a review" —Anthony Mikhael, Google Reviews
Recycling made so much easier
"Extremely fast, friendly, hassle-free and they paid me a great price for my junker! Would 100% recommend" —Jake McKenna, Google Reviews
2. Scrap My Car Ottawa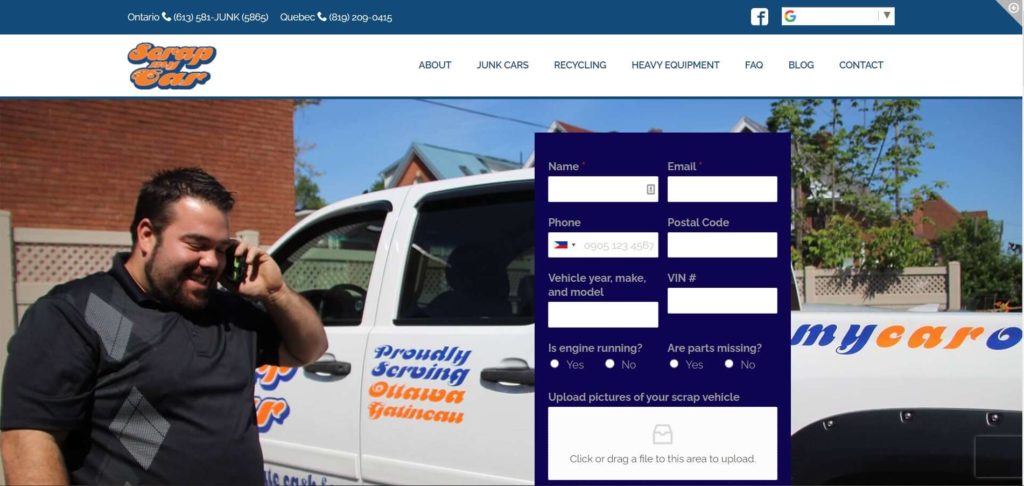 Test
Info
SERVICES
- Junk car pull-out and recycle

- Heavy equipment removal

WEBSITE
https://scrapmycarottawa.com/
ADDRESS
6571 Bank St., Gloucester, ON K1T 3W6
CONTACT DETAILS
(613) 581-5865
OPERATING HOURS
Open 24 hours daily
| | |
| --- | --- |
| Criteria | Rating |
| Range of services | ★★★★☆ (4/5) |
| Efficiency | ★★★★☆ (4.5/5) |
| Processing time | ★★★★★ (5/5) |
| Knowledge | ★★★★☆ (4/5) |
| Customer service | ★★★★★ (5/5) |
| Responsiveness | ★★★★★ (5/5) |
| Helpfulness | ★★★★★ (5/5) |
If you want to get rid of your unused vehicle right this very moment, you might as well try Scrap My Car Ottawa's services.
The company has been around since 2011, enough time for it to be adept at navigating Ottawa and nearby towns to pick up unwanted vehicles. Scrap My Car is so confident that it can offer same-day removal services.
We love the company's assurance to its customers in the form of its on-the-spot payout policy. It really is what you think: the crew will pay you for your car upon pick-up.
Considering it's open all day and night, it's not surprising that the company promises to respond to scrapping requests within 24 hours. But this guarantee might backfire should the service desk miss a call or email, resulting in disappointed sellers who took them for their word.
Fortunately, Scrap My Car is reachable by phone, email, or text. You can try using other means if they fail to respond on your first try.
Know that the company specializes in pulling out and recycling cars and heavy equipment. If you have other scrap materials you'd want to sell, you might want to consider companies with a broader selection of services.
Quick and efficient processing of requests
Available for same-day pick-ups
Also scraps construction and heavy equipment
Satisfactory prices
Limited to vehicles
A bit far from downtown
Customer Reviews
Polite and courteous crew
"This was my first time that I junked my vehicle and this company showed the utmost respect. I would ask questions and get the response that I needed. When they came to pick up the car I still had to clear out the car and they were kind enough to help me clear it out and put everything in my garage. They helped me with every step of the way and I would highly recommend them in the future if I have another car to get rid of." —Jessie Allen, Google Reviews
One of the best prices in town
"The price for the car was excellent I've shopped around for the best price for my car and they were the highest. the staff was great even the tow truck driver." —Gilles Belefeuille, Google Reviews
3. Palmer Recycling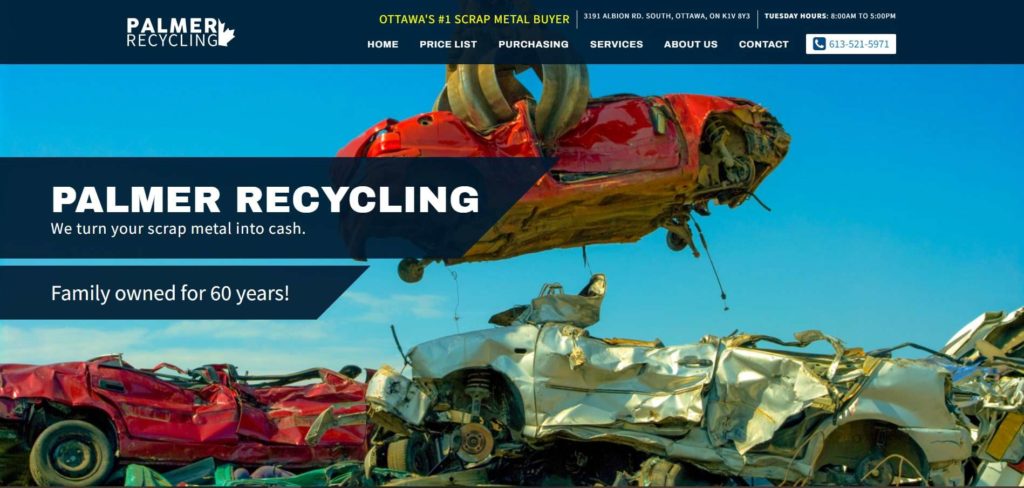 Test
Info
SERVICES
- Scrap and electronic waste recycling

- Large machinery pickup

- Metal bin scrapping

WEBSITE
http://www.palmerrecycling.ca/
ADDRESS
3191 Albion Rd. South, Ottawa, ON K1V 8Y3
CONTACT DETAILS
(613) 521-5971
OPERATING HOURS
Monday to Thursday: 8:00 AM - 5:00 PM

Friday: 8:00 AM - 4:30 PM

Saturday: 8:00 AM - 12:00 PM
| | |
| --- | --- |
| Criteria | Rating |
| Range of services | ★★★★★ (5/5) |
| Efficiency | ★★★★☆ (4.5/5) |
| Processing time | ★★★★★ (5/5) |
| Knowledge | ★★★★☆ (4/5) |
| Customer service | ★★★★☆ (4.5/5) |
| Responsiveness | ★★★★☆ (4/5) |
| Helpfulness | ★★★★★ (5/5) |
Some customers will prefer companies that have stood the test of time. If you are one of them, you can consider bringing your unusable vehicle to Palmer Recycling.
The family-owned company has been scrapping metals since 1962, and knowing that they're still going after 60 years is reassuring. We attribute their staying power to their commitment to giving the highest quality service.
Palmer's staff members usually respond promptly and politely to queries over the phone. And if you chance to visit their yard in person, you'd be attended by a friendly and helpful crew.
The company offers the usual metal scrap buying and car towing. But what sets it apart is its proximity to downtown Ottawa.
That means if you want to sell metals other than your unusable vehicle on a whim, it's one of the yards that are most easily accessible from the city.
We also love Palmer's transparency on prices. The fees for each scrap material are listed neatly on their website, so you'll have a rough idea of how much you'll make when you sell your car and other metals.
However, if you're looking to buy used auto parts, you need to check out our other picks, as Palmer's doesn't sell them.
Convenient location for Central Ottawa residents
Personable and accommodating staff
Impressive prices for scrap metals
Will offer to pick up your scrap car and heavy metals
Does not sell auto parts like other salvage yards
Partial operation on weekends
Customer Reviews
Carries the magnetic appeal of family-owned business
"First time selling scrap Metal in the capital. I must say the reviews speak nothing but the truth. I was so surprised with the customer service from the front desk and the guys in the yard, they are friendly and helpful and made the first time very welcoming. The site was efficient and clean. 5 out of 5. I would highly recommend this place to anyone. Not to mention I walked away with a smile on my face and way more cash in my pocket than I anticipated.
Also, it's a family-owned company so it felt good to keep things local! Looking forward to going back here again and again." —Stuart Williamson, Google Reviews
Repeat customer-approved
"Transparent company, made the process super easy and always have a friendly staff. They've been my go-to for the last couple of years!" —Chri Feghaly, Google Reviews
4. Greely Auto Parts Recycling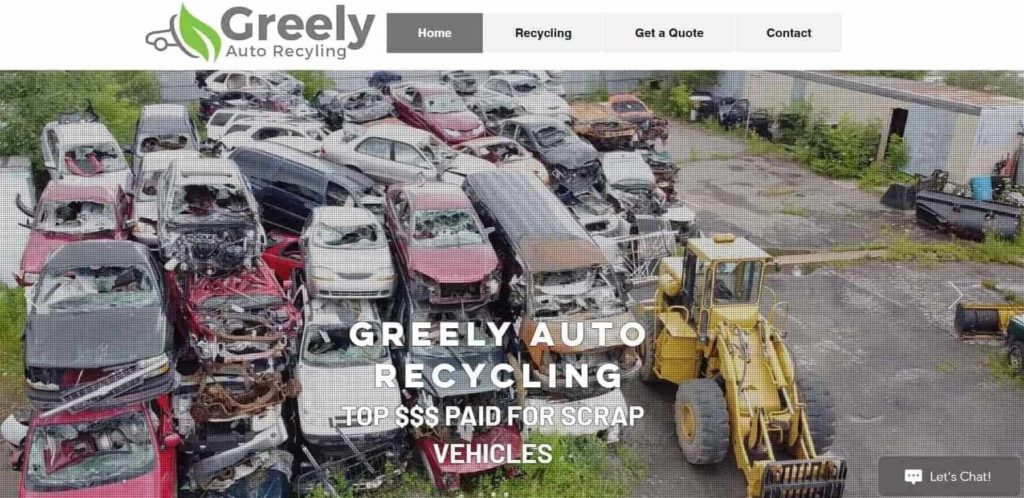 Test
Info
SERVICES
- Scrap vehicle purchase

- Scrap vehicle recycling

WEBSITE
https://www.greelyautorecycling.com/
ADDRESS
6441 Bank St., Greely, Metcalfe, ON K0A 2P0
CONTACT DETAILS
(613) 821-2300
OPERATING HOURS
Monday to Friday: 8:00 AM - 5:00 PM
| | |
| --- | --- |
| Criteria | Rating |
| Range of services | ★★★★★ (5/5) |
| Efficiency | ★★★★☆ (4/5) |
| Processing time | ★★★★☆ (4/5) |
| Knowledge | ★★★★☆ (4/5) |
| Customer service | ★★★★★ (5/5) |
| Responsiveness | ★★★★★ (5/5) |
| Helpfulness | ★★★★★ (5/5) |
Sometimes, you will earn more if you bring your scrap car to a yard buying junk vehicles exclusively. If you got an unusable car and want a considerable payout, Greely Recycling is another company you can try.
The 20-year-old company accepts scrap vehicles from cars to trucks. It also assists in removing and dismantling your scrap.
You also don't have to worry about paperwork, as Greely will help handle the deregistration. However, know that you need to show proof of auto ownership to avoid any hassle in processing.
The company says it can offer up to $1,500 for junk cars. But we would have appreciated it more had they listed the estimated fees they're willing to pay for each car part online so customers can do a quick check.
That said, you can always request a quote from the company through their website.
In case you don't know, Greely also sells used auto parts and even secondhand vehicles for reasonable prices. If you don't mind using old units, you can visit them and see if anything is of interest.
Competitive payouts
Extensive assistance from towing to recycling
Simple online quote request form
Honest and reliable staff
Closed on weekends
No at-a-glance prices for auto parts
Customer Reviews
Competitive service earns them a fan
"One of my favorite auto recyclers." —Ian Bruce, Google Reviews
Another satisfied customer
"Great people, very transparent and honest service. I have bought three cars from them and [am] very happy." —Benny L., Google Reviews
5. Metro Scrap Metal, Inc.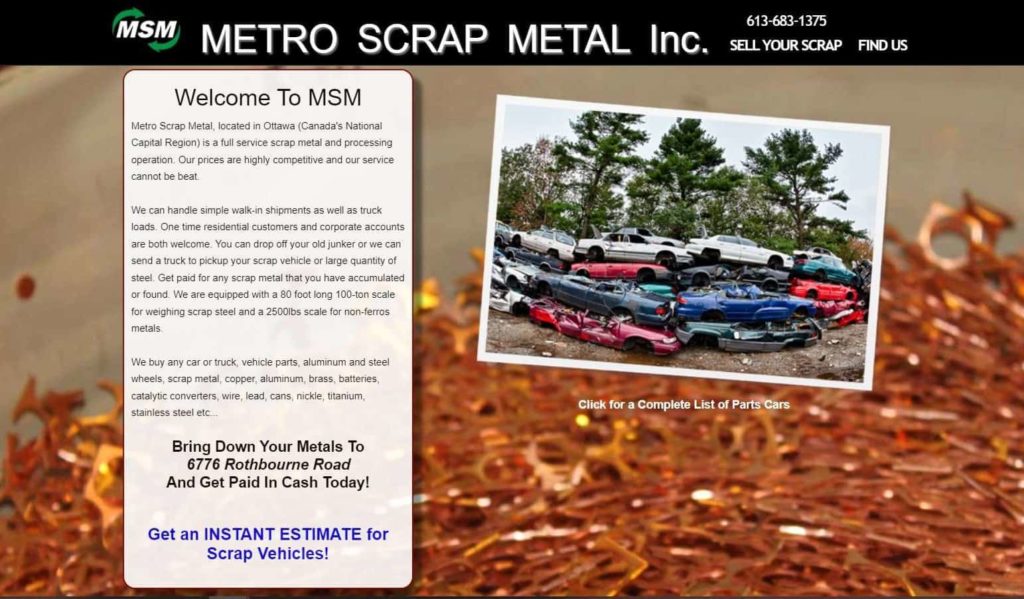 Test
Info
SERVICES
- Scrap car and metal purchase

- Scrap car and metal pick-up

WEBSITE
https://impressiveclimate.com/
ADDRESS
6776 Rothbourne Rd., Ottawa, ON K0A 1L0
CONTACT DETAILS
(613) 683-1375
OPERATING HOURS
Monday to Friday: 8:00 AM - 5:00 PM
| | |
| --- | --- |
| Criteria | Rating |
| Range of services | ★★★★★ (5/5) |
| Efficiency | ★★★★☆ (4.5/5) |
| Processing time | ★★★★☆ (4/5) |
| Knowledge | ★★★★★ (5/5) |
| Customer service | ★★★★☆ (4.5/5) |
| Responsiveness | ★★★★☆ (4/5) |
| Helpfulness | ★★★★★ (5/5) |
If the salvage yard's location is important to you, we recommend contacting Metro Scrap Metal (MSM). The company is accessible from Highway 7 and is placed conveniently to receive scrap materials around the Ottawa valley.
If you can't dismantle your vehicle, you can contact the company to help out with towing it. In addition, you can ask MSM to pick up your scrap metals if they are too heavy for you to bring.
The company website itemized prices for auto parts, making it easier for you to compute your earnings should you choose their service. We love that the list is regularly updated, too.
However, the site doesn't feature an online quote request or booking form, so you'll have to communicate through phone or email. For the former, we worry that the service desk might miss calls.
The silver lining is that you can always visit the yard to transact with the staff in person. It's especially convenient if you live downtown.
Know that you will have a field day visiting the yard if you love tinkering with cars, as they have a broad selection of vehicles ready for parting out.
Can accommodate requests on weekends by special arrangement
Plenty of used cars on-site available for disassembling
Employs reliable tow truck drivers
Convenient yard location
No booking and quote request form available online
Website interface could use a revamp
Customer Reviews
The meaning of speed
"Got the best price here for my old junker and they picked it up within one hour of calling and showed up with cash!" —Shane Coleman, Google Reviews
Top dollar payout
"Called around and got the best price for my scrap car from these guys. Good service and they paid me cash on the spot when they picked it up." —Jason Rivard, Google Reviews
FAQs about Salvage Yards in Ottawa
---
Convenience and quick cash are the two factors that make transacting with salvage yards so rewarding. Plus, you'll have more space in your garage for your stuff or better, a new car.
We hope our list of the top salvage yards in Ottawa points you in the right direction.
If you're not ready to part with your auto just yet, you might want to consider hiring a mechanic to look at it. Here are the top auto body shops in Ottawa you can check out for your car's external damage repair needs.