The 10 Best Roofing Companies in Ottawa
From leaky roofs to cracked shingles, there are many things that may cause you to call a roofing company. We can help you here, as we're bringing you the best roofing companies in Ottawa in today's list!
In this article, we'll also include the average costs of roofing as well as some answered FAQs. Let's get started!
Things to Remember When Hiring a Roofing Contractor
Let's start with the basics of what to remember when you're hiring someone for the job:
1. Experience
Choosing a roofing contractor that's been in business longer is a lot safer than choosing one that's newly opened.
While the latter may be cheaper, there have been companies that closed down to avoid paying for damage to clients' roofs only to reopen under a different name later on. You don't want to risk the possibility of working with such companies.
It's worth the time, effort, and cost to choose a reputable contractor that's existed for some time and can provide a list of happy customers.
2. Get agreements in writing!
While each and every aspect of your agreement with your roofing contractor should be in writing, this is especially true when it comes down to the financial details.
Are all of the workers licensed? Will they take care of your concerns if you're dissatisfied with the work? Will it cost extra?
These are a few of the questions you might want to ask in addition to the obvious ones.
You should be walked through the entire process and have all your questions answered before signing anything.
3. Will they tear off the old roof?
Some roofing companies install new shingles over the old ones, which is always a terrible idea for a number of reasons. For starters, putting additional weight to the roof and not addressing the underlying problem could make things far worse.
For this reason, the existing roof must be removed before a new one is placed. We can't stress this enough!
4. Ask about unplanned repairs
Let's say you've made all the agreements and the day comes to have your roof replaced. They tear off your roof and discover that your decking has water damage and needs to be replaced!
This is an instance of unplanned repairs and you need to ask your contractor about how they handle these and how much they might cost. This way, there are no surprises.
5. Ask who is performing the installation
Some roofing companies have their own workers while others outsource the job to third-party contractors. It's best to stick with ones that have their own workers.
This of course is for a number of reasons, one being that for all you know, these workers could be unlicensed and unqualified to install your new roof. Another one is that it could void the warranty on the roofing materials.
How Much Does Roofing Cost in Ottawa
We'll do our best to provide you with some average costs, but bear in mind that they vary depending on the size of your roof, manufacturer, and roofing contractor!
Let's start with material costs.
| | |
| --- | --- |
| Material | Average cost of material per sq m |
| Asphalt shingles | $2.50 |
| Tile | $10 |
| Wood | $10 |
| Metal | $7 |
| Slate | $25 |
| Modified bitumen | $8.50 |
| TPO | $7 |
| PVC | $9 |
| EPDM | $7 |
| Silicon coating | $5 |
Next let's look at installation costs.
| | |
| --- | --- |
| Material | Average Cost |
| Asphalt | $4,500 |
| Metal | $15,000 |
| Wood | $15,500 |
| Slate | $22,000 |
| Rubber | $11,500 |
| EDPM/ TPO | $7,200 |
| Elastomeric Membrane | $8,200 |
| Green roof | $21,200 |
Top Roofing Services in Ottawa
We've listed some of the best and most highly reviewed roofing companies in Ottawa, here, as you can see.
1. Wolfenburg Roofing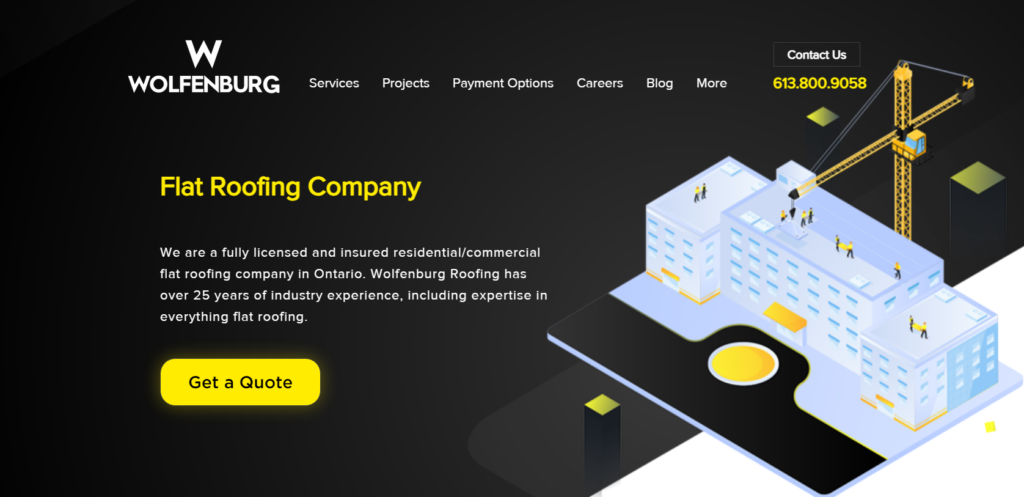 Established in 2012, Wolfenburg Roofing is a roofing company that specialises in flat roofing. The company operates 12 months a year, and is open to working regardless of the day of the week so long it isn't raining or snowing.
Aside from the dedication to working every day of the year, we also commend Wolfenburg Roofing for its wide service area, which includes Ottawa, Eastern Ontario, Toronto, East, West, and South Ends, as well as Rideau Lakes. Both residential and commercial services apply in all of the areas included on the list.
Now, in terms of the actual service itself, Wolfenburg Roofing is considered an excellent choice simply because they are experts at their jobs. The team has a collective 25+ years of experience in the field, the time having given them the necessary skills and expertise to competently provide the services the company has to offer.
Many of these services have to do with the installation and repair of flat roofs. Services provided by Wolfenburg Roofing don't stop there, though.
The company also offers roof waterproofing, metal copping, emergency roof repairs, and many more. Unfortunately, they don't cater to requests for shingle roofing, but they're open to incorporating it on flat roofing projects.
To end things off, Wolfenburg Roofing is also known for their expert estimations, which follow the concept of their 3Es: Effective, Efficient and Economical. This concept allows Wolfenburg to provide precise prices while giving the customer great value.
Repairs, installations, and waterproofing of flat roofs
Highly competitive prices
25 years in the industry
2. Roofs of Steel
| | |
| --- | --- |
| SERVICES | Metal Rooting Services: textured cedar slate, new cedar slate, textured slate, aged slate, and new slate |
| WEBSITE | https://www.roofsofsteel.ca/ |
| ADDRESS | 6284 Malakoff Rd, Richmond, ON K0A 2Z0, Canada |
| CONTACT DETAILS | 613-290-9607 |
| OPERATING HOURS | Monday – Sunday, 8:00 AM – 8 PM |
Roof of Steel is a roofing company based in Ottawa. They offer a variety of services and products related to roofing and repairs.
Their state-of-the-art steel roofing way outperforms other deck-mounted steel roofs due to their sliding tornado clips that interlock with the panels. These sliding tornado clips cannot be wiggled loose therefore it does not need maintenance.
Furthermore, they offer products that suit different types of house styles like how aged slates complement white painted houses due to their monochromic dark coloration. You can also be assured that you can pick the best type of slate according to your house type because they also send representatives that help us match the kind of roofing.
We highly recommend Roofs of Steel. They are open seven days a week, they have excellent customer communication, great reviews, and they even offer several financial plans to get you safe and secure.
Customer Reviews
Professional Crew
"We could not be happier with our new steel roof from Roofs of Steel! Antonia responded immediately to our query and within a very short period of time the roofing materials were dropped off and her crew installed the new roof over a three-day period. We were amazed by the professionalism of the entire crew, truly impressive for all the right reasons and quickly confirmed with us that we had made the right choice. The end result exceeded our expectations! What was a beautiful old farm house was transformed into a stunning wonder! Thank you Antonia and crew!." – Dave Canavan
Couldn't be Happier
"Roofs of Steel installed a new metal roof on our house in June 2021. We chose aged slate, espresso brown, and we couldn't be happier with the result: it looks gorgeous on our house. Our interactions with the company have also been nothing but positive. They really took the time to explain exactly how metal roofs work, what their company do specifically, and what our options are. The crew that installed the roof was quick, thorough, and professional. We had a few follow-up requests, and those were granted quickly without any issue. It has really been a great experience from beginning to start. I will also add that Roofs of Steel works with a factory based in Ontario (among other options they have), and so our new roof is a local product – another nice feature." – Erik van Dongen
3.     Roofmaster Ottawa Inc.
BEST FOR
General roofing
SERVICES
Skylights and Accessories
Shingles System
Cedar Shakes
Dock
Copper
Asphalt and Metal Shingles
Boat Membranes
Custom Metal Work
Rooftop Snow Removal
Synthetic Rubber Slate
PVC and EPDM
Flat Roof Systems
Steel
Aluminium
Balcony
Siding
Ventilation and Insulation
Fascia
Soffit
WEBSITE
www.roofmaster.net
ADDRESS
163 MacFarlane Road, Ottawa, ON K2E 6V4
CONTACT DETAILS
(613) 521-0088
(888) 889-8865


[email protected]

OPERATING HOURS
Mon – Fri 8:00 am – 4:00 pm
Sat & Sun Closed
Roofmaster Ottawa is a family-owned roofing business that opened in 1981 and has served families and businesses for 35 years. It is owned by brothers Kershan and Arzan, who were involved in all aspects of the roofing trade and business growing up.
The company has successfully completed nearly 17,000 jobs, earning an excellent reputation. They have grown into a sizable team of licensed specialists and continue to provide roofing services all over Ottawa and the surrounding areas.
Their staff is a close-knit group with long-time loyal staff, calling themselves a "company family". They extend this atmosphere to their clients and are said to be very professional and friendly.
All active duty, veterans, and retirees of the Canadian military can also qualify for discounts of over $500 on a new roof.
Great discounts for Canadian military
Multi-awarded company
Free online estimates
Customer Reviews
With great service and multiple awards to back it up, Roofmaster has secured its position on our list. They have also been hailed as the best roofing company they've worked with by happy clients:
"Roofmaster replaced and old roof on our Gazebo. They arrived ahead of schedule and did a great job. We are very pleased." -Lise Arden
"Had snow guards installed on our roof. Employees are very professional. Lisa was very quick to reply to my emails and was very informative. Luc did the installation. He was on time, very informative, polite and he did a great job! I am extremely satisfied with the service I received from Roofmaster! Highly recommend them!" -Lyne Henrie
4.     Godfrey Roofing Inc.
BEST FOR
Residential and Commercial roofing
SERVICES
Commercial
Maintenance
Inspection
Damage
Insulation
Restorations
New Repairs
Re-Roofs
Skylights
Preventative Maintenance Programs
Metal
Replacement
Flat
Installations
Gutter Replacement
Coating
Residential
Green Solutions
Leak Repair
WEBSITE
www.godfreyroofing.com
ADDRESS
4542 Southclark Place, Ottawa, ON K1T 3V1
CONTACT DETAILS
(613) 822-7663

[email protected]

OPERATING HOURS
Mon – Fri 7:00 am – 4:30 pm
Sat & Sun Closed
Godfrey Roofing is a local roofing and siding company that serves Ottawa and surrounding areas. They started as a small family business and have now grown to be a renowned second-generation family business since they were established in 1984.
They hold memberships in multiple roofing contractors associations and are certified under ISO. In addition to providing great customer service (according to reviews), their warranty packages last up to 50 years.
They use high-quality materials while offering the best warranties available on the products they install as certified by leading manufacturers in the roofing and siding industry. The company provides emergency roofing, snow, ice removal, and environmentally friendly roofing services 24/7.
Very strong warranty – up to 50 years
Customer Reviews
Thanks to their solid warranty periods and stellar reputation, Godfrey Roofing Inc. easily made it onto our list. Check out these reviews from satisfied customers:
"The Godfrey Roofing is an extremely creditable trades company. In the last few decades, I have contracted a number of roofing companies for many roof work. They complete what they promise even it is beyond their regular duties. The back office supports the customer in very good order without any confusion." -Francy Z
"Overall- it was an excellent experience. They were quick to get back to me and came on time. They were also transparent (showing pictures of the damage done), which was helpful. They were really efficient, but took care in the work they did. The field and office staff were really kind and courteous. I would definitely recommend them to friends and family." -Shampa C
5.     Vanity Roofing
BEST FOR
Residential and Commercial roofing
SERVICES
Wood Shingles
Replacement
Fascia
Re-Roofs
Repair
Soffit
Snow Removal
Windows
Siding
Home Renovation
Asphalt Shingles
Damage
Cold Applied System
Torch-on
Commercial
Installation
New Roofs
Metal Shingles
Eavestrough
Inspection
Residential
Maintenance
Tile Shingles
WEBSITE
www.vanityroofing.ca
ADDRESS
2838 Carp Road, Ottawa, ON K0A 1L0
CONTACT DETAILS
(613) 851-4448

[email protected]

OPERATING HOURS
Mon – Fri 8:00 am – 7:00 pm
Sat 8:00 am – 4:00 pm
Sun Closed
Vanity roofing is a locally owned and locally operated business that's been around since 2010. Their expert roofing staff specialize in Shingle, Metal & Flat Roof Membranes and provide high-quality roofing services throughout Ottawa and the surrounding areas.
They're one of the very few roofing companies within Ottawa with both Owens Corning "preferred contractors" credentials as well as "Select Shingle Masters" with CertainTeed. This allows Vanity Roofing to offer an extended 50-year warranty to their clients!
The company is reviewed to have excellent customer service, which comes up in nearly every single customer testimonial. They provide 24-hour emergency service calls for any minor projects such as fastening metal, shingle replacement, roof patches & inspections, and snow removals in the winter.
Lifetime warranty
Competitive rates for material
Excellent customer service
Slightly higher installation costs
Customer Reviews
With competitive rates and customer service at the forefront of their business, it's no surprise that Vanity Roofing Inc. consistently gets reviews such as these:
"I don't live in Ottawa, we have a rental that was leaking for some time and it rotten the wood underneath. Vanity's office staff communicated everything with me along the way and sent me pictures of everything after it was all done.
Great service all around!! Thank you" -Lance Birks
"We could not be happier with our new roof! The team at Vanity Roofing did an amazing job from start to finish! Very professional, honest and easy to deal with. They made it clear that he had our best interests in mind right from the first meeting. I absolutely would recommend Vanity roofing to anyone. Great job! Thank you" -Frederick Fisher
6.   Remember Me Roofing
BEST FOR
Residential roofing
SERVICES
Roof replacements
Repairs
Inspections
New builds
Skylights and eavestrough
Venting upgrades
Steel roofing
WEBSITE
www.remembermeroofing.com
ADDRESS
102-215 Menten Place Ottawa, Ontario K2H 9C1
CONTACT DETAILS
(613) 854-7663
OPERATING HOURS
Mon – Fri 8am – 5pm
Sat – Sun Closed
Remember Me Roofing Inc. has been servicing residential and commercial properties throughout the Ottawa region since they were established in 2011. Even though they're one of the younger roofing services on our list, they still offer 50-year warranties through their certification as GAF Master Elite Contractors.
Their highly rated team has delivered quality workmanship and outstanding customer service to every homeowner and business owner they've worked with. Because of this, they quickly built up their reputation as one of the best roofing services in Ottawa.
Beyond providing a service, they have built lasting relationships by being reliable and respectful to customers, based on what clients said about them.
Staff members are trained in-house in terms of the trade as well as customer service. They strictly adhere to a "we were never here" policy, leaving no trace of construction after the job is done.
In-house training for employees
Highly certified
Excellent customer service
Customer Reviews
Thanks to their commitment and (dare we say) memorable customer service, Remember Me Roofing has left a great impression on these customers:
"This year we determined we needed to replace our old roof. I went out for 5 quotes, go back 2 excellence professional responses, and chose Remember Me Roofing based on presentation, price, and warranty. IMHO the installers were skilled, worked very hard, were pleasant, and informative." -Tom Kanary
"From the time we got our estimate until the work was completed, Remember Me Roofing did a stellar job. At the end of the day, they left the work area outside so clean, as if they weren't even there. Responsive, reliable and quality work. Well done." -Carl Schell
7.   Geerts Roofing
BEST FOR
General roofing work
SERVICES
Shingle roofing
Flat roofing
Metal roofing
Winter solutions
Churches
Customized repairs
Repairs
WEBSITE
www.geertsroofing.com
ADDRESS
1 Matilda Gate, Richmond Ontario Canada
CONTACT DETAILS
(613) 880-1900

[email protected]

OPERATING HOURS
Mon – Fri 7:30am – 7:00pm
Sat – Sun Closed
Geerts Roofing is a roofing company that has been in business since 1990. Its team is held to high standards, with the necessary licenses and training to be able to provide professional roofing services in Ottawa and the surrounding areas.
Whether it's a new installation or replacement and repair, they guarantee that they can figure out what the best course of action is for any roofing problem – their promise seems to hold up, say customers.
They place a lot of importance on punctuality, customer service, and high-quality services and have been reviewed to have great after care for clients with concerns and questions after the job is done.
Customer Reviews
Geerts Roofing has built up a solid reputation in Ottawa as a reliable and professional roofing company. Check out these reviews:
"Geerts came and gave me a quote.I told them another company had suggested a resheathing of the entire roof.Bill went back and had a second look and had every opportunity to agree,but instead told me he thought that was unnecessary,but did agree to resheath,if and where necessary,when the old shingles were removed.Very honest,great workers and the clean up was beyond expected even to having my deck chairs swept off.Would highly recommend." -Carol Rourke
"Geerts team did a wonderful job on the roof. They were all so polite and willing to answer questions. Best of all I never had to worry about the content of their conversations; as a mom of 3 teenagers that is very important to me." -Christine Hedgehog
8. Markelangelo's Roofing
BEST FOR
Quality Roofing Services
SERVICES
Re-Roofing
Attic Insulation
Gutters & Downspouts
Ventilation Improvements
WEBSITE
https://markelangelos.com
ADDRESS
1584 Ch. Old Montréal Rd,
Cumberland, ON K4C 1G8
CONTACT DETAILS
Phone: (613) 833-0001
Email: [email protected]
OPERATING HOURS
—
If we're talking about quality roofing services in Ottawa, it would be remiss not to mention Markelangelo's Roofing.
Markelangelo's Roofing and its team of roofing professionals have been serving the area for quite some time now.
The company has steadily built up a reputation for service excellence, taking great care to ensure that each and every member of its team is expertly trained and deserving of the responsibility that comes with putting a roof over clients' heads.
Aside from being skilled and highly knowledgeable, the Markelangelo's Roofing is also very professional, working to always be on time for appointments and following a strict schedule when it comes to jobs. They also offer free, no obligation roofing consultations.
In terms of the roofing itself, Markelangelo's Roofing offers a wide array of services, including roofing and re-roofing, attic insulation, gutters and downsprouts, and ventilation improvements. One of the best things about working with Markelangelo's Roofing is the guarantee that each and every material used is of the finest quality, resulting in better stability and longevity for the end products.
Trained and certified roofing experts
Certified Green Roofer
Uses quality shingle materials
Offers free roofing consultations
9. Parliament Contracting
BEST FOR
All-Around Roofing and Siding Services
SERVICES
Roofing, Siding
WEBSITE
https://parliamentcontracting.ca/
ADDRESS
1554 Carling Ave Unit#91, Ottawa, ON K1Z 7M4
CONTACT DETAILS
613-913-3767


[email protected]

OPERATING HOURS
Monday – Saturday: 6:00 AM – 7:00 PM
Parliament Contracting is a company that offers a variety of roofing and siding services may this be installments, repairs, and maintenance work. Established back in 2010, they have since then become a renowned local figure and are trusted by clients in the area who are in need of roofing services.
We find their selection of crews to be highly commendable since not only do they employ certified professionals but also train them to handle different types of materials to be used so that clients can be sure that each one is installed and repaired properly.
Though there aren't flat prices for the packages that they offer, they do offer free estimates upon inquiry either online or via call for the convenience of the client.
Another thing we find accommodating with their services is that they offer 10 years of warranty for all the services that they do to provide the client peace of mind and to ensure that their investment in their services is covered for the said period.
Overall, with their past clients commending them for their effective usage of advanced technology and diverse knowledge in the field, we surely recommend them to clients in the area who are in need of reliable and durable roofing and siding services.
Warranty available
Employs certified professionals
Utilizes the latest technologies and equipment
Customer Reviews
Here are some reviews from their client:
"Fantastic company start to finish. Tyler and Liam both care about completing the work well with great attention to detail. Our project included recladding our entire house with metal siding – a big job! They handled it with ease. Very professional, always being punctual and available to answer all of our questions. They cleaned up the site and really went above and beyond in so many ways. Highly recommend this company for quality, punctuality, communication and value." – J JEM Holding
"Three quotes. Parliament was the best. Most comprehensive and informative. 2017 Fall full roof with leak repair. Severely damaged property and siding fence. Roof not a scratch. Houses next door an d across street lost siding and parts of roof. Thank you Parliament Roofing for a great job well done." – Linda Barclay
10. Forever Green Roofing
BEST FOR
Roofing and Siding Services
SERVICES
Traditional Slate
Clay Tile
Concrete Roof Tile
Cedar
Synthetics
Metal
Balcony Membrane
WEBSITE
https://forevergreenroofing.com/
ADDRESS
4685 Thunder Road Carlsbad Springs, Ontario K0A 1K0
CONTACT DETAILS
(613) 883-9505
OPERATING HOURS
Forever Green Roofing is a company that offers a wide range of roofing and siding services both out of town and locally should their expertise be needed. They are members of the Slate Roofing Contractors Association and the National Slate Association which says a lot about the standards of their services and products.
What we find impressive is that they capitalize on providing clients with eco-friendly solutions to their roofing and siding needs that is both aesthetic and sustainable.
Another thing we find commendable is that they feature and provide an array of competitive and quality materials wherein clients can be assured that the job is done with only quality and durable equipment and materials.
Though they do not offer flat pricing and packages, they are able to offer a free estimate feature readily on their website for the convenience and information of their clients.
With over 10 years in the industry, they are able to provide clients with sustainable roofing solutions that feature a wide plethora of benefits and guaranteed durability which we highly recommend for clients in the area to try.
Sustainable and eco-friendly solutions
Employs quality materials
Members of various interrelated organizations
Operating hours unavailable
FAQs about Roofing
---
That concludes our list of the best roofing companies in Ottawa! We hope you found this helpful.
Did we miss a company you recommend? Tell us all about it, we'd love to hear from you!
Oh, and if you're looking for electrician services too, check out this article!