10 Best Renovation Contractors in Ottawa
A home needs to be upgraded just like anything else you value in your life. Today, we'll help you take a step closer to your dream home with the help of the best renovation contractor in Ottawa.
To give you the right kind of resources, we weighed all the pros and cons of each company we're reviewing. There's also a list of helpful FAQs at the end of this listicle.
How Much Does A Renovation Contractor Charge in Ottawa?
Renovations are some of the costlier investments you can make for your home. But if you get a reputable renovation contractor in Ottawa to do it, it's an investment that will last you decades.
Contractors typically charge a percentage of the overall renovation cost regardless of its scope. This makes sense since their process involves a lot of back-and-forth with the client, their suppliers, vendors, subcontractors, and their team.
To give you a general cost idea, we looked up regional average prices for renovation contractors and some common projects they undertake.
| RENOVATION CONTRACTOR SERVICE | ESTIMATED COST |
| --- | --- |
| Kitchen renovation | $10,000 up (depending on renovation scope and fixtures quality) |
| Bathroom renovation | $14,000 up (depending on renovation scope and fixtures quality) |
| Basement renovation | $10,000 - $30,000 (depending on measurements and features) |
| Contractor fee | 10% - 20% of the project's total cost |
Of course, the kind of fixtures, finishes, and other materials involved can affect the final price. It's best to have a contractor break down everything before signing them on to do renovations for your home.
The Best Renovation Contractors in Ottawa
Ready to get the best renovation contractor in Ottawa to upgrade your home? We selected the ones on review today with the following factors in mind:
1. Branton Construction Group
SERVICES
Construction and Full Renovation of Decks, Basements, Bathrooms, Kitchens, Rental Repairs, and Free and Timely Estimates
ADDRESS
4338 Innes Road Unit 92, Ottawa ON K4A 4Y9
CONTACT NUMBER

[email protected]


+1 613-408-4153
WEBSITE
https://www.brantongroup.com
OPERATING HOURS
By Appointment
Ryan Branton and his team of trusted trades have successfully serviced the Ottawa area for just over 7 years. In a short period of time, they have already transformed decks, kitchens, bathrooms, basements, and other home environments for many local Ottawans with superb reviews and referrals.
What made use believe in them more is the reviews and referrals that are backed by local awards such as being named the best of Trusted Pros two years in a row (in 2021 and 2020), an A + Rating and Accreditation on Better Business Bureau (BBB), and now topping our Best of Ottawa list.
Unlike other companies, Branton Construction Group provides no-site-visit initial inquiries for free that can include a discussion around the scope of work and estimated plans around quotes to give customers an idea of how much a project may cost.
With them, a deposit is only required when it is time to measure the project area to cover the team's preparation and planning. Part of their preparation involves drafting plans and securing necessary permits and documents.
Another reason why we love Ryan, and his team, of course, is how you can reach them for initial inquiries quickly and easily. They are able to do this because they have a contact section on their website where new clients can submit a job request.
Branton Construction Group promises to address any inquiries done via its online form as quickly as 24 hours.
Unfortunately, there's no published pricing scheme on the website. However, the company surely vows fair and transparent costs with no surprise bills added.
Posted client reviews affirm that the budget is clear from the onset of the project and there is transparency in the cost throughout the renovation process.
Superb client reviews
Trusted Pros and BBB Accredited
Stays on budget
Offer contractors discount
Free assessment and initial inquiries (no-site visits)
Free job evaluation
No fixed operation hours
No online pricing matrix
Customer Reviews
Find out if Branton Construction Group's services are a good fit for you like they are with these clients:
"We couldn't be happier with the level of service we received from Ryan and the team at Branton Construction. They completely gutted, waterproofed, and renovated a leaky bathroom whilst being clear and transparent at every step. They also did a terrific job in repairing our family room ceiling which had been damaged by the leaking bathroom. We were so pleased by their level of service and the quality of their work that we immediately booked them to undertake a renovation of our master bathroom next year. Every member of the team was delightful and professional to deal with, we have and will continue to recommend them wholeheartedly." – Susan, Orleans (11/15/2021)
"Ryan and his team put up a new deck for me. I was thoroughly pleased with the work and Ryan made sure I was fully satisfied each step in the process. I have referred others to him due to his professionalism and wonderful work." – Dawn, Ottawa (11/14/2020)
"When we decided to do our kitchen, finding a good and reliable contractor was our biggest concern. Having previous challenging experiences with contractors, we wanted to be careful who we worked with for this key project. Branton Construction came well recommended to us by our friends. It has been an amazing experience working with Ryan and seeing our ideas take shape. Not only is he trustworthy, transparent and 'just a call away' but he also takes time to understand your vision and does everything in his power to bring it to life. Ours wasn't an easy transformation but he always kept us apprised of any complications that arose and guided us through the steps we needed to take. It has been a very seamless and stress free experience for us(not for Ryan I am sure). I would recommend Branton Construction to anyone in a heartbeat. He will truly make your vision his own and help you transform any part of your home." – Deepty, Ottawa (12/03/2020)
2. Murdock Construction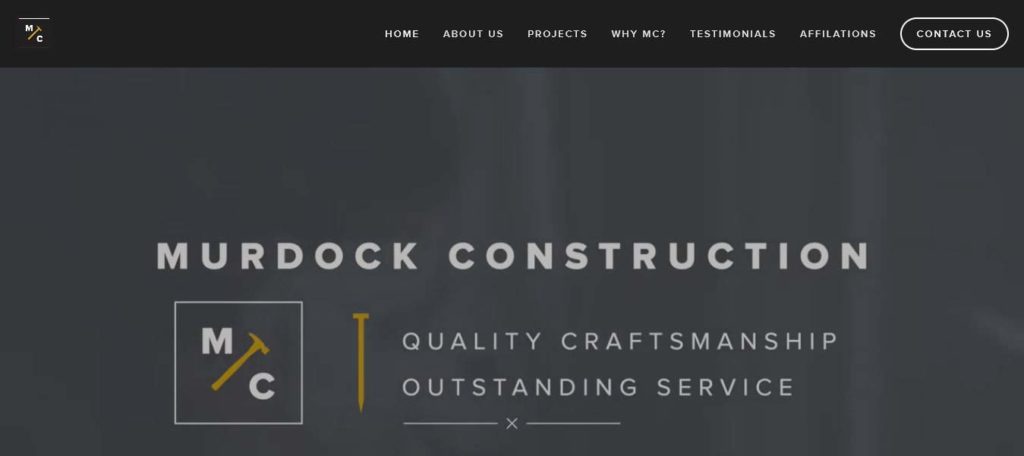 Test
Info
SERVICES
Home additions, home extensions, home remodelling, home restoration, barn design & construction, basement remodelling, bathroom remodelling, custom homes, garage building, general contracting, green building, guesthouse design & construction, kitchen remodelling, new home construction, porch design & construction, shower installation, tile installation, trim work, workshop design & construction, custom cabinets
ADDRESS
3290 Barlow Crescent Dunrobin, ON K0A 1T0
CONTACT NUMBER

[email protected]

| +1 613-262-3024
WEBSITE
https://www.renovcoottawa.com/
OPERATING HOURS
Monday to Friday 8 AM – 5 PM

Closed on Saturdays and Sundays
As a husband and wife renovation specialist team, Murdock Construction makes it a point to work only with a tight circle of trustworthy suppliers and workforce. This ensures that they are hands-on with each project they take on, from design consultation to the construction process.
The result is a slew of satisfied client feedback that typically mentions its hardworking team and efficient project management. It doesn't hurt that each home it works on is covered by a $2 million liability insurance, as well.
What's unique about Murdock Construction is its use of dustless tooling systems that are safe for occupants who are allergic to construction dust. Each tool is also carefully inspected to ensure that they're safe and working properly for construction projects.
It's a bit of a letdown not to find any sort of pricing guide on any of Murdock Construction's services. But it is pretty upfront about its home renovation process, with its team willing to work on weekends if required!
$2 million liability insurance for each project
Full range of construction services
Uses a dustless tooling process
Can work on weekends if required
Doesn't provide service rates
Open on weekdays only
No BBB accreditation
Customer Reviews
The work showed excellent craftsmanship and attention to detail
"A++. Thomas and Co. did an amazing job on a full remodel of our galley kitchen (with some exterior work) in a nearly 100-year-old home. They spotted every issue and imperfection and had it dealt with before it could even be mentioned. Held all sub-trades to the highest standards. Overall, their work showed excellent craftsmanship and attention to detail and we couldn't be happier with the result. One of those rare experiences where it felt like someone else cared about the end result of our house project even more than we did!" – Adam Tracey
The team was professional, tidy, and reliable
"Thomas and his team combined our ensuite with our master bathroom. We received great input on the design which helped guide our purchases. His team was professional, tidy and reliable. We are very happy with the end result." – Tina Green
3. Art & Stone Group
Test
Info
SERVICES
Custom luxury homes, major renovations
ADDRESS
Serves the Ottawa area
CONTACT NUMBER
+1 613-212-0033 |

[email protected]

WEBSITE
https://artandstonegroup.com/
OPERATING HOURS
Monday to Friday 9 AM - 5 PM

Closed on Saturdays and Sundays
The Art & Stone Group is made up of three generations of custom home builders with an extensive background in the construction, economics, and development industries. It's built over 150 luxury homes thus far.
On that note, the company does mostly custom homes with an emphasis on luxurious renovations. This might discourage those who want simple renovations but Art & Stone does promise to stay as close to the agreed-on budget as possible.
It also aims to build homes that fit its clients' lifestyles instead of the other way around. That's why initial consultations are focused on understanding the client's visions of a dream home along with their needs, tastes, and budget.
Art & Stone uses green materials and sustainable renovation solutions. Its unused materials and other recyclable items are sent to Habitat for Humanity to repurpose and utilize for its projects, which we appreciate.
There's a photo gallery of some of its designs and past works for clients. But while the images are clear and impressive, no captions are provided to give information on pricing for services or materials.
Uses green materials and smart technology
Impressive photo gallery
Donates materials to Habitat for Humanity
Mainly focused on luxury home renovations
Doesn't provide a fee guide
No gallery captions
Open on weekdays only
Customer Reviews
Responsive, fulfilled timelines and provide the highest quality of work
"The Art and Stone Group is an amazing company. We've done renovation and one new build and can not recommend them enough. They're responsive, fulfill timelines and provide the highest quality of work. Andrew and his team keep the work site clean and he is on-site daily to ensure the project stays on track. Alex's design skills were so appreciated. She saw my vision and helped me bring it to life while staying within our budget! It's clear by their work ethic and professionalism that they care about their clients and the service they provide." – Meghan Gomes
The worksite is kept clean and the waste removed from the property in a timely manner

"If you desire excellence in workmanship for your next Home renovation contact Art & Stone. After discussion with the owner, the provided written contract is specific as to scope, expected time required and costs from initiation to completion. The workmen are punctual, organized and dedicated to the tasks at hand. The owner's questions are always answered in a quiet, thoughtful, and respectful way. The worksite is kept clean and the waste is removed from the property in a timely manner. Pride in the finished renovation is self-evident." – Gwen Hefferman
4. Westrade Construction Limited
Test
Info
SERVICES
General contracting, project management, design or build contract
ADDRESS
6 Holland Avenue, Ottawa, ON. K1Y 0X4
CONTACT NUMBER
1 (613) 820 -1770
WEBSITE
https://www.westradeconstruction.com/
OPERATING HOURS
Monday to Friday 8 AM - 4.30 PM

Closed on Saturdays and Sundays
Westrade Construction was established way back in 1985 with specializations in project management and contractor services in Ottawa. It aims to make its clients' renovation experience a smooth and hassle-free one.
Its project management arm is meant for those who could already have preferred subcontractors but require the kind of coordinating expertise that the company can provide. This is a flexible addition that adds value to what Westrade Construction can bring to clients.
The downside is that its primary focus is on commercial renovation projects with its portfolio of past works showing everything from office spaces to medical centres.
It doesn't outrightly state that it won't accommodate residential renovations but it doesn't seem to be the company's main clientele. Still, we appreciate how transparent Westrade is about its projects and goes as far as describing the process involved in detail.
There are also no offers of free quotes or a price guide for its services, which is a bit disappointing.
Impressive client portfolio
Describes past projects in detail
Decades of experience in project management and contractor services
Primarily focused on commercial projects
Open on weekdays only
No free estimates offered
No BBB accreditation
5. HomeNPlus
Test
Info
SERVICES
Home renovations, general contractors, landscaping, snow removal, renovations for kitchen, bathroom, basement, flooring, exterior work on interlock, asphalt, excavation
ADDRESS
Ottawa, ON K1C 4Y5
CONTACT NUMBER
1-613-319-0556 |

[email protected]

WEBSITE
https://www.homenplus.com/
OPERATING HOURS
Monday to Friday 8 AM – 5 PM

Saturdays 9 AM – 12 noon

Closed on Sundays
HomeNPlus has over two decades of experience in a wide range of home renovation, landscaping, and general contractor services. It can offer clients everything from initial designs and project specifications to maintenance work for its interior and exterior spaces.
It offers handyman services for both business owners and homeowners. HomeNPlus believes no job is too small for its team to accommodate so clients can get them for plumbing, door replacement, painting, and even just to hang pictures on walls.
It's got a project gallery on its website showing pictures and videos of its past works. It would've been more helpful to include some descriptions or captions for each one, though.
Potential clients can fill up a quote request form on the website since there aren't any service rates indicated anywhere. But the company regularly offers discounts and promos on its home page, which is quite nice.
Serves residential and commercial clients
Flat rate pricing for snow removal services
Offers regular promos and discounts
BBB-accredited, A+ rating
Doesn't provide service rates
No captions on photo galleries
Closed on Sundays
Customer Reviews
Demolition was done swiftly and on time
"Homes N Plus did great professional work on renovating my house. They are very professional. The demolition was done swiftly and on time. They make sure that the rest of the house was well protected against dust. They cover the floor, countertop and everything. At the end of each day of work, they cleaned the place and made me feel that the renovations are not even affecting me after they are left the house. Thanks for the great professional work." – Jack Saint-Fort
Enthusiasm, strong work ethics, well-equipped team
"This is the first season that our housing cooperative has worked with Home N Plus for lawn + care. Our vast property was in dire need of TLC and previous contractors' did their best to maintain it to a passable level. The team at Home N Plus came here with enthusiasm, strong work ethics, well equipped and has turned over our property…. they are efficient, quick learners, and will ask questions when needed. Highly recommend them as they care for the quality of their work and customer care. Thank you, Jess and team." – Stephanie Mutschler
6. Ottawa General Contractors
Test
Info
SERVICES
Home renovations, home additions, home designs, coach homes
ADDRESS
1886 Merivale Rd #200, Nepean, ON K2G 1E6
CONTACT NUMBER
(613) 225-9991 |

[email protected]

WEBSITE
https://ottawageneralcontractors.com/
OPERATING HOURS
Monday to Friday 8 AM – 5 PM

Closed on Saturdays and Sundays
Ottawa General Contractors has consistently earned an A+ rating with the Better Business Bureau.
This distinction is backed by consistent client feedback on the company's prompt communication and ensuring the job is done properly. Clients are promised regular updates throughout the renovation process and fixed billing prices for all materials and services.
The company also offers an extended five to ten-year comprehensive coverage that can be purchased by clients. This is a convenient option to augment the current one, two, and seven-year warranty timelines with various coverage.
Ottawa General Contractors also offers a price match guarantee that promises clients the lowest price possible for its services and materials. However, it's up to the client to come up with a detailed and itemized quote from competitor companies.
Potential clients can request a free quote and won't have to worry about being obligated to follow through with a contract. There's live chat support to accommodate queries which is a practical feature since it's closed on weekends.
Gives free, no-obligation quotes
Has a comprehensive warranty
Offers a price match guarantee
Live chat support
BBB-accredited, A+ rating
Open on weekdays only
No service rates provided
Customer Reviews
Ensures the job is done right the first time
"We are a trade partner that believes in putting the customer first and ensuring the job is done right and done right the first time. We have found that O.G.C and Michael Kline in particular have the same core values as we do. We look forward to being the first ones on-site with Michael Kline at the lead ongoing and in the future." – Demo by Design Inc.
Always answers promptly and on time at meetings
"The job is not finished yet but so far so good. Have really been impressed with Ken Beaubien who helped us get our minor variances and permit from the City. Very knowledgeable in dealing with City and great with communication as well – always answers promptly and on time at meetings. Also very pleased with Deirdre Crick, the designer, who showed great patience and guidance with design. She is also super pleasant and also great with communication." – Christiane Brillant
7. Renovco
SERVICES
Kitchen Renovation, Bathroom Renovation, Basement Renovation, Bedroom Renovation, Living Room Renovation, Fire and Flood Restoration, Decontamination Services
ADDRESS
52 Antares Dr. Unit 6, Ottawa, ON K2E 7Z1
CONTACT NUMBER
Tel: 613-727-7070
Email: [email protected]
WEBSITE
https://www.renovcoottawa.com/
OPERATING HOURS
Monday through Friday : 9AM to 5PM
Renovco is a company that specializes in a wide variety of renovation solutions for clients who wish to remodel any room of their choice may it be a bedroom, basement, kitchen, or bathroom among many other function rooms. Able to serve various areas such as Ottawa and the Greater Montreal area, they have since then garnered the reputation to be among the top figures in the construction field.
We find the fact that clients can easily have access to their showroom to be exemplary as this enables them to have a concrete glance at what the company can offer in terms of design and renovation.
Another thing we find impressive is their carefully hand-picked staff and workers who are insured, bonded, and certified to operate and manage the renovation projects that they do to ensure there is firm control on quality.
From residential to industrial spaces, their designs are not only geared to have a better and more modern look but also increase the value of the building which can benefit the clients in the long run.
Overall, with their accommodating customer service which is available 24/7, they are not only ideal for clients looking for steadfast renovation advice but also equally fast services that can be finished on schedule without any hitch in quality and management.
Comfortable interior designs
Free inspection
Modern aesthetics employed
8. NRD Construction
Like any aspects in your life, it will com a time where you just want to have your home renovated, aside from maintenance purposes of course, you would want to have an upgrade too.
Being BBB-accredited, having an A+ rating on Renovaiton Find and being included on the Best in Ottawa Handyman list, NRD Construction is the one-stop shop of locals in Ottawa.
You may find it odd that their website seems to be lacking in information. But if you will look closely their previous works, those pictures says it all.
We recommend this company as they ensure top of the line services when it comes to your home renovation needs as this has been supported by the highly-skilled professionals in their team.
Open 24/7
BBB-accredited, A+ rating on Renovation Find
Free consultation and quotation
Satisfaction Guarantee
One-Stop Sho
Limited information about their company can be found on their website
Customer Reviews
"Nick was great and I'm super happy with the work done. Nick was professional, responsive and easy to work with. I had him replace a powder room vanity that was original to the house and very tricky to replace. I also had him add a backsplash for me as the vanity top did not have one included. The floor tile didn't go under the original vanity so he added a baseboard to hide the gap. He did such a great job that you never know that it wasn't part of the new vanity. He did a great job at modernizing my powder room. I also had him replace some outdoor light fixtures and caulking in my other bathroom. Everything was done really well and I will definitely have him back." – Shelley Baran
"We hired Nick for our kitchen/flooring remodel in our townhome. From the get-go Nick was attentive and patient. He listened to what I wanted in my kitchen and made it happen. He was able to put everything I wanted in budget and on task. We found Nick to be incredibly respectful, punctual and reliable. He always showed up when he said he would. We have already warned him of our project for next year! It was such a pleasure meeting Nick and we hope to work with him again soon! You definitely went above and beyond to make our dream kitchen happen." – Crystal Gareau
9. Renco Home Improvements
Renco Home Improvements is a company that offers a wide range of renovation options and solutions to clients and has built its reputation to be among one of the most reliable local companies for the job. Founded way back in 2002, they remain to be the top figures when it comes to foundation and basement contractor jobs in the area.
We think that is exemplary and convenient that clients can speak directly and get sound advice from the owner Terry Fraser who has more than enough experience in the field and is adequately certified for the job.
Clients also get to view their recent projects to help them get a glimpse of their approach and project management practices.
We also think that their customer service is equally exemplary as not only do they advise clients of their contractor services but also the best materials and supplies to be used that are both cost-efficient and durable.
Nonetheless, since no price rates are unavailable they do offer an obligation-free estimate for home improvement projects.
Various renovation options
Convenient transactions
Negotiable rates
Operating hours unavailable
Customer Reviews
Here are some reviews from their clients:
"Happy with the results. Terry was knowledgeable and explained the entire foundation crack repair process. Renco technicians were professional, tidy and fast. Thanks Renco." – Mark Lambert
"RENCO HOME IMPROVEMENTRenco Home Improvements (Renco) just completed a basement foundation repair work on our company's Industrial unit where we had a basement flooding problem.Terry was professional in his approach. I gave his company a call and left a message. Terry called me back to make an appointment to view the property. After Inspection, he gave me a quote with an estimated time for completion.Thought there was a slight delay in starting, Renco did a great job within the estimated time frame and on budget and left the property in a clean state.I would happily recommend Renco for consideration by anyone looking to have work done on their foundation." – Tunde Aribido
10. CSC Renovations
CSC Renovations is a company that provides a wide range of renovation services no matter what the size for functional rooms such as bathrooms, kitchens, and basements among many others. They were established back in 2001 and have since then been offering licensed and insured home and commercial renovations.
What we like about the services they offer is that clients can have a hassle-free experience with them since they are able to employ adequate experts for the job to ensure quality and consistency for the whole project.
Their staff and experts are also very accommodating since they ensure that they are able to guide the client through every concern and stage of their renovation project.
Another thing we find impressive is that their designs and projects ensure that all spaces in the said area are used in a functional way to provide clients with the best experience of comfort that the said room needs.
Overall, with their past clients commending them for their flexible and diligent work ethics and procedure wherein they are able to work around a tight budget, we highly recommend them to clients in the area who are looking to renovate their homes and establishments.
Insured services
Space-efficient designs
Flexible schedules
Operating hours unavailable
Customer Reviews
Here are some reviews from their clients:
"Jamie and his team worked diligently until I was completely satisfied with the outcome. A highly skilled, respectful, tidy and punctual crew."
"We had a very tight budget and schedule and Jamie worked with us to meet that budget and finished early he did not try to up sell us on anything."


FAQs About Renovation Contractor in Ottawa
---
The best renovation contractor in Ottawa can help you upgrade your home while staying within budget.
Send us a message if you have a renovation contractor to recommend to our readers.
For other renovation needs, you can read the following published resources for guidance: