The 11 Best Real Estate Agents in Ottawa
Since 2016, property prices in Ottawa have seen a steady increase of over 50%. This has resulted in competitive pricing that's still more affordable than Toronto real estate by a long shot.
During the last five years, the real estate market of Ottawa has become formidable and in-demand. This means if you're looking to sell or invest in a new property, there's no time like the present.
It also means seeking the experience and wisdom of the best real estate agents in Ottawa for realty concerns. Of course, one of those concerns has to do with how much it will cost to hire one.
How Much Do Real Estate Agents in Ottawa Charge?
Sure, you can try selling your own house by going down the FSBO (for sale by owner) path. But that means setting aside your own time, money, effort, and sanity just to find the right buyer and dealing with tons of paperwork.
As the seller, you're also expected to pony up for the commission fees of both the buying and selling agents. You'll give up around 5% of the final sale price to accommodate both, but consider the other benefits that come with it, first.
A real estate agent understands the current market inside-out and can thoroughly explain terms and conditions to you. They can do negotiations for you so you won't have to deal with difficult buyers, brokers, appraisers, or other agents.
They will also ready pertinent documents for closing. This involves preparing all the documents, producing multiple copies, getting them notarized, and filing them in the appropriate places.
So when shopping for a real estate agent who will act in your best interest, make sure to hire one with a consistently good history of closing sales. A newly-minted agent won't do, even if they seem well-connected and eager.
It's important to choose real estate agents in Ottawa who will best represent you. If you're curious about the pricing involved, here's a table of typical services and estimated fees.
SERVICE
FEE
Commission (full services including dealing with difficult buyers/sellers, successfully negotiation and selling on your behalf, paperwork preparation, notarization, filing, etc.)
A fixed percentage of the sale price 5% – 6%
Brokerage (produces good buyers for the property, refers reliable agents, etc.)
Split percentage of the sale price between listing and buying agents 2.5% – 3%
Operational (securing documents and paperwork, scheduling property showings, making duplicate copies of documents, referring inspectors, appraisers, etc.)
Flat fee 0.5% – 2.5%

Or hourly fee depending on the real estate agent
Overhead (advertising/marketing fees, transportation fees, getting listings, etc.)
Flat fee 0.5% – 2.5%

Or hourly fee depending on the real estate agent
The table above doesn't represent all of the fees of a real estate agent, though. They are just some of the usual ones in a real estate deal, but they are subject to change with circumstances.
The Best Real Estate Agents in Ottawa
Once you've made up your mind about hiring a real estate agent, it's time to do your research. To guide you, here's a list of the current crop of best real estate agents in Ottawa.
1. Hamre Real Estate Team
SERVICES
Property listings and searches for detached and attached homes, townhomes, high-rises, custom homes, multi-family dwellings, first-time buyer assistance, mortgage pre-approval, mortgage calculator, home inspection preparation, free market analysis, home inspection preparation
WEBSITE
https://www.weknowottawa.com
ADDRESS
#3-1180 Place D'Orleans Drive, Ottawa, K1C 7K3
CONTACT DETAILS
(Direct) 613-841-2111
(Office) 613-841-2111


[email protected]

OPERATING HOURS
Open 24 hours via chat
As its URL implies, the entire Hamre Real Estate Team likes saying "we know Ottawa!". The real estate agency has been around since 1980 and takes pride in knowing the ins and outs of Ottawa, Cumberland, Orleans, and Rockland.
Experience and professionalism make this real estate agency stand out, along with a wide range of services. Because of the team's expertise and longevity, they know a lot about the business and are willing to share helpful information with clients.
On its website are featured listings potential clients can peruse and refine according to their needs and preferences. The team can then communicate the property's history, prices, location information, and other pertinent disclosures to its clients.
Hamre Real Estate encourages clients to sign up for a free account on the website. This will enable them to receive new listing alerts matching their specifications as soon as they come up.
Over 40 years of expert and professional real estate services
Handy property and interactive map search
Offers first-time buyer assistance
Offers free market analysis
Business hours not indicated
Customer Reviews
Thinking of selling your property through the Hamre Real Estate Team? Learn what past clients have to say first:
"Greg was confident and professional, clear detailed explanation. Was very knowledgeable of the market trends, excellent marketing skills with his video to promote the house. Great service would highly recommend to anyone buying or selling their home." – Paul Paquette
"Steve and his team were indispensable in the sale of our home. This was our first time selling and the attention to detail from Steve and his staging team were critical in the quick sale and fantastic closing price!" – Brendan Smith
2. Stirling Johnston Home Team
SERVICES
Home evaluation, mortgage calculation, residential listings and search for multi-family, detached, attached, and condo units, buyer assistance, seller assistance, leasing assistance
WEBSITE
https://stirlingjohnstonhometeam.ca/
ADDRESS
2912 Woodroffe Ave Ottawa, Ontario K2J4P7
CONTACT DETAILS
613-216-1755 (office)

Ian Stirling
613-794-5666


[email protected]



Julia Johnston
613-858-8186


[email protected]

OPERATING HOURS
Available 24 hours by chat
The Stirling Johnston Home Team is a RE/MAX Lifetime Achievement Awardee and a recipient of the RE/MAX Hall of Fame award. Together, its founders and chief agents Ian Stirling and Julia Johnston have a combined 40+ years of experience in the real estate business.
The team believes in fair market valuation as a key aspect of selling properties. The company lists a wide variety of available properties ranging from condo units and multi-family residences to commercial plazas.
Even first-time buyers and sellers can find full assistance with the Stirling Johnston Home Team. Ian, Julia, and the rest of the staff want their clients to thoroughly understand the selling and purchasing process.
Clients are offered customized searches to narrow down the best potential property matches for them. They can either use the drop-down Property Search tab on the menu or request the agents to create one for them.
Numerous property listings for sale and lease
Features sellers' and buyers' guides on the website
Does custom searches for clients
Business hours not indicated
Customer Reviews
Learn what past clients have to say about the services of Stirling Johnston Home Team:
"Couldn't have asked for better! Thorough, knowledgeable and consistent. We listened to every piece of advice he gave and we sold our house for well above our expectations in just a few short days. The process was stress-free and painless! Would highly recommend!" – Andrew Goobie
"As first-time home buyers, the process of buying a home can be overwhelming. Ian did a fantastic job with his knowledge, experience and passion for the business to help us find exactly what we were looking for." – Tyler Villeneuve
3. Royal LePage Team Realty Adam Mills Brokerage
SERVICES
Home relocation services, "perfect life" customized search, residential listings, buyer and seller text and video resources, residential and property listings
WEBSITE
https://www.ottawahousesales.com
ADDRESS
4-3101 Strandherd Drive Ottawa, ON, K2G 4R9, Canada
CONTACT DETAILS
(613) 825-7653


[email protected]

OPERATING HOURS
Available 24 hours by chat
Adam Mills is the young but experienced real estate agent behind the Team Realty Adam Mills Brokerage. His independently-operated firm has won the Royal LePage Canada Top 1% Chairman's Club award for five years thus far.
What makes the Adam Mills firm stand out from other real estate agents in Ottawa is its sensitivity to what clients go through. There are a couple of ways the team demonstrates this in day-to-day dealings.
Foremost is its Perfect Home Life Finder, which is a highly customized search function meant to cater to all ages and walks of life. The clients fall under descriptive categories such as Comeback Kids, Hardworking Homeowners, Footloose Graduates, Silver Urbanites, and more.
The Adam Mills Team also offers a text resource for couples going through separation and looking for new homes. The firm ensures long-term client relationships so that different aspects of their lives are taken into consideration for home-buying decisions.
Offers a "Perfect Life" home finder for clients of all walks of life
Sensitive and thoughtful customized consultations and searches
Multi-awarded "young" realty firm
Business hours not indicated
Advice book for uncoupling clients for purchase only
Customer Reviews
Want to find the perfect home for the next phase of your life? Learn from these clients' experience with the Team Realty Adam Mills Brokerage:
"Both Adam and Christine were amazing to deal with! Both were very knowledgable, professional, responsive and friendly. Adam worked hard to sell our house and make the process seamless. The champagne was a nice touch : ) I highly recommend Adam and company!" – Scott McLeod
"Michela Pagliarello helped me and my partner purchase our first home! She was so responsive and flexible throughout the entire process! I would highly recommend her to anyone looking to buy/sell in Ottawa!" – Allison Holley
4. The Tulip Team
SERVICES
Home sale preparation, residential listings and searches, moving and closing assistance, property marketing and advertising, virtual selling services, mortgage calculator
WEBSITE
https://www.thetulipteam.com/
ADDRESS
610 Bronson Ave, Ottawa, On, K1S 4E6
CONTACT DETAILS
613-788-2113
MoreIn

[email protected]

OPERATING HOURS
Monday to Friday 8 AM – 9 PM
Saturdays and Sundays 10 AM – 6 PM
The Tulip Team has established its presence in the Ottawa real estate market since 1985. Its led by Bill Meyer and made up of a team of highly competent brokers and sales representatives.
Aside from providing updated residential listings, the firm also offers free services to its clients. These include home valuations over the Internet, a neighbourhood price watch, and an interactive Dream Home Finder matching system.
The team takes pride in providing a solid timeline for selling and purchasing homes on their clients' behalf. The process begins with either searching or preparing homes for sale, then identifying the best matches for clients or marketing properties for sale.
The Tulip Team promises full navigation assistance during the home buying and selling period. Even the moving and closing processes are professionally and expertly covered.
Free home valuation conducted online
Interactive Dream Home Finder matching system
Shorter business hours on weekends
No live chat assistance
Customer Reviews
If you're curious about how clients find the services of The Tulip Team, read on:
"Kayla listened to what we were looking for, even when it changed throughout the process, and was flexible in finding the right investment for us." – Anthony Weicker
"The Tulip team helped me buying my house years back now they helped me selling my house. Bill thank you for you patience and for been very supportive through out my selling process. I am looking forward to my next purchase with Bill and the team's help. I will also recommend to anyone. Thank you Bill and The Tulip team." – Ruth B
5. Gauthier Homes Real Estate
SERVICES
Buying and Selling Properties
WEBSITE
https://gauthierhomes.com
ADDRESS
1296 Carling Avenue Ottawa, ON, Canada
CONTACT DETAILS
613-697-7771
https://gauthierhomes.com/contact/
OPERATING HOURS
Sunday – Thursday: 9 AM – 9 PM
Friday & Saturday: 9 AM – 8 PM
Stephan Gauthier is a real estate agent that aims to help clients get their money's worth for their property. They offer the full range of services suited for investing in or selling a property.
If you're looking to buy a property, you might want to take note of their new listing alerts, which allows you to see a listing before it even goes online. It's perfect for finding the best home for you without having to fight over it.
Meanwhile, their property selling services cover all that's needed to maximise your profit. They make use of professional photography and extensive advertising to ensure that your home is captured at its most appealing and sold at its highest price.
Given their realtor's wealth of experience and dedication to quality, there's no doubt that they're reliable when it comes to real estate. If you're interested, get your real estate journey started by contacting them for a price report– free of charge.
Full range of services
New listing alerts
Extensive selling process
Free market evaluation
Small team of real estate agents
6. Bennett Property Shop Realty, Brokerage
SERVICES
Residential listings, open houses, video tours, first-time homebuyer assistance, government and military relocations, international buyer assistance, mortgage advice and calculator, home buying/selling advice, free home evaluation
WEBSITE
https://bennettpros.com
ADDRESS
190 Lisgar Street, Ottawa, ON K2P 0C4
CONTACT DETAILS
613-233-8606


[email protected]




[email protected]

OPERATING HOURS
Available 24 hours by chat
Bennett Property Shop Realty, Brokerage is another agency with impressive longevity. It's been around for nearly 20 years but continues to adjust to changes and trends in the market.
It's also a multi-awarded brokerage firm. Its founder Marie Bennett won the 2010 and 2011 #1 Broker Worldwide for Keller Williams Realty International awards, as well as Ottawa's Professional Businesswoman of the Year for 2008.
The company understands that each client has unique needs and a vision for the best home. That's why it employs an intuitive approach that matches the client's pace and doesn't enforce a rushed process.
On the website, potential clients can search for properties a couple of ways. They can look through featured listings, or narrow down their matches by property types and price ranges.
Aside from its paid services, the Bennett Property Shop Realty, Brokerage also offers assistance to clients at no charge. There are free home and condo evaluations on the menu, which potential clients can avail of by filling up a form on the website.
Offers free home/condo evaluation
Better Business Bureau Torch Awardee
Conducts virtual open house tours for safety
Business hours not indicated
No BBB accreditation
Customer Reviews
Learn what other clients have to say about Bennett Property Shop Realty services:
"5 Stars for sure… It was a real pleasure to work with Tina Walker. So very professional and helpful in this very emotional big step in our lives. Selling our home which we have raised 3 beautiful adults. Lots of love and investment went into the home to keep it up to date. Good thing!!! We did need help and instruction on staging and decluttering and Tina was there with your in-house professional guiding us along. Note to other Sellers do exactly what they say!! Our home was sold before it went on MLS internally through Bennett connections $150K over asking price. We are very pleased with the outcome our move date works for all just great. Bennett has provided lots of great collateral to help us along with the next steps. Tina is working with our lawyer and bank leads making it so easy. I completely recommend Bennett and highly recommend Tina Walker." – Dominique S.
"3 P's: Prompt Professional Productive Sold over asking …. 1 day!" – Linda C.
7. Jason Polonski – Ottawa Realty Man
Jason Polonski is one of the beast realtors in Ottawa. His expertise in not only selling houses, but also in making connections to his clients, have proven him to be a great choice when it comes to these types of assistances.
What sets him apart is that Jason knows how to sell homes at the maximum price possible, while also minimizing the cost of commission. He is able to provide the full services needed without having to ask above the general budget.
He takes everything into consideration, not only his job as a realtor, but as a person his client trusts. Aside from being great at selling, Jason Polonski also knows how to find great homes to buy at their optimum price.
So whether you are a seller or a buyer, you rest assured that he will be able to help you when it comes to finding or letting go of your home. Jason Polonski is readily available to be consulted at all times, so feel free to contact him through phone or through their website.
Offers free home/condo evaluation
Better Business Bureau Torch Awardee
Conducts virtual open house tours for safety
Business hours not indicated
No BBB accreditation
8. Bruce Brown – Ottawa Agent
SERVICES
Market updates, residential listings and search for multi-family, lands, and condo units, buyer assistance, seller assistance, leasing assistance, new construction, estate investments
WEBSITE
https://ottawaagent.ca/
ADDRESS
610 Bronson Avenue | Ottawa, ON K1S 4E6
CONTACT DETAILS
613-859-6268
[email protected]
OPERATING HOURS
Contact for more information
Ottawa Agent doesn't just help buy and sell houses, they also offer advice and information regarding marketing and investing. They want you to stay on the loop of things and remain knowledgeable on what they can do to help you, through informing you of quality of work you deserve.
Bruce Brown, one of their agents, has been in the industry for over a decade. He has many years of experience in the high technology industry.
He employs a client-first approach when it comes to real estate, so he makes sure that any advice he offers will have your personal interests in mind. Many individuals and families have benefitted greatly from his wealth of knowledge and unparalleled skill.
Quality services are only a click away with Ottawa Agent's Bruce Brown. You can rest assured that you will be able to find the perfect home or sell your previous one as soon as possible– all without compromising your budget or profit.
Decades of experience in real estate
Market price guides
Multiple listings for buying and selling
Business and operating hours are not indicated
Customer Reviews
Take a look at some of the feedbacks left for OttawaAgen.ca:
"I am truly certain your well crafted letter is part of the reason we got to $(our price). It is a convincing rationale without being hard lined. It's perfect. You state the case with the paperwork to back it up. I know it was a long road getting here but I believe, like you, it's a solid value for what and where it is. I can't thank you enough. From the purchase of my mom's house to now my purchase, your level of service was over and above my expectations for a realty experience. You were my advocate today especially dealing with the board President and Property Manager on my behalf to get the answers to make this happen. It was truly a pleasure on every occasion and I really learned a lot about the process that seemed quite daunting at the start. Thank you so very much. I will not hesitate to recommend you at every opportunity that crosses my path. "
"I always knew you would be the guy to sell it… I just did not know when! You're the best realtor I have ever had! Better stated – you are one of the best professionals… it doesn't matter what the vocation… you remind me of the saying, "pick something and be the best you can at it" – thank you."
9. Anna Tran Real Estate Broker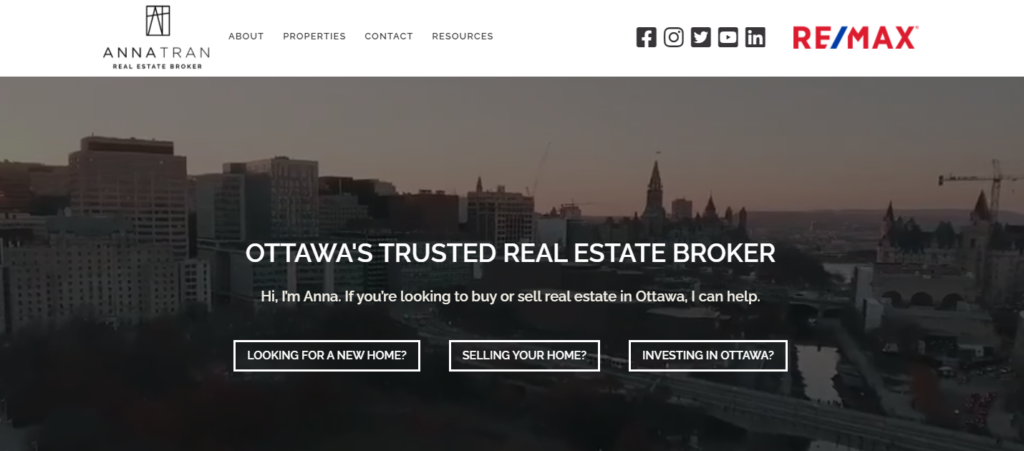 SERVICES
Residential and property listings, buying and selling properties
WEBSITE
https://www.annatran.com/
ADDRESS
2316 St. Joseph Blvd
Ottawa ON K1C 1E8
CONTACT DETAILS
(613) 818-2409
(613) 830-0000
[email protected]
OPERATING HOURS
Contact for more information
Anna Tran is considered to be one of the best real estate agents in Ottowa. She started in the industry in 2012 as an intern in Re/Max, and continued pursuing the job until she became an official real estate broker in 2015 at the very same company.
Her passion for selling and knowing all about properties helped her gain more experience and expertise as an agent. Her connections are amazing, having known professional realtors from different places outside the city and the country. This helps her gain not only a wide clientele, but an even wider range of listings made available to handle and offer.
Anna believes that a house is more than just a place with four walls. It's somewhere families build memories and share their stories after a long day. Therefore, she always ensures that each of her clients finds the perfect home to settle in, one that's in the best area possible for them.
To top it all off, the excellent service Anna Tran can offer isn't heavy on the wallet. With low fees, she's readily available to assist clients and move with their best interests in mind.
Offers valuable real estate contents
Director of the Orleans Chamber of Commerce
Multi-award winning broker and firm
Great listing deals
Business hours are not indicated
10. Ray Smiley
SERVICES
Real Estate Buying and Selling
WEBSITE
https://homeforsaleinottawa.com
ADDRESS
RE/MAX Hallmark Realty Group, 344 O'Connor Street, Ottawa, K2P 1W1
CONTACT DETAILS
Email: [email protected]
Mobile: 613.818.1819
Phone: 613.563.1155
Office Phone: 613.563.1155
Fax: 613.563.8710
OPERATING HOURS
Monday – Friday: 8 AM – 9 PM
Saturday & Sunday: 8 AM – 5 PM
True to his name, Ray Smiley is a real estate agent that aims to bring smiles to his clients by delivering only the best quality real estate services he can provide. He's been serving the Ottawa area for years, all while developing his skills and and expanding his connections in the process.
Ray has a wide range of services suited for buying and selling properties, from a transaction's start to finish. Moreover, he knows the Ottawa area well, so there's no doubt that he can assist you in finding the property you need thanks to his extensive knowledge of the city.
Transparent and communication is what he strives to provide as well, since he knows that a constant stream of information is what Unlike most real estate agents, Ray is fluent in English and French, so French-speaking homeowners won't experience any difficulty in acquiring or letting go of their property.
More importantly, Ray makes sure to keep his client's property preferences in mind during the entire transaction. Given his quality services and client-first approach, Ray Smiley is more than deserving of a spot on this list.
Extensive knowledge of Ottawa
Many years of experience as a realtor
Fluently bilingual in English and French
Re/Max Platinum Award recipient from 2006 to 2016
11. Agent DK
SERVICES
Property Buy and Sell Services
WEBSITE
https://www.agentdk.com/
ADDRESS
Unit #101-200 Glenroy Gilbert Drive, Ottawa, Ontario K2J 5W2
CONTACT DETAILS
Phone: 613 883 5555
Email: [email protected]
OPERATING HOURS
Monday to Friday: 7AM–8PM
Saturday: 7AM–6PM
Sunday: 11AM–6PM
Dimitrios Kalogeropoulos is a Harvard Negotiation Master Class Graduate and is the team leader at Agent DK. Together with his team, they have received numerous recognitions from peers and real estate journals for their work in the field.
Agent DK was named one of the Top 100 Real Estate Teams in Canada for four years. It is backed by Royal LePage, an established industry leader in technology that is quickly growing as a contender in real estate.
With their personalized service and solid communication, they are able to offer comprehensive real estate services. They have a 30-step action plan to sell homes that will guide you throughout the process.
Highly experienced professionals
Multi-awarded team
Shorter hours on weekends
FAQs About Real Estate Agents in Ottawa