The Top 8 Property Management Firms in Ottawa
Managing a property in Ottawa doesn't have to be a nerve-wracking experience for landlords and property owners. In fact, it could be the total opposite.
Instead of attempting to do everything yourself, why not look for a property manager? An efficient one can help you handle the paperwork, tenant vetting, rent collection, building maintenance, emergency handling, and other issues.
Whether you're a native or new to the capital, the first step to getting the best property management in Ottawa is to know what to look for. To help further, we'll first discuss the cost, expectations, and other important aspects of managing a property.
How Much Does Property Management in Ottawa Cost?
Property managers can charge their clients in a couple of different ways. The usual ones involve either a flat rate or a percentage of the agreed-on monthly rental fees.
Of course, the amount depends on the kind of property you have. Its location is another important thing to factor in.
The features included or taken away from the basic offering affect the final price tag, too. This means that the size, number of rooms, utilities, community amenities, and other specifications could significantly subtract or add to the expense.
For instance, an Ottawa residential property with a single bedroom and bathroom can cost somewhere between $1000 to over $2500. The fewer utilities thrown in (like the absence of air-conditioning or heat) means the smaller the expected rental will be.
On the other hand, the more luxurious residences within the vicinity of parks, boutiques, public transport, and restaurants will fetch a higher income. An example is a newer condo unit with hardwood floors located in a posh, urbanized area.
A residential property owner could pay around 6% to 12% of their rental fees to a property management firm in Ottawa. Those who own commercial properties are typically charged lower because there's lesser maintenance and work involved.
Assuming that you don't agree on a fixed flat rate, you'll need to consider the different costs. Here's a table breaking down some typical property management service fees to expect:
| | |
| --- | --- |
| SERVICE | ESTIMATED COST |
| Maintenance fee | Agreed-on flat rate upfront, or as needed for repairs, cleaning, renovation |
| Vacant unit fee | Around $50 a month if only cleaning is involved for vacant units |
| Eviction fee | Around $500 or depending on legal fees involved |
| Leasing fee | 50% to a full month's rent for new tenants |
| Reservation fee | Agreed-on flat rate, or as needed for security repairs (locks, doorknobs, etc.) |
| Management fee (monthly) | 6-12% of monthly rent or a flat rate upfront |
| Miscellaneous fees (mortgage, utility bills, taxes, HOA fees, etc.) | 1-1.5% of tax and bill sums handled by a property manager to avoid late penalties |
Take note that not all property management companies in Ottawa have strictly fixed rates. Some of them will encourage negotiation depending on specific variables like the number of properties, location, etc.
The Best Property Management Companies in Ottawa
To learn about the range of services and consumer feedback, we've researched five of the highest-rated property management firms in Ottawa. Read on to see if any of them is a good fit for your needs.
1. Strathallen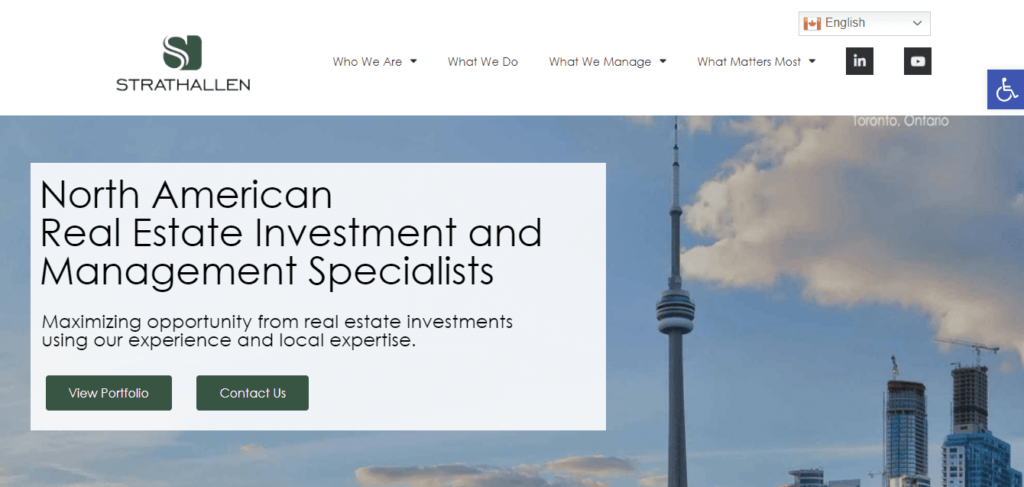 Despite its national reach, Strathallen keeps its ears close to local grounds through its area-specific property management offices, one of which is in Ottawa.
We are impressed by the level of local insight the Ottawa team is able to provide its growing list of clients, one of which is Ottawa's very own Carlingwood Shopping Centre. Strathallen also manages some of its own assets, adding to the confidence we have in their services.
What we like is that Strathallen has a solid network of relationships with partners from every field – from national tenants to consultants and real estate brokers.
Their good relationships with these individuals and groups allow them to provide clients with top-of-the-line service and results.
They also do full-service property management, from leasing, tenant coordination, and marketing, to even construction management and development.
This means that clients can simply go to them for all of these services instead of bidding these out to separate suppliers, which is always an added convenience.
Despite a wide roster of clients, Strathallen commits itself to responsive communication, aiming to respond to any enquiry within two business days.
We think that this is what's ultimately earning their clients' trust, as many are the stories of big companies failing to stay connected with their clients.
Expert market knowledge, both locally and nationally
Impressive and sound portfolio
Guaranteed response within 2 days of enquiry
Full-service property management
Established network of relationships with national tenants, consultants and real estate brokers
Operating hours not available
Some reports of needing to improve client servicing
2. Sleepwell Property Management, Ottawa
| | |
| --- | --- |
| SERVICES | Multi-faceted marketing strategies, interviews and screenings of potential tenants, property showings, lease signings, renewals, moving procedures, online rent payments, monthly and annual reports, bill payments, 24/7 property maintenance, emergency services, and inspections |
| ADDRESS | 423 Bronson Ave. Ottawa, ON K1R 6J5 |
| CONTACT NUMBER | 1-613-521-2000 Toll Free + 1-877-521-2004 |
| WEBSITE | https://sleepwellmanagement.com |
| OPERATING HOURS | Monday to Friday – 8:30 a.m. – 4:30 p.m. |
Established in 2005, Sleepwell Property Management has streamlined its user experience for 24/7 access and convenience. This makes it handy for landlords/property owners and tenants alike.
Sleepwell emphasizes a stress-free experience for all its clients. The company has a proactive recruitment and marketing system with a focus on catching the attention of apartment-hunting tenants.
Through the years, Sleepwell Property Management has maximised clients' rental income by thoroughly researching the rental schemes of competitors in the neighborhood. To further increase the rental value, renovations and improvements are made after thorough property assessment.
The bold step towards modernization makes the company's communication process smooth and hassle-free. Apart from cloud-based software, GPS tracking and mobile-enabled systems raise the Sleepwell client experience to state-of-the-art.
Cloud-based portal for 24/7 access on computers or mobile devices
Proactive marketing approach
Careful property assessment for renovations and improvements
Virtual tours for COVID-19 compliance
Closed on Saturdays and Sundays
Shorter office hours
Customer Reviews
Interested in client feedback? Here are some customer reviews on their Sleepwell Property Management experience:
"I was looking for a new apartment in a short time frame, and Sleepwell was excellent! The rental agent I worked with was very responsive and flexible. He went out of his way to ensure everything was clear and easy to understand, and offered to show me similar properties in the area of my first choice that didn't work out. Since moving in, I've had a few minor maintenance issues that have been addressed quickly and thoroughly. The maintenance team has been friendly, efficient, and taken excellent Covid-19 precautions. Overall, I would highly recommend working with Sleepwell Property Management if you are looking for an apartment!" -Emily Housteon
"I just moved back to Ottawa for my new job and had the best experience with Sleepwell. They were informative, patient, and found me the perfect home." – Emilia Perrin
3. Fahel & Co Property Management, Ottawa
| | |
| --- | --- |
| SERVICES | 24/7 maintenance service and call center, insurance and invoice payments, property tax accounting, automatic deposit and rent collection, tenant inquiries, admin support, monthly and annual tax report compliance, property and fire inspection, rent review, legal representation, cloud-based software |
| ADDRESS | 2450 Lancaster Rd. Unit 15 Ottawa, ON, K1B 5N3 |
| CONTACT NUMBER | +1 (613) 366-0769 |
| WEBSITE | https://www.fahelandco.com |
| OPERATING HOURS | 24/7 via phone or email |
Fahel & Co boasts of over 300 current landlord-clients. Considering that the business was only established in 2017, the client count is impressive.
The company's management fee covers account management and tenant handling, rent collection, and reports. The rent collection method involves automatic withdrawal from the tenant's account via a pre-authorized debit system.
Taking pride in its modern approach to rental listings, all the homes in their residential listings feature a 3-D virtual tour. The site's listings page helps narrow down the search for each client with filters on preferred location, move-in date, number of bedrooms and bathrooms, price range, etc.
Fahel & Co does have an in-house maintenance team. However, in its FAQ, the company admits to outsourcing some of its plumbing and electrical work to "great contractors", so the service quality might not be as consistent.
24/7 customer and maintenance service
Cloud-based client portal
Offers legal services
All-inclusive monthly management fee
All listings have a 3-D virtual tour
Subcontracted maintenance work for plumbing, electricity, etc.
Customer Reviews
Want to hear what actual clients have to say about Fahel & Co? Read on:
"They rented my house in under 6 days… They were recommended by a friend. Thank you, guys! Most fun I have had dealing with a real estate firm." – Gladys Collins
"As a tenant renting from this company, it's really comforting knowing I can come across an issue, contact them and have it fixed within 24 hours. I've rented with other big companies and this concept was nonexistent. Thankful to be in great hands. I really appreciate Justin for always being positive and reassuring whenever something goes wrong!" – James Blake
4. Ottawa Property Managers
| | |
| --- | --- |
| SERVICES | Free and paid website property marketing, tenant credit check, income verification, and other screenings, application scoring system, first and last month rent collection, lease and move-in inspections, 360-degree camera inspection, tenant management, books and records maintenance, monthly financial statements, repairs coordination, eviction processing, and coordination |
| ADDRESS | 4338 Innes Rd #49, Ottawa, Ontario K4A 3W3 |
| CONTACT NUMBER | 613-319-2447 |
| WEBSITE | https://www.ottawapropertymanagers.com |
| OPERATING HOURS | 8 a.m – 5 p.m. 24/7 online portal access and chat support |
Property Management Ottawa features a free analysis report on their website. Key elements like property amenities, condition, location, and other aspects are closely inspected to determine how much a landlord can charge for rent.
The company's management fees depend on the kind of property involved. When it comes to tenant placement, though, there is a one-month rent charge once the tenant has moved in.
The monthly tenant management fees amount to 6-8% only after the property is tenanted. This is a reasonable rate, given that other property management firms charge upwards of 10% a month.
Over the past three years, Property Management Ottawa has reaped several notable awards. These include the 2019 Top 3 Property Management Companies in Ottawa and the Three Best Rated Excellence Awards for both 2020 and 2021.
Multi-awarded property management firm
Wide service area
A+ BBB rating
Free rental analysis
Discounts on multi-unit properties
The website could be more user-friendly
Shorter office hours
Customer Reviews
Beyond its awards, what do Ottawa Property Managers' clients have to say about them?
"As a former diplomat who was an absentee landlord for many years the situation is now reversed and I am now a renter of a rather complex house managed by Ottawa Property Managers . I wish I had experienced such service as they routinely provide. The support provided to my landlord is quite exceptional. For example, instead of calling in a plumber, somewhat complex repairs are carried out with no labor cost to the property owner. As a tenant, I am treated with respect at all times with any issues being attended to quickly and to my complete satisfaction. Truly exceptional." – Maurice Hladik
"This is the third property management firm I have used in Ottawa and the best so far. Competent, professional, and thorough." – Oscar Jacobs
5. Brigadier Management, Ltd.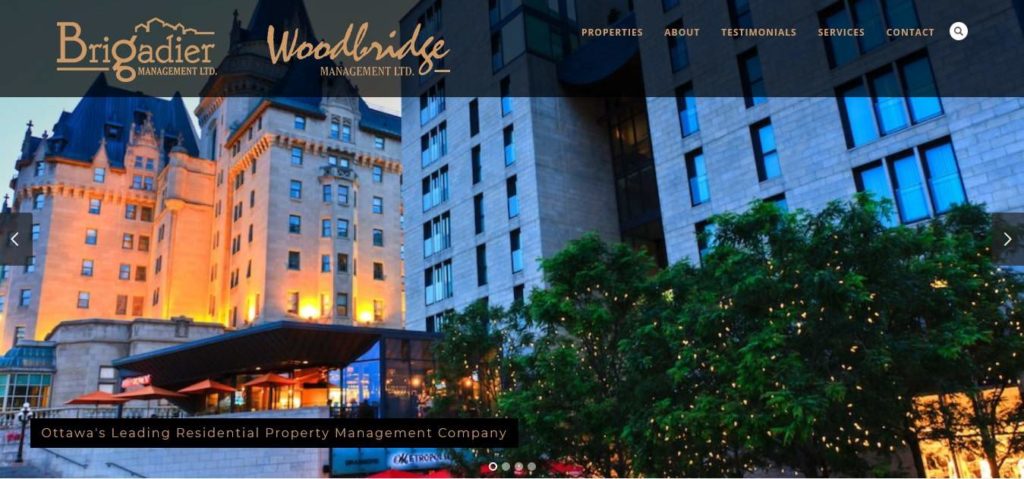 | | |
| --- | --- |
| SERVICES | Full-service residential property management, advertising and marketing of current listings, property showing, tenant screening and background checking, residential lease preparation, rent collection, monthly financial reports, house inspection and documentation, maintenance supervision and coordination, 24/7 availability for emergencies |
| ADDRESS | 2036 Dorval Avenue Ottawa, ON K1G 2N8 |
| CONTACT NUMBER | (613) 236-9898 |
| WEBSITE | https://www.ottawapropertymanagement.co |
| OPERATING HOURS | 24/7 by phone or email |
Brigadier Management, Ltd. was put up in 1990, with an alternate name of Woodbridge Management, Ltd. Three decades in the business have resulted in a wide menu of services mixed with what they call "good old-fashioned personal service".
The company markets its listings with professionally-shot, clear photos and extensive advertising of properties. A thorough tenant screening follows, complete with background and credit checks to ensure a smooth arrangement with the property owner.
Brigadier Management, Ltd. takes pride in its three decades of property management services. What began as a market catering specifically to the diplomatic community has given way to widening its services to the entire community.
There is a solid process in place for rent collection, monthly financial statements, house inspections, and maintenance coordination. These are backed by computerised and automated systems from the self-described "technology-driven company."
Computerised and automated rent collection system
Meticulous attention to property details for marketing and inspections
Thorough tenant screening
24/7 availability for client emergencies
The website could be more user-friendly
No virtual tours in the image galleries
Customer Reviews
Wondering about the kind of feedback from three decades of property management services in Ottawa? Here are some of them:
"I have used Natalie's services on three separate occasions since 2013. Her vast experience, expertise, and unique insight into the property market are phenomenal. I completely depend on her knowledge and judgment on all matters of property management. Her sophisticated analysis and outstanding people skills ensure the right tenant/property match every time. I highly recommend Natalie!" – Rod Black, LCol (Ret.)
"We have used Natalie's services for a total of 15 years as we moved about in Canada and abroad serving in the military.
Natalie exemplifies professionalism. Her deep knowledge, skills, and work ethics set her way ahead of other property managers in Ottawa. She managed our properties as if they were her own houses, keeping us well informed and offering timely, pertinent, and sound advice. Reliable, trustworthy, and personable, we simply were in good hands. We have warmly recommended her agency to several colleagues and friends." – Anne Buysse & Richard Milot, Colonel (Ret.)
6. Rent in Ottawa
| | |
| --- | --- |
| SERVICES | Residential and commercial property management including application processing and screening of prospective tenants, implementation of regulations, full maintenance staff provision, discounted advertising, lease and rental agreement enforcement, 24/7 emergency availability |
| ADDRESS | 40 Colonnade Rd North Ottawa, ON K2E7J6 |
| CONTACT NUMBER | 613-612-7368 |
| WEBSITE | https://www.rentinottawa.com/ |
| OPERATING HOURS | Available 24 hours |
Rent in Ottawa Property Management strives to stay true to its mission. The company simply wants to provide convenience for all its clients – from property owners, landlords, to tenants.
Prior to being tenanted, a property is thoroughly inspected to determine the kind of maintenance and repairs it needs. A pre-agreed amount covers repair requests – anything assessed above that will require your authorization.
Rent in Ottawa breaks down the property management fees with a month's worth of rent for finding new tenants, and an 8% monthly management fee afterward. There are special pricing schemes for multi-family units.
The company offers a Rent Guarantee program, which gives both property owners and tenants peace of mind. It assures landlords up to 11 months of rent payments without worrying about eviction-associated costs and finding new tenants.
The firm places special emphasis on positive landlord-tenant relationships. This is a breath of fresh air in an industry that often treats tenants and property owners as mere cash cows.
Comprehensive property maintenance system
Fees and pricing are indicated upfront
A+ BBB rating
Rent Guarantee program gives clients peace of mind
Website layout could be better
$75/visit on additional inspections
Customer Reviews
If you're curious about what customers have to say about this company, read on:
"RentinOttawa has managed my properties for over 5 years. I have had excellent service during that time and I can't begin to express how much their service has reduced the stress of being a landlord. They respond promptly to my tenants and are always available if I need to speak to them or get advice. Over the years the team has become more like friends than business associates. I would highly recommend RentinOttawa as a property management company." – Suzanne D
"As renters, we appreciate greatly that management responds quickly on maintenance issues, at all hours of the day and night. They have solved a couple of long-standing issues. We recommend them to you." – Hugh P
7. Filament Realty Management
Filament Realty Management guarantees profitable investments through their advices and management. As one of the leading comapnies in the industry, their expertise and experience is one to consider if you're looking for maximum return on the finances.
Their team of professionals is devoted to providing only the best services available, and are trained to bring new ideas and outlooks to the table.
Unlike other companies, Filament Realty Management employs a hands-on approach for their services. Working closely with their clients ensures that you will be given investment advice and assistance that you can actually apply.
Through their assistance, rest assured that you won't be stressing over your leasings any time soon. If you want to experience the award-winning services of Filament Realty Management, consultations are available to be booked through the website or through call.
Unmatched management and leasing
Expert team of professionals
Comprehensive system of services
Website could provide more details
Customer Reviews
Below are some of the reviews for Filament Realty Management to check out:
"Absolutely wonderful company to deal with! They are very quick to reply, proactive and available when needed! Would highly recommend these folks if you are looking for an effortless experience! Thank you Gershon, Gabrielle and your entire team!!"
"We interacted with two Filament Management employees when renting a town house in Orléans. Aaron was timely, knowledgeable, courteous, and professional. He followed up with us to make sure all the issues were done correctly and on time. Gabriella helped us with the water and hydro connection issues. She was helpful, friendly, and professional. Overall, a very competent group."
8. Harrison Property Management
Harrison Property Management specializes in helping clients rent out their investment properties. This local, family-owned and operated company are qualified rental agents that have one simple goal – to find the right person for the right property.
As your rental property agent, they can manage all aspects of monthly income and facilitate overseeing guests. They can also furnish, photograph, and manage the necessary renovations and materials needed to prepare a unit for tenancy.
Harrison Property Mangement's modern approach gives clients a hands-off approach toward earning income through their investments. So whether you're looking for a short term residential rental or a long term commercial lease, they've got it covered.
Their main specialty is short term AirBnB rentals, providing full service management to clients from staging all the way to cleanup. So if you're looking for someone to manage your property or are looking for a property to rent, Harrison Property Management is an option worth considering.
Specializes in short-term AirBnB rentals
Full service rental property manager
Provides residential cleaning services
Doesn't have a physical address
No operating hours
FAQs About Property Management in Ottawa