9 Firms with the Best Personal Injury Lawyers in Ottawa
Personal injury can cause long-term harm to one's body and mind. If you're a victim, you deserve to be compensated for the damage someone caused, no matter whether the action was accidental or intentional.
That's why we've compiled a list of the best personal injury lawyers in Ottawa.
For this list, we focused on strong legal representatives who can empathize and win your case at the same time. We also took a look at their pros and cons below.
The Best Personal Injury Lawyers in Ottawa
1. MG Law Personal Injury Lawyers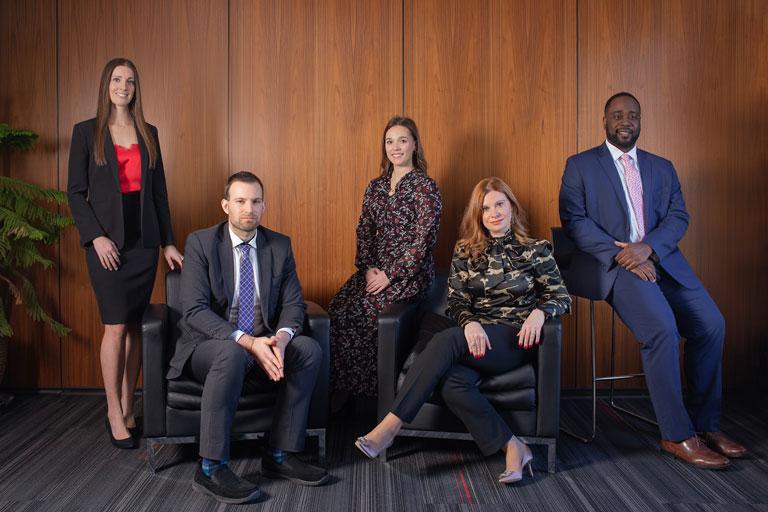 KNOWN FOR
Multilingual Personal Injury Lawyers
SERVICES
Bicycle, Car, Motorcycle, and Recreational Vehicle Accidents
Public Transit Accidents
Pedestrian Accidents
Brain Injury and Concussion Accidents
Slip and Fall Accidents
Swimming Pool Accidents
Spinal Cord Injury Accidents
Catastrophic Injury
Disability Claims
Insurance Disputes
Medical Malpractice
Product Liability
Sexual Assault
WEBSITE
https://mginjurylawyers.com/
ADDRESS
2733 Lancaster Road, Suite 100, Ottawa ON K1B 0A9
CONTACT DETAILS
1-613-730-8460


[email protected]

OPERATING HOURS
9:00 AM to 5:00 PM, Monday to Friday
Closed on Saturday and Sunday
Established in 2009, MG Law Personal Injury Lawyers have more than a decade of experience serving clients in Ottawa. They're best known for having multilingual lawyers who can speak Russian, French, Arabic, English, Mandarin.
MG Law Personal Injury Lawyers are committed to giving each client undivided attention throughout the legal process. With a big legal staff, they have the manpower to handle multiple cases at once.
Their team includes specialists who have expert knowledge on different types of accidents. With their guidance, each client gets the benefits they deserve.
Free consultation
Multilingual lawyers
Wide range of personal injury services
Has a total of five lawyers
Closed during the weekends

Office farther from Downtown Ottawa than other firms on this list
Customer Reviews
Read this review from a client of MG Law Personal Injury Lawyers.
"It was a pleasure working with Kyle Nayman and the MG Law firm team. Kyle was very supportive, understanding and highly professional through the entire process. Thank you for your guidance and hard work on this case. Your kindness and support is highly appreciated! I highly recommend Kyle, Miryam and MG Law to friends and family!" —Mariam Landman, Google Reviews
2. David Hollingsworth and Associates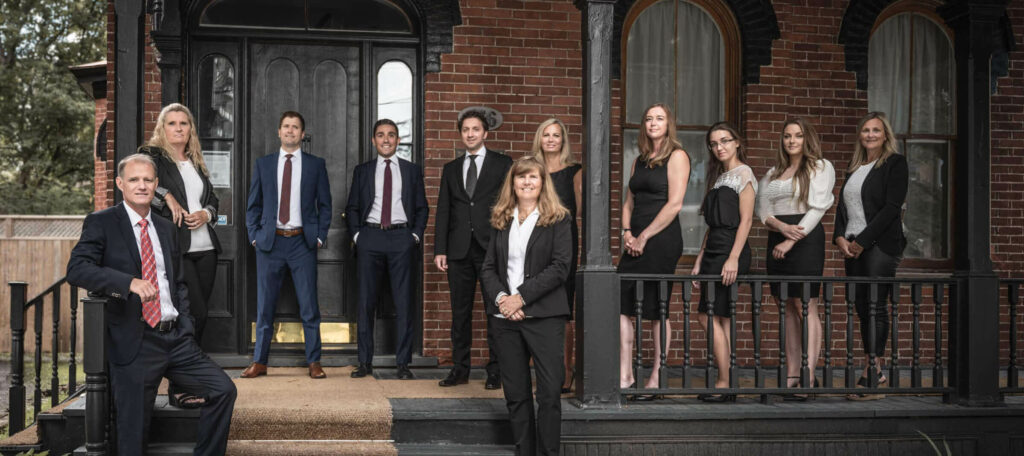 KNOWN FOR
Accidents, Personal Injury, and Insurance Claims
SERVICES
Accident Benefits Insurance Claims
Animal Attacks and Dog Bites
Assaults and Sexual Assault
Uninsured Drivers
Bus, Car, Cycling, Motorcycle, Train, or Truck Accidents
Pedestrian Accidents
Slip and Fall Accidents
Workplace Injury
Child Injury
Defective, Dangerous, and Faulty Products
Disability Claims
Medical Malpractice
WEBSITE
https://ottawainjury.ca/
ADDRESS
176 Bronson Avenue, Ottawa, ON K1R 6H4
CONTACT DETAILS
1-613-978-9549

[email protected]

OPERATING HOURS
8:30 AM to 9:00 PM Daily
David Hollingsworth and Associates consist of five experienced personal injury lawyers working with a dedicated staff. We like that this Ottawa firm focuses solely on personal injury and accident insurance claims.
Within their team, they also have an accident benefit specialist and several staff members whose expertise is in insurance claims, which clients appreciate.
Their specialty is to guide their clients through the insurance claim process and ensure that they are getting all of the compensation and benefits they are entitled to.
David himself has decades of experience in personal injury and knows how to maximize insurance claims so that their clients and their families are able to rebuild their lives, following an accident.
Best of all, they have a proven track record and dedicated legal team who make themselves available by phone, email, Zoom, and text.
Also, a major bonus: their lawyers are multilingual so language won't be a barrier during your free consultations.
No upfront costs
Multilingual lawyers
Big legal team with an accident benefit specialist
Free consultations
Only one physical location
Customer Reviews
Read this review from David Hollingsworth and Associates' former client.
"4 years ago I was involved in a horrible car accident. My limbs were all affected and I had a long recovery that goes on even now. Dave represented me, and while the process took a long time, the outcome was very favourable. (No trial, an agreement was reached through mediation). In a nut-shell: I recommend Dave with no reservation." —Cristina Stoica, Google Reviews
3.   David Gardiner Personal Injury Lawyer

KNOWN FOR
Personal Injury Law
SERVICES
Car Accidents
Long Term Disability Insurance
Slip & Fall Claims
WEBSITE
https://dginjurylaw.ca
ADDRESS
1447 Woodroffe Ave,
Ottawa, ON K2G 1W1
CONTACT DETAILS
613-366-0802
[email protected]
OPERATING HOURS
8:30 AM to 9:00 PM Daily
Next on our list is David Gardiner, a personal injury lawyer who has been serving Ottawa and Ontario for over two decades.
There are several reasons why we highly recommend David Gardiner, one of which is his specialisation. We like that his focus rests entirely on personal injury law, also covering car accidents, long-term disability insurance, and slip and fall claims.
Another noteworthy fact about David is that he has more than two decades of experience in personal injury law. Throughout this time, he has shown great passion for helping injured people get the compensation and respect they deserve.
Lastly, David Gardiner accommodates clients from all over Ontario, although his office is located at Ottawa. Clients in need of help need not worry about consultation fees or fees in general, really, since David Gardiner waits until the case is settled before receiving his legal fees.
Offers free consultations
No legal fees until case is settled
Serves the entirety of Ontario
Only one physical location
4.   Badre Law Personal Injury Lawyers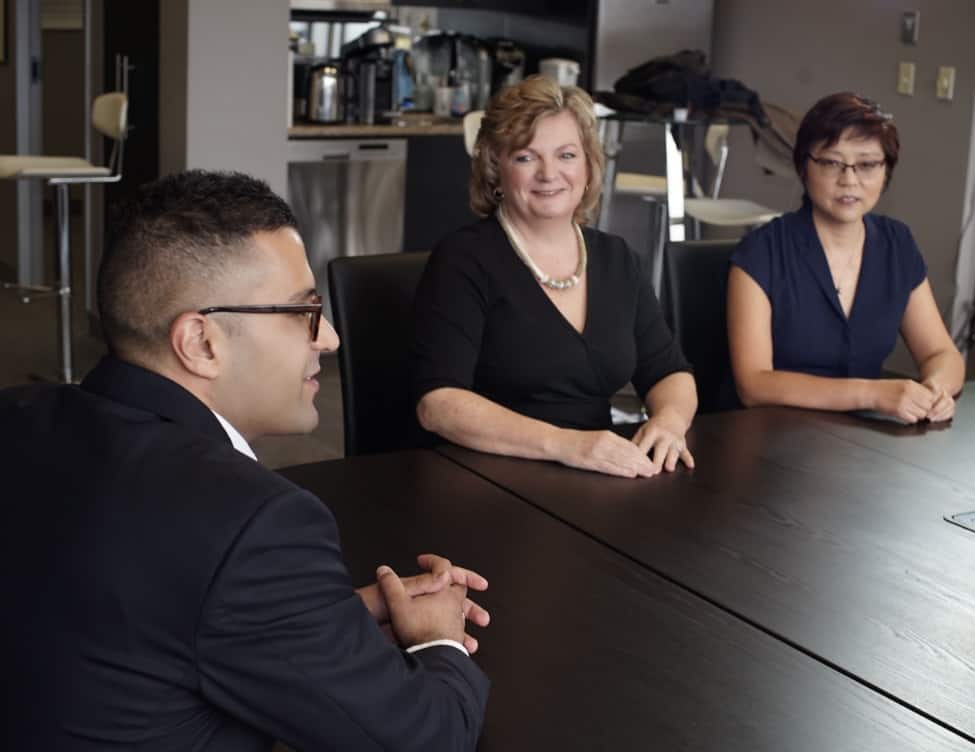 KNOWN FOR
Personal Injury and Employment Law
SERVICES
Employment Law
Long Term Disability
Car, Motorcycle, ATV, or Boating/Watercraft Accidents
Slip and Fall Claims
Spinal Cord Injuries
Brain Injuries
Orthopaedic Injuries
Swimming Pool Accidents
Nursing Home Negligence
Wrongful Death
WEBSITE
www.badrelaw.com
ADDRESS
1296 Carling Avenue #101, Ottawa, ON K1Z 7K8
CONTACT DETAILS
1-613-706-0696
OPERATING HOURS
9:00 AM to 5:00 PM Daily
Daniel Badre and Michael Adamek are personal injury lawyers who not only care about winning the case. They also want to make the process as comprehensible to clients as possible.
So, they and the rest of their team take the time to speak to each client about the incident and to walk the client through the steps needed in order to win the case.
We included them on this list because they treat the clients' comfort as a priority. In fact, they don't require clients to pay any fees until the case is won.
No upfront costs
Free consultations and case reviews
Can conveniently schedule an appointment through their website
Small legal team
Expensive fees
Less areas of practice than other personal injury lawyers on this list
Customer Reviews
Daniel Badre's former client left this review of his experience with the firm.
"Badre Law helped me get the most out of my injury claim and definitely did an amazing job dealing with the insurance company. I highly recommend them if [you're] going through the same situation. Thanks again guys for doing such amazing work." —Hamad Mohammad, Google Reviews
5.   Barapp Law Personal Injury Lawyers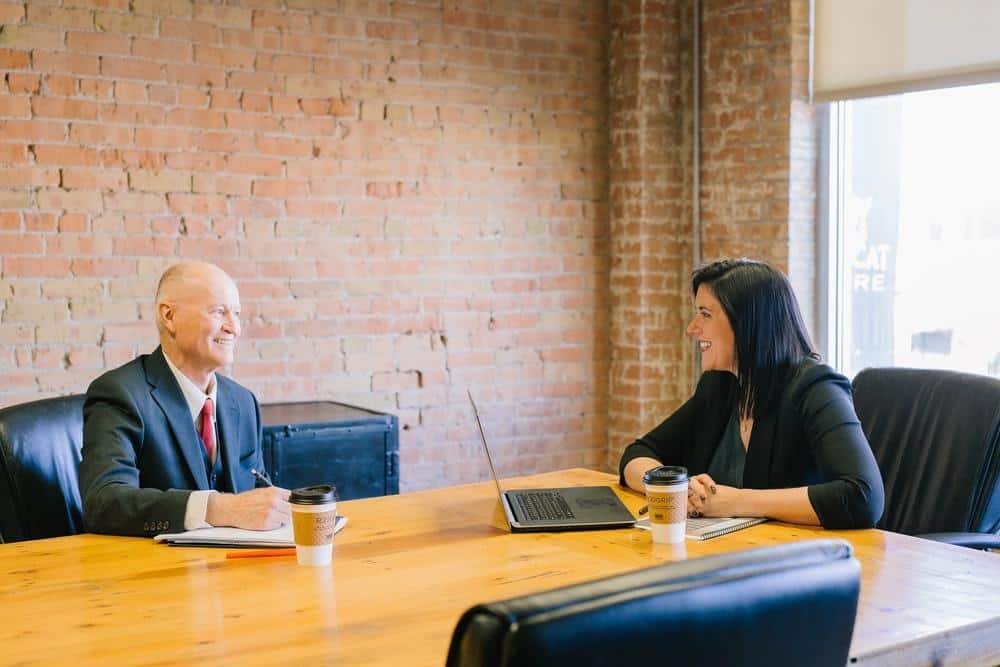 KNOWN FOR
Dedicated Legal Representation
SERVICES
Motor Vehicle and Motorcycle Accidents
Public Transit Accidents
Pedestrian Accidents
Slip and Fall Claims
Dog Bites
Product Liabili
Orthopaedic Injuries
Traumatic Brain and Spinal Cord Injuries
WEBSITE
www.bpilaw.ca
ADDRESS
Suite 25B, 563 Gladstone Avenue, Ottawa, ON K1R 5P2
CONTACT DETAILS
1-613-777-1510
OPERATING HOURS
Open 24 Hours Daily
At Barapp Law, their legal team is composed of lawyers, support staff, paralegals, and medical and accident experts who only practice personal injury law. They have decades of experience handling these kinds of cases for clients all over Ottawa and nearby areas.
When making a claim, Barapp Law personal injury lawyers take into account the victim's medical expenses, property damages, loss of income, and/or physical and mental pain, among others.
They thus have a reputation for ensuring you will be compensated comprehensively by the offending party and/or receive the proper coverage from your insurance provider.
No upfront or retainer fee
Free consultation
Book an appointment conveniently through their website
Small legal team
Gets busy and may be difficult to reach over email
Some cases have taken years to be settled
Customer Reviews
Barapp Personal Injury Lawyer's client talked about his experience in this review.
"This law firm treated me with the utmost respect, compassion and professionalism. I felt that I was in extremely good hands and never had a doubt that they had all the bases covered. I was very pleased with the result and felt that I got more than my money's worth. They deliver what is promised and more. Highly recommend them." —Vincent Leggetti, Google Reviews
6.   McNally Gervan Lawyers LLP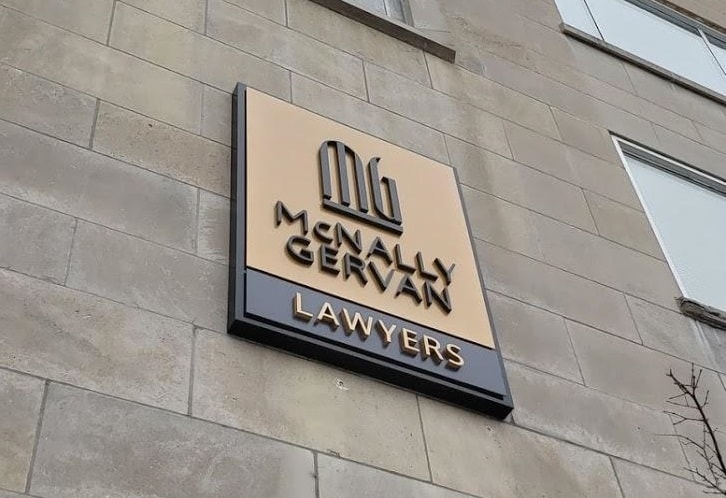 KNOWN FOR
Serious Personal Injury Claims
SERVICES
Accident Benefits Insurance Claims
Animal Attacks and Dog Bites
Assaults and Sexual Assault
Uninsured Drivers
Bus, Car, Cycling, Motorcycle, Train, or Truck Accidents
Pedestrian Accidents
Slip and Fall Accidents
Workplace Injury
Child Injury
Defective, Dangerous, and Faulty Products
Disability Claims
Medical Malpractice
WEBSITE
www.ottawa-attorneys.ca
ADDRESS
359 Kent Street #200, Ottawa, ON K2P 0R6
CONTACT DETAILS
1-613-238-1424
OPERATING HOURS
Open 24 Hours Daily
With a focus on serious personal injury claims, we believe that McNally Gervan Lawyers LLP are the best personal injury lawyers in Ottawa for those who have catastrophic injuries as a result of an accident.
The firm includes four partners, three associates, and a group of law clerks, assistants, paralegals, and administrative staff.
But what makes McNally Gerval Lawyers LLP special is the fact that they have the widest range of services of all the firms on this list. No matter what your situation is, they'll surely be able to help you with it.
Big legal team
Widest range of services on this list
Experts on catastrophic injuries
Irregular updates on cases
Customer Reviews
Read this testimonial from a former client of McNally Gervan Lawyers LLP.
"My mother was involved in an accident and we didn't know where to turn to for help. After searching on Google I found McNally Gervan and decided to visit (thanks to all the positive reviews). From day one of meeting Paul Auerbach, I knew he and the firm were the perfect match for us. He handled my mother's case with honesty, professionalism and a great deal of compassion. He advocated for my mother greatly and we could not have been more pleased with his service and the outcome. I strongly recommend McNally Gervan law firm, especially Paul Auerbach and his team (Ashley and Abigale). Thanks again for everything!" —Sawsan Saeed, Google Reviews
7. Edward Conway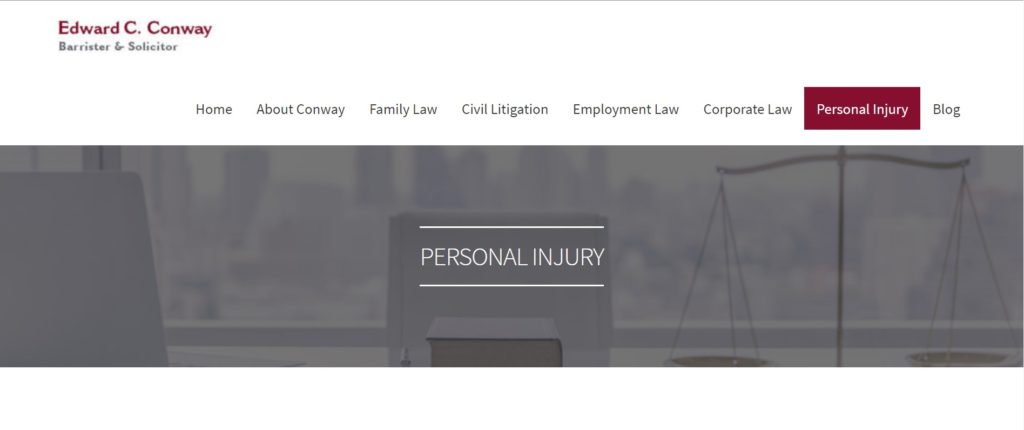 | | |
| --- | --- |
| KNOWN FOR | Quick and knowledgeable response |
| SERVICES | Personal Injury Law, Civil Litigation, Family Law, Employment Law, Separation Agreements, Confidetiality Agreements |
| WEBSITE | https://edwardconway.ca/personal-injury/ |
| ADDRESS | 145 Cartier Street Ottawa, ON K2P 1K7 |
| CONTACT DETAILS | 613 709 0795 | [email protected] |
| OPERATING HOURS | 24 Hours |
If you're looking for a lawyer who is experienced in Personal Injury Law, then Edward Conway is the person to call. He has had regular personal injury litigation practice for approximately 30 years involving cases with medical malpractice, construction negligence and even police negligence.
Many of his cases ended with a successful result, meaning a significant settlement was achieved, though he doesn't promise success in every case. Despite this, Edward Conway will still offer a free initial discussion of your case.
He has also garnered positive reviews from many of his previous clients. He is particularly commended for how quick and knowledgeable his responses are. So, if you need answers right away, Edward Conway is the lawyer to call.
Get responses around the clock
Free discussion and consultation
30 year experience
Team of one lawyer
Doesn't guarantee success
Doesn't specialize in Injury Law
Customer Reviews
Edward Conway's former clients left these reviews of his experience with his experience on google:
"We needed legal advice on short notice. We reached out to a few Lawyers, on a Saturday morning and only Edward was available to help us. His years of experience proved to show with the knowledge he had. Edward helped us understand what we needed to know legally. We found him very passionate about the subject and strongly made us feel like he had our back. He took the time to think and consider our views. We would reach out to Edward again in the future if need be and we would definitely recommend him if you want to feel powerful about coming out as a winner."
"Edward was very quick and efficient to respond to my request for assistance. I needed some advice ASAP and he was very happy to help. Had answers and great advice for me within 24 hours over the phone. Would recommend his services for any legal matters."
8. Bergeron Clifford LLP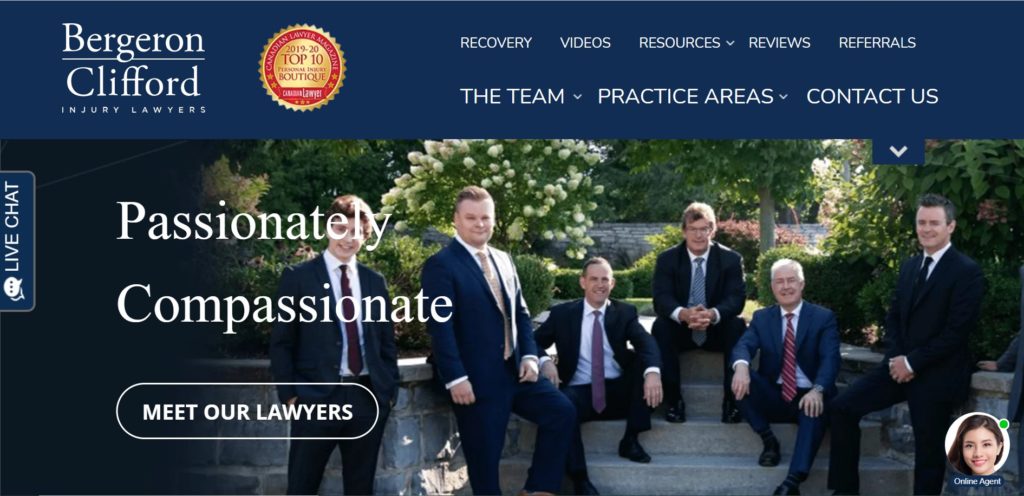 KNOWN FOR
Specializes in Injury Law
SERVICES
Brain Injuries
Medical Malpractice
Slips, Trips & Falls
Spinal Cord Injuries
Insurance Denials
Motor Vehicle Accidents
Other Injuries
WEBSITE
https://www.bergeronclifford.com/
ADDRESS
185 Somerset St W #305, Ottawa, ON K2P 0J2, Canada
CONTACT DETAILS
(+1) 613 241 4777
OPERATING HOURS
Monday – Friday, 8:30 AM to 5:00 PM
Bergeron Clifford is ranked as as one of Canada's Top 10 Personal Injury Law Firms. It is rightfully so since all they do in this firm is Injury Law.
Bergeron Clifford's team specializes in Injury Law and offers specific legal services such as, brain Injuries, medical malpractice, slips, trips & falls, spinal cord injuries, insurance denials, motor vehicle accidents as well as other injuries.
Many of the firm's cases are settled out of court, but some cases are forwarded to be taken to trial. At Bergeron Clifford, they prepare every case for trial to ensure that our clients have the best options – in court, and out of court.
Free Consultation
Top 10 Personal Injury Law firms
Specializes in Injury Law
Customer Reviews
Bergeron Clifford's former clients left these reviews of their experience on the firm:
"From my first meeting with Mr. Bergeron and Mr. Clifford I was reassured, made comfortable with the legal processes involved and well looked after. Mr. Bergeron and Law Clerk, Craig Cameron were always available to answer questions and guide me through the legal procedure. I was fortunate to be able to work with a wonderful lawyer, whose abilities I have extreme confidence in. "
Another client on google wrote:
"I came to Bergeron Clifford law after I was referred by another law firm without my knowledge or consent. I was in a car accident that I was not at fault for. I was unsure of where my case was and how to proceed. Gavin came and met with me in person and knew what to do. The BC law team was very knowledgeable and helpful. They were able to take care of my civil action while I focused on recovery with my wife. I would not have been able to maneuver the law without their dedicated team."
9.   SG Injury Law
SG Injury Law is a law business that offers customers a wide range of skills in the areas of personal injury and long-term disability. They can accept cases in Ottawa, Kingston, Pembroke, and Brockville since their office is at a convenient location and has free parking.
We believe that their varied network of specialists, other than attorneys, is highly suitable, as they may readily get expert guidance to help a specific client's case, which might prove to be quite efficient given the nature of the situations that they handle.
Though they do not provide plain estimates and costs for their goods, they do provide a free consultation for a client's case, during which it will be provided the customary private case review with no commitment.
Another thing we admire is their personal approach to addressing their clients' situations, in which they blend experience, professionalism, and accommodation so that clients may receive the tailored treatment that they require.
We think that their extensive resources on personal injury say a lot of their expertise in the field and based on the past clients' reviews, they are highly commended for their helpful approach and sound advice that can aid clients in changing their lives for the better.
Wide range of services offered
Experienced lawyers
Free consultation
Operating hours unavailable
Customer Reviews
Here are some reviews from their clients:
"Sean and his assistant Amber are extremely efficient and very helpful . Without them on my case I would not have gotten anywhere. It's a long process and he worked on it the whole time and has helped change my life If you have any accident issues to deal with I recommend him 1000%" – Tyler Macintosh
"In my case, experience with Mr. Sean Giovannetti Personable, extremely effective and efficient, generous throughout the difficult and painful time specially with his communication and knowledge in every interaction. Overall the SG Injury Law firm is very professional, they provided great communication and responded quickly to any concerns I had. I would recommend Mr. Sean to anyone who need very professional and experienced Lawyer also I will assure you that you will be extremely satisfied with the outcome, in my case financial settlement."Do not get the belief or faith that the auto litigations are easy, short and predictable, they are way complex and uncertain than an appearance even some cases you are the injured party. Get the professional advice from a lawyer like Mr.Sean Giovannetti, you will be glad that you did that. Thanks." – Dulaksha Herath
FAQs about the Best Personal Injury Lawyers in Ottawa
---
This concludes our list of the best personal injury lawyers in Ottawa. You may have experienced a traumatic accident or suffered from abuse, but these firms can help you make things right.
But if your legal problems concern your place of employment, you should check out our list of the best employment lawyers in Ottawa instead.