Best Mole Removal Clinics in Ottawa
Moles are very common. Most people have about 10 to 40 moles in their bodies.
While these may be considered as beautiful, you may opt to remove them for medical or cosmetic purposes with the help of a dermatologist.
In this list, we have compiled some of the best mole removal clinics in Ottawa. After all, you need all the help that you can get in dealing with your moles effectively and safely.
How much does mole removal cost in Ottawa?
There is no fixed rate on the mole removals. However, you may expect to shell out about $150 to $1500 depending on the location of your mole and the procedures you need to undergo.
Best Mole Removal Clinics in Ottawa
In our search to find the most suitable clinic for you, here are some of the things that we will consider:
1. Facial Surgery & Cosmetic Centre of Ottawa Inc.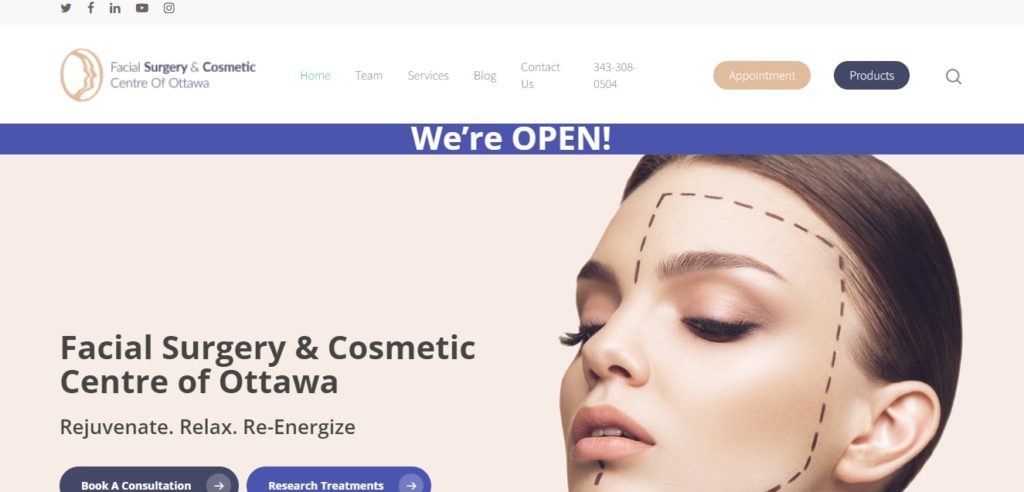 Test
Info
SERVICES
Anti-Aging Rejuvenation

Facial Contour

Cosmetic Plastic Surgery

Facial Rejuvenation

Medical-Grade Skin Care Products

WEBSITE
https://ottawafacialsurgery.com/
ADDRESS
1919 Riverside Dr., Ottawa, ON K1H 1A2, Canada
CONTACT DETAILS
613-706-1971
OPERATING HOURS
Monday to Friday: 9:00 am to 5:00 pm
| | |
| --- | --- |
| Criteria | Ratings |
| Expertise | ★★★★☆ (4/5) |
| Operating Hours | ★★★★☆ (4/5) |
| Accessibility | ★★★★☆ (4/5) |
| Range of Services | ★★★☆☆ (3/5) |
Facial Surgery & Cosmetic Centre of Ottawa Inc. has a team of highly-trained doctors and professionals. They provide premium skin services, and mole removal is one of them.
For you to meet with one of their experts, you would need to set up an appointment, as they have a queue of patients. This may not be a good idea for those who are in a hurry.
But once your schedule pushes through, you will have their undivided attention. One of the advantages of going to this clinic is that they provide ease for those who are anxious about getting dermal procedures done.
They are patient in answering all questions before proceeding with the mole removal. They will also assist you after your procedure, providing reminders and recommending products for aftercare.
Their mole removal services last only for 15 minutes. You can either undergo laser removal or excision based on your situation.
However, there are no available estimates for all of their procedures, and you will only get a quote after the initial assessment. So, if you are budget-conscious, it would be better to look for other clinics.
Highly-trained doctors and professionals
Great with anxious patients
Patient and understanding doctors
Quick procedure
Strictly by appointment
No cost estimate available online
Customer Reviews
Will Never Go Anywhere Else
"I first went to the clinic about 20 years ago for a consultation for removing some unwanted moles on my face in my 20s. Dr. Antoniak was fantastic and all went great. Then, I started using their skincare products and eventually did treatments as well. At 47, I get comments all the time about my skin and if someone meets me, they think I am in my 30s. I attribute that to using the recommended skincare regimes and the absolute best products from this clinic. I highly recommend and will never go anywhere else!" – Lisa Pitel-Killah
Highly Recommended
"Wonderful staff! Very kind, helpful, answered all of my questions and put my mind at ease.. delighted to be working with them for my care and the clinic is beautiful as well! Highly recommend this team!" – Jessica W
2. Concept Medical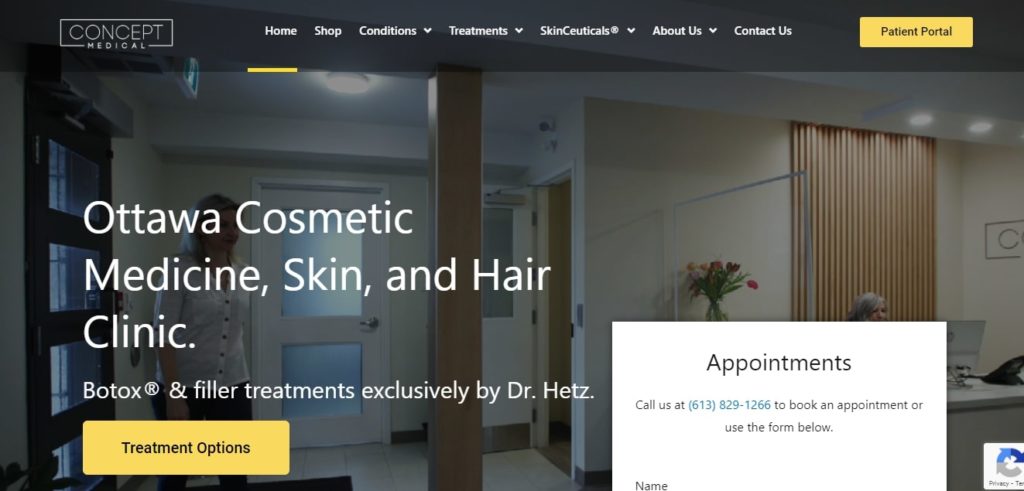 Test
Info
SERVICES
Platelet-Rich Plasma (PRP)

Belkyra™

Botox

Chronic Migraine Treatments

Excessive Sweating Treatments

Chemical Peels

CoolSculpting®

Dermal Fillers

Grinding/Bruxism

Laser Hair Removal

Laser Vein Treatments

Latisse®

Lip Filler

Masseter Reduction

Mole & Skin Tag Removal

Microneedling

Photorejuvenation/IPL

SkinCeuticals® Facials

Ultherapy® Skin Tightening

WEBSITE
https://conceptmedical.ca/
ADDRESS
1272 Wellington St. W, Ottawa, ON K1Y 3A7, Canada
CONTACT DETAILS
613-829-1266
OPERATING HOURS
Monday to Friday: 9:00 am to 5:00 pm
| | |
| --- | --- |
| Criteria | Ratings |
| Expertise | ★★★★★ (5/5) |
| Operating Hours | ★★★★☆ (4/5) |
| Accessibility | ★★★★☆ (4/5) |
| Range of Services | ★★★★★ (5/5) |
Concept Medical offers safe, natural results for their many skin treatments, mole removal included. They have over 10 years of experience, which is great for those who prefer established clinics.
To set an appointment, you would need to contact them in advance. For those who are in a hurry, this could be a bit of a problem.
However, they are commendable for their fast customer service response time. Their front desk is also great for finding the schedule that would work for you.
Another thing to note is that this clinic is known for its efficient procedures. This makes it perfect for those who want to have a fast and seamless procedure.
On the day of your appointment, their representative would assess your mole and identify whether your mole of concern needs medical or cosmetic solutions.
If your mole can cause medical issues, then it would need a medical solution. On the other hand, harmless moles that you want to be removed only need cosmetic solutions.
The details of the services that they will recommend to you will be discussed in full detail after the assessment.
As for the cost, you will get a full quote once the initial assessment has been done. Unfortunately, this isn't great for those who are running low in terms of budget.
10 years of service
Quick and flexible customer service
Fast and seamless procedures
Medical and cosmetic approach
Advance appointments are required
No cost estimate available online
Customer Reviews
Above and Beyond
"What a gorgeous space! The staff at Concept Medical were so warm. They went above and beyond to make my experience memorable. Dr. Hetz is so inviting, knowledgeable and informative. He took his time to ensure I was well informed and felt comfortable. My entire experience went seamlessly and I felt so taken care. Best of all, the results were better than I would have expected!! I highly recommend Concept Medical and look forward to going back soon." – Dorota DiStefano
Seamless
"I had a great experience at concept medical. From the moment I booked my appointment, to my treatment and after care, the entire process was seamless. I've been to other medical clinics and have never felt this level of professionalism and care for clients. I felt safe, and in good hands. Dr. Hetz and his team exceeded my expectations, and pay attention to every detail of your treatment and experience. Strongly recommended!"- Anik Sykes
3. The Ottawa Skin Clinic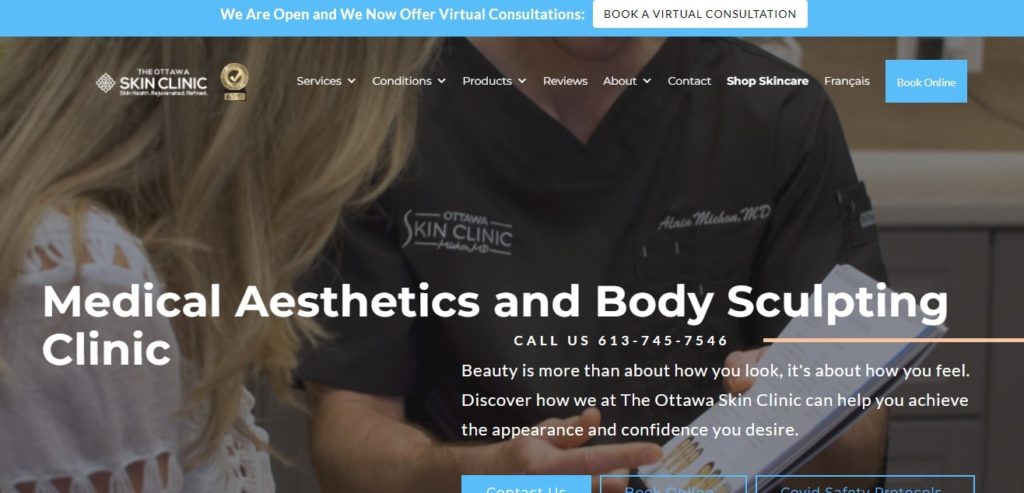 Test
Info
SERVICES
Skin Care

Body Sculpting

Laser Treatment

Injectibles

WEBSITE
https://www.ottawaskinclinic.ca/
ADDRESS
349 St. Laurent Blvd, Ottawa, ON K1K 2Z7, Canada
CONTACT DETAILS
613-745-7546
OPERATING HOURS
Monday to Friday: 9:00 am to 7:00 pm
| | |
| --- | --- |
| Criteria | Ratings |
| Expertise | ★★★★★ (5/5) |
| Operating Hours | ★★★★★ (5/5) |
| Accessibility | ★★★★☆ (4/5) |
| Range of Services | ★★★★★ (5/5) |
The Ottawa Skin Clinic is an award-winning cosmetic clinic. They are very popular when it comes to fillers, but they also offer other services like mole removal.
For those who want to go to a clinic that is centred specifically on mole removal, this might not be the best fit for you. However, if you want a one-stop clinic, then you can get a lot of your dermal and cosmetic procedures done here.
To set up an appointment, you can either call or fill out their online form. You need to send your request in advance so that the front desk can find a schedule that works for you.
Once you are in the clinic, your specialist will create a personalized set of treatments for your mole. This is because they do not believe in generic treatments and understand that each case is different.
Once you have secured your schedule, you may present your mole to their specialist. Once you have been deemed a good candidate, you may undergo the mole removal procedure under a local anesthetic right away.
However, due to their personalized treatment, their prices also vary from person to person. You will only get a quote after the initial assessment.
Award-winning clinic
The front desk is flexible in setting appointments
Personalized treatments
Quick procedure under local anesthetic
Advanced booking is required
No specific price range
Customer Reviews
Everything was Great
"I was referred to this clinic by one of my friend and so happy I visited them. The clinic is clean, modern and inviting. I have seen nurse Vanessa and doctor Michon. Both are knowledgeable and personable, from my consultation to the treatment itself, everything was great. The results exceeded my expectations! . I have also started a Skinceuticals skincare regimen and have received many compliments on my skin. I highly recommend them !" – Erika Chiasson
The Best
"Hands down BEST Skin/ Cosmetic clinic in Ottawa. Honest, friendly clean and caring.
From the moment you walk in & consult, Dr. Michon truly hones in on your personal needs rather than generic treatments." – Property Management
4. Dermis Advanced Skin Care Ottawa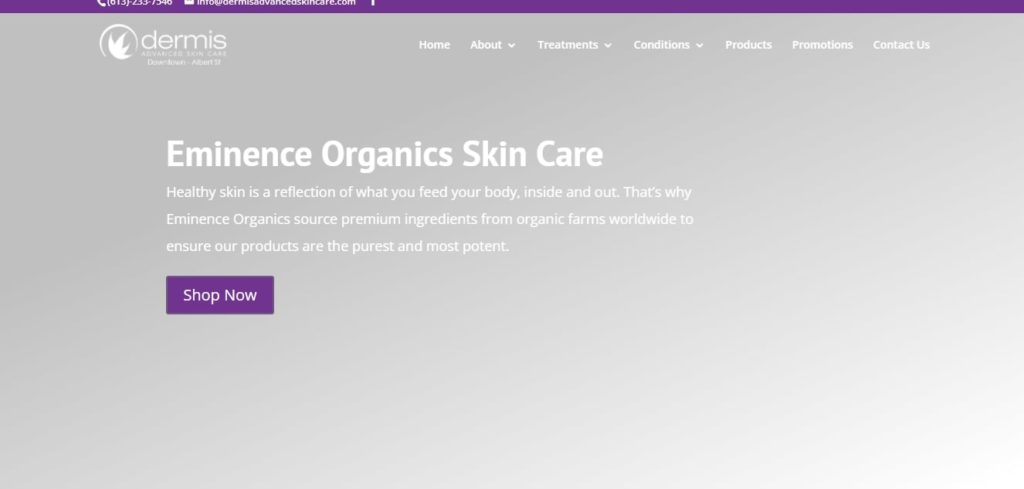 Test
Info
SERVICES
Injectables

Light & Laser

Spa and Wellness

Medical Aesthetics

Body Sculpting

Lash Enhancement

Hair Removal

WEBSITE
https://dermisadvancedskincare.com/
ADDRESS
116 Albert St #110, Ottawa, ON K1P 5G3, Canada
CONTACT DETAILS
613-233-7546
OPERATING HOURS
Monday to Friday: 9:00 am to 7:00 pm

Saturday: 9:00 am to 5:00 pm
| | |
| --- | --- |
| Criteria | Ratings |
| Expertise | ★★★★★ (5/5) |
| Operating Hours | ★★★★★ (5/5) |
| Accessibility | ★★★★★ (5/5) |
| Range of Services | ★★★★☆ (4/5) |
While clinics do not post the price range for their mole removal services, Dermis Advanced Skin Care Ottawa is known to provide special promotions now and then. It would be good to stay in touch with their marketing team, as you may get a deal for moles that you do not need to remove urgently.
They offer a free consultation. You may drop by their clinic or set an online appointment.
Another good thing about this place is that they are open on Saturday. Other clinics usually operate on weekdays, which means that you would have to file a leave from work or other commitments.
This clinic has the best technology when it comes to laser treatment. They utilize this as well when it comes to mole removal.
After your case has been assessed, the kind of laser and other necessary procedures would be discussed with you.
Their clinic is clean, sterilized, and relaxing. They are also commended for having ample parking spaces that can accommodate their patients without issues.
Promotions for services
Free consultation
No booking required
Open on weekends
Accommodating parking space
No available price estimate for services
Customer Reviews
Good Deals
"It's a very nice, clean place with a very friendly staff. I go to Jenny for my services and she's very nice to talk to and does a great job! They also have really good deals from time to time, making the expensive procedures more affordable." – Tonia Teodoro
Professional
"Beautiful front room. Upon walking in there was a distinct lab-like smell which was a relief to me – knowing that their facility prioritizes sterilization and a sterile environment in the procedure rooms. My clinician was professional and knew her stuff! I highly recommend this office! Oh and I went in the evening and the block appeared to have ample parking right outside their door." – GiGi Rempel
5. Laserderm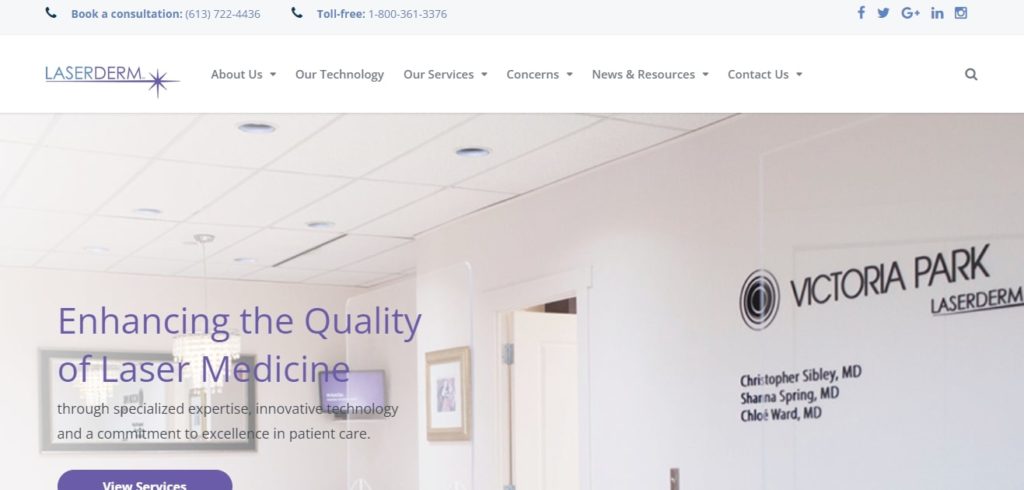 Test
Info
SERVICES
Vascular Lesions

Pigmented Lesions

Rejuvenation and Anti-Aging

Scar Therapy

Injectables

Hair Removal

Tattoo Removal

Regenerative Medicine

CoolSculpting

Women's Health

Medical Dermatology

WEBSITE
https://laserderm.ca/
ADDRESS
1600 Carling Ave Suite 650, Ottawa, ON K1Z 1G3, Canada
CONTACT DETAILS
613-722-4436
OPERATING HOURS
Monday to Friday: 8:00 am to 4:00 pm
| | |
| --- | --- |
| Criteria | Ratings |
| Expertise | ★★★★★ (5/5) |
| Operating Hours | ★★★☆☆ (3/5) |
| Accessibility | ★★★★☆ (4/5) |
| Range of Services | ★★★★★ (5/5) |
At $100, you can get an initial consultation at Laserderm. Once the assessment has been done, you will be provided with a full quote for the service that you need.
Unfortunately, this is not a good option for those who have budget concerns. The high price, however, comes with premium care from highly-trained dermatologists who would provide a treatment plan specifically for your concerns.
They offer two treatments for moles: Q-Switched Ruby laser that would gradually fade your flat moles. The next one is CO2 laser resurfacing is used to flatten your bumpy moles.
Another good thing to note is that they offer a wide range of services for various dermal concerns. This means you can have multiple procedures in one visit.
Please note that your schedule may be postponed by the clinic in case there are emergency cases or conflicts. So, it would be best to opt for a different clinic if you need to have your mole removed urgently.
Highly-trained dermatologists
Personalized treatment plan
Various mole removal options
Wide range of services
Expensive
Your schedule can be moved
Customer Reviews
Exceptional
"I have nothing but EXCEPTIONAL things to say regarding the professional diagnosis, treatment and care I received from the dermatologists at this clinic." – Amy Hordichuk
Caring and Knowledgeable
"I've been going to Laserderm for more than 10 years now, perhaps closer to 20. My first treatments were at the former location. I've struggled with skin problems since my teens, and I can honestly say that at 60 my skin looks better than it did when I was in my 20s and 30s. The doctors are caring and knowledgeable and available for a quick consultation if there is a question." – Jay Dee
FAQs about Best Mole Removal Clinics in Ottawa
---
And there you go! These are some of the best places to get mole removal in Ottawa.
Are you looking for more dermatologists in Ottawa? Click this link for more.