5 Best Maid Service Providers in Ottawa
There are days when you understandably don't have enough time to juggle work, personal life, and chores. For those days, you're better off with the best maid service in Ottawa.
In the next section, we'll take a look at estimated costs for certain maid services.
And if you need more information, read through until the end for some handy FAQs.
How Much Is Maid Service in Ottawa?
A maid service in Ottawa can charge by the frequency of cleaning services required, or by the complexity of the tasks involved.
This means that generally tidying up, mopping, vacuuming, dusting, and wiping down surfaces can be bundled into packages under with a rounded-off price. Of course, how big the space is and how many rooms there are could also affect your invoice.
MAID SERVICE
ESTIMATED COST
General tidying, dusting, vacuuming, mopping, surface wiping, garbage emptying (less than 1,500 square foot space)
$115 – $135 per visit (bi-weekly)
General tidying, dusting, vacuuming, mopping, surface wiping, garbage emptying (less than 2,500 square foot space)
$150 – $170 per visit (bi-weekly)
Labour-intensive cleaning (carpet cleaning, waxing floors, appliance cleaning)
$0.25 – $0.50 per square foot
$20 – $40 an hour
$10 – $35 per appliance
Basic nightly janitorial services (mopping, emptying trash cans, dusting, cleaning bathrooms, wiping down surfaces, etc.)
$2,000 – $4,000 a month for a 20,000 square foot office
But to each their own when it comes to pricing methods for maid services. It's best to ask for assessments and fees first before signing up for their service.
The Best Maid Service Providers in Ottawa
Now that you have an idea of the costs involved, it's time to take a closer look at how the best maid service in Ottawa can keep your space consistently clean.
We narrowed down the list with the following criteria:
Reasonable rates that take practical factors into consideration, including the size of the space to be cleaned, the frequency of cleaning, the clients' lifestyle and needs, and others.
Convenient booking system which could be a dashboard, app, or simply a reliable messenger service or hotline to ensure that no miscommunication between cleaner and client happens.
A fully-vetted, trained and insured cleaning team that is focused on doing a quality job for client satisfaction.
Flexible and customizable cleaning schedules and plans to accommodate different client needs.
1. Merry Maids Ottawa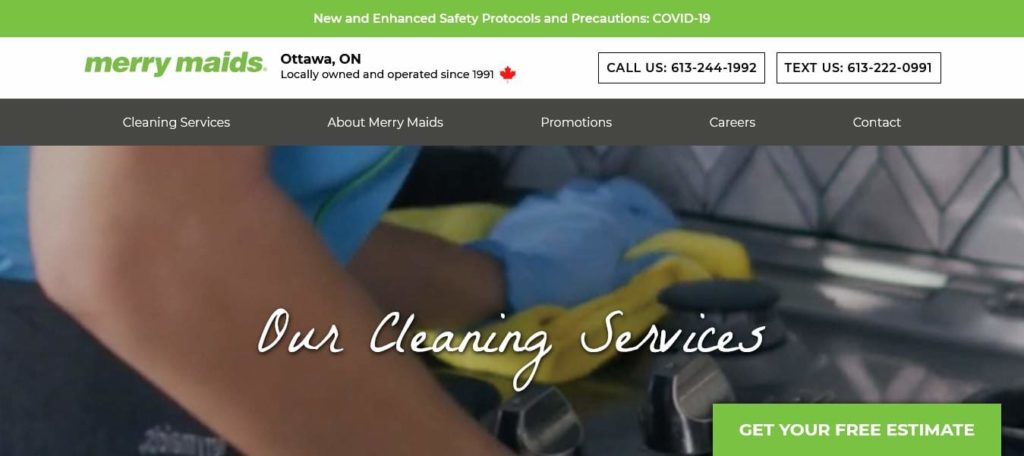 SERVICES
Weekly, bi-weekly, thrice-weekly, and monthly cleaning services, one-time cleaning, spring cleaning, specialty services, additional services, moving-in/moving-out cleaning, enhanced disinfection services, condo & apartment cleaning, small office cleaning, real estate & contractor cleaning services, house cleaning for seniors
ADDRESS
2620 Lancaster Rd Units AB, Ottawa, ON K1B 4Z4
CONTACT NUMBER

[email protected]


613-244-1992
WEBSITE
https://merrymaidsottawa.ca/
OPERATING HOURS
Monday to Friday 7.30 AM – 5.30 PM
Closed on Saturdays and Sundays
Merry Maids Ottawa has the distinction of being a cleaning service that gives clients real-time text updates. It's a big deal for us because the company actually invested in the technology that will give clients a heads-up and provide them with ease of mind that they're paying for good service.
Aside from that, Merry Maids offers a variety of scheduled cleaning options to accommodate its clients' lifestyles and needs. There are also customized services for those with a budget and specialty services for seniors, small offices, and deep-cleaning requirements.
There's a free estimate thrown in for good measure! This is when you can learn about the best package or schedule for your home cleaning needs and when the cleaning team can take note of special circumstances like pets, level of clutter, lifestyle considerations, and more.
All cleaners are fully screened, trained, bonded, and insured, too.
So there's really not a lot to complain about Merry Maids Ottawa except that its operating hours don't extend into the weekend.
Gives free estimates
2018 Women's Choice Award Top Cleaning Service
Real-time cleaning updates
Customizable cleaning plans
Open only on weekdays
Can only clean small offices
No BBB accreditation
Customer Reviews
Hard-working, fast, efficient, attentive to detail
"Lauren, the young cleaner that came to my home, was simply amazing! Very hard working, fast, efficient, attentive to detail. She left my home sparkling clean! I am extremely satisfied with this company's service from beginning to end! Thank you Merry Maids!" – Jennifer Toll
Friendly and proactive
"The Merry Maids cleaning team is courteous, efficient, thorough, and professional. They also take COVID-19 seriously and employ safe practices. I especially like Merry Maid's customer service – they are friendly and proactive with contacting you to arrange for cleanings and to remind you of scheduled appointments." – Derek Ferguson
2. Maid Fresh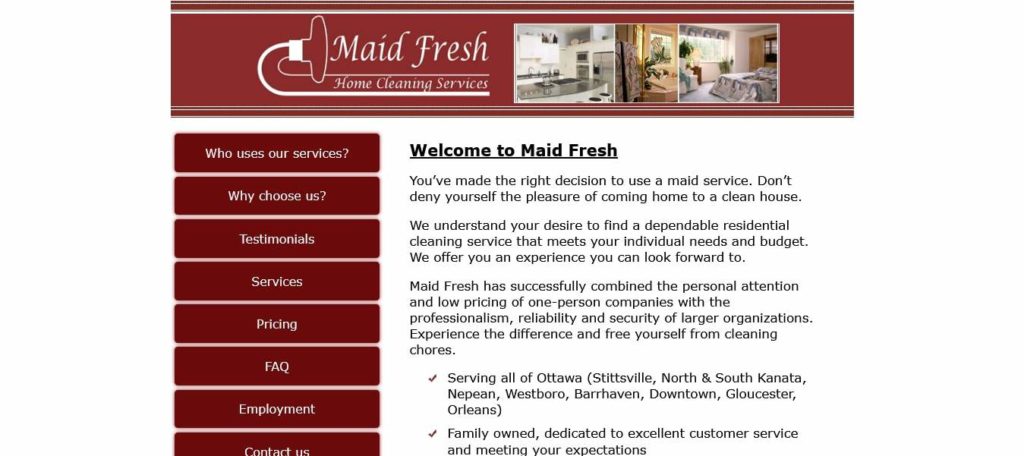 SERVICES
Standard cleaning services for entryways, main rooms in the house, bathrooms, kitchen, bedrooms, interior oven and fridge cleaning
ADDRESS
29 Stapledon, Nepean, ON Canada K2H 9L4
CONTACT NUMBER
(613) 321-1994


[email protected]

WEBSITE
http://www.maidfresh.ca/
OPERATING HOURS
Monday to Friday 8 AM – 7 PM
Closed on Saturdays and Sundays
Maid Fresh Home Cleaning Services takes pride in having a staff that's fully vetted, trained, in uniform, and not working for commissions. This means they are more detail-oriented and focused on doing a great job instead of rushing from one house to another to meet some quota.
It prices its services according to a client's location, the size of the area to be cleaned, if pets are present, how frequently cleaning is required, and other factors.
For instance, its standard services (no deep-cleaning involved) for a bi-weekly plan is around $117 to $137 per visit if the area is no bigger than 1,500 square feet.
The company offers standard cleaning services that include general trying, dusting and damp wiping surfaces and furniture, vacuuming carpets and floors, emptying garbage containers, and cleaning bathroom and kitchen amenities.
Additional services like cleaning the interiors of refrigerators and ovens are charged separately, though base pricing for these isn't provided on the site.
Reasonable cleaning rates
Fully vetted, non-commissioned staff
Offers bi-weekly cleaning
Standard cleaning covers a good range of chores
Open only on weekdays
No pricing information for additional services
No BBB accreditation
Customer Reviews
All team members are well trained and courteous
"Maid Fresh is the best home cleaning service we have ever had. They are reliable, thorough, careful and I find their pricing is extremely fair. All team members are well trained and courteous, and the personal involvement of the owners ensures quality service at all times. We would happily recommend Maid Fresh Home Cleaning Services." – Cecilia and John M.
Doesn't cut corners
"The job is impeccable every time. Things get picked up and moved to clean properly. They don't cut corners. The company owner accompanies the crew and supervisors every visit, so I know I am getting the best possible service. The result is outstanding." – Joy E.
3. Euroshine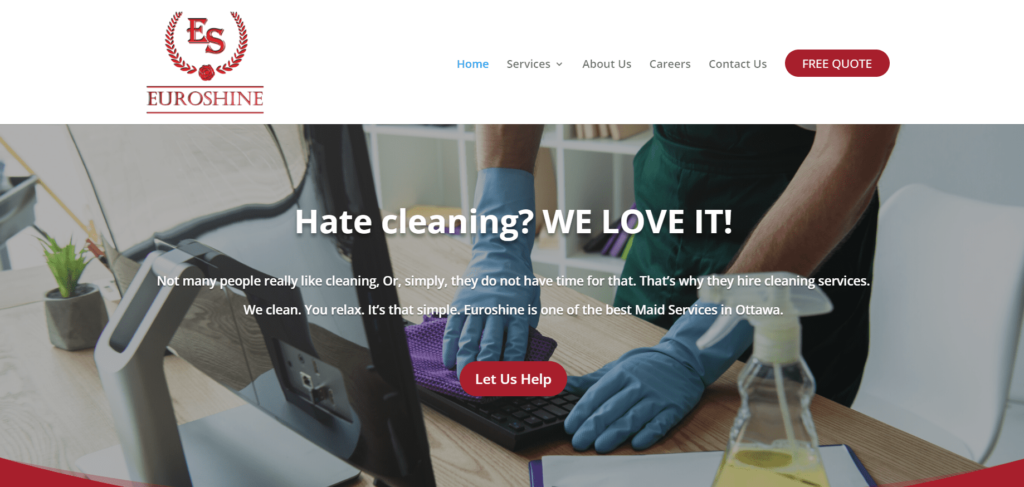 SERVICES
Residential and commercial cleaning services, handyman services, retail, and rental property cleaning services
ADDRESS
1554 Carling Ave. Unit 56 Ottawa Ontario K1Z 7M4
CONTACT NUMBER

[email protected]


613-518-6622
WEBSITE
https://www.euroshine.ca/
OPERATING HOURS
Strictly by appointment
Monday to Friday 9 AM – 8 PM
Saturdays and Sundays 10 AM – 8 PM
Euroshine has been a Better Business Bureau-accredited cleaning service with an A+ rating for years now. It's had zero customer complaints and consistently good feedback from clients.
Statements from satisfied customers usually mention its quick but thorough service. The company accommodates both residential and commercial clients and also has a handyman service thrown in for good measure.
Clients can opt for a one-time cleaning, or schedule them weekly, bi-weekly, or monthly. Spring cleaning and post-party services are also available along with customizable schedules and plans for customers who want specific areas of their homes cleaned.
Business owners can also hire the Euroshine team for janitorial and custodial services. Restaurants, food chains, government buildings, office buildings, and even healthcare facilities and hospitality buildings are some of its regular commercial clients.
The downside is that Euroshine has pricier hourly rates compared to other cleaning services in the area (a $10 surcharge applies outside service areas). Hourly rates are around $45 – $60 per hour (per person!) with a minimum charge per visit of $130.
Customizable schedules and plans are available
Handyman services offered
Can supply custodial services
BBB-accredited, A+ rating
Pricier hourly rates (starts at $45)
$10 surcharge for clients outside service area
$130 minimum charge per visit
Customer Reviews
Always open to tasks not on the regular cleaning list
"Best cleaning service ever!!! Friendly staff who did a great job every time. They were always open to tasks that were not on the regular cleaning list. HIGHLY recommend Euroshine!" – Miranda Rennich
Professional, pleasant, detail-oriented
"Today I had my house Spring cleaning done by two wonderful ladies from Euroshine. They did an amazing job cleaning my house. Very professional, pleasant and detailed oriented." – Sylvia Broulik
4. Mopify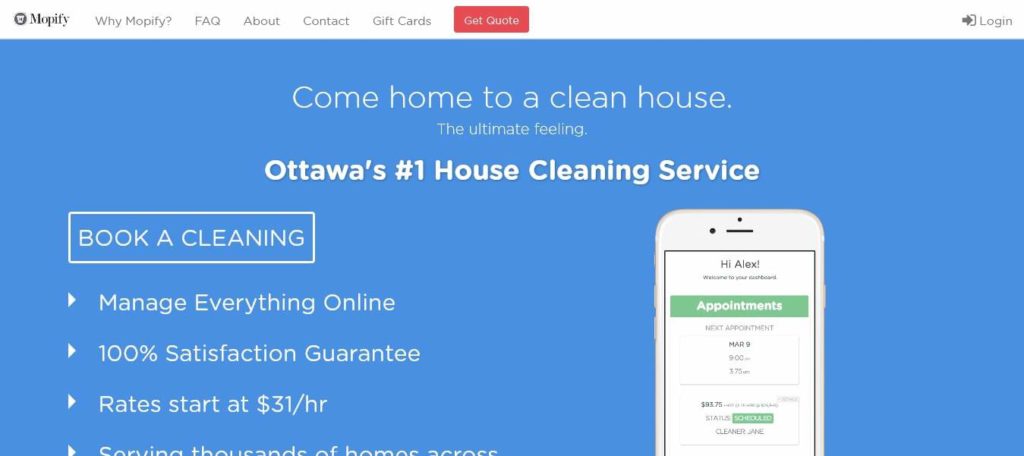 SERVICES
One-time, weekly, bi-weekly, or monthly house and office cleaning, add-on intensive services, Airbnb cleaning & turnover service, gift cards
ADDRESS
120 Iber Road, Suite 207 Ottawa, ON K2S 1E9
CONTACT NUMBER
1-866-743-9341
1-613-519-6006


[email protected]

WEBSITE
https://mopify.com
OPERATING HOURS
Monday to Sunday 8 AM – 8 PM
We like that Mopify has an online management system to make booking home cleaning services hassle-free and convenient. There's a customer dashboard with all the tools needed for scheduling, rescheduling, asking for specific cleaners, making payments, and getting notifications.
From cashless payment to quick response and support, this kind of convenience adds value to the overall service from Mopify.
The company also takes pride in offering reasonable rates for its cleaning packages. Monthly rates start at $34 an hour, weekly and bi-weekly rates at $31 an hour, and one-time jobs at $38 an hour (tax not included for all rates).
There are no contracts required when booking a cleaning service with Mopify. Clients can cancel anytime without worrying about fines or penalties.
However, if clients don't have their own cleaning supplies, the team can bring its own for an additional $10 charge. Supplies don't include mops, buckets, and vacuum cleaners as they can cause cross-contamination from one space to another.
Convenient customer dashboard
Open seven days a week
Reasonable rates
No contract needed
$10 surcharge for additional cleaning supplies from the team
Clients must have their own vacuum cleaner, mops, and buckets
No BBB accreditation
Customer Reviews
Prompt, friendly, professional
"Incredible service! Prompt responses to emails, friendly and professional!" – Tara Lee
Convenient service, very responsive
"Wonderful convenient service. Very responsive. Our cleaner Evelyn was amazing. We will definitely ask her back." – Melanie
5. Scrubbi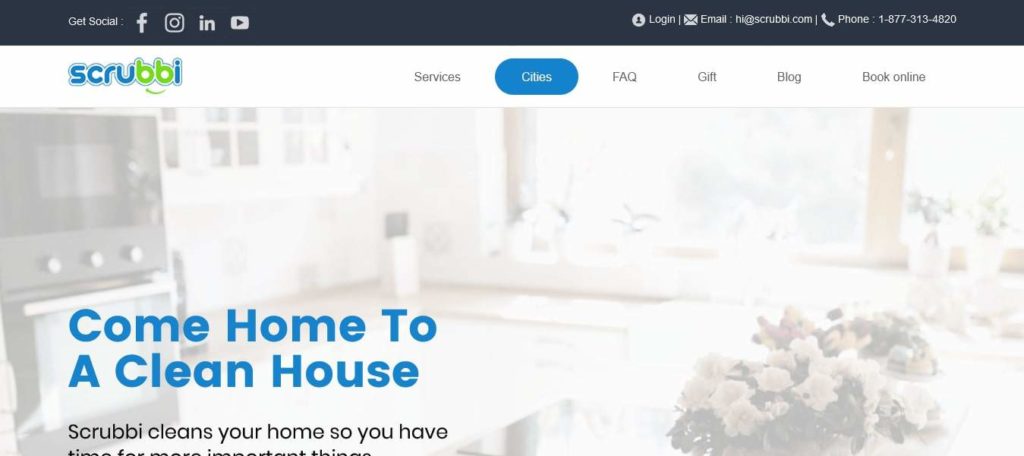 SERVICES
Regular premier cleaning, premier move out cleaning, one time or short term temporary cleaning
ADDRESS
Serves the Ottawa and surrounding areas
CONTACT NUMBER
+1 877-313-4820


[email protected]

WEBSITE
https://www.scrubbi.com
OPERATING HOURS
Monday to Friday 6 AM – 5 PM
Closed on Saturdays and Sundays
Scrubbi is a cleaning company that uses eco-friendly supplies when cleaning bedrooms, living rooms, bathrooms, kitchens, and common areas of a home. It doesn't accommodate cleaning for exterior spaces like balconies, decks, and outside windows.
Clients who are moving out and need to have their leased space inspected can also get Scrubbi's cleaning services. But those who want regular cleaning schedules can sign up for weekly, biweekly, or monthly appointments with discounts typically thrown in.
There's a 24-hour cleaning guarantee so if clients are satisfied with the cleaning job, a new cleaner can come over and re-do the tasks at no additional cost. The company doesn't do refunds, though.
You can ask for a free quote using an online form at no-obligation to sign up. This is practical because the Scrubbi website doesn't provide base pricing information, and its office is only open on weekdays.
24-hour cleaning guarantee
Uses eco-friendly cleaning supplies
Offers moving out and one-time cleaning
Free, no-obligation quote
Can only clean interiors
Open on weekdays only
No BBB accreditation
Customer Reviews
Have been a very happy client
"Thank ­you so very much – when I was told by my Dr. that I could no longer vacuum and do a lot of the cleaning I used to do – I made the decision to go with Scrubbi and I have been a very happy client!" – Deborah M.
Came home to a beautiful-looking house
"Wow, what can I say! I have never come home to such a beautiful-looking house! Chelsea did a fantastic job! So detail oriented & really took pride in her work. My throw blankets were beautifully laid on my couches & chairs!" – Kim R.
FAQs About Maid Service in Ottawa
---
We hope that we've given you sufficient resources today to find the best maid service in Ottawa.
If you have a good maid service to recommend, we're open to reviewing it so please send us a message.
And should you need other types of maintenance and cleaning services, check out our other listicles: