The 12 Best Cleaning Services in Ottawa
Cleanliness is next to godliness as they say, and we're not ones to disagree with that. If you're looking for a cleaning service to keep your home pleasant and tidy, this list is for you!
We'll be giving you the best cleaning services in Ottawa, how to make your choice, the average prices of services, as well as answers to a few FAQs.
What to Know Before Hiring a Cleaning Service
If you're having trouble picking out which cleaning service to hire, here are some things you need to consider when shopping around the market:
1. Bonding and Insurance
To make sure you, your home, the workers, and everything in between is protected in case anything goes wrong, the cleaning service you're hiring must have insurance and bonding.
Avoid ones that don't have these, because if something is damaged, goes missing, or if someone gets hurt, it'll be a much more complicated situation to deal with. While professional cleaning companies are more expensive, they're worth it because of these!
2. Experience
Ask how long they've been in business. You generally want to hire a company that's been in the running for at least a few years to make sure they're the real deal.
Try to stick with companies that have built up a good reputation for themselves and have a lot of testimonials and reviews that you can look over. Even better if you can get a referral from someone you trust.
3. Quality control
This could be one of the bigger challenges for a cleaning company to deal with. Some companies will ask you to fill out forms at the end of the cleaning, or if you have any complaints, will take calls and messages to ensure that you get the quality that you expect each time.
Some companies even offer money-back satisfaction guarantees. Needless to say, these are the ones that you should take a look at.
4. Schedules
Do they have set schedules for you to choose from or can you have them over whenever you need them? This is something very important to consider as cleaning teams can't be everywhere at once!
Most companies will offer routine cleaning services at set schedules and discounted prices, so you can book them in advance and not have to fight for a spot. This could end up being a much better deal and save you a lot of money than if you were to book them last minute.
5. Equipment and Substances
Having the right equipment will make or break a cleaning service. While they don't always need to have the latest and greatest cleaning tools, having ones that are well-maintained and clean should be more than enough.
In addition to that, pets, children, and those with sensitive skin should also be taken into account. Many cleaning services offer alternative cleaning substances for these cases, as well as eco-friendly ones.
How Much Does A Cleaning Service Cost in Ottawa
Actual prices vary depending on the cleaning service and if you need any special care (such as alternative substances). Cleaning is charged on an hourly basis and goes from $25 – $50 per hour.
Top Cleaning Services in Ottawa
Now that we've covered the basics, let's get on with the list that you came here for!
1. Jaiko Cleaning
BEST FOR
Green, Natural, and Non-Toxic Cleaning Services
SERVICES
Residential and Commercial Cleaning Services
WEBSITE
https://jaiko.com/
ADDRESS
174 Colonnade Rd South, Unit 3, Ottawa, Ontario K2E 7J5
CONTACT DETAILS
Phone: (613) 225-5145
Email: [email protected]
OPERATING HOURS
Contact for more information
Jaiko Cleaning Services was established in 1994 with one simple goal in mind: To provide all-inclusive cleaning service at competitive rates. From then until now, the company has successfully done so, even venturing out to include cleaning commercial properties in their list of services.
Currently, Jaiko is rated as an A+ Member with the Better Business Bureau, with all of its team members trained and certified through the Institute of Inspection, Cleaning Restoration and Certification (IICRC) as well as bonded and insured for your security. Aside from that, Jaiko also makes use of environmentally conscious techniques and products in all of their jobs, ensuring that your entire family, including your pets, are safe from harmful chemicals that are often involved in cleaning.
To finish things off, it's also worth noting that Jaiko's services have no hidden fees — what they quote is typically what you'll have to pay for. Plus, all of their services have 12-months "spot-free" warranty to sweeten the deal.
So, if you're looking for comprehensive cleaning services in the metropolitan area, we strongly suggest Jaiko for the job.
Uses environment-friendly products and techniques
Rated A+ on BBB
Trained and insured cleaners
Only services the metropolitan area
2.   CS Housekeeping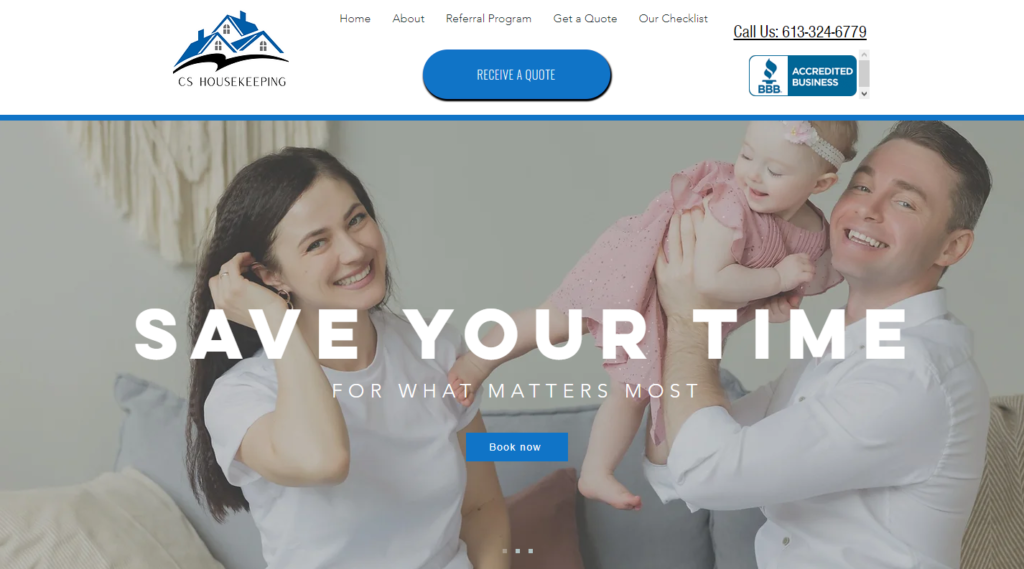 There are several reasons to choose CS Housekeeping when you're looking for the best cleaning services in Ottawa.
For one, they're a reputable, professional cleaning company known for providing cleaning services for your entire home.
We like that they offer a comprehensive checklist on their website so that clients can see what is included in the hourly rate and what needs to be added for a fee.
Additionally, CS Housekeeping features a team of experienced and dedicated cleaners. They are also bonded and insured, so you can trust that your home is in good hands.
Finally, their general cleaning services are affordably priced, making them a great option for those on a budget.
If you're looking for the best cleaning services in Ottawa, CS Housekeeping should be on your list!
No long contracts
Professional staff
Bonded and insured
Uses eco-friendly products
Operates on an hourly rating
BBB-accredited business
Requires additional fees for specialty services
3.   Enviropure Home Services
BEST FOR
Eco-friendly cleaning
SERVICES
General House
Floor
Spot
Kitchen and Bathroom Cleaning
Wall Washing
Hardwood Floor Polishing
Window
Deep
Add-On
Hoarding
Post Renovation and Construction
Carpet
Doors
Duct
Odor Removal
Mold Removal
Air Scrubbing and Testing
Real Estate
Indoor & Exterior Window Cleaning
WEBSITE
www.enviropurehome.com
ADDRESS
2710 Lancaster Road, Unit 103, Ottawa, ON K1B 4W8
CONTACT DETAILS
(613) 513-7873


[email protected]

OPERATING HOURS
Mon – Fri 7:00 am – 7:00 pm
Sat – Sun 8:00 am – 6:00 pm
Since 2006, Enviropure Home Services has been delivering high-quality and budget-friendly house cleaning services. They were the recipients of the 2019 Consumer Choice Award and have a 94% rating on Homestars, among other distinctions.
Their employees are fully licensed, insured, and bonded to make sure that you and your home are protected from any accidents or damages.
The company is dedicated to using environmentally friendly methods, even using UV-C light and Vaportek technology. They don't miss a spot and are extremely effective when it comes to pet and smoke odor removal.
In the ratings left by clients, they're often described as courteous, punctual, and highly effective. They offer free estimates and pricing quotes for all clients—just give them a call!
Environmentally-friendly cleaning methods
Budget-friendly rates
Limited availability due to high demand
Customer Reviews
With environmentally-friendly cleaning methods as their selling point, Enviropure has serviced hundreds of homes and left a string of satisfied clients. Check out these positive reviews:
"Enviropure has been cleaning my home for several months now. Their staff on the phone and in the home are courteous and professional. They bring all their own equipment and are in and out, but do a great job. I would highly recommend their service. For my family they take care of the burden of cleaning which lets us spend more time together." -Luke
"Because of illness, my house had gotten quite bad over the last few months. I am extremely happy with the way they were able to deep clean my home, especially their attention to detail." -Shana
4.   Merry Maids
BEST FOR
Office cleaning
SERVICES
Spring cleaning
Home cleaning
Office cleaning
WEBSITE
www.merrymaidsottawa.ca
ADDRESS
2620 Lancaster Road Units AB, Ottawa, ON K1B 4Z4, Canada
CONTACT DETAILS
(613) 244-1992
OPERATING HOURS
Mon – Fri 7:30am – 5:30pm
Sat – Sun Closed
Merry Maids is an international franchise founded in 1979 with branches throughout the US, Canada, and the UK. With 40 years of experience, strict quality control, and hundreds and thousands of homes cleaned, you would be in good hands with them.
They provide customized cleaning services and a satisfaction guarantee, ensuring that you get exactly the kind of cleaning that you expect from them.
Their employees are all bonded and insured and are trained to give the best customer service possible as well!
Multiple branches throughout the country
Satisfaction guarantee
Free in-home consultation
Customer Reviews
"Lauren, the young cleaner that came to my home, was simply amazing! Very hard working, fast, efficient, attentive to detail. She left my home sparkling clean! I am extremely satisfied with this company's service from beginning to end! Thank you Merry Maids!" -Jennifer
"Merry Maids was excellent to work with. We had a unique situation that required a pre-clean assessment and it was done promptly and professionally by a top-notch team to help us settle into our home. I love the alerts and customer service that come with the service to let us know they are on their way to get started. We were kept informed and the team that came was phenomenal. I highly recommend Merry Maids and their team members Carole, Marisa and Madison for cleaning. They do great work!" -Nicole
5. Euroshine
BEST FOR
Thorough Cleaning Services
SERVICES
Residential and Commercial Cleaning Services
WEBSITE
https://www.euroshine.ca
ADDRESS
Ottawa
CONTACT DETAILS
E-Mail
[email protected]
Phone
613-518-6622
OPERATING HOURS
By appointment
Next on our list is Euroshine, a locally owned and operated cleaning company that specialises in residential and commercial cleaning.
Euroshine comes highly recommended for a number of reasons, one of which is the attention to detail that the cleaners have. Choosing Euroshine means cleaning services that will leave no dust or grime on the premises.
The next reason has to do with the options that the company offers its clients. Unlike other cleaning companies, Euroshine accepts weekly, bi-weekly, monthly, and one-time cleaning requests.
The third reason is its team, which consists of trained and experienced cleaners who have been thoroughly screened by the company itself. These cleaners are also bonded and insured to protect clients from loss.
Lastly, the cleaning itself, which is one of the most thorough and commended options in the area. Euroshine makes use of top-of-the-line equipment and cleaning products so that they can bring back the property's shine without harming the owners or the environment.
All in all, Euroshine makes an excellent choice given its flexibility in terms of scheduling, meticulousness, and expert cleaning team.
BBB A+ Rated
Caters to residential and commercial cleaning requests
Clients can choose from weekly, bi-weekly, monthly, and one-time cleaning services
Bonded and insured cleaners
Makes use of environmentally friendly products and equipment
No operating hours listed
6. UrbanMop
UrbanMop was established with one simple goal in mind: To provide the people of Ottawa worry-free premium cleaning services that will restore the shine of their properties. Since the time it first opened until now, UrbanMop has consistently delivered and achieved this goal.
The company does so by providing key benefits to go with their cleaning services. First is convenience due to the fact that clients, both new and old, can easily book sessions with UrbanMop through their website; this also applies to the cashless payment methods upon cleaning completion.
Second is security. Clients can rest easy knowing that the cleaners that come into their home are vouched for by the company after thorough screenings on their character, professionalism, skills, and expertise.
Last is personalisation. UrbanMop recognises the fact that cleaning services are not a one-size fits all solution, which is why they carefully curate their services to meet the clients' needs.
As a result, UrbanMop has a high satisfaction rate and many regular customers after offering consistency to the residents of Ottawa for many years.
Highly skilled professional cleaners and technicians
Customisable cleaning services
Cash-free payments
Background checked team
Limited booking availability due to high demand
7.   Mopify
BEST FOR
Ease of scheduling and versatility
SERVICES
General
Glass
Bathroom
Kitchen
Dishes
Stove
Fridge
Dishwasher
Bedrooms
Living Area
Outside Cupboard Doors
Window Sills
FloorMove In & Move Out Cleaning
WEBSITE
www.mopify.com
ADDRESS
120 Iber Road, Suite 207, Ottawa, ON K2S 1E9
CONTACT DETAILS
(613) 519-6006


[email protected]

OPERATING HOURS
Mon – Sun 8:00 am – 8:00 pm
PRICES
Weekly $27/hr
Monthly $30/hr
One-time $33/hr
Mopify is one of the top cleaning companies in Ottawa and has provided its services to thousands of Ottawan homes for the past 14 years.
Each employee is insured, professionally trained, and fully vetted to provide you with the best cleaning service possible. They adjust to your schedule if needed, not adhering to the usual strict 9 – 5 schedule that many other cleaning companies have.
They have a satisfaction guarantee that covers all cleaning services paired with easy online scheduling.
For added convenience, they also send cleaning notifications and updates to your phone. You'll know exactly who is cleaning your house and at what time.
Easy scheduling online
Budget-friendly
Branches in multiple cities
Dishes and laundry services are not included
Customer Reviews
With the ease of booking and schedule management as their focal point, customers never have an issue when dealing with scheduling! Here are a few happy clients:
"We've used Mopify for about two years and are really happy with the service provided. The cleaners are always on time, friendly, professional and do a great job. Anytime we've needed to change an appointment, Mopify were quick to work on our request and did their best to accommodate it." -Maureen
"Mopify sends you a notification via text the day before your appointment to confirm the timing and who will be sent. Furthermore, while you can book cleaners for a certain amount of time, if they end up using less than that time, you only get billed for the period spent cleaning. Very professional, easy to contact and set up appointments – I recommend this company wholeheartedly." -David
8.   Scrubbi
BEST FOR
Move-in/move out cleaning
SERVICES
Interior Cabinet
Wall
Window
Refrigerator
Oven
Move Out/In
Bedrooms
Living Rooms
Bathrooms
Kitchen
Common Areas
WEBSITE
www.scrubbi.com/ottawa-house-cleaning
ADDRESS
Ottawa & Surrounding Areas, Ottawa, ON K2P 2N2
CONTACT DETAILS
(613) 699-8139
(877) 551-9876


[email protected]

OPERATING HOURS
Mon – Fri 9:00 am – 6:00 pm
Sat – Sun Closed
Don't let the adorable name fool you! Scrubbi is one of Canada's premier house cleaning service providers, having taken care of the needs of over 50,000 homes throughout the country. Their branch in Ottawa holds themselves to the same top-notch quality.
Have peace of mind knowing that Scrubbi uses eco-friendly cleaning methods for your home. They also offer a 24-hour service guarantee which means that if a spot was missed, they will send another cleaner to take care of the missed spot for free if you let them know within 24 hours.
They offer free quotes online for all their services. All you need to do is shoot them a message and let them know the number of rooms and type of cleaning service you're looking for.
Multiple branches nationwide
Large team of cleaning professionals
24-hour service guarantee
Customer Reviews
Though their rates are a bit higher than other cleaning services, their services are more than worth the price tag! Check out these reviews left by happy customers:
"I have been very pleased with the consistency and quality of cleaning service Scrubbi has provided. Started with Scrubbi over a year ago, I took a short break because of covid but when I started using Scrubbi again they came back with the same quality of service I was expecting leaving me very satisfied and content with the decision I made to use them again! Great rates, and works perfectly for my lifestyle since I don't like to clean myself. :)" -Michelle
"Very easy to book services, helpful staff and a very good team of cleaners! I Will continue to use their service as it makes my life easier to not have to worry about cleaning my place, just maintaining in between appointments ☺️ ** I did find out they do not do dishes though, which is fine but I did not know the first time **" -Pamela
9.   Clean Freaks
BEST FOR
Carpet, upholstery, and mattress cleaning
SERVICES
Pet Odor Removal
Wall Washing
House Cleaning
Upholstery
HouseArea Rug
Pet Stain Removal
Leather Furniture
Move In and Move Out & Mattress Cleaning
WEBSITE
www.cleanfreaksottawa.com
ADDRESS
162 Birch Hill Private, Ottawa, ON K1K 3Y5
CONTACT DETAILS
(613) 421-5854


[email protected]

OPERATING HOURS
Mon – Sat 9:00 am – 6:00 pm
Sun Closed
Clean Freaks is a family-owned and operated cleaning service that's been in business for 12 years. They offer routine cleaning services, specializing in carpets, rugs, upholstery, and mattresses.
Their cleaning professionals have all been background-checked and trained to provide the highest quality service. Their satisfaction guarantee means that they will re-clean the area for free if you're not happy with anything.
Customers have left stellar reviews on multiple sites, saying that the service has been consistently reliable, courteous, and efficient.
Free online quote
Offers routine cleaning services
Satisfaction guarantee
Expensive rates
Tendency to be fully booked
Customer Reviews
Thanks to their satisfaction guarantee and dedication to service, they've gained a solid reputation as a reputable cleaning service! Check out what these satisfied clients have to say:
"This is my first time writing a review because of the excellent service we received! We moved into a new house and needed the carpets cleaned within a very short span of time. We have small kids and, with covid, it was a must! Stephen was very flexible in getting back to us and squeezing in an appointment in the time that we required. Additionally, he was friendly, professional and knowledgeable. He really knows his stuff! The work was impeccable! The carpets were dry within a few hours! The amount of dirt that was removed from these carpets was unbelievable! Really awesome service!" -Dinah
"Stephen was great to answer all my questions.
I paid for the move in/out service plus the deep carpet cleaning and was very impressed! I was so happy to not have to rip up the carpet as Stephen and his team were able to make it look, feel, and smell new again. The entire apartment was sparkling and the transformation was more than I expected. Thank you again Stephen and team for your service." -Carolina
10. Bliss Maid
BEST FOR
Customisable Maid Services
SERVICES
Maid Services
WEBSITE
https://www.blissmaid.ca/
ADDRESS
5509 Canotek Rd Ottawa, K1J 9J8 Canada
CONTACT DETAILS
[email protected]
1 888 613 Maid ( 6243) or 343 297 6366
OPERATING HOURS
Contact for more information
As expected from the name, Bliss Maid is a service provider company known for their customisable maid services.
Bliss Maid takes into consideration the unique needs of every household, and deploys maids that can accommodate such needs. The length of the services is also included, which can range from a one-time service to a recurring monthly service.
Now, it's worth noting that maids from Bliss Maid are some of the most skilled and knowledgeable individuals in the industry. Most, if not all of them are capable of cleaning apartments, houses, and offices.
Various rooms are no trouble as well. If you hire Bliss Maid maids, you can expect them to be capable of cleaning kitchens, bathrooms, bedrooms, private offices and more. Cleaning will also entail thorough dusting, mopping, vaccuuming and other cleaning services.
Personalised services
Can be hired on a one-time or recurring basis
Accommodates residential and commercial properties
11. Never2Clean
BEST FOR
Home cleaning
SERVICES
Residential cleaning services
WEBSITE
https://www.never2clean.ca/
ADDRESS
207 Bank Street,
Ottawa, Ontario
K2P 2N2
CONTACT DETAILS
[email protected]
Phone: 613.699.7722
OPERATING HOURS
Monday to Friday 8:30AM – 6:30PM
Let's be honest, cleaning isn't an enjoyable experience. Most of the time, when we have to clean, we would rather be doing something else, may it be for productivity or leisure.
Here is where Never2Clean comes in. Never2Clean is regarded as one of Ottawa's most trusted home cleaners, with the company offering affordable, customisable cleaning plans that can accommodate the unique needs of every household.
New clients will find that customisability isn't the only thing Never2Clean has to offer. No, Never2Clean makes the entire experience of hiring a cleaning company comfortable for all of their clients.
See, the company consists of professionals who are not only skilled and knowledgeable in the art of cleaning, but also highly communicative, personable, and prompt in every job they take on. These cleaning professionals endeavour to get back to clients as soon as possible.
Aside from that, we also commend the fact that Never2Clean never tries to keep clients tethered to services they no longer need. Should you choose Never2Clean, you will find that there are no contracts involved in their services.
Unfortunately, the company has no operating hours on the weekend, but the other factors more than make up for it.
Uses the most advanced eco-friendly products
OECD-compliant products
Utilises the highest background security clearance allowed by law
Flexible, competitive rates
12. Beaver Maids
| | |
| --- | --- |
| BEST FOR | Eco-friendly cleaning |
| SERVICES | Residential cleaning, deep cleaning, move in/out cleaning, steam carpet/upholstery cleaning, post-construction cleaning, commercial cleaning |
| WEBSITE | https://beavermaids.com/ |
| ADDRESS | 300 Greenbank Rd, Ottawa, ON K2H 0B6 |
| CONTACT DETAILS | [email protected] |
| OPERATING HOURS | Mon to Sat: 8:00 am – 5:00 pm |
Beaver Maids isn't your ordinary cleaning company. We had to put them on our list for a couple of reasons.
For one, they only use eco-friendly products in all of their cleaning services, from residential to commercial cleaning.
This means that you won't have to worry about them using bleach, harsh fumes, nor ammonia in their products, making them a great choice for clients who are prone to allergies. Not to mention that they also use professional grade cleaning supplies in each job, so you don't have to worry about providing them with cleaning supplies.
Another thing we like about them is how rigorous their vetting process is for all cleaners. They're one of the very few cleaning companies who request a second background check for all their cleaners, allowing you to trust them into your home with your belongings.
They also have a pretty wide service area coverage, extending from Ottawa to Cumberland.
And to top it all off, we heard that they also provide free cleaning services for cancer patients. If this is something that you or family is eligible for, then we recommend giving them a call to know more about this service.
Uses eco-friendly products
Free cleaning services for cancer patients
Trained and insured cleaners
Wide service area coverage
Closed on Sundays
Limited booking availability due to high demand
FAQs about the Best Cleaning Services in Ottawa
---
And that's all we have for you on the best cleaning services in Ottawa! Whatever kind of cleaning you may need, our picks are sure to provide you with satisfactory services.
Do you have any recommendations for other cleaning companies that should be on our list? Send us a message, and we'll check them out as soon as we can.
If you've got a pest problem that needs attention ASAP, check out this article on the best pest control in Ottawa!