Top 6 Graphic Design Companies in Ottawa
Creating a mood, evoking emotions, and inspiring action–these are the things that graphic design does! Whether it's for marketing or personal projects, we've gathered the top graphic design companies in Ottawa.
How Much Do Graphic Services Cost in Ottawa?
It's important to note that a company provides graphic design services and has different services that make the company's ecosystem of services complete for every need. Here are some estimated prices and general services.
| Graphic Design Fee | Average cost |
| --- | --- |
| Poster and Flyer Design | $250-$350 |
| Business Cards Design | $150-$250 |
| Logo Designs | >$400 |
| Signage Design | > $100 |
| Apparel Design | > $350 |
| Website Design | > $5000 |
Top Graphic Design Companies in Ottawa
As you're busy with important tasks related to your business or goal, it's equally important to delegate tasks that are away from our field of expertise. Below are our criteria to help make the most informed decision.
1. Azuro Digital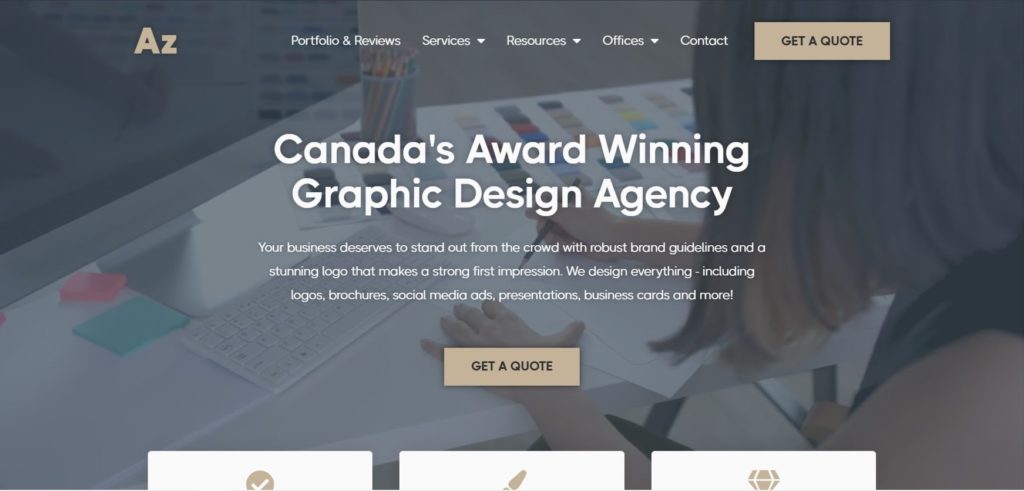 Test
Info
PRODUCTS / SERVICE

Web Desing & Development

Search Engine Optimization (SEO)

Graphic Design & Branding

Copywriting Services

WEBSITE
https://azurodigital.com/
ADDRESS
150 Elgin St #1026, Ottawa, ON K2P 1L4, Canada
CONTACT DETAILS

Phone: +1 613-697-9740

OPERATING HOURS

Monday - Sunday 8AM - 6PM
| | |
| --- | --- |
| Criteria | Ratings |
| Designing Process | ★★★★★ (5/5) |
| Range of Services | ★★★★☆ (4/5) |
| Customer Support | ★★★★☆ (4/5) |
| Portfolio Reputation | ★★★★★ (5/5) |
Leading the list is one of our personal favorite graphic designer firms in Ottawa that really stole our attention is Azuro Digital. They're famous for winning awards like the Web Excellence Awards, CSS Design Awards, and Design Rush's Best Design Awards.
Because of their awards, the services can be quite expensive and pricey. However, we love how we get what we paid for with little to zero revisions requested in all graphic design output.
We're very impressed with their online presence and having ratings of 4.99/5 over trusted platforms such as Clutch, Upcity, Google, and Goodfirms. It gives us a message that this is a clear indicator of their effective creative process and good service.
As we worked with Azuro Digital, we can say that they're best for start-up companies and corporates that want consistent but attention-grabbing branding and logo. Their designs are sleek, clean, elegant, and very modern for our taste.
Another thing we liked about Azuro Digital is their expertise in designing websites. They even have good copywriting services that we appreciate since we don't have to look for another company or writer for the website.
As great as they are, we do wish that they put a pricing guide on their websites for transparency and some basis other people can use that can help adjust their budget accordingly. We sent our quotation request through their website, and they were quick to respond.
Award-winning
Open everyday
Relatively expensive
Website Building Priority
Customer Reviews
Eye-catching Design
"Since availing their graphic design service, we've received numerous compliments on our product's design. We anticipate that this will directly translate into increased business. We were incredibly satisfied by Daniel's professionalism, creativity, and attention to detail. He was exceptional to work with. His communications and instructions were always clear and concise. Deliverables were often delivered ahead of schedule, which was a bonus. Overall, we were thoroughly impressed with Azuro Digital's creativity and design ideas." – John Herdin
100% Satisfied
"My family decided to finally start a business. After researching for graphic designers, we chose Daniel Houle and we haven't regretted it since. He created a design for us especially since he had to deal with 2 people with basically little to no technical abilities. He was always patient with us. He explained everything he was doing. Given his experience, he also provided suggestions and advice for us. He was always willing to make changes for us, even when he thought we were done. Daniel is a true professional and gentleman. He won't complete his job until you are 100% satisfied with his work. I would recommend him to anyone looking for a design either a product or a website." – Cassandra Cloutier
2. Cayenne Creative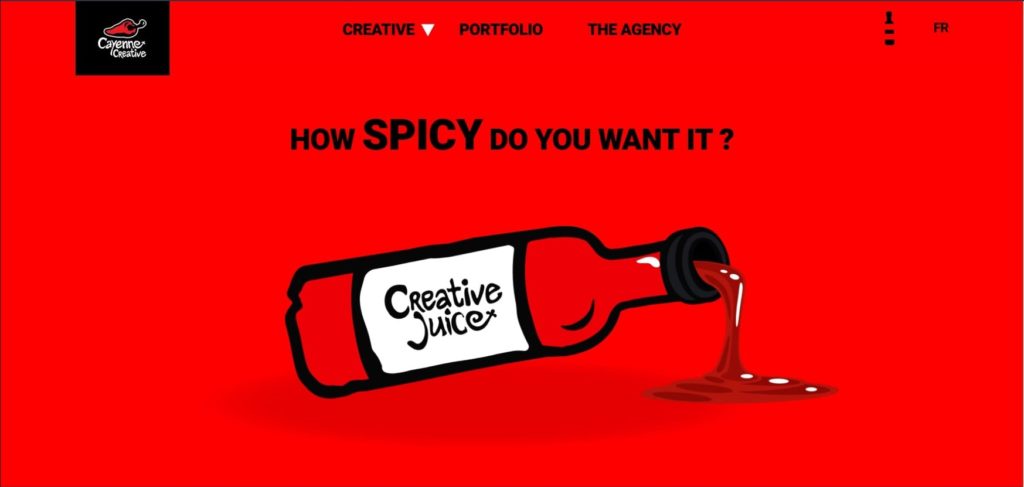 Test
Info
PRODUCTS / SERVICE

Graphic Design & Production

Corporate Stationary

Business Cards

Posters

Annual Posters

Broches / Catalogues / Flyers

Powerpoint Presentations

Branding & Identity

Digital

Social & SEO

Website

Environmental Design & Urban Visibility

Advertising

WEBSITE
https://cayennecreative.ca/
ADDRESS
1343 Labrie Ave, Ottawa, ON K1B 3M2, Canada
CONTACT DETAILS

Phone: +1 613-288-2121

OPERATING HOURS

Weekdays: 8:30AM - 4PM

Weekends: Closed
| | |
| --- | --- |
| Criteria | Ratings |
| Designing Process | ★★★★☆ (4/5) |
| Range of Services | ★★★★☆ (4/5) |
| Customer Support | ★★★★★ (5/5) |
| Portfolio Reputation | ★★★★★ (5/5) |
With their 20 years in the industry, we can't help but include Cayenne Creative on this list. What sets Cayenne Creative apart from competitors is their Registered Graphic Designers (RGD).
The whole design team of Cayenne Creative is certified and registered, which signals their competence, professionalism, and adherence to high-quality designs and services. It also means that they passed a rigorous examination and set of standards.
What's a plus for us is that Cayenne Creative is bilingual, catering to the French demographic, making them globally competitive. However, they have a subpar social media presence that they can improve since it makes them harder to look for.
The best thing about Cayenne Creative is their portfolios. We love how each service has its separate sample and how they categorize it to common graphic design needs of businesses in Ottawa.
What I really appreciate about Cayenne Creative is that they really take time to get to know us and the business. We noticed how dedicated they are to providing the designs we needed that reflect us and our vision.
Cayenne Creative took time to talk about our design in mind over a cup of coffee (they asked how we want our coffee when sending a quotation, too!). They are super accommodating to our preferences, and the design outputs looked professional and way better than we had imagined.
Registered Graphic Designers (RGD).
Great customer support
Closed on weekends
Social media presence can improve
Customer Reviews
Ease of Process
"Working on a corporate marketing project with Cayenne Creative was a breeze. The team was very supportive, responsive, patient, and provided great guidance throughout the creative process. They were very collaborative and even welcomed us on site multiple times so that we could work through the final details of the graphic design process. The end result was a great piece of creative which was prominently displayed within the community and which garnered a lot of great feedback! We certainly recommend Cayenne Creative and are already in the midst of planning our next project with them!" – Rebecca Neu
Superior Service
"In preparation for our opening in July, we are working with key partners from the Ottawa business community. This post goes out to Carl Poirier and the amazing team at Cayenne Creative! The Cayenne Crew has been instrumental in creating our brand and our corporate identity. We are grateful to have them by our side as we aim to provide our patients with an exceptional experience founded on quality care. Thank you Cayenne Creative, you are a critical partner to us at ODC!"- Richard Leesque
3. Katari Imaging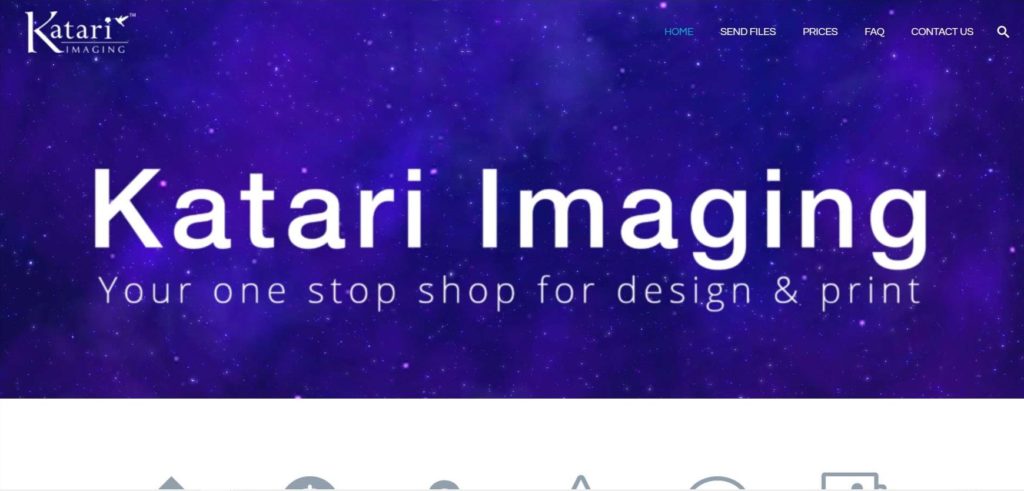 Test
Info
PRODUCTS / SERVICE

Graphic Designing

Menu Design

Book Design

Single-Sided Prints

Double-Sided Prints

Photo Prints

Postcards

Foldover Cards

Business Cards

Tri-Fold Brochures

Printed Envelopes

Carbonless Forms

Large Format Prints

Large Format Mounting

Calendars

WEBSITE
https://katariimaging.com/
ADDRESS
282 Elgin St B, Ottawa, ON K2P 1M3, Canada
CONTACT DETAILS

Phone: +1 613-233-1999

OPERATING HOURS

Weekdays: 9AM - 5PM

Weekends: Closed
| | |
| --- | --- |
| Criteria | Ratings |
| Designing Process | ★★★★★ (5/5) |
| Range of Services | ★★★★★ (5/5) |
| Customer Support | ★★★★☆ (4/5) |
| Portfolio Reputation | ★★★★☆ (4/5) |
Next on our list is a small-scale business but has been around for more than 20 years in Ottawa. Katari Imaging is small since they only have around ten employees working in graphic design, advertisement, and web design.
Katari Imaging is one of our personal favorites for having a clear pricing guide on their website that really helped us with our marketing needs. We love how they included a price per size, but that excludes taxes and may be subject to change.
When we did not see our preferred material and size in their list, they were quick to answer our inquiry via email. We were able to reach them easily via phone too, and they were so nice and accommodating, even giving us more options to choose from in terms of paper for printing.
What's nifty about Katari Imaging is that they support printing, be it a book design, a menu, or a poster–just upload your file on their website. We appreciate how Katari Imaging can support up to 10 files separately, anything more, you may need to upload a zip folder.
Katari Imaging also accommodates T-shirt prints but only for white and light-colored shirts which may limit your creative needs. They don't have their portfolio on their website but love the works they posted on their Instagram page.
Being a small-scale company, you may find difficulty getting a spot to be entertained for your needs. However, we found out their typical turn-a-round days are, on average, 2-5 business days.
Ease of Designing Process
Costs are clear
Small team
Closed on weekends
Customer Reviews
Competent and Compassionate
"This is my go-to print shop in Ottawa. Customer service is great – very accommodating. Every order I do is normally at least a few hundred of this, a few hundred of that, and every time, I'm in a rush. No additional fees for the rush, they work with me on my timeline and help me get what I need, when I need it. Everyone there is very casual, laid back, and exceptionally easy to work with. They still run their shop professionally, but very pleasantly. They really are a pleasure to work with.Lastly, I've found the pricing there extremely competitive – in most cases, it'll be your cheapest option." – Grant Dingwall
Memorable
"Just picked up my wedding invites and cannot say enough about the amazing service at Katari. After having my beautiful save the dates printed by them, I knew I could rely on them again to bring my vision to life for my invitations. I was particular about the paper type and they worked their magic to refresh their stock in time for a very quick turnaround! A BIG thank you to Stevie & Gilda – you rock!! No need to look any further, Katari is the way to go!" – Jacquelyn Martin
4. Designful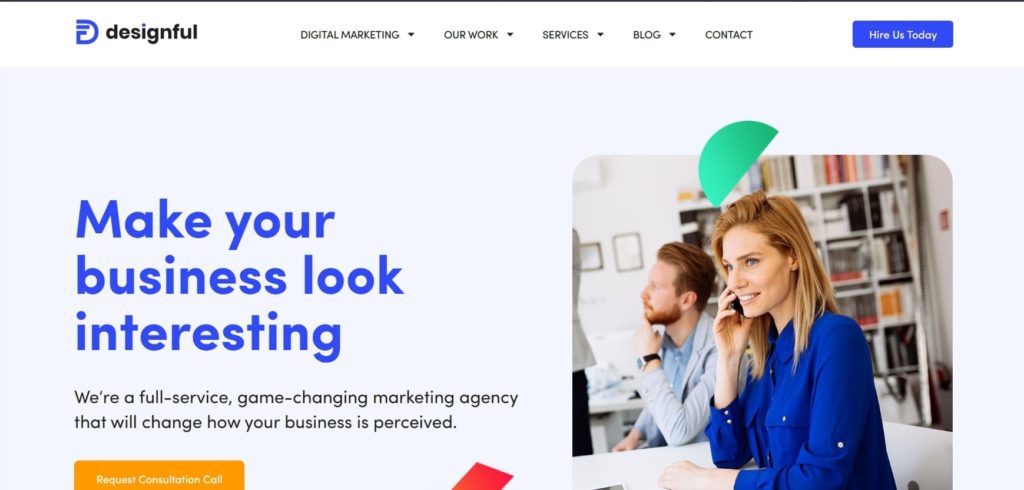 Test
Info
PRODUCTS / SERVICE

Marketing Agency

SEO services

Web Design

Graphic Design

Poster & Flyer Design

Business Cards

Catalogue Design

Logo Design

Signage Design

Apparel Design

WEBSITE
https://designful.ca/
ADDRESS
282 Elgin St B, Ottawa, ON K2P 1M3, Canada
CONTACT DETAILS

Phone: +1 613-699-6233

OPERATING HOURS

Weekdays: 9AM - 6PM

Weekends: Closed
| | |
| --- | --- |
| Criteria | Ratings |
| Designing Process | ★★★★☆ (4/5) |
| Range of Services | ★★★★★ (5/5) |
| Customer Support | ★★★★☆ (4/5) |
| Portfolio Reputation | ★★★★☆ (4/5) |
Designful grabbed our attention with their handful of services such as website design, android and IOS development, and of course graphic design. They made it to our list with over 7+ years in the business and a growing good reputation.
Compared to our other picks in our list, we feel that Designful is, in our opinion, another good option if you are looking for graphic design needs for both digital designs and designs for physical products. They can both design and manufacture clothes, signages, logos, etc.
With that in mind, what we find extremely useful is Designful's printing calculator, which helps measure what we need and how much that will take. It's really helpful to us in creating a rough estimate for our budget.
We really enjoyed Designful's templates and modifiable stock designs that helped best express your ideas, especially when we didn't really know what we wanted. After being unsure about the design, we contacted Designful's graphic designers.
The designers were amazing. They were super accommodating and were able to understand and even proposed a better design than what we had in mind.
We appreciate how Designful's designers explained color psychology and how we can take advantage of space. However, we did find their services a bit on the expensive side.
We requested a quote for both small and big projects but they're mainly targeting established companies looking for help for their digital marketing needs. The free quotation email for project costs ranges as low as $2,000 only and goes up to $10,000.
Lastly, for those on the go, what we find useful for those on the go is Designful's rush delivery service. This will certainly come in handy for any upcoming event but will cost a lot more.
Just like other companies, Designful offers printing for an extra charge. They also have a refund policy but take note that digital products cannot be refunded.
Rush designs and delivery available
Best for digital marketing
Expensive
No refunds for digital designs
Customer Reviews
Efficient and Satisfied
"I was nervous about getting a new logo, website and business cards for my new business but the team at Designful made it an easy progress. Mike didn't hesitate to meet in-person when I asked and was always available by phone. I'm very happy with the work and my expectations were met and beyond." – Willie Henderson
Very Fast!
"Mike is one of the best designers I've ever worked with! He did such an incredible job on my website, he even got it to the first page of Google! Not only would I rehire him but I recommend him to everyone who's looking for design done! He's very reliable and replies very fast with the best possible answers!
10/10 Recommend!" – Shaelyn Kathleen
5. Ottawa Graphic Designer (OGD)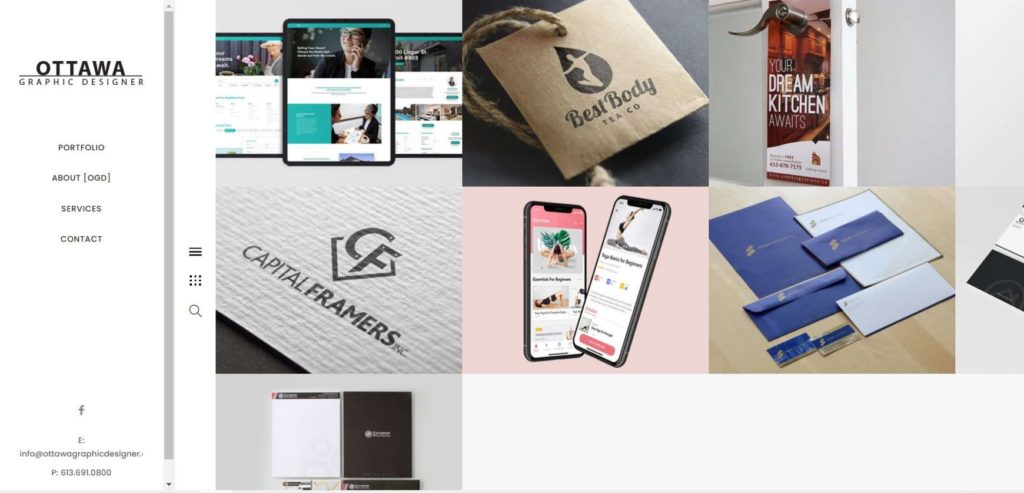 Test
Info
PRODUCTS / SERVICE

Web Development

Branding & Identity

Product Design

Apparel

Branding

Product Design

Print

App Design

WEBSITE
https://ottawagraphicdesigner.com/
ADDRESS
207 Bank St Suite 407, Ottawa, ON K2P 2N2, Canada
CONTACT DETAILS

Phone: +1 613-691-0800

OPERATING HOURS

Weekdays: 8:30AM - 4:30PM

Weekends: Closed
| | |
| --- | --- |
| Criteria | Ratings |
| Designing Process | ★★★★☆ (4/5) |
| Range of Services | ★★★★★ (5/5) |
| Customer Support | ★★★★☆ (4/5) |
| Portfolio Reputation | ★★★★★ (5/5) |
Ottawa Graphic Designer (OGD) makes it to our top 5 for having a reputable standing for almost 20 years. We're huge fans since they have been acknowledged by RealDecoy, Hinton Group, Ignite, & Trend Micro as one of the most reliable designers in the city.
Right off the bat, Ottawa Graphic Designer boasts a solid and comprehensive portfolio of prints, apparel, websites, and even IOS & Android app designs. Their range of graphic design services is astounding.
When it comes to digital marketing campaigns, we love how we can rely on Ottawa Graphic Designer. They've been effective in grabbing the attention of our targeted audiences, no matter what the theme.
We can start our very own shirt line too since OGD's apparel design and printing services are top-notch. Their custom screen prints don't come off easily with normal wash and will last for years.
OGD aims to be anyone's all-purpose graphic design needs company. We enjoy having all branding services in one place.
They were able to provide us with business apparel, our business cards, signages, and even video production. The quality was amazing, and we're satisfied with all of their outputs.
They do have a long waiting list since they have a small-scale workforce team and can only accommodate a limited number of clients. It gives them an exclusive feel, too since we get better quality and heart-warming accommodation than we expect
Wide range of services
High-quality prints and design
Small team
Closed on weekends
Customer Reviews
Considerate and Easy
"Ottawa Graphic Designer Branded my company and built my website. They did a phenomenal job, I couldn't be happier. The design was modern and skillfully done. It was the foundation that allowed me to build my clientele to what it is today. Thank you, Ottawa graphic Designer." – Geoff Capelle
Professional Service
"Ottawa Graphic Designer helped brand and launch our tea company. They were very professional from start to finish and delivered on time and on budget. The end result surpassed my expectations and we look forward to working with them long term." – Ashley Trottier
6. Ottawa SEO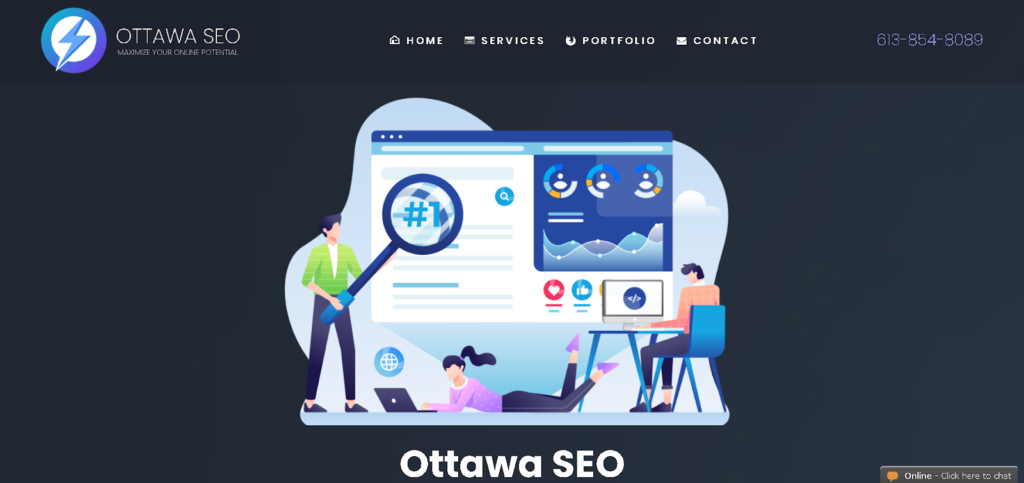 SERVICES
SEO
Web Design
Ad management
WEBSITE
ottawaseo.net
ADDRESS
45 Fifth Ave, Ottawa, ON K1S 2M3, Canada
CONTACT DETAILS
[email protected]
613-854-8089
OPERATING HOURS
Monday – Sunday, 9:00 AM – 5 PM
| | |
| --- | --- |
| Criteria | Ratings |
| Designing Process | ★★★★☆ (4/5) |
| Range of Services | ★★★★★ (5/5) |
| Customer Support | ★★★★★ (5/5) |
| Portfolio Reputation | ★★★★★ (5/5) |
Ottawa SEO and Web Design provides solutions to assist local Ottawa companies develop an online presence and efficiently reach their target audience. Their skilled staff has a wealth of expertise in providing high-quality Web Design, SEO, Brand Awareness, APP modification, Marketing, E-commerce Services, and PPC Ad Management.
They employ the most up-to-date technology and strategies to ensure that their clients' websites are not only visually beautiful but also perform effectively in search engines. Their SEO techniques are intended to promote exposure, traffic, and conversions. This will assist firms in meeting their internet marketing objectives.
They assist businesses in developing a strong online brand and reaching their target audience through various channels such as Social Media Management, Email, and Paid Advertising. Their marketing methods are adapted to each client's individual demands and goals, ensuring that they get the best return on their investment.
Uses high-end and up-to-date technology and strategies
Flexible services
Available seven days a week
Customer Reviews
I highly recommend Ottawa SEO and Web Design for any business
"I recently had the pleasure of working with Ottawa SEO and Web Design to create my realtor website, and I am extremely impressed with their work. From start to finish, the team was professional, communicative, and focused on delivering high-quality results. They took the time to understand my business needs and goals, and their expertise and attention to detail shone through in the final product. I am now the proud owner of a beautifully designed, user-friendly website that is already generating new leads and clients. I highly recommend Ottawa SEO and Web Design for any business looking to enhance their online presence and drive results!" – Afia Konama
Perfect to what I wanted and even better than imagined
"Ottawa web design is one of the most reliable, professional and affordable company. The team has helped in constructing a website for my business which is perfect to what I wanted and even better than imagined. I am extremely happy with the work they have done." – Fred Adjei
FAQs about Graphic Design
---
With all that out of the way, we hope that your business prospers and expands. If you wish to read more, feel free to look into our other articles on;
---