The 5 Best Gardens To Visit in Ottawa
Ottawa is a wonderful place that definitely deserves exploring. Among the most popular places to visit here are its gardens.
Whether you're a newcomer or a long-time resident, gardens give a different sense of peace that no other tourist spot can. In this list, we will discuss the best gardens you can visit in Ottawa.
Before we go over the list, we'll discuss the possible costs of visiting these places first.
How much does visiting gardens in Ottawa cost?
The table below shows the possible entrance fees for each garden in our list. These fees are estimated and may change depending on the gardens' management.
Most gardens don't charge anything for admission but will still be included in the table just to be organized.
Gardens in Ottawa
Entrance fees
Parliament Hill Gardens
Free entrance
Ottawa City Hall Gardens
Free entrance
Olympic Garden
Free entrance
University of Ottawa Gardens
Free entrance
Japanese Zen Garden
CA$12–20

(free admission for children under 2 yrs old)

(free admission every Thursday, 5 – 7pm)
The Best Gardens To Visit in Ottawa
Ottawa's gardens are popular and there are always a number of people visiting at any given time. This is why it's important to know which ones are the best to visit.
We've selected the best gardens you can visit based on the following criteria:
With these in mind, we're going to look at the best gardens Ottawa has to offer.
1. Parliament Hill Gardens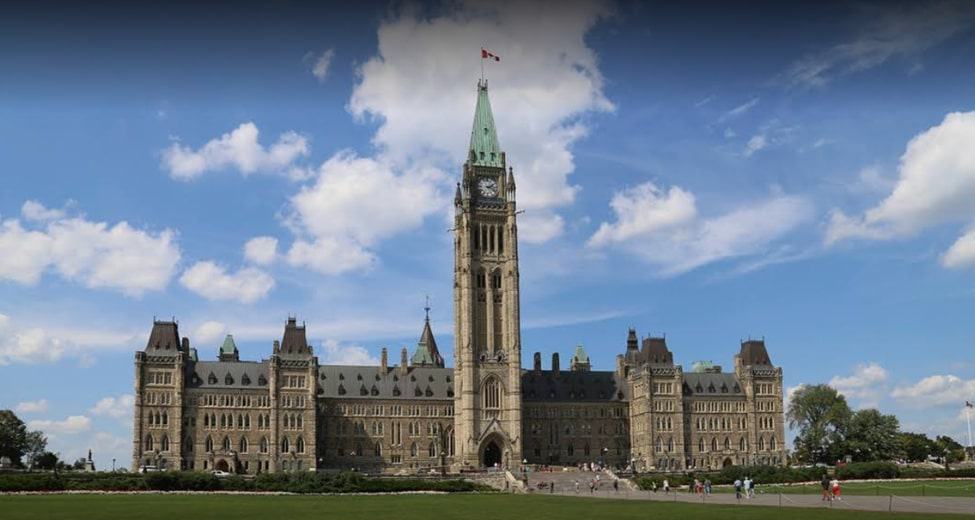 | | |
| --- | --- |
| Criteria | Ratings |
| Uniqueness | ★★★★✩ (4/5) |
| Size | ★★★★✩ (5/5) |
| Safety | ★★★★★ (5//5) |
Surrounded by grassy plains and a river, the Parliament Hill Gardens is a good place to start when touring the city of Ottawa. It's full of history and isn't too far from the city.
The area itself is a mix of modern and classic culture with its Gothic designs. It's accentuated by a beautifully flowing river and is also not too far from the city.
The gardens surrounding the main building are inspired by English architecture. It's a bit empty but it can be a relaxing view especially if you want to feel the wind on your face.
Not too many trees block the view in this area so photos with good lightning are definitely possible. You may even encounter a few squirrels while walking around despite it being placed so close to the city.
At the northwest corner of the area, you'll see the reconstructed Summer Gazebo. It's a building made for the Speaker of the House of Commons in 1877 by Thomas Seton Scott.
The original building was demolished in 1956 but the new version looks like a well-preserved version of the original. During Christmas, the parliament building is lit up with beautiful lights that can be seen from miles away.
Neo-gothic architecture
Celebrations are often held here
Modern amenities like coffee shops, gift shops, etc
Usually has a lot of people
Not too much to see besides the Gothic buildings
Some areas are under construction
Customer Reviews
Amazing during Christmas

"Amazing light shows during Christmas. There are construction going on at this point yet it doesn't dull the beauty of the majestic parliament. Can't wait to go in after the renovation." – Viasar M
Impressive architecture

"The Parliament Hill is under construction for 10 years, so there's no access to the buildings and you can only walk around and view the building.The Parliament Hill's architecture is amazing. It is so impressive when you walk around and see the beautiful details.I would love to come back when the renovations are done and go inside the building and have a full tour and hear more about the history of it." – Alale H.
2. Ottawa City Hall Gardens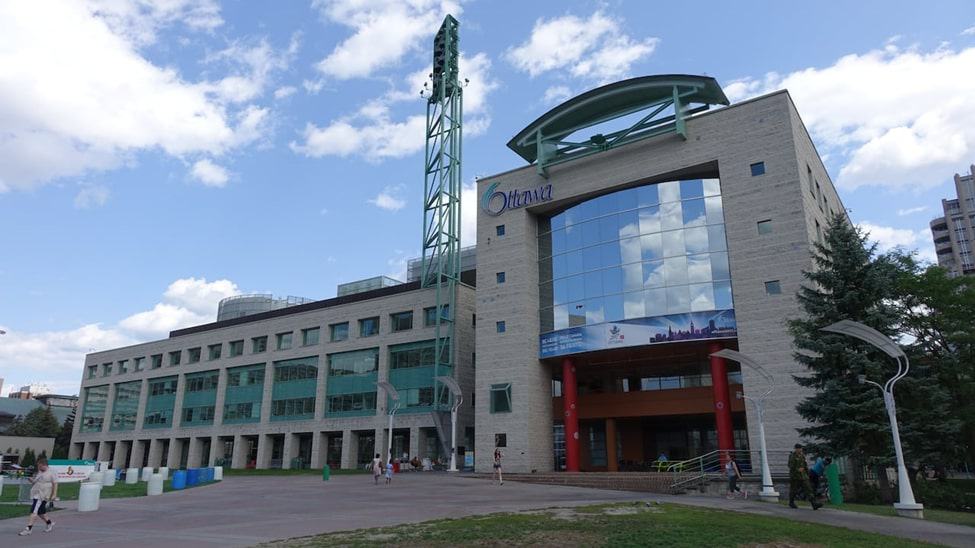 | Test | Info |
| --- | --- |
| AMENITIES | Modern Architecture, Ottawa River, Coffee Shops, Fountain Area |
| WEBSITE | https://ottawa.ca/en |
| ADDRESS | 110 Laurier Ave W, Ottawa, ON K1P 1J1 |
| CONTACT DETAILS | 613-580-2400 |
| OPERATING HOURS | Open daily, closes at 5pm |
| | |
| --- | --- |
| Criteria | Ratings |
| Uniqueness | ★★★✩✩ (3/5) |
| Size | ★★★★★ (5/5) |
| Safety | ★★★★★ (5//5) |
The Ottawa City Hall Garden doesn't really scream unique. Just like other city parks, it's a beautiful garden outside a modern building – it's nothing we haven't seen before but we still have to give credit where credit is due.
Although it looks ordinary in some aspects, the City Hall Garden is still a sight to behold.
In the Nelson Mandela square, a beautiful rose garden can be visited. Gifted from the Belgian Royal Society for Agriculture and Botany, this rose garden is well-taken care of and should not be underestimated.
Other than its beauty, it also reminds us of a significant moment in history as it was gifted after the signing of the Treaty of Ghent that ended the war back in 1812.
During the high surge of the pandemic, the City Hall was used as a vaccination site. You can be sure that the place is safe and highly secured.
It's also modernized so PWD-friendly areas are also present.
Another area the City Hall boasts is the Marion Dewar Plaza Garden, dedicated to former Mayor Dewar. This section of the area is where the fountain can be found.
Visitors are allowed and even encouraged to step into the fountain on hot summer days.
Although not the most unique place in our list, the City Hall Garden is still a great place to visit, especially if you don't want to go too far from the city.
Modern yet close to nature
Has a lot of history
Not as interesting as other parks
Its closeness to the city means you still hear city noise
Customer Reviews
Kids will love

"Accessible and fun place to be. Lots of events happening all the time. Kids love displays that tell them about the city and its people. Also, the grand piano (free for all to use) is an inviting and creative way to enjoy the building." – E. K.
Thoroughly enjoyable

"I have been there several times there. Last year, I was there to watch the Indian festival, thoroughly enjoyed been there. This year I have watched the color posting during the Italian week festival. This building is like the center of the city. I also had lunch at it's cafeteria twice, had drink several times." – Mahmut Bilgener
3. Olympic Garden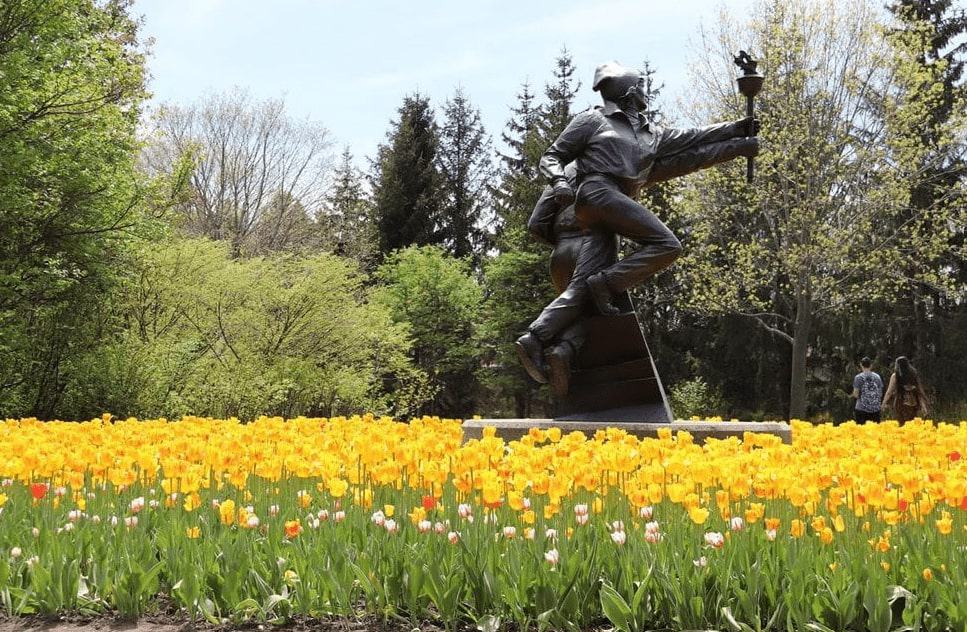 | | |
| --- | --- |
| Criteria | Ratings |
| Uniqueness | ★★★★✩ (4/5) |
| Size | ★★★★✩ (4/5) |
| Safety | ★★★★✩ (4//5) |
The Olympic Garden is very much a public area accessible to almost everyone. It's close to the city but remote enough that you can appreciate the nature that surrounds the area.
You can also get a glimpse of the Rideau Canal from this area. The fact that it's close to the canal and the tulips are what makes this garden special.
These tulips may look ordinary to some but they actually have a symbolic meaning behind them.
During the springtime, the regular tulips are joined by "Jan Seignette" tulips.
These tulips have their colors reversed and the yellow and red of the flowers make the entire area look like it's engulfed in a beautiful flame. It's a beautiful sight along with the monument.
This change in the tulips' colors is something out of a fairy tale. Tourists from all over the country visit The Olympic Garden during spring just to get a glimpse of these wonderful flowers.
The area is a perfect stopover after a morning stroll when walking from the Rideau Canal from Commissioners Park.
The area also has a huge piece of history written all over it with the 'Share the Flame" monument created by artist Vilem Zach.
Although small, this place is perfect for anyone looking for the right photo opportunity. It's relaxing despite its closeness to the city and it's open for everyone to visit.
Especially beautiful during the springtime
Engulfed in Olympic history
Close to the river
Great photo op
Too open
Too close to the city
Customer Reviews
Take beautiful photos

"The Flame is located along the Historical Rideau Canal. One of the destination points for the Canadian Tulip Festival. Awesome Photo Op. Near Lansdowne Park & Bank Street. Great place to grab a bite, movie, football game, flea market, Farmers market. Ample parking & public transportation nearby." – Rabin Ramah
Tulips

"An interesting monument to see, very nice in spring during The Tulips festival. There is a nice park to relax on the bench in shade." – Caterina Ositashvili
4. University of Ottawa Gardens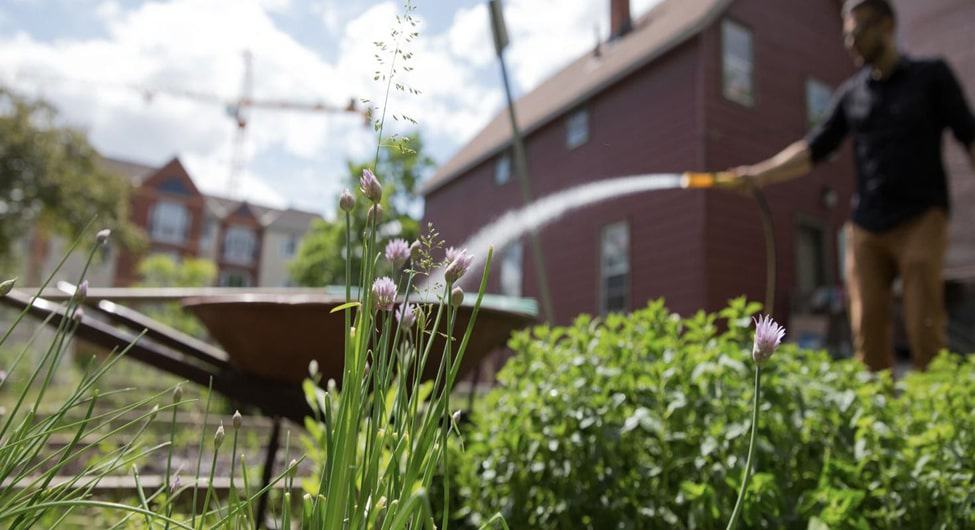 | Test | Info |
| --- | --- |
| AMENITIES | University Campus, Vertical Garden, Green Campus Community Garden |
| WEBSITE | https://www2.uottawa.ca/en |
| ADDRESS | 85 University Private, Ottawa, ON K1N 9A7 |
| CONTACT DETAILS | 613-562-5800 |
| OPERATING HOURS | Open daily except weekends, 6:00 AM to 8:00 PM |
| | |
| --- | --- |
| Criteria | Ratings |
| Uniqueness | ★★★★✩ (4/5) |
| Size | ★★★★★ (5/5) |
| Safety | ★★★★★ (5//5) |
Also known as the U of O, the University of Ottawa is an impressive landmark in Ottawa. With numerous gardening projects around the campus, the university is definitely showing off its green thumb and giving everyone in the city the opportunity to participate as well.
The Green Campus Community Garden, for example, is a project by the university's staff and students where they work together planting different crops all over the campus. The sense of community and urgency to help raise awareness about the importance of growing food is very apparent in this project.
This garden was built for a good cause and is a significant area in the school's campus. Aspiring students who plan on studying in the University of Ottawa always make sure to visit the garden to get a glimpse of the college life in the university.
Other than the Community Garden, the university's Vertical Garden is also another sight to check out. Composed of more than 1000 plants of different species, this area will surely wake up a green thumb in you.
From a sightseeing perspective, it may seem that these projects are too ordinary but the area itself is a relaxing spot to take a stroll in and explore around. What makes it better is these areas were created for a cause.
The campus is also a beautiful but simple architectural feat that can be appreciated by anyone walking by.
For a good cause
Vertical garden with thousands of plants
Located inside a university campus, may be restrictive
5. Japanese Zen Garden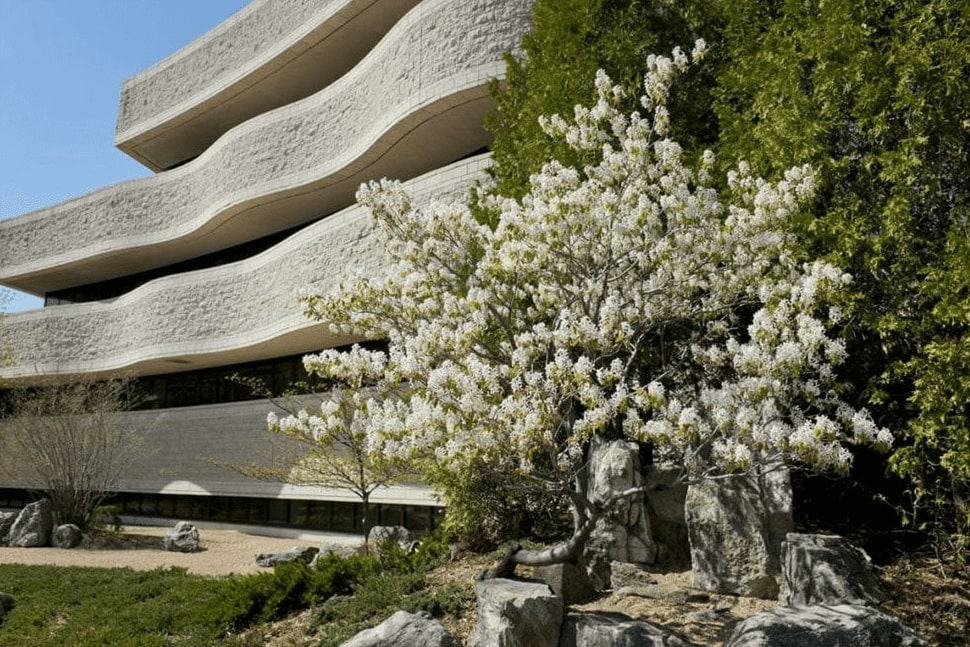 | Test | Info |
| --- | --- |
| AMENITIES | Canadian Museum of History, gift shops, coffee shops |
| WEBSITE | https://www.historymuseum.ca/ |
| ADDRESS | Canadian Museum of History, 100 Laurier St, Gatineau, QC K1A 0M8 |
| CONTACT DETAILS | 613-580-2400 |
| OPERATING HOURS | Open 9:00 AM – 4:00 PM everyday except Mondays and Tuesdays |
| | |
| --- | --- |
| Criteria | Ratings |
| Uniqueness | ★★★★★ (5/5) |
| Size | ★★★★✩ (4/5) |
| Safety | ★★★★★ (4//5) |
We all know that Canada and Japan have a rich history together. That's why the Japanese Zen Garden is part of Canada's Museum of History.
We love seeing the beauty of our own country but it's also nice to get a glimpse of what it's like to be in another land. In this garden, you will find yourself exposed to a different culture.
The wooden structures, the pink cherry blossom trees, and the ponds that surround the garden will surely make you feel like you're in a different country.
Designed by the Buddhist monk Shunmyo Toshiaki Masuno, the museum's Japanese Zen Garden is as authentic as it can be. It was designed so you can immerse yourself in a different culture.
We like that you can feel at peace and cultured at the same time while strolling through the garden, looking at the Japanese themed structures around the area. The garden is said to be a symbol of the strong relationship of the Japanese and Canadian people.
The zen garden is smaller compared to the others on this list because it's in a museum but it's definitely the most unique entry. After meditating or just relaxing in the zen garden, you can explore the other amenities of the museum
Its focus on history and culture is very prominent and is a sight to see.
Unique experience
Many amenities
Small
Can be crowded at times
Customer Reviews
Never gets old
"The great room you first see as you enter the museum is nearly worth the visit itself. My family has gone there at least three times over the last ten years and each time we were happy with our decision. My daughter, now 17, had warm memories of the children's area and we made a quick trip through there again, although it is really for younger children. The Japan exhibit presently running is quite good, and the cafeteria is as good as one can expect from such places. A must-see for anyone who hasn't been there before. – Bill"
Other cultures highlighted

"The special exhibition on Empress of Ireland is fantastic! But I found the exhibits about the First Nations quite disappointing although it was beautifully laid out.. I've seen better exhibitions on aboriginal history. But kids would definitely love the children's museum with the playhouses representing other countries like Japan, Mexico, Indonesia, etc." – Aileen De Leon Mendoza
FAQs about Gardens in Ottawa
---
Ottawa is known for its gardens. It's safe to say that without these gardens, Ottawa would be a very different place.
Want to bring the beauty of the gardens inside your own home? Check out this list of the best flower delivery services in Ottawa.