The Best Closet Door Installers in Ottawa
Closet doors are essential if you want to hide your wardrobe from view. That said, it's imperative to install the right style, color, and texture of the doors, as the wrong choice of panels can break the look of your space.
Thankfully, you can use some help from professionals. To make the search easier for you, we have put together a guide to the best closet door installers in Ottawa you can refer to.
If you have questions about average costs and concerns related to closet doors, we also got you covered.
How much do closet doors cost in Ottawa?
Closet door costs, including the material, labor, and hardware, can go anywhere between $150 and $2,300. Replacements can be more affordable, especially if you have an existing frame.
As labor and hardware fees have little variations, the factor that most affects the total cost is the closet door's material and style. Here are some estimated price ranges to give you an idea.
| Material/Style | Estimated Cost |
| --- | --- |
| Hollow core composite doors | $30 - $400 |
| Solid wood | $250 - $600 |
| Pre-hung | $30 - $600 |
| Mirrored sliding | $240 - $820 |
| Aluminum | $40 - $500 |
| Glass and accents | $170 - $1,300 |
It's important to know that customized closet doors will be a bit pricier, as they require more effort and time. You can choose the DIY route if you want to cut expenses but only do so if you have sufficient skills.
Top Closet Door Installers in Ottawa
Installing closet doors that match your interiors and function well is rewarding. But if you don't have the time or required expertise, you can hire a reputable supplier and installer.
We made sure our picks have the qualities you're looking for by using the following criteria.
1. Piramid Manufacturing Ltd.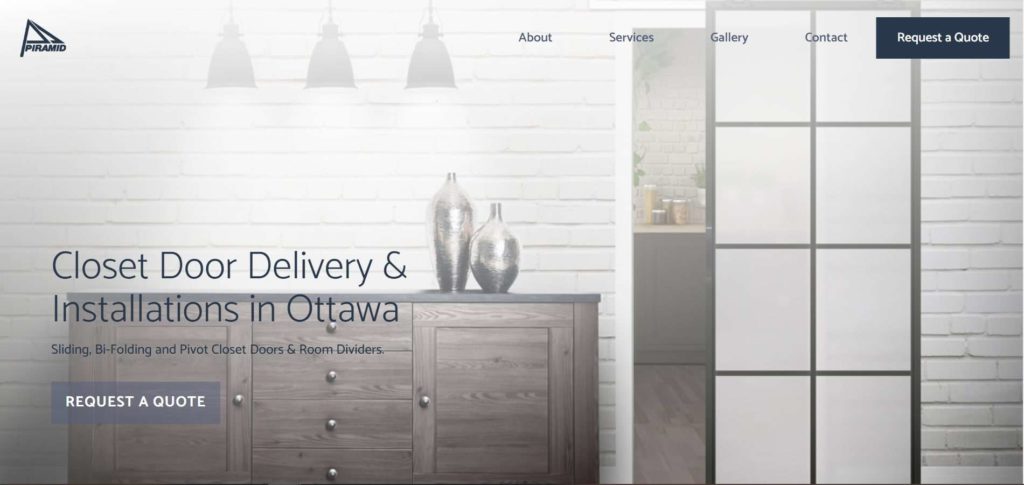 Test
Info
SERVICES
- Closet door delivery

- Closet door installation

WEBSITE
https://www.piramidmfg.com/
ADDRESS
28 Grenfell Crescent, Nepean, ON K2G OG2
CONTACT DETAILS
(613) 225-1501
OPERATING HOURS
Monday to Thursday: 7:00 AM - 3:30 PM

Friday: 7:00 AM - 12:00 PM

(Showroom hours by appointment only)
| | |
| --- | --- |
| Criteria | Rating |
| Range of services | ★★★★★ (5/5) |
| Expertise | ★★★★★ (5/5) |
| Knowledge | ★★★★★ (5/5) |
| Efficiency | ★★★★★ (5/5) |
| Customer service | ★★★★☆ (4.5/5) |
| Responsiveness | ★★★★☆ (4/5) |
| Helpfulness and friendliness | ★★★★★ (5/5) |
We can't stress enough how much we love family-owned businesses because of their appeal and signature work quality. As one such company, Piramid Manufacturing is particularly appealing to us.
What we love most about the company is it's focused on closet doors. Many contractors will include additional services in their arsenal, making Piramid special.
Moreover, the team behind the service provider has been in the business for 40 years and counting. We believe its long experience plus specialization are key factors in providing quality products and services.
And if you're one to experiment with looks, know that Piramid can offer you a wide range of types from sliding panels to pivot ones. The team's project samples available online are the cherry on top; trust us, they're gorgeous.
We only find it a little inconvenient that Piramid's office hours are slightly shorter than the others, especially on Fridays. Clients who tend to call near closing hours might have slight difficulties reaching them.
Offers free consultation
Reputable and locally owned
Reasonable prices for quality work
Accredited by the Better Business Bureau (BBB)
Closes early on Fridays
A bit far from downtown
Customer Reviews
Epitome of customer care
"Replaced all the closet doors in our home and had a great experience. Amanda was incredibly fast and helpful by email getting everything set up and the installers were polite and professional. Love the new doors and was so impressed by the customer service." —Robin Playne, Google Reviews
Impressive team performance
"We had an excellent experience with Piramid from beginning to end. The salesperson, measurer, and installers were all prompt, nice, and professional. The closet doors we had installed fit perfectly and look great!" —Cody Lamont, Google Reviews
2. Mirror Works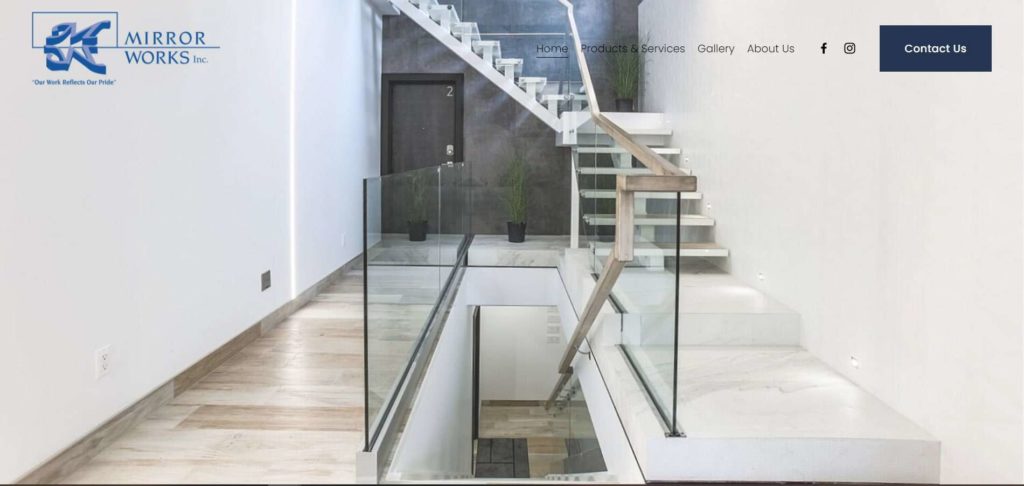 Test
Info
SERVICES
- Glass showers

- Mirrors

- Closet doors

- Glass railings

WEBSITE
https://www.mirrorworks.com/
ADDRESS
2713 Fenton Rd., Ottawa, ON K1T 3T8
CONTACT DETAILS
(613) 746-4245
OPERATING HOURS
Monday to Friday: 7:30 AM - 4:00 PM
| | |
| --- | --- |
| Criteria | Rating |
| Range of services | ★★★★☆ (4/5) |
| Expertise | ★★★★★ (5/5) |
| Knowledge | ★★★★★ (5/5) |
| Efficiency | ★★★★★ (5/5) |
| Customer service | ★★★★☆ (4.5/5) |
| Responsiveness | ★★★★☆ (4/5) |
| Helpfulness and friendliness | ★★★★★ (5/5) |
Opting for glass closet doors is a modern way to create an elegant room for your wardrobe while maximizing space. For such a project, we recommend calling Mirror Works.
Thanks to the company's 30 years of experience and specialization in the glass industry, you can rely on its team's capabilities.
Moreover, you can save time if you have multiple projects, as you can hire them for your other residential glass installation needs.
In addition, glass closet doors are less expensive than their wooden counterparts. Many are also sliding types, allowing you to save valuable space.
However, sliding interior doors aren't ideal for narrow reach-in closets. After all, the doors operate so that you can only access a part of the closet (often half of it).
Also, know that you need to be gentler using this type of closet door. The silver lining is that Mirror Works has a warranty on its products and labor, which can come in handy if you ever break a panel.
We think the company needs improvement in transparency, though. For instance, we had hoped they had included details of the warranty on their website to reassure clients, especially first-time customers.
We also believe they need to include more pictures of their closet door installations. After all, visuals are essential in convincing clients to hire them for the job.
Offers warranty for labor and materials
Highly responsive
Efficient and respectful installers
Sleek, modern products
Insufficient warranty and pricing details on website
Glass doors not ideal for small closets
Customer Reviews
Great for multiple projects
"We are immensely impressed with Mirror Works! They provide accurate timelines, deliver as promised and their staff is professional and courteous! They did an excellent job on a custom mirror in our en-suite, followed by custom Serenity sliding glass shower doors. We look forward to another custom mirror this week and closet doors to follow. Thank you Emma for all of your assistance in facilitating our projects! You are efficient, pay attention to details, and are an absolute pleasure to work with …the installers were prompt, efficient, polite, and skilled! Excellent customer service and we could not possibly be happier with the end result!" —Ray Lamb, Google Reviews
Won't leave clients guessing
"Service was excellent!! Jamie and Josh were friendly and knowledgeable. They explained all about the installation and cleaned everything up. Kirk was also helpful in his recommendations. Fast and efficient service." —Meri Lynn Bush, Google Reviews
3. M&T Glass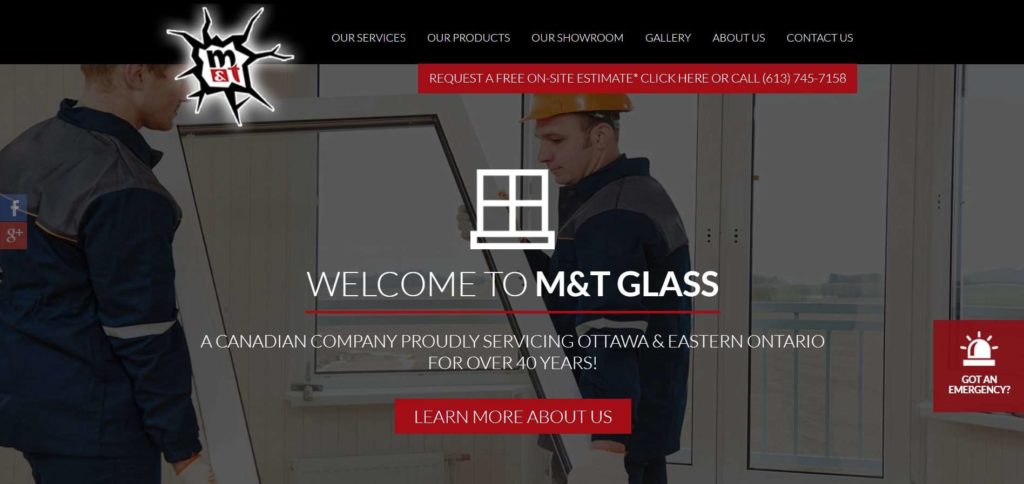 Test
Info
SERVICES
- Closet door repair and replacement

- Window repair and installation

- Entry and patio door installation

WEBSITE
https://www.mtglass.com/
ADDRESS
1551 Michael St., Ottawa, ON K1B 3T4
CONTACT DETAILS
(613) 745-5140
OPERATING HOURS
Monday to Friday: 8:00 AM - 5:00 PM
| | |
| --- | --- |
| Criteria | Rating |
| Range of services | ★★★★☆ (4.5/5) |
| Expertise | ★★★★☆ (4.5/5) |
| Knowledge | ★★★★★ (5/5) |
| Efficiency | ★★★★☆ (4/5) |
| Customer service | ★★★☆☆ (3.75/5) |
| Responsiveness | ★★★☆☆ (3.5/5) |
| Helpfulness and friendliness | ★★★★☆ (4/5) |
Choosing to repair your malfunctioning closet doors is a budget-friendly decision, but you will end up spending more if you're not a DIY veteran. If you need a pro, M&T Glass can help.
The 50-year-old company primarily deals with glass works, but we love that the owners decided to include closet door repair in their arsenal.
Additionally, they can fix various closet doors beyond mirror types, including pivot, bifold, accordion, and French ones.
M&T Glass offers on-site inspections of your closet doors to ensure that the fix is tailored to your needs and expectations. Thankfully, the consultation is free of charge, and the crew will provide an estimate right there and then.
You can also check out their closet door selection online if you feel like replacing yours altogether and want the company to do the job.
However, know that M&T is quite well-known in Ottawa. They also offer a long list of repair and installation services, making them busy and affecting response time.
That said, we hope M&T can improve its customer service to keep up with a growing number of clients, especially since the company also offers emergency glass repairs.
Wide selection of closet doors
Personable crew
Uses high-quality hardware for fixes and installations
Does not charge for inspections and estimates
Possible delay on responses
Emergency repair services only for glass products
Customer Reviews
Politeness wins
"Very happy with our services from the initial quote to our install! The receptionist was very polite and understanding as well whenever we called. Very professional and would definitely recommend to others!" —Kali Anthony, Google Reviews
Results that satisfy
"The hardest part of the whole installation was having to wait a few weeks. I can't tell you how happy I am with the new closet mirrored doors from M&T Glass. My foyer looks incredible now with the addition of these high-quality doors. You really do get what you pay for and then some. The gentleman who came for the free estimate was right on time, fast, and friendly. He gave me great advice and wasn't pushy at all. Installation was just as seamless. They called asap to set up a convenient time for the job, showed up on time, and were fast, clean, and efficient. I have already recommended them to my family & friends. You can waste your time at the big box stores, but you will not get the customi[zed] service or product that you will get from M&T." —Karyn Simpson, Google Reviews
4. Centennial Glass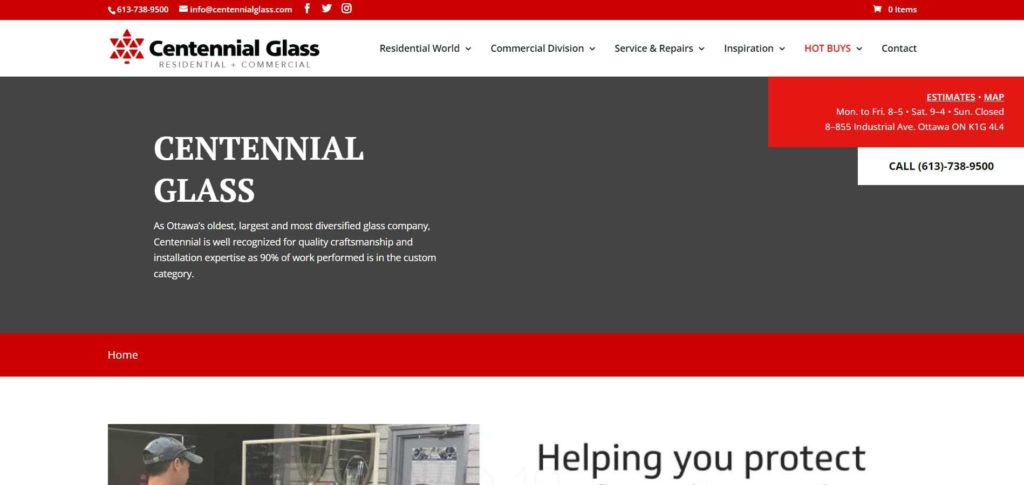 Test
Info
SERVICES
- Custom glass works

- Closet door installation

- Glass shower and bath

- Commercial glass products

WEBSITE
https://centennialglass.com/
ADDRESS
855 Industrial Ave. #8, Ottawa, ON K1G 4L4
CONTACT DETAILS
(613) 738-9500
OPERATING HOURS
Monday to Friday: 8:00 AM - 5:00 PM

Saturday: 9:00 AM - 4:00 PM
| | |
| --- | --- |
| Criteria | Rating |
| Range of services | ★★★★☆ (4/5) |
| Expertise | ★★★★☆ (4.5/5) |
| Knowledge | ★★★★★ (5/5) |
| Efficiency | ★★★★☆ (4/5) |
| Customer service | ★★★☆☆ (3.75/5) |
| Responsiveness | ★★★☆☆ (3.5/5) |
| Helpfulness and friendliness | ★★★★☆ (4/5) |
Many customers prefer companies that use in-house installers for closet door services. If you're one of them, Centennial Glass is a good choice.
The glass company has been serving Ottawa since the 1960s, with a majority of its offerings focused on custom products and installations.
We think Centennial uses in-house installers for this reason—to ensure that quality work is sustained from manufacturing to the finishing touches.
As for its closet door services, Centennial has a selection of sliding, mirror, and barn door types. The company understands that closets vary from homeowner to homeowner, so these products are customizable.
If you choose to install mirror doors, know that you can enjoy a full one-year warranty on materials and labor.
While its installation and product quality are top-notch, we find the Centennial a bit lacking on the customer service side. You might encounter delayed quotes, changes in appointments, and late answers on follow-ups, which we attribute to the company's busy schedule.
Nonetheless, you can take comfort in the fact that the company has efficient and precise installers that will make you realize that waiting is worth it.
Highly skilled installation crew
BBB-accredited
Open on Saturdays
Wide selection of door hardware and parts
Office and showroom tend to be too busy
Custom products can become pricey
Customer Reviews
Quick installation and fixes
"I purchased custom mirror closet doors and they were originally installed on Wednesday. By Saturday, something was wrong. One door was not closing right and it was also not sliding back and forth correctly. I contacted Centennial Glass and spoke to Alex who sent over Davin. Davin was professional and fixed the problem very quickly. He also took the time to explain what was wrong. It is important to note that I ordered custom mirror closet doors for my daughter's room in the summer and Davin was the one who installed them and they have been perfect ever since with no problems. Thanks, Davin!" —Michael Dam, Google Reviews
Smooth operator
"From the first call, the estimate to the installation, my repair was handled professionally and politely. I really appreciated that I got a prompt callback even though the job was small. Everything was handled in a timely fashion and the technicians were very polite and tidy when they were in my home. They cleaned up everything after themselves. Thank you, Scott, Thomas, and Kurt, and the kind lady who took my first call." —Jen Collette, Google Reviews
5. To Do Done: Renovations and Handyman Service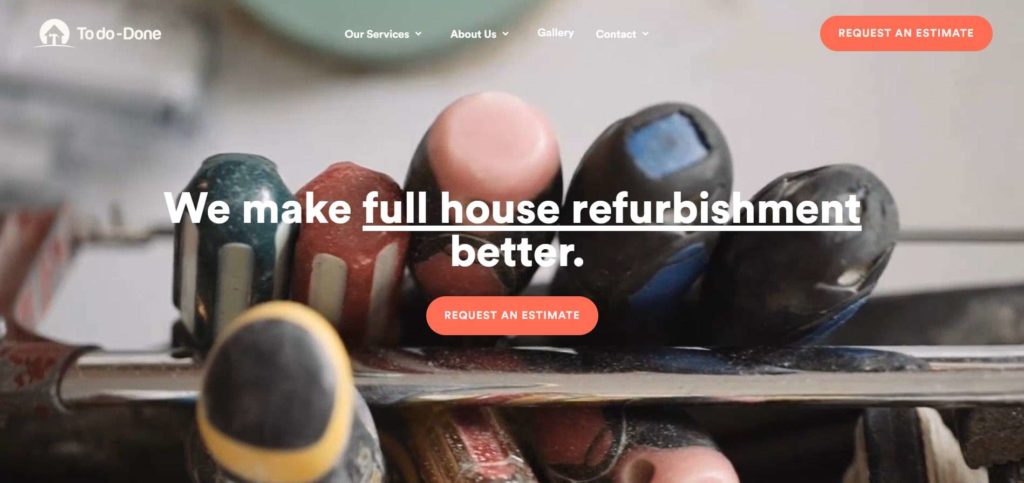 Test
Info
SERVICES
- Home renovations

- Carpentry

- Custom cabinets and closets

- Electrical services

WEBSITE
https://www.2dodone.com/
ADDRESS
373 Bronson Ave., Ottawa, ON K1R 6J4
CONTACT DETAILS
(800) 236-3663
OPERATING HOURS
Monday to Thursday: 7:00 AM - 5:00 PM
| | |
| --- | --- |
| Criteria | Rating |
| Range of services | ★★★★★ (5/5) |
| Expertise | ★★★★★ (5/5) |
| Knowledge | ★★★★★ (5/5) |
| Efficiency | ★★★★★ (5/5) |
| Customer service | ★★★★☆ (4.5/5) |
| Responsiveness | ★★★★☆ (4/5) |
| Helpfulness and friendliness | ★★★★★ (5/5) |
Looking at your closet doors and thinking you should replace them might prompt you to consider renovating other parts of your home. If that's the case, all-around companies like To Do Done can help.
Being in the industry since only 2015, the company is one of the youngest renovation services in Ottawa. Despite that, the business managed to earn rave reviews for its generally prompt communications and efficient crew, regardless of the job's size.
To Do Done can do custom closets, so you not only have the option to transform your closet doors but also your whole storage space. The company can help you design solutions for your wardrobe, too.
We love that the company has a dedicated and specialized carpentry team for closet projects, as we believe such focus yields the highest, artisan-level work quality.
However, custom builds tend to take a while, so you'll have to pack a lot of patience if you choose to redo your whole closet.
While the company is committed to providing top customer service, it's not immune to communication hiccups. Its team tackles multiple projects, making them too busy and hard to reach at times.
But know that once To Do Done begins work, you can expect an efficient project management team to see the job through.
Offers a wide range of renovation services
Transparent professional rates
Takes on both big and small jobs
BBB-accredited
Might be too busy sometimes
Custom projects take longer to finish
Customer Reviews
Understands the client's needs
"It was a first time and very good experience with this firm. From the get-go, they were good listeners and the project to put in new closet doors unfolded in an excellent way. The crew that did the work was attentive to detail and there was really good communication between us and within the team. It was a good quality build at a fair price." —Aldrick Huebener, Google Reviews
Quality results regardless of the job size
"I had worked with Tonya over the last many years for small to medium-sized works and she was always quick and responsive and sent someone good with his/her job. I loved using their services as simply I can do that using my phone at reasonable prices, and they take care of the rest, including taking pictures and sending them back to me after the job is done. I am pretty sure to use their services in future" —Choudhury Al Sayeed, Google Reviews
FAQs about Closet Doors in Ottawa
---
Closet doors bring a neat and regal quality to your private spaces, provided that you hire a competent company to install them. We hope our list of the top closet door installers in Ottawa helped point you in the right direction.
If you're thinking of redoing your kitchen storage, we also have a list that can help you. Check out our selection of the best kitchen cabinet contractors in Ottawa and hire one for your home today.