Best Chimney Sweep Providers in Ottawa
Regular cleanup is a must for anyone with a chimney. Negligence can lead to fires due to creosote* or lethal combustion gasses buildup.
When there are lives at stake, we only want the best of the best. Check out the top services providers for a chimney sweep in Ottawa.
How Much Does a Chimney Sweep Cost in Ottawa
You can always DIY sweeping your chimney, but we highly suggest hiring a professional for your safety and proper cleaning. Chimney sweep services may be expensive for some, but it's definitely worth the peace of mind and safety.
Don't risk your life just to save a few bucks. To give you an idea of how much it typically costs, we included a table below for the average estimated price.
| | Chimney Sweep Cost |
| --- | --- |
| Average range | $100-$500 |
| Low-end | $85 |
| High-end | $5,000 |
Best Chimney Sweep Providers in Ottawa
There are more benefits of regular chimney cleaning like keeping smoke and bad odors from filling your house. In order to bring you the best, we filtered down the chimney sweep providers in Ottawa using the following criteria.
1. Ottawa Chimney Services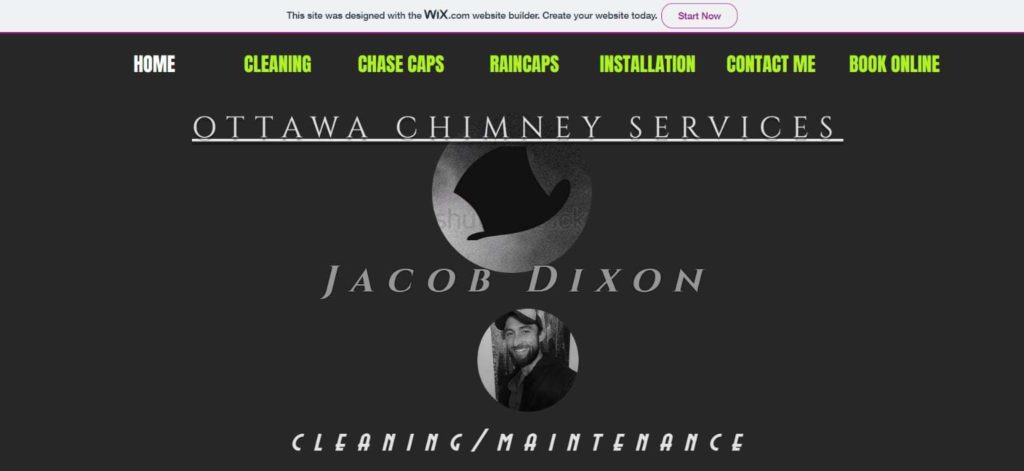 | Test | Info |
| --- | --- |
| PRODUCTS / SERVICE | Chimney Cleaning & Maintenance, Chimney Repair, Chimney Removal, Chimney Inspection |
| WEBSITE | http://www.ottawachimneyservices.com/ |
| ADDRESS | Ottawa, ON K1R 5Z9, Canada |
| CONTACT DETAILS | Phone: (343)262-1410 |
| OPERATING HOURS | Mondays to Sundays: By appointment |
| | |
| --- | --- |
| Criteria | Ratings |
| Customer Service | ★★★★★ (5/5) |
| Range of Services | ★★★★★ (5/5) |
| Availability and Timeliness | ★★★★☆ (4/5) |
In terms of customer satisfaction, Ottawa Chimney Services excels as shown on their 5.0 Google rating as of the time of this writing. We're very impressed as it is only run by one person, its owner and sole operator, Jacob Dixon.
We like how Ottawa Chimney Services actively updates their Google listing for their availability. We also notice that they always input if they're fully booked for the season or month and provide their next available slot.
Unfortunately, Ottawa Chimney Services doesn't provide a specific operating schedule list in their profile or Google listing. They do seem to offer flexible scheduling and agree to any client's preferred time as per their website's booking system.
Despite not having a pricing guide, we appreciate Ottawa Chimney Services for providing a convenient online booking system. They also included an estimated time of completion and a disclaimer that prices will vary depending on the number and state of the chimney.
Ottawa Chimney Services impressed us with their capabilities in handling all types of chimney inspection and repairs too. Even more impressive is being able to do it in a short amount of time as they provide a quick turnaround in most of their services.
One of the best things about Ottawa Chimney Services is their rain and case caps customization services. We like how they fit and tailor it to cover and protect every inch of the chimney.
Flexible scheduling
Expertise in repair
No pricing guide
No specific operating schedule
Customer Reviews
Courteous and professional
"I recently moved to a new home with a wood burning fireplace that had not been used for some time. Jacob came today to clean the fireplace and do a thorough inspection of the chimney and roof. He identified some issues with both the fireplace and heating chimneys which he thoroughly explained (with photos) and an estimate of the work required. He was very pleasant, courteous and professional with excellent communication of everything he was doing. He wore a mask at all times and maintained physical distancing while in my home. I have already booked him for the repair work and highly recommend his services." – Gale Connah
Great service at a great price
"Highly recommended! Jacob cleaned and inspected our chimney and fireplace, and answered all of our questions. He gave some helpful tips on fireplace maintenance, was a pleasure to deal with, and we'll definitely hire him again. A hard working, honest young man, providing great service at a great price!" – Sandra Davis
2. Top Hat Home Comfort Services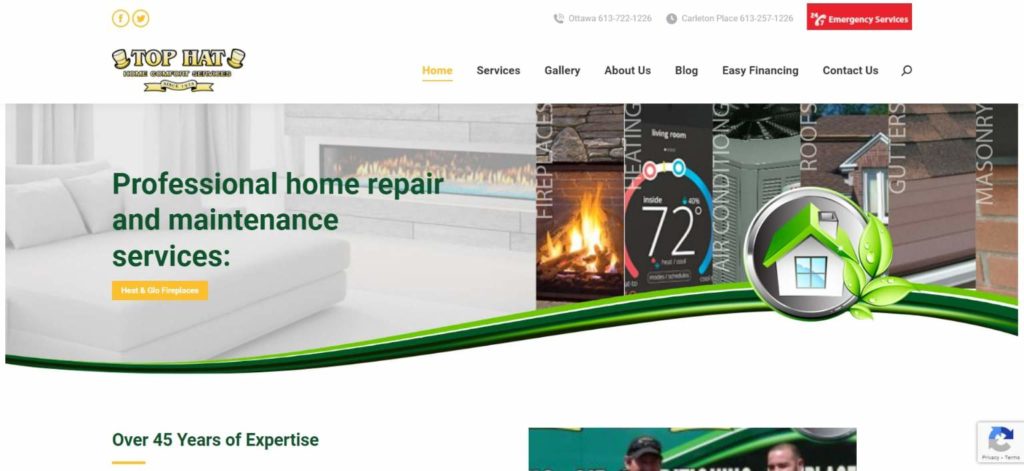 Test
Info
PRODUCTS / SERVICE
Furnace Repair & Maintenance, Air Conditioning Repair & Maintenance, Indoor Air Quality & Duct Cleaning, Chimney CleaningMasonry, Roofing, Eavestrough Installation, Repair & Protection Ottawa, Carpet Cleaning
WEBSITE
https://www.tophathomecomfort.com/
ADDRESS
1072 Merivale Rd, Ottawa, ON K1Z 6A8, Canada
CONTACT DETAILS
Phone: 613-722-1226
OPERATING HOURS
Mondays to Fridays: 9:00 AM – 6:00 PM

Saturdays: 9:00 AM - 4:00 PM

Sundays: CLOSED
| | |
| --- | --- |
| Criteria | Ratings |
| Customer Service | ★★★★★ (5/5) |
| Range of Services | ★★★★★ (5/5) |
| Availability and Timeliness | ★★★★☆ (4/5) |
Cleaning chimneys since 1974, we love Top Hat Home Comfort Services years of expertise in the industry. They have established themselves as one of the top providers in Ottawa for more than 40 years now.
Top Hat Home Comfort Services really impressed us as they originally began as chimney cleaning services. Throughout the years, they expanded and provided more quality residential home services.
This company is now one of the largest and most trusted home comfort maintenance firms in Ottawa. They make a good first impression on how they value family comfort from having a clean home by ensuring quality service.
One of the best things about Top Hat Comfort Services' is their dedication to the chimney sweeping and cleaning that started the whole enterprise. We love how they honor their roots as it makes us only expect perfection and nothing less from the service.
Aside from over decades of experience, the company's chimney cleaning technicians are also one of the reasons for them being included on this list. All of their technicians are certified and Wood Energy Technology Transfer (WETT) trained for cleaning all forms of wood and pellet-burning appliances.
Despite providing no pricing guide, we appreciate how Top Hat Comfort Services provide a free consultation and no-obligation quote. Their services may cost a little more too with their two-person team, but they ensure that all cleaning is done safely and with high-quality standards.
Over 40 years of experience
WETT trained cleaning technicians
No pricing guide
Expensive rates
Customer Reviews:
Friendly Service
"Called on a Tuesday as had the duct cleaning service done Thursday, no hassles and all work and costs explained clearly. Kevin, our technician arrived right on schedule and took the time necessary to get the job done well. In one instance he remarked a flow issued with a duct and addressed a damper problem before continuing, ensuring the line would be properly cleaned. Very professional and friendly service, thanks Kevin & Top Hat!" – C. Patrick Jefferson
Great Service
"Great service from Brian & Pat from Top Hat. Very professional, kept everything clean, despite a ton of soot, and came with some recommendations of stuff that could be done, without making it feel that it had to be done ASAP (will get it done next year during cleaning). Very thorough in inspection, advising about creosote etc (there was none thankfully). Highly recommended and will definitely use Top Hat's services in the future!" – Christian Hansson.
3. Capital Chimney Sweep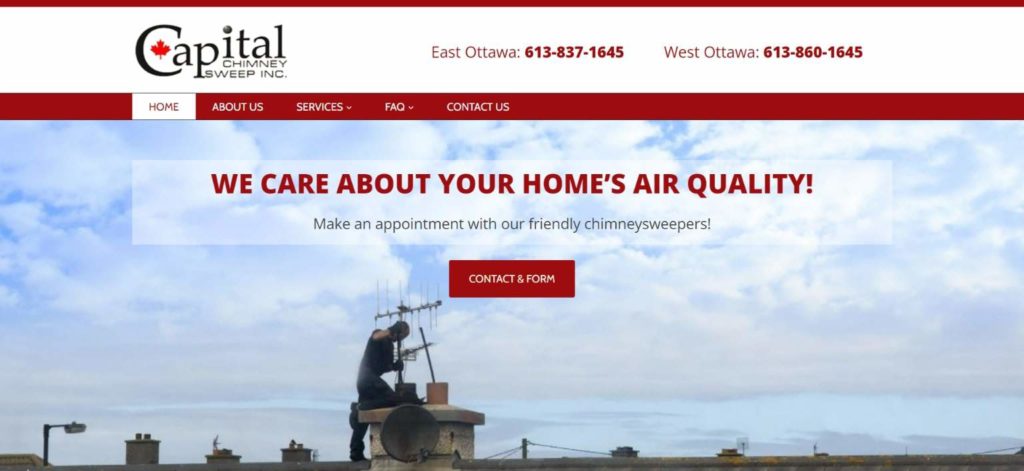 Test
Info
PRODUCTS / SERVICE
Chimney Cleaning, Gutter Repairs, Eavesthroughing, Animal Control, Masonry Repair, Duct Cleaning
WEBSITE
http://capitalchimney.com/
ADDRESS
373 Vantage Dr, Orléans, ON K4A 3W2, Canada
CONTACT DETAILS
Phone: 613-837-1645; 613-860-1645

Email: [email protected]

OPERATING HOURS
Mondays to Fridays: 8:30 AM to 5:00 PM

Saturdays to Sundays: CLOSED
| | |
| --- | --- |
| Criteria | Ratings |
| Customer Service | ★★★★★ (5/5) |
| Range of Services | ★★★★★ (5/5) |
| Availability and Timeliness | ★★★★☆ (4/5) |
With over 35 years of service, we love Capital Chimney Sweep's journey to being one of the largest and most successful chimney cleaning providers in the Ottawa region. They've been so inspiring as they started on the road and expanded to the company it is today.
We personally like how the company is owned and operated by trained and certified WETT chimney cleaner technicians with 21 years of experience in the field. Thus, they are proud to call themselves as one of Ottawa's choice chimney specialists.
Capital Chimney Sweep impresses us with its specialization in every aspect of chimney maintenance and repair. They boast of being able to do any chimney job, whether you need it to be swept, repaired, relined, or rebuilt.
What we love most about Capital Chimney Sweep is their transparency for their service rates on their website. We like how they put an estimated rate to service as much as possible, also offering "no obligation" free estimates and quotations.
One of the things we like about Capital Chimney Sweep is its discounts on its services. We appreciate how they provide a lesser price for combined services, such as chimney cleaning and eavestroughing, among others.
Unfortunately, the service provider is not available on the weekend. They do, however, provide a fast turnaround of their services with ensured quality work at the end.
Combined service discounts
WETT certified and trained
Closed on weekends
Lack of pricing guide
Customer Service
Very polite and friendly
"Very well priced. The two service men were very polite and friendly. Masks were worn! I would definitely recommend this company to friends." – Suzanne and Neil Turner
Always great service
"Have been using Capital Chimney Services for years. Always great service and friendly professionals. If you want no hassle experience, go with them." – C Hayne
4. Chimney Doctor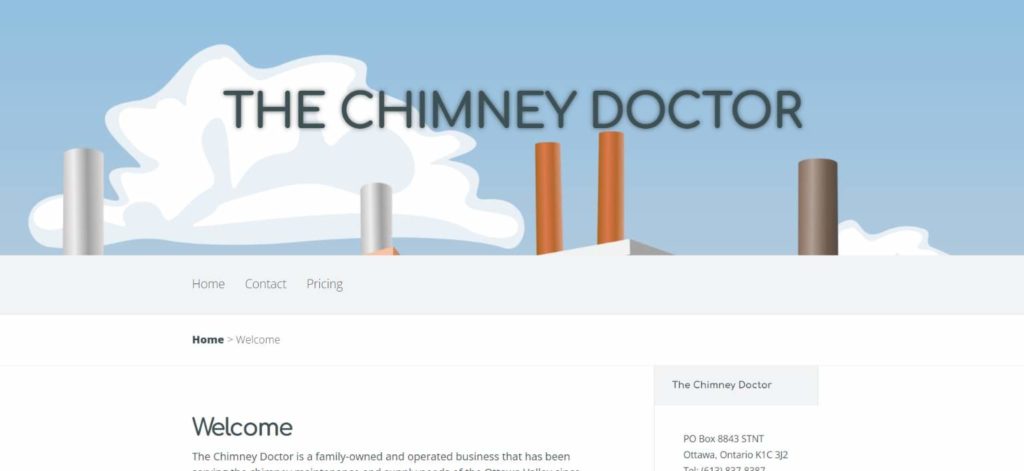 | Test | Info |
| --- | --- |
| PRODUCTS / SERVICE | Chimney Cleaning |
| WEBSITE | https://chimneydoctorottawa.ca/ |
| ADDRESS | PO Box 8843 STNT, Ottawa, Ontario K1C 3J2 |
| CONTACT DETAILS | Phone: 613-837-8387 |
| OPERATING HOURS | Mondays to Sundays: By appointment |
What impressed us the most with The Chimney Doctor is that it's been owned and operated by one man, Mr. Jim Heath, since 1986. The owner proudly calls himself a chimney doctor for being a professionally trained chimney sweeper for 27 years.
The Chimney Doctor boasts of specializing in tidying up any troublesome smokey fireplaces and chimneys. We appreciate how he always offers the highest quality of service while having a competitive rate.
The best thing about The Chimney Doctor is his punctuality. We love how he pledges to arrive and finish on time at his client's place.
We appreciate The Chimney Doctor for posting his pricing guide. It sets the customer's expectations right before they call for a specific estimate.
We're really impressed with The Chimney Doctor for being able to handle cleaning different types of fireplaces and chimneys. The prices for the service are reasonable and affordable, and we love how they included a disclaimer that it might increase if there are any blockages or obstructions.
Despite not having any specified operational hours posted, The Chimney Doctor provides an online appointment booking. Customers also love how professional he is and how he answers all questions.
The Chimney Doctor seems to do a great job in setting expectations further as he promises to discuss any price increase first with the homeowner before work. We adore his professionalism and how he aims to have a great relationship with all of his customers.
27 years of professional chimney cleaning
Affordable rates
No specified operational hours
Limited workforce and services
Customer Reviews
Very professional technician
Very professional technician. He did a thorough job and answered all of my questions. The company did a follow up call the next day regarding the quality of service. Good pricing too! – Bruce Hetherington
Excellent service
Jim responded to my inquiry right away and scheduled me in quickly at a very reasonable price! He did a very thorough job, was careful with COVID protocols and helped point out fireplace maintenance for us to keep on top of. Excellent service and a very pleasant experience. – Kevin Ledlow
5. Clean Sweep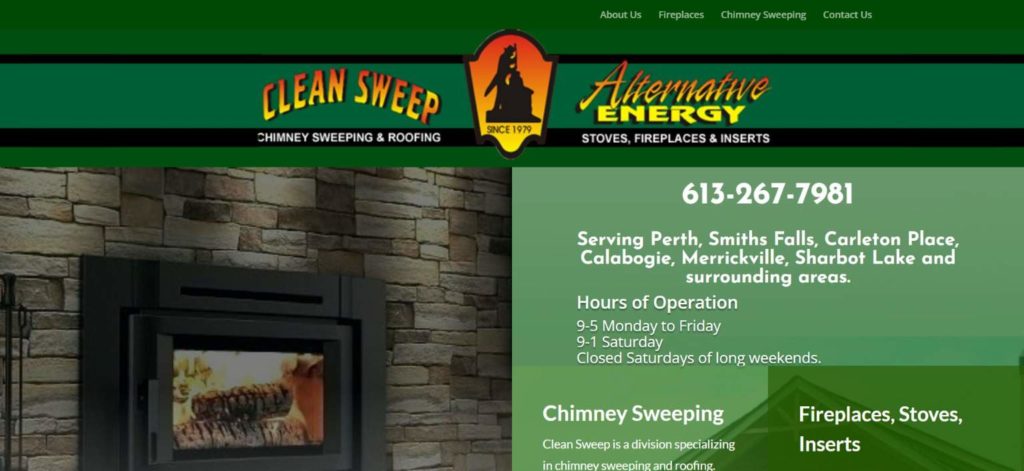 | Test | Info |
| --- | --- |
| PRODUCTS / SERVICE | Chimney Sweeping, Fireplace Installation, Stove Installation, Inserts Installation |
| WEBSITE | https://cleansweep-alternativeenergy.ca/ |
| ADDRESS | 16693 Hwy. 7, Perth, ON, K7H 3C8 |
| CONTACT DETAILS | Phone: 613-267-7981 |
| OPERATING HOURS | Mondays to Sundays: By appointment |
Since 1979, Clean Sweep has been cleaning hundreds of Chimneys annually. We love how they have been WETT certified since 1988 too.
Clean Sweep is fully capable of inspecting and checking our chimneys. They can also help in meeting your building code and house insurance requirements.
Clean Sweep impressed us for being qualified to inspect and sweep, which is one of the requirements by many insurance companies to date. We appreciate how professional they are and their punctuality.
One of the best things about Clean Sweep is its staff. The staff is so knowledgeable, friendly, and polite that they will always take time to talk and answer your questions.
The staff of Clean Sweep is very impressive in educating homeowners on the dos and don'ts of having a chimney too. They will always take their time in sharing some valuable recommendations on what to do about your fireplace and chimney.
Despite not providing a pricing guide and specific operational hours, we appreciate how Clean Sweep included answers to frequently asked questions on their website about chimney sweeping. They also included informational videos about fireplaces, stoves, and inserts
Clean Sweep also grabbed our attention with their expertise in stoves, fireplaces, and wood inserts too. We see it as very impressive when they can handle everything that's above (the chimney) from the cause of the clean-up too (the stoves, wood inserts, and fireplaces).
39 years of experience
Expertise in fireplaces, stoves, and inserts
No pricing guide
No specific operational hours
FAQs about Chimney Sweep in Ottawa
---
We hope you do get that chimney of yours swept soon with our recommended providers in this listing. If you can recommend a team or company that needs to be included here, feel free to comment down below!
There are many great cleaning services providers here in Ottawa. For more sweeping and cleaning purposes of your overheads, you might want to check out the following blogs too: