The 5 Best Cafes in Ottawa
Cafes are a great place to get a break from work, meet new people, and just relax. If you're looking for a caffeine fix and a relaxing environment, you'll want to check out some of the best cafes in Ottawa.
In this article, we will be reviewing these cafes so you can decide which one is best for you.
What are the specialties of each cafe?

Each cafe has its own specialty. Some have amazing coffee, while others are known for their delicious cakes.
The table below summarizes each cafe's specialties to help you choose which one suits your preferences.
Cafe Name
Specialties
Ministry of Coffee

Nutella Latte

Parceiros Do Cafe

Decaf Colombia Palmera

Little Victories

Split Espresso

Perfect Dark

Kenyan Thiriku

Art House

Americano

Flat White

Cortado

Byward Cafe

Herbal Tea

Mochaccino

Latte

Union Street Cafe

Golden Cardamom Latte

Flat White

Macchiato
The Best Cafes in Ottawa
To find the best cafes in Ottawa, we based our list on the following factors:
1. The Ministry of Coffee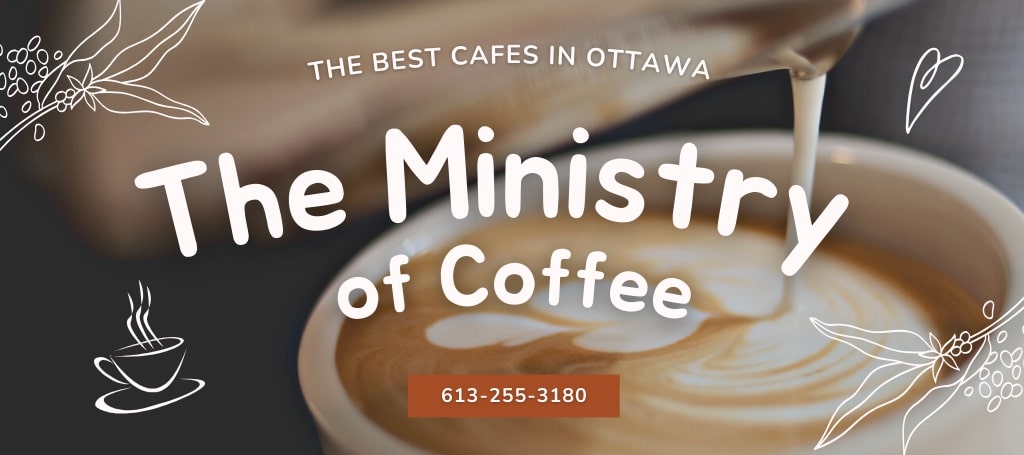 Test
Info
WEBSITE
http://www.theministryofcoffee.com/
ADDRESS
274 Elgin St, Ottawa, ON K2P 1M2, Canada
CONTACT DETAILS
Phone: 613-255-3180
OPERATING HOURS

Monday to Friday : 7AM–5PM

Saturday & Sunday : 8AM–5PM
| | |
| --- | --- |
| Criteria | Ratings |
| Rates | ★★★★★(5/5) |
| Menu | ★★★★(4/5) |
| Location | ★★★★★(5/5) |
| Feedback | ★★★★★(5/5) |
The Ministry of Coffee on Elgin St. has lots to offer when it comes to coffee and snacks. The location itself is very laidback and inviting, with plenty of comfortable seating and windows that allow natural light in.
What makes it unique is its zero-emission omitting roaster. The coffee is made from renewable energy, so getting your caffeine fix here means you're doing something good for the environment as well!
The menu is quite large and has everything from baked goods to paninis to sandwiches and salads.
It even has its own gift shop that sells merch and coffee beans from across the world! This is great for coffee enthusiasts interested in trying out different blends from other countries.
If you're craving authentic and imported coffee beans, the Ministry of Coffee also ships beans throughout Canada. Among its most popular beans are the Parceiros Do Cafe and the Colombian Palmera.
There are also coffee capsules available for customers who prefer to make and drink their coffee at home.
We love that the coffee beans are carefully curated and made using fresh, high-quality ingredients.
Overall, the only drawback is that the food offered here is a bit limited. However, if we're just talking about the coffee, then the Ministry is definitely worth checking out!
Multiple locations
Zero-emission omitting roaster
Great selection
Also sells merch
Ships beans as well
Coffee capsules
Customer Reviews
Delicious
"Delicious!!! We suggest you come here and order a Nutella latte and a croque monsieur!" – Theo Linero
Great atmosphere
"Great atmosphere for working or reading. Back has couch and chairs, front has tables. Loved their cappuccino, the espresso beans are nicely roasted. Not as bitter or dark as typically found in an espresso roast." – Mishelle Menzies
2. Little Victories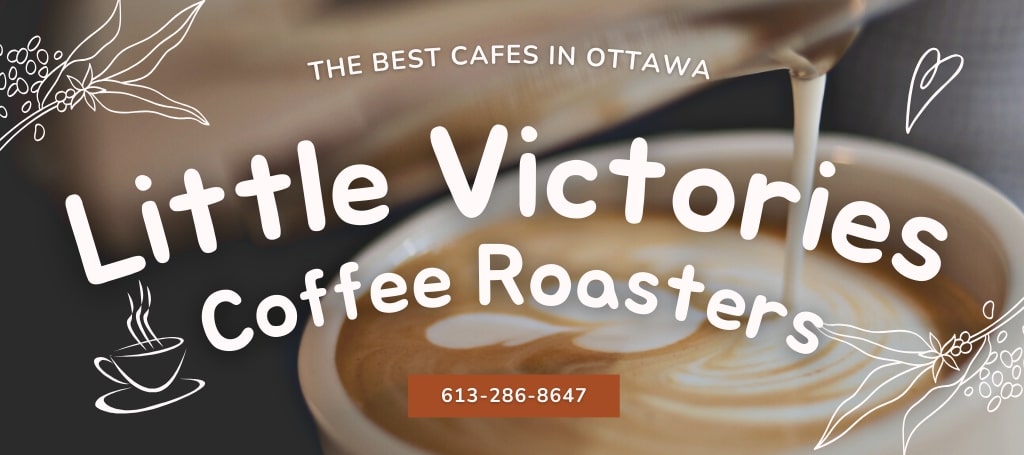 Test
Info
WEBSITE
https://www.lvcoffee.ca/
ADDRESS
801 Bank St, Ottawa, ON K1S 3V7, Canada
CONTACT DETAILS
Phone: 613-286-8647
OPERATING HOURS

Monday to Friday : 7AM–6PM

Saturday & Sunday : 8AM–6PM
| | |
| --- | --- |
| Criteria | Ratings |
| Rates | ★★★★★(5/5) |
| Menu | ★★★★ (4/5) |
| Location | ★★★★(4/5) |
| Feedback | ★★★★(4/5) |
Little Victories is another great cafe worth checking out. This one is located on Bank Street and has a variety of breakfast and lunch options as well as great coffee.
What we love about this place is its cozy atmosphere. It is a great spot to meet up with friends or have a peaceful coffee date on your own.
The aesthetics of the cafe are nice too. It is decorated with rustic wooden furniture and warm yellow lights, and also has lots of beautiful natural light that pours in through the windows.
The coffee options here are customizable, so you can combine different types of beans to make your perfect drink. It also has plenty of pastries and other baked goods if you are looking to grab something to eat.
Another unique thing about Little Victories is its subscription service. If you live or work on Bank Street, this is a great way for you to save money by getting discounted coffee and treats!
The only drawback of this cafe is its parking situation because it's a bit small and can be full during rush hours. However, this is just a small loss compared to the many little victories you get when enjoying a cup of its delicious coffee.
Customizable options
Beautiful interiors
Great take-out options
Subscription service
Multiple locations
Customer Reviews
Light and smooth
"The cafe is aesthetic and calm, it was nice place to chill and enjoy our coffee/tea.
I enjoyed my Imperial Jasmine! It was light and smooth." – Michelle Lee
Hip spot
"Its a very cool, hip spot for coffee drinkers. The place has good lighting, minimalist decor and wide tables where you can do some work/study. Coffee is good, baked goods selection is limited but tasty. – Marzuka Khan
3. Art House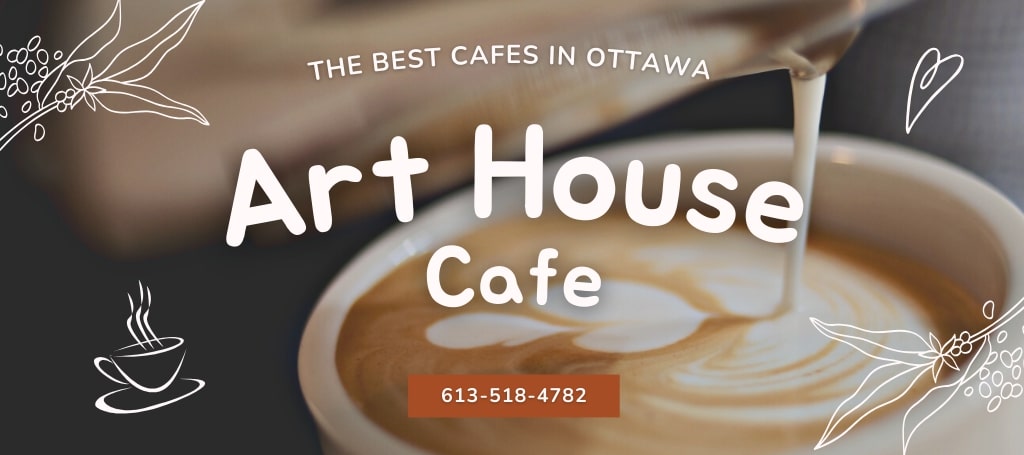 Test
Info
WEBSITE
https://www.thearthousecafe.ca/
ADDRESS
555 Somerset St W, Ottawa, ON K1R 5K1, Canada
CONTACT DETAILS
Phone: 613-518-4782
OPERATING HOURS

Monday to Thursday : 10AM–10PM

Friday & Saturday : 10AM–12AM

Sunday : 10AM–9PM
| | |
| --- | --- |
| Criteria | Ratings |
| Rates | ★★★★★ (5/5) |
| Menu | ★★★★ (4/5) |
| Location | ★★★★(4/5) |
| Feedback | ★★★★(4/5) |
Art House is another unique cafe in Ottawa that has a great atmosphere and delicious food. Decorated with artwork from all over the world, the place is perfect for a cozy afternoon coffee or a glass of wine.
We think this spot is especially great for those looking for a romantic spot hidden in the city. Located on a small side street in Somerset St. West, the cafe is easy to miss if you don't know about it.
The ambiance of the cafe is only elevated by the live music in the evenings! From jazz to classical and everything in between, the music is great and the art on the walls is even better.
It's also a dog-friendly spot, so if you're looking for somewhere to take your furry friend, we recommend this one!
If you love your experience here, you can also take a gander at Art House's gift shop full of memorabilia of the cafe and art pieces made by locals.
The only drawback is that it can be too intimate for some. It's a bit cramped and you might find yourself sitting a bit too close to the people next to you.
Overall, we love Art House for its decor, atmosphere, and most importantly, its coffee.
Has its own art gallery
Great for dates
Live music
Also sells liquor
Open to hosting events
Has its own gift shop
Dog-friendly
Customer Reviews
Fantastic
"Fantastic cafe with an eclectic collection of local art. The staff are very friendly, and dog friendly! They make good coffee and have a selection of very tasty baked goods." – Stuart M.
What a gem
"Back for the first time in over 2 years! Love this gem of a place. New art every 2 months, great artsy atmosphere, comfy sofas, chairs. A small cozy, warm and welcoming vibe. Great menu with a good selection." – Dee Brown
4. Byward Cafe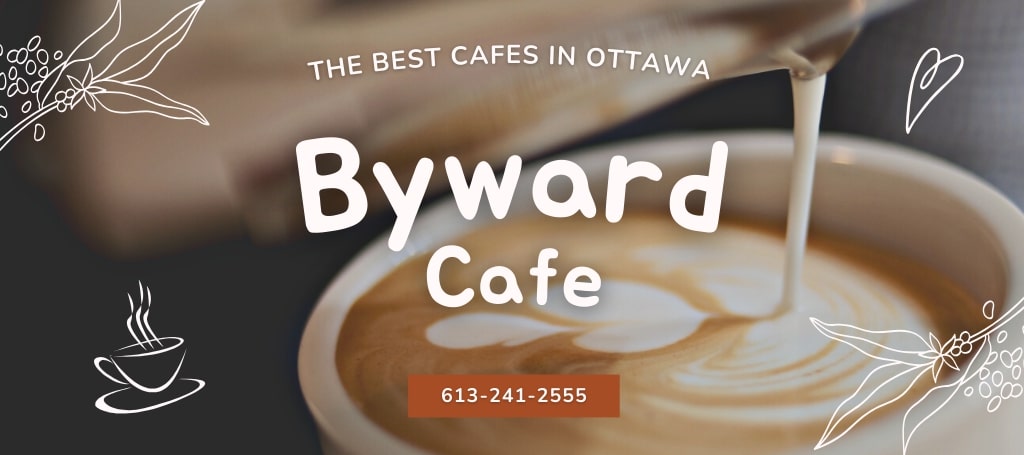 | | |
| --- | --- |
| Criteria | Ratings |
| Rates | ★★★★★ (5/5) |
| Menu | ★★★★★ (5/5) |
| Location | ★★★★(4/5) |
| Feedback | ★★★★(4/5) |
The Byward Cafe is a beautiful and cozy cafe located in the heart of Ottawa's ByWard Market. It has a wide variety of coffees, teas, and pastries to choose from.
Its ambiance is lively and upbeat with the atmosphere being a perfect place to relax with friends or read a book.
Along with coffee and hot beverages, the place also offers a variety of fresh salads and sandwiches as well as brunch menu options on weekends.
It's close to different establishments in the Byward Market and downtown area, which makes it the perfect option if you need coffee to go!
It's also a great place for tourists and newcomers to Ottawa who are looking for something different and away from the usual chain coffee shops and fast food places.
It also hosts events and live music evenings in its cozy outdoor courtyard. It's open every day, so it's very accessible.
Unfortunately, its location can be a drawback because it can get crowded and parking can sometimes be difficult in the area.
Overall, we still highly recommend it for its delicious menu and great atmosphere!
Spacious area
Close to other shops and establishments
Great option for tourists and newcomers
Hosts events
Customer Reviews
Highly recommend
"Excellent food and great coffee! The location is ideal and the place is great to enjoy a nice break in the Byward Market. The staff will make you feel very welcomed, everyone is smiling and in a great mood! Our experience there was simply amazing and we'll definitely stop by the Cafe again next time we're in town!" – A. S.
Amazing
"We stopped by for drinks at Bayward cafe and had Chai late which made fresh and tasted awesome.The good thing about chai was that it wasn't too sweet and sprinkled cinnamon on top enhanced the flavour. We had a great experience at Bayward !!!!!" – Bunny S
5. Union Street Cafe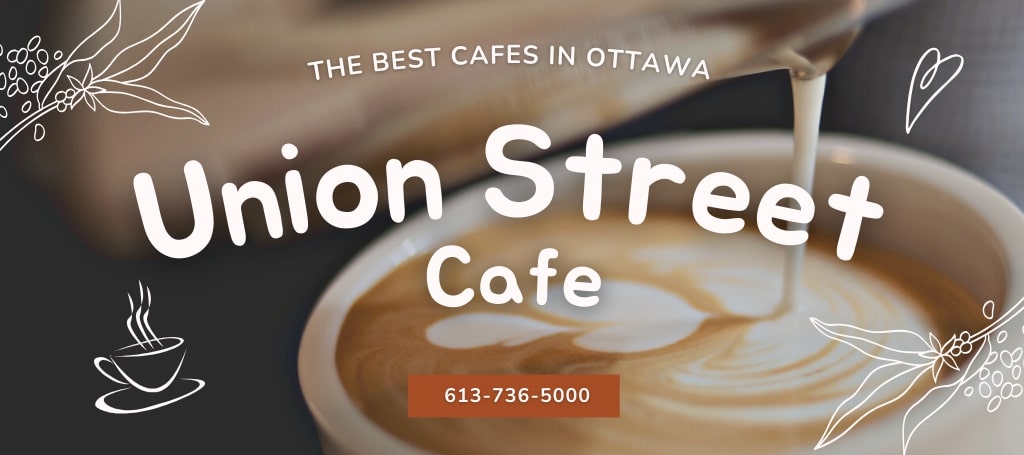 Test
Info
WEBSITE
http://onunionstreet.ca/
ADDRESS
42 Crichton St, Ottawa, ON K1M 1V4, Canada
CONTACT DETAILS
Phone: 613-736-5000
OPERATING HOURS

Monday to Friday : 8:30AM–1PM

Saturday & Sunday : 9AM–3PM
| | |
| --- | --- |
| Criteria | Ratings |
| Rates | ★★★★ (4/5) |
| Menu | ★★★★★(5/5) |
| Location | ★★★★(4/5) |
| Feedback | ★★★★★(5/5) |
The Union Street Cafe offers a cozy aesthetic that is perfect for any coffee lover. The menu has something for everyone, with options like avocado toast and sandwiches.
What makes it great is its green initiative. The cafe supports local farmers and businesses and uses compostable packaging and containers to reduce their environmental impact.
The cafe recommends customers bring their own mug if they plan to purchase take-out coffee to ensure that less waste is generated. It also has a vegan menu that caters to those who follow a plant-based diet.
It is very active in its neighborhood, providing good food for the community and space for events.
It's also a good option for meetings and corporate functions, as long as there aren't too
many employees. The service is excellent, and everyone is always friendly and welcoming.
The only drawback is the indoor area can be cramped and may not fit a lot of people, especially during busy days. But luckily, the cafe has its own outdoor area as well.
Overall, the Union Street Cafe is an excellent place for a coffee break or a business meeting. The food is good and service is prompt.
Green initiative
Vegan options
Cozy aesthetic
Great for intimate meetings
Has an outdoor area
Indoor area can be cramped
Customer Reviews
Great
"Great pastries, coffee, friendly service… a gem in Ottawa. The almond croissant was dense (in a good way) and the caramel chocolate shortcake? Pastry was amazing. A must visit." – Deon Lim
Hidden gem
"Lovely little gem hidden in a quiet neighborhood of New Edinburg, Ottawa. We always make a point to stop, when we are in the area, for some afternoon coffees and delicious homemade sweets. Coffee and treats are always served with a friendly smile." – Marie-Eve Giguere
FAQs about Cafes
---
And that concludes our list of the best cafes in Ottawa. If you're looking for other hangout spots, check out the best music venues in Ottawa!