5 Best Coffee Shops in Ottawa
There are very few pleasures in life that can rival the scent and taste of freshly brewed coffee in the morning. So if you want to capture that feeling, you'll want to know about the best coffee Ottawa has to offer, which we'll review today.
We have other information about what makes a great cup of coffee in our FAQs section, so don't miss them!
How Much Does Coffee Cost in Ottawa?
Coffee in Ottawa can be quite affordable. Yes, this applies to even fair trade-certified, freshly roasted ones.
We're featuring some of the coffees (typically dark roast) being sold by shops we're reviewing today. You can compare their costs in the table below (we think you'll find they are very similar to each other).
| | |
| --- | --- |
| COFFEE SHOP | ESTIMATED COST |
| Bridgehead | Dark roast $15 (340-gram bag) |
| Equator Coffee Roasters | Nth Degree Dark $15 (340-gram bag) |
| Planet Coffee | Fluid Solar Roasted $18.50 (1-lb. bag) |
| Happy Goat Coffee | Brazilian Peaberry Dark $18 (340-gram bag) |
Some limited-edition coffees might fetch higher rates compared to ones that are relatively easier to stock. As well, some shops might offer coffee subscriptions which could result in significant discounts and freebies for customers.
The Best Coffee Shops in Ottawa
We hand-picked the coffee shops and roasteries in today's listicle using the following criteria:
Now that you have some idea of their offerings and prices, let's see what makes them stand out!
1. Bridgehead Roastery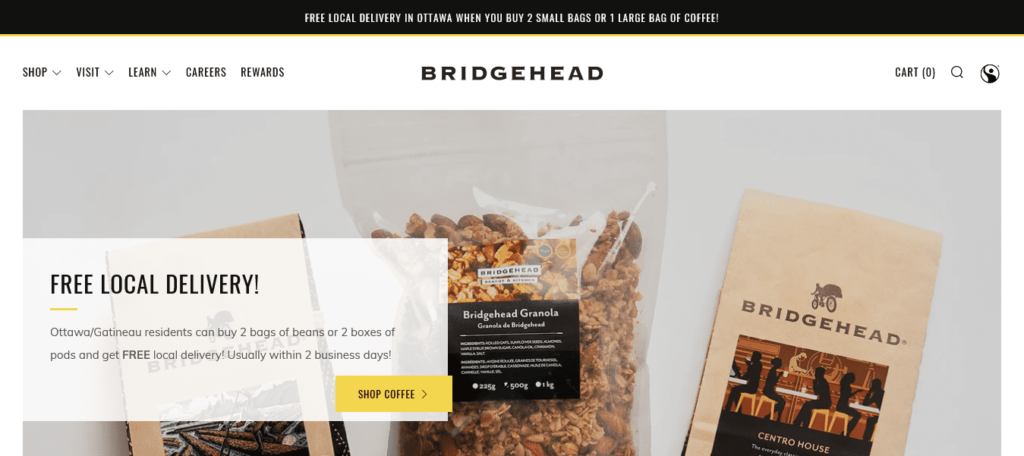 SERVICES
Coffee shop, tea, baked goods, wholesale, gifts, merchandise, gift cards
ADDRESS
750 Bank St. (Second Ave) Ottawa, ON K1S 3V6
CONTACT NUMBER
1.613.236.5445
WEBSITE
https://www.bridgehead.ca/
OPERATING HOURS
Monday to Friday 6.30 AM – 7 PM
Saturdays and Sundays 6.30 AM – 6 PM
Bridgehead Roastery has numerous locations in Ottawa so you won't have to worry about running out of your favourite roast. And since it's open early, you can get a perfectly-brewed cup to begin your day!
In case you need a middle or end-of-the-day perking up, Bridgehead also serves baked goods and sandwiches for lunch and dinner. And if you get two small bags of coffee with any order of signature treats, you can get all of those delivered for free locally, too.
There are vegan and gluten-free options for meals, as well. It's a small but much-appreciated gesture to include all kinds of dietary requirements (although we wish its tea selection would be wider).
All Bridgehead coffees have Fair Trade certification from Fairtrade Canada. There are medium and dark roasts, as well as blends and decaf coffees to choose from, though we can't help but notice the absence of blonde roasts!
Serves baked goods and other food items.
Free local delivery
Several locations in Ottawa
Has vegan and gluten-free options
No blonde roast selection
The tea selection is a bit small
No BBB accreditation
Customer Reviews
A great way to start the day
"The best selection of coffees. Great taste, organic, fair trade. You can never pack enough. A great way to start the day. Overnight trip, pack it. Long trip, pack some lb. Hometown, keep ordering." – Lynn Williams
Best dark roast coffee
"Delicious coffee and the best dark roast coffee (Dark 'N Tasty) I have found. Wonderful selection of salads, soups, sandwiches and baked goods too." – Anne Mokros
2. Equator Coffee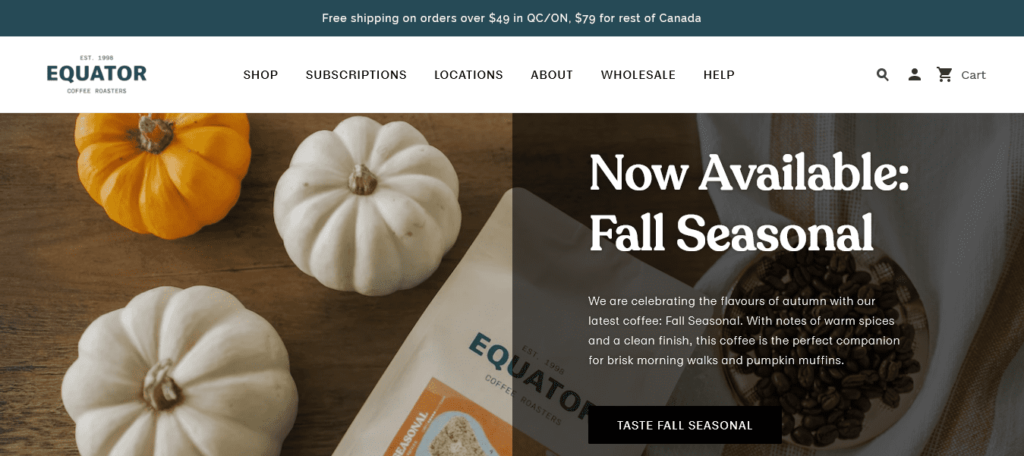 SERVICES
Coffee roasters, brew equipment, teas, chocolate, gift cards, merchandise, coffee shop
ADDRESS
412 Churchill Ave. N. Ottawa, ON K1Z 5C6
CONTACT NUMBER

[email protected]

 
613.722.1919
WEBSITE
https://equator.ca/
OPERATING HOURS
Monday to Saturday 7 AM – 5 PM
Sundays 8 AM – 5 PM
It's the mission of Equator Coffee Roasters to "connect the coffee farmer to the coffee drinker", hence, its fair trade offerings on the menu. It's been doing so since 1998.
The shop has a Certified B Corporation award to show for it. It's a certification for for-profit companies that work toward a sustainable economy.
Equator is a roastery through and through in that it focuses on the quality of its fresh and organic coffee above all else. It's unique from most coffee shops in that way though it also serves meals to go with a cup of brew (but only via its mobile ordering site).
The shop offers a coffee subscription which can be customized and cancelled anytime. There's a good range of blends to choose from with the option to subscribe to the Single Origin of the Month.
The great news is that coffee lovers from Ontario and Quebec can get their freshly roasted beans delivered for free for orders above $49. The rest of Canada, however, has to rack up at least $79 on orders to get a free delivery.
Certified B Corporation recipient
Mobile ordering available
Free shipping on orders over $49 in ON/QC
Coffee subscriptions offered
No clearance items are currently on sale
$79 free delivery minimum order to the rest of Canada
No BBB accreditation
Customer Reviews
A wealth of knowledge when it comes to different types of coffee
"James is a wealth of knowledge when it comes to different types of coffee and is always incredibly helpful when we speak. Most importantly, he sells amazing coffee! If I lived within 100km of him I wouldn't go anywhere else." – Ryan Satnik
The staff are great
"I love this place. The staff are great and I go in so often now that they've got my drink started before I even place my order. You're all wonderful." – Elsie Jahn
3. The Ministry of Coffee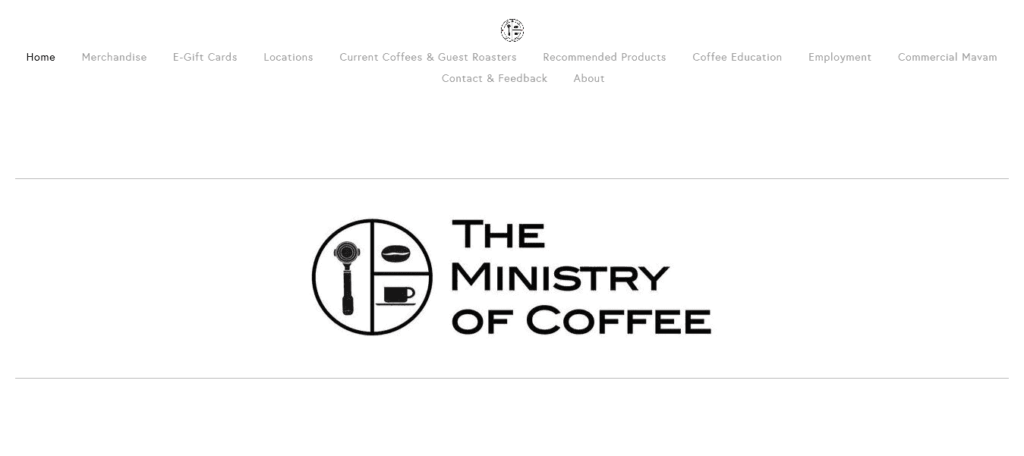 SERVICES
Coffee shop, merchandise, coffee education, freshly roasted coffee, e-gift cards
ADDRESS
279 Elgin St, Ottawa, Ontario K2P 1M1 Canada
CONTACT NUMBER

[email protected]

 
+1 (613) 255 3180
WEBSITE
https://theministryofcoffee.com/
OPERATING HOURS
Monday to Friday 8 AM – 4 PM
Saturdays and Sundays 9 AM – 4 PM
The Ministry of Coffee was only established in 2013 but it has quickly become a fixture in Ottawa's specialty coffee scene. It now has four Ottawa locations and two branches in the Middle East.
It keeps its coffee offerings current so expect a rotating menu of blends from both Canadian and international sources. There are also weekly guest roasters to give customers an even wider selection of offerings, although some pricing information on them would be welcome.
Most of the feedback about the Ministry of Coffee branches mentions their cozy and relaxing atmosphere. Add that to the fair trade-certified coffee menu, and you're bound to stay for more than just one cup at any of its locations!
However, there seems to be no way to order coffee and other menu items online. If any of the branches are full capacity, it would be great to have an alternative way to enjoy The Ministry of Coffee's special roasted offerings at the comfort of your own home.
Four locations in Ottawa
Rotating coffee offerings
Has weekly guest roasters
Sells fair trade-certified coffee
Could have limited seating capacity
No online delivery option
No pricing information on current coffee offerings
No BBB accreditation
Customer Reviews
Friendly and warm
"Wow!! This place is amazing!! The service here is so friendly and warm that you feel like you belong here!! The coffee is the BEST I have ever tasted and I am very picky! They also offer a variety of treats that it should be possible for everyone to find something they like. Fabulous!!" – Kim M.
Servers were lovely
"This coffee is to die for. We even bought a bag of espresso on the way out. Servers were lovely and the atmosphere is friendly and open. So glad we found it!" – Cat M.
4. Planet Coffee Ottawa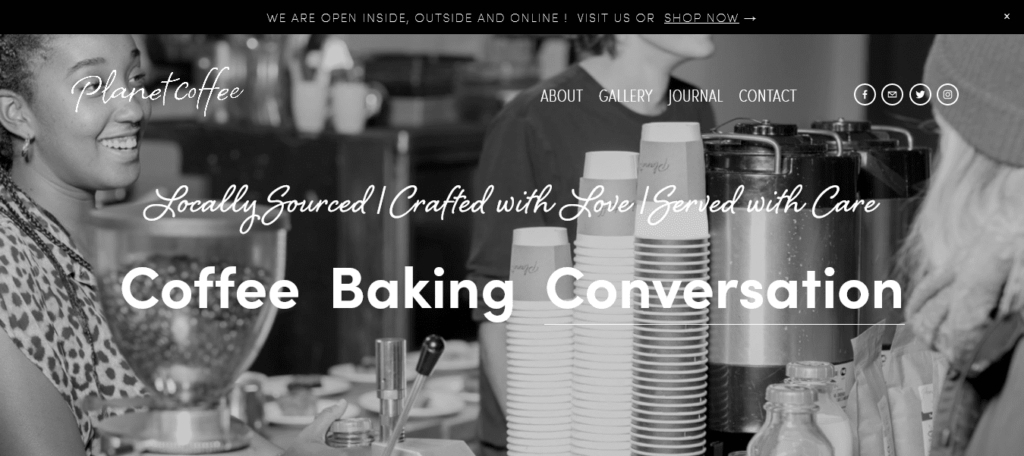 Planet Coffee's owners take pride in directly purchasing their coffee beans from small-lot farmers, with some of the resulting coffee coming from 150-year old shrubs! To further show appreciation, Planet Coffee pays these farmers 60% over fair trade coffee rates.
Its signature coffee, Fluid Coffee Roasters, is roasted off-grid using solar-powered panels. So yes, you can call it artisanal or organic, but a lot of work definitely goes into a single cup of coffee at this place!
This homely, rustic approach to coffee is also evident in the shop's baked goods offerings. Everything is made in-house using simple, locally sourced ingredients and which can be purchased in bulk, too.
Some vegan baked options are available like the vegan espresso brownies. Its online shop also features grocery items like vegetables, meat, seafood, self-care, and baking items.
We just find it a bit strange that only a couple of roasted coffee beans sold by the bag are available at the shop. But the cafe itself does feature freshly brewed coffee which can be enjoyed al fresco, so we'll gladly take it!
Vegan options available
Baked goods can be purchased in bulk
Has outdoor seating
Bread and pastries are made in-house
Limited coffee offerings
No free or discounted deliveries
No BBB accreditation
Customer Reviews
Relaxing, amazing service
"Absolutely best, high quality in Ottawa. Top of my list for all-time coffee places. Very relaxing, amazing service." – Ali Bandali
Fantastic patio in a quiet quaint courtyard
"Great coffee and awesome baked goodies Also a fantastic patio in a quiet quaint courtyard Highly recommend it!" – Patricia McGovern
5. Happy Goat Coffee Company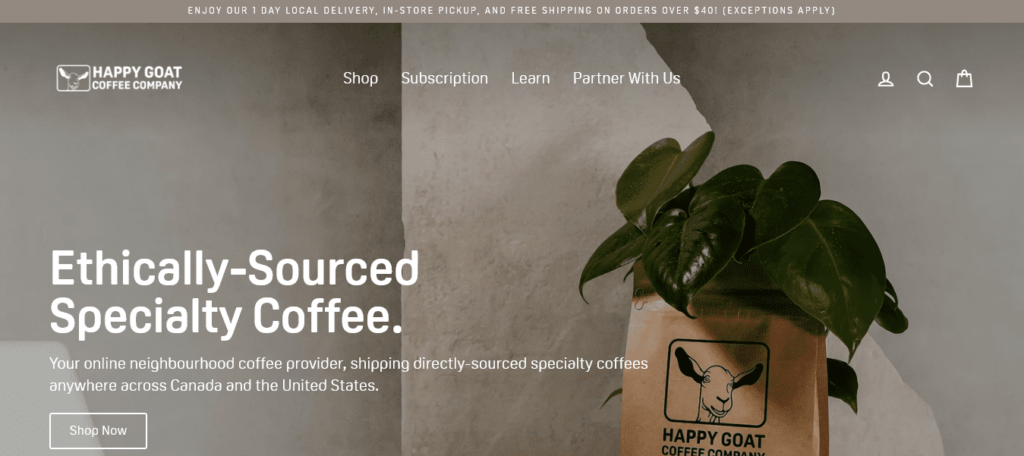 SERVICES
Coffee, specialty products, brewing equipment, gifts and merchandise
ADDRESS
35 Rue Laurel Street Ottawa, ON
CONTACT NUMBER
613-792-1309


[email protected]

WEBSITE
https://www.happygoatcoffee.com/
OPERATING HOURS
Monday to Tuesday 7.30 AM – 8 PM
Wednesday to Friday 7.30 AM – 10 PM
Saturdays 9 AM – 10 PM
Sundays 9 AM – 8 PM
There's a whole lot of quality coffee options at Happy Goat Company, from farmer's blends to cold brews. Hans Langenbahn, the shop's master roaster, takes pride in being able to roast small batches of beans to perfection.
If you want to try specialty coffees that are both refreshing and stimulating, you can try its cold brew offerings. They come in cans and one-litre bottles in concentrate form, so take your pick!
There are brewing equipment and merchandise being sold at the shop, too. Most of the brewing kits are currently sold out most of the time, though, and it might take some time for them to get restocked.
The shop also offers coffee subscriptions for three, six, and twelve-month options. There's free shipping for orders across Ontario and Quebec and an additional 10% savings on subscription orders.
Subscriptions are convenient ways to never run out of coffee no matter what. The downside is that Happy Goat Company puts two bags in every subscription box so the freshness might be compromised somewhat.
Free local shipping on orders over $40
Small-batch roasting
Coffee subscriptions available
10% off on subscription orders
Most brewing kits are sold out
Somewhat confusing operating hours
Some coffee offerings are only available for online ordering
No BBB accreditation
Customer Reviews
Gives a fulfilling pleasure
"The happy goat espresso Forza blend is a very strong coffee. Czeslaw is a cyclist and most cyclists like their coffee strong and tasty especially espresso blends that are of high quality. Both types of Happy Goat Coffee are of high quality and I would recommend anyone to try this product before a training ride on the bike or just before work to give that extra boost of energy. It also gives experienced coffee drinkers a great and fulfilling pleasure once the coffee is consumed." – Lyall Beattie
Great coffee, cozy atmosphere
"Great coffee and food offerings in a cozy atmosphere. Wonderful to see more Happy Goats in Ottawa." – Jill Milks
FAQs About Coffee in Ottawa
---
After reading this listicle, we hope that you get to enjoy the best coffee in Ottawa soon! And if you have other coffee shops or roasteries to recommend, we'd love to hear all about them.
If you're visiting Ottawa for the first time, check out these other palatable offerings which we featured in our published articles: