Best Business Cards Providers in Ottawa
Even in the digital era, business cards are still important. Handing out a piece of paper with your contact details is still a great way to spread around info about your business.
Aside from telling people where to reach you, business cards also provide a brief insight into your branding. That is why designing and printing the right set of cards is crucial.
The road to the perfect business card starts with finding a good printing company. In this list, we have compiled some of the best business cards in Ottawa to help you decide.
How much do business cards cost in Ottawa?
Your preference will be a big factor in the cost of your business card. But the main consideration in terms of the price is the thickness of your card.
Here is the rough estimate of the price range for 100 to 5000 pieces of business cards:
| Thickness | Cost |
| --- | --- |
| 12 PT THICKNESS | $20 to $280 |
| 14 PT THICKNESS | $25 to $480 |
| 16 PT THICKNESS | $42 to $500 |
| 24 PT THICKNESS | $50 to $720 |
| 32 PT SUPER THICK TEXTURED COTTON | $55 to $850 |
Best Business Cards Providers in Ottawa
In order to help you find the best business card provider for you, here are several of our considerations:
1. Ottawa Print Services (OPS)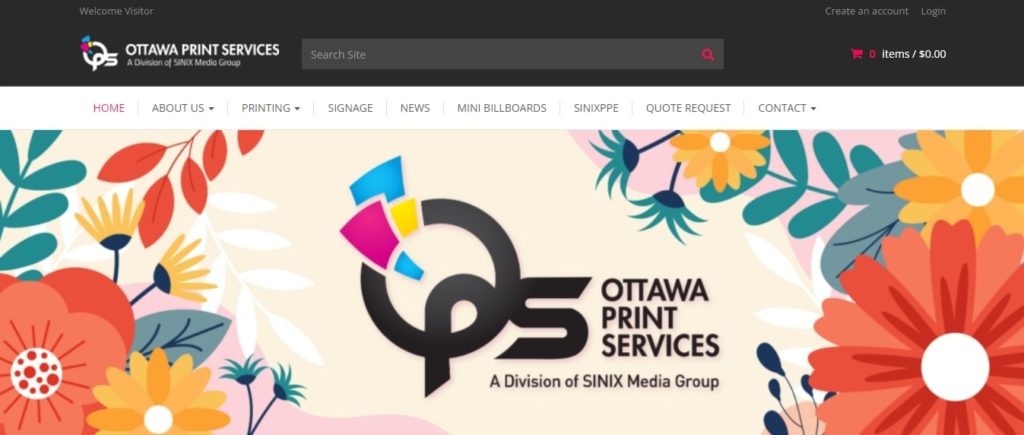 Test
Info
PRODUCTS OR SERVICES
A-Frame Displays

Backdrops

Banners

Business Cards

Calendars

Canvas Prints

Car Magnets

Direct Mailers

Coroplast Signs

Door Hangers

Custom Cheques

Envelopes

Fabric Tube Banners

Flags

Flyers and Brochures

For Sale/Sold Signs

Insert Frames

Kit Folders

Large Print Products

Lawn Signs

Letterheads

Magnets

Mini Billboards

Post Cards

Posters

Roll Stickers

Roll Up Banners

Safety Partitions

Sanitizer Stands

Sneeze and Cough Guards

Small Print Products

Stamps

Stickers

Tent Cards

Stationeries

Throw Pillows

Video Brochures

WEBSITE
https://ottawaprintservices.com/
ADDRESS
2100 Thurston Drive Unit 27, Ottawa, ON, K1G 4K8
CONTACT DETAILS
613-248-9333
OPERATING HOURS
Monday to Friday: 9:00 am to  5:00 pm
| | |
| --- | --- |
| Criteria | Ratings |
| Price | ★★★☆☆ (3/5) |
| Variety | ★★★★★ (5/5) |
| Range of Business Card Customization | ★★★★★ (5/5) |
| Range of Overall Services in the Printing Shop | ★★★★★ (5/5) |
| Accessibility | ★★★★★ (5/5) |
| Turnaround Time | ★★★★★ (5/5) |
Ottawa Print Services (OPS) offers state-of-the-art printing services. If you are looking for a prominent printing house with the latest printers, then this is the one for you.
Although they are widely known for their stunning printed outputs, they also have a design team that can help you layout your card from scratch or improve your current idea. This is great if you want an expertly designed business card.
They offer business cards in 3 categories: regular, painted edge, and luxury. The price starts at $42.50 for 250 pieces and the rates will increase depending on how intricate you want your card to look.
As for those who need their cards right away, you have an option to pay extra for rush service at a turn-around time of one to two business days only. If you have time to spare, the standard processing time is three to four business days.
But what really stands out about this place is its staff. Customers often note their friendliness, patience, and expertise.
However, a great service like this comes at a premium cost. The base price is not so bad, but the rates can stack up, as there are additional payments for every add-on that you request.
This is an amazing shop for those who want to go all out in terms of their business cards.
High-tech printers
Expert design artists
Option for rush printing
Great customer service
Customer Reviews
My Go-to
"This is my go-to print shop – and has been for many years. The staff is friendly and knowledgeable, and they always go the extra mile for their customers. OPS can literally do anything you are looking for – from small projects to billboards to books to signs.. you name it!" – Erin Milling
Best Print Shop in the City
"To start, this is the best print shop in the city! I went here for a print job a couple of weeks ago, the best decision I made. Kerri and Elmon were amazing as they assisted me with all my requests. The result? Absolutely perfect outcome 👌 I highly recommend Ottawa Print Services." – A. A.
2. Printing Shark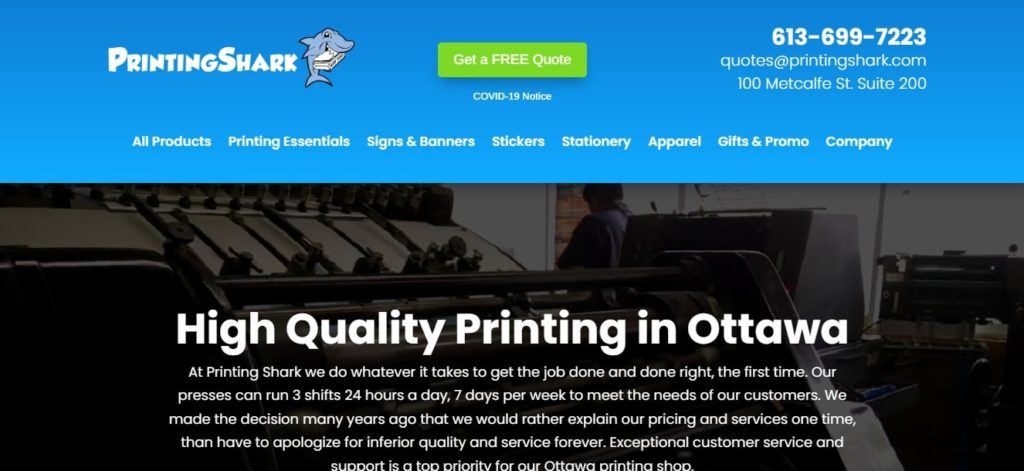 Test
Info
PRODUCTS OR SERVICES
A-Frame Signs

Booklets/Catalogs

Bookmarks

Brochures/Pamphlets

Business Cards

Calendars

Car Magnets

Coffee Mugs

Coroplast Signs

COVID-19 Products

Custom Boxes

Die-Cut Stickers

Door Hangers

Envelopes

Event Tickets

Flyers

Foam Board

Fridge Magnets

Gift Cards

Greeting Cards

Hang Tags

Hats

Hoodies

ID Cards

Invitations

Kit Folders

Lanyards

Letterheads

Magic Mugs

Magnets

Media Walls

Mugs and Cups

Multipart Forms

Notepads

Paper Stickers

Pens

Perforated Vinyl

Pizza Boxes

Placemats

Postcards

Posters

Presentation Folders

Pull-up Banners

Removable Stickers

Roll Labels

Stickers

Sweatshirts

T-Shirts

Table Cloths

Table Tents

Takeout Menus

Travel Mugs

Vinyl Banners

Vinyl Decals

Water Bottles

Window Clings

Window Decals

X-Frame Banners

Yard Signs

WEBSITE
https://printingshark.com/
ADDRESS
100 Metcalfe Street Suite 200, Ottawa, Ontario K1P 5M1
CONTACT DETAILS
613-699-7223
OPERATING HOURS
Monday to Saturday: 9:00 am to 5:00 pm
| | |
| --- | --- |
| Criteria | Ratings |
| Price | ★★★★☆ (4/5) |
| Variety | ★★★★★ (5/5) |
| Range of Business Card Customization | ★★★★★ (5/5) |
| Range of Overall Services in the Printing Shop | ★★★★★ (5/5) |
| Accessibility | ★★★★☆ (4/5) |
| Turnaround Time | ★★★★★ (5/5) |
Printing Shark is known for high-quality printing not only on papers but also on all types of items you want to personalize. This is great if you have other marketing materials that you need aside from business cards.
There are positive reviews in terms of the quality to cost ratio of their business cards, but you can only get a quote once you have contacted them with the complete details of your specifications. In order to do this, you need to fill out a form here.
Although it can be a bit of a hassle to wait for a quote, they are also commended for their quick response time and helpful customer service.
Aside from the common UV-coated cards, they also offer specially shaped business cards that will really make yours stand out. You may choose from shapes such as leaf, rounded, oval, circle, or half circle.
You may send your layout to them, or you may also request their design services. As for the turn-around time, it would only take them a matter of days to finish your request.
Wide range of services
Good quality to cost ratio
Quick and helpful customer service
Customer Reviews
Fantastic
"Everything about working Printing Shark was fantastic. They were quick to reply to my quote request and their prices were the best off all the places that quoted me. Once the file was submitted I received a reply immediately and continued communication. Even when I submitted the file with an error Printing Shark fixed it without an additional charge. The final product was produced within the timeline expected and the printed product is exactly as expected. Will definitely use them again whenever possible." – Barry Caplan
Responsive and Quick
"Shawn was very responsive and quick to my many questions. The process was easy and my prints came out as expected! It came within the week that it was in production queue, so I was pleasantly surprised that it came so soon. If I have any other prints, I will probably come back here. Thank you!" – Julie W
3. Ottawa Print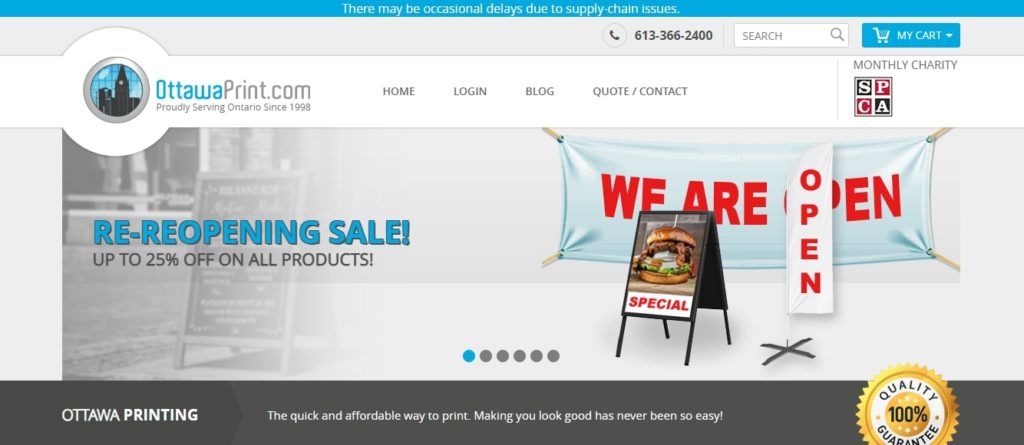 Test
Info
PRODUCTS OR SERVICES
Business Card Printing

Poster Printing

Banner Printing

Banner Displays

Catalogs/Booklets

Postcard Printing

Business Forms NCR

Stickers/Labels

Sign Printing

Plastic Card Printing

Flyer Printing

Brochure Printing

Window Graphics

Envelope Printing

Pocket Folder Printing

Letterhead Printing

Bookmarks

Magnets

Notepads

Printed Bags

Coffee Cups

Greeting Cards

Rush Printing

Door Hangers

Info and Safety Printing

WEBSITE
https://www.ottawaprint.com/
ADDRESS
100 Metcalfe Street, Suite 200, Unit 382, Ottawa, ON
CONTACT DETAILS
613-366-2400
OPERATING HOURS
Tuesday to Friday: 9:00 am to 5:00 pm
| | |
| --- | --- |
| Criteria | Ratings |
| Price | ★★★★☆ (4/5) |
| Variety | ★★★★★ (5/5) |
| Range of Business Card Customization | ★★★★★ (5/5) |
| Range of Overall Services in the Printing Shop | ★★★★★ (5/5) |
| Accessibility | ★★★☆☆ (3/5) |
| Turnaround Time | ★★★★★ (5/5) |
Ottawa Print has been in the business since 1998. With this, they have a lot of loyal customers who have nothing but positive things to say about the shop.
Their business cards range from $49 to $238, which is in the middle in terms of the affordability bracket of this list. As of writing, they have an ongoing 25% off all products until further notice.
When it comes to the layout, you may provide your design, or you may also ask assistance from one of their artists. There is also a feature on the website where you can create your design.
One of the best things about this shop is their free shipping around Canada and US.
When it comes to the turnaround time, it takes about four to eight days for your business cards to be ready. This is a bit longer compared to other shops on this list.
They also cater rush printing for additional costs. You just need to communicate this to their customer service representatives who are also commended for being quick and attentive.
Affordable
Free shipping
"Create your own design" feature on the website
Customer Reviews
Great Design and Effective Communication
"Friendly service and extremely efficient. I had been seeing a lot of their work around town and did not hesitate to contact OttawaPrint regarding my rebranding. Great design work and very effective communication throughout the process. Would highly recommend to anyone." – Penelope Routier
Fantastic Experience
"I had called the number to speak to somebody about getting some cards gone and the gentlemen who answered was very kind, patient and helpful. Not too sure what his name was but he walked me through the process and was very pleasant to speak with. My business cards have arrived and I cannot express in words how pleased I am with them. From online order to my door in a week. Just placed a second order to have my vertical ones done for my Macramé pieces. What a fantastic experience." – Cindy Wheeler
4. Loudmouth Printhouse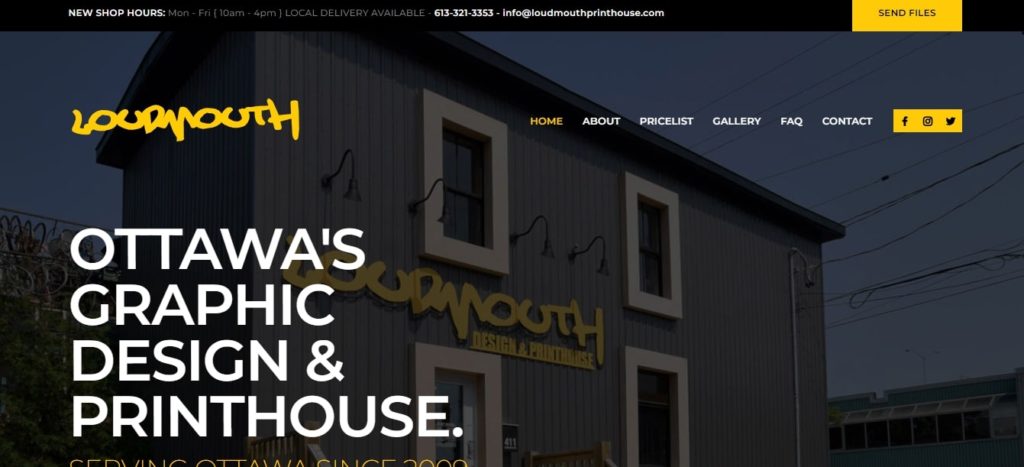 Test
Info
PRODUCTS OR SERVICES
Business Cards

Post Cards

Posters and Flyers

Brochures

Carbonless Forms

Stickers and Decals

Large Posters

Envelopes

Gallery Wraps

Backlit and Custom

Automotive Decals

Banners and Signs

Pin Back Buttons

Heat Pressing

Door Hangers

WEBSITE
https://loudmouthprinthouse.com/
ADDRESS
411 Catherine Street, Ottawa, ON K1R 5T6
CONTACT DETAILS
(613) 321-3353
OPERATING HOURS
Monday to Friday: 10:00 am to 4:00 pm
| | |
| --- | --- |
| Criteria | Ratings |
| Price | ★★★★★ (5/5) |
| Variety | ★★★★★ (5/5) |
| Range of Business Card Customization | ★★★★★ (5/5) |
| Range of Overall Services in the Printing Shop | ★★★★★ (5/5) |
| Accessibility | ★★★★★ (5/5) |
| Turnaround Time | ★★★★☆ (4/5) |
Loudmouth Printhouse is a print shop that is home to competitive graphic artists. If you want your business cards to have pleasing and intricate designs, then this is the shop for you.
They have been in the business for over a decade and are loved for their environment-friendly practices like recycling and sourcing sustainable paper. This is a great option for eco-friendly individuals and businesses.
Their business cards start from $20 to $850 depending on the type of card and quantity that you prefer. This covers almost all budget levels and customization preferences.
Free local delivery and nationwide shipping are available. So, this is great for those who do not want to come to the store to physically place and pick up your order.
As for the turnaround time, there is no estimate available on their site, but customers share that quick and realistic timeframes are given to them.
Competitive graphic artists
Environment-friendly
Flexible price range
Local delivery and nationwide shipping
Customer Reviews
A Jewel in the Creative Community
"Have been using LMPH off and on for a decade for a variety of clients over my years in design and they have never let me down, always made my requested deadline (or told me it can't be done right away if it's completely unreasonable on my part and offered alternatives). The work has always been high quality, good colour, professional and on time. Thank you Loud Mouth you're a jewel in the creative community in this city." – Chris George Zuger
Super Simple and Friendly
"Needed cards in two days, no design, no templet, no direction, no idea what to do. A wonderful card was designed and printed on time for my meeting. Had 100 more cards printed, after they were printed I required them to be resized and they were without an issue. Thank you for making the process super simple and friendly." – P. M.
5. Allegra Marketing Print Mail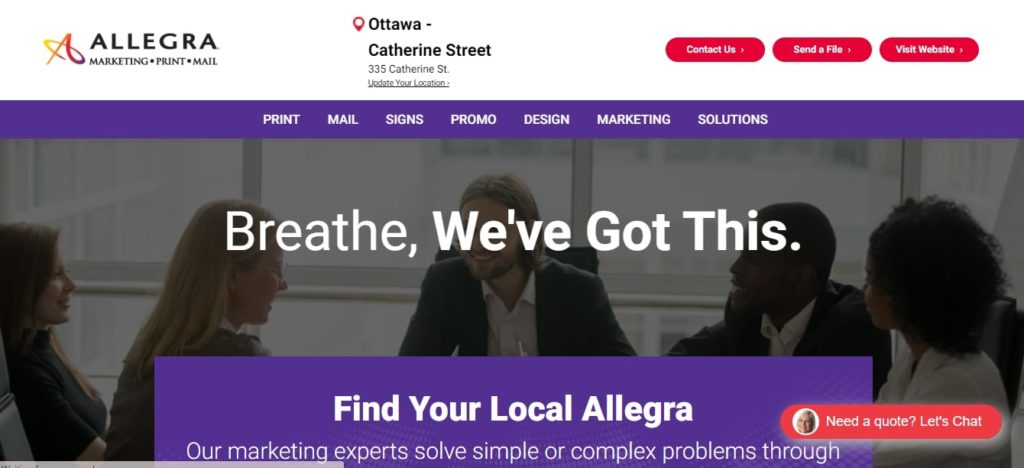 Test
Info
PRODUCTS OR SERVICES
Bindery

Brochures

Business Forms

Door Hangers

Flyers

Newsletters

Personalized Printing

Presentation Folders

Training Manuals

Booklets

Business Cards

Calendars

Envelopes

Labels

Notepads

Postcards

Specialty Printing

Web-to-Print

WEBSITE
https://www.allegramarketingprint.com/locations/ottawa-downtown
ADDRESS
335 Catherine St. Ottawa, ON K1R 5T4
CONTACT DETAILS
613-699-0749
OPERATING HOURS
Monday to Friday: 8:30 am to 5:00 pm
| | |
| --- | --- |
| Criteria | Ratings |
| Price | ★★★★★ (5/5) |
| Variety | ★★★★★ (5/5) |
| Range of Business Card Customization | ★★★★★ (5/5) |
| Range of Overall Services in the Printing Shop | ★★★★★ (5/5) |
| Accessibility | ★★★★★ (5/5) |
| Turnaround Time | ★★★★☆ (4/5) |
Allegra Marketing Print Mail is a one-stop printing shop for all types of marketing and communication needs. That includes business cards, of course.
They provide a wide range of services for business cards including custom coatings, die cuts, foil stamping, QR coding, and more. To place an order, you would need to contact their team, and only then can you get a quote for the services you need.
Their team has always been commended for their swift responses to inquiries, so even if getting the price list requires an extra step, you will not be waiting for long.
There is also no fixed timeframe in terms of the turnaround time, so it would be harder for you to estimate the date of delivery before placing an order. However, they are commended for always meeting their promised date or even delivering earlier.
Wide range of services for marketing and communication
Wide range of customization in business cards
Quick customer service response
No readily available price list
No fixed turnaround time
Customer Reviews
Always Delivering Great Final Product
"Allegra always delivers exactly what we are looking for. Our rep, Jane, is quick to respond to our requests and always provides high-quality customer service. Everything we order is delivered on time and is the best quality. Our company has ordered Christmas cards, digital ads, workplace documents, envelopes & more, and they always deliver a great final product!" – Anna P
Recommended for All Business Needs
"Our office has been doing business with Allegra Printing for many years. They are always very professional and their product of high quality and ready in a timely fashion. We recommend Allegra for all your business needs." – Linda Brownrigg
FAQs about Business Cards in Ottawa
---
Looking for more printing houses in Ottawa? Click this link for more suggestions.
If you know other awesome business cards providers in the area, send us a message!