Top 5 Women's Health Clinics in Ottawa
Women's health goes through many changes, thus, it's crucial to find a clinic or health center that can provide quality and compassionate service.
If you're looking for such a place, fret not! We've searched the city for the best health care providers exclusively for women.

If you're ready, and in no particular order, here are some of the top women's clinics in Ottawa:
How Much Does a Women's Clinic Cost in Ottawa?
The regular spectrum of services in a women's clinic consists of gynecological exam, pelvis and breast exams, PAP smear, and HPV testing, which costs around $90 – $600. Here's a price breakdown of the average cost of the services without insurance.
| Tests and Screenings | Average cost w/o insurance |
| --- | --- |
| Breast Mammogram (one breast) | $140 - $360 |
| Breast Mammogram (both breast) | $170 - $430 |
| HPV Test | $90 |
| PAP smear | $50 - $150 |
| Bone Density Test | $150 - $250 |
Best Women's Health Clinic In Ottawa
These following factors are the things to look out for when either if it's your first time visiting some clinics or just looking for the right clinic that best suits you:
1. Femade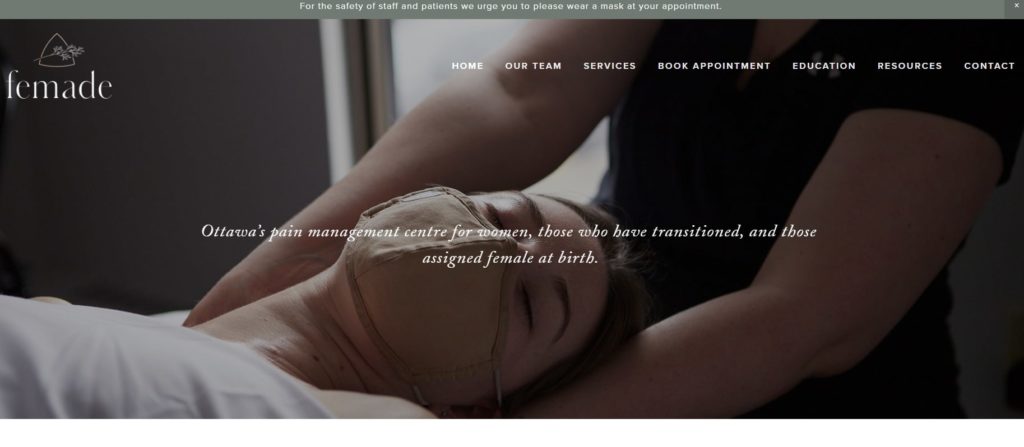 Test
Info
PRODUCTS / SERVICES
Personalized Assessment, Peer Support, Psychotherapy, Massage Therapy, Acupuncture, Physiotherapy, Pelvic Floor Physiotherapy, Naturopathic Medicine.
WEBSITE
https://www.femade.ca
ADDRESS
1335 Carling Ave Suite 212, Ottawa, ON K1Z 8N8, Canada
CONTACT DETAILS
Phone: +16137221674
OPERATING HOURS
Mondays to Fridays: 9:00am - 6:30pm

Saturdays to Sundays: Closed
| | |
| --- | --- |
| Criteria | Ratings |
| Accommodating | ★★★★★ (5/5) |
| Discreet | ★★★★★ (5/5) |
| Women Friendly | ★★★★★ (4/5) |
| Quality | ★★★★★ (5/5) |
Femade stole our attention through their inclusivity. They are a women's clinic that includes females assigned by birth, those who identify as women, and those who have transitioned.
The best thing about Femade is its specialization in pain management and treatments. Aside from physical treatment, we love how they also provide psychological and holistic treatments for chronic pain.
We like that Femade utilizes different approaches for women's care than the conventional medicinal methods. They understand that chronic pain has different effects and that medicine intake is not the only way to treat pain and its effects.
For us, Femade's personalized assessment is what sets them apart from other women's clinics.

Their team of medical practitioners have had personal experiences with chronic pain themselves, thus, making them one of the best people to go to for empathetic and understanding treatment.
Among their different approaches and treatment, we're a huge fan of their holistic therapeutic style in their therapy. Femade's psychotherapists made us feel heard during the sessions since they actively listened as we opened up to them and discussed issues.
Femade may have limited medical services, procedures, and practitioners, but they compensate for this through quality customer service and affordable holistic treatments. We loved how pampered we were as soon as we walked into the clinic by their friendly and approachable staff.
Great customer care and service
5.0 Google Rating
Have limited practitioners
Lacking medical procedures and treatments
Customer Reviews
Widely Beautiful
"I have had such a lovely experience at this clinic. It is not only beautiful, but the services it offers covers a wide range which allows me to address multiple issues in one place! The practitioners I've seen are all amazing. I highly recommend it." – Camile Norton
Compassionate Care for Everyone
"The most knowledgeable and compassionate care around for complex chronic illnesses impacting women living with pain. I have worked with several of their providers – I felt incredibly well-cared for and am always impressed by the degree of knowledge and insight brought by everyone on the team. Great, collaborative approaches to treatment protocols and patient support, all in one place!" – Carissa Howe
2. Liberty Women's Health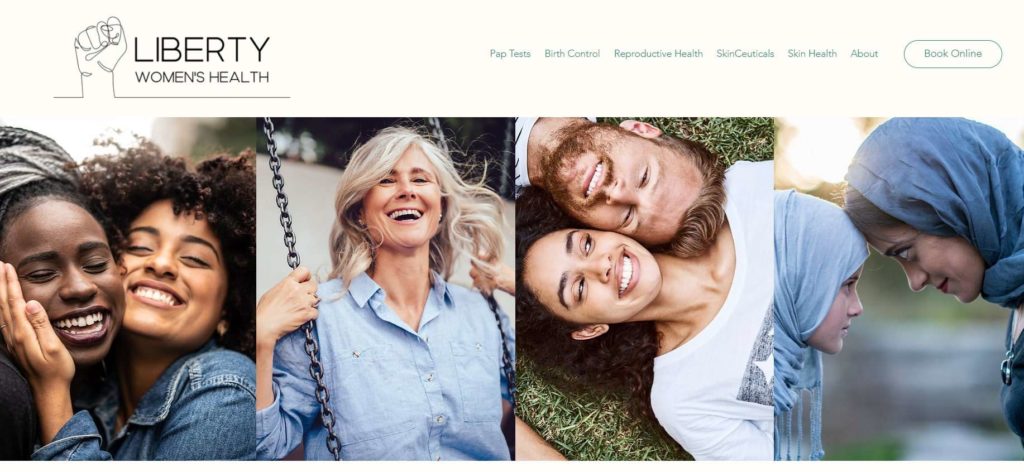 Test
Info
PRODUCTS / SERVICES
PAP tests, Intrauterine Contraception, Birth Control and Contraceptives Counselling, Period Problem, Vaginitis and Vulvar Concerns, Premenopause and Menopause Treatment, Cosmetic Neuromodulators, Acne and Skin Health.
WEBSITE
http://libertywomenshealth.ca/
ADDRESS
381 Kent St Suite 204, Ottawa, ON K2P 2A8, Canada
CONTACT DETAILS
Phone: +13438090912
OPERATING HOURS
Mondays to Fridays: 8:30am - 4:30pm

Saturdays to Sundays: Closed
| | |
| --- | --- |
| Criteria | Ratings |
| Accommodating | ★★★★★ (5/5) |
| Discreet | ★★★★★ (5/5) |
| Women Friendly | ★★★★★ (4/5) |
| Quality | ★★★★★ (5/5) |
Liberty Women's Health clinic cemented their position in this listing through their convenient online booking. They got rid of waiting time for patients, and we can't explain how elated we were in not having to wait in line and queue for an hour like other clinics.
We love Liberty Women's Health clinic's minimalist interior design. It emphasizes the cleanliness of the clinic that we can't help but gush about, and that includes other clients with the clinic's 5.0 Google review rating.
One thing that sets Liberty Women's Health apart from other clinics is their skin healthcare services. We particularly enjoy their medical treatment for hormonal acne and hyperpigmentation, where the staff also takes time to educate us about home pimple care.
Another thing we love about Liberty Women's Health clinic is their pap tests. We appreciate how much they aim to create a comfortable environment for their clients, especially those taking it for the first time.
The clinic of Liberty Women's Health is small and has only one physician, Dr. Manning. This can be a con for some since this means a long waiting list but a huge pro for us since we're able to talk to the doctor for quite a long time to discuss health concerns and treatments.
Clean clinic
Convenient online booking
Only one physician
Limited service time
Customer Reviews
A Friendly Professional
"Dr. Manning was so welcoming and professional. I dread going to any medical appointment, but she put me at ease. Definitely my most comfortable experience with a healthcare professional in a while. SW-friendly too.
The office itself is very clean. In winter (not sure about summer), outdoor shoes are required to be removed at the entrance. Boot covers are provided if you prefer to keep them on." – Jessica L
Warm Appointment
"I had my routine PAP done with Dr. Manning, she is very warm and knowledgeable, and I felt comfortable during the whole appointment. The office was clean and covid protocols were in place. I loved being able to book my appointment online, and all of the paperwork was digital too – easy and convenient! The only downside would be the paid street parking!" – Laura Herchel
3. Women's Ultrasound Clinic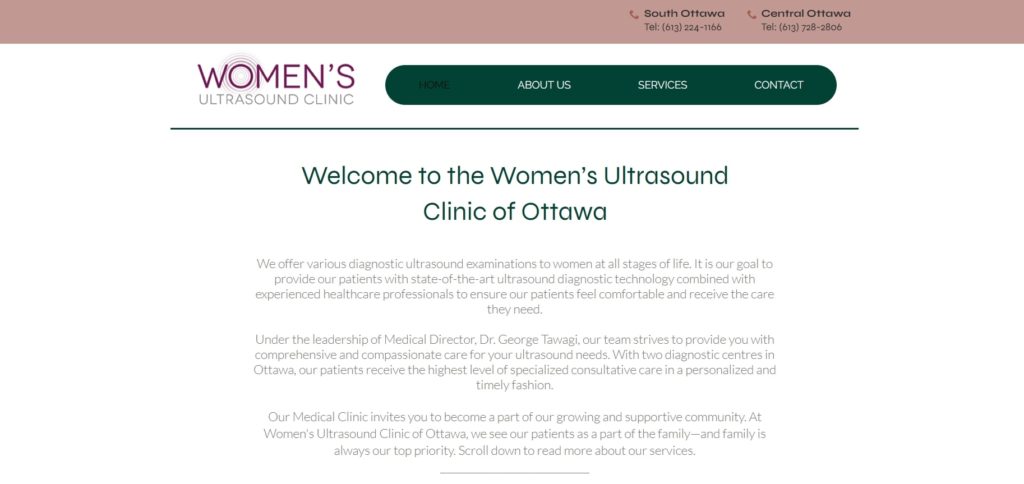 Test
Info
PRODUCTS / SERVICES
Obstetrical Ultrasound, Trans-Vaginal Ultrasound, Gynecological and Pelvic Ultrasound, Specialized Examinations.
WEBSITE
http://www.womensultrasound.ca/
ADDRESS
1355 Bank St #203, Ottawa, ON K1H 8K7, Canada
CONTACT DETAILS
Phone: +16137282806
OPERATING HOURS
Mondays to Fridays: 8:00am - 4:00pm

Saturdays to Sundays: Closed
| | |
| --- | --- |
| Criteria | Ratings |
| Accommodating | ★★★★☆ (4/5) |
| Discreet | ★★★★★ (4/5) |
| Women Friendly | ★★★★☆ (4/5) |
| Quality | ★★★★★ (5/5) |
When choosing for medical imaging services, Women's Ultrasound Clinic joins our list. The quality of work and service they provide is vital in checking and diagnosing different types of diseases, from simple illnesses to cancer.
What caught our eye in Women's Ultrasound Clinic is how they strive to become a clinic where patients can be assured and confident with their services. They do this through full transparency by educating us before and during the procedure, plus it also helps ease anxiety.
The high-quality training and education of their Women's Ultrasound Clinic's medical professionals and head practitioner makes us confident in their service. We are at ease knowing that they have years of specializing in medical imaging for women, especially pregnant ones.
One of the best things that make us confident about the Women's Ultrasound Clinic's standard is having advanced technology in imaging. This means that they always update their tools and software to be able to provide the best and most accurate image results for us patients.
Women's Ultrasound Clinic is limited to ultrasound services mainly. However, they have specialized examinations like saline infusion sonography and tubal patency ultrasound.
Some of the things we didn't like are the Women's Ultrasound Clinic's policy of no personal pictures or videos during your ultrasound session. This case is particularly sensitive to parents, but they do give you a picture sent through your phone for $6.
Another thing is that their phone and front receptionist is a bit rude too. We didn't like how they talked to us in calling for an inquiry and it has garnered quite a number of negative reviews in their Google listing.
Very friendly and reliable staff
High-quality service and facilities
Payment for ultrasound imaging picture
Limited services
Customer Reviews
Perseverance Beyond the Odds
"Amazing experience; the Sonographer I had was exceptional at her job and really made the experience a pleasant one. During the early stage of my pregnancy I wasn't able to have my spouse attend or family member due to the pandemic. Without reason to even complain it was understandable why such a small clinic would request this. Thank you front staff for always making this a pleasant experience as well." – Barb Smith
Natasha an Angel?
"I had an ultrasound appointment and Natasha was so kind, gentle and empathetic. She made a very sad time more bearable and we left encouraged. She made me feel comfortable during the entire appointment and we never felt rushed. Thank you so much Natasha for helping us get through this. You are an angel." – Ruth S.
4. Dr. Sarah Goulding Clinic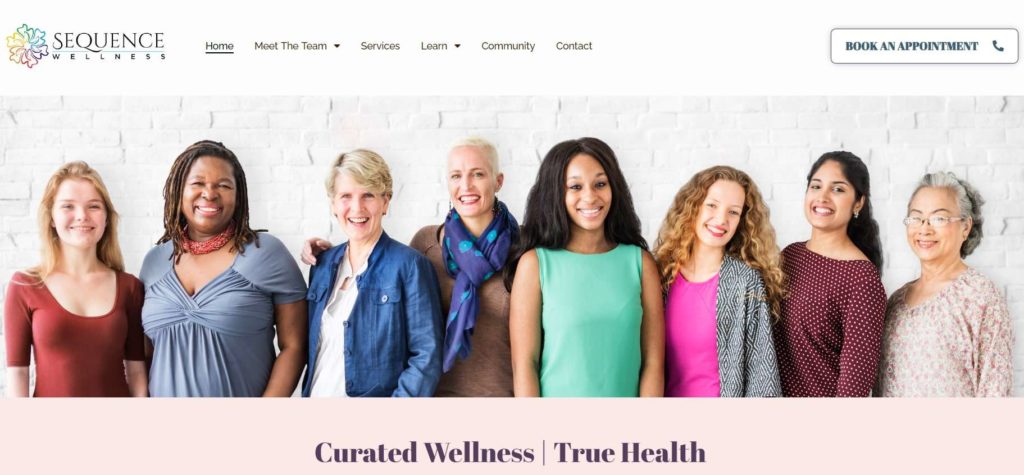 Test
Info
PRODUCTS / SERVICES
Naturopathic Medicine, Counseling, Holistic Nutrition, Personal Training and Health Coaching, Nutrition Re-Fresh Program, Estrogen Reboot Program, Stress Resilience Program, Women's Health Reset.
WEBSITE
https://www.sequencewellness.com
ADDRESS
35 Beechwood Ave. 3rd Floor, Ottawa, ON K1M 1M1, Canada
CONTACT DETAILS
Phone: +16138062068
OPERATING HOURS
Mondays: 10:00am - 5:00pm

Wednesdays: 10am - 6:00pm

Tuesdays & Thursdays: 10:00am - 4:00pm

Saturdays to Sundays: Closed
| | |
| --- | --- |
| Criteria | Ratings |
| Accommodating | ★★★★★ (5/5) |
| Discreet | ★★★★★ (4/5) |
| Women Friendly | ★★★★★ (5/5) |
| Quality | ★★★★★ (5/5) |
Dr. Sarah Goulding's clinic stole our attention with her convenient but personalized telemedicine care. We love how we can get the best care for women in the comfort of our homes.
Being affiliated with Sequence Wellness brought smoother flow in inpatient and telemedicine appointments in Dr. Sarah Goulding's clinic. They have one of the best appointment booking systems in the city that ensures zero waiting time for us patients.
What makes Dr. Sarah Goulding's clinic special is that they specialize in treating digestion and hormonal health for women. Another thing that we appreciate is how they are also inclusive of people identifying as women and those who have transitioned or in the process of transitioning.
We really love our first appointment with Dr. Sarah Goulding as she took the time to fully explain how digestion works and how our old diet affects the body. She turned us into permanent fans when she went into detail in explaining every element of the treatment plan she prescribed.
Dr. Sara Goulding takes time in getting to know you as well and thoroughly review your medical history and background. Her treatment plans do not just affect your physiological health but it improves your mental health too.
Client-centered service
Accessible and private
Limited staff
Limited office space and facilities
Customer Reviews
A Rare Gem indeed
"Dr. Goulding is a rare gem! She has helped restore balance and health back into my life. She is caring, thorough, reassuring, knowledgeable and decisive in providing a followup plan. She takes a whole person approach and a full medical history when recommending diet and lifestyle changes. She has made such a difference in my health and well being. After many months of not feeling well nor myself, under her care I am so much better. I only wish I had found her much sooner. I highly recommend Dr. Sarah Goulding and a Naturopathic approach. Thank you for all that you do!" – Chris Payant
It's a Boy!!
"When my husband and I decided to have a baby we didn't know how difficult it would be. After several months of trying, the doctors couldn't find any reason why we weren't getting pregnant. We didn't want to do artificial insemination or IVF. Then we found Dr. Sarah Goulding. She developed a treatment plan with herbs, vitamins and changes to my diet. She also taught me how to track my temperature and other signs to better understand my cycle. It wasn't quick or easy, but we now have a one-month-old son who was conceived without invasive procedures. We will always be grateful for her part in bringing this healthy, happy boy into the world." – Rebecca Danard
5. OriginElle Fertility Clinic and Women's Health Centre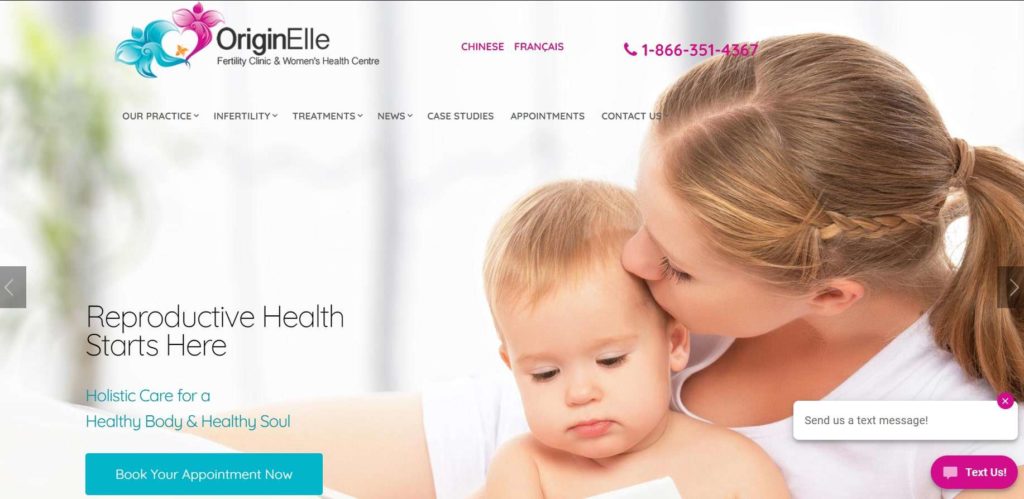 Test
Info
PRODUCTS / SERVICES
In Vitro Fertilization, Non-Invasive Treatments, Complementary Health, Treatment for Men, Fertility Preservation, Donation and Surrogacy,
WEBSITE
http://originelle.com/
ADDRESS
1935 Bank St, Ottawa, ON K1V 8A3, Canada
CONTACT DETAILS
Phone: +16133218022
OPERATING HOURS
Mondays to Fridays: 8:00am - 4:30pm

Saturdays to Sundays: Closed
| | |
| --- | --- |
| Criteria | Ratings |
| Accommodating | ★★★★★ (5/5) |
| Discreet | ★★★★★ (5/5) |
| Women Friendly | ★★★★☆ (4/5) |
| Quality | ★★★★★ (5/5) |
We're impressed with OriginElle Fertility Clinic and Women's Health Centre because of their dedication in giving the best possible care for individuals with fertility problems. Their services offer a solution for problems while promoting a healthy lifestyle for the patients.
OriginElle Clinic also stole our attention for offering a full range of in-vitro fertilization (IVF) treatments. We're even more impressed how they're headed by an internationally renowned IVF specialist and pioneer of IVM and oocyte vitrification.
Just when we thought they couldn't get any better, OriginElle Fertility Clinic and Women's Health Centre will treat patients who qualify for the free publicly funded IVF cycle. They offer this in both their offices in Ottawa and Montreal (Quebec).
What's special about OriginElle Clinic is that their operation and services are multilingual. We're super impressed that they have medical professionals who speak French, Arabic, Mandarin, Spanish, just to name a few.

OriginElle Clinic also caught our eye because of their unique way of having non-invasive procedures. We love their support groups and counseling as it helped us patients be strengthened in the long fertility journey ahead and share ideas on what other options are available.
Overall, we're impressed with how accommodating their staff are and the facilities of OriginElle Fertility Clinic and Women's Health Centre. However, they need to improve in their customer service in answering phone calls and in straightening their booking system.
Accommodating staff and doctors
Proper facilities and equipment
Multilingual
Booking system could use improvement
Customer service could be better
Customer Reviews
100% Wonderful
"After 8 years of trying and being with another clinic, we can to be more satisfied with Originelle Fertility Clinic since we got referred in march. We highly recommend this clinic at 100%. They are kind and make sure you are their priority, even though they have many patients. But this review is not only how amazing in general the staff is but the nurses. Deana is the nurse that was assigned to us and she is wonderful, on queue, sympathetic and patient. She makes sure you understand and okay throughout the whole experience. She checks in regularly. She is 100% in the right field and you can see she does it out of passion. We are so blessed she is part of this journey with us and makes us feel like we are part of her family." – Sophie Belanger
Quick and Friendly
"OriginElle Ottawa has been an amazing fertility clinic. They were able to take us for a consultation within a week of calling. Every other process with them has been quick and easy! The nurses are very friendly and helpful and are always there through email to answer any questions. Dr. Alhajri is very knowledgeable and we have loved being her patients. She was able to give us a diagnosis and start us on treatment quite quickly. Overall we are super happy with them and would recommend them to anyone looking for a friendly and professional clinic." – B C
FAQs about Women's Clinic
---
We hope that we have been of great help in opening your mind with the different top services that Ottawa has to offer in regards to their women's healthcare. The right clinic means the assurance and confidence in their services and a healthy environment for women.
Among the following do you think will suit the city? What are your thoughts and insights on the services for women in Ottawa? Here are some of the blogs that focuses women services in Ottawa