The 5 Best Clinics for Wisdom Tooth Removals in Ottawa
When a wisdom tooth becomes impacted or hasn't fully broken through the surface of the gums, it can cause dental problems. That's why we have to get a problematic wisdom tooth removed to prevent any further issues.
In this article, we'll go through our carefully curated list of the best clinics for wisdom tooth removals located here in Ottawa.
The Cost of Wisdom Tooth Removals in Ottawa
Depending on the severity of your case and how many wisdom teeth you need to be removed, the costs can differ by a small or significant amount. Having a dental insurance plan also helps reduce costs.
You may refer to the table below for an estimate of the prices you can expect:
| Service | Average cost |
| --- | --- |
| Simple extraction (with insurance) per tooth | $100 - $200+ |
| Simple extraction (no insurance) per tooth | $200 - $600+ |
| Simple extraction for the whole set | $2300+ |
| Regular surgical extraction per tooth | $278+ |
| Impacted soft tissue extraction per tooth | $276+ |
| Bone sectioning extraction per tooth | $554+ |
| Surgical extraction per tooth | $597+ |
Top Clinics for Wisdom Tooth Removals in Ottawa
Finding the right place to get your wisdom tooth removed isn't as simple as looking for a shop that sells high-quality hockey sticks. Because it concerns our health, we made sure to use these criteria when making our choice:
1. Argyle Associates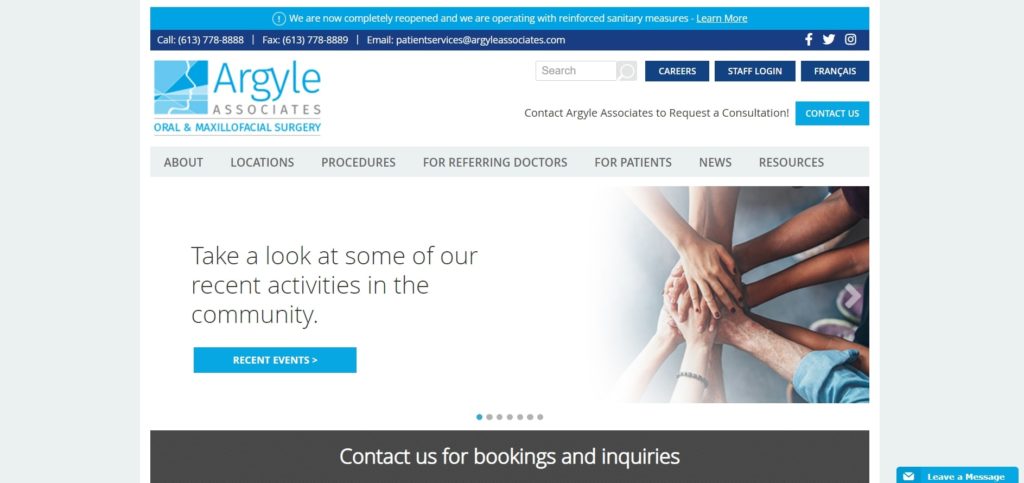 Test
Info
SERVICES
Wisdom tooth removal, dental implants, bone grafting, impacted canine teeth treatment
WEBSITE
https://argyleassociates.com/
ADDRESS
2255 Carling Ave #100, Ottawa, ON K2B 7Z5, Canada
CONTACT DETAILS
613 778 8888
OPERATING HOURS
Monday - Friday: 8:00 AM - 4:00 PM

Saturday - Sunday: CLOSED
| | |
| --- | --- |
| Rates | ★★★★☆ (4/5) |
| Licenses & certifications | ★★★★★ (5/5) |
| Facilities & equipment | ★★★★★ (5/5) |
| Patient feedback | ★★★★☆ (4/5) |
We're starting off our list with Argyle Associates, a clinic that has 4 open locations here in Ontario, including Ottawa. Its other clinics are located in Barrhaven, Orleans, and Kanata, in case you're closer to these places.
What's amazing about Argyle Associates is that its team is made up of Ottawa Oral & Maxillofacial Surgeons (OMFS). These kinds of dental surgeons are the most extensively trained because they're also experienced in face, mouth, and jaw surgery.
That's why, aside from wisdom tooth removals and other dental services listed above, this clinic also offers other kinds of surgeries, such as facial cosmetic surgery.
Argyle Associates' prices are based on the Oral & Maxillofacial Surgeons (Specialists) Fee Guide published by Ontario Dental Association (ODA). Bear in mind that because it employs specialists, the fees come at a higher cost compared to general dentistry.
You'll be provided with a quotation of the costs depending on your case during your first visit. While insurance may not cover all your fees, the clinic still has a dedicated staff that'll help you with coordinating your insurance to prevent any mishaps along the way.
Costly fees aside, our only complaint about Argyle Associates is its customer service practices, and attitudes are questionable at best. A few patients expressed how they felt uncomfortable with how cold or dismissive some of the staff acted toward them.
4 locations across Ontario
Team of dental specialists
Cost quotation presented during the 1st visit
Offers other surgeries & procedures
Quite pricey
Questionable customer service practices
Customer Reviews
Takes great care of you
"Had four wisdom teeth removed. I was very concerned about pain and procedure. the whole process took less than three hours total. (prepare to just wait) all the instructions are concise and clear and easily followed. they take great care of you." – Craig Reddy
Everything went smoothly
"I was very nervous when entering for my wisdom teeth procedure, but the friendly staff kept me calm and distracted. After taking updated x-rays, and doing the thorough blood pressure intake and setting the IV, next thing I know I woke up in the recovery room and the procedure was over. They gave me thorough, yet easy instructions to follow to prevent infection. The lovely nurse also checked in with me the next day to see if I had any questions or concerns. Overall, everything went smooth and they made a very nervous wreck, feel calm." – Maddison Barkley
2. Rockcliffe Dental and Denture Centre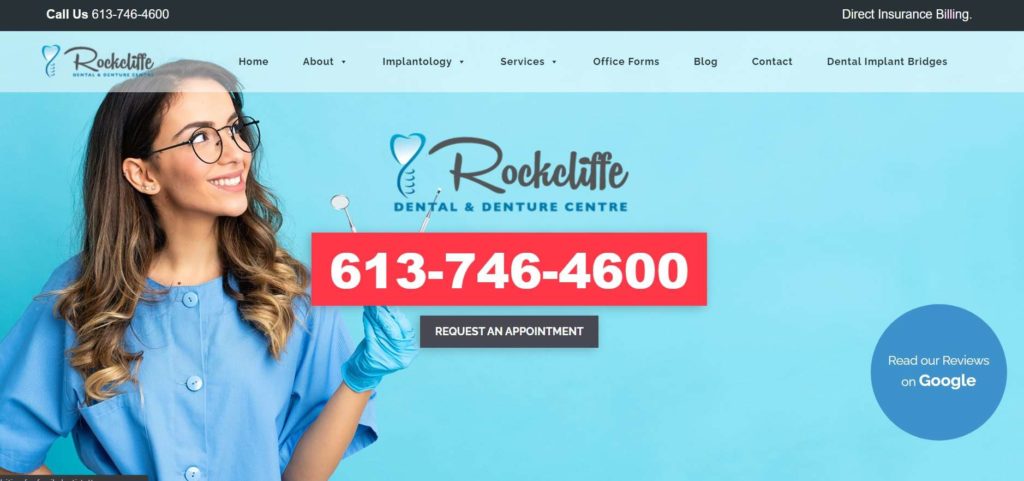 Test
Info
SERVICES
Wisdom tooth removal, tooth implants, dental crown and bridges, teeth whitening, tooth fillings, emergency dentistry, cosmetic dentistry, general dentistry, root canals
WEBSITE
https://familydentistottawa.com/
ADDRESS
681-A Montreal Road, Ottawa, Ontario K1K 0T1
CONTACT DETAILS
613 746 4600
OPERATING HOURS
Monday & Wednesday - Friday: 8:00 AM - 5:00 PM

Tuesday: 8:00 AM - 7:00 PM

Saturday - Sunday: CLOSED
| | |
| --- | --- |
| Rates | ★★★★★ (5/5) |
| Licenses & certifications | ★★★★☆ (4/5) |
| Facilities & equipment | ★★★★★ (5/5) |
| Patient feedback | ★★★★☆ (4/5) |
Getting a wisdom tooth removed at Rockcliffe Dental and Denture Centre is one of the best choices you can make and we'll tell you why. Whether you need a simple extraction or something more complicated, it has your back!
Starting from its affordable pricing, it's a lot cheaper than maxillo-facial surgeons, so if you're on a budget, then it could be your best bet. Though its specialty isn't as wide as the previous entry, that doesn't make it any less an expert in wisdom tooth removals.
We also definitely appreciate how this clinic lists the estimated costs of its services, saving us all a lot of time. Not everyone has a lot of spending money, and it gets tiring needing to visit so many places just to recoil at the absurd prices in the end.
Rockcliffe Dental and Denture Centre's team is also capable of performing wisdom tooth removals without any anesthesia. However, those with dental or surgical anxiety can also opt for IV sedation, which it readily offers.
Even after your wisdom tooth removal procedure, its dentists are equipped to protect patients from any complications. Its team is there for you every step of the way to ensure a quick and healthy recovery.
While it's more affordable than some other clinics, Rockcliffe Dental and Denture Centre is still costly, according to some of the people we interviewed. The attitudes of certain staff members also need improvement.
Slightly more affordable fees
Offers wisdom tooth removals with or without anesthesia
Post-operation care
More limited services & specialties
Unfriendly staff
Customer Reviews
A+ service
"Quick, caring and painless cracked wisdom tooth removal. A+ service on my 1st visit last month." – Ryan B.
Practical, kind, efficient, and trustworthy
"Agree with many reviews that this place is awesome. I went in because my wisdom tooth was causing some pain, and Dr. Anatolij Koniouchine immediately inspired way more trust than any other dentist I have seen in years. Practical, kind, efficient and trustworthy. I was in and out quickly, with a wisdom tooth removed (and am recovering well!). I can't recommend him enough and he most definitely has a new patient in me!" – Laurel de Rangel
3. Kanata Oral Surgery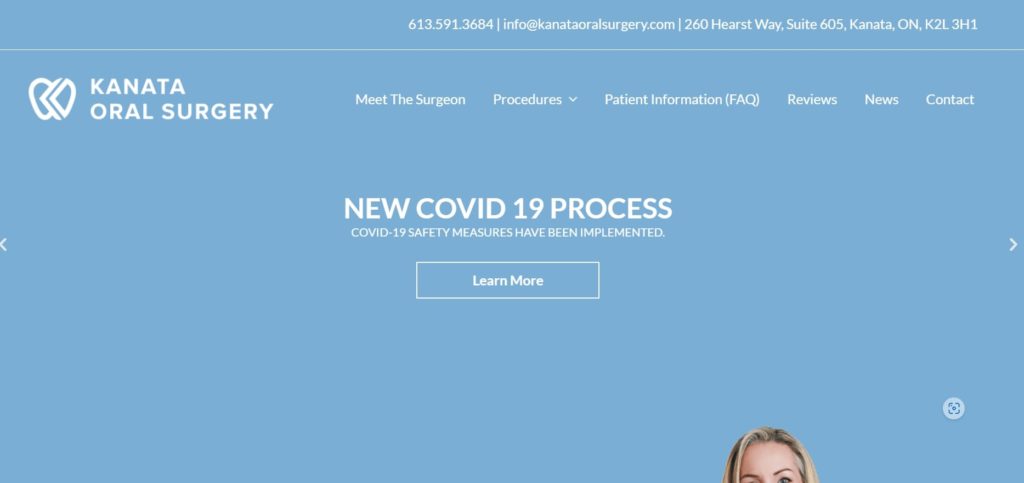 Test
Info
SERVICES
Wisdom tooth & impacted tooth removal, dental implants, bone grafting, orthodontic-related procedures
WEBSITE
https://kanataoralsurgery.com/
ADDRESS
260 Hearst Way Suite 605, Kanata, ON K2L 3H1, Canada
CONTACT DETAILS
613 591 3684
OPERATING HOURS
Monday - Friday: 8:00 AM - 4:30 PM

Saturday - Sunday: CLOSED
| | |
| --- | --- |
| Rates | ★★★★☆ (4/5) |
| Licenses & certifications | ★★★★★ (5/5) |
| Facilities & equipment | ★★★★★ (5/5) |
| Patient feedback | ★★★★☆ (4/5) |
Though smaller than the previously listed clinics, Kanata Oral Surgery deserves to be in this list. Its surgeon, Dr. Tara Valiquette, is a certified maxillofacial surgeon and is an Executive for the Ottawa Women Dentists Study Club.
Dr. Valiquette specializes in wisdom tooth removal surgeries, complicated extractions, and even dental implant placements. So it's safe to say that you can trust her capable hands.
Before any procedure, Kanata Oral Surgery expects every first-time patient to bring in their referrals, x-rays, models, and other documents from their referring doctor. Doing this helps the clinic ensure the most accurate and best care for any patient.
It will then conduct a comprehensive interview and oral examination further to determine the best treatment and alternatives for you. By then, the administrative staff can give an estimate of the costs of your wisdom tooth removal and schedule you.
That's a lot of steps, and you might be a little intimidated by it at first, but it's nothing to worry about when it's all meant to make sure you're getting the right treatment. If anything, we're grateful for the care Kanata Oral Surgery shows to everyone.
With that said, it's shame its team is so small because getting an appointment might be harder when everyone else wants to schedule their wisdom tooth removal. It also doesn't help that it's closed on the weekends too.
Headed by a maxillofacial surgeon
Specializes in wisdom tooth removals
Comprehensive consultations
Long waiting list
Closed on weekends
Customer Reviews
Highly recommend
"Kanata oral surgery was kindly able to fit me into their schedule as my original dentist last minute had to cancel my appointment. I am almost 2 weeks post wisdom teeth removal and have not had any issues with pretty much no swelling or pain. I was very nervous to get my wisdom teeth removal as I have heard some bad stories but I can gladly say that I didn't have to go through any of that. I would highly recommend!!" – Valerie Mulvey
Will definitely return
"Kanata Oral Surgery were the perfect balance of professional and kind. My 15 year old son had his 4 wisdom teeth removed. The doctor, nurse and reception staff explained everything clearly and supported my son every step of the way. He was a little nervous about the process but they anticipated his worries, talked him through everything and made him smile. The office is beautiful and clean. When my younger son needs his wisdom teeth removed, we will definitely return to Kanata Oral Surgery." – Rebecca Reid
4. St. Laurent Dental Centre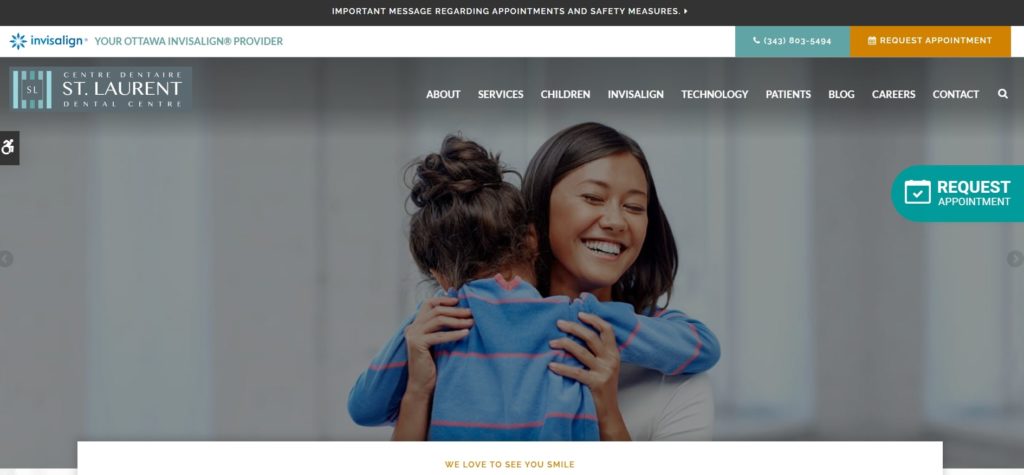 Test
Info
SERVICES
Wisdom tooth removal, oral surgery, dental implants, orthodontics, cosmetic services, restorative services, preventative hygiene
WEBSITE
https://www.stlaurentdental.com/site/home
ADDRESS
1200 St. Laurent Blvd, Ottawa, ON K1K 3B8, Canada
CONTACT DETAILS
613 744 6611
OPERATING HOURS
Monday: 8:00 AM - 5:00 PM

Tuesday - Thursday: 8:00 AM - 8:00 PM

Friday: 8:00 AM - 4:00 PM

Saturday - Sunday: CLOSED
| | |
| --- | --- |
| Rates | ★★★★☆ (4/5) |
| Licenses & certifications | ★★★★★ (5/5) |
| Facilities & equipment | ★★★★★ (5/5) |
| Patient feedback | ★★★★☆ (4/5) |
One of the main reasons we included St. Laurent Dental Centre in this list is because of its 25 years of experience in serving the Ottawan community. For the most part, many of its patients have been satisfied with the service they've been receiving for years.
Thanks to its long years in the industry, you can expect a certified and experienced team of professionals who are more than happy to help you with your dental needs. Even your kids' dental needs can be taken care of right here too!
St. Laurent Dental Centre can specially tailor treatments suited to your child's needs. Whether they need preventative or restorative dental care, you can expect this clinic to make your child's early dental experiences positive.
It's not a surprise for any child to feel scared about going to a dentist because it's just like going to a medical doctor's office, which even adults find scary at times. That's why it's a relief that this dentist can adjust accordingly to your child to help them relax.
As you'd expect, it's on the pricier end of the spectrum, which some patients don't appreciate. Additionally, since it accommodates same-day appointments and emergency services, there are occasional booking issues.
25+ years of experience
Tailored treatments for kids
Variety of services
Customer Reviews
Wonderful and always professional
"I have been coming to this dentistry since my late 20's. The customer service has changed. It continues to always be amazing. Staff always friendly right off the bat…from beginning to end. Dr. Campbell and his staff are wonderful and always professional and very welcoming too. Front desk are delightful and easy to help with any problem and chat with too." – Amalia Molina
Just perfect
"I've been going to Dr Hudson (and Denise!) for years and adore them. Dr Hudson erased all of the unfortunate negative feelings that lingered from unpleasant childhood dental experiences and I actually really look forward to going to the dentist. Denise is so thorough but also kind and gentle. Just perfect." – Kate Westbury
5. Dentistry On Catherine Street (DOCS)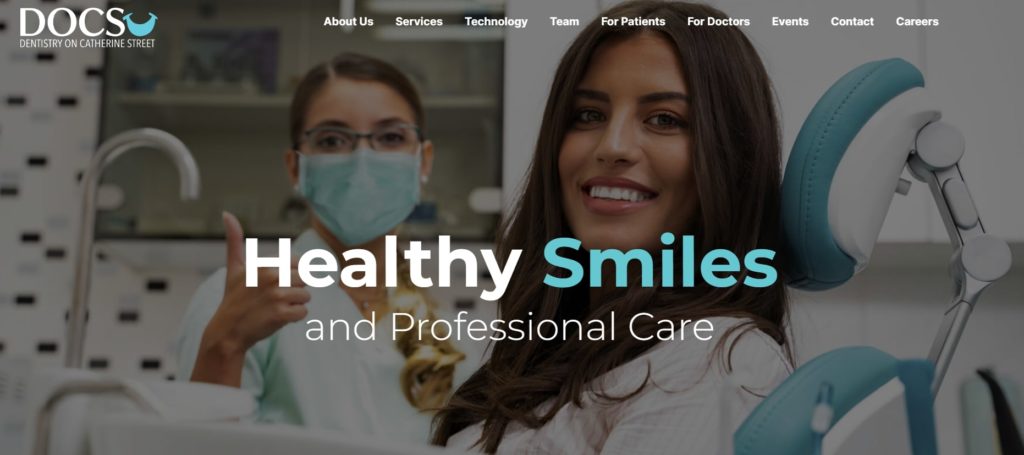 Test
Info
SERVICES
Wisdom tooth removal, periodontics, maxillofacial surgery, endodontics
WEBSITE
https://docsottawa.com/
ADDRESS
240 Catherine St 4th Floor, Ottawa, ON K2P 2G8, Canada
CONTACT DETAILS
613 234 1211
OPERATING HOURS
Monday & Friday: 7:00 AM - 4:00 PM

Tuesday - Thursday: 7:00 AM - 5:00 PM

Saturday - Sunday: CLOSED
| | |
| --- | --- |
| Rates | ★★★★☆ (4/5) |
| Licenses & certifications | ★★★★★ (5/5) |
| Facilities & equipment | ★★★★★ (5/5) |
| Patient feedback | ★★★★☆ (4/5) |
The last entry on our list is Dentistry On Catherine Street (DOCS). Its team is made up of specialists that offer innovative treatments for maximum comfort and convenience.
The equipment it uses is guaranteed state-of-the-art to diagnose all kinds of issues.
Since wisdom tooth removals are delicate procedures that differ from person to person, DOCS can more accurately diagnose the best treatments thanks to its technology. It offers Cone Beam CT Scans, digital x-rays, intraoral cameras, and trios intraoral scans.
We understand that dental anxiety is a real thing, and when you're preparing to undergo a major dental procedure, getting sedated can help calm us down. Luckily, you can schedule a visit to its sedation dentistry to find out the sedation methods it offers.
Another reason to include DOCS in this list is that it's the proud sponsor of many different charity organizations. There's the Ottawa Regional Cancer Foundation, Ride for Dad, and Harmony House, to name a few.
If you're still worried about your safety when going out, you won't have anything to worry about when visiting this clinic because it employs its own sterilization department. This guarantees the safety of not just the staff but every single patient.
What we're not so keen on are the few complaints DOCS has received from some patients that were unsatisfied with their experience.
Large team of professionals
Advanced equipment
Sponsors charity organizations
Strict safety protocols
Customer Reviews
10/10 would recommend
"Got 4 wisdom teeth extracted today by Dr. B. Johnson. Him and his staff (I wish I could remember their names but I was too hazy) were very accommodating, kind, and informative. I was extremely nervous beforehand but they told me about everything I needed to know and they were very friendly. They explained everything very simply and it made me feel much better about the surgery. After the surgery, the nurse (I think it was), kindly helped me into the recovery room. Another staff member explained to my dad the steps to take from here. I really wish I wasn't so sleepy because I would love to include the names of all the helpful staff. 10/10 would recommend. Thank you so much Dr. Johnson and his amazing team for your help!" – Rachel P
Amazing and welcoming
"The staff (nurse, the admin and greeters) were amazing and welcoming. The surgeon Dr. Brent Johnson, did an amazing work removing all four of my wisdom teeths. The dentist space was clean and my stay was comfortable. I will highly recommend this place." – Mwika Lubangi
FAQs about Wisdom Tooth Removals
---
Our teeth are just like any other body part that needs to be kept clean constantly to prevent infection.
For advice on how to better take care of your teeth, check out our article on tips for cleaner and whiter teeth!