The 5 Best Urology Clinics in Ottawa
Urology is a specialized medical field that deals with problems in the urinary tract. This includes problems in the kidney, the bladder, and other significant parts of a person's body.
Because a person's urinary tract is sensitive, it's important to find a good urology clinic that you can trust. In this article, we will be reviewing the best urology clinics in Ottawa.
How much do urology clinics charge?
These clinics will charge depending on the services you avail of. On average, a consultation costs $100, while procedures can run from $300 to $12,000.
The table below should give you more information regarding their most common services and their usual cost.
| Service | Average cost |
| --- | --- |
| Consultation | $100 |
| Urodynamic Test | $10,000 - $12,000 |
| Baby Circumcision | $300 |
| Vasectomy | $5000 |
| Vasectomy Reversal | $6000 |
| Testicular Sperm Extraction | $3000 |
| Urologic Surgery | Starts at $9000 |
The Best Urology Clinics in Ottawa
In looking for the best urology clinics in Ottawa, we based our list on the following criteria:
1. Dr. Pierre Urology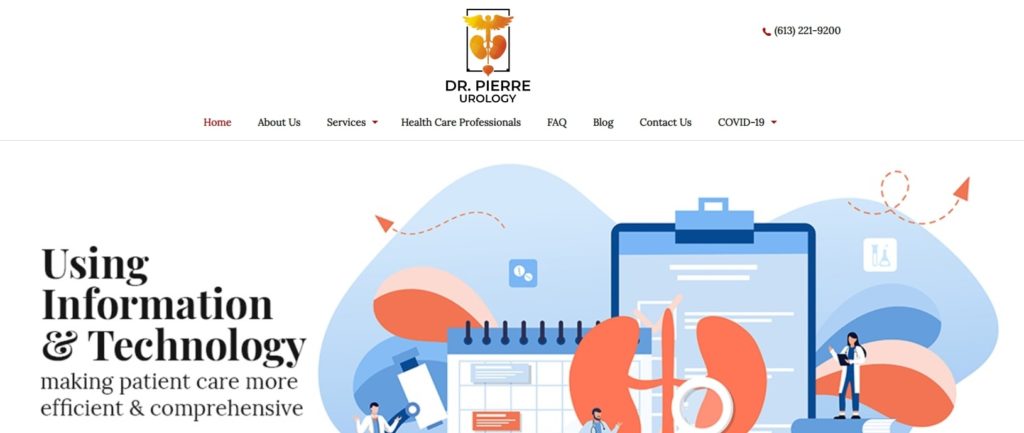 Test
Info
SERVICES
Urological Consultation, Urology Surgery, Male & Female Reproductive Health, Minimal Surgery
WEBSITE
https://www.drpierreurology.com/
ADDRESS
1130 Morrison Dr Suite 250, Ottawa, ON K2H 9N6, Canada
CONTACT DETAILS
613-221-9200
OPERATING HOURS
Monday 9AM–4PM

Tuesday 9AM–4PM

Wednesday 9AM–4PM

Thursday 9AM–4PM

Friday 9AM–4PM

Saturday Closed

Sunday Closed
| | |
| --- | --- |
| Criteria | Ratings |
| Rates | ★★★★★(5/5) |
| Location | ★★★★(4/5) |
| Availability | ★★★★(4/5) |
| Feedback | ★★★★★(5/5) |
Dr. Pierre's Urology Clinic on Morrison Drive is a capable clinic that offers multiple services. These include general urology, minimally invasive surgery, and male and female reproductive health checkups.
Dr. Pierre has years of experience. After graduating from the Schulich School of Medicine and Dentistry at the University of Western Ontario, he immediately started a two-year fellowship at Duke University majoring in urology.
After studying, Dr. Pierre eventually established his own practice. Staffed with capable nurses and fellow doctors, this clinic provides patients with a high level of care and expertise.
For male and female reproductive health, the receptionist can schedule you with a female gynecologist or male urologist depending on your needs. The office staff is very courteous and efficient.
Surgical procedures are also done here if necessary. Although, for major and complicated surgeries, the patients are usually transferred to a hospital for treatment
The best thing about this clinic is its patient support. Even after treatment or surgery, patients are still welcome to visit the clinic for follow-ups and assessments.
Like most urology clinics, Dr. Pierre's is also pricey. But with its patient support, many previous patients have recommended it to friends and family.
From what we've gathered, this is definitely one of the best clinics for urological services in Ottawa.
Years of experience
Also provides surgical services
Patient support
Research-based
Customer Reviews
Thankful
"I wanted to say thank you to Dr. Pierre Antoine Brown, he is one the best doctors I have ever had a chance to meet. He literally care about his patients and find the best treatment for them. I really appreciate all his effort. Thank you "Dr. Pierre Antoine Brown"!! – Amin Saffari-Fard
A real friend
"Nephew kicked me in the jewels (I did not know that kid was so strong!), and had to consult Dr Pierre. He is understanding and caring, also explains things in a plain language, it feels like you were talking to your best friend!" – Jairo Levi
2. Dr. Ehab Elzayat | Bank Medical Centre |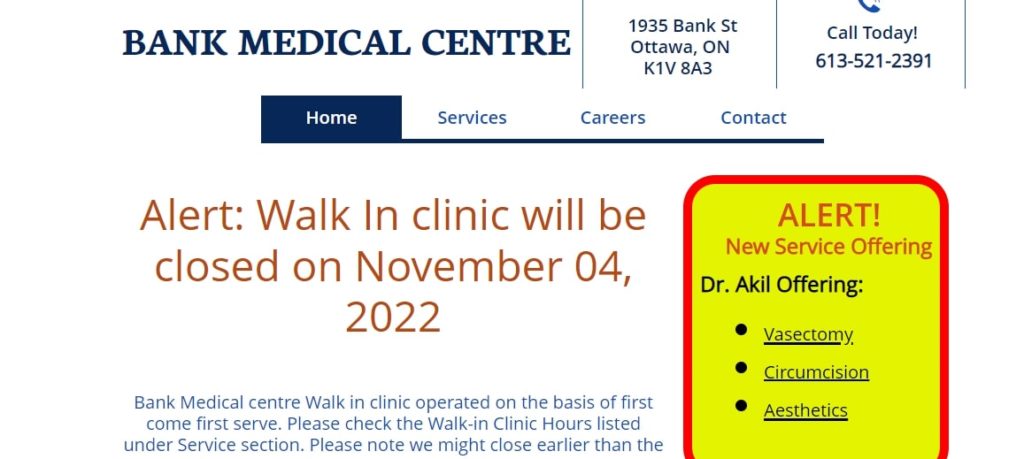 | Test | Info |
| --- | --- |
| SERVICES | Urological Consultation, TURP, Crytoscopy, Urological Surgery |
| WEBSITE | http://www.bankmedicalcentre.com/ |
| ADDRESS | 1935 Bank St, Ottawa, ON K1V 8A3, Canada |
| CONTACT DETAILS | 613-521-2391 |
| OPERATING HOURS | Appointment only |
| | |
| --- | --- |
| Criteria | Ratings |
| Rates | ★★★★★(5/5) |
| Location | ★★★★ (4/5) |
| Availability | ★★★★(4/5) |
| Feedback | ★★★★(4/5) |
The Bank Medical Centre is another great option for urology issues. The urology department's main doctor is Dr. Ehab Elzayat, who is a highly experienced and qualified doctor.
What makes this clinic special is its location. Since it's in a hospital, its waiting area is huge and well-equipped with comfortable chairs and TVs to help you pass the time while waiting for your appointments.
It's close to other departments of the hospital in case patients also need to be seen by other specialists during their visits. Another positive thing about this clinic is that it is very well-organized and efficient.
However, its location is a double-edged sword because hospitals are full of bacteria, which can lead to infection among patients who are already sick. We recommend
wearing a mask when visiting this clinic.
On the more positive side, it has a big staff of nurses and doctors with different specializations so that each patient can be taken care of properly and given the best treatment possible.
It also provides specialized urology procedures like the transurethral resection of the prostate or TURP and cystoscopy which is done to look inside the bladder using a thin camera called a cystoscope.
Overall, if a patient is experiencing major urological issues, this is one of the best clinics to go to because of its equipment and location as well as its experienced doctors and nurses.
Complete equipment
Big waiting area
Big staff
Close to other clinics
Hospital environment
Pricey
Customer Reviews
Compassionate and professional
"Dr Elzayat performed a TURP surgery on me. He was understanding, compassionate and professional in pre op, in the operating room and post op. In particular, I was really impressed by his management of an operating room team that he obviously inspired and adroitly managed. Thank you, Dr Elzayat!!!" – ANON
No pain
"Consulted 5 friends who went through cystoscopy before seeing him, was scared to death. All went more than normal no pain, no screaming as I was told. More than professional, with a smile and sense of humor. My comment to him was you deserve Noble Prize for the way you deal with your patient!" – ANON
3. Vasectomy Canada | Dr Ronald S. Weiss & Dr Jean-Philippe Bercier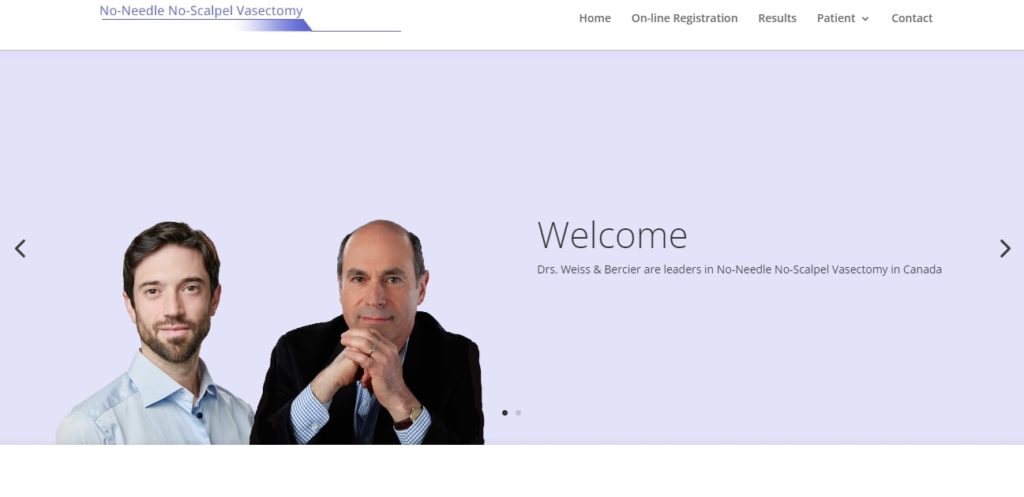 Test
Info
SERVICES
Urological Consultation, Urological Surgery, Vasectomy
WEBSITE
https://vasectomy.ca/
ADDRESS
29 Clemow Ave, Ottawa, ON K1S 2B1, Canada
CONTACT DETAILS
613-235-3535
OPERATING HOURS
Monday 8AM–4PM

Tuesday 8AM–4PM

Wednesday 8AM–4PM

Thursday 8AM–4PM

Friday 7AM–2PM

Saturday Closed

Sunday Closed
| | |
| --- | --- |
| Criteria | Ratings |
| Rates | ★★★★★ (5/5) |
| Location | ★★★★ (4/5) |
| Availability | ★★★★(4/5) |
| Feedback | ★★★★(4/5) |
Urologists handle complicated and sensitive issues every day. Vasectomies, prostate removals, and other surgeries can be extremely delicate.
Luckily, a clinic like Vasectomy Canada exists. Located on Clemow ave, this vasectomy center provides urological consultation, surgery, and of course, vasectomy.
The clinic has two main doctors; Dr. Ronald Weiss and Dr. Jean-Philippe Bercier. Both are experts in their fields and specialize in various urology procedures.
In addition to the surgeons, the clinic has a team of dedicated medical professionals that are committed to providing quality patient care.
It also offers non-invasive options for vasectomy. These have less recovery time, so it's perfect for men who need a quick procedure.
Every vasectomy procedure is done in a private room, with a doctor and an anesthesiologist standing by in case you need anything.
For other urological concerns, consultation and medical checkups are provided. Of course, for more complicated surgeries and procedures, patients are often referred to other specialists in the area if needed.
Another great thing about Vasectomy Canada is its online appointments. Potential patients can book an appointment online so they don't have to take time out of their busy schedules.
The only drawbacks of this clinic are its pricey services and the wait time for consultations. Overall, it's a great option for urological services and we highly recommend it.
Good location
Non-invasive options for vasectomy
Online registration
Bilingual services
Pricey
Wait time is a bit long
Customer Reviews
Friendly and inviting
"Reception was friendly and inviting, very clean, the doctor was very professional and made me feel. Honestly almost no pain at all during procedure. Still recovering but was very well informed as to what to expect and so far doing really well." – B. G.
Excellent service
"Clean,friendly, super easy to get to. French and English services. I felt respected and my son was well taken care of. I was referred by family and be community members." – Alodie W.
4. Ottawa Hospital Civic Campus – Urology Clinic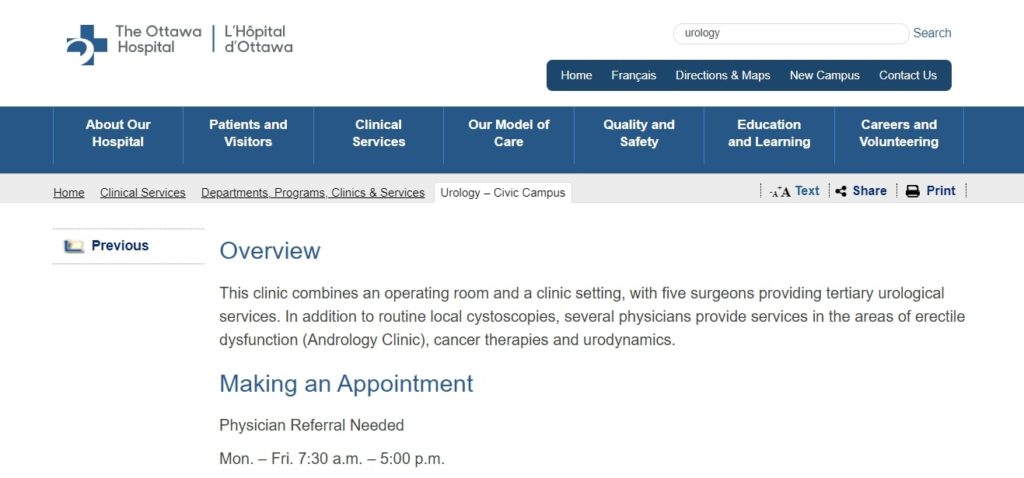 | | |
| --- | --- |
| Criteria | Ratings |
| Rates | ★★★★ (4/5) |
| Location | ★★★★ (4/5) |
| Availability | ★★★★★(5/5) |
| Feedback | ★★★★(4/5) |
The Ottawa Hospital Civic Campus also has its own urology clinic. It is open to the public and provides a wide range of services, including surgery for urinary tract problems.
What makes it special is its andrology clinic, which specifically deals with erectile dysfunction for older men. The hospital has other urological services as well, such as prostate cancer therapies and urodynamics.
Complicated urological issues need specific treatment so sometimes, there is a waiting time for these procedures. Scheduling a consultation early should increase your chances of getting an appointment quickly.
Because it's located in a hospital, it's also close to other medical specialties in case the patient requires them. It has complete equipment for numerous procedures, even major ones.
Another positive is the location's size. The waiting area is big and rarely gets crowded so patients can move around easily in the hospital while waiting for their appointment.
It should be noted, however, that it's still in a hospital setting, so we suggest bringing your own hand sanitizer and a face mask when you visit there.
Overall, the clinic offers high-quality services and a broad range of urological treatment options to all patients. The doctors are extremely knowledgeable and willing to answer questions or offer advice when necessary.
Multiple treatments available
Multiple doctors
Complete equipment
Good size
Customer Reviews
Highly recommend
"Dr Roberts is a very caring and compassionate person. He has taken great care of me and now takes great care of my Dad.." – Katie Martin
Felt safe
"Amazing experience. Felt safe all throughout the process." – J R.
5. Dr. Riki Sahajpal Clinic

Test
Info
SERVICES
Urologic Consultation, Blood in Urine Treatment, Difficulty Urinating Treatment, Incontinence Treatment, Kidney Stones Treatment, Infections Treatment, Tumors Treatment
WEBSITE
https://doctors.cpso.on.ca/DoctorDetails/Sahajpal-Riki/0157848-73134
ADDRESS
152 Cleopatra Dr Unit 110, Nepean, ON K2G 5X2, Canada
CONTACT DETAILS
613-725-1870
OPERATING HOURS
Monday 8AM–6PM

Tuesday 8AM–6PM

Wednesday 8AM–6PM

Thursday 8AM–5PM

Friday 8AM–3PM

Saturday 8AM–4PM

Sunday Closed
| | |
| --- | --- |
| Criteria | Ratings |
| Rates | ★★★★ (4/5) |
| Location | ★★★★★(5/5) |
| Availability | ★★★★★(5/5) |
| Feedback | ★★★★★(5/5) |
The Dr. Riki Sahajpal Clinic is another great option to visit if you have urology issues. The center has a team of highly experienced and qualified specialists who are passionate about providing top-quality care for their patients.
We're very impressed with this clinic's size and the fact that it's senior-friendly. It's also a private service, which makes it a great option if insurance is an issue for you.
Among the treatments it offers are issues with blood in urine, difficulty urinating, incontinence, kidney stones, prostate problems, and more. Dr. Riki is a specialist in this field and is also trained in minimally invasive surgery for prostate cancer.
Because the clinic is private, some procedures that need high-tech equipment may need to be done at a hospital. However, Dr. Riki will be present as a consultant and will make sure you get the care you need.
It has also received numerous positive feedback from previous patients, and they have praised the high quality of its staff and state-of-the-art equipment for a clinic.
Its only drawback is its outdated website. Patients are unable to book appointments there and go through a lot of trouble trying to find relevant information on the site.
Overall, it's a great option for anyone who requires treatment for urology issues.
Big clinic
Senior friendly
Private services
Impressive feedback
Customer Reviews
Compassionate
"Thank you so much for helping me after so many doctors simply ignored my problems! You are an honest, genuine and compassionate soul. God bless!" – ANON
Highly recommended
"Hello. I have been a patient of the Doctor for a number of years. The doctor has performed 2 or 3 surgical procedure. I have always been satisfied with his professionalism and care. I have had many dealings with the receptionist and she has always been pleasent and helpful. I recommend the doctor to everyone." – ANON
FAQs about Urology
---
And that's it for the best urology clinics in Ottawa. If you're in need of a more general health checkup, check out our article on the best clinics for health screenings in Ottawa!