The 5 Best Truck Canopy Suppliers in Ottawa
Some may say that trucks aren't worth getting new upgrades or accessories for, but if you can afford it, then who's stopping you? A truck canopy, for example, is one of the best upgrades because you're protecting your cargo from the elements and theft.
Thankfully, you don't need to cross a mountain to find the most trusted truck canopy suppliers for your beloved vehicle. In this article, we'll gladly drive you through the best truck canopy suppliers based right here in Ottawa.
The Cost of Truck Canopies in Ottawa
The cost of a truck canopy, also called a camper shell, depends on the brand you're getting. On average, truck canopies can cost around $1600 – $2800 in the market.
You can refer to the table below for a look at the estimated costs:
| Service | Average cost |
| --- | --- |
| Cab-high truck canopy | $1600+ |
| High-rise truck canopy | $2350+ |
| Commercial truck canopy | $2800+ |
Top Truck Canopy Suppliers in Ottawa
When it comes to choosing a reliable truck canopy supplier, we made sure to use the following criteria:
1. Automotive Outfitters
Test
Info
SERVICES
Truck canopies, roof racks, tonneau covers, truck remote starter, trailer hitch, truck & car accessory installation
WEBSITE
https://www.automotiveoutfitters.ca/
ADDRESS
3326 Limebank Rd Unit 5A, Ottawa, ON K1V 1H2, Canada
CONTACT DETAILS
613 797 9000
OPERATING HOURS
Monday - Friday: 9:00 AM - 5:00 PM

Saturday: 10:00 AM - 4:00 PM

Sunday: CLOSED
| | |
| --- | --- |
| Rates | ★★★★✩ (4/5) |
| Catalog | ★★★★✩ (4/5) |
| Services | ★★★★★ (5/5) |
| Customer satisfaction | ★★★★★ (5/5) |
Automotive Outfitters is a small business that treats every customer with accountability, respect, and professionalism. With access to over 700,000 part numbers, it's practically a guarantee you'll find something you want.
It offers parts and accessories from brands like Stealth, Extang, Curt, Weather Tech, and more. What we loved the most is that, aside from having such a rich catalog of products, it also does its own installations!
This means you won't need to look for another service to install your truck canopy for you, which saves you time, effort, and gas. Automotive Outfitters' professional installations are nothing to scoff at because it's fully equipped to do it with ease.
After looking over its big list of products from so many reputable brands and choosing the best canopy for your truck, you can just sit back and relax while it does the work. Its 15 years in the industry pays off in this regard, as no job is too big or small for it now.
Because of this, you can also expect premium prices for its premium services and products. So our only advice is to not go overboard with your shopping spree, especially if you're on a budget.
Large catalog of products
Offers installations
15+ years in the industry
Customer Reviews
Perfect job
"What a great experience we had at Automotive Outfitters! These guys are real pros. Fast service, friendly knowledgeable staff, we highly recommend! Perfect job all around! Thanks so very much." – Diane Loranger
Fast and efficient
"Highly recommend! Absolutely amazing team! They were fast and efficient. Recommended good products and they took the time to show me how my new products worked. Will be back for any future needs. Thanks again!!" – Ashlee Slaney
2. E B Sales & Services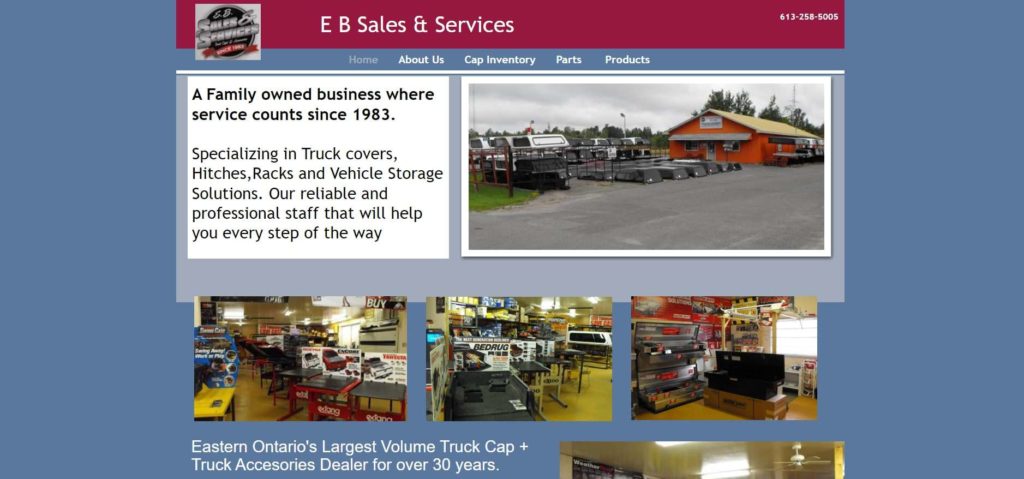 Test
Info
SERVICES
Truck canopies, roof racks, truck parts
WEBSITE
http://hstrial-wwadebeaupit.homestead.com/index.html
ADDRESS
2655 County Rd 43, Kemptville, ON K0G 1J0, Canada
CONTACT DETAILS
613 258 5005
OPERATING HOURS
Tuesday - Friday: 8:00 AM - 5:00 PM

Saturday: 8:00 AM - 4:00 PM

Sunday - Monday: CLOSED
| | |
| --- | --- |
| Rates | ★★★★✩ (4/5) |
| Catalog | ★★★✩✩ (3/5) |
| Services | ★★★★★ (5/5) |
| Customer satisfaction | ★★★★✩ (4/5) |
When it comes to truck canopies, you won't find a better place to get them than at E B Sales & Services. It's a locally-owned family business that's been operating since 1983 and specializes in everything truck-related.
From truck canopies, truck covers, hitches, and racks to vehicle storage solutions, it has them all. It's not eastern Ontario's largest volume truck canopy and truck accessories dealer for the past 30 years for nothing!
Although its products are limited to only truck accessories and parts, you can bet that it's all high-quality stuff. You can ask any of its past customers, and they're all perfectly satisfied with the products and services.
Speaking of services, E B Sales & Services also do truck canopy installations alongside other truck accessories that need to be professionally installed. With its huge selection of truck canopies, you can count on its team to help you through every step of the way.
In summary, it's one the most specialized truck canopy suppliers we've seen because its main products are truck canopies. There's no need to be distracted by other products when its specialty is the particular one you need, and that's good, in all honesty.
For a straight-to-the-point purchase and installation, make sure to drop by E B Sales & Services for all your truck canopy needs. For a wider range of products, you better look elsewhere.
Specializes in truck canopies & accessories
Staff can perform truck canopy installations
More than 30-year-old family business
Limited to only truck canopies and accessories
Customer Reviews
Highly recommended
"The morning they were to install my truck cap, I called them, for I had forgotten to clean the back truck window. (Can't clean it after installation!) The employee said "Oh we do that as part of the installation process. We work on the trucks like they were our own."
Well. That's the kind of place I want to do business with! Highly recommended!" – Dingoman
Great everything
"Great service, great family business, great everything!!! Adam is just awesome!! My husband dealt with him for a cap and was really impressed with him!!" – Jacinthe Riccio
3. Line-X of Ottawa East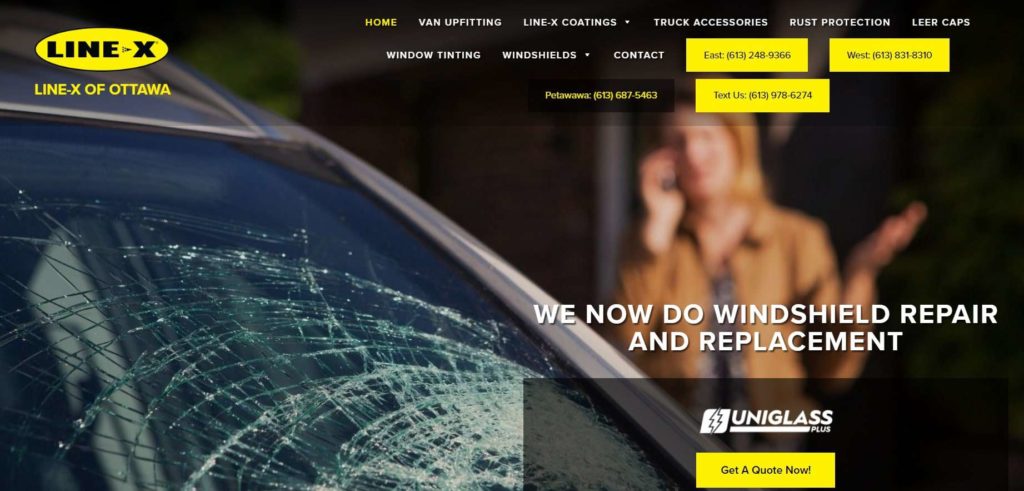 Test
Info
SERVICES
Truck canopies, truck accessories, rust protection, leer caps, window tinting, van upfitting
WEBSITE
https://www.linexofottawa.com/
ADDRESS
3252 Hawthorne Rd, Ottawa, ON K1G 3W9, Canada
CONTACT DETAILS
613 248 9366
OPERATING HOURS
Monday - Thursday: 8:00 AM - 5:00 PM

Friday: 8:00 AM - 3:30 PM

Saturday - Sunday: CLOSED
| | |
| --- | --- |
| Rates | ★★★★✩ (4/5) |
| Catalog | ★★★★★ (5/5) |
| Services | ★★★★★ (5/5) |
| Customer satisfaction | ★★★★✩ (4/5) |
Line-X of Ottawa East is an automotive business based in Ottawa with over 20 years of experience in the industry. Its main claim to fame is its spray-on protective coatings since 1999, but it also offers superior truck canopies and other truck accessories.
For its truck accessories, it offers products from brands such as Curt, Enthuze, Access, Decker, etc. As an authorized reseller and partner to over 550 accessory dealers around the world, you can expect a world-class catalog to choose from.
What sets Line-X of Ottawa apart from its competitors is that it has 2 branches you can visit, depending on which one is closer to you. Now that'll save you a whole lot of gas, especially if the branch we listed here is farther away.
Thankfully, it also does installations for when you buy your truck canopy and other accessories from its store. All in all, it's a good place with great products and competitive prices, which is saying a lot because truck canopies are expensive!
Do take note that sometimes its suppliers can encounter delivery issues, so orders might take longer to arrive or perhaps be missing a part or two. Additionally, a few of its old customers mentioned not-so-good experiences with customer service.
Great selection of products
Established business with 20 years of service
2 Ottawa branches
Competitive prices
Questionable customer service
Potential supply issues
Customer Reviews
Prices were extremely reasonable
"Excellent shop, good quality parts and service. Customer service is great here, and the prices were extremely reasonable. I made several calls to different shops in the Ottawa area, and none of them came close to the prices offered here." – Matthew Adam
The work is awesome
"Love dealing with KAREN and the gang at Line-X. The work is awesome, and the service is too. Pricing is competitive" – Mike Thomas
4. Action Car and Truck Accessories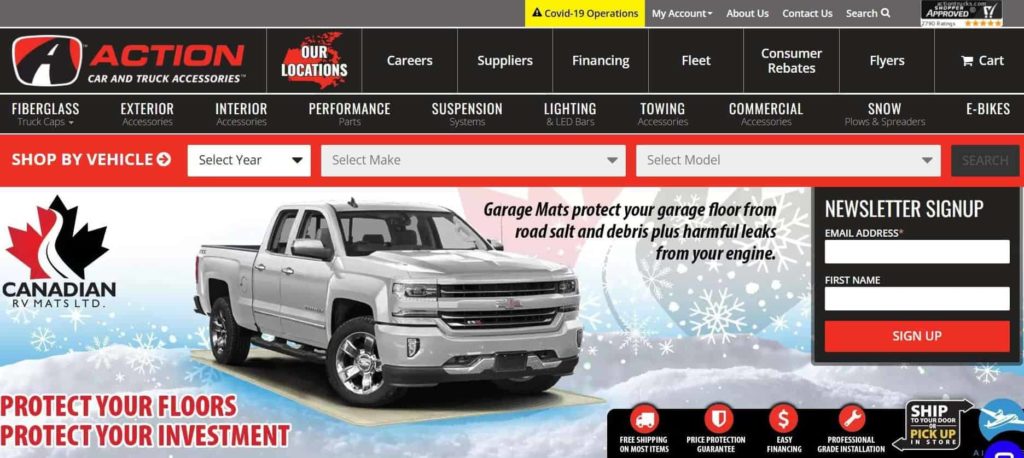 Test
Info
SERVICES
Truck canopies, interior & exterior truck accessories, performance parts, suspension systems, lighting & LED bars, towing accessories, commercial accessories
WEBSITE
https://www.actiontrucks.com/
ADDRESS
1380 Cyrville Rd, Ottawa, ON K1B 3L9, Canada
CONTACT DETAILS
613 738 7777
OPERATING HOURS
Monday - Friday: 7:00 AM - 5:00 PM

Saturday: 8:00 AM - 2:00 PM

Sunday: CLOSED
| | |
| --- | --- |
| Rates | ★★★★✩ (4/5) |
| Catalog | ★★★★★ (5/5) |
| Services | ★★★★★ (5/5) |
| Customer satisfaction | ★★★★✩ (4/5) |
At Action Car and Truck Accessories, one of its advantages is it has a lot of locations nationwide. Whether you're in Ottawa or maybe visiting another major city and suddenly need to replace your truck canopy, you'll probably find one of its open branches there.
Our favorite thing about this supplier is that it offers a comprehensive look at all its available truck canopies through its online website. Not to take a jab at the other suppliers, but it's such a relief being able to see a price tag even before you visit.
That's not all because Action Car and Truck Accessories also listed the specifications of each canopy it has on hand. There are cab-high, high-rise, and commercial canopies available with their product details laid out for you to check for yourself.
Each customer has their own specific needs, so this helps a lot when trying to choose, considering how many wonderful brands of truck canopies it has for sale. This sort of blatant honesty is very much welcome and appreciated by all potential customers.
Fair warning, it might be hard to contact this supplier through calls and emails as some clients expressed their difficulties with it getting back to them.
Expansive product catalog
Lists items with product details and prices
Branches nationwide
Customer Reviews
Definitely recommend
"I'd give more stars if I could! Brian and Steve offered exceptional customer service. They were very quick to respond to my questions. My order arrived very quickly and I am very satisfied with the product. I would definitely recommend them!" – Laura Stratton
Excellent service
"A huge thank you to Brian and Stephanie for helping me out when I ordered the wrong rims and giving me a full exchange and refund. Excellent service!" – Lewis Sabbagh
5. Derand Motorsports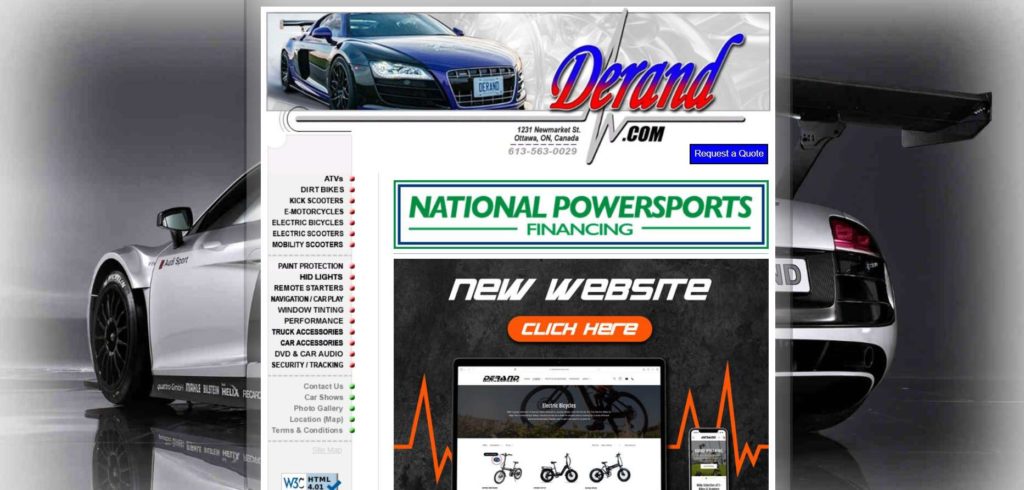 Test
Info
SERVICES
Truck canopies, truck accessories, car accessories, security/tracking, dirt bikes, e-scooters, mobility scooters, remote starters
WEBSITE
https://www.derand.com/AboutUs.html
ADDRESS
1231 Newmarket St C, Ottawa, ON K1B 5N6, Canada
CONTACT DETAILS
613 563 0029
OPERATING HOURS
Monday - Saturday: 9:00 AM - 6:00 PM

Sunday: CLOSED
| | |
| --- | --- |
| Rates | ★★★★✩ (4/5) |
| Catalog | ★★★★★ (5/5) |
| Services | ★★★★✩ (4/5) |
| Customer satisfaction | ★★★★✩ (4/5) |
The last entry on our list is Derand Motorsports, but don't let its name fool you because this supplier has a wealth of supplies with over 1.5 million parts and accessories. This includes name brands and generic brands for both imported and domestic vehicles.
Established in 1984, it has since expanded to become one of the biggest auto parts and accessories retailers in the Greater Ottawa region. It's grown so large now that aside from Ottawa itself, it caters to orders from surrounding areas too.
When you buy your truck canopy from this supplier, you'll be entitled to not just a high-quality product but also one that comes with a lifetime warranty. Aside from in-store shopping, Derand Motorsports also offers curbside pickups or deliveries for orders.
There's not much else to say about this supplier because its decades of experience in the business plus its startling product catalog speaks for itself. If you need a truck canopy and a few other auto parts and accessories, you can probably get them here.
The only disadvantage of having so many products is that it's harder to ensure the quality of each and every product sold. It doesn't help that truck canopies, auto parts, and other accessories are generally very costly.
1.5 million parts & accessories available
Established since 1984
Offers curbside pickup & deliveries
Services areas surrounding areas around Ottawa
Product quality
Expensive products
Customer Reviews
Very pleased
"I've been going to Derrand on and off for that past 20 years and recently decided to try out a competitor. I was disaapointed with the attention to detail and the hourly rate of their work. I brought my vehicle to Derand to fix the mistakes that were made and I am very pleased with the outcome as well as their very competitive shop rates. I highly recommend Derand for all of your automotive aftermarket needs!!" – Andre Errett
Will take good care of you
"Definitely recommend to a friend and family.
Very friendly, efficient, knowledgeable and extremely helpful team. They know how to do it properly. Let they know what are you looking for and they will take good care of you. Thank you" – Emerson Barsottelli
FAQs about Truck Canopies in Ottawa
---
If you're looking for other kinds of truck accessories, take a look at our article on the best truck accessory suppliers in Ottawa.