5 Best Clinics for Dermal Fillers in Ottawa
To preserve youthful looks, many go under the knife to get things done. But for people who prefer less invasive procedures, dermal fillers become the more popular options.
To help you find the right people you can trust, we gathered the best clinics for dermal fillers in Ottawa in one list. But before we get there, let's first discuss the costs.

How much do dermal fillers cost in Ottawa?
The cost of dermal fillers is affected by several factors. These include the location, the medical professional's experience, the type of filler, and the extent of treatment you'll need.
To help you better prepare for expenses, below is a table showing the average costs of some of the most popular dermal fillers available in the market.
| Types of Dermal Fillers | Average Costs |
| --- | --- |
| Bellafill | $1,000 - $1500 |
| Juvederm | up to $600 per syringe |
| Restylane | $400 - $800 |
| Radiesse | $650 - $800 |
| Sculptra | up to $950 per syringe |
| Stylage | $400 per treatment |
| Teosyal | $700 per treatment |
Best Clinics for Dermal Fillers in Ottawa
We used the following criteria in our selection process to get the best in the business:
1. Dermapure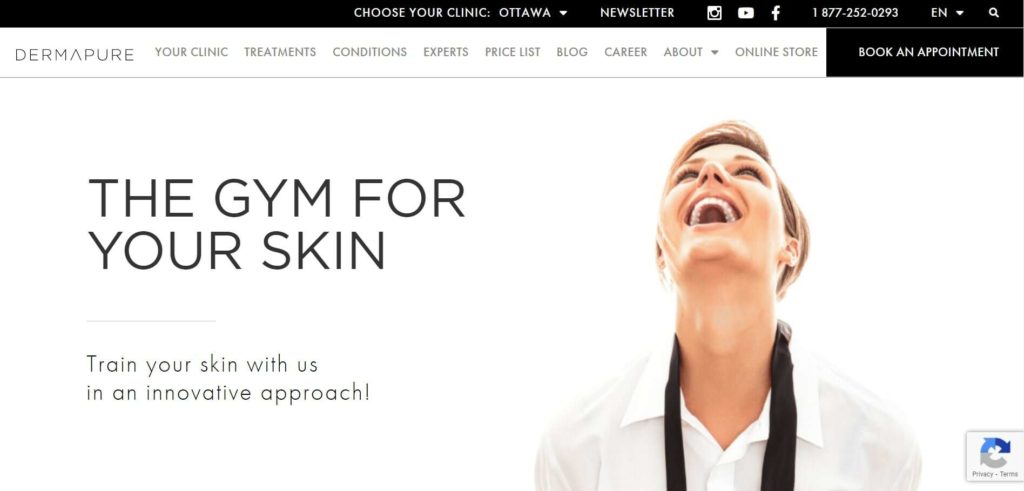 | Test | Info |
| --- | --- |
| PRODUCTS & SERVICES | Dermal Fillers, Dermaplaning, Ulthera, Thermage, Functionalab Glycolic Acid Peel, Microneedling, Neuromodulators Injections, Photorejuvenation, Plasma, Skinceuticals Anti-Aging and Anti-Acne Facials, CoolSculpting, Electone, Sclerotherapy, Fractional Lasers, Laser Hair Removal, Vaginal Rejuvenation, Erectile Dysfunction Treatment |
| WEBSITE | https://www.dermapure.com/ |
| ADDRESS | 22 York St, Ottawa, ON K1N 1K2, Canada |
| CONTACT DETAILS | +1 613-244-5151 |
| OPERATING HOURS | Monday to Friday 9 AM - 5 PM |
| | |
| --- | --- |
| Criteria | Ratings |
| Experience | ★★★★★ (5/5) |
| Competitive Rates | ★★★★★ (5/5) |
| Variety of Options | ★★★★✩ (4/5) |
| Customer Feedback | ★★★★✩ (4/5) |
Coined as "the gym for the skin," Dermapure has been helping people take good care of their skin and look young since 2009.
With its mission to educate clients with the best practices while offering visible and natural results, it has made it to our list.
We like that it employs a holistic approach that combines technology, topical products, and supplements to counter the signs of skin aging.
Its services include derma fillers like Sculptra, injection of volumizers such as Belykra, laser treatments, and photorejuvenation. Some of the most popular treatments include CoolSculpting, Thermage, and Ulthera.
Another thing that we appreciate is that its team is made up of certified doctors, along with a range of experienced professionals.
To further enhance its global approach to skin health and beauty, the members joined the Functionalab Group in 2011.
Apart from providing price guides for services offered, it's also great that the clinic has an online store where you can conveniently get items that help enhance the effects of dermal fillers.
Above all, we just love how its friendly and welcoming people provide honest opinions about treatments. The doctors take the time to listen to help you get the best solution for your needs.
Unfortunately, as the clinic is closed on weekends, you might need to take a day off if you have a daytime job.
Further, since mistakes with scheduling can occur at times, it is advised to keep yourself updated with your appointments.
A variety of treatment options
A team of certified professionals
Online store available
Price guides provided
Communication issues
Closed on weekends
Customer Reviews
Exceptionally skilled
"Dr Tosoni is exceptionally skilled in my experience. I have had botox and fillers over the last 4 years and am always impressed when she is finished. Her lovely office and professional and kind assistant Catherine make the entire experience pleasurable and the results unbeatable. I have and would continue to highly recommend her to anyone who is looking for a 5 star experience." — Bridget Adrian, Google Reviews
I only trust Dr. Tosoni
"I have been a client of Dr Tosoni's for a few years now. She and her staff are awesome, very responsive, professional and able to tailor quality care and advice based on individual needs. There is nothing that turns a customer off more than the product or treatment push, you should buy this or try that. You will NOT get that with Dr Tosoni, in fact, I was there last November for botox and fillers and she advised me to wait a few more months for the fillers, she felt I looked fine. Trust is so hard to build and so easy to lose, I only trust Dr Tosoni." — Manuel Rego, Google Reviews
2. Dermaworks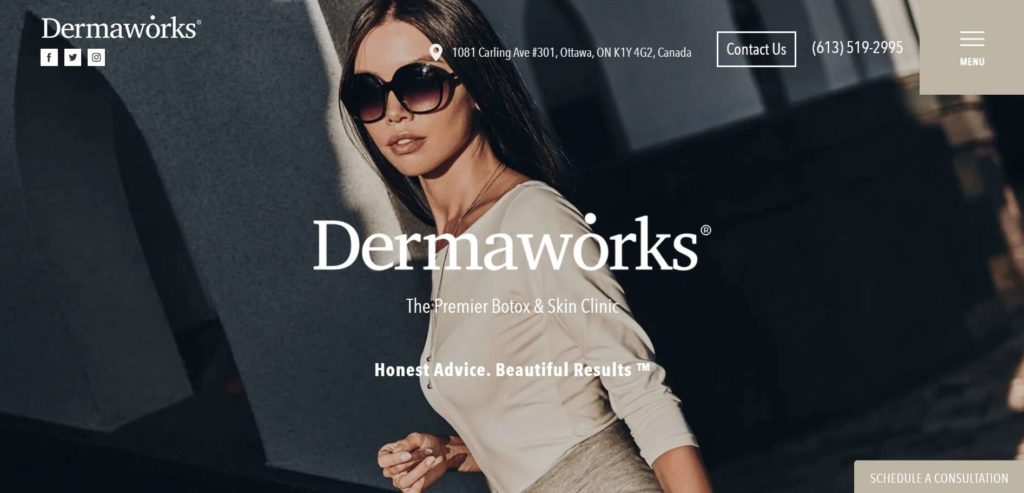 | Test | Info |
| --- | --- |
| PRODUCTS & SERVICES | Dermal Fillers, Chemical Peels, Hyperhidrosis Treatment, Spider Vein Removal, Soft Lift, Facial Mesotherapy, Laser Hair Removal, Botox, Dysport, Hand Rejuvenation, Microdermabrasion, Microneedling, PRP |
| WEBSITE | https://www.dermaworks.com/ |
| ADDRESS | 1081 Carling Ave #301, Ottawa, ON K1Y 4G2, Canada |
| CONTACT DETAILS | +1 613-667-9455 |
| OPERATING HOURS | Monday to Friday 9 AM - 5 PM |
| | |
| --- | --- |
| Criteria | Ratings |
| Experience | ★★★★★ (5/5) |
| Competitive Rates | ★★★★★ (5/5) |
| Variety of Options | ★★★★★ (5/5) |
| Customer Feedback | ★★★★✩ (4/5) |
Considered a premier Botox and skin clinic, Dermaworks has made it to our list of the best clinics for dermal fillers.
Led by Dr. Demetra Vassiliou, we trust that its array of innovative, effective treatments can help you look and feel young.
The best part is that all of its anti-aging and cosmetic enhancement treatments are evidence-based, making them more trustworthy.
Some of the clinic's injectables and dermal fillers include Botox, Juvederm, Sculptra, and Radiesse.
We like Dr. Vassiliou, the chief clinic doctor, because she continues to broaden her knowledge to serve you better.
She does this by training with world-renowned practitioners and attending local, national, and international cosmetic arts conferences.
Together with a competent team of friendly professionals, she delivers a tailored treatment plan for each client.
She listens, understands, and works in the best interest of her customers, which is one of the many things we appreciate.
There have been occasions, however, where some of the staff members were rude.
Further, since there have been some complaints about phones not getting answered, setting an appointment here might come as a challenge.
Despite these issues, we still think that Dermaworks is a good option to consider. With a team of professionals ready to provide quality services at great prices, it is worth a visit.
Specializes in dermal fillers
An array of services
A team of professional practitioners
Tailored treatment plans
Issues involving rude staff members
Closed on weekends
Customer Reviews
A great experience
"Dr Vassiliou is extremely informative. She listens to what you want to achieve and together a plan is set out. Dr Vassiliou is pleasant, knowledgeable and I felt extremely safe and comfortable with her. I had amazing results. Her skills are what will bring me back. Thank you for a great experience." — Pauline Denault, Google Reviews
Results that I want
"I always get my treatment done at Dermaworks – Dr. Vassiliou is excellent and she takes the time to ensure that I receive the treatment I need and the results that I want." — Louise McIntyre, Google Review
3. The Ottawa Skin Clinic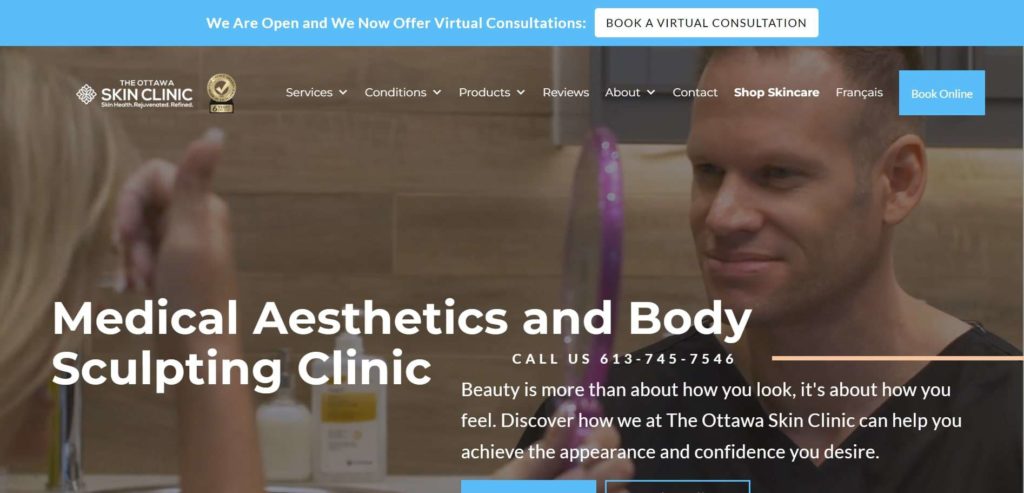 | Test | Info |
| --- | --- |
| PRODUCTS & SERVICES | Dermal Fillers, Injectables, Skin Care, Body Sculpting, Laser Treatments |
| WEBSITE | https://www.ottawaskinclinic.ca/ |
| ADDRESS | 349 St. Laurent Blvd, Ottawa, ON K1K 2Z7, Canada |
| CONTACT DETAILS | +1 613-745-7546 |
| OPERATING HOURS | Monday to Friday 9 AM - 7 PM |
| | |
| --- | --- |
| Criteria | Ratings |
| Experience | ★★★★★ (5/5) |
| Competitive Rates | ★★★★★ (5/5) |
| Variety of Options | ★★★★★ (5/5) |
| Customer Feedback | ★★★★✩ (4/5) |
The Ottawa Skin Clinic has won the Top Choice Cosmetic Clinic award for several years in a row, and this is one of the reasons we trust it. Having Dr. Michon, a recognized doctor on RealSelf.com, is another.
We like that it continues to strive to offer the highest level of professionalism and the best aesthetic services possible.
With a team of highly qualified and professional physicians, nurses, and aestheticians, we believe in the services it provides.
Apart from having competent people, it's also great that it has a modern clinic with an environment that's clean and beautiful.
The best part is that such investments to serve its clients better do not always translate to pricey services.
One downside is that some services such as Botox treatments and consultation fees are rather expensive compared to others.
On a brighter note, it is now open for virtual consultations, which are perfect for busy individuals.
The Ottawa Skin Clinic's services include dermal fillers, facials, laser hair removal, and coolsculpting, to mention a few. The clinic also offers some discount promotions, which are great for cutting costs.
Although limited, you might find yourself one day availing of its dermal fillers at half the price.
With a team of dedicated and caring professionals, complemented by a calm and relaxing clinic environment, it remains one of our top choices for dermal fillers.
An array of services offered
Won relevant awards
A team of highly qualified professionals
Clean, modern clinic
Offers discount promotions
Some services may be pricier
Closed on weekends
Customer Reviews
I'll never go to another clinic again
"Came here for the first time last weekend and I can truly say I'll never go to another clinic again. I came to get some filler done by Dr. Michon. He filled my chin, jaw, and cheeks. Pain was minimal, and Dr. Michon and host staff were extremely knowledgeable and super friendly. They made me feel so comfortable from the moment I walked in to the the moment I walked out and even called me days later to check in. I've never received such impeccable service in my life. Not to mention, the filler looks amazing and I've never felt so confident in my side profile. Thanks so much Dr. Michon, I will for sure be back!!! :)" — Sabrina Madere, Google Reviews
Best experience with fillers
"I have decided to switch to this clinic about 6 months ago and SO glad I did! What a difference in service and overall experience! The clinic is clean, modern and has a warm and relaxing feel. Dr. Michon is very knowledgeable, personable and passionate about what he does. He takes the time to discuss the treatment and results before proceeding to make sure your expectations are met. I had nothing but the best experience so far with fillers here and highly recommend!" — Julia Lo, Google Reviews
4. Capital Aesthetics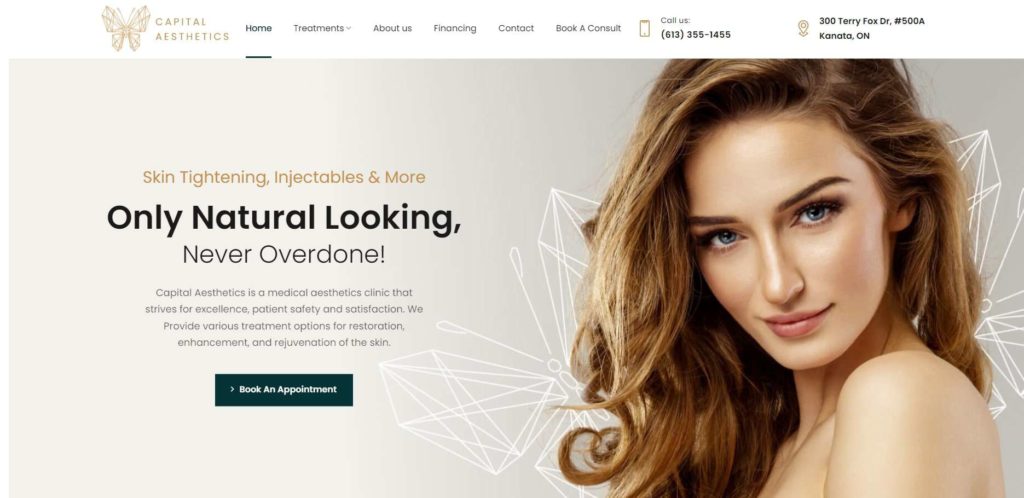 | Test | Info |
| --- | --- |
| PRODUCTS & SERVICES | Dermal Fillers, Neuromodulator Injections, Fat Dissolving, Microneedling, Skin Tightening, Threat Lift, PRP, Sclerotherapy, Sculptra, Laser Hair Removal |
| WEBSITE | https://www.capitalaesthetics.ca/ |
| ADDRESS | 300 Terry Fox Dr #500A, Kanata, ON K2K 0E3, Canada |
| CONTACT DETAILS | +1 613-355-1455 |
| OPERATING HOURS | Monday to Friday 10 AM - 6 PM |
| | |
| --- | --- |
| Criteria | Ratings |
| Experience | ★★★★★ (5/5) |
| Competitive Rates | ★★★★★ (5/5) |
| Variety of Options | ★★★★★ (5/5) |
| Customer Feedback | ★★★★★ (5/5) |
Providing various treatments that aim to restore, enhance, and rejuvenate the skin through non-invasive procedures, Capital Aesthetics is one of our go-to clinics for dermal fillers.
Continuously striving for excellence, patient safety, and overall customer satisfaction, we trust in the quality of service it provides.
Its services range from dermal fillers and neuromodulator injections to skin tightening and sclerotherapy.
Under its dermal fillers are options that are apt for specific needs. Among these are lip fillers, cheek fillers, and nasolabial fillers, to mention a few.
Aside from having a team of qualified and medically trained aestheticians and medical injectors, we also appreciate that every procedure begins with a comprehensive consultation.
This allows patients to set expectations and explore options.
With a personalized treatment plan, its team stays true to its commitment to helping others feel good about themselves. The best part is that the custom-tailored approach leads to subtle and natural-looking results.
We like that Capital Aesthetics only uses products that are approved by Health Canada. The upcoming financing options are also great as they can help a lot of patrons get the treatments they need despite budget constraints.
Although limited, we appreciate that it has provided a photo gallery of some of its work.
Overall, with great staff, a clean clinic, and an array of services, Capital Aesthetics is one good option to consider.
A wide array of services
A team of licensed professionals
Offers free consultation
Personalized treatment
Gallery contains limited photos
Closed on weekends
Customer Reviews
Nothing but wonderful things
"I have absolutely nothing but wonderful things to say about Capital Aesthetics and Marina!!! She is incredibly honest, professional, kind and gentle. I'd never undergone any kind of cosmetic procedure prior to my meeting her, she explained everything to me in great detail, ensured I understood and was comfortable with her suggested plan to acheive my desired results. She in no way pushed any treatment, I was able to make all treatment plan decisions. I highly recommend Marina!! She is amazing. I am beyond thrilled with my results and will most certainly be a return customer! Thank you SO much Marina for setting my mind at ease throughout the whole process. I look forward to seeing you again ;)" — Amy Cinkant, Google Reviews
Warm and professional
"Marina runs an outstanding business. She's warm and professional. She is careful and judicious. Her office is impeccably clean and her work is exemplary and natural looking. She is gentle and strives to ensure your comfort. Highly recommend and would give 10 stars if I could." — Karen Barclay, Google Reviews
5. ElevateRx Medical Aesthetics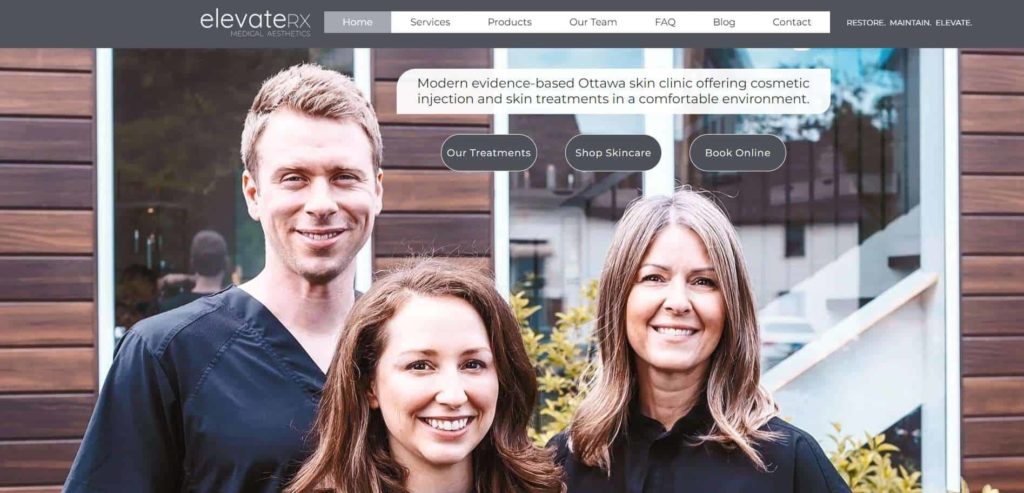 Test
Info
PRODUCTS & SERVICES
Dermal Fillers, Neuromodulators, Aesthetic Injectables, Skin Health, Hair Loss Treatments, Skin Tightening, IV Therapy, Teeth Whitening, Cleansers and Toners, Eye Products, Moisturizers, Sunscreen, Vitamin C Serums, Specialty Products, Gift Cards
WEBSITE
https://www.elevaterx.ca/
ADDRESS
164 Lebreton St N, Ottawa, ON K1R 7H8, Canada
CONTACT DETAILS
+1 613-518-1942
OPERATING HOURS
Monday to Friday 9:30 AM - 8 PM

Saturday 10 AM - 2 PM
| | |
| --- | --- |
| Criteria | Ratings |
| Experience | ★★★★★ (5/5) |
| Competitive Rates | ★★★★★ (5/5) |
| Variety of Options | ★★★★✩ (4/5) |
| Customer Feedback | ★★★★★ (5/5) |
If you're looking for an ideal place for dermal fillers, ElevateRx Medical Aesthetics is one of the clinics to visit. Using only modern, evidence-based treatments, we believe that its products and services are trustworthy.
As a leading provider of Botox, dermal fillers, and skin treatments, its services include aesthetic injectables, hair loss treatments, skin tightening, and even teeth whitening.
It also offers products like cleaners, toners, and moisturizers, which you could use to help prolong the effects of dermal fillers.
The best part here is that, although very limited to selected items, you may get some of them at discounted prices.
We like that the clinic is owned and led by Lindsay Peters — an experienced nurse practitioner who takes the time to work closely with her clients. Helping her provide the best treatments is a group of professionals you can rely on.
We just love her belief in restoring natural beauty with a minimalist approach. In other words, she and her team aim to enhance beauty while keeping you looking like you!
We appreciate that the injectionists in ElevateRx Medical Aesthetics invest time and effort into every treatment. It's also great that everyone is there to help and always ready to answer all inquiries and concerns.
Although operational for shorter hours, we appreciate that the clinic is open on Saturdays. It is, however, closed on Sundays, which might be a perfect day for some to get treatments.
Specializes in Botox and dermal fillers
Offers cosmetic products
A team of certified practitioners
Minimalist approach
Shorter hours on Saturdays
Relatively fewer options
Customer Reviews
Happy I took the chance
"The office felt very professional and touch in quality gave me a good sense of being well taken care of. Then I met Tamara and she walked me through everything (although not my first time) but she made sure I had all the good info. She's very friendly, awesome service and helpful. Her suggestions for new treatment areas worked out nicely so far! So happy I took the chance and not go back to my old place." — Bella Blossoms, Google Reviews
Only amazing things to say
"I have only amazing things to say about Tamara at Elevate Medical Aesthetics! The clinic is welcoming, clean and state of the art. The first time i met Tamara I instantly felt comfortable and she took the time to explain the procedures i wanted, educated me on after care and did such an amazing job to the point where no touchs up were needed! I have been back since and she will continue to be the only person I go to for any medical aesthetic procedures. Highly recommend her and this clinic!" — Noura Khair, Google Reviews
FAQs about Dermal Fillers
---
There you have it! We hope that this list has helped you figure out where to go for your dermal filler needs!
Thinking of consulting with renowned skin experts first? This list of the best dermatologists in Ottawa might help you.