The 5 Best Clinics for Tooth Implants in Ottawa
There's nothing shameful about needing tooth implants because wanting to be able to show off those pearly whites without fear is more than enough of a reason.
What's great is that you don't need to go far to find the right place for you. In this review, we'll take you on a guided tour of the best tooth implant services right here in Ottawa.
The Cost of Tooth Implants in Ottawa
The prices of tooth implant services depend on the kind of implants you're getting, how many implants you need, labor fees if you need a tooth extraction first, etc. There are also the surgery fees of the dentist and their staff to consider as well.
You may refer to the table below for a breakdown of some of the estimated costs you can expect for any tooth implant:
| Tests and Screenings | Average cost w/o insurance |
| --- | --- |
| Average cost | $4000 - $20,000+ |
| Single tooth implant (without procedure) | $1000 - $3000 |
| Full-mouth implants | $20,000+ |
Top Clinics for Tooth Implants in Ottawa
We carefully selected the best tooth implant services in Ottawa based on the following criteria:
1. Smile Denture & Implant Clinic

Test
Info
SERVICES
Tooth implants, denture services, teeth whitening, night & sports guards
WEBSITE
https://www.dentureimplantsottawa.com/
ADDRESS
1825 Woodward Dr, Ottawa, ON K2C 0P9, Canada
CONTACT DETAILS
613 909 7933
OPERATING HOURS
Monday - Friday: 9:00 AM - 5:00 PM

Saturday: Appointment ONLY

Sunday: CLOSED
| | |
| --- | --- |
| Fees | ★★★★☆ (4/5) |
| Customer satisfaction | ★★★★☆ (4/5) |
| Portfolio | ★★★★★ (5/5) |
| Equipment and facilities | ★★★★★ (5/5) |
At Smile Denture & Implant Clinic, you can expect a team with a great track record when it comes to tooth implants and dentures. As its name suggests, its services are primarily centered on these kinds of services, and it's great at what it does.
For one thing, it has its own state-of-the-art in-house dental lab, so its technicians can get your x-rays right then and there. This is especially helpful when getting tooth implants because dentists need your dental x-rays before even doing anything.
Speaking of technicians, it employs over 40 certified dental technicians who are trained and ready to conduct all the tests you need. In fact, you can even get 3D scans and impressions done here too.
When you walk into Smile Denture & Implant Clinic for the first time, you can rest assured that you're not obligated to proceed with its services after a consultation. Also, it has a free accessible parking area when you do visit, so that's definitely a bonus.
Smile Denture & Implant Clinic offers not just regular tooth implants but also implant-supported dentures. Its implant-supported denture services are a great alternative for patients who have enough bone in their jaw to support the implant.
It might take longer for you to squeeze in an appointment with how many patients it has on a regular basis. If waiting isn't a problem, then it could be the best fit for you.
State-of-the-art equipment & facilities
A lot of fully-trained staff
Specializes in tooth implants
Accessible parking
Customer Reviews
Amazing care and service
"Amazing care and service. My mother, who has dementia, lost her teeth with no backup. Caner at Smile graciously brought us through the replacement process with professionalism and sensitivity. We highly recommend Smile Denture and Implant Clinic." – DnA Girard
Committed to client satisfaction
"A few weeks ago I had the very good fortune to discover Caner Karaceper and Smile Denture & Implant Clinic. My first impressions were very positive only to be further reinforced with every successive appointment. The competence and professionalism of Caner and his staff clearly convey an organization committed to client satisfaction "above and beyond". Front line staff supported by an easily accessible "in-house" dental laboratory offers patients the comfort of unequalled full-service satisfaction. I can and do personally attest to the attention, friendly professionalism and competence offered therein and would unreservedly recommend this Smile organization to anyone seeking the services they offer." – Gordon Dalgard
2. The Downtown Dental Clinic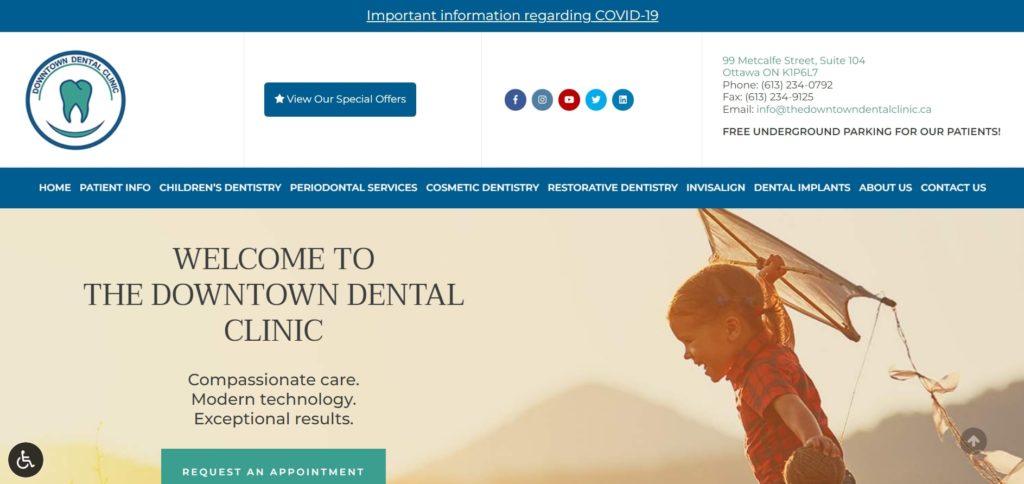 Test
Info
SERVICES
Tooth implants, cosmetic dentistry, periodontal services, restorative dentistry, Invisalign
WEBSITE
https://www.thedowntowndentalclinic.ca/
ADDRESS
99 Metcalfe Street, Suite 104, Ottawa ON K1P6L7
CONTACT DETAILS
613 234 0792
OPERATING HOURS
Monday - Friday: 7:30 AM - 5:00 PM

Saturday - Sunday: CLOSED
| | |
| --- | --- |
| Fees | ★★★★★ (5/5) |
| Customer satisfaction | ★★★★☆ (4/5) |
| Portfolio | ★★★★☆ (4/5) |
| Equipment and facilities | ★★★★★ (5/5) |
The Downtown Dental Clinic is another exceptional service we're happy to include in this list because it's not just made up of professionals with a passion for their craft. It's a diverse group from different backgrounds and ethnicities and even different languages.
If English or French isn't your best subject, you can look forward to one of its friendly staff to communicate with you in the language you're comfortable with. Honestly, its previous patients couldn't get enough of how great it is at making them feel relaxed.
After getting a detailed x-ray to pinpoint your exact needs, the Downtown Dental Clinic will only take 30-60 minutes for a single implant procedure. Needing more than one implant will have them working for about 2-3 hours.
If you've lost a whole row of teeth, your upper teeth, for example, it offers patients the option of either implant-supported dentures or individual upper implants.
Implant-retained upper dentures allow you to taste your food while still being removable fully. Individual implants, on the other hand, mimic natural teeth more, meaning they're not removable.
However, this means you'll need around 8-10 individual implants, which can be very costly. Regardless of which type of implants you want, Downtown Dental Clinic is just one call away.
As a dental clinic that offers more than just tooth implants, you have to expect that it also has a lot of patients daily. Additionally, some of its customer service practices can be a bit concerning.
Wide range of dental services
Multicultural & multilingual professional team
Offers implant options
Lots of customers
Bad customer service
Customer Reviews
Quality beyond other things
"100% recommending this place. Dr. Anna placed 2 implants for me in the upper-jaw in one day. The x-ray taken afterwards shown an impeccable work. The whole operation taken less than an hour. It was a painless and smooth experience. Both Dr Anna and the dental assistant were Professional and compassionate. Also the front-desk staff were very friendly. This dental office cares about quality beyond other things." – Navid Tadayon
Highly recommend
"Dr. Jalali is a great dentist, I was hesitant to get an implant. I did not feel any pain at all, during or after the implant. Regret not doing it sooner. The clinic staff are very professional and welcoming. Highly recommend!"- Fernando L de C
3. Rockcliffe Dental and Denture Centre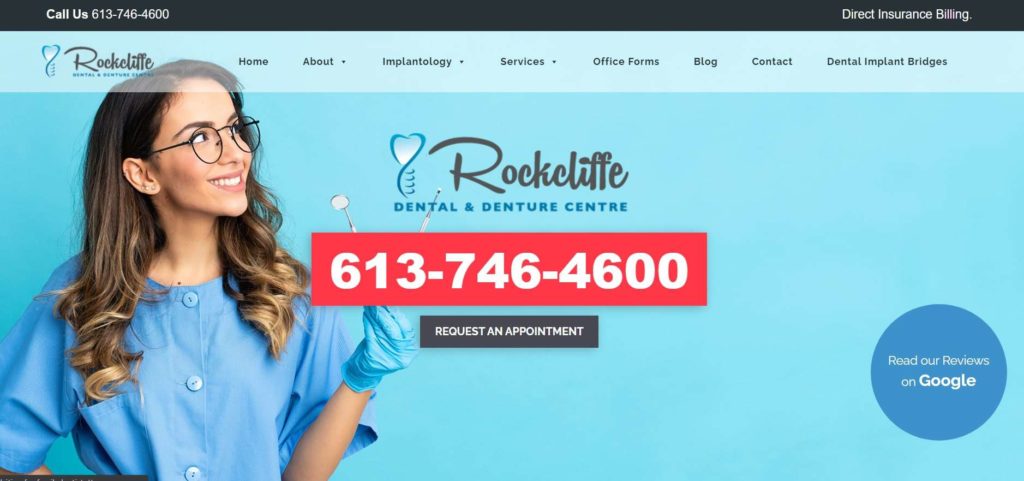 Test
Info
SERVICES
Tooth implants, teeth whitening, tooth fillings, emergency dentistry, cosmetic dentistry, general dentistry, root canals
WEBSITE
https://familydentistottawa.com/
ADDRESS
681-A Montreal Road, Ottawa, Ontario K1K 0T1
CONTACT DETAILS
613 746 4600
OPERATING HOURS
Monday & Wednesday - Friday: 8:00 AM - 5:00 PM

Tuesday: 8:00 AM - 7:00 PM

Saturday - Sunday: CLOSED
| | |
| --- | --- |
| Fees | ★★★★☆ (4/5) |
| Customer satisfaction | ★★★★☆ (4/5) |
| Portfolio | ★★★★★ (5/5) |
| Equipment and facilities | ★★★★★ (5/5) |
Rockcliffe Dental and Denture Centre boast one of the best and most comprehensive tooth implant services in Ottawa. Single-tooth implants, removable implant dentures, and permanent implant dentures are only just a few of what it can offer.
Before a tooth implant can be done, it assesses a patient if they need any damaged or decayed teeth removed first. That's not all because your jawbone must also be prepared in case it needs bone grafting done.
It might seem like going through a lot of trouble just for some tooth implants, but Rockcliffe Dental and Denture Centre's careful procedure keeps you safe. That's why the entire implant process can take up to several months just to finish.
Depending on your condition and the type of implants you're getting, certain steps can even be combined. Single implants, for example, have two kinds of protocols that depend on the tooth being replaced and if you need a bone graft.
The location of the implants you'll be getting must also be taken into consideration by Rockcliffe due to the differences in anatomy. Truth be told, we love how much care it puts into each and every operation by always prioritizing our safety over making profits.
With that said, a few patients did express their dissatisfaction over its pricing and customer service, so just keep that in mind.
Offers many kinds of implants
Careful & meticulous procedures
Can combine procedures
Pricey
Bad customer service
Customer Reviews
Excellent results
"I went in with serious and complicated dental issues needing an implant. The clinic is very clean. Dr. Koniouchine was really good at explaining the procedures and treatments required. He performed bone graft surgery and dental implant with excellent results. Dr. K is very knowledgeable and funny. I had several appointments during the course of a year and every experience was pleasant. Big thank you to all the staff from front desk to dental assistants to the dentists they are all amazing. I have recommended this clinic to my family members and friends." – Christa E.
Fantastic dentists
"WE have been a patient here for a few years, Dr. Hussam Ashkar, has GOT to be one the most gentlest and CARING Dentist, I personally have ever had in my 65 years of life! WE live in Cornwall, which is over 1 hour away, so this tells you everything about him as a FANTASTIC DENTIST! He is worth the drive for my wife and I, to see him, and have him DO ALL the work we need for us! WTG DR. Ashkar! We recommend Dr. Ashkar very highly! THANK YOU, Dr." – C. Lanthier
4. Nova Denture and Implant Centre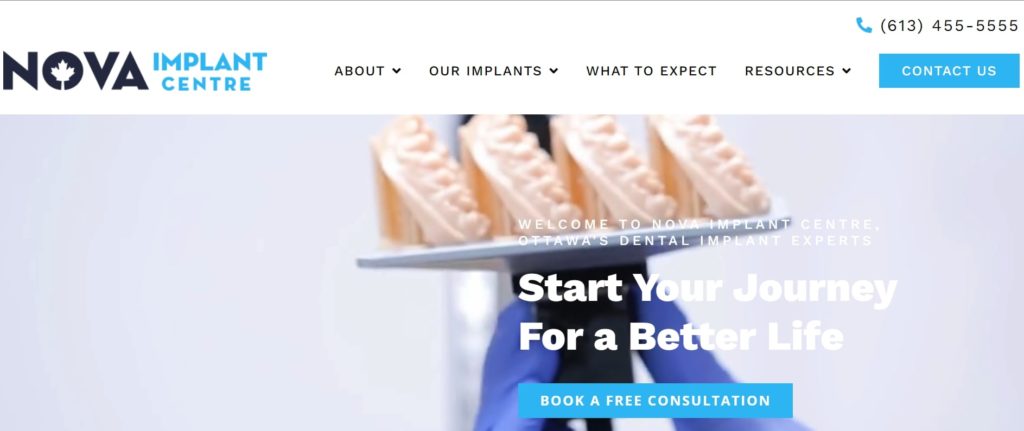 Test
Info
SERVICES
Same-day tooth implants, same-day dentures, all on 4 implants
WEBSITE
https://novadentures.ca/
ADDRESS
439 Ogilvie Rd, Gloucester, ON K1J 7P3, Canada
CONTACT DETAILS
613 455 5555
OPERATING HOURS
Monday - Thursday: 8:00 AM - 5:00 PM

Friday: 8:00 AM - 4:00 PM

Saturday - Sunday: CLOSED
| | |
| --- | --- |
| Fees | ★★★★☆ (4/5) |
| Customer satisfaction | ★★★★★ (5/5) |
| Portfolio | ★★★★☆ (4/5) |
| Equipment and facilities | ★★★★★ (5/5) |
The first thing we noticed about Nova Denture and Implant Centre is that, unlike every other service we've come across so far, it specializes in same-day implants.
Maybe you already got all the tests you need at another place but just can't manage to find a schedule to squeeze in any time soon when you want it now. At Nova's, its same-day implants remove that huge waiting line before the procedure.
You could also be someone who's just visiting the area, but getting tooth implants is something you can't put off any longer, so you need someplace that can do it quickly. Its specialization in tooth implants makes it both the fastest and one of the best choices.
Nova Denture and Implant Centre services the Ottawa-Gatineau region and is manned by trained and licensed professionals that can give you immediate results. Because honestly, why wait several months when it can be done in just a day?

If you're not ready to commit, that's also fine and dandy because its initial consultations are free, so you can get a feel for it yourself without any obligations.
We're just a little miffed though, that it's closed on the weekends, because what if you need your implants on those days instead? Regardless, Nova is a great option if you need quick work with amazing results.
Same-day tooth implants
Fully-trained and licensed staff
Free initial consultation
Customer Reviews
Hospitable staff
"I decided to go to nova to get new dental implants. My initial fear quickly went away once I met the very hospitable staff and kind service provided by Dr. Dan. I am no longer embarrassed about my smile and I feel much more confident than before. Thank you!!" – David Grabowski
Incredible team
"Such an incredible team of people who not only are professional but walk you through the process with the utmost respect and care. You feel welcomed and comfortable with their team and the free consultations are a HUGE plus. I'd recommend chatting with their team if you're interested in learning about their unique process of creating a personal smile just for YOU. Thanks again nova" – Caroline Hicks
5. Kent Street Dental Centre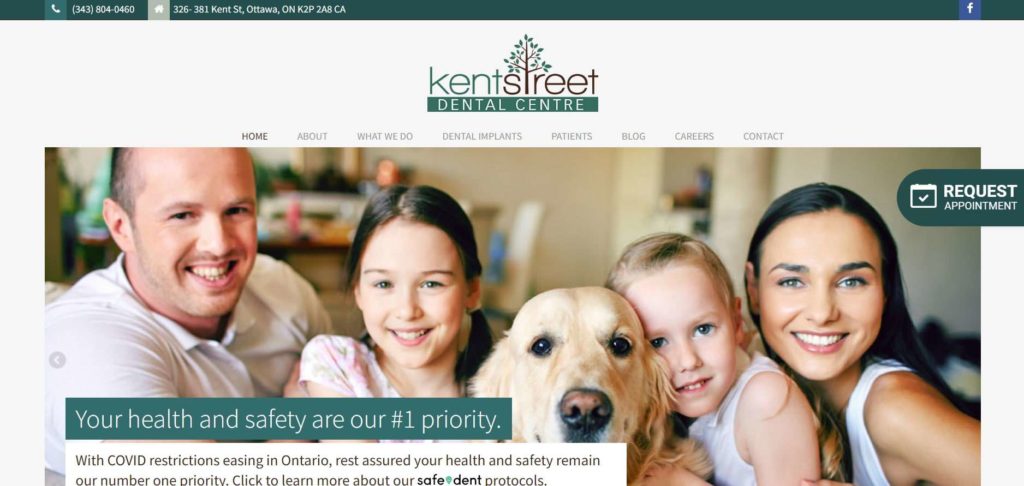 Test
Info
SERVICES
Tooth implants, general dentistry, cosmetic services, oral surgery
WEBSITE
https://www.kentstreetdental.ca/site/home
ADDRESS
326- 381 Kent St, Ottawa, ON K2P 2A8 CA
CONTACT DETAILS
343 804 0460
OPERATING HOURS
Monday - Thursday: 8:00 AM - 4:00 PM

Friday: 9:00 AM - 12:00 PM

Saturday - Sunday: CLOSED
| | |
| --- | --- |
| Fees | ★★★★☆ (4/5) |
| Customer satisfaction | ★★★★☆ (4/5) |
| Portfolio | ★★★★☆ (4/5) |
| Equipment and facilities | ★★★★★ (5/5) |
Kent Street Dental Centre has been serving the local community for over 25 years now, and it's definitely made its mark among residents. It's also a member of Hello Dent, which is a nationwide network of dental practitioners that proudly services Ottawans.
When planning to drop by, you can cross off worrying about parking since it has various parking options. Speaking of options, we're glad to know that there are also several payment options available, and you can just call its office to learn more.
Kent Street Dental Centre's biggest advantage is its long history of performing dental implants on Ottawans. There's a good reason it's been running for more than two decades already.
Because of its heavy portfolio, it's one of the best places you can trust with your tooth implants because its team regularly performs them alongside other dental procedures.
So if you're gonna need tooth extractions and or bone grafting before you can proceed with your implants, you can rest easy and let its team do their magic. Don't worry, as this clinic also follows strict safety guidelines even as restrictions loosened.
You know what they say, if it's not broken, then don't fix it, and Kent Street Dental Centre has its practices perfected. The only thing they do need to work on, though, is better customer service.
25+ years in the industry
Various payment options
Available parking
Follows strict safety guidelines
Customer Reviews
Best dentist experience
"All the staff is incredibly kind and helpful. They made me feel very comfortable. I have a fear of going to the dentist from previous negative experiences and they made me feel so reassured and cared for. By far the best dentist experience of my life." – Madeleine Lemaire
More than satisfied
"First time posting a review of a business or establishment ever. But I wanted to express my gratitude and overall satisfaction with Dr. Yassine and his staff at Kent Street. From the second you walk in, to during the procedure, to when you are leaving, the entire process is done in a kind and professional manner. Dr. Yassine and his staff have a sense of humor also, which really helps with the anxiety that sometimes comes with a visit to the dentist. I won't get into the details of my procedure today but it was a pretty complicated one. I am more than satisfied with my trip there today and will not hesitate to go back. Thank you." – Matt Kerr
FAQs about Tooth Implants in Ottawa
---
Looking for other great dental services? You can check out our article on the top clinics for dental crowns in Ottawa to see more!