In a perfect world, all our clothes would always fit us like a glove. But for those times when alterations and bespoke clothing are required, it's best to go to a reputable tailor in Ottawa.
In the next section, we'll take a look at some of the costs of common tailoring services. There are also some FAQs at the bottom of the article, so make sure to read all the way through.
How Much Does a Tailor Charge in Ottawa?
Bespoke suits and outfits do not come cheap and require a serious commitment on both the customer and tailor as far as fittings go. The average cost of a tailor-made suit in Ottawa would be $800 but that still depends on the shop.
Meanwhile, made-to-measure suits and dresses can be customized to fit clients and just need a few fittings to alter particular parts.
For common alteration needs, here's a table we put together based on national averages.
TAILORING SERVICE
ESTIMATED COST
Alteration for tops and shirts
Hemming $15 - $25

Slimming $25 - $35

Sleeves shortening (no cuffs) $12 - $20

Sleeves shortening (with cuffs) $20 - $30

Shoulder adjusting (no sleeves) $15 - $25

Shoulder adjusting (with sleeves) $45 - $65

Alteration for pants and bottoms
Hemming $10 - $20

Leg slimming $20 - $40

Waist adjusting $25 - $45

Alteration for jackets and coats
Shortening $30 - $90

Slimming $40 - $50

Sleeves shortening (from cuff) $25 - $40

Sleeves shortening (from shoulder) $30 - $50

Sleeves slimming $25 - $45

Shoulder adjusting $75 - $150

Lining replacement $50 up

Additional or removal of zippers/buttons
$15 - $25
The Top Tailors in Ottawa
With some idea of the pricing involved, it's now time to see what the top tailors in Ottawa can do for your wardrobe needs. We put this listicle together with these factors in mind:
1. Helena's Tailoring and Alterations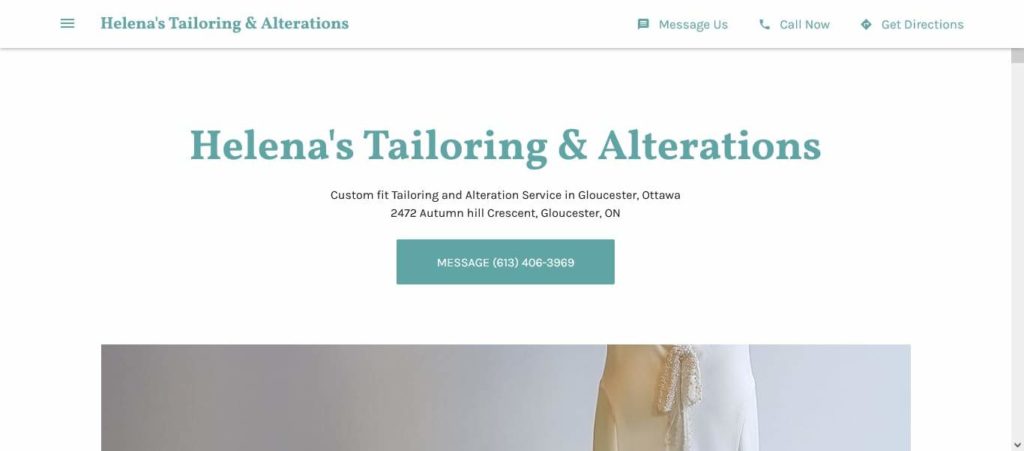 Test
Info
SERVICES
Jeans resizing & hemming, formal wear alterations, coat & jacket relining, wedding dress alterations, men's suit resizing
ADDRESS
2472 Autumn Hill Crescent Gloucester, ON K1B 4M5
CONTACT NUMBER
(613) 406-3969
WEBSITE
https://kimsneedle.ca/
OPERATING HOURS
Monday to Saturday 9.30 AM - 6.30 PM

Closed on Sundays
Helen's Tailoring and Alterations has over two decades of experience in customizing shirts, jeans, and wedding dresses. It's a bilingual business that can communicate with customers in English and Mandarin.
Customer feedback for the shop typically mentions the level of professionalism and fast turnaround time for each job. The shop can accommodate rush jobs and typically respond to inquiries in a timely manner.
Aside from clothing alteration and custom tailoring, clients can get their leather and suede clothes altered or repaired here, as well.
There's a gallery of photos on the website showing some of the flawless and clean bespoke and altered clothing from Helen's Tailoring and Alterations. However, there are no captions to inform potential customers about the material, pricing, turnaround time, and other pertinent information that could give the shop more business.
It's a bit disappointing to have superb feedback about the quality of the shop's services and see a somewhat neglected website to represent it. But the shop does offer free consultations (which are by appointment, by the way).
Can alter leather and suede clothing
Offers free consultations
Bilingual service (English and Mandarin)
Open six days a week
The photo gallery has no captions
Website information and design needs to be updated
No BBB accreditation
Customer Reviews
Work is clean and very professional
"Helena is a very good tailor. Her work is very clean and professional. I was very satisfied. She is also a very nice person who cares a lot about clients' satisfaction. I strongly recommend her." – Ngoné Diagne
Did an amazing, flawless job
"Brought in my Levis jeans for a hem and to take in the sides. She did an amazing job! You would never know they were altered.. flawless. Her prices are also very reasonable. Support local business! I will definitely go back." – Laura Stickl

2. Stephano Menswear & Tailoring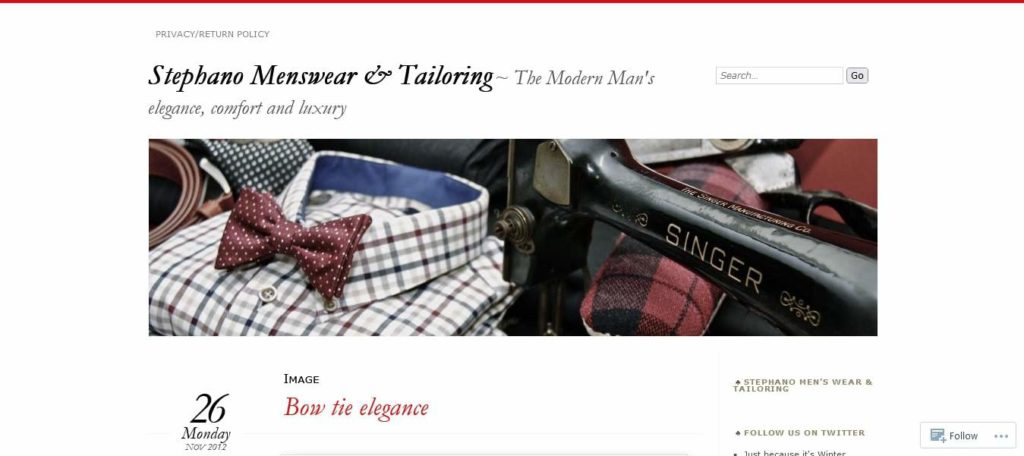 Test
Info
SERVICES
Custom made men and women's clothing, bespoke suits services, tailoring for all, alterations & repairs
ADDRESS
130 Albert Street Suite A004 Ottawa, ON K1P 5G4
CONTACT NUMBER
(613) 234-8484
WEBSITE
https://stephanomenswear.wordpress.com/
OPERATING HOURS
Monday to Friday 10 AM - 6 PM

Closed on Saturdays and Sundays
Stephano Menswear & Tailoring has an in-house atelier that does professional alteration and bespoke clothing for male and female customers. The shop is currently known as Third Son but still promises handmade garments with a modern touch and the perfect fit.
Its team of sewing professionals is sufficiently trained in both machine sewing and hand sewing. There's an impressive bespoke portfolio showing creative designs and the entire process of coming up with made-to-order suits and women's corporate wear.
Customers can opt to get their fittings done at the shop. Or, if they're busy with household stuff or work matters, its tailors can do in-home or office visits for the entire bespoke process (from measuring to final fitting).
But while these services definitely add value for money, we wish there were some pricing information to know how much to set aside for a made-to-order outfit.
Rush tailoring and alteration services can also be accommodated except on seasons that have heavy production times or staff vacations.
Can accommodate rush jobs
Comprehensive alteration services
Gallery shows the bespoke process
Offers in-home or office services
Doesn't provide a price guide
The shop has changed names
Open on weekdays only
No BBB accreditation
Customer Reviews
Ended up buying a whole new outfit!
"I was visiting from out of town and was looking to get a few pieces to finish off my outfit for a meeting. The concierge of my hotel highly recommended Stephanos. I went in there and I felt comfortable right away. Ended buying a whole new outfit!! Ramy was so helpful with his styling tips and took care of me very well !!! Thank you again. Highly recommend this shop!" – Andrew K.
Did an amazing job tailoring a skirt on one day's notice
"Stephanos did an amazing job tailoring a skirt for an important interview, with only one days' notice. The quality of the work is exceptional and the skirt now looks custom made." – Chris A.
3. Dow's Lake Tailoring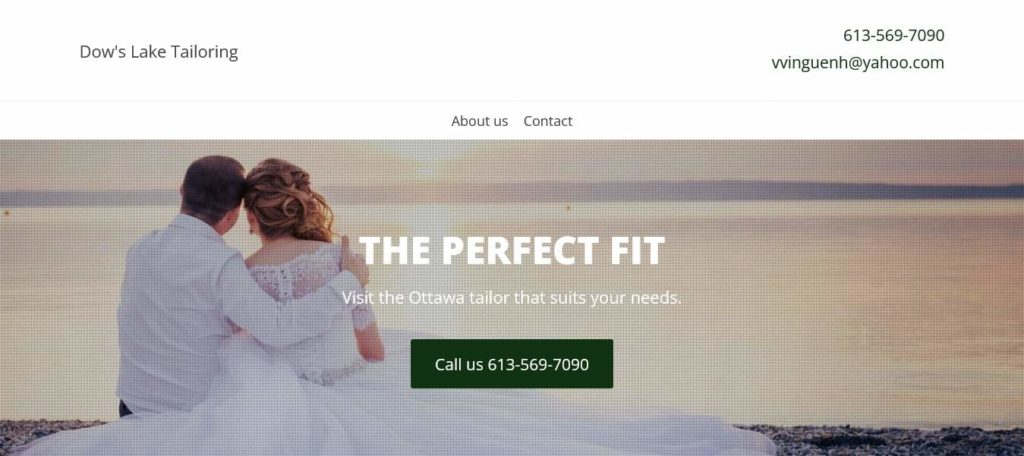 Test
Info
SERVICES
Hemming, leather repair, general alterations for all types of clothing, custom tailoring, clothing alterations, patching, zipper placement and repair, dry cleaning
ADDRESS
Dow's Lake Tailoring 451 Preston St Ottawa, ON K1S 4N5
CONTACT NUMBER
613-569-7090 |

[email protected]

WEBSITE
http://www.dowslaketailoring.ca/
OPERATING HOURS
Tuesday to Saturday 10 AM - 5.30 PM

Closed on Sundays and Mondays
Dow's Lake Tailoring has been doing professional alterations for bridal and bridesmaid gowns, tuxedoes, dresses, and jeans for over 15 years now. It also offers dry cleaning services on its premises.
The shop can also remodel clothes, do custom jackets, shirts, and suits, and put tailor-made touches on any kind of clothing. There are no portfolio pictures on the website but its Facebook page does yield some (captionless) creations.
To keep up with the demands of the time, Dow's Lake Tailoring also does special three-layer reusable masks. These are made to order, but unfortunately do not have any sample images to refer to.
Client feedback typically mentions its quick turnaround time for alterations and repairs, with particularly satisfied comments about jeans alterations.
Unfortunately, there's no information on how much it would cost for either tailoring services or dry cleaning, so calling up or visiting the shop is in order.
Free one-hour parking on the premises
Generally good feedback on alteration services
Can do custom-made clothing
Specialises in wedding attire
Not a lot of information on the website
Not wheelchair accessible
No BBB accreditation
Closed on weekends
Customer Reviews
Friendly and fast
"Great tailor shop. Friendly and fast. Took some pants in to be altered. Had them back only 5 days later and as expected. Would recommend." – Deen W.
Did a great job with a bridesmaid dress
"Did a great job with my bridesmaid dress! I decided to wear flats with a floor-length and she took it in just a touch more in the front than the back so I wouldn't trip!" – Mtlfoodie C.
4. Sew Crazy Ottawa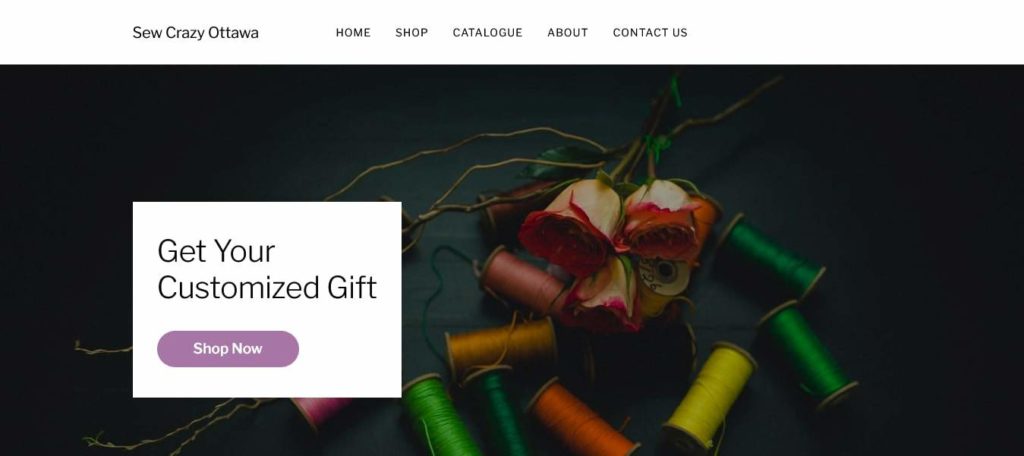 Test
Info
SERVICES
Machine embroidery, flour sack towels, hankies, memory pillows & logos for small businesses
ADDRESS
82 Chickasaw Cres, Ottawa, ON, K2M 1M7
CONTACT NUMBER
+1 613-868-8597 |

[email protected]

WEBSITE
https://sewcrazyottawa.square.site/
OPERATING HOURS
Mondays and Wednesdays 6 PM - 9 PM

Tuesdays and Thursdays 1 PM - 9 PM

Fridays 8 AM - 9 PM

Saturdays and Sundays 8 AM - 9 PM
Though it's not a tailor service in Ottawa per se, Sew Crazy Ottawa makes it to this listicle by virtue of providing levity within a serious industry.
The shop does custom embroidery for personalized and one-of-a-kind gifts. Some of its past works include embroidered flour sack tea towels, logo embroidered hoodies, and personalized wedding hankies with messages and dates embroidery.
A quick look at Sew Crazy's online shop shows creative and cleanly embroidered products ranging from plush toys to T-shirts. They're quite affordable with towels at just $13 and holiday stockings at $10 each (which is probably why they get sold out quickly).
Specialized, one-off items can be accommodated via its downloadable custom order form. However, the price quotes for these will understandably vary according to the object, material, size, and scope of the creative project.
So if you have special occasions coming up and want to give a truly unique present to someone, this shop might be your cup of tea. But for tailoring and alteration needs, it's better to go elsewhere.
Affordable catalogue of products
Custom order form available on the website
Can accommodate any kind of personalized embroidery
Not a tailoring shop
Some products get sold out fast
Confusing operating hours
No BBB accreditation
Customer Reviews
Kind and meticulous
"Angel did 3 memory pillows out of my Dad's shirts and they are beautiful. Would highly recommend this talented lady. She is kind and meticulous in all her work, thanks to Ang!" – Karen Robb
Great customer service
"Great customer service! Would definitely recommend it to everyone I know! I ordered sweaters to celebrate my engagement and she made them exactly how I pictured them! Thank you so much!" – Mia Dee
5. Lynn's Tailoring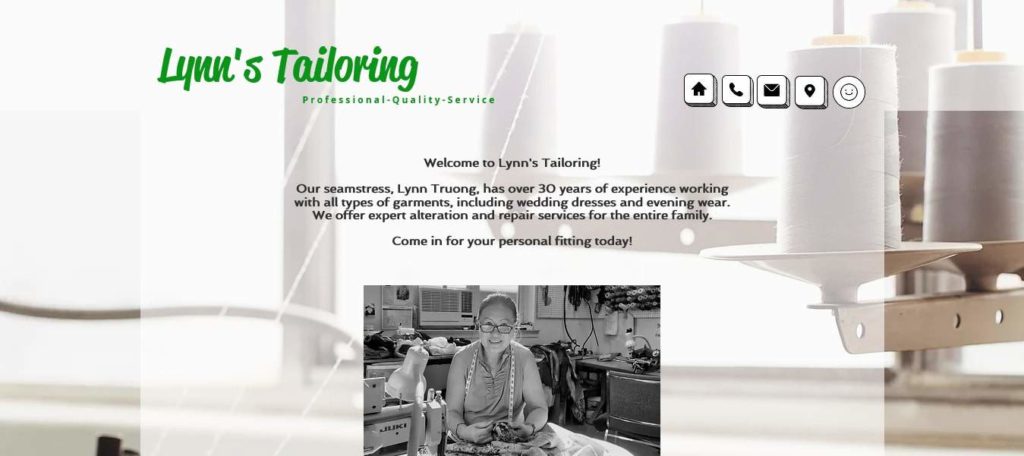 Test
Info
SERVICES
Sewing and alterations, bespoke clothing, recutting, restyling, patching, tapering, resizing, clothing restorations, recreation services
ADDRESS
288 Dalhousie St., Suite 100 - Ottawa, Ontario - K1N 7E6
CONTACT NUMBER
613-695-6366 |

[email protected]

WEBSITE
https://www.lynnstailoring.com/
OPERATING HOURS
Monday to Friday 10 AM - 4 PM

Closed on Saturdays and Sundays
Lynn Truong is the force behind Lynn's Tailoring and has over three decades of sewing experience to show for it. She has altered and repaired wedding dresses, evening wear, and other types of garments for satisfied clients in the Ottawa area.
Her shop's website is pretty barebones and looks more like a landing page than anything. But its Facebook page does yield some awesome-looking bridal gowns and bridesmaids' dresses that fit the wearers like a glove.
Customer reviews typically mention the fast turnaround time and flawless alterations that Lynn does on clothes. She prefers customers to come in for personal fittings to get accurate measurements and price quotes for them.
For a time, the shop was open six days a week but has temporarily closed on Saturdays for safety and hygiene concerns. Lynn's Tailoring also currently offers bespoke reusable face masks and shields for customers.
Satisfactory turnaround time according to clients
Specializes in wedding gowns and evening wear
Over three decades of sewing and alteration experience
Website needs updating
Temporarily closed on weekends
No BBB accreditation
Customer Reviews
Straight to the point and honest
"Lynn is skilled, reliable and affordable. She is straight to the point & honest when it comes to saying what is possible and not and why. As many other tailors, she needs to see the item to quote properly which I personally appreciate as it removes the risk of misunderstandings or surprises." – Lana P.
Did a superb job
"Contacted Lynn on Yelp and she got back to me the very next day. Brought a wool jacket to be shortened, Lynn was very nice very professional and super friendly. Was done in a timely manner and she did a superb job, I wouldn't know it was altered unless I looked closely at the stitching very closely. Upon closer inspection, I found that she removed the remnants of a fabric care tag I had cut off but left a bit behind but didn't say anything about it, what dedication she has! Highly Recommended!! I would go back to Lynn for other garments in the future!" – John C.
FAQs About Tailors in Ottawa
---
We hope that this listicle helps you find the best tailor in Ottawa for your garment alteration and custom-made needs.
Please tell us if you have more tailors to recommend and we'll be happy to review them.
Meanwhile, we have some published garment and design-related posts that might interest you: