Top 5 STD Testing Centres in Ottawa
To give yourself the peace of mind you deserve, we're reviewing the top STD testing centres in Ottawa today. We believe this is an important and essential service that can keep uncertainty, anxiety, and worry at bay.
In the next section, we'll be discussing the costs associated with STD testing. We also provided some helpful and informative FAQs at the end of this article.
How Much Does STD Testing Cost in Ottawa?
Because we're featuring a mix of private and public STD testing centres today, you can rest assured that you shouldn't have to pay through the nose to get tested.
Several departments and partner organizations of Ottawa Public Health's sexual health department are reviewed here. A lot of their services are free, with some low-cost options thrown in the mix.
But if it's a private STD testing clinic in Ottawa you prefer to go to, here are the estimated costs for some services.
| STD TEST | ESTIMATED COST |
| --- | --- |
| Hepatitis A, B, and C | $24 per single test |
| HIV 1 and 2 antibody test | $79 |
| Syphilis | $80 |
| HIV RNA early detection | $169 |
| Herpes I and herpes II | $65 per test |
| Chlamydia/gonorrhea | $89 |
Some private clinics could offer bundled services that include tests, lab work, and others. Public health clinics are likely going to throw in advocacy work and awareness programs especially to vulnerable sectors of society.
The Top STD Testing Centres in Ottawa
To give you reputable options, we selected STD testing centres in Ottawa for review based on these qualities:
1. Marleen Tassé Health Services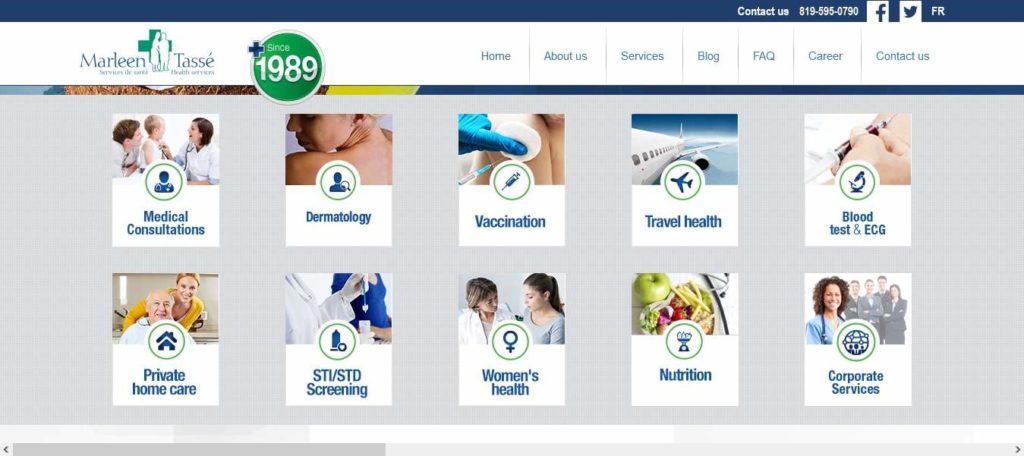 Test
Info
SERVICES
STI/STD screening, women's health, nutrition, dermatology, medical consultations, vaccination, travel health, blood test and ECG, private home care, corporate services
ADDRESS
1171, St-Joseph, Blvd Gatineau (Québec) J8Z 2C3
CONTACT NUMBER
819 595-0790 |

[email protected]

WEBSITE
https://www.marleentasse.com
OPERATING HOURS
Mondays and Thursdays 7 AM - 8 PM

Tuesdays and Wednesdays 7 AM - 4 PM

Fridays 7 AM - 3 PM

Closed on Saturdays and Sundays
Since 1989, Marleen Tassé Health Services has been offering clients specialized services under one private health care clinic roof. It offers STI screening, international travel health, family medicine, women's health, and other clinical care.
Its staff is trained to perform STI/STD screenings in a discreet manner with assured confidential follow-up for results. Patients can get screened for chlamydia, gonorrhea, syphilis, Hepatitis B + C, herpes, and HIV at this clinic.
We think it's great that there's also a women's health service being offered at the same clinic. This allows sexually active female patients to also get tested for STIs as well as get screened and treated for UTIs, vaginal infections, or get a pap test.
Marleen Tassé, unfortunately, doesn't post its clinic's prices for any of its services. However, most of them are covered by personal insurance plans, which clients are encouraged to explore before getting tested.
The clinic and laboratories (both private and public) are open on weekdays for appointments. Booking an appointment is important as it could prevent clients from paying late arrival and cancellation fees, as its operating hours are a bit confusing.
Screens most STDs
Confidential and discreet approach to testing
Most services covered by insurance plans
Other clinical care services offered
Confusing operating hours
Doesn't provide a price guide
Open on weekdays only
Customer Reviews
Worth the price
"Courteous service. Fast and efficient. It's worth the price." – Edmond Martineau
Staf is professional, accommodating, and confidential

"I recommend this helpful resource that will help you get help quickly. Also, the staff is professional, very accommodating and confidential!! Thank you!" – Julie Gingras
2. Ottawa Public Health (Sexual Health Clinic)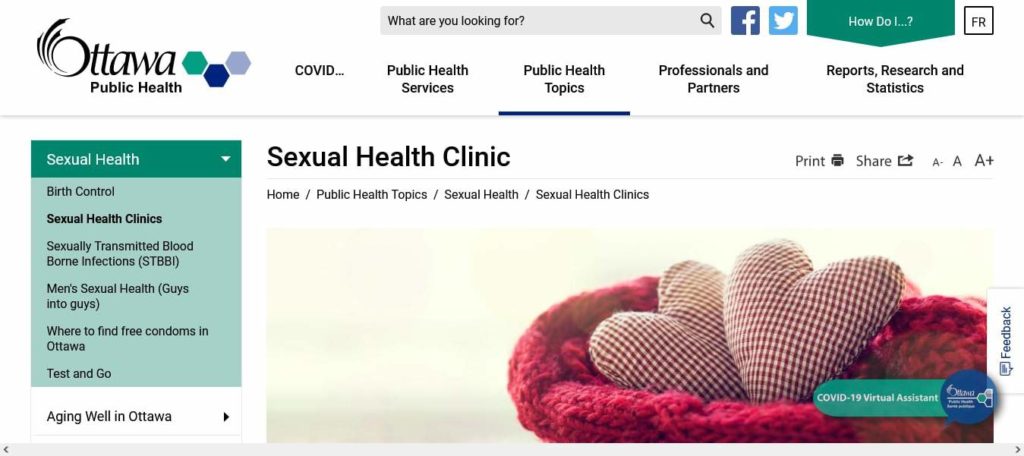 Test
Info
SERVICES
HIV post-exposure prophylaxis (HIV PEP), emergency contraception (Ella/Plan B/IUD), contraception, including intrauterine devices (IUDs) and low-cost options, persons diagnosed with an STI, including chlamydia, gonorrhea, syphilis, hepatitis B, hepatitis C, and/or HIV, sexual partners of persons diagnosed with an STI including chlamydia, gonorrhea, syphilis, hepatitis B, hepatitis C, and/or HIV, STI testing and screening for select groups
ADDRESS
100 Constellation Drive, Ottawa, ON K2G 6J8
CONTACT NUMBER
(613) 234-4641 |

[email protected]

WEBSITE
https://www.ottawapublichealth.ca/en/public-health-topics/sexual-health-clinic.aspx
OPERATING HOURS
Strictly by appointment
Ottawa Public Health's Sexual Health Clinic has the capacity to test and treat STBBI (sexually transmitted blood-borne infection) clients. It doesn't offer assessment or treatment for crabs, lice, scabies, herpes, and urinary tract infections
The clinic accommodates STI testing and screening for members of indigenous communities, from the black, African, and Caribbean communities, members of the LGBTQᐩ and MSM, and people who do sex work or take drugs.
These tests are free and confidential and are available to anyone with a photo ID (with an Ontario address) or a valid Ontario Health Card.
It also offers HIV testing confidentially or anonymously, as well as gives helpful resources for HIV self-testing options. There's a qualification process to determine who can get Hepatitis A & B immunization, vaccines against human papillomavirus, and affordable contraception.
However, clients have to call ahead to book an appointment because walk-ins are currently not allowed.
Offers low-cost contraceptive options
Free and confidential STBBI testing
Gives free condoms
HPV vaccination (for qualified patients)
STI testing and screening limited to certain groups only
Currently doesn't offer walk-ins
Doesn't do bloodwork for herpes and UTIs
Customer Reviews
Should train other departments on customer services
"Anytime we have dealt with this department I feel as though they should train the other departments on customer service. " – Jenn G-Mack
People who work there are so good
"We went to get tested cannot be more proud of our people working there all were so good working hard." – Tony Deschamps
3. The Link Ottawa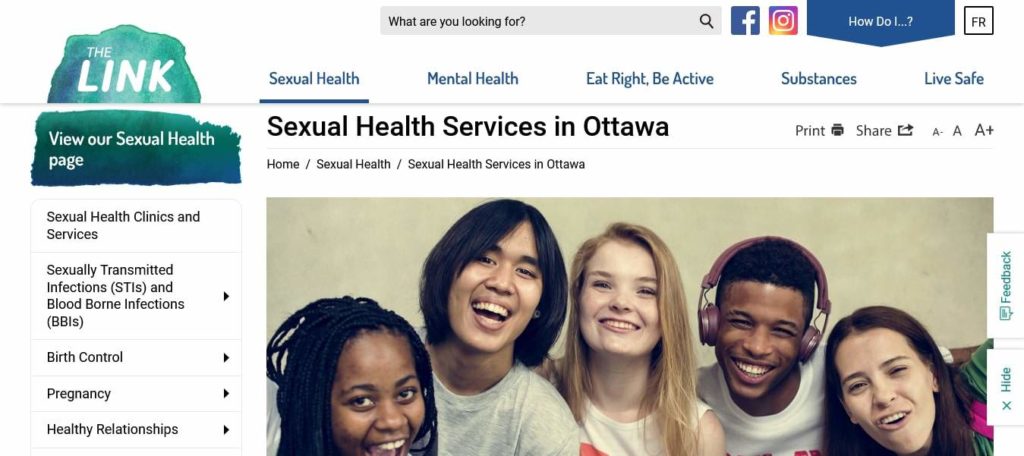 Test
Info
SERVICES
Information on STBBIs (sexually transmitted and blood-borne infections) and contraception, free testing and treatment for STBBIs, confidential or anonymous HIV testing, emergency contraception, affordable contraception (for those who qualify), IUD/IUS insertion (by appointment only at the main clinic), pregnancy testing and information about options, Hepatitis A & B immunization (for those who qualify), vaccine against human papillomavirus (HPV) (for those who qualify), free condoms
ADDRESS
100 Constellation Drive, Ottawa, ON K2G 6J8
CONTACT NUMBER
613-580-6744 |

[email protected]

WEBSITE
https://www.thelinkottawa.ca/en/sexual-health/sexual-health-clinics-and-services-in-ottawa.aspx
OPERATING HOURS
Strictly by appointment
The Link Ottawa is a resource portal of the different sexual health services of Ottawa Public Health, but with a focus on younger people. It offers links to youth sexual health and community and outreach clinics for those who are 29 years old and younger.
There are satellite clinics in more traditional medical settings offering the same services at the main Youth Sexual Health clinic. However, they currently can't accommodate anonymous HIV testing, rapid HIV testing, and IUD insertions (those have to be taken at the main youth clinic).
These satellite clinics each have their own hours of operation, which could be confusing. And since they accept walk-ins, there's usually a huge chance they won't be able to accommodate all patients coming in daily.
The staff at the main sexual health clinic can provide emergency contraception for (morning-after pill or Plan B) for females who've had unprotected sex within the last five days.
It can also provide prescriptions for HPV vaccines. However, clients will need to buy their own HPV vaccine from an outside pharmacy and bring them to the clinic for administration.
Focused on youth sexual health
Free testing and treatment for STBBIs
Affordable contraception (for those who qualify)
Gives free condoms
Can't diagnose or treat UTIs
Walk-in clinics are in high demand
HPV vaccines have to be purchased elsewhere
4. AIDS Committee of Ottawa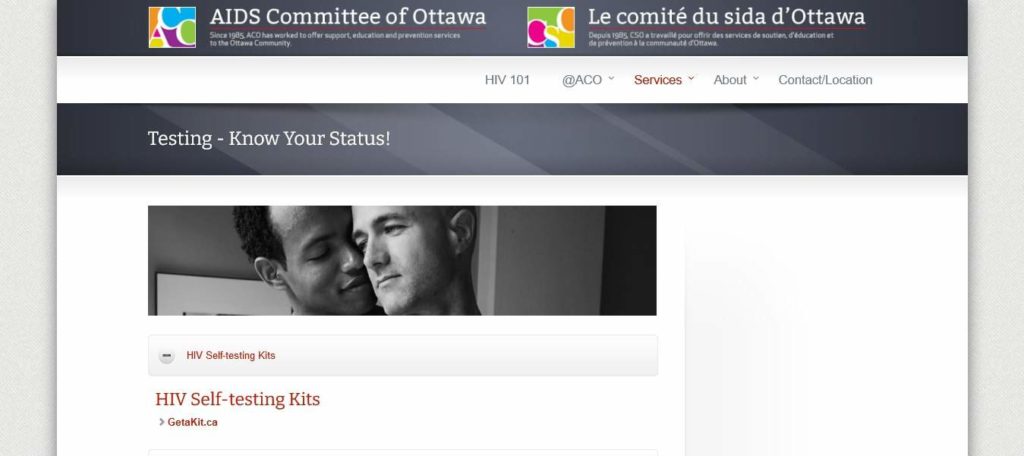 Test
Info
SERVICES
Community-based, non-profit organization providing free, confidential services for people living with, affected by, and at risk of HIV in the Ottawa area
ADDRESS
19 Main Street Ottawa, ON, Canada K1S 1A9
CONTACT NUMBER
+1 613-238-5014 |

[email protected]

WEBSITE
http://aco-cso.ca
OPERATING HOURS
Monday to Friday 9 AM - 4 PM

Closed on Saturdays and Sundays
The AIDS Committee of Ottawa (ACO) is meant for those who are at risk or are impacted by HIV/AIDS. It has been serving the Ottawa community since 1985.
Though not an STD testing centre in Ottawa per se, this group makes it to the listicle for the work it does to support, educate, provide outreach and prevention services via harm reduction programs. There are links to different outreach coordinators for women's and men's health and wellness, as well as for those who use drugs.
ACO encourages regular testing to know your status especially if you're sexually active. To support this advocacy, there are helpful resources provided to get HIV self-testing kits, where to get free condoms and HIV testing in Ottawa, where to get full STI screening and testing, and places for mobile testing and anonymous HIV testing (both full and rapid tests).
There's an available in-house anonymous rapid HIV testing (for men having sex with men) available at ACO and the Somerset West Community Health Centre, too.
It's too bad that it's only available once a week (every Monday) from 3 PM to 5 PM.
Provides MSM rapid HIV testing
Gives resources for other testing sites
Free and confidential services
Gives support, education, and prevention information
Focused on HIV and AIDS
Not an STD testing centre per se
In-house HIV testing on Mondays only
Customer Reviews
Privileged and honoured to have met these men
"I feel so privileged and honoured to have met these wonderful men. They affected my life in such a positive way." – Anne Pilon
Good services
"Gives good services for the community." – Rick
5. Gay Zone
Test
Info
SERVICES
Free HIV self-test, STI testing and screening, anonymous HIV testing, free condoms, Hepatitis A & B vaccination
ADDRESS
179 Clarence St, Ottawa
CONTACT NUMBER
613.234.4641 |

[email protected]

WEBSITE
http://gayzonegaie.ca/
OPERATING HOURS
(By appointment only)

Thursdays 4 PM - 6 PM
Gay Zone aims to reduce the transmission of STIs among GBTQ2+ males, including gay, bi, queer, trans, two-spirit guys, and other guys.
Aside from anonymous HIV testing, the organization provides complementary programs and STI screening and treatment it considers "culturally appropriate". Its sex-positive approach to its clients' sexual health and well-being includes harm reduction programs and proper information about sexual risks and safety.
We appreciate that the organization strives to deliver all of its services in a non-judgmental, respectful, and affirming manner in recognition of its clients' diverse and intersecting identities.
Gay Zone has partnered with other reputable sexual health clinics like the Ottawa Public Health, Centretwon Health Community, ACO, and Somerset West Community Health Centre. This network of health care clinics and providers allows clients different options for screening, advocacy, and help whenever they need it.
It's especially helpful since Gay Zone is open only every Thursday from 4 PM to 6 PM.
Offers harm reduction programs
Uses a sex-positive approach to education
Anonymous HIV testing
Partners with other sexual health clinics
Open only on Thursdays
Strictly by appointment only
Focused on GBTQ2+ only
FAQs About STD Testing in Ottawa
---
We hope that this resource on the top STD testing centres in Ottawa can give you the peace of mind and information you need.
Did we leave out a good STD testing centre? If so, please send us a message and we'll review it.
And if there are other healthcare services you require, feel free to check out the following published listicles: