Top 5 Home Health Care Providers in Ottawa
Seniors and people with disabilities or health conditions that need assistance in their day-to-day lives benefit greatly from home health care services. Despite how convenient hospital stays are for medical needs, they will never equate to the comfort of your own home.
Home health care in Ottawa has been improving throughout the years, bringing more affordable services to your door. If you're looking for the best of the best for you or your loved one, then check out our top home healthcare providers in the city.
How Much Does Home Health Care Cost in Ottawa
Under the Ontario Health Insurance Plan (OHIP), home health care for 65-years old and above are publicly funded. However, you might need services that are not covered by OHIP or those that are only partially covered.
Luckily, home health care providers can still cater to those who don't qualify for the coverage and for those who want to receive additional care for a reasonable price. Here are the common home health care services and their average estimated cost.
| Services | Average Estimated Cost |
| --- | --- |
| Speech-Language Pathology | $110 - $135/visit ​ |
| Social Work | $120 - $135/visit |
| Physiotherapy Follow-Up ​ | $90 - $100/visit (by a PT)$40 - $50/visit (by a PTA) |
| Physiotherapy | $90 - $150/visit ​ |
| Personal Support | $28 - $35/hour ​ |
| Occupational Therapy | $100 - $150/visit ​ |
| Nursing (RPN) | $45 - $60/hour ​ |
| Nursing (RN) ​ | $55 - $80/hour ​ |
| Home Support ​ | $24 - $33/hour ​ |
Source: https://www.comforcare.ca/resources/how-much-does-home-care-cost.html and https://www.closingthegap.ca/home-care-costs-in-ontario-a-complete-breakdown/
With the rising need for home health care and care homes, the Ministry of Long-Term Care of Ontario standardized accommodations' daily and monthly costs. The table below shows the average daily and monthly expenses per accommodation type.
| Accommodation Type | Average Daily Cost | Average Estimated Monthly Cost |
| --- | --- | --- |
| Short-stay | $40.24 | N/A |
| Long-stay Semi-private *2 | $74.96 (Basic plus a maximum of $12.78) | $2,280.04 |
| Long-stay Private *2 | $88.82 (Basic plus a maximum of $26.64) | $2,701.61 |
| Long-stay Basic *1 | $62.18 (a) | $1,891.31 (b) |
Notes:
The following formula determines the basic accommodation rate
2018 basic accommodation rate × (1 + CPI Rate) = 2019 co-payment rate.
[ i.e., $60.78 × (1+1.2.3%) = $62.18 ]
To determine the monthly rate, multiply the daily rate by 30.4167.
[ i.e., $62.18 × 30.4167 = $1,891.31 ]
Depending on the age and structure of the long-term care home, some long-term care facilities may offer semi-private or private accommodations at a lower maximum rate.
Source: https://www.ontario.ca/page/get-help-paying-long-term-care
Top Home Health Care Providers in Ottawa
We understand that you want peace of mind when availing home health care services. That's why we've used the following criteria as a standard in picking the top providers in Ottawa:
1. ComForCare Ottawa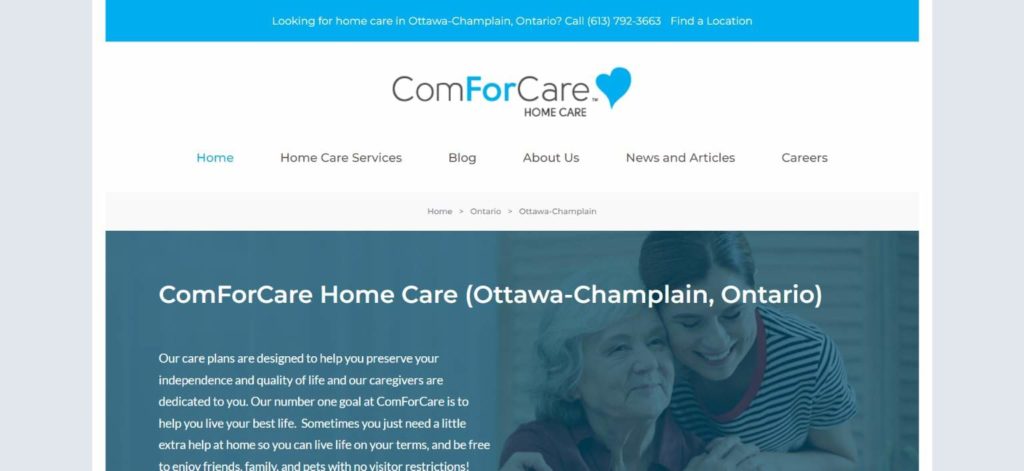 Test
Info
SERVICES
Bathing & Toileting, Companionship, Dementia Care, Disability Support, Family Respite, Grooming & Hygiene, Light Housekeeping,Live-In Caregiver, Meal Prep, Medication Reminders, Personal Care, Safety Supervision, Serve Pediatrics, Transitions of Care, Transportation
WEBSITE
https://www.comforcare.ca/ontario/ottawa-champlain
ADDRESS
1673 Carling Ave, Unit 202, Ottawa, ON K2A 1C4
CONTACT DETAILS
Phone: (613) 792-3663

Fax: (613) 792-3773

OPERATING HOURS
Open 24 hours
| | |
| --- | --- |
| Criteria | Ratings |
| Customer Service | ★★★★★ (5/5) |
| Range of Services | ★★★★★ (5/5) |
| Availability and Timeliness | ★★★★★ (5/5) |
| Good Reputation | ★★★★★ (5/5) |
Who doesn't love ComForCare Ottawa's 24/7 home health care services? Their professional care providers are available around the clock to assist in their clients' unique needs not only in Ottawa but in other franchises too scattered all over Canada.
Each office in the ComForCare franchise is independently owned and operated. This means that proud locals run ComForCare Ottawa, which has served the needs and preferences of the city in caregiving for more than 10 years.
Despite not providing a pricing guide for the services, we love how thorough ComForCare Ottawa is in giving information on what we can expect from them. Former and current clients appreciate how the company laid out what they can do for their clients on their website.
We're a fan of ComForCare Ottawa's Dementia Care Services which meets the high standards for dementia caregiving excellence. Their caregivers receive continuous training for dementia care for new techniques.
The Dementia Care services of the company have an in-home assessment in order for them to create a personalized plan for the patients. We love how ComForCare Ottawa suggests the necessary things that can help the patient have some independence too rather than relying on the caregiver assigned.
ComForCare Ottawa really caught our attention with their rigorous 10-step hiring process. We love how they are so meticulous in choosing their staff to ensure only the best home health care service as much as possible.
Unfortunately, ComForCare Ottawa's services vary by location. We would appreciate it more if they also give the specific lists of services provided per area in Ottawa, but they do compensate for this with their personalized home care consultations and accommodating customer service.
10-step hiring process
24/7 home health care services
No pricing guide
Service varies per area
Customer Reviews:
Very accessible and professional
"I'm so impressed with ComForCare, we required an urgent companion and from the initial contact, to answering all our concerns and providing wonderful companions they were fantastic. Flexible with with scheduling, caring, very accessible and professional, would definitely recommend to anyone." – Lisa Palin
Reliable, consistent, caring workers
"ComForCare came to help me when I needed it most. My Mom was in a facility with Covid, she got Covid and started wandering around the facility. I needed a 24 hour caregiver immediately. ComForCare was able to provide reliable, consistent, caring workers for my Mom to keep her safe. The workers all were caring and kind." – Catherine Locke
2. Home Instead Ottawa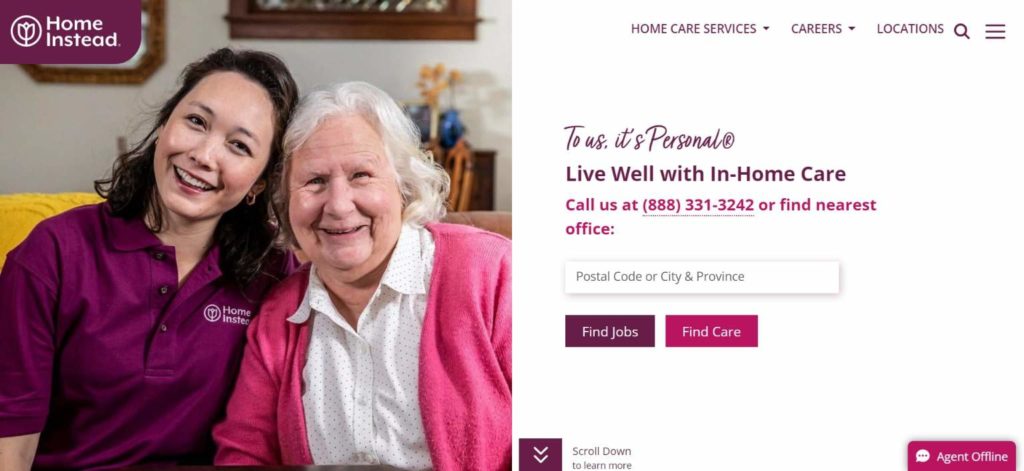 Test
Info
SERVICES
Alzheimer's & Dementia Care, Arthritis Care, Diabetes Care, Personal Care, Hospice Support, Chronic Illness Care, Home Helper, Transportation, Companionship
WEBSITE
https://www.homeinstead.ca/location/3010
ADDRESS
260 Hearst Way suite 210, Kanata, ON K2L 3H1, Canada
CONTACT DETAILS
Phone: (613) 801-1126

(613) 599-6906

OPERATING HOURS
Open 24 hours
| | |
| --- | --- |
| Criteria | Ratings |
| Customer Service | ★★★★★ (5/5) |
| Range of Services | ★★★★★ (5/5) |
| Availability and Timeliness | ★★★★☆ (4/5) |
| Good Reputation | ★★★★★ (5/5) |
With over 45 franchises across Canada and 1,200 franchise locations internationally, Home Instead Ottawa climbed their way to success and now holds a firm ground on this list. The service provider in Ottawa follows international standards of in-home health care.
Home Instead Ottawa specializes in home health senior care. It was founded and launched in 1994 by founders Paul and Lori Hogan to provide care to their 90-year-old grandmother.
Despite being part of a franchise, Home Instead Ottawa is still locally owned and operated. The owners had their fair share of taking care of their grandparents, and so they focused on improving senior home health care more and more to help them live safely and independently.
What we love most about Home Instead Ottawa is how clients can personalize their senior care plans, especially their Alzheimer's and dementia care, with end-of-the-day patient reports. They also have certified and licensed staff that can help you during specific hours of the day or provides 24/7 all-around care.
Home Instead Ottawa does not provide a pricing guide for their services, but you can always call to get a free personalized free quote. We appreciate how they tailor your home health care plan that will suit your family's or the patient's lifestyle and budget.
Personalized care plan
24/7 all-around care
No pricing guide
Mostly caters to seniors only
Customer Reviews:
Incredibly devoted team
"Home Instead provided care for my father for over 2 1/2 years up until his passing in October 2017. In the beginning he was still quite active and a few hours a day was sufficient. Over the course of the next few years his needs grew until 24 hour care was necessary. Through it all he was provided with uninterupted skilled, caring help. They helped with everything from entertaining friends on occasion to enduring 3 weeks of daily cancer out patient treatments. I live in the US and never felt helpless because of distance. The lines of communication were excellent and I felt very much a part of decision making. It was my father's wish that he pass in his own home on his own terms. Home Instead and the incredibly devoted team he had made his wish come true. I would highly recommend this company to anyone looking for compassionate and skilled care for a family member." – Jennifer Webber
Worth every penny
"We just started with Home Instead and am I ever happy that we did!! Felt a little strange letting an outsider in, but it is exactly what we needed for my Dad. He lives alone, lost his wife a few years ago, has mild alzheimers and is lonely during the day. The care provided is unique to his needs and fills his time with what he is missing. Human contact outside the family. We get a report after every visit…from the bottom of my heart I can say this experience is truly invaluable…worth every penny ❤" – Andrea Szabo
3. Qualicare Ottawa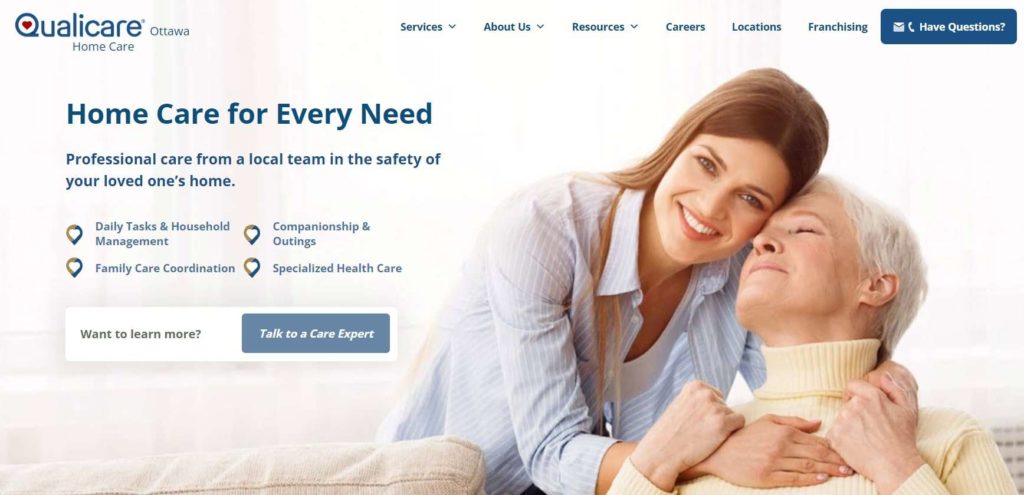 | Test | Info |
| --- | --- |
| SERVICES | Daily Tasks & Household Management, Companionship & Outings, Family Care Coordination, Specialized Health Care, Hospice & Palliative Care, Laundry & Housekeeping For Elderly Clients, Transportation Services, Respite Care Services, Medical Equipment & Supplies Assistance, Companionship and Conversation, Elderly Errand Services |
| WEBSITE | https://qualicareottawa.com/ |
| ADDRESS | 135 Laurier Ave W, Ottawa, ON K1P 5J2, Canada |
| CONTACT DETAILS | Phone: (613) 366-2899 |
| OPERATING HOURS | Open 24 hours |
| | |
| --- | --- |
| Criteria | Ratings |
| Customer Service | ★★★★★ (5/5) |
| Range of Services | ★★★★★ (5/5) |
| Availability and Timeliness | ★★★★★ (5/5) |
| Good Reputation | ★★★★★ (5/5) |
Qualicare Ottawa's 360-degree approach really caught our attention. We're impressed by how their company's goal is to bring peace of mind and to help families that have relatives that struggle with disabilities, chronic conditions, or old age.
The best thing about Qualicare Ottawa is they don't just take care of their patient physically but they also take the time to ensure mental health and wellness. The company achieves this through their Companionship & Outings services where they accompany the patients for leisure.
Unfortunately, Qualicare Ottawa does not provide a pricing guide for its services. However, we do appreciate how detailed the description of the services is and how it properly set our expectations when we first visited the website.
What sets Qualicare Ottawa from its competitors is its 24/7, year-round call center support. We love how it assures all their existing and future clients that all calls will be answered and that they have caregivers who are on standby and ready to provide aid whenever needed.
One of Qualicare Ottawa's services that grabbed our interest is their respite care. Family members that are caregivers of a loved one are prone to burnout and this service helps them protect their mental well-being by giving them a much-needed break.
Furthermore, Qualicare Ottawa's respite care involves part-time and as-needed care services. We love how we can customize our care plan from services all the way to the schedule.
360-degree approach
24/7, year-round call center support
No pricing guide
No financing assistance
Customer Reviews:
Very professional and conscientious.
"Kelly Prevost and her caring team from Qualicare have been looking after my 89 year old Dad for several months now. They have gone above and beyond to make sure my Dad has had the care he needs and they are very professional and conscientious. They have always been a pleasure to deal with and quickly respond to questions regarding care and scheduling. We are very grateful to Qualicare …what a great resource they are when home care is needed for a loved one." – Colleen Wrighte
Extremely helpful
"Our Mom lives alone and is able to manage most of the time. However, during the past year, it was felt that it would be beneficial to enlist some outside help to do errands, attend doctor's visits, accommpaniment for senior social activites, etc. The goal was to provide us with more quality time with Mom and not just chores and errands. We hired Qualicare and were about to start the service when the pandemic arrived and an order to stay home was issued. At first we were hesitant to start the companion service because of the possibility of Mom who is 80 plus years old being infected inadvertently. Qualicare's Kelly and Eileen explained their procedures to ensure the safety of our Mom and their staff so we decided to proceed with the service. It has been a few weeks now and Mom is very pleased with the companionship from Eileen and Christiane at this very trying time. During the twice weekly visits she has had some much needed walks in the fresh air, short trips for the necessities, lively conversation and help for other everyday tasks. As well, Eileen's nursing experience has been extremely helpful when Mom had doctor's appointments via telephone. Having that extra help from Qualicare has been very comforting for us and we look forward to a long and happy relationship." – Marthe Williams
4. Affinity Health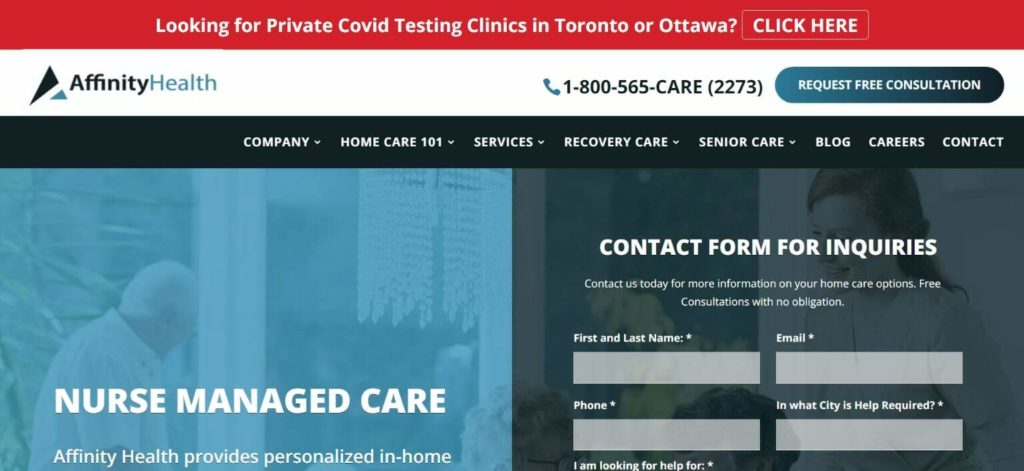 Test
Info
SERVICES
Care Management, Companion Care, Medical Equipment Supplies, Foot Care, Home Support Services, Live-in Care, Medication, Management With Pharmacist, Nursing Care, Meal Preparation, Personal Care, Seniors Transportation, Alzheimer's & Dementia Care, Mobility Assessments and Home Safety, MS & Als Care, Palliative and Hospice Care, Parkinson's Care, Physiotherapy at Home, Respite Care, Stroke Care, Special Need Care, Recovery Care
WEBSITE
https://affinityhealth.ca/
ADDRESS
1600 Carling Ave #102, Ottawa, ON K1Z 1G3, Canada
CONTACT DETAILS
Phone: (613) 369-5100

Email: [email protected]

OPERATING HOURS
Mondays to Sundays: 7:00 AM–12:00 PM
Affinity Health grabbed our attention with their years of upholding international home health care standards in Ottawa since 1994. The company specializes in giving personalized home health care for seniors.
However, it wasn't their almost three decades' worth of experience that grabbed our attention. Affinity Health Ottawa sparked our interest and really impressed us with the awards and accreditations they've received in the industry.
One of the awards of Affinity Health is their Better Business Bureau (BBB) Torch Award for Marketplace Ethics. We're very impressed since it's the highest honor BBB can bestow as it recognizes the company's integrity and great ethical practices.
Aside from that, Affinity Health impressed us even more for scoring 100% on Accreditation Canada's entire audit process and was hailed as "Accredited with Exemplary Standing" by the organization. The accreditation signifies that the company exceeds the national standards for health care.
One of our favorite services from Affinity Health is their senior home care specialization. Some of the services include Alzheimer's and Dementia Care, and Parkinson's Care which most caregivers struggle at.
We appreciate how Affinity Health has illness-specific home care services that seniors really need. Seeing the quality of the services from Affinity Health first-hand gives us confidence in suggesting them to everyone we know that needs the expert caring hands.
Unfortunately, Affinity Health does not provide a pricing guide and has limited operational hours posted in their Google listing too. However, they did provide a cost comparison that gives a small overview of how much their services cost depending on a plan.
28 years in the industry
Award-winning
Limited operating hours
No pricing guide
Customer Reviews:
Compassionate and caring
"Affinity Health helped my Mother tremendously after her surgery. They were compassionate and caring. The caregivers were great with providing my Mother with companionship and helped her maintain her dignity during the tougher aspects of her personal care. We were so impressed that we kept the companion visits going as my Mother really bonded with one of her caregivers in particular! Definitely a top notch company." – Caroline M I can do this i can do this
It was wonderful
"I had two elderly sisters who lived behind me. As they became more and more frail, they became increasingly determined that they were going to remain in their home. Thus, their care became my responsibility for many years. Finally it was becoming more than I could offer as their needs included situations that occurred during the night. Through CCAC, they learned about Retire-At-Home Services and engaged their services. It was wonderful! The care given to them by Retire-At-Home staff allowed both sisters to live out their dream of staying in their home until their passing. Written on behalf of Judy Pare" – Lorayne Bennett
5. Spark Lifecare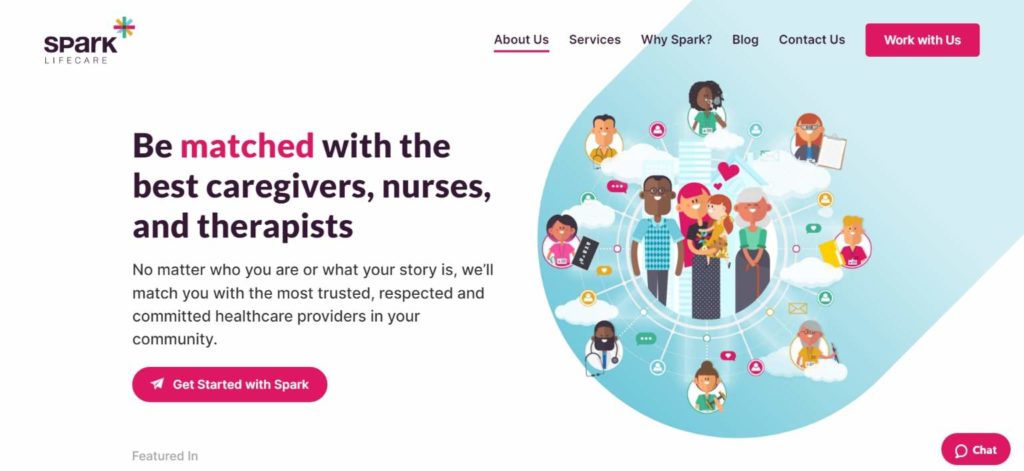 Test
Info
SERVICES
Caregiving, Case Management Services, Nursing Services, Psychology Services, Therapy Services, Tutoring Services, Transportation, Housekeeping Services, Assessments Services, Virtual Care Services
WEBSITE
https://sparkcares.ca/
ADDRESS
10 Florence St, Ottawa, ON K2P 0W7, Canada
CONTACT DETAILS
Phone: (613) 290-9709

Email: [email protected]

OPERATING HOURS
Mondays to Fridays: 8:00 AM–4:00 PM

Saturdays to Sundays: CLOSED
Spark Lifecare really "sparked" our interest with their for being Ottawa's Forty Under 40 Award Winner. Aside from that, they seem to be collecting more and more awards for winning the Rising Star Award Winner and the International Top 100 Healthcare Leaders Award Winner.
The awards just mean that this Ottawan-local awardee is making rounds internationally that show their excellence in home and community health care. We appreciate knowing that our loved ones are in great hands with Spark Lifecare's care and expertise.
We love how this healthcare agency has such a vast network of healthcare providers too. Spark Lifecare ensures to pair you with the right caregiver with whom your loved one will be more comfortable receiving care.
Speaking about caring mentally, Spark Lifecare grabbed our attention for the psychological services that come with their home healthcare. It's not a mandatory part of their home care plan but it's nice to know that it's available, especially knowing how chronic conditions or aging can affect the mind.
Unfortunately, Spark Lifecare is closed on weekends. However, we enjoy the perks of personalizing the home health care plan to have a caregiver on weekends too.
What makes Spark Lifecare different from the competitors is their add-on services. We love how they also provide housekeeping, transportation, and virtual care services knowing how challenging those things can be with a loved one the needs special care.
For those that are in-home health care and need to catch up in school, worry not since Spark Lifecare offers tutoring services. We love how they include this service since students with illnesses or recovering from an accident at home can enjoy and will really appreciate this extra help.
Spark Lifecare doesn't provide a pricing guide for its services. Even so, we appreciate how detailed the services are on their website plus how reassuring they make us feel by making sure they pair up their clients with the best caregivers that will take care of their loved ones.
Award-winning
Great workplace
Closed on weekends
No pricing guide
Customer Reviews
Brought peace of mind
"From the get go, Tiina was compassionate and genuinely interest in the well being of my wife. She has brought peace of mind and assurances that she is well cared for during my absence. The companionship services provided via Spark at top notch and every effort is made to match the right caregiver to the patient. I couldn't ask for a better arrangement." – Tim Jamieson
Best match possible
"I'm currently a Caregiver for Spark and I can honestly say this is the best company I have ever worked for! I've only been employed for just over a month, and the amount of kindness and support I have gotten from the entire Spark team is absolutely incredible. The way they pair clients to caregivers is the best, making sure they have common interests, and that they're going to be the best match possible! I love Spark!!" Meghan Weinhold
FAQs about Home Health Care in Ottawa
---
We hope this article helped you put your minds at ease in choosing a home health care provider for your loved ones. Choosing a caregiver is a sensitive and meticulous journey plus you also need to consider the feelings of your loved ones too if they will be comfortable with that arrangement.
Take time and explore your options together with the person involved and choose the provider that puts your mind at ease the most. For more healthcare-related listings, feel free to check out the blogs below: