Top 6 Sleep Clinic Services in Ottawa
Been tossing and turning in your sleep lately? Or has your significant other been complaining about your snoring or teeth grinding?
Whatever scenario it is, you're better off with the services of the top sleep clinic services in Ottawa if it's causing lots of sleepless nights.
In the next section, we'll also be looking at the costs associated with helping you get healthy sleeping habits.
How Much Does a Sleep Clinic Cost in Ottawa?
Each sleep clinic will likely have different rates and promos to entice patients to go to them instead. The great news is that most sleep apnea and other sleep disorders are typically covered by OHIP for both the treatment and equipment to be used.
That means you can expect around 50% – 70% of the cost of a CPAP machine or other tools to be covered by OHIP with the rest of the cost expected to be paid out-of-pocket.
And if you have extensive healthcare coverage, that might take care of the rest of the expenses so you're essentially paying for nothing.
Of course, things might be a bit different if small children are the ones in need of sleep clinic programs.
As indicated in the table below, some sleep specialists charge sleep disorder remediation per package depending on the length of treatment, the child's age, if there are multiple kids, and other factors.
| | |
| --- | --- |
| SLEEP CLINIC SERVICE | ESTIMATED COST |
| Consultation | $250 up (or free, depending on the clinic) |
| CPAP/APAP machine treatment | $1,000 up |
| Twins/multiple kids sleep program | $675 – $800 per package |
| 2-week sleep and parenting support for toddlers | $575 per package |
Some sleep clinics might also waive consultation fees if referred to by other doctors such as a dentist or a cardiologist. Still, it's best to clarify this with the receptionist or via email or phone call to be on the safe side.
The Top Sleep Clinics in Ottawa
Ready to catch some quality ZZZ's? Then let's take a closer look at what the top sleep clinics in Ottawa can do to give you your well-deserved restful snooze.
1. Sleep Efficiency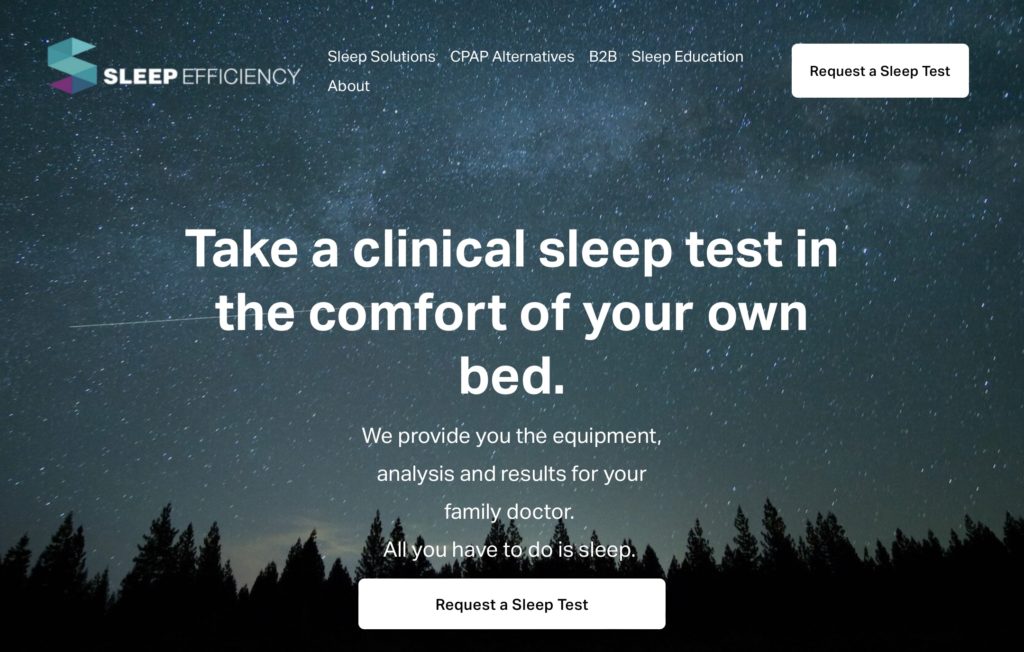 Our experience with Sleep Efficiency, the premier sleep clinic company, has been nothing short of exceptional. From the moment we walked through their doors, we knew we were in capable hands.
When it comes to services, Sleep Efficiency leaves no room for disappointment. Their state-of-the-art facilities and expert staff create an environment where comfort and expertise coexist.
Our journey through sleep diagnostics was seamless, thanks to their cutting-edge technology and attentive professionals.
Convenience is often a deciding factor, and Sleep Efficiency shines in this department. Booking appointments was effortless, and their flexible scheduling options accommodated our busy lives.
This company knows the value of time, and they ensure every visit is efficient and productive.
Reputation matters, and Sleep Efficiency's reputation precedes them. Countless testimonials and referrals speak volumes about their commitment to excellence.
We were reassured by their stellar track record, knowing we were in the hands of a trusted institution.
Cost-conscious consumers will be pleased to know that Sleep Efficiency offers value for money.
Their transparent pricing structure and personalized treatment plans mean you pay for exactly what you need. We appreciated not being hit with unexpected fees or hidden charges, a testament to their integrity.
Sleep Efficiency's commitment to their patients is truly commendable. They go above and beyond to educate and empower individuals about the importance of sleep health.
The personalized care we received made us feel valued and cared for, reinforcing our trust in their expertise.
However, they can get busy during peak days. We suggest booking them ahead of time.
Same-day emergency services are available
Can accommodate non-referred patients
At-home sleep tests are available
Home delivery for added convenience
No requirement for a referral
Book the test independently
Only a 1-week waitlist as opposed to hospitals with 6-12 month waitlists
Receive your test results within 1-2 weeks
Benefit from comprehensive post-test analysis provided to every patient
Customer Reviews
Matt Blostein, a satisfied client, said:
I recently attended a lunch and learn presentation by Andrew and found it to be extremely informative and engaging. Andrew provided a comprehensive overview of the science behind sleep, the different stages of sleep, and the benefits of getting adequate sleep. I appreciated Andrew's engaging and interactive presentation style, which included real-life examples and anecdotes to illustrate their points. Overall, the lunch and learn was a great opportunity to learn more about the science of sleep and how to improve the quality of our sleep habits. I would highly recommend this presentation to anyone looking to improve their sleep health.
Alex Edwards also said:
I used the Sleep Efficiency service earlier this month. I was dealing with daytime drowsiness, knew that I snored, and was trying to track my sleep with a watch application. I needed real professional data to truly understand if I had any apnea issues. The Sleep Efficiency unit was easy to use, the service professional, and the data and results provided within a few days. The data is reviewed by a credited professional and explained in a consult. I would highly recommend this service.
2. Ottawa TMJ and Sleep Apnea Clinic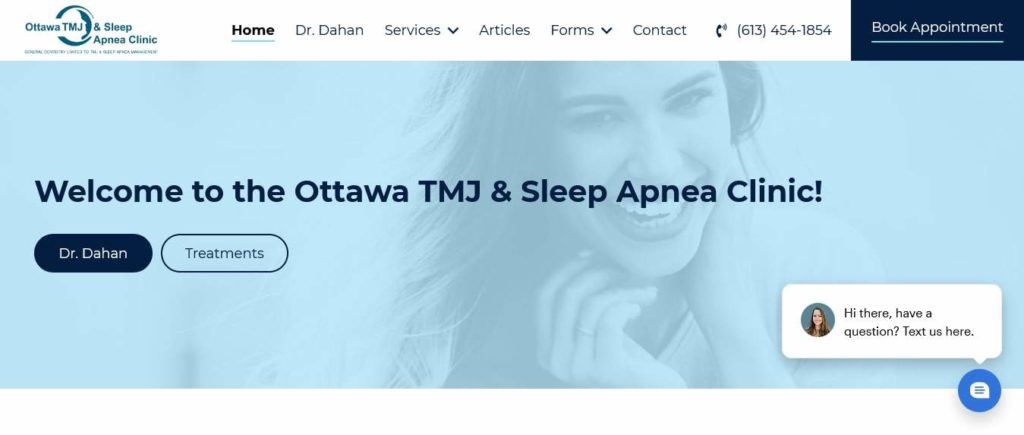 SERVICES
Sleep apnea therapy, facial pain treatment, headaches and migraine treatment, home sleep tests
ADDRESS
2249 Carling Ave. #310 Ottawa, ON, K2B 7B8
CONTACT NUMBER
(613) 454-1854


[email protected]

WEBSITE
https://ottawatmjclinic.com/
OPERATING HOURS
Monday to Thursday 8 AM – 4 PM
Closed on Fridays, Saturdays, and Sundays
The Ottawa TMJ and Sleep Apnea Clinic is properly equipped and staffed to deal with bruxism, sleep-disordered breathing, temporomandibular disorders, and sleep apnea. It uses non-surgical and holistic treatments to help patients sleep better and be rid of facial pain.
Sleep apnea and bruxism are treated at the clinic with a 3-D printed oral appliance therapy like a mouth guard or retainer. It doesn't use a CPAP because most patients find the machine bulky, noisy, and uncomfortable.
For added convenience, the clinic's Dr. Haissam Dahan can give patients an at-home sleep test to get properly diagnosed. The results will then be evaluated by a qualified physician with the prescribed treatment given to the patient.
The clinic can accommodate patients even without a referral from other doctors. Same-day emergency services are also available from Mondays to Thursdays (though it would be nice for them to open on the weekends, as well).
Same-day emergency services are available
Can accommodate non-referred patients
Offers customized mouth guards
At-home sleep tests are available
Doesn't use a CPAP machine for patients
Open for only four days a week
No BBB accreditation
Customer Reviews
Made a huge difference for sleep issues
"I was suffering headaches from TMJ and Dr. Dahan and his Team designed a very unusual night guard for me. Working around dental implants they custom-designed an appliance that made a huge difference for my sleep and headache issues. Dr. Dahan was very patient and made me feel very comfortable. I highly recommend them." – Cindy Assaly
Compassionate and professional staff
"The most welcoming, compassionate and professional staff ever! Dr. Dahan was able to solve my TMJ issues." – Christine McDonald
2. West Ottawa Sleep Centre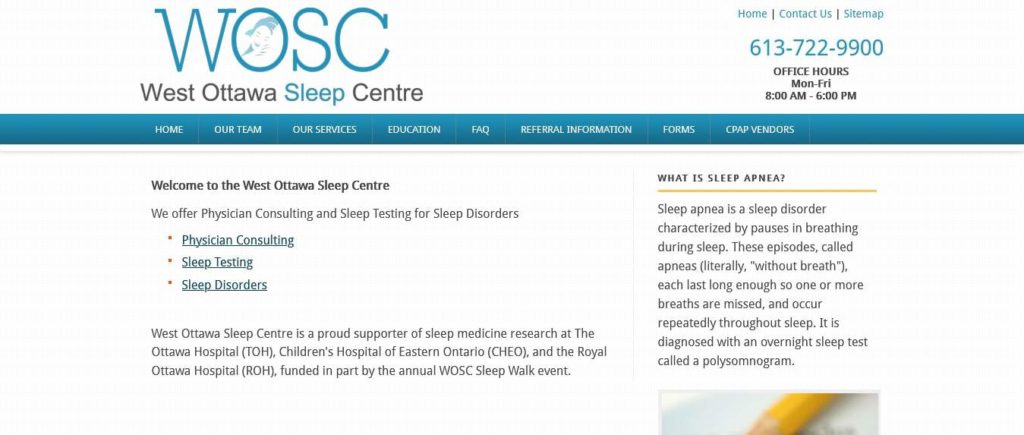 SERVICES
Sleep testing, sleep disorder treatments, physician consultation, sleep testing lab
ADDRESS
770 Broadview Avenue Ottawa, ON K2A 3Z3
CONTACT NUMBER
613.722.9900 ext. 2


[email protected]

WEBSITE
https://www.wosc.ca
OPERATING HOURS
Monday to Friday 8 AM – 6 PM
Closed on Saturdays and Sundays
The team of sleep specialists at the West Ottawa Sleep Centre is made up of licensed respirologists, specialists in Adult Sleep Medicine, and residents and fellows who undergo training at the University of Ottawa's Respirology Training Program.
As if that's not impressive enough, its sleep staff is multilingual, to boot! Among the ten sleep technologists, Mandarin, Shanghai dialect, French, English, Tamil, Singhalese, Hindi, Punjabi, Japanese, and Kiswahili are spoken so multi-cultural guests are comfortable and at ease during the tests and treatments.
Both sleep study and physician consultation are covered by OHIP so there's no need to worry about paying out of pocket. However, those who aren't residents of Ontario will need to pay their insurance providers on their own before booking a sleep study.
The clinic is open on weekdays only and accommodates multiple patients nightly. No-show fees are charged to clients who don't show up for their sleep study due to the high demand for it.
Adults and teenagers can be accommodated for a sleep study. However, those who are seven to 12 years old cannot be served and might be better with a child-focused sleep program.
Staffed by respirologists and sleep specialists
Multi-lingual sleep staff
Sleep study and consultation covered by OHIP
Can accommodate non-Ontario residents
Open on weekdays only
Slots can get filled up quickly
Can't accommodate sleep studies for kids aged 7 – 12 years old
No BBB accreditation
Customer Reviews
Hard-working people with difficult all-night shifts
"The staff were great !!! One nice lady escorted me downstairs in the elevator and another nice lady took measurements and information. Then after I was settled in and excellent at his job gentleman helped wire me up for the tests. These are hard-working people with difficult all-night shifts so I really want to thank them all for their hard work on our behalf." – David Thompson
Everything was thoroughly cleaned and sanitized
"Very professional staff had a very nice doctor throughout the entire process. Everything was thoroughly cleaned and sanitized and you could tell! Yes they are very busy and it is hard to get ahold of the reception team BUT they have a LOT to do/monitor and must be super backed up with covid and the lack of people allowed in the clinic. Extremely comfortable bed as well!" – Morgan Marie
3. Inspiration Medic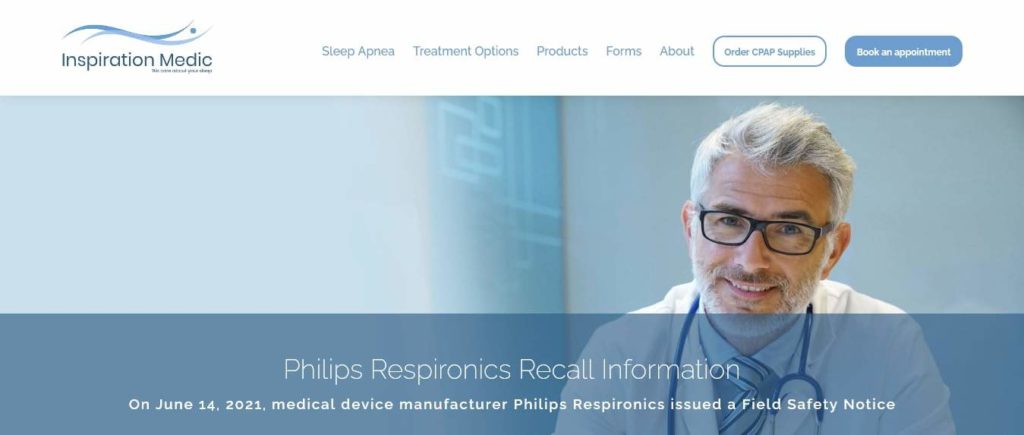 SERVICES
Sleep apnea treatments, products shop
ADDRESS
219-1419 Carling Ave. Ottawa, ON K1Z 7L6
CONTACT NUMBER
(613) 747-2468


[email protected]

WEBSITE
https://www.inspirationmedic.com/
OPERATING HOURS
Mondays and Fridays 9 AM – 5 PM
Tuesday to Thursday 9 AM – 7 PM
Closed on Saturdays and Sundays
Inspiration Medic is a sleep clinic that primarily uses a positive airway pressure device (PAP) because it believes it's the gold standard for sleep apnea treatment. But patients can also be advised to try positional therapy, an oral appliance, behavioural treatments, or a nasal valve for unobstructed airflow.
The Inspiration Medic team of registered Respiratory Therapists and Sleep Technologists aim to work closely with the client's medical professional to come with a customized treatment. It carries a wide array of sleep products including masks, devices, tubes and filters, travel units and batteries, and more.
Aside from making sleep products more accessible to patients, the team also wants to guide and educate them on sleep and breathing disorders. Clients can visit the clinic without a prior appointment, though, booking beforehand is highly encouraged.
But since extra care is being taken given the current global situation, the clinic now operates at reduced hours and is closed on weekends. Virtual care appointments for sleep apnea patients are now available, as well.
Offers a variety of sleep apnea treatments
Available for in-patient and virtual appointments
Carries a good range of sleep apnea products
Has a team of respiratory therapists and sleep technologists
Focused on sleep apnea treatment only
Open on weekdays only
No BBB accreditation
Customer Reviews
Helped maximize rebates to keep costs down
"I was referred here by the sleep clinic a couple of months ago and the customer service continues to exceed my expectations. They corresponded directly with the sleep clinic and did all the paperwork on my behalf, they routinely checked in with me to answer any questions and helped me maximize my rebates to keep my costs down. They were even familiar with my private insurance company and organized all the paperwork for me without my even asking. It's been truly a dream dealing with these guys." – Lauren K.
Exceptionally professional, helpful, and friendly
"I have only been dealing with Inspiration Medic for a couple of years, but have found them to be exceptionally professional, helpful, and friendly. They are very good at keeping in touch with their clients through emails. Recently, there was an incident that could have cost me a substantial amount of money. However, they, very kindly, chose to absorb the cost. I was very surprised and delighted with their decision. I recommend this branch of Inspiration Medic to anyone dealing with sleep apnea." – S. Bakewell
4. The Happy Sleep Company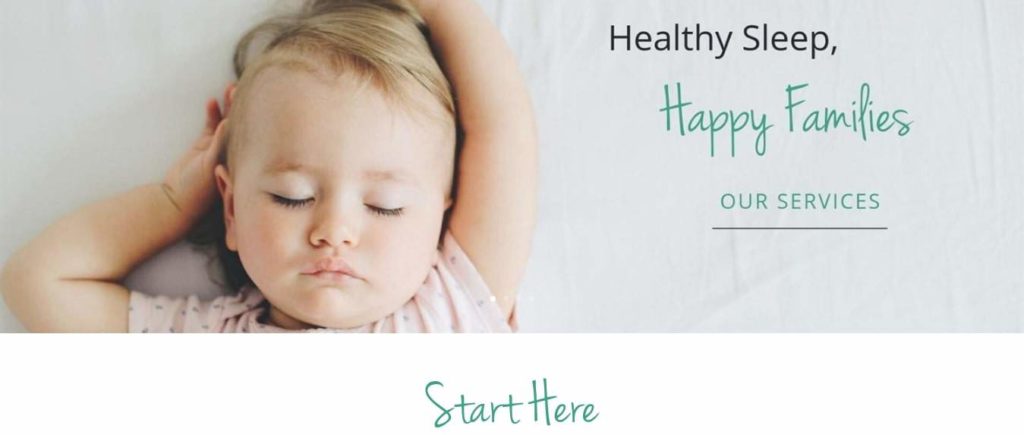 SERVICES
Infant/toddler sleep program, preschooler sleep program, twins/multiples sleep program, monthly support calls
ADDRESS
Available worldwide via Skype/Facetime/Zoom/phone/email
CONTACT NUMBER
+1 613-404-4478


[email protected]

WEBSITE
https://thehappysleepcompany.com
OPERATING HOURS
By appointment only
The Happy Sleep Company believes that healthy sleep creates healthy families in turn. This is especially true of well-rested children, especially babies and toddlers.
Its founder Erin Junker is certified in Infant & Toddler Sleep Consulting. She has formulated a two-week guided virtual program so the tiniest members of the family can develop healthy sleeping habits.
Erin's team has other moms/professional consultants with backgrounds in nursing, kinesiology, behavioural therapy, and psychology. Together, they offer a customized sleep plan for infant and toddler clients aged 14 weeks to three years old.
Though its team is based in Ottawa, the centre doesn't have a physical location. The therapists conduct their programs and consultations virtually: by phone, email, or video conferences.
For families with multiple kids and pre-schoolers, the Happy Sleep Company has programs for them, as well. The downside is that they're pricier with $550 programs for pre-schoolers and anywhere between $675 to $800 for twins and multiple kids.
Free 20-minute phone consultation
Customized sleep programs from infants to pre-schoolers
Free sleep guide e-book via the website
Formulated by certified therapists/actual moms
Pricey sleep programs
No physical location
No BBB accreditation
Customer Reviews
Now sleeping 12 hours straight every night
"We are so happy we contacted The Happy Sleep Company. Our daughter relied on being rocked to sleep every night and for all naps. She was also sleeping in our room between her bassinet and our bed. She is now sleeping 12 hours straight every night and has 3 solid naps a day. We sleep much better at night and have so much more time to get things done around the house while baby naps. If you are considering taking the steps in bettering your child's sleep, I would highly recommend the Happy Sleep Company." – Baby O's Mom
Cannot stress enough the difference made in energy and happiness
"Working with Erin was the best decision we made! Our 7-month-old was up 2-3 times per night and her naps were often very short (30 minutes) and inconsistent and often she needed to be nursed to sleep. On night two of Erin's program, our daughter slept through the night; my husband and I were in shock. She continues to sleep 12 hours straight at night and her naps are much longer and becoming more consistent. I cannot stress enough the difference this has made in her energy and happiness (and ours!). She is SO much happier and bedtime is no stress now! Erin is extremely knowledgeable, understanding, reliable, competent, responsive and supportive. We cannot thank her enough and we definitely recommend working with her if your child is having any sleep difficulties." – Baby M's Mom
5. Restful Parenting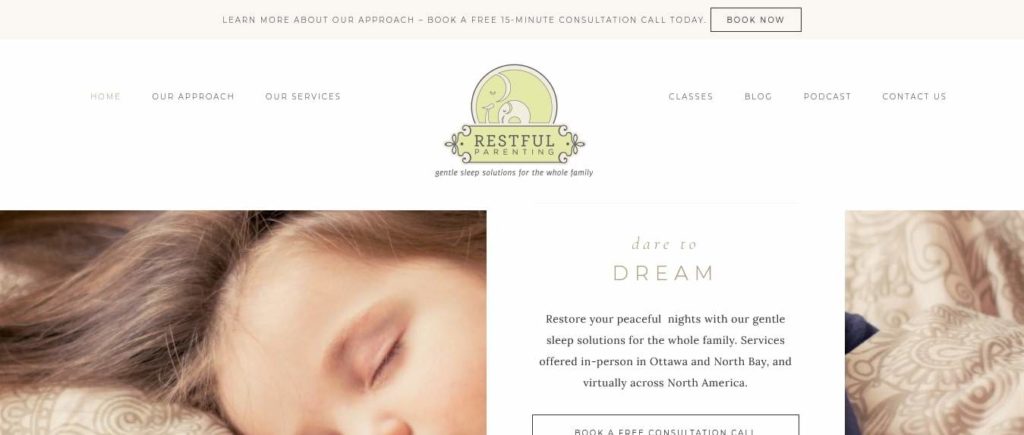 SERVICES
Sleep and parenting packages, parenting packages, in-person consultation, virtual walkthrough
ADDRESS
27 Robina Ave K2H 9P9 Nepean Ontario
CONTACT NUMBER
(613) 447-7945


[email protected]

WEBSITE
https://restfulparenting.com/
OPERATING HOURS
By appointment only
Because it's not just adults who can get sleep disorders and unhealthy sleeping habits, the Restful Parenting company provides a holistic approach to address them. These services are packaged to accommodate both parents and their kids.
The great thing about this company is that, while its main focus is on proper sleep habits, it also offers parental support for a host of other child-rearing issues. There are parenting packages for specific issues on kids of all age ranges, from newborns to older kids.
Some of its sleep programs also aim to be tailor-made for kids who may have toilet training problems, who constantly throw tantrums, and who need to eat healthier. The sleep and parenting packages can run from two weeks to a full year so that's a lot of options.
The two-week toddler sleep package is priced at $575 which is a bit steep, but it does come four additional weeks of group support. Meanwhile, the six-month parenting program costs $900 but also comes with an in-person consultation, a full coaching plan, SOS calls, video resources, and a host of other helpful tools and services.
Free 15-minute consultation
Packaged services for babies and parents
Provides parenting support for child-rearing issues
Free e-book and video with registration
Expensive package rates
In-person consultation is an add-on service
No BBB accreditation
Customer Reviews
Walked through the process in the most gentle and confident way
"Elisa was so helpful when we were learning to sleep train our son when he was 4 months old. I felt overwhelmed at attempting it on my own and Elisa eased my worries and walked me through the process in the most gentle and confident way. I am so grateful to Elisa for helping us during that time and have recommended Restful Parenting to all of my friends." – Cait Jacques
Took the guesswork and doubt away
"Pam was fantastic! We struggled with sleep for 5.5 months and with her support, we now have a rested baby and a happy mom and dad! Having her available to answer all my questions took the guesswork and doubt away from sleep coaching and allowed me to stay confident and consistent. Thanks, Pam!" – Meg Porter
FAQs About Sleep Clinic Services in Ottawa
---
The top sleep clinics in Ottawa can help address the main cause of your sleep disorder while establishing healthy sleeping habits.
You can also consider the top massage services in Ottawa for a fully relaxing experience to help you sleep better.
Think we missed out on another great sleep clinic in Ottawa? Send us your recommendations and we'll take a look at them and see if they make the list!