5 Best Shawarma Restaurants in Ottawa
Craving some hot and fresh shawarma sliced right up in front of you? Well, you're in luck because we checked out the best restaurants to get your tasty, meaty fix.
In this article, we listed the best shawarma restaurants in Ottawa, so all you have to do is drop by whichever one catches your fancy and order your delicious pita goodness!
Top Shawarma Restaurants in Ottawa
Just like any other business offering up services to customers, we made sure to use the following criteria when making our choices on the best shawarma restaurants in Ottawa:
1. Shawarma Garlic & Onion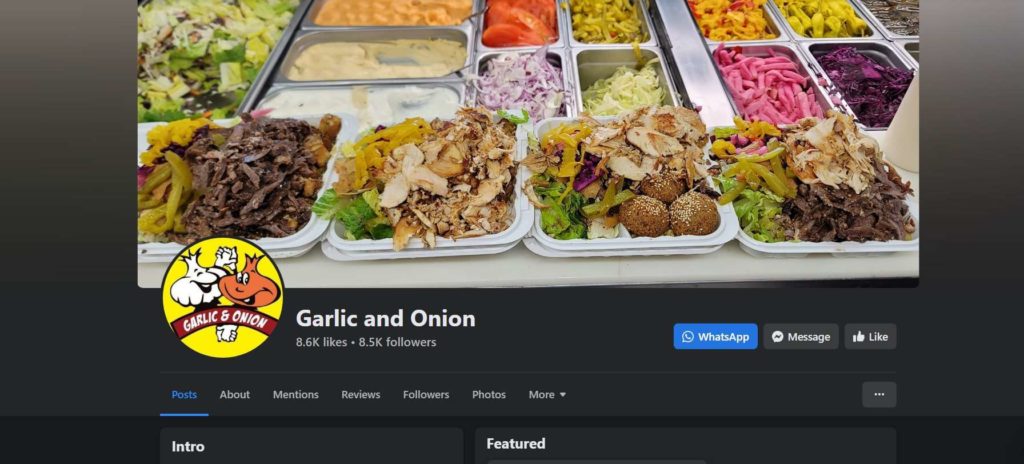 | Test | Info |
| --- | --- |
| MENU | Chicken shawarma, beef shawarma, falafel, donair shish taouk, chicken poutine, beef shawarma poutine, donair poutine, shish taouk poutine, chicken wings, family platters |
| WEBSITE | https://www.facebook.com/garlicandbassal |
| ADDRESS | 1465 Richmond Rd, Ottawa, ON K2B 6R9, Canada |
| CONTACT DETAILS | 613 829 8282 |
| OPERATING HOURS | Monday - Sunday: 11:00 AM - 9:00 PM |
| | |
| --- | --- |
| Prices | ★★★★★ (5/5) |
| Menu | ★★★★★ (5/5) |
| Dining options | ★★★★☆ (4/5) |
| Customer feedback | ★★★★★ (5/5) |
Shawarma Garlic & Onion is a humble Lebanese restaurant in Ottawa that serves not just hot and fresh shawarma but a smorgasbord of Lebanese cuisine. It even goes above and beyond by offering Canadian-Lebanese fusion cooking too.
This restaurant took poutine and combined it with chicken or beef shawarma to create dishes that have its customer's mouths watering at the unique taste.
If you're a little more adventurous, it even has Donair poutine and Shish taouk poutine available.
Whether you have the case of the munchies or planning on bringing the whole family, Shawarma Garlic & Onion also has family platters available.
The family platter includes 4 shawarma sandwiches, 4 drinks, and 1 large side dish of your choice.
Its variety of side dishes is displayed cafeteria-style when you go to the front to order, letting you see for yourself which side dishes you want to get the most.
Plus, there's something mesmerizing about watching your food prepared right in front of you.
For its dining options, you can take a seat inside the restaurant while you dig into shawarmas or order takeout instead. Sadly, it doesn't really have any other dining options since the inside isn't that big to accommodate more.
Shawarma Garlic & Onion is also available on food delivery apps like DoorDash, Getit Local, etc. Aside from a few minor complaints, it's one of the top shawarma restaurants in Ottawa for a good reason.
Good amount of choices
Group meals available
Authentic shawarma
Very limited dining options
Minor customer complaints
Customer Reviews
Really enjoyed it
"What a great find! Their shawarma chicken and beef were both tender and flavoured well. The family platter for 4 had a good amount of potatoes, rice, meat, and veggies! I was pleasantly surprised and really enjoyed it. Check out my photos! Really friendly service as well." – Mimi Munches
Very generous serving
"We tried their chicken shawarma plate and were not disappointed! It was a very generous serving and we really enjoyed it. The people working there were very friendly and welcoming. Would highly recommend! We will be back." – Tazmin Mitha
2. K&W Shawarma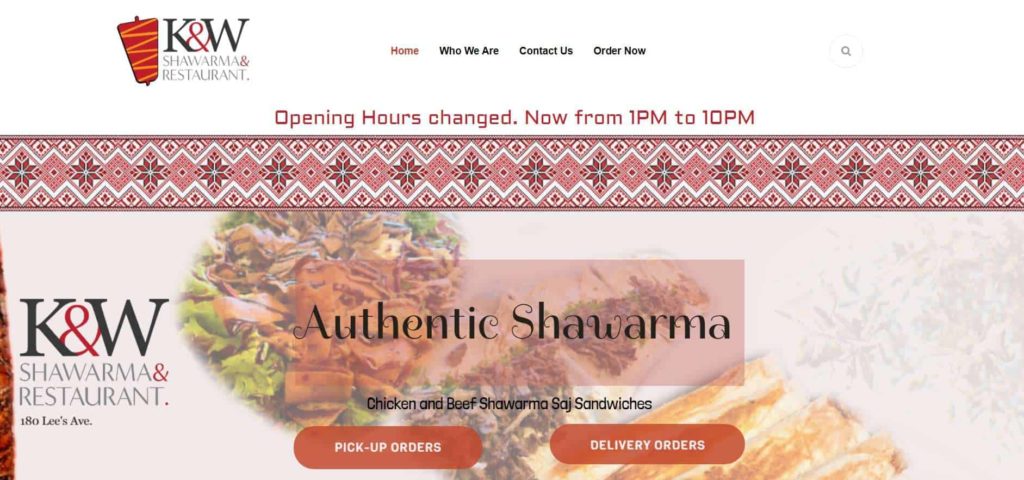 Test
Info
MENU
Chicken shawarma, beef shawarma, falafel wrap, potato fries wrap, shawarma salad, fattoush salad, shawarma poutine
WEBSITE
https://kwshawarma.ca/
ADDRESS
180 Lees Ave, Ottawa, ON K1S 5J6, Canada
CONTACT DETAILS
613 421 0247
OPERATING HOURS
Monday - Friday: 11:00 AM - 10:00 PM

Saturday - Sunday: CLOSED
| | |
| --- | --- |
| Prices | ★★★★★ (5/5) |
| Menu | ★★★★★ (5/5) |
| Dining options | ★★★★☆ (4/5) |
| Customer feedback | ★★★★☆ (4/5) |
K&W Shawarma markets itself as a straightforward restaurant that serves shawarma, grilled meat wraps, and veggie options. Located at Lees Ave., it offers dine-in, takeout, and contactless delivery through DoorDash, UberEats, etc.
This restaurant's food is inspired by traditional Syrian cuisine and also the Levant region in order to give its shawarmas a unique take.
As one of the most popular dishes in the Middle East, it's to be expected that each region and nation has its own variation.
The Syrian-style shawarma that K&W Shawarma makes is made with the most authentic aspects of wholesome and simple Syrian cooking. Its owners are proud of the history behind middle eastern cooking and carefully created the menu to reflect that.
It's hard to choose between getting beef or chicken, especially when you know that both will taste amazingly good with all those spices they're cooked in.
Luckily, this restaurant offers chicken/beef mixes so that you can get the best of both worlds.
Even its shawarma poutine can be ordered with chicken/beef mix. If you want something a little healthier but still get shawarma, then there's its shawarma salad.
If there's a special occasion like an office potluck or a friend's birthday you want to bring shawarma to, K&W Shawarma can make you a shawarma cake. It's just a shawarma tower tied and arranged like a cake, so don't worry about it being covered in icing.
This restaurant only falls short when it comes to its dining options because it can only accommodate regular seating, and there aren't that many seats available either.
Authentic Syrian cuisine
Offers mixed meats
Can make shawarma cakes for occasions
Limited seating capacity and options
Customer Reviews
Service was amazing
"Wanna express my best wishes to K & W Shawarma at 180 Lees Ave. Pictures may not do the justice to the quality, quantity and the best of all the service was amazing. Brother Walid and sister were very courteous to all the customers even though it was busy time before Iftar. Their dedication and the love with what they do shows both in food and the taste. Would definitely return Insha'a Allah." – Muhammad Akram
Food was amazing
"Have had shawarma all my life in Ottawa…. Honestly I tried this today, and it was the best Shawarma I have ever had.. amazing job. This will be my new staple place. Food was amazing, prices were good and staff was very friendly! Really enjoyed having Syrian shawarma for the first time." – Syed Hamza Ahmed
3. Laheeb Shawarma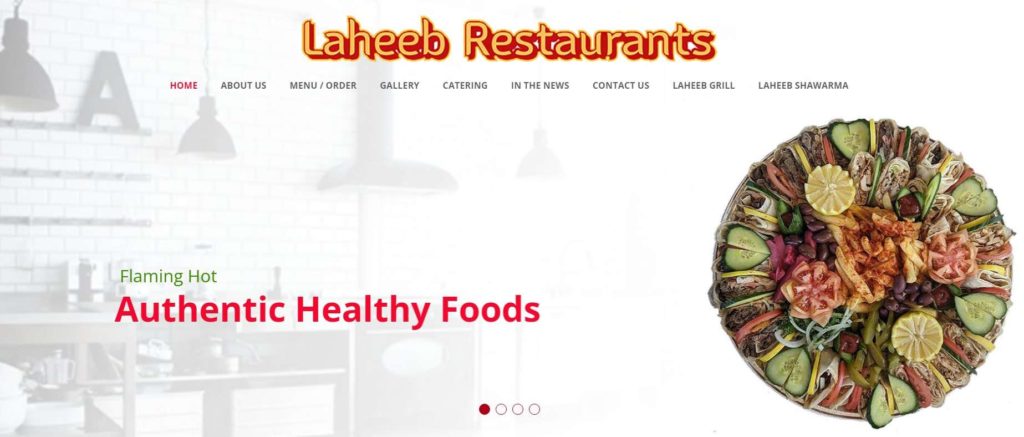 | Test | Info |
| --- | --- |
| MENU | Arabica shawarma (beef/lamb), classic shawarma, signature burger, rotisserie chicken, middle eastern breakfast, kunafa with cheese |
| WEBSITE | http://www.laheebrestaurants.com/ |
| ADDRESS | 947 Somerset St W, Ottawa, ON K1R 6R8, Canada |
| CONTACT DETAILS | 613 750 0707 |
| OPERATING HOURS | Monday - Sunday: 11:00 AM - 11:30 PM |
| | |
| --- | --- |
| Prices | ★★★★★ (5/5) |
| Menu | ★★★★★ (5/5) |
| Dining options | ★★★★☆ (4/5) |
| Customer feedback | ★★★★☆ (4/5) |
Laheeb Shawarma is a cozy little restaurant tucked at the edge of Chinatown in downtown Ottawa and serves a good variety of affordable breakfasts, lunches, and dinners.
Its shawarma is cooked in the Laheeb style and served on healthy SAJ bread.
The meat it uses for shawarma is only made from a mix of top-quality beef and lamb, but it also serves a variety of chicken dishes too. There's broasted chicken, chicken nuggets, chicken breast strips, and even rotisserie chicken.
You can also order its middle eastern breakfast with 36 dishes, plus Shamiyat choices if you're feeling hungry and adventurous. There's also dessert available, specifically hot Kunafah with sweetened syrup and chopped pistachios.
When bringing the whole squad, you can avail of the family platter with just one type of meat or a mixed one.
Additionally, if shawarma isn't someone's thing, then there are always burgers and chicken on the menu, so everyone can still eat what they want.
Another cool thing about Laheeb Shawarma is that it's one of two restaurants in Ottawa, and a third has been teased about opening its doors soon.
While the branch we listed here specializes in shawarma, the other open location has grilled meats and chicken.
What's not cool is it's lacking in more dining options, with only a few tables available if you were to dine in. It's good for small groups and takeout orders, but larger parties would need to take their food somewhere else.
Great selection of dishes
Offers middle-eastern desserts
Uses high-quality ingredients
Can only serve small groups with limited dining options
Customer Reviews
Very friendly and nice
"The best Shawarma in Ottawa I test so far! Ask for the pomegranate syrup dip and enjoy the great test… they also serve very delicious Kanafah, see the pictures I added with this review… in terms of service they are very friendly and nice!!" – Mou Rabee
Customer service was great
"the best Syrian Style shawarma place in Ottawa. I usually get Chicken Shawarma wrap or the family platter. This time I wanted to try the chicken shawarma plate and it was amazing! It comes with fries but I asked the chef not to add fries. Also, the customer service is great and all the stuff are friendly and welcoming." – George Hasbani
4. Royal Rooster Shawarma

Test
Info
MENU
SAJ shawarma, family platters, Italian shawarma, French shawarma, falafel sandwich, rotisserie chicken
WEBSITE
https://royalroostershawarma.ca/home
ADDRESS
3987 Riverside Dr. Ottawa, ON K1V 1C1
CONTACT DETAILS
613 736 5558
OPERATING HOURS
Sunday - Thursday: 10:00 AM - 12:00 MN

Friday - Saturday: 10:00 - 1:00 AM
| | |
| --- | --- |
| Prices | ★★★★☆ (4/5) |
| Menu | ★★★★★ (5/5) |
| Dining options | ★★★★☆ (4/5) |
| Customer feedback | ★★★★☆ (4/5) |
Royal Rooster Shawarma is a Syrian restaurant that, like the rest of our entries, specializes in shawarma. What sets it apart is its medley of middle-eastern dishes, offering a lot more menu items than every restaurant we've seen so far.
Aside from the usual shawarma and family meals, it also offers a few more kinds of shawarma, such as Italian, French, and SAJ shawarma. For its meat, it serves chicken and lamb, but no beef dishes.
When we took a look at its dining area, we were more than happy to see that it's one of the biggest shawarma restaurants we've seen. Not to imply that the previous entries were bad, but having such a big area lets bigger groups of customers dine in.
Speaking of customers, even they couldn't get enough of the layout of Royal Rooster Shawarma. They raved about the decor and cleanliness of the restaurant alongside the taste of the actual food itself.
Aside from ordering through food delivery apps, you can also order your shawarma through its own website. However, it only accepts pre-orders as of now, and you can only do pick-ups if you decide to go this route.
The only thing that worried us was that some customers said that they felt the quality of food wasn't the same as before. If you ask us, that's for you to decide, so it's better to make a visit and find an answer on your own.
Large dining area
Various kinds of shawarma
Clean
Food tasted better before
Customer Reviews
Did not disappoint
"Such a gorgeous establishment! So spacious and clean but what really matters is the food and it did not disappoint! Loved every part of my plate from the fresh hummus, crispy chicken, rice, fries and veggies. It's in a weird location but worth the drive for sure! Also keep in mind it's pretty pricey compared to other spots" – Nammi Nguyen
Five stars
"Easy five stars. Great service and the food taste so authentic. A little on the pricey side but nice change of shawarma. Would highly recommend. I got the family platter and four people could not finish." – Maher Jebara
5. Osmow's Shawarma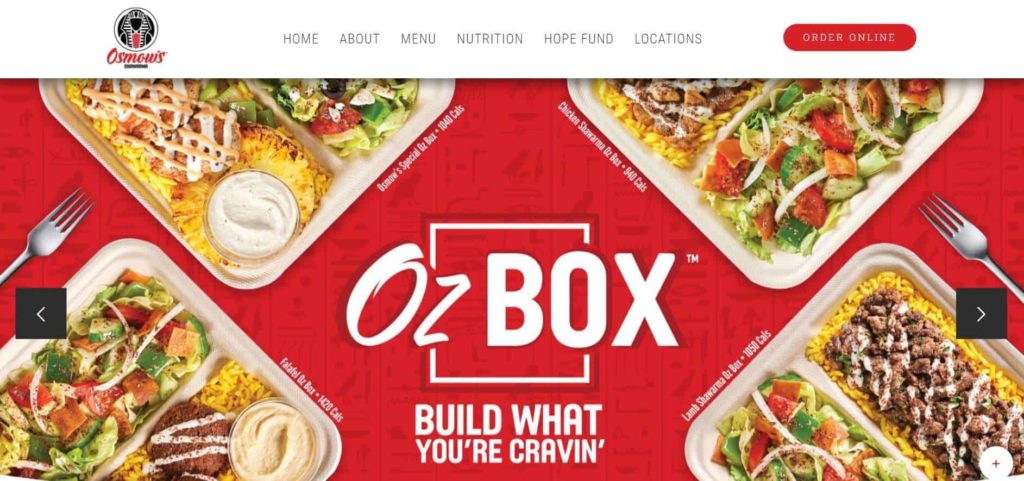 Test
Info
MENU
Beef/chicken/lamb/falafel wrap, beef kofta wrap, Philly cheesesteak wrap, SAJ shawarma, vegan options, salads/appetizers
WEBSITE
https://osmows.com/shawarma-ottawa-dalhousie/
ADDRESS
347 Dalhousie St, Ottawa, ON K1N 7G1, Canada
CONTACT DETAILS
613 562 4946
OPERATING HOURS
Sunday - Thursday: 11:00 AM - 12:00 MN

Friday - Saturday: 11:00 - 1:00 AM
| | |
| --- | --- |
| Prices | ★★★★☆ (4/5) |
| Menu | ★★★★★ (5/5) |
| Dining options | ★★★★☆ (4/5) |
| Customer feedback | ★★★★☆ (4/5) |
The last entry on our list of the best shawarma restaurants in Ottawa is Osmow's Shawarma, conveniently located near Byward market. Although its menu is simple, it's probably doing something right since it has a lot of open branches nationwide.
Opened in 2001, it's a fast-growing casual dining restaurant chain that specializes in everyone's favorite shawarma.
Whether you're an employee too tired to make dinner or a university student getting a case of the munchies late at night, Osmow's welcomes all!
We're grateful that it stays open so late because who knows when you might need a filling snack while furiously running after all your deadlines in the middle of the night.
A university student we interviewed even stated that the food reminded him of his mom.
For people who love spice, this might just be the right place for you because Osmow's Shawarma offers 7-8 levels of spice, which is something we haven't had anywhere else! Talk about bringing the heat.
Another thing to note here is that its location is wheelchair accessible, meaning you can bring friends or family with special needs without any trouble. There's also parking available in front of the street, just a hop away from the place.
Our biggest concern about this restaurant is the appalling customer service after some customers complained about getting wrong orders or tables not being cleaned.
Closes late
Many open locations
Wheelchair accessible
Bad customer service
Dirty tables
Customer Reviews
Portions are big
"Definitely a go-to for comfort shawarma. I usually get the chicken on the rocks; the portions are big enough that you'll have some tasty leftovers for the next day! The only downside is that since they're right in Byward, they can get incredibly busy on the weekends (which is a good sign food-wise). Cheers!" – Samuel Thomson
Great food
"This place has been around for like forever, If you were to carbon date one of their shawarma, it would be found off the hook delicious for 100 years. The place is the real deal when it comes to a small family business growing and becoming an icon in the community not only serving great food but giving back and supporting the less fortunate of Ottawa. If ever in Ottawa downtown it is a must to visit! Viva LA Shawarma." – Chris Ling
FAQs about Shawarma Restaurants in Ottawa
---
Want to learn more about what other tasty food is just a walk or car ride away? Check out our article on the best dim sum restaurants in Ottawa!