The 6 Best Pruning Services in Ottawa
There's nothing wrong with wanting to do your own pruning, especially if you're still young and experienced in tree care.
However, the changing seasons can bring unexpected new growth that may be too dangerous for even you to handle.
That's when you need help from adequately equipped, trained, and experienced professionals in tree care. Professional pruning services can ensure not just your safety but also your pets and property while they do their job.
The Cost of Pruning Services in Ottawa
The cost of pruning services in Ottawa varies depending on the size of the tree, which is undoubtedly the most deciding factor.
You can refer to the table below for the estimated cost of this service:
| Procedure | Average price |
| --- | --- |
| Minimum cost | $315 |
| Maximum cost | $700 |
| Average cost | $475 |
The Best Pruning Services in Ottawa
With so many available services, it's hard trying to pick which ones stood out above the rest. That's why we based our choices on the following criteria:
1. Tim-O-Tree
| | |
| --- | --- |
| SERVICES | Tree RemovalPruning And TrimmingConsultingHedgesPlantingStump GrindingWood And Mulch |
| WEBSITE | http://timotree.com/ |
| ADDRESS | 208 Slater St. unit #204, Ottawa, ON K1P 5H8, Canada |
| CONTACT DETAILS | [email protected](613) 327-7989 |
| OPERATING HOURS | Monday – Saturday, 9:00 AM – 5 PM |
Tim-O-Tree is a family-owned tree care company based in Ottawa. They provide high-quality services related to arboricultural works including tree trimming, tree removal, stump grinding, tree planting, consulting, and hedge trimming.
By prioritizing the client's needs while still taking into account the tree's well-being, they aim to explain to their client's the science and effects that would happen if the clients' objectives are at odds with the well-being of the tree. This shows their dedication and love for their craft.
Focusing on a more conservative approach especially when it comes to their pruning services, they aim to make the smallest impact on a tree possible to achieve a specific objective. One great example of this is by thinning a tree to allow more sunlight through a yard, garden, or window. At the same time, it also encourages the productivity of fruit or nut trees.
We highly recommend Tim-O-Tree for their excellent services. They are insured, covered, and fully equipped to handle most kinds of requests. If you're planning to contact them for tree removal services, do note that any trees over 30cm in diameter at breast height require a permit to remove.
Great customer communication
Experienced and insured crew
Handles their services in a conservative approach
Customer Reviews
Great customer communication
"Mason and his team were courteous during the removal of our five-story tree and obviously very safety conscious. There was good communication between team members and they were careful to make sure nothing was damaged during the removal. They cleaned up sawdust and branches and left the yards involved clean and tidy. The communication before and after the service was prompt and professional and he patiently answered all of our questions during the process." – Grace Sutherland
Impressed by their work
"I originally used Tim o Tree services after I was impressed by the work they did on my neighbour's tree. I have been using their service for a few years now, mostly for pruning, and have been very happy with the work every time. Most recently, Tim o Tree did the removal, stump grinding, and planting of new trees for me (the trees had pre-existing conditions!). Mason was very helpful and knowledgeable, and the crew took good care of my property." – Aly Vincent
2. Croft Tree Experts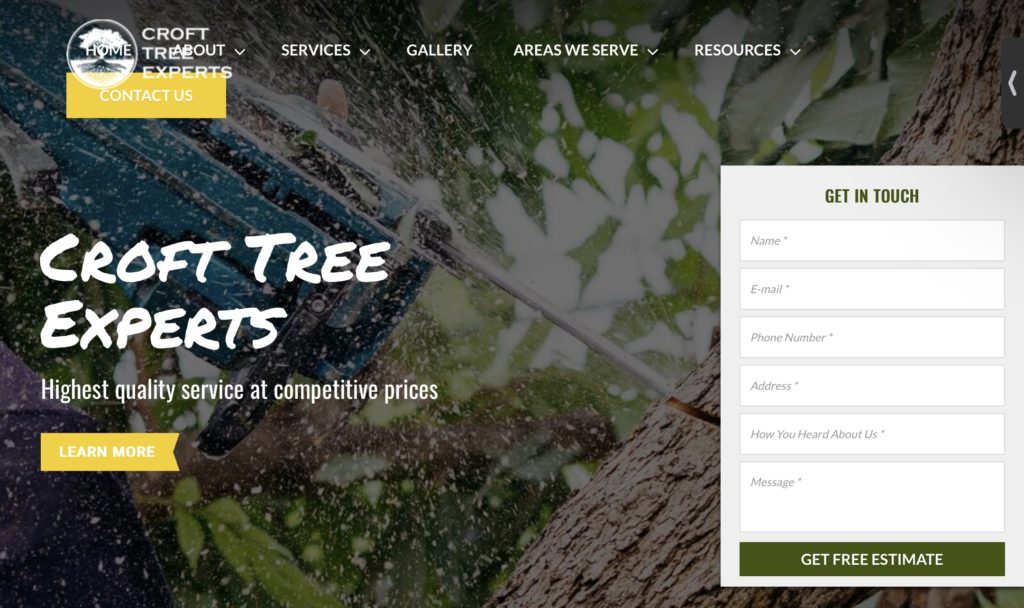 | | |
| --- | --- |
| SERVICES | Tree Cabling, Tree Removal, Stump Removal, Tree Pruning/Trimming, Tree Planting, Tree Mulching, Hedge Trimming, Tree Risk Assessment, Storm Damage Cleanup, and Winter Tree Services |
| WEBSITE | https://crofttreeexperts.ca/  |
| ADDRESS | 208 Royalton Private, Ottawa, ON K1V 9S3, Canada |
| CONTACT DETAILS | Phone: 613-883-5611 |
| OPERATING HOURS | Monday to Thursday: 8:00 AM to 6:00 PM; Friday: 8:00 AM to 4:00 PM; Saturday: 9:00 AM to 3:00 PM; Sunday: Closed |
| | |
| --- | --- |
| Rates | ★★★★★ (5/5) |
| Services | ★★★★★ (5/5) |
| Quality of work | ★★★★★ (5/5) |
| Customer satisfaction | ★★★★☆ (4.5/5) |
Croft Tree Experts live up to their name. These guys are ninjas of the tree-cutting world — they know their stuff and get the job done right.
Tree removal can be a costly endeavor, but Croft Tree Experts are surprisingly affordable. They offer competitive rates without compromising the quality of their work, which is a huge plus in our book.
Speaking of quality of work, they have a team of experienced professionals who handle each job with precision and care. We were blown away by how quickly and efficiently they removed a large tree from our property, all while ensuring the safety of our home and the surrounding area.
But it's not just about the quality of their work, it's also about customer satisfaction. And let us tell you, we were more than satisfied.
The team at Croft Tree Experts was friendly, professional, and easy to work with. They listened to our concerns and answered all of our questions, which made us feel confident in their abilities.
However, if you're hoping to have Croft Tree Experts at your beck and call on a weekend, you might be barking up the wrong tree. These guys are good, but even they need to rest their chainsaws.
And listen up, internet-savvy folks — if you're hoping to pay for their services with a few clicks and taps, you're out of luck. These tree-cutting ninjas prefer the old-fashioned way – cash or check.
Competitive rates without compromising quality of work
Highly experienced and professional team members
Leave the property spotless after completing the job
Customer Reviews
Top-notch in every respect
"Skillful, knowledgeable, approachable. A pleasure to have on my property. Today, the third time I've requested their services, they removed a dying tree from a very tight location with zero damage to surrounding structures and stump left as I wished it; removed a major branch overhanging my fence from another tree and trimmed some lilac bushes. Meticulous clean-up. I can't say enough good things about these professionals. Top-notch in every respect." — Diane Ingram
Quick and efficient
"I was very pleased with the crew and the job they did! They were very professional and respectful of the property — everything was cleaned up for which I am grateful — worked quickly and efficiently, getting the job done well. In addition, they seamlessly coordinated with Hydro to shut off the power while they worked around the power lines." — Marlene Armstrong
3. Wright Tree Service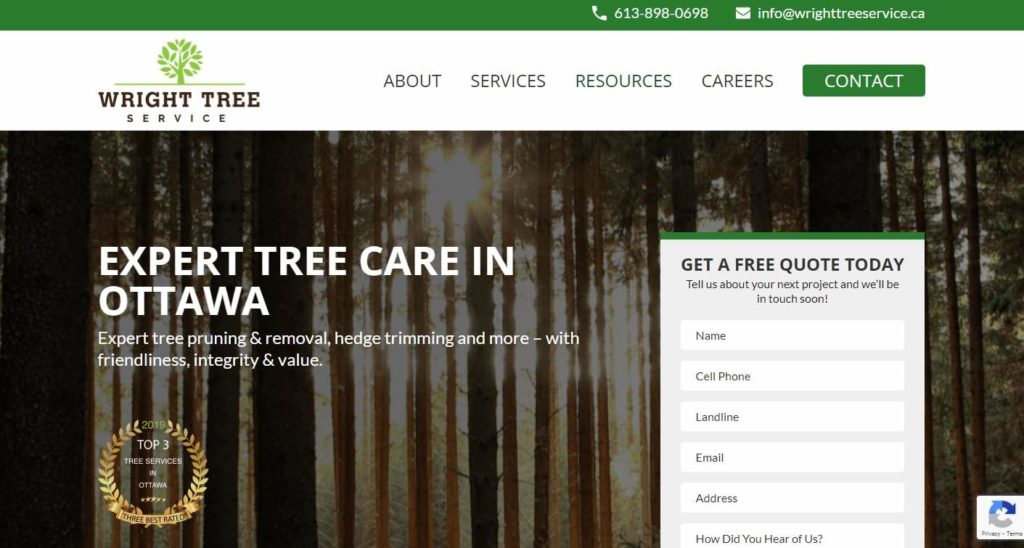 Test
Info
SERVICES
Tree pruning, tree removal & felling, stump grinding, hedge trimming
WEBSITE
https://wrighttreeservice.ca/
ADDRESS
1265 Kingston Ave, Ottawa, ON K1Z 8K8
CONTACT DETAILS
613-898-0698
OPERATING HOURS
Mondays to Fridays: 7:00 AM – 6:00 PM

Saturdays & Sundays: CLOSED
| | |
| --- | --- |
| Rates | ★★★★★ (5/5) |
| Services | ★★★★☆ (4/5) |
| Quality of work | ★★★★★ (5/5) |
| Customer satisfaction | ★★★★☆ (4/5) |
Wright Tree Service is a locally owned business that's been operating since 2010. Since then, it has serviced Ottawans and even won an award as part of the Top 3 Best Rated Tree Services in Ottawa.
It offers tree pruning and all the other usual tree care services like tree removals and stump grindings. Additionally, its team also has certified arborists who are highly trained in caring for and evaluating trees.
That means you can hire Wright Tree Service to cable & brace, plant & move, and fertilize the roots of your trees. You can even have its arborists prepare reports and obtain official permits for you.
Because of Ottawa's Tree Protection By-law (No. 2020-340) which decides whether you can or can't remove any trees, you'll need an arborist first. Arborists from the Wright Tree Service can help with the assessment to get you the permits you need.
One of the things we appreciated about it the most was the useful tips and information on its website.
It freely offers advice on what to do during certain situations such as if a tree falls on your property and even answers frequently asked questions about tree care.
If you plan on contacting Wright Tree Service, make sure you do so during the weekdays because its office is closed during the weekends. You'll need to wait until then if you're unlucky enough to have some tree trouble on a Saturday.
Locally-owned business
Operating since 2010
Employs certified and trained arborists
Customer Reviews
Did a great job
"Days of high winds resulted in 3 big broken branches on my big mature front yard tree. As the tree overhangs 3 townhouse driveways where cars are parked, this was a liability issue. Wright Tree Service responded to the urgency, dealt with the broken branches, trimmed and pruned the whole tree, and even did a great job cleaning up afterwards. I recommend Wright Tree Service." – Wendy Armstrong
Service was excellent
"The service was excellent, and the price even better! For under $1200, they removed 6 very tall trees, one was right beside the house and close to a power line, and they made it fall just in the right spot. The others were also limited in where they could fall and they had no issues making sure everything was safe and fell in the right place. They were flexible and happy to leave the mulch here for us (which we asked for) and even paid attention to how I wanted the stumps cut (level so that I could put a planter on it). Clean up was also excellent – other than tiny branches here and there, they raked up all the big stuff, put it all in the chipper, and even used a blower to clean sawdust off the driveway. Will definitely use them again, every time." – Sonia Rogers
4. JFS Enterprises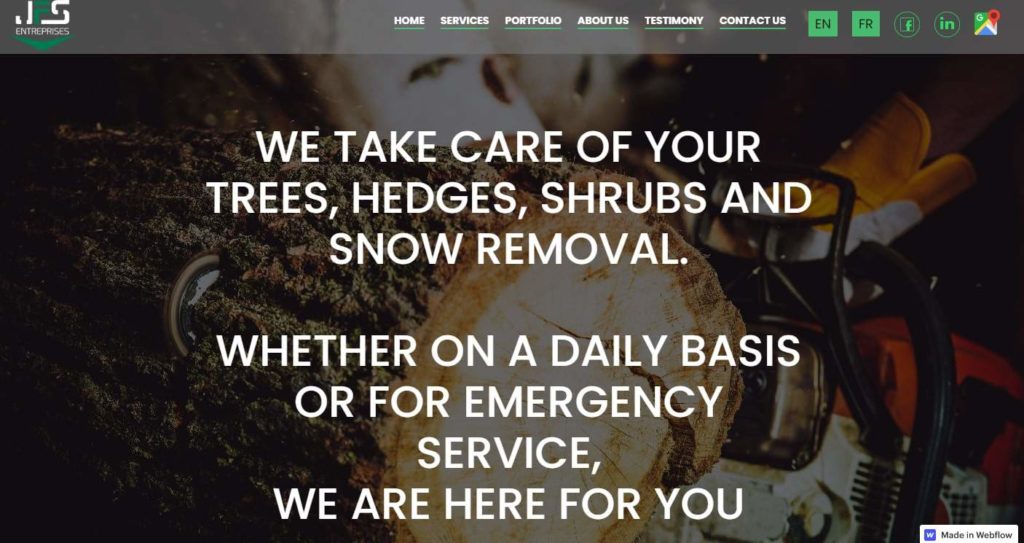 | Test | Info |
| --- | --- |
| SERVICES | Tree pruning, tree removal & plantation, stump removal, hedge trimming, tree topping |
| WEBSITE | https://www.arbresgatineau.com/home |
| ADDRESS | 399 Dalhousie St, Ottawa, ON K1N 9K4, Canada |
| CONTACT DETAILS | 613-606-1316 |
| | |
| --- | --- |
| Rates | ★★★★★ (5/5) |
| Services | ★★★★☆ (4/5) |
| Quality of work | ★★★★★ (5/5) |
| Customer satisfaction | ★★★★★ (5/5) |
JFS Enterprises is another locally-operated business that was established in 2012 in Ottawa, specializing in tree-related work. However, it was in operation as early as 2005, working mainly in the urban and rural areas of the Ottawa region.
Its team has extensive training and experience in tree care due to its reforestation efforts for 5 years before turning to more urban environments. So in total, this company has more than 20 years of knowledge and experience under its belt.
Right off the bat, it made us giddy when we found out that it's covered by civil liability insurance. It's a relief to know that there are fewer things to worry about if you choose JFS Enterprises.
Another thing that made it stand out, especially when compared to the others is that it offers emergency services. No need to wait until the weekday to call for a sudden tree problem because it'll gladly accommodate you when you need it the most.
Last but certainly not least, JFS Enterprises now also offers snow removals. As the cold chill of winter sets in, you never know just how much snow will pile up on your driveway.
Its team of professionals invested in the right state-of-the-art equipment to give you the high-quality services you need.
However, it has fewer tree care services available compared to other businesses. Despite this, it does its best anyway to always give superior results.
Locally-operated
Extensive experience in urban & rural tree care
Has insurance policies
Offers snow removals
Customer Reviews
Professional, very nice people
"I want to tell you all that I really enjoy the experience I had with JFS enterprise Jonathan the owner. We never thought Companies like that still existed when I 1st search for them They add only 5 star reviews all over. And I am also giving them a 5 star review. They are professional very nice people polite and get the job done. If there is changes to the project they're willing and happy to provide these on site. They cut 2 trees and pruned one tree. The also Trim my Cedar edge. They left the work area clean and we are very happy to promote them to all you to do the work you need to take care of on you future projects. The Project was in Orleans Ontario. Thank you very much for great service and your friendly attitude." – Richard Verdon
Highly recommended
"Fantastic service. Had 2 large trees fall on my property – they were here same day and were fantastic. Extremely professional, polite, and took great care in insuring other surrounding trees were not damaged. They even followed up the following day to make sure I was happy with the service – wow!! Highly recommend and will absolutely be calling this company again. Many thanks" – Sonja
5. Ottawa Tree Surgeons & Consultants Inc.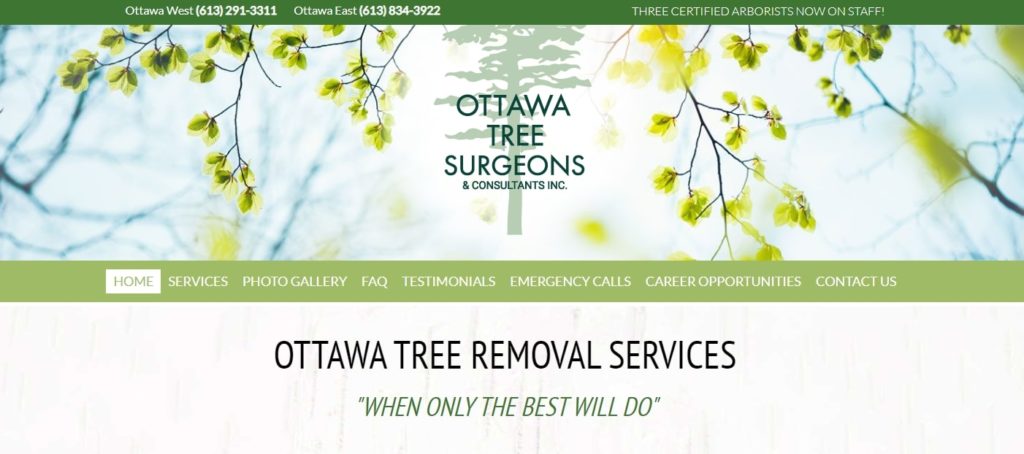 Test
Info
SERVICES
Tree pruning, tree removal, stump grinding, hedge trimming, hazard evaluation
WEBSITE
https://www.ottawatree.com/
ADDRESS
4390 Birchgrove Road, Ottawa, Ontario K4B 1R4
CONTACT DETAILS
613 291-3311 / 613 834-3922
OPERATING HOURS
Mondays to Thursdays: 9:00 AM – 5:00 PM

Fridays to Sundays: CLOSED
| | |
| --- | --- |
| Rates | ★★★★☆ (4/5) |
| Services | ★★★★★ (5/5) |
| Quality of work | ★★★★★ (5/5) |
| Customer satisfaction | ★★★★☆ (4/5) |
Ottawa Tree Surgeons & Consultant Inc. is a part of this list for several good reasons. One is that its team has ISA-certified and trained arborists who can do more than just the standard tree removals and prunings.
It also bears a few awards, such as being part of the Top 3 Most Popular Tree Services and Top 25 Most Popular in Ottawa. It's even a BBB-accredited business, meaning that it is committed to making its best effort to resolve any customer complaints.
Because Ottawa Tree Surgeons & Consultant Inc. has its own arborists, it's qualified to do any assessments for problematic foliage that you may want to have removed or pruned.
Its arborists are prepared to travel even to the most inconvenient locations in Ottawa and are trained to handle any delicate situation with care. For emergency situations that need immediate attention, you can call its hotlines listed above.
If you're curious about how well-equipped Ottawa Tree Surgeons & Consultant Inc. is, you can check its gallery of equipment to see for yourself. It even has the right equipment ready for aerial lift services, something that not all companies offer.
It's also unique in the fact that none of the wood it harvests from any jobs is sent to landfills. The wood is instead recycled and turned into wood chips, logs, particle boards, and even used as fuel for factory buildings.
Due to its expertise and glowing credentials, expect Ottawa Tree Surgeons & Consultant Inc. to be heavily booked every now and then, especially after a heavy storm has passed.
Award-winning
ISA-certified arborists
Services inconvenient locations
Well-equipped
Has a recycling policy
Fully-booked at certain times
Customer Reviews
Very professional and knowledgeable
"I am very pleased with the service Ottawa Tree Surgeons provided! They went above and beyond. The staff is very professional and knowledgeable from booking an appointment to meeting with the arborist and completing the job. I had a huge Eastern Pine that needed to be removed, including stump removal, which over hung above the house and gazebo that required skill to do properly and safely. The crew worked hard, did a thorough job and cleaned up well after. They completed the job in only a few hours. I cannot speak highly enough of the service that I received. HIGHLY RECOMMENDED!" – Laurie Bolduc
I know who to call
"I have been a client of Ottawa Tree Surgeons for many years. It began with a tree removal in 2006. I was so impressed with the service and the work, I have continued using their services for tree trimming and fertilization of my trees and cedar hedge.
As a result of the storm on the May long weekend I had a very large maple tree come down in my backyard. The tree needed to removed and when I called them for service on Tuesday morning after the long weekend, even though they were going through their own struggles, they came immediately and gave me an estimate and removed the tree and stump 2 days later. I cannot say enough good things about the wonderful staff I have dealt with. Natalie is wonderful to deal with and Steve is always very friendly, professional and knowledgeable. Hopefully we won't see any more storms like that again but if I ever need service I know who to call." – Wendy Doige
FAQs about Pruning Services in Ottawa
---
If you want to find more tree care-related services, you can check out our reviews on the best tree removal services in Ottawa!