The 6 Best Firms for Commercial Lawyers in Ottawa
Hiring a business or commercial lawyer is an important decision — one that should not be taken lightly.
A commercial lawyer can help you navigate complex legal proceedings, protect your business interests and ensure that you are compliant with all legal requirements.
However, it is also important to remember that no two law firms are the same, and you should be prepared to do some research to find the best fit for your business.
In this article, we listed down the best firms for commercial lawyers in Ottawa.
How much do commercial lawyers charge?
A consultation with a commercial lawyer costs around $250. Check the table below for a more detailed description of the services they offer and the cost of these services.
| Services | Average cost |
| --- | --- |
| Court representation | $5000 |
| Drafting legal documents | $700 - $2000 |
| Checking for legal business concerns | $1000 - $3000 |
| Negotiations with other businesses | $5000 - $10,000 |
The Best Firms for Commercial Lawyers in Ottawa
The goal here is to find the perfect firm for commercial lawyers that fits your needs. To do this, we looked at different firms and narrowed them down with the following criteria:
1. HazloLaw-Business Lawyers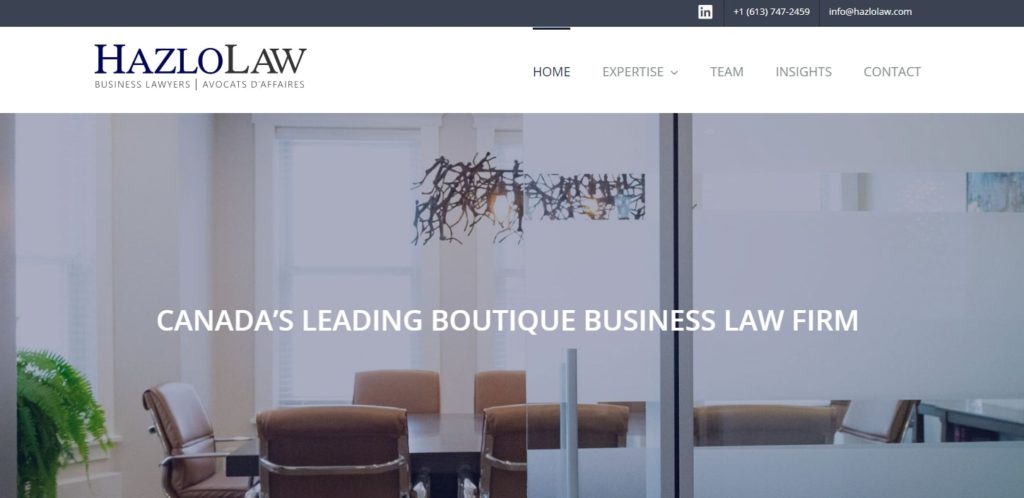 Test
Info
EXPERTISE
Business Law, International Law, Tax Disputes
WEBSITE
https://hazlolaw.com/
ADDRESS
449 Sussex Dr suite 300, Ottawa, ON K1N 6Z1, Canada
CONTACT DETAILS
613-747-2459
OPERATING HOURS
Monday 9AM–6PM

Tuesday 9AM–6PM

Wednesday 9AM–6PM

Thursday 9AM–6PM

Friday 9AM–12PM

Saturday Closed

Sunday Closed
| | |
| --- | --- |
| Criteria | Ratings |
| Rates | ★★★★★(5/5) |
| Location | ★★★★★(5/5) |
| Team | ★★★★(4/5) |
| Availability | ★★★★(4/5) |
Each lawyer at HazloLaw-Business Lawyers is an expert in a specific field, making the firm well-equipped to help businesses of all sizes. It's an experienced firm that has worked with multiple companies in Ottawa.
Franchising and licensing are also covered by its commercial lawyers.
Clients who need help with buying or selling a business can turn to HazloLaw-Business Lawyers for guidance throughout the process.
The attorneys at the firm have extensive experience advising clients on a range of business matters, making them a valuable addition to any company's team.
Another good thing about HazloLaw is the fact that its lawyers also studied international law.
If your business handles international transactions, you should consider working with this law firm to ensure that everything is done correctly.
It also offers general counsel services for businesses that don't need major legal assistance.
Unfortunately, the firm only has 6 main lawyers, and it does not have a large staff compared to other law firms in the area. The lack of support staff means that there sometimes is a wait when contacting HazloLaw by phone or email.
On the bright side, the attorneys are accessible and responsive when you need them, even if you're a small client. Overall, it's still a decent option for your commercial lawyer needs.
Each lawyer is an expert in a specific field
Works on tax & estate planning
Franchising and licensing services
Also offers corporate reorganization
Also consults with buying and selling of businesses
Only 6 main lawyers
Some complaints on confusing information distribution
Customer Reviews
Professionalism and quality
"Our experience with HazloLaw was excellent. Hugues and Dayanys are extremely professional, knowledgeable, and helpful. They answered all of our questions and were easy to communicate with throughout the entire process. I highly recommend this firm." – Ghazal A.
Definitely recommended
"My experience with HazloLaw was absolutely amazing! I just spoke with Martin and he was so helpful. He was very insightful and pointed me in the right direction for moving forward. I would definitely recommend their business!" – Keanna Samuels
2. Omnia Law

Test
Info
EXPERTISE
Business & Corporate Law, Real Estate Transactions, Wills, Contract Drafting
WEBSITE
https://omnialaw.ca/
ADDRESS
135 Laurier Ave W, Ottawa, ON K1P 5J2, Canada
CONTACT DETAILS
613-606-2024
OPERATING HOURS
Monday 8AM–9PM

Tuesday 8AM–9PM

Wednesday 8AM–9PM

Thursday 8AM–9PM

Friday 8AM–9PM

Saturday 8AM–9PM

Sunday Closed
| | |
| --- | --- |
| Criteria | Ratings |
| Rates | ★★★★★(4/5) |
| Location | ★★★★★ (5/5) |
| Team | ★★★★(4/5) |
| Availability | ★★★★(4/5) |
Another good firm for commercial lawyers is Omnia Law. Founded by lawyer Muthana Mohamed, it has a wide range of legal services in commercial and business law.
Omnia Law has a reputation for providing high-quality legal services even to small businesses.
This makes it stand out from the crowd of bigger firms in Toronto and Ottawa who are more interested in catering to big business clients.
We also like that Omnia offers free estimates to clients even before they decide to hire the firm. This allows them to get an idea of how much their services would cost before they commit to anything.
The firm also offers minor law services such as drafting of contracts, wills, and incorporation documents.
Even though it's a smaller firm, Omnia Law also offers services for international business transactions. This is great news for companies that want to expand their operations outside of Canada.
Of course, if you have a big company, hiring a small firm may not be in your best interest. However, because of Omnia's dedication to its clients and the personal touch it offers, we still recommend the firm to bigger corporations.
The only real flaw of this firm is that it has a small number of staff. If the law assistance you need requires speedy services, you may have to go with a different firm, so take note of that.
Offers services even for small businesses
Also does real estate services
Contract drafting services
Offers risk analysis services
Works on international business transactions
Small firm with limited number of lawyers
Customer Reviews
Incredible
"Muthana was incredible. I have been through an absolutely whirlwind of a time attempting to close my new build property within a tight timeline – working with many different people from every angle. There were only 2 people I could count on to follow up, express genuine interest, recommend realistic solutions, and be understanding and flexible throughout the process. I couldn't recommend Muthana enough for anyone that needs a lawyer for their property." – Guy Shteinman
Good customer service
"I had the pleasure of hiring Muthana as my lawyer. He was great at keeping me up to date and he was on top of everything. The customer service was incredible and the knowledge he shared throughout the process even through the difficult parts easier to digest and understand the options we had. I've saved his contact as he will be my lawyer in other projects." – Anthony Boves
3. Kerr & Nadeau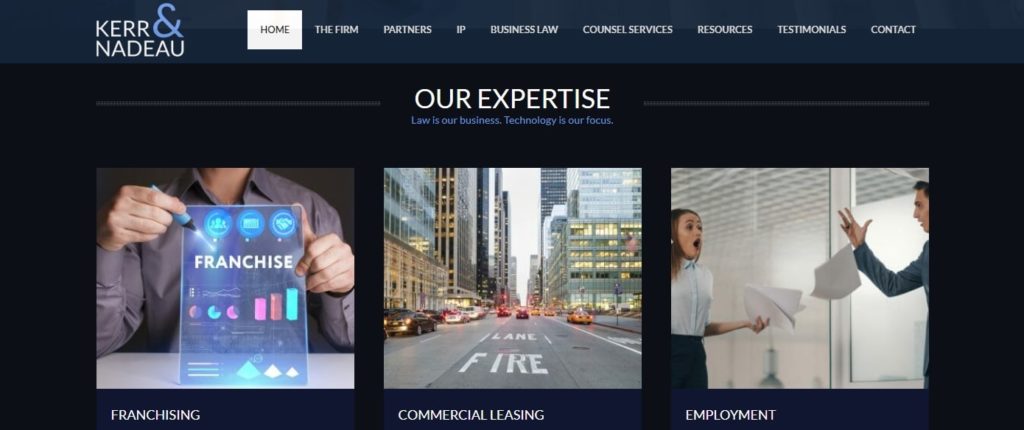 Test
Info
EXPERTISE
Commercial & Business Law, Contract Drafting, Commercial Leasing, Employment, Technology Licensing, Franchising, Intellectual Property
WEBSITE
https://kerrnadeau.com/
ADDRESS
190 R. O'Connor St #610, Ottawa, ON K2P 2R3, Canada
CONTACT DETAILS
613-238-2002
OPERATING HOURS
Monday 8AM–6PM

Tuesday 8AM–6PM

Wednesday 8AM–6PM

Thursday 8AM–6PM

Friday 8AM–6PM

Saturday Closed

Sunday Closed
| | |
| --- | --- |
| Criteria | Ratings |
| Rates | ★★★★★ (5/5) |
| Location | ★★★★ (4/5) |
| Team | ★★★★★(5/5) |
| Availability | ★★★★(4/5) |
Another option for commercial legal assistance is Kerr & Nadeau. This Ottawa-based law firm offers a wealth of legal services that can be tailored to meet the specific needs of your industry.
Kerr & Nadeau has over 30 years of experience providing legal services to clients of all sizes across a wide range of industries.
One of its many specialties is risk-assessment for businesses who are about to conduct major legal decisions.
The company offers a wide range of commercial services for both small and medium sized businesses. Its lawyers are well-versed in incorporations, mergers and acquisitions, employment contracts, and more.
It also has experience in industries such as hospitality, healthcare, and manufacturing. The attorneys on staff can provide guidance on a range of issues related to these areas.
The firm also offers virtual counsel services at a reduced rate. This type of service allows you to get legal help from an attorney without physically having to go to the firm's office — perfect for minor commercial issues.
Sadly, the firm is mostly working with bigger businesses right now.
Smaller clients may have to go to a different firm if they want to get a more personal touch when it comes to their commercial issues. However, they can still reach out to Kerr & Nadeau for virtual counsel.
Overall, this firm is still one of the best in the city because of the different expertise it offers.
Virtual counsel at reduced rates
Also offers intellectual property expertise
Over 30 years of experience
Offers advice on the phone with no extra charge
Risk assessment services of businesses
Only works with medium and large businesses
Customer Reviews
Great lawyers
"Was a pleasure to work with Mr. Nadeau. He knew all the relevant details regarding my case including subtleties around recent case law. He is also a great negotiator – firm, reassuring and able to predict how things will likely go. If you are seeking an experienced employment lawyer I highly recommend his services. Very pleased with the outcome as well." – Colin B.
Great advice
"I personally dealt with Kerr & Nadeau and cannot praise their representation highly enough. Robert "Robaire" Nadeau represented me in significant negotiations with an exit package. I was pleased both with the outcome and the representation. He was an extremely good listener and thorough in his research. His advice was always prudent and timely." – Peter Royster
4. Mann Lawyers LLP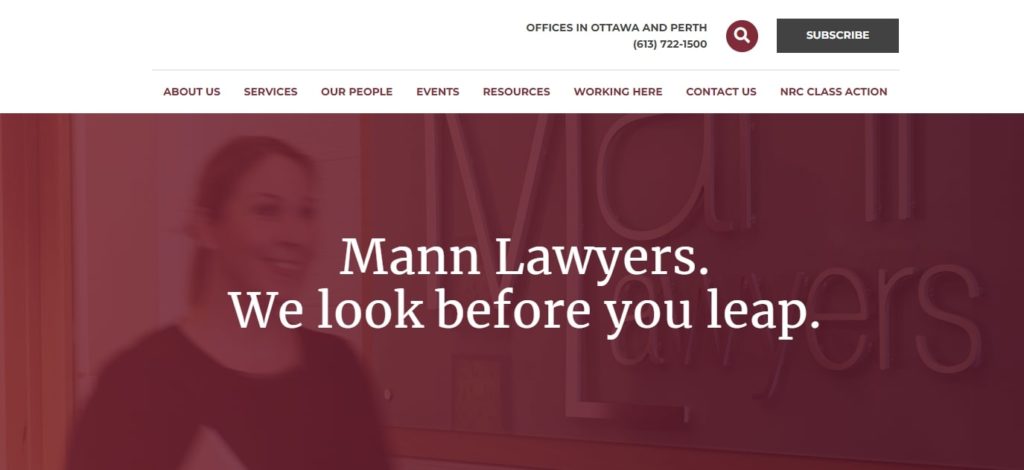 Test
Info
EXPERTISE
Commercial & Business Law, Bankruptcy and Insolvency Law, Construction Law, Environmental Law, Family Law, Commercial Litigation, Estate Litigation, Real Estate, Wills, Trusts and Estates
WEBSITE
https://www.mannlawyers.com/
ADDRESS
11 Holland Ave #300, Ottawa, ON K1Y 4S1, Canada
CONTACT DETAILS
613-722-1500
OPERATING HOURS
Monday 8:30AM–5PM

Tuesday 8:30AM–5PM

Wednesday 8:30AM–5PM

Thursday 8:30AM–5PM

Friday 8:30AM–5PM

Saturday Closed

Sunday Closed
| | |
| --- | --- |
| Criteria | Ratings |
| Rates | ★★★★ (4/5) |
| Location | ★★★★★ (5/5) |
| Team | ★★★★★(5/5) |
| Availability | ★★★★★(5/5) |
Mann Lawyers is a good choice if you're looking for commercial attorneys. The firm has been around for more than 25 years and has a lot of experience in different areas of commercial law.
Its areas of practice include business law, real estate law, immigration law, estate planning, and commercial litigation, among others.
All of the firm's lawyers have expertise in their field and are able to work closely with their clients to meet their needs.
Another great thing about this firm is its availability for both small and big clients. Even if your business is just starting, you can hire Mann Lawyers to help you out with any business matters that need legal assistance.
For commercial litigation, the firm covers employment-related matters and shareholder disputes. Minor services such as contract drafting and risk projection are also available.
Individuals can also consult with Mann Lawyers even if they don't have a business yet. Planning a business can sometimes need legal expertise and this firm is up to the task.
Overall, the only problem with the provider is that it has pricey services, so most of its clients are big companies who can afford it.
Despite that, with its expertise and experience, it's definitely a solid choice for your commercial lawyer needs.
Experts on many fields of the law
Over 25 years of experience
Works for all kinds of clients
Each lawyer has his/her own specialty
Has community events
Customer Reviews
Worth the price
"I have used Mann Lawyers as our corporate attorney and they have been great. My dealings are mainly with Jade Renaud and she has been helpful in guiding our corporation. She is pleasant to deal with, always truthful, and straight forward. Very good service. As with all law firms, there is a price attached to the great service, but it is well worth the advice and I guess it is the cost of doing business." – Bohdan S.
Highly effective
"I was referred to Nigel McKechnie for a matter concerning my employment contract. I never regretted my decision to retain his services. From the very onset of our working relationship, Nigel exuded incredible knowledge, professionalism, integrity, compassion and real life experience. He is highly effective at what he does." – M. K.
5. Merovitz Potechin LLP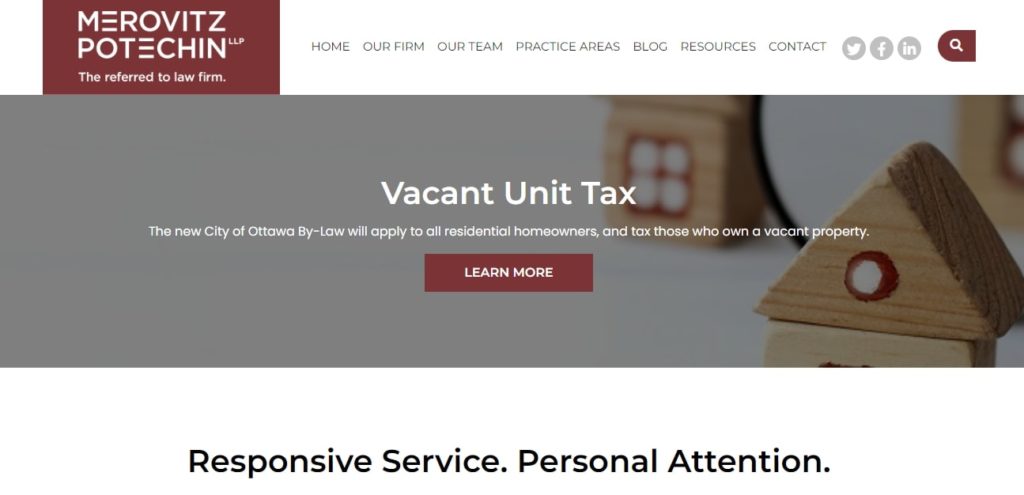 Test
Info
EXPERTISE
Commercial Law, Business Law, Disputes & Litigation, Employment Law, Insolvency & Collections, Real Estate, Wills, Trusts & Estates
WEBSITE
https://www.merovitzpotechin.com/
ADDRESS
1565 Carling Ave, Ottawa, ON K1Z 8R1, Canada
CONTACT DETAILS
613-563-7544
OPERATING HOURS
Monday 9AM–5PM

Tuesday 9AM–5PM

Wednesday 9AM–5PM

Thursday 9AM–5PM

Friday 9AM–5PM

Saturday Closed

Sunday Closed
| | |
| --- | --- |
| Criteria | Ratings |
| Rates | ★★★★ (4/5) |
| Location | ★★★★★(5/5) |
| Team | ★★★★(4/5) |
| Availability | ★★★★★(5/5) |
Merovitz Potechin LLP is a law firm that has been serving the Ottawa community for over 45 years. It was started by Chuck Merovitz in April 1976 and has since grown to have a team of 17 lawyers and 40 support staff.
With this large of a team, the firm is able to offer a comprehensive range of legal services to meet the needs of its numerous clients. It also means that the lawyers are able to work with both big and small clients.
The firm specializes in all aspects of corporate and commercial law and has experience providing legal advice on a wide range of matters, including mergers and acquisitions, business restructuring, and more.
Merovitz Potechin LLP also has explainer videos on its website, which make the services the firm offers very clear and easy to understand for the layman.
We also appreciate the customer service being responsive and willing to help out their clients in any matter at any time of the day.
The only factor that we think some clients may not like is the pricey services that the firm offers. There are also some complaints about some of its lawyers not being ready for court.
Ultimately, it's still one of the best commercial law firms in the city because of its huge team and the services it offers.
Focused services even with small clients
Responsive customer service
17 lawyers and 40 support staff
Provides explainer videos
Pricey
There are complaints on lawyers' court manner
Customer Reviews
Good communication
"Communication was clear and timely. They were always available for us to consult with, throughout the transaction. Contactless transaction: online meeting for signing of all documents. Remote closing from Ottawa, where we live." – Rob L.
One of the best
"Sometimes life throws us a curveball, something we never saw coming. When this happens we need help, good professional help. In my seventies life became complicated. I looked for a law firm that would give me the very best service and found Merovitz Potechin. My case became convoluted. Dealing with new covid issues along with the base issue was not easy for any of us. My lawyer Meagan was always extremely professional, understanding and creative. With her help my case is now resolved. I want to thank her personally, the firm and not to forget Shannon for the best service available." – Lesley Zed
6. TDJ Law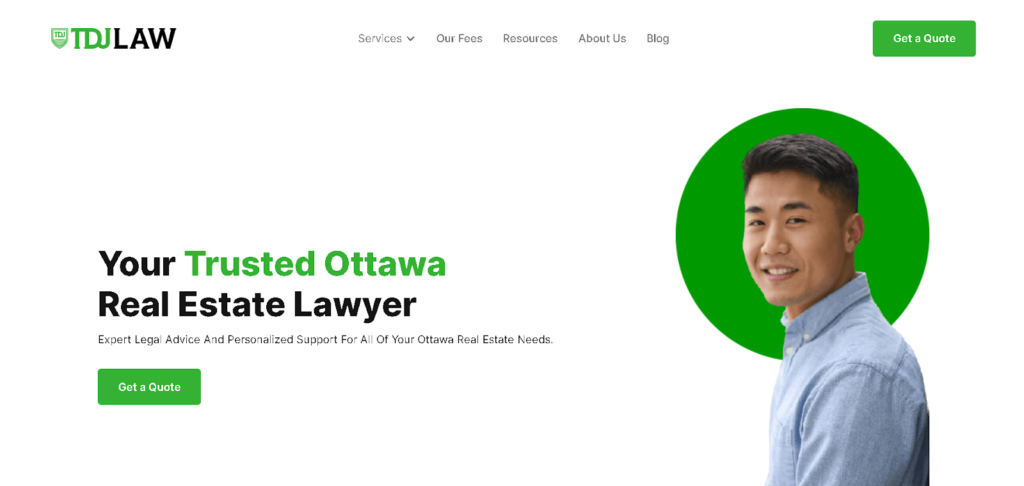 SERVICES
Real Estate
Wills Trusts, & Estates
Notary Services
WEBSITE
tdjlaw.com
ADDRESS
38 Auriga Dr, Ottawa, ON K2E 8A5, Canada
CONTACT DETAILS
+1 613-209-9919
[email protected]
OPERATING HOURS
Monday – Friday, 9:00 AM – 5 PM
| | |
| --- | --- |
| Criteria | Ratings |
| Rates | ★★★★ (4/5) |
| Location | ★★★★★(5/5) |
| Team | ★★★★★(5/5) |
| Availability | ★★★★★(5/5) |
TDJ Law is the perfect professional to call out if you're looking for a trusted real estate lawyer in Ottawa and Toronto. They recognize the significance of having a qualified and experienced lawyer on your side.
Whether you're buying or selling real estate in Ottawa or Toronto, need a will, need a strong litigation lawyer, or just need a notary, their team of expert real estate attorneys is dedicated to providing you with customized and empathetic help every step of the process.
Todd Ji, the firm's founder, has over eight years of legal experience, a full grasp of the complexity of the real estate sector, and a track record of attaining positive decisions for his clients. He has extensive knowledge in all areas of real estate law, including real estate transactions, mortgages, and will preparation, and he serves clients in both Ottawa and Toronto.
Todd is well-known at TDJ Law for his straightforward communication and individualized attention to each client's legal requirements. Price transparency is a key concept of TDJ Law, which means that clients know what to anticipate in terms of expenses and fees from the beginning.
Todd and his team of experienced real estate lawyers are dedicated to assisting clients in navigating the complex legal landscape of real estate and achieving the best possible outcome at fair and transparent prices.TDJ Law is accepting new clients in Ottawa and Toronto, and they would be honored to assist you with your legal needs.
Experienced real estate lawyers
Personalized 1:1 support
Cost-effective legal solutions
Over 8 years of experience
Customer Reviews
Todd is a perfect and highly professional lawyer to work with
"Todd is a perfect and highly professional lawyer to work with. I've worked with Todd for more than once on property closing. Every time I'm very happy with his and his team's professionalism, dedication and productivity. Even with tight time frame, their result delivery is always reliable and accurate. Definitely a reliable team to work with. I'd highly recommend to choose Todd and his team." – Nicole Leng
I am incredibly impressed by his communication, thoroughness, speed, attention to detail, and knowledge
"Todd assisted us with the purchase of a new home. I am incredibly impressed by his communication, thoroughness, speed, attention to detail, and knowledge. I recommend TDJ Law to anyone buying or selling property. Very impressive service; made our home purchase an excellent experience." – Lam Pham
FAQs about Commercial Lawyers
---
There you have it — the best firms for commercial lawyers in Ottawa!
Looking for more law-related services? Check out our many articles on different types of lawyers!