The 5 Best Clinics for Pediatric Surgeons in Ottawa
Pediatric surgeons are important, especially for parents who have young children. Ottawa has a lot of options when it comes to this, but we're here to give you the best ones.
In this article, we're reviewing the best clinics for pediatric surgeons in Ottawa. We have put together a list of the best-performing clinics based on what we've found out and also the reviews and opinions of real patients.
How much do pediatric surgeons charge?
Pricing for pediatric procedures will depend on the complexity of the treatments and surgeries. For more specifics, check out the table below.
| Procedure | Average price |
| --- | --- |
| Basic Consultation | $50 - $100 |
| Prescription | $60 - $80 |
| Minor Surgeries | $500 - $1000 |
| Major Surgeries | $1000 - $3000 |
The Best Clinics for Pediatric Surgeons in Ottawa
To find the best clinics for pediatric surgeons, we looked at the following:
1. Central Park Medical Clinic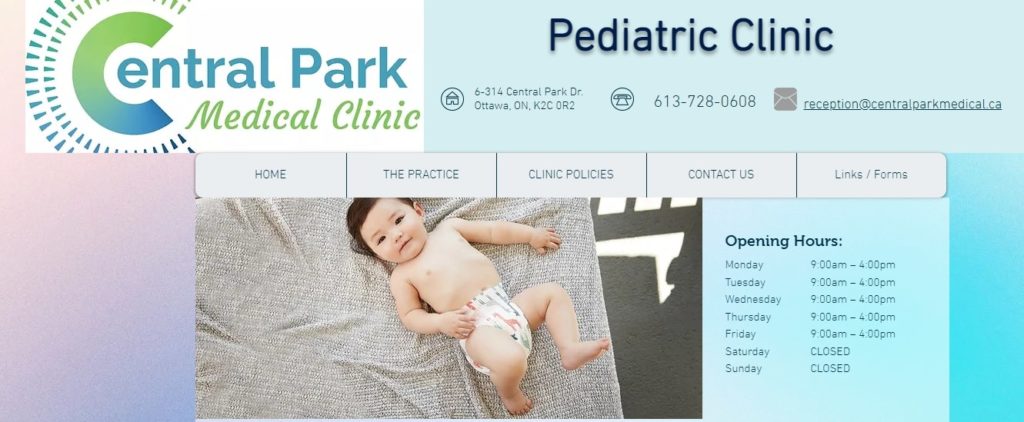 Test
Info
SERVICES
Pediatric Primary Care, Pediatric Surgery, Children's Health, Consultations, Immunizations, Speech Pathology, Speech Therapy, Prevention & Wellness, Travel Advice, Occupational Therapy
WEBSITE
https://www.centralparkmedical.ca/
ADDRESS
314 Central Park Dr Unit 6, Ottawa, ON K2C 0R2, Canada
CONTACT DETAILS
613-728-0608
OPERATING HOURS
Monday 9AM–4PM

Tuesday 9AM–4PM

Wednesday 9AM–4PM

Thursday 9AM–4PM

Friday 9AM–4PM

Saturday Closed

Sunday Closed
| | |
| --- | --- |
| Criteria | Ratings |
| Rates | ★★★★(4/5) |
| Location | ★★★★★(5/5) |
| Feedback | ★★★★★(5/5) |
| Availability | ★★★★★(5/5) |
The Central Park Medical Clinic provides multiple medical services for children. Among these are pediatric surgery, children's health consultations, immunizations, and even speech therapy.
We love that it also has unique doctors such as speech-language pathologists who can help with speech impediment issues. We appreciate the choices that this medical facility gives to its many patients.
When it comes to convenience, the Central Park Medical Clinic is also able to provide forms online to make scheduling appointments a lot easier. It has received numerous positive feedback from previous patients.
Parents are grateful for the facility's warmth and friendliness towards their kids and are even willing to wait in the waiting area if it takes longer than expected for the doctors to see their children.
Overall, the only problems we have with this medical center are its pricing and the fact that it's not open on weekends.
From what we've seen, it doesn't have discount options, which is a shame. It would've been more convenient if it was open on weekends so parents won't have to leave their jobs to have their kids checked up.
In the end, we still highly recommend this clinic for its multiple services and great facilities.
Multiple doctors available
Offers multiple services
Online forms
Speech therapy
Great feedback from previous patients' parents
Customer Reviews
Absolute pleasure
"Dr. Falsetto is an absolute pleasure to have as my daughter's doctor. She is kind, caring, thorough and really gives the time and attention to each and every appointment. She gives excellent advice and is wonderful with children!" – Adele Bissonette
Amazing
"So glad to have both of my daughters as patients here. Dr. Falsetto has been amazing since day 1. The receptionists are always super sweet. The nurses are terrific. Even when my oldest has to get a needle, they are so patient with her. She hates needles, screams and cries and wont stand still. They do everything in their power to make it quick and painless for her. We have only ever had great experiences here." – Brittanie S.
2. Bank Medical Centre

Test
Info
SERVICES
Pediatrics, Walk-in Clinic, Pharmacy, Lab, Specialists, Vasectomy, Aesthetics
WEBSITE
http://bankmedicalcentre.com/
ADDRESS
1935 Bank St, Ottawa, ON, K1V 8A3
CONTACT DETAILS
613-521-2391 ext. 131
OPERATING HOURS
Monday 9AM–6PM

Tuesday 9AM–6PM

Wednesday 9AM–6PM

Thursday 9AM–6PM

Friday 9AM–6PM

Saturday 10AM–12PM

Sunday Closed
| | |
| --- | --- |
| Criteria | Ratings |
| Rates | ★★★★★(5/5) |
| Location | ★★★★ (4/5) |
| Feedback | ★★★★(4/5) |
| Availability | ★★★★(4/5) |
Another great clinic that we found is Bank Medical Centre. It offers excellent pediatric surgical care and has a long history of providing high-quality medical services to children in the Ottawa area.
The Bank Medical Centre focuses on pediatrics and has its test lab and pharmacy. It's also a walk-in medical facility, so you don't need an appointment to be seen — though we recommend you make one, just to be on the safe side.
If your child is having skin issues, the clinic also has an aesthetics department that can check your child's skin and figure out what treatments might be best for them.
Convenience is one of the most important things we look at when perusing different businesses, so we're happy to report that parents can park their vehicles with no problems here.
The only real problem that we're iffy about when it comes to this clinic is its location. It's in a hospital environment and may not be best for kids who are not yet immunized.
Despite all of that, because of the multiple services that Bank Medical Centre offers and the positive reviews it has received, we still highly recommend it as a good option for those looking for pediatric surgeons.
Multiple medical disciplines
Huge space
Staffed with experienced nurses and doctors
Has its own parking area
Customer Reviews
Great experience
"We had a great first experience with Dr. Ismail. She is super intelligent and kind. I know some reviews have said she rushes but we didn't feel rushed at all. She answered our questions and made sure we didn't have any other concerns." – Cameron C.
Compassionate doctor
"Dr. Ismail is such an amazing, compassionate, and knowledgeable person. We have been taking our child there since she was born. The nurse and receptionist are also awesome. They make us comfortable and attend to all our requests. I have never had an issue with wait times." – Mastoor Al Kaboody
3. Smyth Paediatric Group

Test
Info
SERVICES
Pediatrics, Children's Health, Consultations, Immunizations
ADDRESS
1929 Russell Rd, Ottawa, ON K1G 4G3, Canada
CONTACT DETAILS
613-737-7707
OPERATING HOURS
Monday 7:30AM–5PM

Tuesday 7:30AM–5PM

Wednesday 7:30AM–5PM

Thursday 7:30AM–5PM

Friday 7:30AM–5PM

Saturday Closed

Sunday Closed
| | |
| --- | --- |
| Criteria | Ratings |
| Rates | ★★★★★ (5/5) |
| Location | ★★★★ (4/5) |
| Feedback | ★★★★(4/5) |
| Availability | ★★★★(4/5) |
The Smyth Paediatric Group offers a spacious and well-equipped clinic in Ottawa. It provides excellent pediatric care for infants, toddlers, and young children.
Parents will be glad to know that the clinic is staffed by a team of qualified professionals with many years of experience in the field of pediatrics.
We love that the facility's main doctor, Dr. Gravelle, has more than 20 years of experience dealing with children's health and can personally address any concerns that parents may have about their children.
The clinic has comfortable waiting areas for parents to wait while their child receives treatment. Aside from that, the center also has a complete staff of nurses to provide assistance and comfort.
Another great thing about the Smyth Paediatric Group is its accessibility and convenience. It has a decent parking area and ramps accessible to PWDs, so everything is wheelchair-friendly
Unfortunately, we have a problem with its availability. It's only open during weekdays, which may be a problem for busy parents who have work during those days.
Another issue that clients may have is the lack of a website. In this digital age, it should be a given that medical centers should have their own website for online appointments and scheduling.
Overall, because of the great facility and the doctors' experience, we still highly recommend the Smyth Paediatric Group.
Clinic is spacious and relaxing
Staffed with experienced nurses
Great feedback from previous patients
More than 20 years of experience
No website
Closed on weekends
Customer Reviews
Excellent
"Dr Gravelle is super kind, caring and tentative. She will take her time to ensure everything is looked after and in turn leaving you with no doubts that she got to the bottom of everything. Staff are extremely friendly and sociable. I wish there were more doctors of her type around, instead of the usual money hungry "one problem per visit" type of doctors. Thank you for years of great, unequivocal care." – O.o
Fantastic and caring
"Dr Joan Gravelle is a fantastic caring doctor. She has been my kids doctor ever since they were born. Three kids. My oldest is twenty, so he doesn't see her anymore." – B..
4. Center For Pediatric Excellence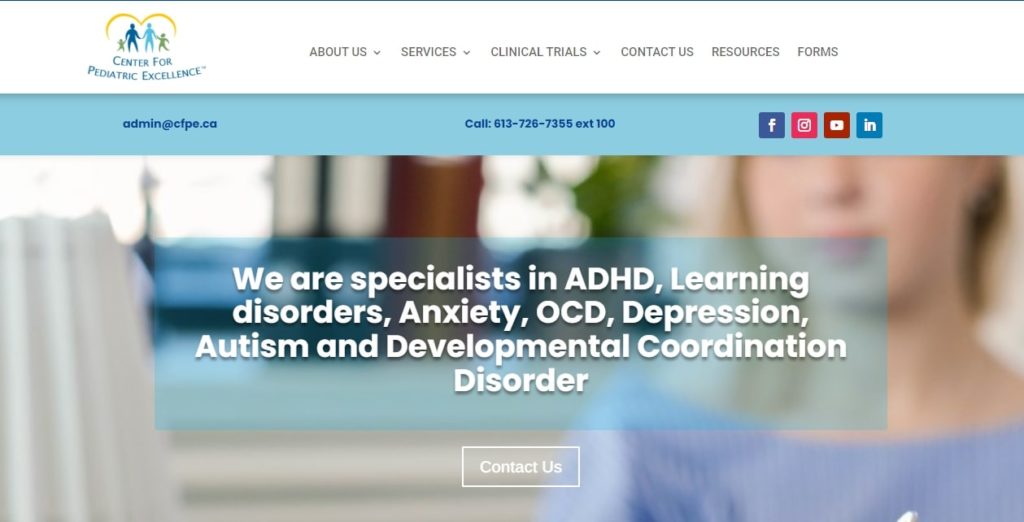 Test
Info
SERVICES
Pediatric Surgery, ADHD Specialization, Children's Therapy, Research
WEBSITE
https://cfpe.ca/
ADDRESS
Woodroffe - Lincoln Heights, 1637 Woodroffe Ave, Ottawa, ON K2G 1W2, Canada
CONTACT DETAILS
613-726-7355
OPERATING HOURS
Monday 8AM–4PM

Tuesday 8AM–4PM

Wednesday 8AM–4PM

Thursday 8AM–4PM

Friday 8AM–4PM

Saturday Closed

Sunday Closed
| | |
| --- | --- |
| Criteria | Ratings |
| Rates | ★★★★ (4/5) |
| Location | ★★★★ (4/5) |
| Feedback | ★★★★★(5/5) |
| Availability | ★★★★(4/5) |
The Center for Pediatric Excellence is described as a multi-disciplinary clinic because of its focus on multiple medical disciplines. This clinic provides care for children from newborns to adolescents and is home to many specialists in pediatrics.
It is also offering psychological and occupational therapy to its patients. The center is focused on providing the highest level of care possible to help children and their parents with its great facilities and spacious waiting areas.
We also love that it is dedicated to educating parents about ADHD, autism, and other similar disorders so that they can be better advocates for their children.
This is such an important thing for parents to know, as most new parents are not experts in dealing with these issues.
From what we've gathered, the Center for Pediatric Excellence is still trying to find its footing. But because of what it offers, it caught our attention.
As a relatively new establishment, it hasn't received much feedback from its patients yet.
However, because of the center's experienced staff and its doctors with extensive portfolios, we believe in its potential. Hopefully, the center will continue to do great things for children with developmental issues in the future.
All in all, we definitely recommend this medical facility not just for its pediatric surgical services but also for its focus on mental health.
Also has mental health services
Multiple doctors available
Has autism-focused services
Not much feedback from previous patients
5. Ottawa Children's Clinic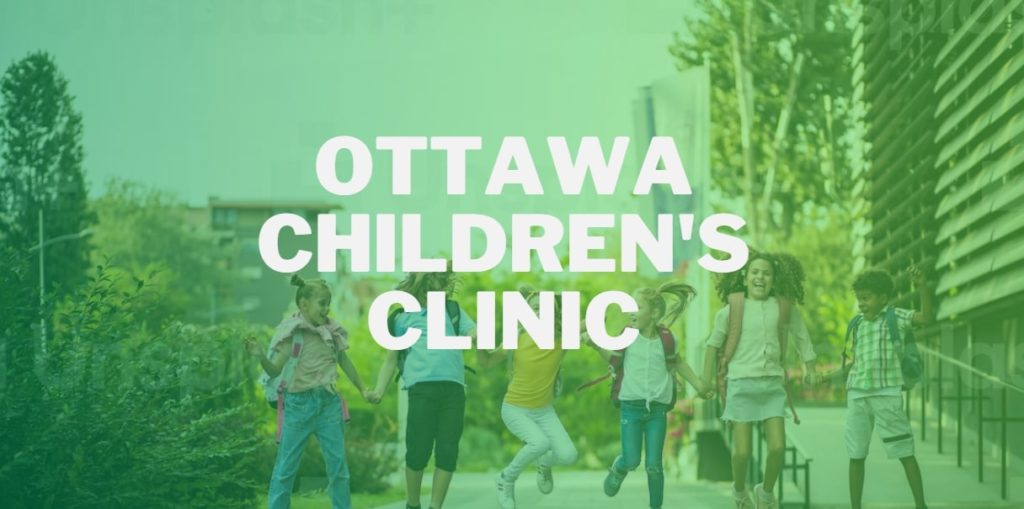 Test
Info
SERVICES
Pediatric Primary Care, Pediatric Surgery, Children's Health, Pediatric Occupational Therapy, Pediatric Physiotherapy, Pediatric Athletic Therapy
ADDRESS
1580 Merivale Rd Suite 204, Ottawa, ON K2G 4B5, Canada
CONTACT DETAILS
613-728-5437
OPERATING HOURS
Monday 9AM–3PM

Tuesday 9AM–3PM

Wednesday 9AM–3PM

Thursday 9AM–3PM

Friday 9–11AM

Saturday Closed

Sunday Closed
| | |
| --- | --- |
| Criteria | Ratings |
| Rates | ★★★★ (4/5) |
| Location | ★★★★★(5/5) |
| Feedback | ★★★★(4/5) |
| Availability | ★★★★★(5/5) |
The Ottawa Children's Clinic has a team of highly experienced pediatric surgeons, and they're always on the lookout for new and innovative ways to help children.
The clinic offers pediatric surgery, primary care, occupational therapy, and more. In terms of services, it's a very comprehensive option for parents who have children that need multiple types of care.
Aside from surgical services, it offers a comprehensive rehabilitation program aimed at helping children recover after surgery. There are physiotherapy options as well for children with conditions that make it difficult for them to be mobile.
The Ottawa Children's Clinic also has courses for children so they can be educated on how to keep themselves healthy. Parents may join in so they can learn how to properly take care of their children's health.
We're just a bit iffy that there have been negative reviews regarding its staff members. They've addressed these issues already and promised to reprimand those insubordinate employees.
Another downside is the fact that it's closed during weekends. However, if parents can make an early appointment, they should be able to get around their busy schedules and bring their kids with no issues.
Overall, it is definitely a great choice not just for pediatric needs but for more general medical conditions as well.
Mental health focus
Physiotherapy options
Great for children athletes
Also has classes and courses for kids
Closed on weekends
Complaints regarding some staff members
Customer Reviews
Amazing job
"Dr Shariff did an amazing job with the circumcision of our 3 weeks old baby. I saw the process throughout, he was careful, precise, and sure-handed.." – Nazmul Haque
Recommended
"Amazing, Dr Sharif is such a nice man. Made us feel very welcome, and made sure we were okay during the procedure. He did great work for my son being 1 day post its healing amazing already. I would recommend this clinic for you. Thank you!" – Natasha Desjardins
FAQs about Pediatric Surgeons
---
And those are the best clinics for pediatric surgeons in the city! Hopefully, you find the right clinic for you and your children's needs.
If you're looking for more information about health, try checking out our article on the best health screening clinics in Ottawa.