The 5 Best Clinics for Pain Specialists in Ottawa
If you're living with chronic pain, finding the right specialist can be a major relief.
Luckily, Ottawa has a wealth of excellent pain specialists from doctors to massage therapists to choose from.
In this article, we will review the best clinics for pain specialists in Ottawa
How much do pain specialists charge?
Pain specialists will charge depending on what service you are getting. The table below is a great guide that you can check to see the possible costs of hiring one.
| Services | Average cost |
| --- | --- |
| Chronic Pain Treatment | $40 - $160 per session |
| Consultation | $60 - $100 per session |
| Acupuncture | $50 - $150 per session |
| Massage Therapy | $50 - $150 per session |
| Additional Procedures | $50 - $150 |
The Best Clinics for Pain Specialists in Ottawa
To find the best clinics for pain specialists in Ottawa, we based our list on the following factors:
1. Neupath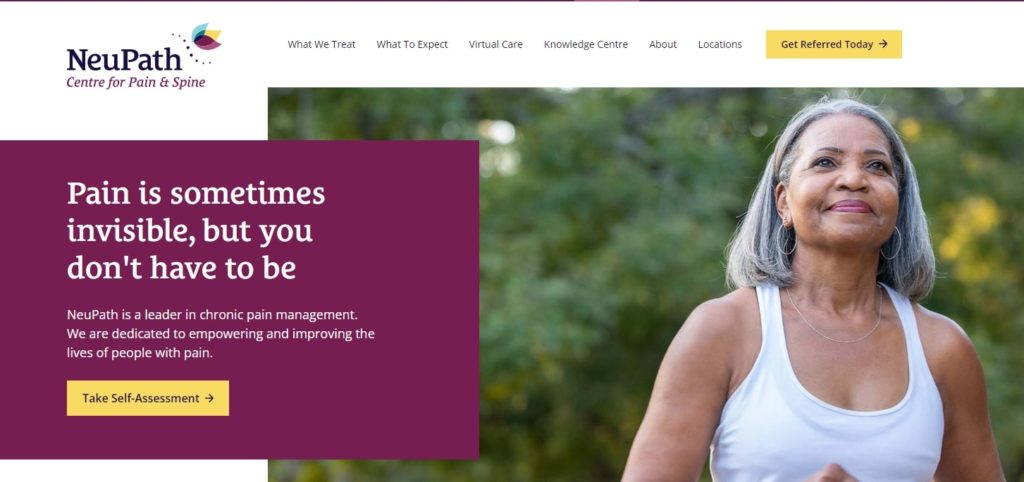 Test
Info
SERVICES
Chronic Pain Treatment, Arthritis Treatment, Spine Pain Treatment, Diabetic Neuropathic Pain Treatment, Head & Neck Pain Treatment, Myofascial Pain Treatment, Neuropathic Pain Treatment
WEBSITE
https://www.neupath.com/
ADDRESS
1770 Woodward Dr, Ottawa, ON K2C 3J2, Canada
CONTACT DETAILS
613-755-2095
OPERATING HOURS
Monday 8:30AM–4PM

Tuesday 8:30AM–4PM

Wednesday 7AM–4PM

Thursday 8:30AM–4PM

Friday 8:30AM–4PM

Saturday Closed

Sunday Closed
| | |
| --- | --- |
| Criteria | Ratings |
| Rates | ★★★★(4/5) |
| Location | ★★★★★(5/5) |
| Portfolio | ★★★★★(5/5) |
| Feedback | ★★★★★(5/5) |
The Neupath Centre is one of the most well-known pain clinics in the city.
It is an outpatient center that offers a variety of treatments for chronic pain, including rehabilitation, medication management, and non-invasive treatments such as acupuncture and massage therapy.
Neupath is staffed with experienced therapists and doctors that work together to help their patients find effective pain management solutions.
It also offers less common methods such as myofascial pain treatment and neuropathic pain treatment. We love that Neupath takes a multidisciplinary approach to pain management, using a number of different therapies to treat a wide range of conditions.
Another great thing about this establishment is the fact that it can provide patients with their very own dietitian. This is its way of treating pain from the inside and addressing the source of most physical discomfort.
The only real drawback that we can see with Neupath is its price range, which is a little steep compared to the other clinics on this list.
Not everyone will be able to afford its services but if you can, it's definitely a great choice for pain treatment and management.
Overall, we recommend Neupath as one of Ottawa's best options when it comes to pain specialists.
Offers multiple unique treatments
Provides patients their own dietitian
Offers health coverage/insurance
Referral promos
Customer Reviews
Amazing experience
"Everyone and I mean everyone from the front desk to the nurses to the doctors are all very kind. Any anxiety you may have they will put you at ease. Doctors give the patients the time they need and are very skilled in their field." – Jason M.
Great doctors
"Dr. Francois Constant is one of the best doctors I have ever come into contact with during my extensive adventures with countless medical professionals. He is intelligent, caring, compassionate, insightful, kind and shows that he truly cares about his patients well being." – Nat P.
2. The Ottawa Hospital Pain Clinic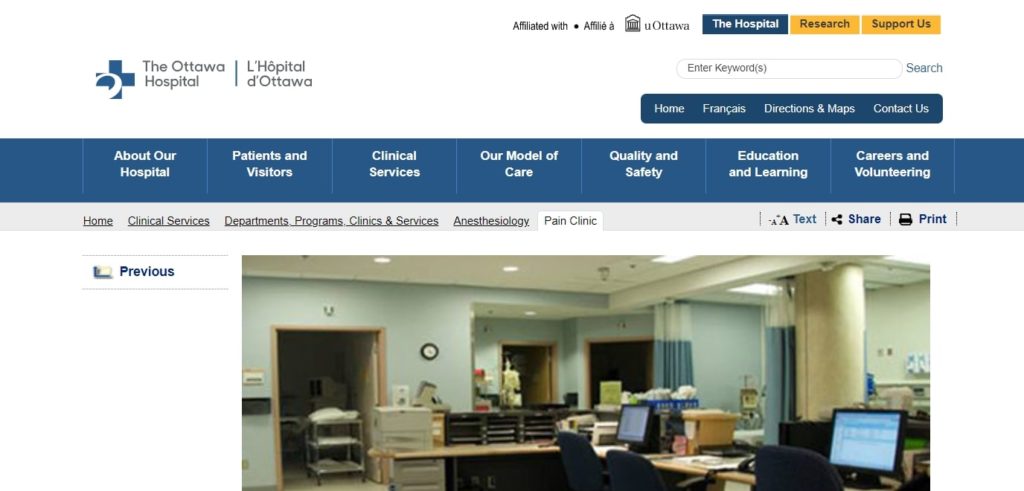 | | |
| --- | --- |
| Criteria | Ratings |
| Rates | ★★★★★(5/5) |
| Location | ★★★★ (4/5) |
| Portfolio | ★★★★(4/5) |
| Feedback | ★★★★(4/5) |
The Ottawa Hospital's pain clinic is also a good resource for pain specialists. This one leans more into scientific and medical methods in addressing chronic pain, which means massage and acupuncture are rarely recommended here.
With that said, the clinic is very well-regarded and many consider it to be the best in the city because of its convenient location in one of Ottawa's biggest medical centers.
It's also staffed generously with experienced nurses and physiotherapists. With a spacious building, it's the perfect place to get a range of treatments all in one place.
The establishment also has its own research facility, so patients can count on the development of various treatments that are always in the works.
For those with their own vehicles, you'll be glad to know that the facility has its own parking space, making it convenient for everyone.
Unfortunately, it's closed during weekends despite being in a hospital that's open every day. This is a disadvantage because many patients prefer to visit their doctors during weekends to align with their jobs schedules.
It's also in a hospital environment, which means there's a bigger chance of infection from other diseases.
Overall, because of the many experienced doctors in this center and its impressive facilities, we still recommend it as one of the best in the city.
Multiple doctors and nurses available
Spacious building
Always has parking spots
Researches on updated treatments
Closed on weekends
Hospital environment
Customer Reviews
Thankful
"Dr. Evan's work is absolutely incredible! The RFA procedures prove to be very effective! The staff are very efficient and understanding. Thank you all for doing what you do and making a difference!" – CJ
The best
"This is the best team of Doctors, nurses and the must kind, beautiful and happiest front desk girls I have ever met in my life. I have always been treated like a celebrity there." – Manauel Lebron
3. Seekers Centre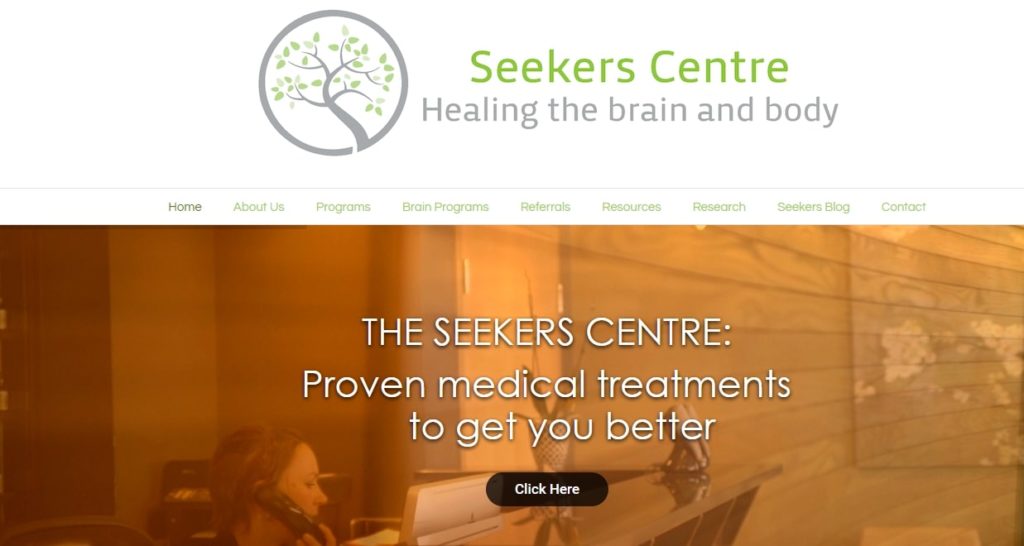 Test
Info
SERVICES
Ear Consultation, Nose Consultation, Throat Consultation, Hearing Aids
WEBSITE
https://doctors.cpso.on.ca/DoctorDetails/Tracey-Lee-Ross/0257578-91093
ADDRESS
1140 Tighe St Unit B, Manotick, Ottawa, ON K4M 1A2, Canada
CONTACT DETAILS
613-763-2214
OPERATING HOURS
Monday 9AM–3PM

Tuesday 9AM–3PM

Wednesday 9AM–3PM

Thursday 9AM–3PM

Friday 9AM–3PM

Saturday Closed

Sunday Closed
| | |
| --- | --- |
| Criteria | Ratings |
| Rates | ★★★★★ (5/5) |
| Location | ★★★★ (4/5) |
| Portfolio | ★★★★(4/5) |
| Feedback | ★★★★(4/5) |
Seekers specializes in chronic pain and is also one of the most well-known clinics in the city.
What makes it special is the fact that its doctors focus on a variety of treatments for symptoms associated with pain, including psychotherapy.
Pain from PTSD and other psychological problems are also common, so it's good that there's a facility like Seekers that can offer appropriate treatment for patients with these conditions as well.
We love that it is also able to refer patients to doctors from other facilities in case they can't find a proper solution within its clinic.
According to numerous customer feedback, the staff here is very friendly and accommodating and will make the process as easy as possible for every patient.
The clinic is staffed with a team of MDs, psychologists, nurses, and other medical experts.
So if you're looking for a pain management center that provides long-term solutions and effective pain relief, we would definitely recommend choosing Seekers.
The only drawback to this establishment is its prices. Potential patients with budget restrictions may have a problem with the clinic's rates.
Overall, because of the multiple services that it offers and the unique specialization in mental health and brain trauma, we believe Seekers is one of the best clinics for pain specialists in the city.
Offers programs for multiple pain issues
Has focused treatments for brain and head trauma
Also does research for condition causes
Customer Reviews
Great improvement
"Extremely greatful to my retired family doctor, who after years of not being able to help me with my chronic pain, referred me to Dr. Nahas. I have been under his care for little less than a year, and I am so grateful for his medical expertise. He has begun to really assist me in improving my quality of life." – Amanda Thompson
Great treatment
"I have been seeing DR. Nahas for about three years and his care and treatment has been great. The entire staff really seem to care about all patients and I would highly recommend this clinic gor chronic pain" – Howied
4. Femade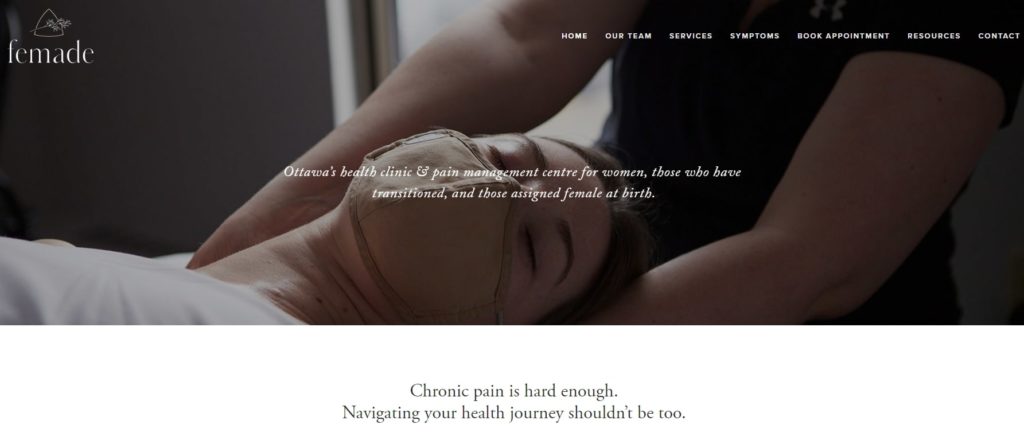 Test
Info
SERVICES
Pain Assessment, Peer Support, Psychotherapy, Massage Therapy, Physiotherapy, Acupuncture, Naturopathic Medicine, Nutrition, Yoga Classes
WEBSITE
https://www.femade.ca/
ADDRESS
1335 Carling Ave Suite 212, Ottawa, ON K1Z 8N8, Canada
CONTACT DETAILS
613-722-1674
OPERATING HOURS
Monday 9AM–6:30PM

Tuesday 9AM–6:30PM

Wednesday 9AM–6:30PM

Thursday 9AM–6:30PM

Friday 9AM–6:30PM

Saturday Closed

Sunday Closed
| | |
| --- | --- |
| Criteria | Ratings |
| Rates | ★★★★ (4/5) |
| Location | ★★★★ (4/5) |
| Portfolio | ★★★★★(5/5) |
| Feedback | ★★★★★(5/5) |
Another great option if you're looking for pain specialists is Femade. As stated in its name, Femade is mostly focused on giving pain assessments and treatments to women.
Issues that women commonly face, like back pain and pregnancy-related pains, are treated by experienced female doctors at the clinic. With that said, Femade also has treatment options for men, so it's a plus for both genders seeking pain relief.
The clinic also has special services for trans-women who are having difficulty with their transitions. We appreciate an establishment that is inclusive and accepting of all types of individuals and their sexualities.
We also love that it has unique services, such as peer support systems that help women assist one another through discussions on what kind of pain they're currently enduring.
The clinic has yoga classes and massage therapy options. It's a great option for both major and minor chronic pain issues.
While you need to set an appointment, it's not a deal breaker because of its easy appointment scheduling.
We believe Femade is a great option if you're interested in treating your pain issues with an expert pain management specialist.
Specialized services for women
Unique peer support system
Also offers massage therapy outside medical options
Has yoga classes
Offers walk-ins
Customer Reviews
Gentle hands
"Christina is an amazing acupuncturist. She is gentle with the needles and her skills in this ancient practice are outstanding. I recommend her without hesitation. Come and try, you will never regret it! – Jennifer Machado
Incredible service
"The most knowledgeable and compassionate care around for complex chronic illnesses impacting women living with pain. I have worked with several of their providers – I felt incredibly well-cared for and am always impressed by the degree of knowledge and insight brought by everyone on the team. Great, collaborative approaches to treatment protocols and patient support, all in one place!" – Carissa Howe
5. Ottawa & District Physiotherapy Clinic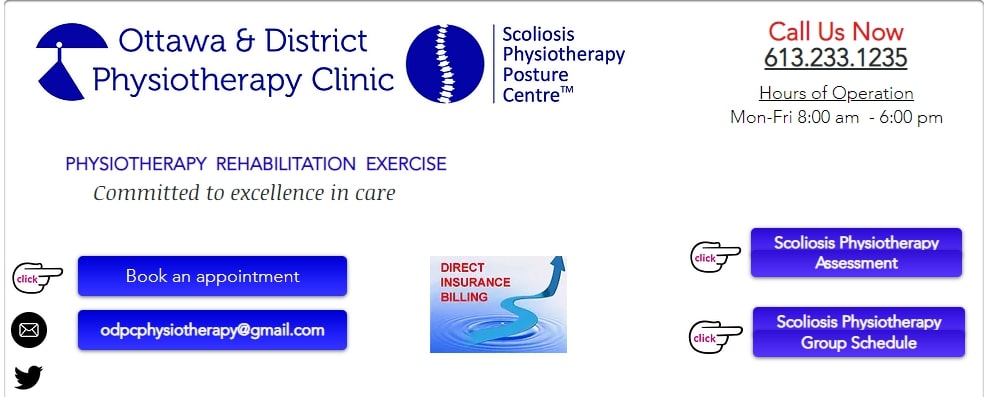 Test
Info
SERVICES
Chronic Pain Management, Scoliosis Physiotherapy Assessment, Group Sessions, Orthopaedics, Geriatrics, Paediatrics, Post-Surgical Rehabilitation, Parkinson's Treatment, Acupuncture, Muscular Stim, Myofacial Release, Ergonomics
WEBSITE
https://www.ottawaphysiotherapy.net/
ADDRESS
231 McLeod St, Ottawa, ON K2P 0Z8, Canada
CONTACT DETAILS
613-233-1235
OPERATING HOURS
Monday 8AM–6PM

Tuesday 8AM–6PM

Wednesday 8AM–6PM

Thursday 8AM–6PM

Friday 8AM–6PM

Saturday Closed

Sunday Closed
| | |
| --- | --- |
| Criteria | Ratings |
| Rates | ★★★★ (4/5) |
| Location | ★★★★★(5/5) |
| Portfolio | ★★★★(4/5) |
| Feedback | ★★★★★(5/5) |
The Ottawa District Physiotherapy Clinic is a facility located on Mcleod Street. Among its services are chronic pain management, scoliosis physiotherapy, pain assessment, and even group sessions.
What caught our attention the most when it comes to this medical center is the group sessions.
Usually, group sessions are associated with mental health issues, but the people behind the ODPC believe that empathy for each other's physical discomfort is also a great way to help the body heal.
We love the fact that the ODPC is quite active on social media. This makes it easier to communicate with its staff and makes it more accessible for everyone who needs help in pain management.
The facility is staffed with multiple physiotherapists and bodyworkers who strive to help their patients overcome their chronic pain problems. It also has specialized services for women and seniors.
We appreciate the fact that the ODPC has partnered with multiple insurance providers to make payment easier, even for those with financial restrictions.
Overall, the only issues we have with the ODPC are the fact that it's closed on weekends and that it's fully booked at times. Hopefully, the management decides to expand the building so they can accept more patients.
All in all, it's still a solid choice for anyone who is looking for a clinic that has pain specialists.
Easy to reach even through social media
Offers multiple medical services
Partnered with different insurance providers
Specialized services for women and seniors
Closed on weekends
Can be full at times
Customer Reviews
My own room
"I had a good experience at this clinic; the physio gave me a very thorough assessment and was able to answer all of my questions and asked me many questions regarding how my injury took place. It was also a very professional setting, and I had my own room, which is important to me (not merely a curtain…). Overall, I would recommend this clinic." – Carlos Rodriguez
Slowly but surely
"Within 4-6 weeks, under their care in the clinic and instructions for exercises and stretches at home, I was able to regain the total range of motion in my shoulder. Today, I have no further issues and have all the strength back too." – Andrew Craig
FAQs about Pain Specialists
---
And that's it for the best clinics for pain specialists in Ottawa. Addressing chronic pain is very important, especially for our elderly loved ones.
We hope our list was able to help you find what you're looking for.
If you're looking for more information about similar services, maybe the following articles will spark your interest: